Archive for April 21st, 2011
Glenn Beck finally connected the dots.  Not that we haven't been hammering on this for over three years, but hey, again, better late than never.  Glenn Beck joins, Neil Cavuto, Dylan Ratigan and Eric Odom.
Yes, you ARE being robbed.  'Legally.'  Wall Street and the Big Banks were allowed to steal $14 TRILLION of taxpayer money in the past 3.5 years on the grounds of 'economic emergency.'  The truth is, their fraudulent and criminal conduct rendered them insolvent, so the government was coerced (bribed and sometimes threatened) into transferring this enormous amount of YOUR money to them.  First in the form of TARP, TALF and the EESA and most recently through the Federal Reserve's Quantitative Easing.  
The 'rich' are not evil.  CRIMINALS are evil.  When those criminals are given a license to steal by our own government, that is beyond evil.  This is not a partisan issue.  BOTH sides of the aisle have enabled this theft.  It was initiated under George Bush and his Treasury Secretary, Hank Paulson and continued and increased through Obama's administration and his Treasury Secretary Timothy Geithner – all aided by the Federal Reserve and Ben Bernanke.   These people on Wall Street are rich because they STOLE YOUR MONEY!  They are CONTINUING to steal your money.  (Linked in our right-hand column you can read our documented evidence over the past 4 years against some of the biggest players in this mess – even better, watch Inside Job for free over at NetFlix. )
Until this massive fraud and corruption is stopped, prosecuted and those responsible put in jail, our economy will not improve.  Indeed, it will get worse.  Much worse.  At some point, in the not-so-distant future, our country will collapse.
Nothing else matters right now but THIS issue.  It has been the ONLY important issue for the past four years.  It is unfortunate that FedUpUSA and Market-Ticker have been the only ones consistently exposing the fraud and preaching about the urgency of this.  Perhaps now we will have some help.  Maybe on Good Friday, miracles really can happen.
When will you WAKE UP AMERICA?!  STOP THE LOOTING AND START PROSECUTING!
Well, well, well.   I'm not sure what the catalyst was here, because in-your-face castigation didn't work.   
Visit msnbc.com for breaking news, world news, and news about the economy
Whatever the reason, it's about time.  Perhaps Winston Churchill will be proved right once again.
American's can always be relied upon to do the right thing, after all other options have been exhausted.
I was pleasantly surprised today by Eric Odom's blog, wherein it appears that he had a lightbulb moment.
The greatest financial theft in the History of Man

I have to warn you up front, this post is not at all optimistic. In fact, while writing this I'm feeling almost completely void of hope in the current structure of government in America.

Yesterday, while taking a break from a client's project and stepping away from the Mac for a few hours, I ended up watching "Inside Job," a documentary about the events that led to the 2008 financial collapse.

First, let me say there is much in this documentary I find off-putting. As is the case with many documentaries like this, there are some other agendas involved and you have to understand that in order to look for the information relevant to you.

For example, I find it extremely distasteful that George Soros and others like him are given a platform within the film. I feel the producers should have disclosed the fact that Soros actually wants and enables this type of activity to occur.

That said, the Soros agenda doesn't change the facts put forth in the documentary. Or at least, most of them.

I knew a lot about the 2008 collapse, but I had no idea the depth of the connections between Washington and the banks on Wall Street. I know, I should already know this, but it's easy to get caught up in the little "flash" stories of the day and in many cases they take away from the larger issues at hand.

But after seeing the documentary I started doing some research of my own. I looked into most of what was said and researched it all online yesterday and this morning. It's all there. Yes, George Soros is interviewed and portrayed as "above the theft" in the documentary, but everything else is on the mark.

Truth is, we've all been had. We're right smack in the middle of the greatest scam in History and you and I are paying the price for it. What's worse, and possible the most hurtful, is that the work our founding fathers did, along with the lives lost defending it, is being trampled on and used for the benefit of thieves.

A post such as this can't even begin to explore how big the problem is. For example, many of the leftist protests against the "rich" for damaging our society are actually accurate. The flaw in their effort is that they've subscribed to the notion that all wealthy people are in on it, which is not true. Also of note is the fact the leftists have allowed themselves to be brainwashed into believing that $250,000 revenue for a couple owning a small business makes them "rich."

But the overall idea that a group of ultra-rich "Capitalists" are controlling the economy and Washington is in on it is, for the most part, dead on accurate.

As Glenn Beck is explaining today on his show on Fox News (which ironically details exactly what is laid out in "Inside Job"), it's all a show. What's a show? The federal reserve, the U.S. treasury and the administration holding the check book.

Getting back to Inside Job, another of their flaws is framing the story as a "regulation vs. Non-Regulation" war. This is flawed because when you accept the premise that they're all in on it… both the banks and financial realm on Wall Street, and the people who left it to run the financial realm in government, more or less regulation changes nothing.

As an example, the film begins by discussing several banks in Europe who, after receiving massive infusions of taxpayer dollars, began to fall as a result of poor lending decisions and irresponsible compensation to those running the game. When government officials showed up at the bank, they were met with an army of attorneys. In most cases they weren't able to get anywhere beyond the attorneys. In the few cases where the government official was able to make headway with the attorneys, the officials were simply offered a job with the bank, at a salary they couldn't refuse.

What's happening on Wall Street and in Washington is far worse. Now, in our case, the people controlling the "regulatory" bodies of government are the exact same people who built the scam. The people who ran the financial system in New York during the collapse are now running the federal reserve and treasury.

Whether or not we have Bush, Clinton or Obama as President matters little. All of them allowed Wall Street to place their power brokers in positions of power within government.

Don't believe me? Let's scratch the surface a little…

Timothy Geithner – United States Secretary of the Treasury under Barack Obama

In March 2008, he arranged the rescue and sale of Bear Stearns.[12][21] In the same year, he played a supporting role to Henry Paulson, former CEO of Goldman Sachs, in the decision to bail out AIG just two days after deciding not to rescue Lehman Brothers from bankruptcy. Some Wall Street CEOs subsequently expressed the opinion that decisions in which Geithner participated, especially the failure to rescue Lehman, contributed to worsening the global financial crisis.[22] As a Treasury official, he helped manage multiple international crises of the 1990s[14] in Brazil, Mexico, Indonesia, South Korea, and Thailand.[15]

Geithner believes along with Henry Paulson, that the United States Department of the Treasury needs new authority to experiment with responses to the financial crisis of 2007–2011.[12] Paulson has described Geithner as "[a] very unusually talented young man…[who] understands government and understands markets."[21]

Henry Paulson – United States Secretary of Treasury under George Bush

He joined Goldman Sachs in 1974, working in the firm's Chicago office under James P. Gorter. He became a partner in 1982. From 1983 until 1988, Paulson led the Investment Banking group for the Midwest Region, and became managing partner of the Chicago office in 1988. From 1990 to November 1994, he was co-head of Investment Banking, then, Chief Operating Officer from December 1994 to June 1998;[9] eventually succeeding Jon Corzine as chief executive. His compensation package, according to reports, was US$37 million in 2005, and $16.4 million projected for 2006.[10] His net worth has been estimated at over $700 million.

Also of note are comments such as this one:

"Well, as you know, we're working through a difficult period in our financial markets right now as we work off some of the past excesses. But the American people can remain confident in the soundness and the resilience of our financial system."

That comment came via Henry Paulson before September of 2008, when the financial system began to freefall into collapse.

And let's not forget, Henry Paulson and Ben Bernanke led the charge to reward Wall Street's terrible financial scam with a $700 billion check from the taxpayers.

Ben Bernanke – Chairman, Federal Reserve

On February 1, 2006, President Bush appointed Bernanke to a fourteen-year term as a member of the Federal Reserve Board of Governors, and to a four-year term as Chairman.[27][28] By virtue of the chairmanship, he sits on the Financial Stability Oversight Board that oversees the Troubled Asset Relief Program. He also serves as Chairman of the Federal Open Market Committee, the System's principal monetary policy making body.

This happened, of course, after Bernanke "served" as a leader of the "advisers" who consulted our decisions on the global economy.

In June 2005, Bernanke was named Chairman of President George W. Bush's Council of Economic Advisers, and resigned as Fed Governor. The appointment was widely viewed as a test run to ascertain if Bernanke could be Bush's pick to succeed Greenspan as Fed chairman the next year.[26] He held the post until January 2006.

We could go on, and on, and on and on… but the point is that the individuals who drove the car off the cliff were handed the keys to the new car. And that car contains the power to funnel billions and billions of taxpayer dollars to those who already showed their interest is simply to defraud the nation of its wealth, and to do so through the federal government.

So while we all talk about cutting spending here and there, Facebook and the President, a birth certificate issue and whatever else is on the talking points of the day, there is a large group of individuals pulling off the greatest theft in the History of man.

That's a profound realization that I'm guessing most Americans would prefer ignore.

-Eric Odom

UPDATE: What kind of numbers are we talking about? Try $12.3 TRILLION as a start.
All I can say is welcome to the party, guys.  I certainly hope you brought the cavalry!  Time's running out.  People who care about this country had better come together and act now to….
STOP THE LOOTING AND START PROSECUTING!
(Reuters) – President Barack Obama said on Thursday the U.S. attorney general was assembling a team to root out any fraud and manipulation in the oil markets that might be contributing to higher U.S. gasoline prices.
This case will require 15 seconds to solve.  My evidence is below:
The chart is oil, the white line the dollar.
The dollar has collapsed as Bernanke and Obama have together conspired to demand QE2 to support Obama's insane borrowing and spending in the economy.
There is a near-perfect inverse correlation between these two charts.
Please surrender at the nearest FBI office for your arrest Mr. Bernanke and Mr. Obama.
Case CLOSED.
One of the most troubling aspects of this "recovery" is how it is being achieved.  We keep hearing about the wonderful Wall Street recovery yet a large portion of this is being created by extracting productivity from workers and stifling wages.  Obviously if you scare the working and middle class and give them no job protection then many will retreat to their dark corner.  Yet the reality is, these same companies are borrowing at subsidized rates from the Federal Reserve and using the taxpayer as a safety net.  This economy is operating under a reverse Robin Hood effect where you steal from the poor and working class and redistribute the wealth to the top.  The political class does not represent the people because as things stand, money buys power and many more Americans are losing their voice since they do not have funds to purchase lobbyists.  The below chart is one of the more disturbing confirmations of our disappearing middle class.
The low wage recovery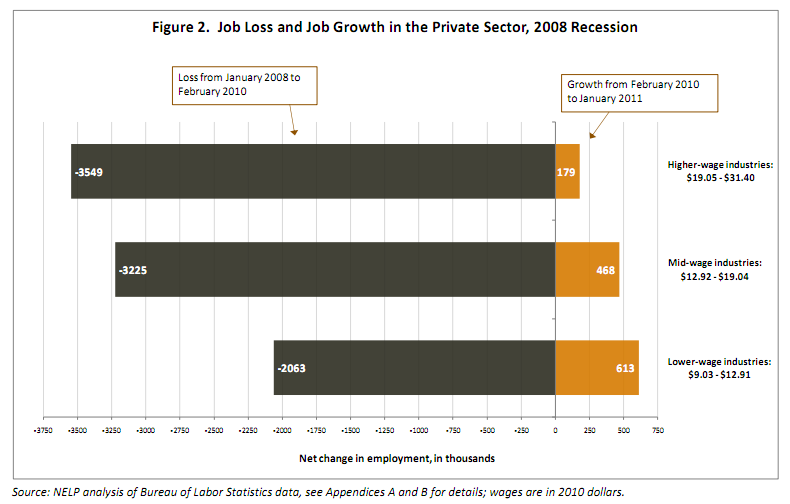 Source:  NELP
This chart sums up our current recovery in one picture.  We lost over 3,500,000+ higher-wage jobs during the recession and so far, we have added 179,000. The mid-wage sector has lost over 3,200,000+ jobs but has added 458,000.  More troubling however, is that 2,000,000+ jobs were lost in the lower-wage fields and this is where the bulk of the current economic growth is occurring with 613,000 jobs being added in this sector:
"(Huff Po) While the recovery of the labor market and the broader U.S. economy depend critically on job growth, equally important is the quality of those jobs. During the economic downturn, 40 percent of the jobs lost came from high-wage industries — yet high-wage industries accounted for only 14 percent of the new positions created in the first year of post-downturn job growth, according to a report released in February by the National Employment Law Project."
You don't have to look far to see this playing out.  Take a look at two states that had some of the biggest housing bubbles in the country: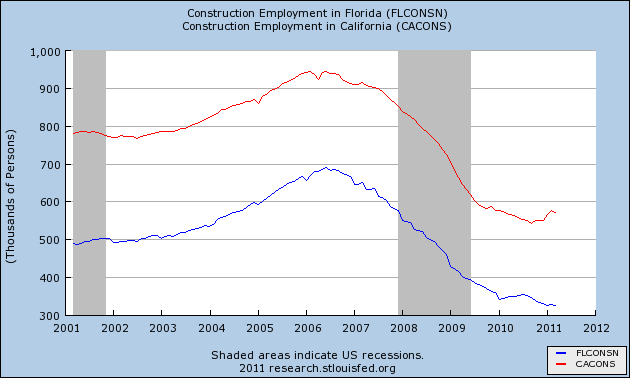 "Construction and finance, sectors which boast a median hourly wage of roughly $20, were among the hardest hit during the downturn. By contrast, about a fifth of all new jobs are being generated in the administrative/support, waste management, and remediation services industries and they offer a median hourly wage of $12.91. And many of those jobs are temporary positions."
These jobs that pay $20 or more are now being replaced by jobs that pay $9 to $12 an hour.  So even though we are adding jobs the quality and pay of those jobs is not exactly helping grow the middle class.  This is likely only to be shocking news for the top 1 percent who has no connection to the working and middle class.  Half of all workers make $25,000 a year or less.  This isn't a new development but a trend that has been going on for well over a decade.  Many are getting a hard taste of this new forced austerity:
"Since 2008, Goscewski has altered the way she lives in the city, cutting back on her subscriptions to cultural institutions in New York and other luxury items. Her perception of herself has also changed, she said, as her hours with the support group have put her in close contact with "a whole new group of people."

"It's really seeing things from the street, as opposed to from the 21st floor of a skyscraper. And I find I'm not entirely opposed to it, because I find the street–" Goscewski paused. "I think I'm shifting values over time."
There is no longer any other bubble to make up for the lost wages here.  In fact, the last two decades benefitted from the technology and real estate bubbles.  Yet current job growth shows no high-wage job growth (aside from CEOs earning 840+ times the annual household income for bankrupting and foreclosing on Americans):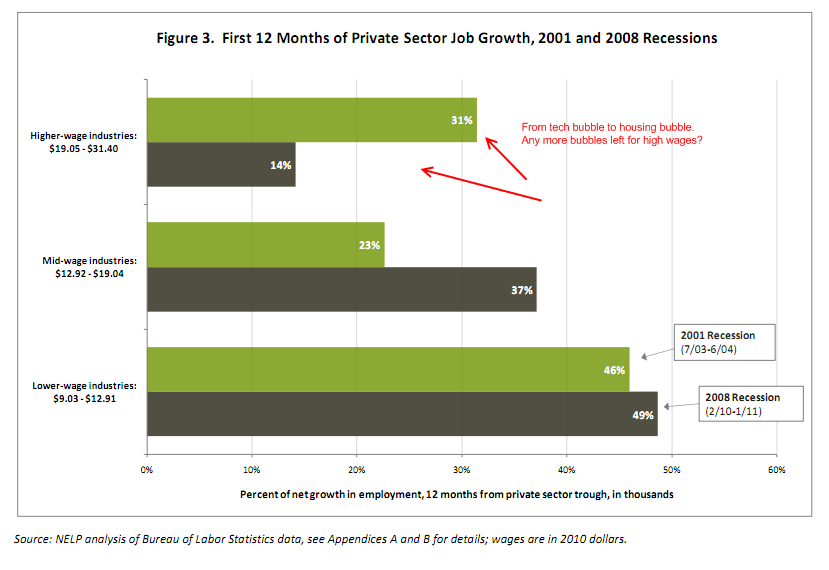 Source:  NELP
The fact of the matter is we have very little protection for working and middle class Americans.  The wealthy and financial class has access to near zero percent loans from the Federal Reserve and VIP programs that cater to this small group.  The wealth inequality is happening not because all ships are rising because of a financially positive tide, but because companies and financial institutions are squeezing out productivity and pennies from the majority of Americans to bolster their bottom lines.  Americans are being held as financial hostages:
"The reality is that a number of people are experiencing downward mobility," said van Horn, the Rutgers labor economist. "Depending on where they started on the economic ladder, that downward mobility can be somewhere from inconvenient to actually pushing them into poverty."

"Our economy was in trouble before the recession — we were sitting at the end of 30 years of growing inequality," Bernhardt said. "So we were already at a point where there was a real challenge for many workers in the U.S. in terms of finding living-wage jobs and sustainable careers. The Great Recession clearly did not reverse that trend. If anything, it's accelerated it."
This is demonstrated by looking at productivity gains: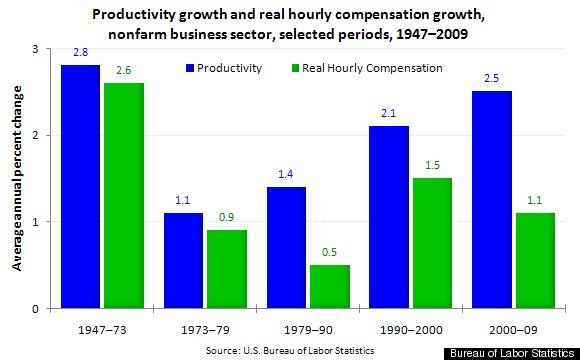 Source:  BLS
What you see is for the last three decades really, starting in the 1980s that productivity has been going up yet real wage compensation has been going down.  So as you hear about all those great profits from banks remember that it is happening on the backs of the working class:
"It's depressing. It is extremely depressing. Especially when you leave interviews, and you just know you've got this one. And then you don't, again," Island said. "You definitely take a look at all the extras that you have in your life. You start finding that instead of needing 150 cable channels, you only need the package that gives the basic. You don't drive as much. You clip coupons. You worry."
The financial elite have lobbyists, bought out politicians, and the central bank in the Federal Reserve for crying out loud.  What does the working and middle class have?  Until they stop believing they are temporarily embarrassed millionaires people will remain comfortable and keep changing the captains of the Titanic.
Most people probably don't realize it, but we're about to have one.
As John Hussman has noted, there's an extraordinary amount of "base money" in the system compared to GDP:
"In terms of liquidity preference, a completion of QE2 requires liquidity preference to increase to 16 cents per dollar of nominal GDP – easily the highest level in history.
I can't find much fault with Hussman's analysis and the risks associated with it – as he has (correctly) noted there is a real problem with the IRX (13-week T-bill) and The Fed's balance sheet – and this effectively traps The Fed.
The omission that I would take issue with is the same one that I have with so many others – it's total money and credit that has to be measured against with regard to GDP.  What Bernanke is attempting to do is goad people into borrowing – that is, to take on additional leverage in their business and personal lives.  This is the only way he can "win" in the game he is playing with the economy.
But since Bernanke cannot control where leverage goes (only how much "liquidity" is available in the form of leverage) he has a serious problem.  In order to continue to "prime the pump" between The Fed and The Administration he must keep the only borrower willing to continue to add debt – The Federal Government – able to do so without interest rates going up. 
Each time he does this he must add to his balance sheet.  This drives the risk-free rate at the short end down.  But the amount he must add to his balance sheet for each equal-size move in the short term rates grows exponentially larger, while the economic impact of a move between 0.25% and 0.10% in short rates is minuscule since the return ratio is calculated against the spread, and the difference between a 2% spread and a 2.15% spread is very small, while the amount of balance sheet expansion necessary to produce it is large.
There's been a roughly 5.4% increase in corporate debt – but notice that it never contracted during the so-called "recession!"  That is, we never cleared the bad debt out.
The consumer, on the other hand, can't take on more leverage.  The consumer led coming out of the 2000 "recession" – in fact, he never slowed down.  But there is no evidence in the data, despite the claims of "recovery', that ordinary Americans have recovered anything at all.
The premise that we have some sort of "independent" monetary authority is a bad joke.  There's absolutely nothing independent about The Fed, Congress and the Administration at all – just as there wasn't during the time when Burns was Fed President.  What we have is a Federal Reserve that has joined hands with Congress and the Administration, both present and previous, in an intentional act of debasement to finance profligate deficit spending.
We're headed for a "monetary accident" at breakneck speed: consumer spending and debt is ultimately dependent on job and income growth.  But there has been no income growth in real household terms for ten years.  The remaining margin between income and consumption was consumed in the years between 2003-2007 with borrowing, much of it through home equity extraction.  That credit capacity has been exhausted and is no longer available.  Corporate "growth" created from the chimera of productivity growth (read: work harder, get paid less, or get fired and we move your job to China or India) has pretty-much reached its zenith as well.  What's left is government spending but continued amounts of injection of liquidity from The Fed will require ever-lower primary credit rates to remain in equilibrium, yet shoving people out the risk curve creates parabolic-style moves that have always ended in a crash on a historical basis.
In order to pull back to the point that the 13 week bill will rise to just a simple 0.25% rate – a tiny positive interest rate – The Fed would have to sell off the entire $600 billion it QE2d immediately.  A spike in credit revulsion on US bonds, even a tiny one that shoved rates higher by that small of an amount without said selloff of The Fed balance sheet, could easily result in a thirty percent jump in the CPI.  Since there is no way to couple that back into wages this would not produce the sort of "inflationary spiral" that gold and silver buyers fear – it would instead result in the utter destruction of the lower two quintiles of the American public and the near-immediate loss of civil and political order along with effective economic collapse.
Remember this well folks: If it happens it is Bernanke's direct responsibility and he, along with the rest of the FOMC and the Administration along with Congress must be held to account.
The warning signs are up now as they were in the late spring and early summer of 2008.  We're three years down the road but have fixed nothing, despite the cheerleading in the corporate and media sectors.  The lack of fear as reflected in the VIX and complacency found in companies sporting P/Es arguing for five year growth rates of 30, 40, 50, 60 or percent compounded for that entire five year period – claims of total growth from 270% to more than 900% over that same five year period, are essentially identical to the sorts of forward "expectations" that were found in the latter half of 1999 and 2007.
"This time it's different" is a common swansong, but history records that in virtually every case if you listen to the harpies and follow them, instead of stuffing cotton in your ears you will wind up severely hurt or even broke.
Tickercon 1.