Archive for May 4th, 2011
When William Shakespeare penned the words, "All the world's a stage" in, As you like it, it was centuries before tense photos of tense leaders would show tense concern over tense military operations.
What transpired around the killing, or killing announcement, of Osama bin Laden has been astounding. Whether you believe that bin Laden was "taken out" by this NAVY Seal operation, after nearly a decade, two wars, an over 81% increase in the military budget, and thousands of deaths, following the tragic loss of life on 9/11, or whether you believe he was dead and iced years ago and strategically used as a sign of unflappable leadership, is irrelevant. The surrounding uproar was theatre of the extravagant, no matter how you slice it.
But, theatre was invented for distraction, in culture and in politics. So while all the Osama drama was unfolding, the Treasury Department issued another plea for raising the debt ceiling, aka supporting its pro-bank policy. It went something like this:  We need to borrow more to pay social security obligations and not default on our debt, so other countries won't question our ability to manage an economy  (as if that hasn't already happened.) and we won't have to pay more to borrow more. If we don't – you know what'll happen – another financial crisis.
The actual quote was: "The debt limit is the total amount of money that the United States government is authorized to borrow to meet its existing legal obligations, including Social Security and Medicare benefits, military salaries, interest on the national debt, tax refunds, and other payments."
Though technically correct, omitting the fact that our leaders chose to float the financial system at such an unprecedented scale with no obvious Main Street benefits, hence the debt – continues to show an aversion to reality.
Flashback five years. George W. Bush's second Treasury Secretary, John Snow, plead the same thing. (He wasn't unique, of course, Congress has acted at Treasury Secretary request to raised the debt ceiling 78 times since 1960, 49 times under Republican presidents, 29 times under Democrats.) He threatened that he was being forced to cut payments to civil servants, otherwise, didn't mention the war or the tax cuts that stifled revenue collection. He used similar arguments at the end of 2004, when the debt ceiling was about half what it is today.
Raising debt ceilings is a bi-partisan institution. There's always a show of the Treasury Secretary begging and Congress, debating than agreeing, rather than questioning the real reasons we pursue borrowing.
Since Snow made his plea, a number of things happened; a continued war, an extra war, a collapse of the financial system, a subsidization of the financial system, a decline in employment, home prices, inflation-adjusted average wages, and an increase in foreclosures, executive bonuses, and bankruptcies.
 Hitting the debt ceiling isn't about spending gone haywire because social security and Medicaid are too small for the people that rely on these programs; it's about the big-ticket items– like bailouts.
Here are some terms and numbers, intentionally blurred by those that control them.
The total US debt is a combination of two things: the public debt (the amount of securities the Treasury issues in order to borrow money from international or national investors) and intragovernmental holdings (the amount of borrowing done from funds like the Social Security trust fund.)
As of April 30, 2011 – the public debt stood at $9.63 trillion dollars, and intragovernmental debt at $4.60 trillion (67.68% and 32.32% respectively of the total debt of $14.24 trillion vs. a debt ceiling, or cap, of $14.294 trillion.)
In April 2010, public debt was $8.41 trillion and intragovernmental was $4.48 trillion (65.25% and 34.75% respectively of the total debt.)
In April 2009, public debt was $6.91 trillion and intragovernmental was $4.27 (61.78% and 38.22% of the total debt. The debt cap was $12.14 trillion.
In April 2008, just after the federal subsidization of the sale of Bear Stearns to JPM Chase, and before the rest of the big bailout began, public debt was $5.22 trillion, intragovernmental was $4.08 trillion (56.11% and 43.89% of the total debt.) The debt cap was $9.815 trillion.
In April 2007, public debt was $4.97 trillion; intragovernmental was $3.78 trillion (56.84% and 43.16% of total debt.) The debt cap was $8.965 trillion.
Basically, what all these numbers show is that; public debt has nearly doubled since before the big bailout, while intragovernmental debt has increased just 15%.  Some may argue that this balloon in public debt was required to save our economy, though there's little evidence of it doing anything but cheaply floating our financial system, plus nearly half of the additional $4.4 trillion of public debt that was created it is stashed at the Fed as either excess reserves or QE2.
Now that the Osama drama has died down a bit, and Congress returns to economic discourse with Tim Geithner over not whether, but by how much, the debt ceiling will be raised, the partisan bickering will resume its thunderous levels of inanity.
No one on the Hill will question the real why, behind the debt – because it leads back to that mammoth fuchsia elephant – we, the elected and appointed, screwed the country to support the power banks, and we'd do it again, in fact, we already are.
With respect to bin Laden, conflicting stories will go on forever – when did he die?, who's body is in the ocean, why didn't Obama release a photo? But with respect to the economy, it's super clear -  our debt ballooned, and our economy deflated, to subsidize banks and their practices, period. We can't blame that on Osama bin Laden.
WASHINGTON (TheStreet) – The Federal Deposit Insurance Corp. says that many mortgage servicers have "lax foreclosure documentation, ineffective controls over foreclosure procedures, and deficient loss mitigation procedures and controls"
In its "Special Foreclosure Edition" of its Supervisory Insights issued Wednesday, the FDIC added that many players are failing to commit the necessary resources to handle "the rapidly growing volume of mortgage loans in default or at risk of default."
..
The deficiencies in foreclosure procedures highlighted by the FDIC included "inadequate organization and staffing" of loan servicing staffs, the signing and notarization of documents by staff members who didn't review the materials, and the failure to "conform to state legal requirements." Examiners also found that with sloppy recordkeeping, the large servicers were "undercharging fees as frequently as overcharging them."
The FDIC said the foreclosure processing deficiencies led to "widespread unsafe or unsound operational practices, including missing documents, execution of documents by unauthorized persons, failure to notarize documents in accordance with local law, inaccurate affidavits, and affidavits signed by persons lacking sufficient knowledge of the underlying mortgage loan transaction."
..
The regulators also reviewed Lender Processing Services (LPS_), which provides foreclosure document services to loan servicers and Mortgage Electronic Registration Systems, or MERS, which "acts as the nominee of original lenders on mortgages and the lenders' successors," and executed consent orders against both, based on "unsafe and unsound practices" that exposed the mortgage servicers to "unacceptable operational, compliance, legal, and reputational risks."
..
Finally, the FDIC reminded lenders making foreclosure filings to have possession of the original note and either a recorded mortgage or recorded assignment of mortgage before initiation the foreclosure process, and that "lost-note affidavits should be used only after a good faith effort to locate the note."
– Written by Philip van Doorn in Jupiter, Fla. for TheStreet
****
Update: 4ClosureFraud has a related article and formal FDIC Report: http://4closurefraud.org/2011/05/04/fdic-report/
.
Findings from FDIC Examinations of State Non-member Banks
In its role as the primary federal regulator of a large number of state non-member banks, which collectively service less than four percent of residential mortgages, the FDIC has been reviewing and conducting targeted exams to determine whether any of these institutions have engaged in the types of practices identified at the major servicers. To date, the review has not identified "robo-signing" orany other deficiencies that would warrant formal enforcement actions.The FDIC will continue to monitor these servicers, as well as the performance of institutions servicing loans through FDIC securitizations or resolution programs.
There's no joy here folks.  Let's look first at the bullish view: This is just a normal little dip – buy it.
The daily chart appears to support this.  Prices stopped this morning on the trendline, and that would appear to be a pretty-attractive buy-point.  There's a problem with this thesis, however, as is illustrated here:
Here's the problem – we've bought the move from January to now with dollar weakness.  And worse, the effect is wearing off – that is, dollar weakness is now becoming negative for the market.
I have often written about the "nightmare" scenario for Bernanke – a market that stops responding strongly to further monetary games.  That is, he monetizes debt and instead of producing a ramp the result is a flat market – or even one that starts to break down.  This is akin to the common reaction to all addictive behavior – it feels great when you start, but the longer it goes on the worse the damage gets until you're either forced to dry out or you die.
Unfortunately the real economy is also running into trouble.  The monetary games have enabled $1,700 billion in deficit spending over the last year alone, and more than $4 trillion over the last three years.  All of that "pumping" has done only thing, however: It has bolstered the big banks' balance sheets.
How does this help you?  Well, it doesn't, unless you both want to and can afford to borrow more money.  But we got into this mess of an economy because people had borrowed too much money!
So now we sit in an interesting place.  The dollar can move lower by another couple of percent without breaking the all-time lows.  But somewhere there is a place where decline turns into rout.  That place is where oil goes up a double-digit number of dollars a day, where gasoline starts pricing upward in quarters instead of pennies, and where the alleged "economy" takes a .50 cal round to the head.
Bernanke must prevent that, since Congress won't.  They won't stop spending on their own – they're going to have to be forced to stop. That forcing won't come from a polite suggestion – it will come only from actual force that the market imposes upon us, much as it did with President Clinton.
Unfortunately the policy response options available to the Chairsatan are decidedly limited.  If monetization or even balance sheet rollover produces weakness, he has little he can do other than to defend the dollar.  That he can easily do by reducing the divisor (number of dollars) but that act will expose the bogus lending on the bank balance sheets and increase the cost of borrowed capital.  It will also spike the stock market – lower.
Hmmmm… might it be that the limits of this game of distortion are finally being reached?  Perhaps.  Certainly commodities – especially Silver – are saying that the usual response to monetary debasement is no longer going to produce the "expected" response.
It would appear that extreme caution is advised.
In contrast to a Gallup poll that shows more companies are hiring than firing, a Rasmussen Reports poll shows the opposite.
Please consider Rasmussen Employment Index
19% of Workers Report Their Firm is Hiring, 25% Laying Off
The Rasmussen Employment Index, which measures workers' perceptions of the labor market each month, regained five points in April after falling to a recent low in March. At 74.9, the Employment Index is up two points from a year ago and 11 points from two years ago. Yet despite April's gain, confidence in the Labor Market is still down from the beginning of 2011.

Just 19% of working Americans now report that their firms are hiring while 25% say their firms are laying workers off. Those numbers are little changed from the month before. It has been nearly three years since the number reporting that their firms are hiring has topped the number reporting lay-offs.

Twenty-eight percent (28%) of workers are now worried about losing their jobs in the near future. That's down a point from a month ago when concern reached the highest level since September 2010.

The survey of 8,522 working Americans was conducted in April 2011 by Rasmussen Reports. The margin of sampling error is +/- 1 percentage points with a 95% level of confidence.
28% Worried About Losing Their Job
One of the key finding in the survey is the number of people worried about losing their job. Those with such worries are not likely to go on spending sprees.
However, I cannot explain the huge divergence between the Rasmussen survey and the recent Gallup survey.
Gallup Survey Question
Based on what you know or have seen, would you say that in general, your company or employer is –
1) hiring new people and expanding the size of the workforce
2) not changing the size of its workforce
3) letting people go and reducing the size of its workforce
Gallup hiring minus firing = +13.
Rasmussen hiring minus firing is-6.
That is a huge difference for which I have no explanation.
For details and commentary on the Gallup survey, please see Gallup: U.S. Job Creation At Post-Recession High; What's Next? How Congress Can Spur Job Creation
Mike "Mish" Shedlock
Global Economic Analysis
As our institutions fail, they will take down many individuals with them. Don't despair: the failure is systemic, not personal.
As the U.S. economy fails on a systemic level, it is pushing individuals into a deep sense of failure. Feelings that one has failed one's family and oneself can feed a despair profound enough to trigger thoughts of suicide, and for many vulnerable people, thoughts lead to action.
In a terrible irony, those who do take their own lives are often those with the highest sense of responsibility and highest personal standards; their sense of failure is crushing in ways that less responsible, more laissez-faire people cannot imagine.
The systemic failure of the U.S. economy is pushing many to the brink of despair, as they interpret their own financial failures as personal rather than as the result of a system-wide decline stretching back decades. The need to explain this systemic failure is part of what drives me to write this blog day after day, month after month, year after year–to help people understand the roots of our national and global failings.
Despite these multiple systemic failures, I am an optimist, and I wrote Survival+ to not only illuminate the roots of our institutional failures but to lay out guidelines for bypassing those institutions as they devolve and collapse.
I have addressed this many times, for example:
The Next Golden Age, Part I (July 28, 2010)
The Next Golden Age, Part II (July 28, 2010)
The Central State (Federal government) and the Federal Reserve are both failing institutions. Their policies, assumptions and mindsets have only one end-state: devolution and collapse. After the old institutions have imploded, some new sustainable, honorable version may arise; this is possible but not guaranteed. Nobody knows the future, and life is contingent.
Institutions are like organisms: they have a life-cycle and exist in a wider ecology. Our current institutions are in the Failing Stage of their lifecycle, where simulacra "reforms" and facsimiles of "change" are presented in lieu of true systemic refomation.
This strategy is based in the institution's politics of experience: real transformation would require their constituencies to lose some measure of income, power and perquisites, and since every fiefdom within the institution will deploy all its formidable resources to self-preservation, then real reform is rendered impossible.
I have addressed this numerous times over the past five years, for example:
What's Different Now (July 12, 2007)
Complexity: Bureaucratic (Death Spiral) and Self-Organizing (Sustainable) (February 17, 2011)
The Lifecycle of Bureaucracy (December 2, 2010)
The basic mechanism of this expansion and fatal resistance to reform/change is "the ratchet effect": expansions of staff, reach, power and revenues are frictionless and exciting–the cog wheel of bureaucracy advances easily. But when the institution expands beyond its carrying capacity, beyond the efficiencies reaped from advancing complexity and scale, i.e. to mission creep, bloat and sclerosis, then any reduction in staffing, reach, power and revenues are resisted with iron fortitude and the desperation of an organism fighting for its life.
I prepared this chart to illustrate the life-cycle of bureaucracy: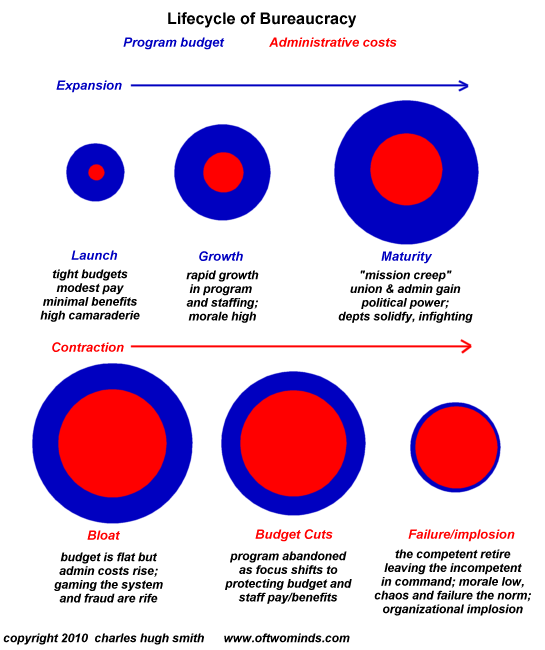 As revenue declines and pressure for real reform mounts, the embattled institutions find that propaganda and facsimiles of reform are "cheaper" "solutions" than real reform. This is the key driver behind the flood of propaganda, bogus statistical "proof" of "recovery," and all the phony "reforms" laid out in 3,000 pages of befuddling bureaucratic self-preservation.
Real reform would mean powerful constituencies would have to take real reductions in staffing, power, benefits and in their share of the national income. Rather than reveal this double-bind–reform is impossible but the Status Quo is unsustainable–the institution deploys its gargantuan resources to laying down a smoke-screen of bogus "reforms," distracting sideshows and ginned-up statistics to "prove" that "we're really changing things around here, yes-siree, and things are getting better and better, every day and in every way."
But it's all deception and lies. Nothing has truly been changed or reformed; another layer of self-preservation has been added to an already bloated defense of perquisites and power.
America's institutions are like stars about to go super-nova. They have increased in size to the point where their mass guarantees that once their energy source (as measured in fossil fuels and money) falls below a certain threshold, the institution will collapse inward on itself.
Until then, the best that we can do is to avoid official entanglements, lower our own cost basis, pay off debt owed to the Death Star Financial System and reduce our dependency on the institutions which are currently expanding in the final stages before they go super-nova and implode.
And don't take it personally if things fall apart around you. We're all doing our best, but we can't control everything around us.
Be still my palpitating heart!
The government can hit the limit and avoid a first-ever default because that can only occur if payments to bondholders are actually missed. And those obligations, the Republicans say, can be met with the tax revenue that will continue to pour into the Treasury, regardless of whether Congress raises the borrowing cap. All of the government's other bills — including those for defense contracting work, office supplies and highway maintenance, and to cover federal employees' paychecks — are secondary, they contend, and can be delayed or cut without panicking financial markets.
Ding ding ding ding ding ding
Winner winner chicken dinner!
Oh my.  For the first time I've seen the truth in a mainstream publication on this issue.
Brian Faler (the author), I owe you a drink.  Next time I'm in DC I'm looking you up.  You printed what nobody else would up until now.  THE TRUTH.
A growing number of Republicans are scoffing at warnings that failing to raise the U.S. debt limit would trigger a financial catastrophe. Treasury Secretary Timothy Geithner's cautions are merely aimed at stampeding Republicans into lifting the $14.3 trillion limit, said Toomey.
That's right.
Now listen up "Conservatives" and "Tea Partiers": You just saw the truth in a mainstream media publication.  This means it's no longer a "secret."
Now tell the rest of the truth: Cutting deficit spending will decrease GDP.  It cannot be avoided.  We might like to, but we can't.  We must accept the penalty that the frauds and scams of the last thirty years have put before us. 
We can, and will, survive doing that.  But we must do it, and we must do it now, because the longer we wait the worse the damage will be.
NO MORE DEFICIT SPENDING – PERIOD.