Archive for September 2nd, 2011
In response to the US To Sue Banks Over Bad Mortgages, Neil Garfield over at Living Lies has this to say:
YAWN! The government keeps filing lawsuits that COULD be big and COULD cause make corrections in the marketplace to reflect reality. But then they go nowhere, with discovery stymied by the Banks and then a settlement on the table that sells out everyone except the half dozen big banks that we allow to control the market, courtesy of our taxpayer money and our refusal to apply the same rules to them we do to the 7,000 other community banks and credit unions who could do the same or better job at handling the country's finance sector.

Don't get fooled. When someone comes out and says that securitization was an illusion, a ruse to defraud as many people in world population as possible, TEN we will have addressed the problem. When that special someone is willing to consider the idea that the banks never actually lost money and never needed a bailout, but that the top management diverted pornographic profits to off-shore havens then we will be on track to recapture the nation's wealth, which currently is held hostage by Wall Street banks and the great majority of those in government who depend upon the mega banks for their political campaign expenses.

In the meanwhile, the lawsuits should be watched because deep inside each suit are some additional allegations, indicating the results of administrative investigations that you can use. When we get serious, the lawsuits will come fast and furious and aggressively pursued. Until then, all thee actions amount to little more than window dressing.
Unfortunately, I agree with Mr. Garfield.  He's probably right.  Until or unless someone is willing to raid these banks and the homes of their CEOs and Board Members, and criminally charge them with fraud (among other things), nothing is going to change.  Just sit back and wait for the 'settlement' that will be praised as 'saving the taxpayers' money' or 'helping with the recovery.'
You can read the Federal Home Loan Agency's Press Release here (PDF).
With regards to support for individual lawsuits (perhaps by homeowners or individual investors), a number of the individual complaints by FHLA contain the following allegations:
Misrepresented LTV Ratios – Understatement of loan-to-value 100% or greater and overstatement of loan-to-value 80% or less.
Inflated Appraisals – Banks colluded with appraisers to artificially increase values of homes; i.e. Home was worth $100k; seller and lender wanted and got an appraisal of $200k; loan was given at $200k =  the borrower was immediately underwater $100k.  Yet the banks continue to blame the borrowers and refuse to give principal reductions.
Breaches in Underwriting Standards – Giving loans to people they knew couldn't pay, many times altering the original application, but selling these same loans to investors as 'money good'.
While this may be a start of something bigger, it still isn't a criminal action to…….
STOP THE LOOTING & START PROSECUTING!
Goldman Sachs is doing it again.  Goldman is telling the public that everything is going to be just fine, but meanwhile they are advising their top clients to bet on a huge financial collapse.  On August 16th, a 54 page report authored by Goldman strategist Alan Brazil was distributed to institutional clients.  The general public was not intended to see this report.  Fortunately, some folks over at the Wall Street Journal got their hands on a copy and they have filled us in on some of the details.  It turns out that Goldman Sachs secretly believes that an economic collapse is coming, and they have some very interesting ideas about how to make money in the turbulent financial environment that we will soon be entering.  In the report, Brazil says that the U.S. debt problem cannot be solved with more debt, that the European sovereign debt crisis is going to get even worse and that there are large numbers of financial institutions in Europe that are on the verge of collapse.  If this is what people at the highest levels of the financial world are talking about, perhaps we should all start paying attention.
There is a tremendous amount of fear in the global financial community right now.  As I wrote about the other day, the financial world is about to hit the panic button.  Things could start falling apart at any time.  Most of these big banks will not admit how bad things are publicly, but privately there is a whole lot of freaking out going on.
According to the Wall Street Journal, Brazil believes that "as much as $1 trillion in capital may be needed to shore up European banks; that small businesses in the U.S., a past driver of job production, are still languishing; and that China's growth may not be sustainable."
Perhaps most startling of all is what the report has to say about the debt problems of the United States and Europe.
For example, this following excerpt from the report sounds like it could have come straight from The Economic Collapse Blog….
"Solving a debt problem with more debt has not solved the underlying problem. In the US, Treasury debt growth financed the US consumer but has not had enough of an impact on job growth. Can the US continue to depreciate the world's base currency?"
Remember, this statement was not written by some guy on the Internet.  A top Goldman Sachs analyst put it into a report for institutional investors.
The report also goes into great detail about the financial crisis in Europe.  Brazil writes about how the euro is headed for trouble and about how dozens of financial institutions in Europe could potentially be in danger of collapse.
But in any environment Goldman Sachs thinks that it can make money.  The following is how Business Insider summarized the advice that Brazil gave in the report regarding how to make money off of the impending collapse in Europe….
Buy a six-month put option on the Euro versus the Swiss Franc, thus betting the Euro will drop against the Franc (the Franc being the currency that an official Goldman report recently referred to as the most overvalued in the world)
Buy a five-year credit default swap on an index of European corporate debt—the iTraxx 9. This is a bet that some of these companies will default, and your insurance policy, the CDS, will pay off
This is so typical of Goldman Sachs.  They will say one thing publicly and then turn around and do the total opposite privately.
For example, prior to the financial crisis of 2008, Goldman Sachs was putting together mortgage-backed securities that they knew were garbage and marketing them to investors as AAA-rated investments.  On top of that, Goldman then often privately bet against those exact same securities.
The CEO of Goldman Sachs has even acknowledged that the investment bank engaged in "improper" behavior during 2006 and 2007.
For much more on the history of all this, please see this article: "How Goldman Sachs Made Tens Of Billions Of Dollars From The Economic Collapse Of America In Four Easy Steps".
So will Goldman Sachs ever get into serious trouble for any of this?
No, of course not.
Yeah, they will get a slap on the wrist from time to time, but the reality is that the top levels of the federal government are absolutely littered with ex-employees of Goldman Sachs.  Goldman is one of the "too big to fail" banks and they are going to continue to do pretty much whatever they feel like doing.
Sadly, the power of the "too big to fail" banks just continues to grow.  At this point, the "big six" U.S. banks (Goldman Sachs, Morgan Stanley, JPMorgan Chase, Citigroup, Bank of America, and Wells Fargo) now possess assets equivalent to approximately 60 percent of America's gross national product.
Goldman Sachs was the second biggest donor to Barack Obama's campaign in 2008, so don't expect Obama to do anything about any of this.
We have a financial system that is deeply, deeply corrupt and all of that corruption is a big reason why things are falling apart.
Sadly, the 54 page report mentioned above is right – we really are facing a global debt meltdown and we really are heading for an economic collapse.
You aren't going to hear the truth from the mainstream media or from our politicians because "keeping people calm" is much more of a priority to them than telling the truth is.
The debt crisis in the United States is unsustainable and the debt crisis in Europe is unsustainable.  Right now we are in the calm before the storm, and nobody knows exactly when the storm is going to strike.
But let there be no doubt – it is coming.
The amazing prosperity that we have enjoyed for the last several decades has largely been a debt-fueled illusion.  It was a great party while it lasted, but now it is coming to an end and the aftermath of the coming crash is going to be absolutely horrific.
Keep watch and get prepared.  We don't know exactly when the collapse is going to happen, but it is definitely on the way and now even Goldman Sachs is admitting that.
The tragedy of the too big to fail banking sector – over $1 trillion in deposits are over the $250,000 FDIC limit.  $6.5 trillion in insured deposits backed by $3.9 billion.
It is amazing how much ill placed faith is thrown into the current banking system when there is plenty of evidence of insatiable malfeasance.  The FDIC recently released its quarterly banking report and somehow dismal information was twisted as being positive.  Take for example the reality that $6.5 trillion in insured deposits are backed by $3.9 billion.  Does this give anyone any comfort?  What is even more staggering is you have $1 trillion in deposits above the $250,000 FDIC protection limit riding it out with absolutely no protection.  The banking sector is going to face dramatic problems ahead because the past issues of bad loans have yet to be realized.  Sure, accounting trickery and fancy financial magic can buy you a few years but ultimately you have to come to terms with the deep issues in the balance sheet.  The FDIC is overseeing an industry with $13 trillion in "assets" and only carries a $3.9 billion insurance fund.  It appears the wizard behind the curtain is blowing more smoke than ever.
$1 trillion in deposits with no protection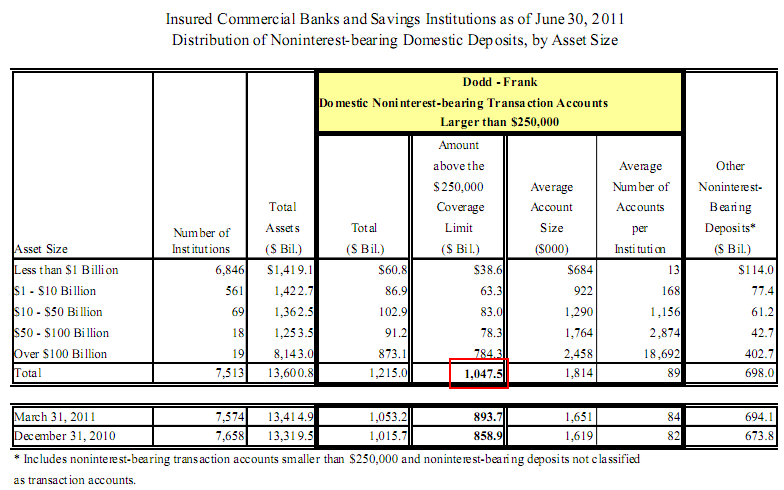 One of the upsetting revelations in the quarterly report is the fact that over $1 trillion in deposits are not insured by the $250,000 limit.  Most of these deposits are placed in the too big to fail institutions.  As you can see from the table above, the U.S. has over 7,500 banking institutions but only 19 with over $100 billion in assets.  Incredibly, these are the most problematic banks as well.  The vast majority of these deposits are simply out to sea with no sail.  This only brings up the issue of potentially more bailouts as if the trillions of dollars given to the banking sector were not enough already.  Look at how well the bailouts have helped the wilting economy.
Contrary to what the public is told, the banking sector is not in healthy shape.  Take a look at these too big to fail banks and how well they have done in 2011:

Many of the biggest banks in the country are down from 12 percent all the way up to 38 percent including the recent rally.  Bank of America with over $2 trillion in banking assets has fallen by a jaw dropping 38 percent.
Read the rest at My Budget 360
Global Recession, Right Here, Right Now: Japan's Capital Spending Plummets; Eurozone PMI, UK PMI, US ISM ex-Inventory, China Exports in Contraction
It's time to stop debating whether or not the US or Europe is headed into recession. The facts show the entire global economy is in recession.
Global Recession Supporting Data-Points
Ten Things to Remember
Prior stimulus in the US is dead, having run its full course
There is no incentive in the US Congress for more stimulus
Austerity measures have yet to hit Italy and France
Austerity measures will continue to bite Spain, Greece, Ireland
Germany export machine will die without the rest of Europe
QE3 will fail much sooner than QE2 as interest rates already extremely accommodating
Gold may respond well to competitive currency devaluation schemes
The Eurozone is highly likely to breakup although timing is unknown
Global equities and commodities are priced for perfection.
Perfection is not happening.
Additional Reads
Talk of avoiding recession when the global economy is clearly in one and fundamentals are horrendous is sheer lunacy.
In case you missed them, please consider ….
Mike  "Mish"  Shedlock
"The end of work" structural unemployment will not be solved with failed policies. We as a  nation need a Plan B: social innovation aimed at rebuilding autonomy and community.
Those who have been jobless in this "jobless recovery" or in previous recessions know how dispiriting and crushing it is to be unable to find paying work.It's remarkably easy to discuss tens of millions of unemployed people in the abstract, and quite a different matter to respond to the human face of "the end of work" structural scarcity of jobs.
If you are unemployed, then you must respond to the natural cycle of despair and anxiety you will feel.  If you have an income, or job, then you may have the opportunity to respond to an individual who is personally experiencing the consequences of sustained, grinding joblessness.
I was jobless (and income-less) during both the 1973-4 and 1981-2 recessions, and was down to  less than $100 on more than one occasion.
Our problems far exceed anything resolvable with a "class war" mindset, but it is nonetheless instructive that a recent study found wealthy people tend to be very self-satisfied with their own merit while lacking empathy for those without their connections:The wealthy lack empathy, are self-centered:Because the rich gloss over the ways family connections, money and education helped, they come  to denigrate the role of government and vigorously oppose taxes to fund it.
As I have made clear here many times, Plan A–millions of jobs appearing out of thin air,  magically called into existence by the incantations of cargo-cult Keynesians and their Wall Street banker brethren who think all our structural unemployment will go away if only the Federal Reserve shoves another couple trillion dollars into the banks and speculators' hands every year–has failed.  We need a Plan B, and we have no models for Plan B. I tried to present such a model inGetting 20 Million Unemployed Back to Productive Work: Here's How(August 16, 2011), but few "got it": neither the Savior State nor the private sector is going to create 20+ million jobs, and the favored panaceas of technology and education aren't going to make it happen, either.
Here is the ugly truth about the Savior State, welfare state, social welfare state, or whatever you choose to call the Central State: The Savior State displaces and destroys community and social capital.By making individuals dependent on the Central State for free money, free food, free housing, etc., then the State has taken over the natural function of community.  Being part of the community is no longer a requisite for social capital, employment or meaning.Free money is not a positive, it is a force of destruction for the individual and the community.

  The "End of Work" and the Coming Revolution in Education  (June 7, 2011)

  End of Work, End of Affluence   (December 5, 2008)

  End of Work, End of Affluence I: Cascading Job Losses(December 8, 2008)

  The End of (Paying) Work (January 21, 2009)

There are eight pages of entries on "the end of work" in my archives; just enter "end of work" in the custom search box in the upper left sidebar to view them all.
We are going to have to reinvent our communities to provide opportunities to contribute. We may end up with a cashless solution, where people work for shelter, food, care and a chance to belong/contribute, which is an "asset" that is rarely recognized, much less understood.
Unemployment and social-welfare are fundamentally a political form of bribery: take the money, but keep quiet; we're buying your complicity, so don't make waves for those still prospering in the Status Quo.
The question of unemployment and job creation in an age of "the end of work" boils down to this very unpolitically correct equation: how much are the top 20% willing to pay in taxes to bribe the bottom 50% to keep quiet, to watch TV and kill time playing with "entertaining" gadgets and toys, and most importantly, remain politically invisible.
Life is still awfully good for the top 20%, and while I am not in the top 20% in terms of income, I count myself as definitely among those who are not hanging on by a thread.  Paying taxes to keep the whole thing from unraveling is an easy trade-off to make, and that's for us working peons who can't avoid taxes like the Warren Buffetts of America. (Hey, Warren, I pay 40% Federal (25% basic rate and 15% self-employment) and 5% state, plus $11K in annual property tax, and $10K for bare-bones health insurance– nobody's stopping you from paying your 40%. What you're really saying is truly pathetic: "Stop me before I evade paying taxes again!")
While heading home from our camping trip last week I happened to spot Russ in Redding, Calif.It was already dark, and we'd exited I-5 for gas.  After filling up the Civic, I'd parked behind the gas station's mini-mart so we could use the bathroom. While waiting for my wife, I noticed a young man lugging a black plastic bag  approach the poorly lit rear of the mini-mart on foot, his dog at his heels.
He was clearly homeless, and this was clearly one of his regular stops; there was a water spigot behind the mini-mart, and he refilled a water bottle and then set some water out for his dog. The briskness of his pace and the deftness of his actions told me he was not a druggie or an alcoholic. He was simply a young man with no money or income.
I never carry much cash, usually just a "Kansas City bankroll," a bunch of ones and a single tenner, but my instinct was to help this young man in some small way, which at that point meant a bit of cash.
I got out of the car and approached him in the dim light, keeping an eye on his dog and on his reaction. "Howdy," I said. He looked up and made a quick streetwise assessment–I passed as harmless.
"Could you use a few bucks?"  The answer was obvious, but not everyone enjoys charity.
"Yes."
I handed him the money and asked him how he was doing.  In a matter-of-fact tone, he said he'd graduated from culinary school, but it was hard to find a job. He had a few leads, but for the meantime he was on the streets, and he'd chosen not to abandon his dog, a part-Husky.
We all want to be treated as a normal person, and so in our conversation Russ  was a normal person, not a homeless person. We chatted about the Redding Police–good sorts, not prone to hassle people on the street–panning for gold in the  nearby mountains–a friend of his had been cited with a $300 fine for failing to have a $2 panning permit–and where I'd been camping. I gave a bit of attention to his frisky dog, who responded well to his voice commands.
It hurt me that this amiable scrawny young man was on the street, and that jobs were so scarce. I wondered how many other young people are on the street elsewhere in the nation,  not qualified for unemployment because they haven't been working long enough.
I told him something was sure to turn up, but  my reassurance had a hollow sound. We exchanged names and handshakes, and I returned to my car. My wife asked if he had family to help him, and I replied that I hadn't asked.  Perhaps his family was threadbare, or his pride precluded asking them; I didn't know.
What I do know is that doing nothing isn't going to fix the economy, and neither will waving dead chickens and chanting incantations about tax cuts, more borrowed stimulus and quantitative easing.The cargo cults of tax cuts, Fed "easing" and Keynesian borrow-and-spend have been tried for four years, and all three have failed abjectly.
The problem lies far beyond these conventional postwar gambits: the problem is structural, i.e. the end of work. At some point, we will have to accept the need for Plan B, which will require a new understanding of community, autonomy and meaningful work outside the confines of both private-sector and government conventions.
If you didn't like Getting 20 Million Unemployed Back to Productive Work: Here's How (August 16, 2011), then outline your own Plan B. Doing nothing–waving dead chickens and painting dials on rocks to please the cargo cult priests–is going to accomplish just that: nothing.
Charles Hugh Smith – Of Two Minds
The Internal Revenue Service allowed undocumented workers to collect $4.2 billion in refundable tax credits last year, a new audit says, almost quadruple the sum five years ago.
Although undocumented workers are not eligible for federal benefits, the report released Thursday by the Treasury Inspector General for Tax Administration concludes that federal law is ambiguous on whether these workers qualify for a tax break based on earned income called the additional child tax credit.
Taxpayers can claim this credit to reduce what they owe in taxes, often getting refunds from the government. The vagueness of federal law may have contributed to the $4.2 billion in credits, the report said.
The IRS said it lacks the authority to disallow the claims.
Wage earners who do not have Social Security numbers and are not authorized to work in the United States can use what the IRS calls individual taxpayer identification numbers. Often these result in fraudulent claims on tax returns, auditors found.
Their data showed that 72 percent of returns filed with taxpayer identification numbers claimed the child tax credit.
The audit recommended that the IRS seek clarification on the law and check the immigration status of filers with taxpayer indentificaion numbers.
IRS officials, in response to a draft of the report, agreed to consult with the Treasury Department on the law. But they said they have no legal authority to demand that filers prove their legal status when the tax agency processes returns.
Changes to tax law are partly to blame for the explosion in refunds for additional child tax credits in recent years, auditors found. Before 2001, filers needed to have three or more children to qualify — and to owe more Social Security taxes than earned income credits.
But those requirements have been eliminated and the allowable refund for each child doubled. The American Recovery and Reinvestment Act of 2009 also made the refund easier to get, auditors found.
Lisa Rein for Washington Post Blog