Archive for September 24th, 2011
The financial world is officially going crazy.  Can you believe what is going on out there right now?  Financial markets have been jumping up and down like crazy for months and this is creating a lot of fear.  Other than during the financial crisis of 2008, in the post-World War II era have we ever experienced as much financial instability as we are seeing right now?  Should we just accept that massive financial instability is going to be part of "the new normal" in the financial world?  The wild swings that we are witnessing in the global financial marketplace are making a whole lot of people very nervous right at the moment.  When markets go up, they tend to do it slowly and steadily.  When markets go down, a lot of times it can happen very rapidly.  Also, as I have mentioned before, more major stock market crashes happen during the fall than during any other time of the year.  The last major financial crisis happened during the fall of 2008, and things are starting to look a little bit more like 2008 with each passing day.  The last thing the global economy needs right now is another major financial meltdown, but that may be exactly what we are about to get.
The Dow got absolutely hammered once again on Thursday.  It was down almost 400 points, and it has lost a total of 674.83 points over the last two days combined.
In case you are wondering, yes, that is a very big deal.
It represents the largest two day decline that we have seen since November 2008, and at this point the Dow is on pace to have its worst week since September 2008.
Over the past two days, more than 900 billion dollars of "paper wealth" has disappeared.
Hopefully you did not share in that pain.
A couple of days ago, I discussed 21 signs that the financial world was on the verge of a nervous
breakdown.  But I had no idea that things would get so ugly so soon.
So what comes next?
One of the keys is to watch what the "insiders" are doing.  Often they will say one thing and do another.
At the moment, corporate "insiders" are selling 7 dollars of stock for every 1 dollar of stock that they are
buying.
Over the past couple of weeks, "insider" investing behavior has changed dramatically.  The following is from an article that was recently posted on MarketWatch….
The insiders have vanished. Chief executives. Board members.

The head honchos. The people who know.

Just a few weeks ago, they were out in force, buying up shares in their own companies with both hands.

No longer. They've disappeared. Almost overnight.

"They've stopped buying," says Charles Biderman, the chief executive of stock market research firm TrimTabs, which tracks the data.
For some reason, this almost always starts happening before a crash.  So obviously this is not a good sign.
A lot of normal investors have been pulling large amounts of money out of stocks as well.  The following is from a report in the Financial Post….
Investors have pulled more money from U.S. equity funds since the end of April than in the five months after the collapse of Lehman Brothers Holdings Inc., adding to the $2.1 trillion rout in American stocks.

About $75 billion was withdrawn from funds that focus on shares during the past four months, according to data compiled by Bloomberg from the Investment Company Institute, a Washington-based trade group, and EPFR Global, a research firm in Cambridge, Massachusetts. Outflows totaled $72.8 billion from October 2008 through February 2009, following Lehman's bankruptcy, the data show.
Are you starting to get the picture?
Not only that, but a third very troubling sign is that an extraordinary number of bets has been placed against the S&P 500.  As I noted the other day, if there is a stock market crash in the next few weeks, somebody is going to make a ton of money….
We are seeing an amazing number of bets against the S&P 500 right now.  According to CNN, the number of bets against the S&P 500 rose to the highest level in a year last month.  But that was nothing compared to what we are seeing for October.  The number of bets against the S&P 500 for the month of October is absolutely astounding.  Somebody is going to make a monstrous amount of money if there is a stock market crash next month.
It doesn't take a genius to see all the dark financial clouds that are gathering on the horizon.
And all of the bad news that is constantly coming out of Europe is certainly not helping things.  For example, yesterday S&P slashed the credit ratings of seven different Italian banks.
Credit downgrades have become so frequent that we hardly even notice them anymore.
Pessimism is everywhere right now.  Suddenly it seems like almost everyone is predicting that another "recession" is coming….
*According to a recent Harvard Business Review survey, 70 percent of global business leaders believe that a global recession is "somewhat likely" or "very likely" in the coming months.
*Economist Nouriel Roubini says that we are "already in recession".
*When asked by CNBC what he thought about the possibility of another recession, George Soros said
the following the other day….
"I think we are in it already."
As fear spreads, it is only going to make global financial instability even worse.  If something doesn't change, we could soon have a full-blown panic on our hands.
So why should the rest of us care if global financial markets crash and a bunch of bankers lose a whole lot of money?
Well, unfortunately our entire economic system is based on credit.  When the last financial crash happened in 2008, the credit markets got really tight.  Economic activity started to freeze up.  We entered a deep recession and unemployment skyrocketed.
As much as many of you may want to see the house of cards fall down, the reality is that when it does it is going to deeply hurt millions upon millions of innocent people too.
During the last recession (which never really ended), millions of Americans that lost their jobs also lost their homes.
Back in 2006, the home vacancy rate in America was 11.6%.
In 2009, the home vacancy rate was 12.6%.
In 2010, the home vacancy rate was 13.1%.
Just like the number of Americans on food stamps, this is a figure that just keeps going up and up and up.
Could we eventually live in a country where one out of every five homes is standing empty?
The truth is that the U.S. economy is in the middle of a long-term decline.  The economy declined
badly while George W. Bush was in office, and the decline has accelerated since Barack Obama entered the White House.
As I wrote about yesterday, the American people are feeling really depressed about the economy and 80 percent of them believe that we are in a recession right now.
So what kind of a mood are they going to be in if there is another major financial crisis and unemployment jumps up by several more percentage points?
We live in unprecedented times.  The financial world has become incredibly unstable, and none of us is really quite sure what "the new normal" is going to look like after all of this is over.
But one thing is for sure – things never stay the same for long.
The way that things have been in the past is not how things are going to be in the future.
A "perfect storm" is coming.
Everything that can be shaken will be shaken.
You better get ready.
Yesterday I described three fatal flaws in the Eurozone; today we look at three more structural reasons the zone and its common currency the euro are doomed.
I have accepted an invitation to join ChrisMartenson.com as a contributing editor.  I am honored by the invitation from Chris and Adam, and will be contributing in-depth analyses once or twice a month. Today's post is a reprint of my first article,The Fatal Flaws in the Eurozone and What They Mean To You.
As most of you know, the Web is only free to users; creating and hosting original content is not free.  There are few ways for those of us who create the original content to be compensated, and one is a subscription/paywall model.   As a result, the actionable elements of my analyses will be available exclusively to enrolled members of ChrisMartenson.com. Most of you are familiar with this model, as many sites (iTulip, for example) use it as a means of supporting the costs of providing original content.
Chris Martenson.comprovides a wealth of information for free, and oftwominds.com will continue to be free.  As the traffic has grown, the costs of hosting this site have skyrocketed (dedicated servers are not free). My goal is to provide value to both visitors and enrolled members; the free portion of my contributions will be cross-posted here on oftwominds.com.
Your readership and support are greatly appreciated.
On a side-note: the long dollar trade that I have presented here since May appears to be playing out as the charts suggested.
Reason #1:

: The Imbalance between Exporting and Importing Nations

An intrinsic source of instability is the imbalance between export powerhouse Germany, which generates huge trade surpluses, and its trading partners in the EU that run large trade and budget deficits— Portugal, Italy, Ireland, Greece, and Spain.

Those outside of Europe may be surprised to learn that Germany's exports are roughly equal to that of China ($1.2 trillion) even though Germany's population of 82 million is a mere 6% of China's 1.3 billion. (Germany and China are the world's top exporter nations, while the U.S. trails as a distant third.)

Germany's emphasis on exports places it in the so-called mercantilist camp, which depends on exports for their growth and profits. Since the inception of the euro, Germany's exports rose an astonishing 65% from 2000 to 2008 while its domestic demand was near zero. Without strong export growth, Germany's economy would have been at a standstill. The Netherlands, which reaped a $33 billion trade surplus from a population of only 16 million residents, is another example of a Eurozone country which runs substantial trade surpluses.

The "consumer" countries, on the other hand, run large current account (trade) deficits and large government deficits. Italy, for instance, has a $55 billion trade deficit and a budget deficit of about $110 billion. Total public debt is a whopping 115.2% of GDP.

Spain, with about half the population of Germany, has a $69 billion annual trade deficit and a staggering $151 billion budget deficit; fully 23% of the government's budget is borrowed.

Though German wages are generous, the German government, industry and labor unions kept a lid on production costs even as exports leaped. As a result, the cost of labor per unit of output—the wages required to produce a widget—rose a mere 5.8% in Germany in the 2000-2009 period, while equivalent costs in Ireland, Greece, Spain, and Italy rose by roughly 30%.

The consequences of these asymmetries in productivity, debt, and deficit spending within the Eurozone are subtle. In effect, the euro gave mercantilist, efficient Germany a structural competitive advantage by locking the importing nations into a currency, making German goods cheaper than domestically produced goods.

Put another way, by holding down production costs and becoming more efficient than their Eurozone neighbors, Germany engineered a de facto devaluation of its own products within the Eurozone at the expense of its importing neighbors.
Reason #2

: The Euro Removed the Mechanism of Currency Devaluation

The euro had another deceptively pernicious consequence. The overall strength of the currency enabled debtor nations to rapidly expand their borrowing at low rates of interest. In effect, the euro masked the internal weaknesses of debtor nations running unsustainable deficits and those whose economies had become precariously dependent on the bubble in housing (Ireland and Spain) for growth and taxes.

Prior to the advent of the euro, when overconsumption and over-borrowing began hindering an importing, "consumer" economy, the imbalance was corrected by an adjustment in the value of each nation's currency. This currency devaluation would restore the supply-demand and credit/debt balances between mercantilist and consumer nations.

For instance, the Greek drachma would fall in value versus the German mark, effectively raising the cost of German goods to Greeks, who would then buy less German products. The trade deficit would shrink, and lenders would demand higher rates for Greek government bonds, effectively pressuring the government to reduce its borrowing and deficit spending.

But now, with all 17 nations locked into a single currency, devaluing currencies to enable a new equilibrium is impossible. As a result, Germany is faced with the unenviable task of bailing out its "customer nations." Meanwhile, the residents of Greece, Italy, Spain, Portugal, and Ireland are faced with the unenviable task of cutting government benefits to realign their budgets with the productivity of their underlying national economies.

Germany helped enable the over-borrowing of its profligate neighbors by buying their government bonds; according to BusinessWeek, German banks are on the hook for almost $250 billion in the troubled Eurozone nations' bonds.

This has pushed Germany into a double-bind. If Germany lets its weaker neighbors default on their sovereign debt, German banks will fail, but if Germany becomes the "lender of last resort," then the German taxpayers end up footing the bailout bill.

If public and private debt in the troubled nations keeps rising at current rates,  it's possible that even mighty Germany may be unable (or unwilling) to fund an essentially  endless bailout. That would create pressure within both Germany and the debtor nations to jettison the single currency as a good idea (in theory), but an ultimately unworkable one in a 17-nation bloc as diverse as the Eurozone.
Reason #3

: Crushing Private and Public Debts

Banks around the world have a major challenge in the next few years: trillions of dollars in debt must be "rolled over" or refinanced. Globally, banks owe about $5 trillion to bondholders and other creditors that will come due by 2012, according to the Bank for International Settlements (BIS).

But European lenders have a substantial share of that burden: About half of the liabilities—some $2.6 trillion–are in Europe.

The BIS has several fundamental concerns about this stupendous Eurozone debt load. One is that banks desperate for refinancing will compete with governments such as those in Greece and Spain, which must also roll over gigantic sums in the global bond market. Competition for bondholders' favors will result in higher credit costs for business and consumers, with predictable consequences: Higher borrowing costs lead to reduced economic activity.

The BIS's second great concern is the gargantuan sums that have been promised to citizens in Eurozone social welfare programs. As Europe's working-age population shrinks and the number of its retirees rises, the ability of governments to pay the benefits and service the huge debts that have been accumulated is in question.

The choices facing governments with rising social welfare costs and debt costs are bleak. Either cut benefits or raise taxes on a dwindling base of workers–or both.

The bottom line: The flaws in the structure of the European Union and euro cannot be resolved by face-saving compromises and additional bailouts.

Since the devolution of the Eurozone and the euro is baked in, as investors we need to think through the consequences of a probably messy restructuring of the EU and the euro.  In Part II of this report: Positioning Yourself for the Devolution of the Euro, we delve into the most probable series of outcomes for the euro  and how investors can position themselves to protect and possibly increase the purchasing power  of their capital vs. this troubled currency.

Click here to access Part II of this report (free executive summary, enrollment required for full access).

Charles Hugh Smith – Of Two Minds
The coming failure of Operation Twist – The Federal Reserve resurrects a program from the 1960s named after the Twist Dance.  Appropriate timing for a Dancing with the Stars nation.
The Federal Reserve has literally run out of ideas.  Operation Twist, a throwback to the 1961 action taken by the Fed named after the Twist Dance fad at the time, is now back in 2011.  This time the Fed plans to purchase $400 billion of bonds with 6 to 30 year maturities while selling bonds with shorter term maturities.  The Federal Reserve continues to deal with a debt crisis with more debt.  The market has quickly spoken shaving off 700 points in two days and many global markets are now solidly back in bear market territory.  The problem with this program is that it assumes that the only problem with the economy is that not enough people are borrowing and spending.  The Fed goes after interest rates like a lion after a zebra.  Interest rates are not a problem.  Rates are at historical lows.  The problem of course is that household income has gone south for well over a decade.  The only true winners with these low rates are the banks who can access cheap money to wildly speculate in the stock market casino.
Operation Twist largely benefits the too big to fail banks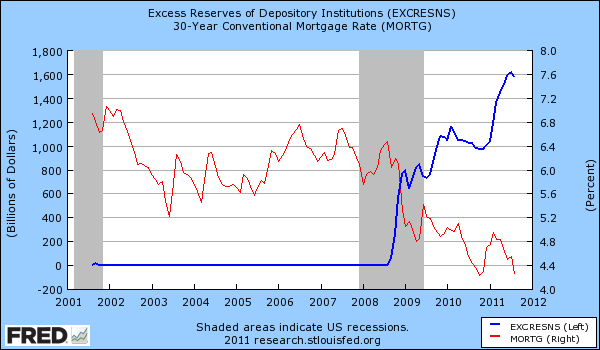 The recent Federal Reserve move only makes it cheaper for banks to borrow and speculate.  As the above chart highlights, banks already have an abundant amount of money in their excess reserves.  Banks before Operation Twist had $1.6 trillion in reserves that are readily available to lend to the public.  The problem is twofold:
-1.  Banks are keeping this money because of their horrific balance sheets.

-2.  Banks are now back to using due diligence and with the average per capita income at $25,000 not many credible borrowers are coming to the table.
In other words, these excessively low rates continue to bailout the too big to fail banking syndicate.  This comes at the expense of savers and those that are prudent.  The average savings account in the U.S. is paying roughly 0 percent while banks can charge 15 percent or higher on credit cards.  Banks can simply keep that $1.6 trillion and actually earn interest on it.  Wouldn't you like to get free money and earn easy interest on it?  The mission of the Fed is to protect the banking system and this is like rule number one of the banking Ten Commandments.  The success of the overall economy is only a factor if it aligns with banking profits.
Operation Twist is also a failure because households in America are in the process of deleveraging after reaching a peak crisis in debt.  Households are maxed out.
Read the rest at My Budget 360
.
.
.
.
.
.
.
.
.
[Bernanke's Office]
.
BTW, did you catch Banzai7 on Today's Keiser Report? Watch the bit about Timmah and Fatso…"It's war, btut we have the Art…"
And now for a brief public service announcement: