The Big Change:  Massive financial volatility and the occupation of Wall Street – when the middle class breaks protests will hit the financial streets.  Poverty in the suburbs and rising food costs.
When the basic costs of living move up there is bound to be shocks deep in the economy.  As we mull over the humbling Census data, it is clear that many Americans are struggling in this modern day economy that protects the banks at the cost of the majority.  Let us call a spade a spade.  We are in the epicenter of the biggest financial disaster in history spurred on by the investment banks and their purchased colleagues in Washington D.C.  How do we know this?  Because no real reform has been enacted on Wall Street and we enter a decade of lost wages.  The middle class is disappearing because bankers have used corporate welfare to shield themselves from the brutal corrections of the markets while the rest of Americans need to get by on an average of $25,000 per capita.  Oscillating votes from Democrats to Republicans has done absolutely nothing.  Many are now taking to the streets and protestors are now marching to Wall Street taking action.  If you look at those who are protesting many are young, in their twenties and thirties, protesting what the media has failed to cover for years.  If we look at the last decade we realize that our current financial system has captured our political system and things are starting to get volatile, just like the stock markets.
The rising costs of daily goods
You don't need a degree in economics to know the cost of living is getting more expensive.  Take a look at the performance of various asset classes for the last year: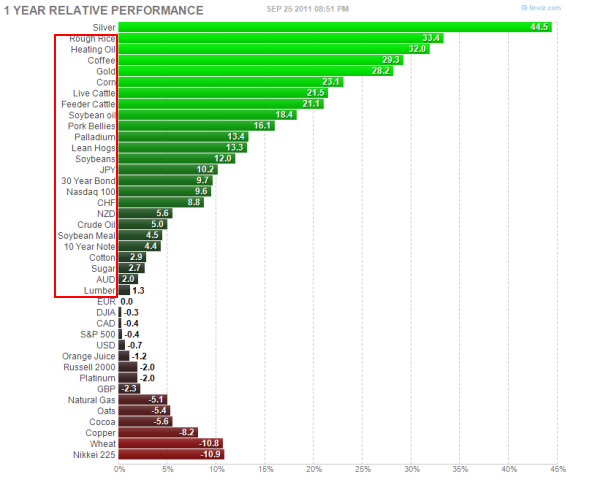 Look at all the items related to food in the green:
-Live cattle is up 21 percent over the last year.

-Rough rice is up 33 percent over the last year

-Lean hogs are up 13.3 percent over the last year

-Soybeans are up 12 percent

-Crude oil is up 5 percent

-Sugar is up 2.7 percent
At the same time, the majority of Americans see a shrinking paycheck or no paycheck with the large number of unemployed.  When trends like this persist, economies begin to get unstable.  The Federal Reserve continues to devalue the U.S. dollar through its actions and specifically looks to aid the big banks at the expense of the public.
Poverty in the suburbs
One of the oddest symptoms of this crisis is suburb poverty.  When we think of poverty we usually think of run down sections of Detroit or other inner cities.  Yet poverty in the suburbs is growing with the middle class shrinking: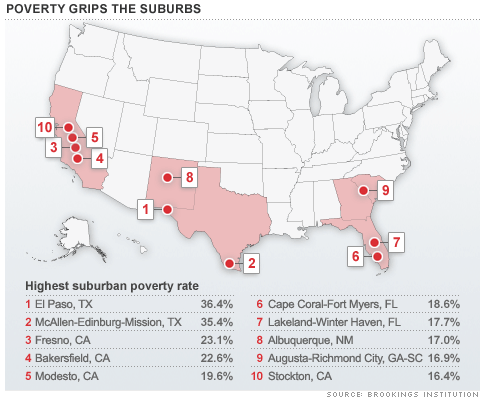 Read the rest at My Budget 360