Archive for October, 2011
There is absolutely nothing wrong with working hard and making a lot of money, but there is something wrong with being completely arrogant and smug about it. Today, many among the elite are savagely mocking the poor, and that is a huge mistake. You shouldn't kick people when they are down. There are tens of millions of Americans that are deeply frustrated about losing their homes, losing their jobs or barely being able to survive in this economy. These frustrations have been one of the primary reasons for the rise of the Tea Party movement and the rise of the Occupy Wall Street movement. What these movements have in common is that people in both movements are sick and tired of the status quo and they want something to be done about our broken system. There are huge numbers of families out there right now that have just about reached the end of their ropes. Instead of showing compassion, many of the ultra-wealthy have decided that it is funny to mock the poor and those that are suffering. So how are all of these protesters going to respond to the "let them eat cake" attitude of the Wall Street elite? The protesters are being told that nothing that they can do will change anything and that they should be grateful for what Wall Street and the ultra-wealthy have done for them. They are essentially being told that they should just shut up and go home. So will we see these protest movements become discouraged and die down, or will the patronizing attitudes of so many among the elite just inflame them even further?
Right now, there really are two different "Americas". In one America, the stock market is surging, corporate profits are soaring and BMW is operating factories at 110% of capacity just to keep up with demand.
In the other America, unemployment is rampant, millions of families are being kicked out of their homes and more than 45 million Americans are on food stamps.
There is more economic frustration in this country today than there has been at any other time since the Great Depression. We are watching pressure build to very dangerous levels.
It is important to note that I certainly do not agree at all with the solutions being put forward by the organizers of the Occupy Wall Street protests. As I have written about previously, collectivism is one of our biggest problems, and more collectivism is not going to solve anything.
But it is definitely understandable that people are incredibly upset about this economy and that they want to protest. Most Americans realize that something is fundamentally wrong with our economic system.
Unfortunately, most of them do not understand how we have gotten to this point or what it is going to take to fix things. That is one of the reasons why I write about economic issues so much. We desperately need to educate America.
But what is undeniable is that there is a growing rage in this country that protest movements such as the Occupy Wall Street are giving a voice to.
Our system is badly broken. The people out there protesting in the streets may not understand much, but they do understand that something needs to change.
The Wall Street elite should be taking these protests as a signal that they need to get their house in order. The status quo just is not going to cut it. But instead of taking leadership and calling for significant change, many among the elite are openly mocking the protesters.
The incredible arrogance displayed by so many on Wall Street and by so many in Washington D.C. is absolutely appalling.
The following are 10 examples of how the elite are openly mocking the poor in America today….
#1 According to an article in The New York Times, poor families that lost their homes to foreclosure were openly mocked during a Halloween party thrown by the law firm of Steven J. Baum. This particular law firm represents many of the largest mortgage lenders in the United States….
The firm, which is located near Buffalo, is what is commonly referred to as a "foreclosure mill" firm, meaning it represents banks and mortgage servicers as they attempt to foreclose on homeowners and evict them from their homes. Steven J. Baum is, in fact, the largest such firm in New York; it represents virtually all the giant mortgage lenders, including Citigroup, JPMorgan Chase, Bank of America and Wells Fargo.
Photos from this Halloween party are posted on The New York Times website. To say that they are appalling would be a huge understatement. The following is how The New York Times described one of the photos….
In one, two Baum employees are dressed like homeless people. One is holding a bottle of liquor. The other has a sign around her neck that reads: "3rd party squatter. I lost my home and I was never served." My source said that "I was never served" is meant to mock "the typical excuse" of the homeowner trying to evade a foreclosure proceeding.
#2 To many on Wall Street, the OWS protests are one big joke. In fact, Wall Street executives have been spotted sipping champagne while watching the Occupy Wall Street protests from their balconies.
#3 In response to the Occupy Chicago protests, signs were put up in the windows of the building where the Chicago Board of Trade is located that spelled out this sentence: "We Are The 1%".
#4 Many columnists for major financial publications have had no fear of mocking the Occupy Wall Street protesters. For example, Doug Hirschhorn recently wrote the following for Forbes….
As your Occupation of Wall Street continues, you may want to grasp a few things. First, it is not going to change anything in the short term and probably not much in the long-term either.

I hate to be the bearer of that news, but money makes the world go round and "Wall Street" is all about money. Second, the top traders, banks and hedge funds are still going to out earn and generate substantial profits from speculating on the disconnects in the prices of things generated from all the moving parts in the global economy and it has nothing to do with why you lost your house or job or can't find a job. If anything the successful ones are helping you, your pensions funds, retirement savings and the economy in general. If Wall Street stops. The world stops. Period.
#5 Instead of attempting a balanced report on the Occupy Wall Street protests, Erin Burnett of CNN openly made fun of them during a recent broadcast. After being a stalwart on CNBC for so many years, Burnett has very close ties to Wall Street and apparently she does not like anyone criticizing her friends. You can see video of Burnett mocking the Occupy Wall Street movement right here.
#6 Barack Obama continues to mock the poor by telling them to cut back on vacations and little luxuries like going out to eat while at the same time sending his own family out on incredibly expensive vacations. The following is one example I noted in an article earlier this year….
Barack Obama recently made the following statement to American families that are struggling to survive in this economy: "If you're a family trying to cut back, you might skip going out to dinner, or you might put off a vacation." A few days after making that statement Obama sent his wife and children off on yet another vacation, this time to a luxury ski hotel in Vail, Colorado.
Later on in that same article I mentioned another outrageously expensive vacation taken by the Obamas that was paid for by our taxes….
Back in August, Michelle Obama took her daughter Sasha and 40 of her friends for a vacation in Spain.

So what was the bill to the taxpayers for that little jaunt across the pond?

It is estimated that vacation alone cost U.S. taxpayers $375,000.
During a time when so many millions of American families are deeply, deeply suffering it is truly appalling that the residents of the White House would be so insensitive.
#7 Republican presidential candidate Herman Cain recently declared that anyone that is unemployed or poor in America should only blame themselves….
"Don't blame the big banks. If you don't have a job and you're not rich, blame yourself."
#8 Sometimes our politicians are so insensitive that it is almost hard to believe. In an interview with George Stephanopoulos of ABC News while she was still the Speaker of the House, Nancy Pelosi stated that we need poor people to have less children because it costs the government so much money to take care of them….
PELOSI: Well, the family planning services reduce cost. They reduce cost. The states are in terrible fiscal budget crises now and part of what we do for children's health, education and some of those elements are to help the states meet their financial needs. One of those – one of the initiatives you mentioned, the contraception, will reduce costs to the states and to the federal government.

STEPHANOPOULOS: So no apologies for that?

PELOSI: No apologies. No. we have to deal with the consequences of the downturn in our economy.
#9 Warren Buffett has some interesting observations on class warfare. He is one of the few wealthy Americans that is willing to say what everyone else is thinking. Back in 2006, Buffett was quoted as saying the following in an article in The New York Times….
"There's class warfare, all right," Mr. Buffett said, "but it's my class, the rich class, that's making war, and we're winning."
Buffett was not taking pride in the fact that the elite have won, but there are many others among the elite that are very proud of what they have done and they are not afraid to look down on the poor.
The level of income inequality that we have in the United States today is absolutely amazing. According to data from a few years ago, the average household income for the top 0.01% of all Americans was $27,342,212. According to that same data, for the bottom 90% of all Americans the average household income was just $31,244.
#10 Every single day, our "representatives" in Washington D.C. are living the high life at our expense. It is amazing that out of the entire population of the United States, we continue to overwhelming elect rich people to Congress. As I noted in a recent article, more than half of all the members of Congress are millionaires, and the median wealth of a U.S. Senator in 2009 was 2.38 million dollars.
Without a doubt, the wealthy rule over us all and they intend to maintain control and perpetuate the system which has rewarded them so handsomely.
When necessary, they are not afraid to call in the police to bust some skulls. Sadly, we are already seeing some brutally violent confrontations between law enforcement authorities and Occupy Wall Street protesters in many areas of the country. The other day, I wrote about the horrific violence that took place in Oakland recently….
Unfortunately, the authorities are not just going to sit by and watch these protests happen. In fact, they are already clamping down hard in many areas of the nation. For example, police in Oakland recently used tear gas and rubber bullets to break up the Occupy protest in that city. When police opened fire, the streets of Oakland literally became a war zone for a few minutes. You can see shocking videos of the violence here, here and here.
Power and wealth have become incredibly concentrated in the United States today. As one scientific study demonstrated recently, the elite control almost the entire global economy. In fact, the University of Zurich study discovered that there are just 147 gigantic corporations at the core of it all.
It is not a good thing that such a very small group of people completely dominates all the rest of us.
Once again, there is absolutely nothing wrong with working hard, making great contributions to society and becoming very wealthy.
However, what we have today is a fundamentally broken system that funnels most of the wealth and most of the power into the hands of the ultra-wealthy and the gigantic corporations that they own.
It would be great if the American people could come together and work to make some positive changes to our system.
But right now, it appears that strife, discord and hatred are going to continue to rapidly grow in this country. We have become a very divided nation and we are watching anger and frustration grow to very dangerous levels.
All of this is a recipe for mass chaos. Our country is marching toward a date with disaster and right now we show no signs of changing course.
Please pray for America.
We definitely need it.
The walking debt – U.S. public debt now surpasses $15 trillion.  The financial sector has wreaked disaster in the American economy. Wall Street banks cause havoc in housing and student loans.
It can be argued that the world is suffering from an epidemic of chronic debt.  The financial sector loves to play on words and would rather call certain debt issues as a credit crisis as if it were a temporary thing like a mid-life crisis.  This is also similar to renaming junk bonds to something more user friendly like a household pet, high yield bonds.  There seems to be a naïve euphoria that the problems in Europe are now resolved.  Nothing has been resolved aside from forcefully cramming down write-downs and creating more debt to bailout more financial institutions.  As the markets rally on this news we have now officially crossed the $15 trillion barrier with total public debt in our own nation.  The world continues to fuel a debt induced problem with more debt.  Our entire system has been captured by this financialization where everything from a college education, to automobiles, to purchasing a home have become mechanisms to enslave people with ungodly amounts of debt and send profits to the few in the gilded financial class.  As this goes along the elite in the financial sector become wealthier while the majority of Americans are left behind.
Crossing into the abyss of debt
$15 trillion should get any person's attention and we have crossed that market with the public debt auctions of this week: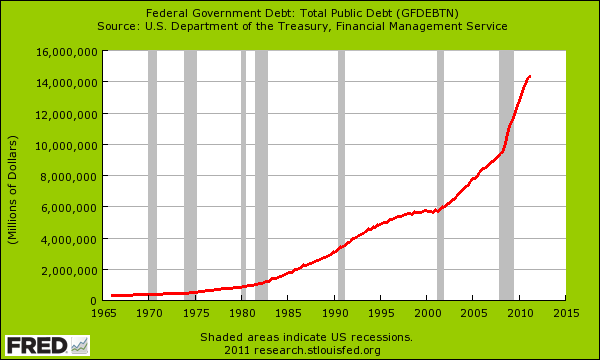 This information has yet to be updated on the U.S. Treasury website but make no mistake, the $15 trillion figure has been breached.  Is this disturbing to anyone else that our total public debt is roughly 100 percent of our GDP?  Here you have Europe chastising nations for broaching this threshold and we simply continue to expand the debt at a feverish pitch.  It is amazing to think that only a decade ago people were talking about paying the entire national debt off.  Not going to happen.
Yet this massive debt expansion is largely coming by bailing the bad debt of the banking system.  As most Americans know, access to this easy debt is not available for most Americans who are actually in the process of de-leveraging: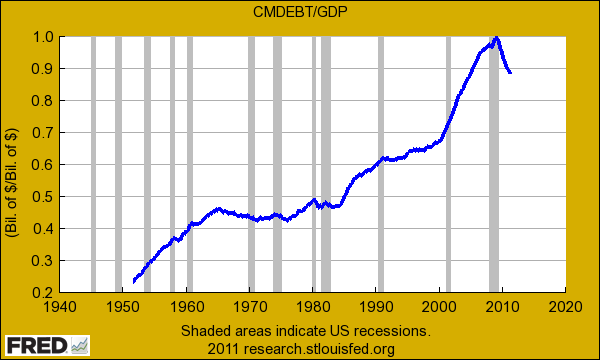 This is the dualistic nature of our system.  American households are being forced to deal with the austerity of the current crisis while the banking system has virtually unlimited access to the Federal Reserve and their digital printing press and virtual loan junkyard.  Now wouldn't it be nice if you had a place where you could dump all your housing, credit card, and education debt and simply move on?  Unless you are a too big to fail bank, this pathway is not available.
Read the rest at My Budget 360
King World News interviewed Rick Santelli on October 21st about the European debt crisis, bailouts, regulation and corruption.
Bernanke, Geithner And Company Derelict In Their Duty
Not just Bernanke and Geither but they along with the rest of the clown-car brigade at the NY Fed and Treasury.  The Fed must be stripped of its authority to "supervise" institutions as it has repeatedly refused to perform its legally-mandated duties when it comes to regulating these firms.
Here we again have proof of outrageous dereliction of duty.
The Federal Reserve Bank of New York has informed MF Global Inc. that it has been suspended from conducting new business with the New York Fed.  This suspension will continue until MF Global establishes, to the satisfaction of the New York Fed, that MF Global is fully capable of discharging the responsibilities set out in the New York Fed's policy, "Administration of Relationships with Primary Dealers," or until the New York Fed decides to terminate MF Global's status as a primary dealer.
For those who are unaware the status of "Primary Dealer" is a firm that has a responsibility to maintain an orderly market in the sale of US Treasury securities.  That is, they're required to bid.  As compensation for this they're the market makers and of course get their cut from that intermediation activity.
Here's the problem: MF Global got in trouble by taking on too much European debt, gearing itself too highly, and they had inadequate capitalization to withstand the problems present in Greece and elsewhere in Europe.  The NY Fed and The FOMC, for their part, again failed to do their job exactly as they failed to do their job in 2008 and did nothing about this right up until the firm effectively failed.
Why do I charge that this is the second time around for them?  Because it was and this is a statement of fact.
In 2008 roughly a month before Lehman failed the firm attempted a routine repo transaction with Citibank.  Citibank rejected their collateral and Lehman had nothing else to pledge.  The NY Fed had to know this had occurred because tri-party repos inherently involve the NY Fed as the third party.  Yet the NY Fed did nothing in the context of suspending Lehman, they did not inform the public of this material adverse event, they did not demand that the market be informed despite the fact that this is a requirement of a public listing and certainly merited a Form 8-K filing.  That Citibank knew and thus The NY Fed had to know Lehman was bust well in front of the markets and the public being told was one of the things we learned from the Jenner and Block report into the Bankruptcy of Lehman that was part of the bankruptcy proceedings and is now part of the public record of the events surrounding Lehman's failure.
In general I have no duty to inform someone else if I find out about some sort of problem with a public company.  If I discover that problem without resorting to non-public information (e.g. by reading their balance sheet) I am entitled to use it to trade on and attempt to make a profit.
But I'm not a regulator — The NY Fed and Federal Reserve are.  The Fed has an overriding duty to the markets and to the public as the primary regulator for these institutions, and post 2008 there is simply no excuse for what amounts to willful blindness.
These people need to be removed from power — at minimum — as they have repeatedly demonstrated an unwillingness to perform their duties with regard to regulating financial institutions.
* * * * *
The Consequences Of Failed Regulators
Now we get to see the consequences of the failed regulation with regard to MF Global.
CME and other exchanges have all suspended the firm's clearing capabilities.  This resulted in the turnstiles being literally locked for those who were members of the exchange and clearing through MF.
So if you are a floor trader using MF as your clearing firm and went to take a leak, you can't get back on the floor.  Whatever positions you might have held at that time cannot be hedged or otherwise managed!
This is going to severely hurt — and probably bankrupt — a lot of people through no fault of their own.
Who's fault is it?
Bernanke's, the NY Fed's and Geithner's (Treasury's.)
Why?
Because MF should have never been allowed to carry that much exposure on their book without enforcement action taken by the regulators.  The regulators allowed it and the firm is now collapsing.
So be it – those who owned the stock will "get theirs" for their lack of diligence.
But the traders who had no idea what was going on and get reamed as a consequence should be surrounding the NY Fed, The Federal Reserve and Treasury tomorrow morning.  They ought to put on their own "Occupy" movement until this clowncar brigade is removed and replaced for rank dereliction of duty.
Post-Lehman, when the NY Fed and Federal Reserve did the same damn thing there is simply no excuse for what happened to these innocent parties in this instance.  While I know it won't happen and the government will (of course) claim "sovereign immunity" the fact of the matter is that the officials involved should be held personally responsible for the harm these individuals suffer as a consequence of their malfeasance.
* * * *
Ah, Our Fine Regulators (MF Global – Again)
Here we are once again, with the fine federal regulators who do their job keeping track of primary dealers and properly looking at the health of the firms are the core of our financial system.
What began as nearly $1 billion missing had dropped to less than $700 million by late Monday. It is unclear where the money went, and some money is expected to trickle in over the coming days as the firm sorts through the bankruptcy process, the people said.

But regulators are examining whether MF Global diverted some customer money to support its own trades as the firm teetered on the brink of collapse. If that was the case, it could violate a fundamental tenet of Wall Street regulation: Customers' money must be kept separate from company money.

Such a finding would move the discussion from sloppy internal controls at MF Global to something more troubling. While the investigation is in its early days, it raises the specter that regulators could sanction the firm or the employees responsible.
That's right, "sanction" the firm.  And with what they would they pay any such "sanctions"?  Hmmm…. what's going to happen to their customers?
Oh yeah, that's right – they're screwed, right?
Ps: Not all funds are SIPC covered, and this is going to come as an ugly surprise to a large number of people, I suspect….
Throw Bernanke's and Timmy's ass in the dock on this one; there's absolutely no excuse for allowing this to occur.
Period.
The only effective regulation is FAILURE.  Unfortunately only the little people are allowed to fail, and at the same time, they are being forced to bail out those who are 'Too Rich, Powerful, and Big' to fail.
There are really only three ways to cripple Wall Street's democracy-killing concentration of wealth and power: take our money out of Wall Street and the TBTF banks, eliminate private money  from elections and abolish Wall Street's dealer, the Federal Reserve.
There are only three things–and only these three–that will cripple Wall Street's  democracy-killing concentration of wealth and power:
1. Transfer the 99%'s money out of Wall Street and the Too Big To Fail Banks
2. Remove campaign contributions from our democracy in a way that the corporate legalist lackeys in the  Supreme Court cannot overturn, i.e. entirely publicly financed elections
3. Abolish Wall Street's dealer, pusher and protector, the Federal Reserve.
My reasoning is very simple:
Everything else people want to see happen cannot happen if:
1) Wall Street and the SDI (systemically dangerous institutions) a.k.a. too big to fail banks, control most Americans' financial assets and debts
2) The Federal Reserve exists to enable and protect the SDI's wealth and power via Primary Dealers, the discount window and other pusher/dealer mechanisms
3) Wall Street and the other SDIs can use the billions of dollars they skim from our accounts, IRAs, 401Ks and pensions to buy political influence and protection from regulation and competition.
Therefore these are the necessary foundations of any real change.
As long as Wall Street and the other SDIs control much of the nation's financial markets, assets and debts, and the Federal Reserve exists to protect and enable their predation and parasitic skimming, they will have the means to reap billions in profits which can then be funneled into our cash-corrupted political system of for-sale toadies and apparatchiks.
The only real leverage we have is our money and our compliance.Leaving our money in Wall Street and the Too Big to fail banks  enables their dominance. Leaving our money in checking accounts, money market funds, savings accounts and brokerage accounts, and then  using credit and debit cards issued by the SDIs, is to remain deeply complicit in their dominance.
This concept is now entering the cultural dialog, for example this recent entry on Zero Hedge:Want To Defeat The Banks? Stop Participating In The System!
Frequent contributor Harun I. summed the argument up even more forcefully:
I applaud this movement only if people are coming to the recognition that, collectively, we as  a nation have been wrong and now need to move in a different direction. We must now engage in discussing how best to do so.However, I remain skeptical. Why are the TBTF banks still operating? From fraud to extortion  to money laundering for drug cartels, the list of crimes against humanity is quite clear and  long. Exactly what does it take before people will stop doing business with demonstrably corrupt entities?

And now there is a General Strike scheduled. I am all for it. But understand that our government will borrow the shortfall and nothing meaningful other than an increase in public debt will occur.

However, if you want to see an instantaneous and dramatic effect, every person close every  account they have with all the TBTF banks and their subsidiaries on the same day.

Immediately or almost immediately they would have to be taken into receivership, their assets  marked to market and sold off. The End.

Why destroy the TBTF banks? Most of them are Primary Dealers. The Fed then comes under pressure  as it becomes the only lender of resort.

Then, once we have gotten their attention we tackle monetary reform, lobbying, and term limit in Congress and the Supreme Court.

It is time for government to "fear the people". Rest assured that if government does not fear the people, nothing will change.
As for the Supreme Court's legalist worship of the Corporate State: I believe this court will be remembered by history as the court which veered close enough to Corporate-State fascism to give it a big wet kiss. Corporate "rights" of personhood? No problem, you got it!  The "right" to fund unlimited campaign contributions? No problem, you got it!
"Fascism should more properly be called corporatism because it is the merger of state  and corporate power." Benito Mussolini
We might profitably ask how the Founding Fathers would have responded to calls that the U.S. Constitution should contain a clause granting the East India Company the same rights of personhood as U.S. citizens, and then further granting it the unlimited right to buy political favors as a  function of "free speech."
One wonders how any of the Revolutionary War veterans among the Founding Fathers might have responded to such toadying claptrap. Yet this is precisely what the corporate toadies in the flowing black robes claim is "defended" by the U.S. Constitution.
A close reading of the Constitution reveals no amendments or clauses granting private corporations personhood, or granting them the right to inject unlimited sums of money to sway elections. If we turn to the Federalist Papers, we find fear of a "tyranny of the minority"–and what is a private corporation but an extreme minority bent on purchasing a limited but oppressive, exploitative and parasitical tyranny?
The legalist lackeys on the Supreme Court have hidden far too long behind the reputation of the Court–a reputation punctured by history, we might note–as a forum  of disinterested legal debate.  Rather, the court is nothing but another collection of imperfect human beings who are easily swayed by the tenor of the times and the ideological agendas of the wealthy and powerful. ("These are not the campaign reforms you're looking for. Move along.")
Given that we have a court that worships Corporate-State  fascism slicked over with a thin veneer of democracy for public relations purposes–every single attempt to limit corporate campaign contributions has been struck down by the court–then our only choice as a people is to ban all private money contributions and institute a system of 100% publicly financed elections. Yes, it's imperfect, and yes, it's messy and costly, but nowhere near as corrupting and costly to liberty as the Corporate-State fascism we now endure.
Libertarians may be aghast at this option, but we have been reduced by the legalist lackeys in the Supreme Court to this choice: either we continue to be ruled by the corrupting  corporate-State nexis of unlimited corporate/private Elites funding of elections, or we go with public financing. Thanks to the Supreme Court, there is no other choice.
As a lagniappe thought: one of the primary concerns of many "OWS/we are the 99″ supporters is rising income disparity. That is a legitimate concern in any nation claiming to be a democracy with a free-market economy. Yet a close examination of the roots of income disparity and rising poverty leads straight to the Federal Reserve.
Winners And Losers: The New Economy(Zero Hedge)
What Mr. Gross and Mr. Frank and many others don't see is that it is the creation of fiat  money that destroys wealth and misdirects the investment of capital into less productive  assets.  That is, monetary inflation destroys capital (wealth). The reason why the production of goods and services do not bear higher yields than financial assets is that the production of goods and services suffers from a lack of real capital. Remember that real capital comes  only from the saved profits of production and from the savings of workers from wages earned  in production.You obviously cannot print wealth, but if you try that fiat money distorts the entire economy by directing investment to things which appear to appreciate but what is really happening is that the dollar is depreciating. As a result, fiat money and real capital are invested in  financial assets because they appear to have greater yields than returns from the production  of goods. Prices rise (price inflation) and it creates the inevitable boom which always busts. The fall out is that we are stuck with things people don't want (in the present re/depression it is housing). And we fall for it every time.
Allow me to simplify the argument:
1. The Federal Reserve has financialized the economy as an intrinsic expression of its reason for being.
2. Financialization necessarily creates systemically rising income disparity.
I think that's all we need to understand to grasp the utmost importance of abolishing the Federal Reserve, a private banking monopoly created and protected by our Congress.  Limiting Wall Street and the TBTF banks is structurally impossible as long as the Federal  Reserve exists.
Charles Hugh Smith – Of Two Minds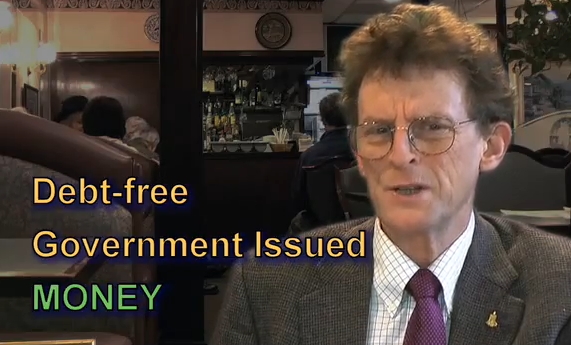 If you're interested in having a real choice then you want Bill on the ballot.
To get on the ballot, he needs support.  Money doesn't hurt either, but support is of course the most important, as delegate votes win conventions.
Head over to http://www.lpmndc.org/ and vote for your preference in the Libertarian party for President.
And if you'd like to help on the money side, head over to http://still2012.com/ and do so.
A vote for Bill is a vote to:
STOP THE LOOTING AND START PROSECUTING.
Stop Commercial Banks from "naked shorting" the US Dollar and thus playing the game of "Too big to fail" while serially asset-stripping the American Public.  If you're affiliated with "Occupy Wall Street" in its various forms, here's a candidate you can vote for instead of one you must vote against.
Stop government borrowing.  Whatever we want from the government we must pay for in some form or fashion in the present tense.  You cannot solve a debt problem with more debt any more than you can drink yourself sober.
Get rid of the IRS and Income Tax.  Again, if you're affiliated with "OWS" you ought to love this.  Replacement of the Income Tax and IRS with a consumption tax means that you choose how much tax you pay based on how richly you choose to live.  Key word here: choose.  If you're poor you have few choices but you also pay few taxes.  If you want to be a "fat cat" that's up to you, but you will pay lots of taxes.  Isn't that exactly what "OWS" and those who claim that many wealthy don't pay their "fair" share" argue for?  Let's see if they mean it or if they're just playing political games!
Yes, yours truly (Karl Denninger) is involved in this campaign as an advisor and part of the Florida team, yes this is a full-throated endorsement, and yes, if you're interested in actual change in Washington you have choices — if you're willing to make them.
Stephanie Jasky of FedUpUSA is also involved in this campaign as an advisor and part of the Michigan team.  FedUpUSA is exited and honored to be involved with Bill's campaign.