Archive for October 23rd, 2011
Source: Daily Bail
The only thing surprising about this ruling is that it took so long to be made. This is black letter law, folks,
the logical extension of the Court's Ibanez decision.
Without a promissory note, a foreclosing plaintiff cannot show a legal injury, i.e., does not have standing to sue. Without standing, the action before the court does not qualify as a "case or controversy" under Article III of the constitution. Courts can only make rulings on "cases or controversies;" advisory opinions are a legal nullity. Consequently, a court that purports to enter a "judgment" where it has no subject matter jurisdiction has in fact entered a legal nullity on its docket; that "judgment" is void as a matter of law.As such, any such "judgment" entered where the plaintiff had no standing is open to collateral attack in any subsequent proceeding. What is more, subject matter jurisdiction cannot be waived; were that the case, parties could falsely induce courts to make binding rulings–obviously non-sensical.The procedural posture of this particular case is unusually serpentine, no doubt. In any event, there is nothing controversial–as a legal proposition–about this case. I'm sure the banks, who are now shitting their pants over the implications of this case, see it differently, but they're just wrong.
—
On Oct. 18th, 2011 the Massachusetts Supreme Judicial Court handed down their decision in the FRANCIS J. BEVILACQUA, THIRD vs. PABLO RODRIGUEZ – and in a moment, essentially made foreclosure sales in the commonwealth over the last five years wholly void. However, some of the more polite headlines, undoubtedly in the interest of not causing wide spread panic simply put it "SJC puts foreclosure sales in doubt" or "Buyer Can't Sue After Bad Foreclosure Sale."
In essence, the ruling upheld that those who had purchased foreclosure properties that had been illegally foreclosed upon (which is virtually all foreclosure sales in the last five years), did not in fact have title to those properties.  Given the fact that more than two-thirds of all real estate transactions in the last five years have also been foreclosed properties, this creates a small problem.
The Massachusetts SJC is one of the most respected high courts in the country, other supreme courts look to these decisions for guidance, and would find it difficult to rule any other way in their own states. It is a precedent. It's an important precedent.
Here are the key components of the Bevilacqua case:
1. In holding that Bevilacqua could not make "something from nothing" (bring an action or even have standing to bring an action, when he had a title worth nothing) the lower land court applied and upheld long-standing principles of conveyance.
2. A foreclosure conducted by a non-mortgagee (which includes basically all of them over the last five years, including the landmark Ibanez case) is wholly void and passes no title to a subsequent transferee (purchasers of foreclosures will be especially pleased to learn of this)
3. Where (as in Bevilacqua) a non-mortgagee records a post-foreclosure assignment, any subsequent transferee has record notice that the foreclosure is simply void.
4. A wholly void foreclosure deed passes no title even to a supposed "bona fide purchaser"
5. The Grantee of an invalid (wholly void) foreclosure deed does not have record title, nor does any person claiming under a wholly void deed, and the decision of the lower land court properly dismissed Bevilacqua's petition.
6. The land court correctly reasoned that the remedy available to Bevilacqua was not against the wrongly foreclosed homeowner but rather against the wrongly foreclosing bank and/or perhaps the servicer (depending on who actually conducted the foreclosure)
When thinking about the implications of Bevilacqua – the importance of point six cannot be overstated.
The re-foreclosure suggestion is not valid
Re-foreclosing on these properties in not likely as has been suggested by bank layers in light of the Bevilacqua ruling. We aren't talking about Donald Trump here and we have a funny feeling he won't be affected either. Mostly it's guys like Bevilacqua who bought single or multi units, in the "hundreds of thousands" range. It seem unlikely that the majority of these folks would have the capital to eat their existing loses, re-foreclose at great expense, and on top of all of that come out as the highest bidder on the very property they formerly thought was their own. In many cases, as was the case in Bevilacqua, the original purchaser of the foreclosure may have already resold the property and moved on, thus leaving in their wake an even more serious problem; the likelihood of a property owner, who had nothing directly to do with a foreclosure, but is left with all the fallout of a post-Bevilacqua world.
Re-bidding on these properties in a re-foreclosure scenario would be done in what is soon to be a new inflationary environment (most originally bid in a deflationary environment for housing), thus making the "re-foreclosure" blank threat all the more unconvincing and unlikely.
However, it should be easy enough for investors similarly situated to Bevilacqua to simply hire fee contingent attorneys who can sue the banks and servicers for conveying fraudulent deeds – that seems like a much easier and logical proposition. When the potentially millions of lawsuits are added to the complaints filed by investors in MBS, we think the banks will finally be revealed as wholly insolvent. The only other way it could happen faster, is if the average American home owner, realizing he may never obtain clear title to his home (short of an indemnity from his bank), finally stops making his monthly payments on his invalid note (which completely lacks a valid security instrument). In this way, the existing insolvency of banks would be recognized in a matter of days rather than months or years.
The act of denial does not actually alter reality
Ostriches are said to have discovered this the hard way. On November 12th, 2010 in our article "Tattoos, Pyramid Schemes and Social Justice" we advocated that home owners, with securitized mortgages, regardless of their ability to pay, consider suspending their mortgage payments, and place those funds into a private escrow account instead. We wrote:
"Radical though it may seem, we believe the only way to stop the chaos of fraud and the breakdown of the rule of law in our courts, and most importantly to ensure that we ourselves are not participants in the fraud, is for homeowners who can afford their mortgage to stop paying it…"
The article goes on to say:
"For example, what is easier; to scorn those who are being foreclosed on because they can no longer afford their mortgage or to accept the possibility that our entire financial, and maybe justice system might be badly corrupted? Across all spectrums of crime, victims are often blamed, just ask attorneys who represent rape victims. This phenomenon is by no means unique to mortgage fraud, or those who have been raped by the institutions who carry out this trade. It has been made to appear as if those who have fallen on hard times are a matter of "incidental" inequalities in an otherwise procedurally just system. However, it is precisely the opposite which is true. Our financial institutions have created deliberate inequalities, through the use of procedurally unjust systems."
We pointed out that suspending such payment might be done for the following reasons, which in light of the recent Bevilacqua decision, and the pending Eaton Decision, are increasingly being proven correct:
"1. They are not sure where or if their payments are going to the true note holder.
2. They no longer know who the true note holder is.
3. They have a legitimate concern that they may not be able to ever obtain clear title and/or title insurance (in the event of a sale) given what we now know about improperly conveyed titles and the illegitimacy of "MERS".
4. They do not want to be an unwitting or passive participant in fraud.
5. They care about America, want our culture to be healed and recognize the dignity of every human being."
Long before the Ibanez decision was handed down we wrote the following (taken from the same article):
"If these legitimate reasons are the cause to suspend mortgage payments, then what attack on these "non-co-operators" character can be levelled? In these cases, Judge's will have to allow for proper civil procedure to take place in order for the legitimate inquiries of concerned Americans to come to light. Since banks virtually never produce adequate documentation (which appears to be by design), chances are things will escalate."
We went on to discuss the unique risks of apathy and denial in the following:
"…Americans have a duty to ask critical questions about the operations of their financial institutions, and if evidence has been presented that a deal was made, but not everyone was playing by the rules, than those deals need to be looked at again. It is not good enough any longer to say, if it doesn't affect "me" than, I'm not getting involved. We have a duty to one another as Americans, and more importantly as human beings, to care about truth and justice. What's more, apathy, so long as we are not affected, is a short lived consolation. Ultimately, this crisis will affect everyone sooner or later."
Certainly when the SJC handed down their opinion affirming Bevilacqua, perhaps hundreds of thousands, and ultimately millions of people who previously thought they were not affected, were suddenly well, affected. That is because there has been about six million foreclosures since the current economic crisis began, and those foreclosures may have resulted in many more interested parties, as was the case in Bevilacqua, who sold the subject property to four new owners, thus multiplying the number of parties involved, and ultimately the number of legal actions which could be brought. It is not hard to see where six million voided foreclosures might well result in new lawsuits in excess of that number – and if the courts advice is taken, these complaints would be directed, and properly so, at banks and servicers.
We expanded greatly on the themes of fraud, denial, and the likely economic consequences in our articles "Ibanez – Denying the Antecedent, Suppressing the Evidence and one big fat Red Herring" and "Eaton – Dividing the Mortgage Loan and Affirming the Consequent" which covered the other two recent landmark SJC cases – these may be worth reading in tandem with the present article in order to understand the full breadth of the problem.
In the Ibanez article, which was written in January of this year we wrote the following:
"If you live in Massachusetts and your mortgage has been securitized, or if you have purchased a foreclosure property, we think it would be wise to consider suspending your mortgage payments if you haven't already."
We believe these particular words have become incredibly relevant given the implications of Bevilacqua.
Finally, In our article "On the ethics of mortgage loan default" we tried to cover any outstanding inhibitions homeowners might have about the advice we were giving.
A few phone calls opens a whole new world
We decided to call a few title insurance companies to get their "take" on it all. We made the mistake of identifying ourselves as "bloggers" in the first phone call – that call may well have set a new land speed record for the fastest time from answering to hanging up. Thinking there might be a smarter approach, we decided to identify ourselves as homeowners (equally true) on the next call – the results were a little better, but only slightly.
The underwriters and title examiners we spoke to kept asking if we were attorneys, or if we represented the home owner as "council". We thought this was curious because we kept pointing out that we were ourselves just homeowners. Then it hit us, they have never actually spoken to a real, live, breathing customer on the policy origination side, they had only ever spoken to lawyer-brokers. We thought; what an interesting confluence of incentives this must create, and why is the buyer of the policy necessarily so far removed from the seller?
Europe has officially entered the Tropic Thunder zone, where one, forget one thousand , monkeys armed with one simple solar-powered calculator, can come up with a better plan than (JP Morgan-advised) Europe. Because as we pointed out on Thursday, "nothing changes the fact that with €100 billion set aside for bank recaps, a woefully low number and one which will do nothing to assure investors that banks have sufficient capital, there is still not enough cash to "guarantee" all future issuance" – well it appears that Europe finally did the math which led us to conclude that the EFSF is DOA.  So what is Europe's solution? Why double counting aid already pledged of course:  "EU bank plan may include aid already pledged to bailout states-sources." Uh, what? "A drive to lift bank capital across Europe by up to 110 billion euros ($153 billion) is expected to include the roughly 46 billion euros already pledged to Ireland, Greece and Portugal to help their lenders, EU sources told Reuters….
Another official confirmed the intention to count money already earmarked for banks in Ireland, Greece and Portugal in any recapitalisation plan. "The problem with shock and awe numbers is that it implies that the money is there," said one official, reflecting on ministers' reluctance to set public goals for recapitalisation. "But governments don't have the money."… Just as was repeated here over and over and over and over… And yes, that red stuff shooting out of the place where your head was a few second ago, is blood. It is now Europe's official "plan" (for at least the next 2-3 hours) to use mystical, magical money, which is somehow double-counted to bail out both a bank and a country at the same time…
Ugh:
If over a third of the EU's bank recapitalisation drive, which investors hoped would inject more than 100 billion euros of fresh money, is accounted for under old bailout programmes markets are likely to react with disappointment.

It would effectively shrink the overall package, designed to protect EU banks from the fallout of a Greek default and ease their borrowing difficulties amid a creeping credit freeze, from more than 100 billion euros to something around 60 billion.

It would also rest the burden for EU bank recapitalisation in large part on Spain, Italy and France, which one official said together accounted for roughly 45 percent of the overall shortfall found in recent checks of EU banks by supervisors.

The matter is due to be discussed in the run-up to Wednesday's second summit of European leaders and countries may yet change tack to increase the planned boost for banks.
…
Well, it's official: the lunatics have taken over the Titanic.
An explanation of the various forms of government, and why America is not a democracy.
NOTE:  This video has now been added to our Educational Videos page for future reference.
I linked a Youtube presentation a couple of days ago by a professor who explained the exponent thing.  It was dry and I bet nobody went and watched the whole series; it was basically an hour long.
Yet if you don't understand this, you understand nothing when it comes to economics and the lies told by both the left and right.  You are not stupid, however: you are ignorant.
That ignorance is intentional.  Our "educational system", our bankers and our politicians intentionally fail to explain the fundamental concept explained in this Ticker for one and only one reason: Once you understand it – truly understand it – you can never fall victim to a ponzi scheme.  Not only that, you will never allow any society you are a member of to fall victim to one either, as you will recognize the inherent danger and demand that they be stopped and the people responsible either locked up or burned at the stake (after a proper trial, of course.)
Ignorance falls to education.  It is why we learn, hopefully, so we become less-ignorant.  As such I was prodded in email this morning by someone who said "you get this well for a non-scientist" and I had to reply in riposte: Ah, but I am a scientist you see….
Anyway, here we go…. pull yourself a nice Espresso and sit down for a short story that will explain why we're utterly screwed if we don't act and why acting to stop the progression of what is going in our economy right now is not an option – it is an imperative.
There happens to be a particular species of pond lily that is extremely prolific.  In fact it grows so fast that it doubles in size through both growth and reproduction in just one day.
We will start with a pond of a surface area of 4096 square feet, or about 64 feet square.  We will place within that pond one lily with an area of of one square foot; that is, a lily that is a square of 12 x 12″.
This pond contains fish, which would like to live in symbiosis with the algae and other growing plant material within the pond.  In order to do some part of the pond's surface must be exposed to the air so that oxygen and carbon dioxide can be exchanged, and some part of the pond's surface must be open to the sun, or the algae that make up a good part of the food the fish eat (we will assume they do not eat the lilies directly) can survive.  The lilies will conveniently consume the urea (nitrogen) that the fish excrete, preventing the pond water from becoming poisonous.  So long as this symbiosis is maintained all is fine.  But if this symbiotic relationship fails all the fish will die.
We are the fish, incidentally, and the lilies are debt.
Now here's the question: Will the fish inevitably die and if so how long, in days, will pass before they perish?
That's easy.
On the first day there is 1 square foot of pond that is covered.
On the second, 2
On the third, 4.
On the fourth, 8.
On the fifth, 16.
On the sixth, 32.
Note that on the 6th day just 0.8% of the pond is covered with lilies.  You would not detect any problem on the sixth day, I suspect.  More than 99% of the pond is open to the sky!
Now here's the nasty truth: If you're a fish you're halfway to being dead!
Wide awake yet?  I hope so; let's continue.
On the seventh day 64 square feet are covered.
On the eighth, 128.
On the ninth, 256.
On the tenth, 512.
The pond is now 12.5% covered.  More than 80% of the surface area is open to the sky.  When you hear someone say "we have 80% of our resource left; we can't be in trouble", consider exactly where you are.  Why?  You'll see in a moment….
On the eleventh day, 1024 square feet are covered.
On the twelfth, 2048.
On the thirteenth day there is no surface open to the sky and every fish in the pond dies.
When did you figure out you're in trouble?  Was it on the twelfth day?  Well if so you had literally less than 24 hours to commit mass lilicide or you're all dead!  You literally can't spend one day debating with your fellow fish even though you still have half the surface area open to the sky on that 11th day.
This is the nature of exponents folks.
When it comes to economics we need to consider what the doubling time is to figure out how soon our situation will get intolerably bad.  Math provides us the answer; we can use the natural logarithm to determine time, but most people's eyes fuzz at the beginning of the discussion of "e" and thus I won't explain it that way (those of you who were awake in high school and college math, however, should be perking up right about now.)
Years ago, long before calculators, bankers reduced the use of logarithms to a "rule" called "The Rule of 72."  Simply you can take the growth rate of anything and divide that into 72 to find the approximate doubling time.  So if we have debt growing at 7% a year in the economy we can divide it into 72 and find that it takes about 10 years for the debt in the system to double.  This is an approximation, but it's close enough to do in your head (72 is a convenient number for mental division as it is divisible by both 12 and 6 and 6 of course factors to 2 and 3, so most common multiples can be quickly figured in your head without pencil and paper.)
Now go back and read the lily example again, and remember that when you're one period away from being extinct half of the available resource, in this case the money you earn to pay interest and/or principal on your debt, remains available to you!
Yet even with a fifty percent current economic (in this case) surplus you're just one period away from certain destruction!
Do you see the problem more-clearly now?
All the so-called "economists" (cough-Krugman-cough!) and the various commentators both in the mainstream media and blogosphere either do not understand this or simply refuse to accept and discuss it.
But it doesn't matter whether you choose to accept that you're inevitably doomed in three days when the pond is 12.5% covered with lilies.  You see blue sky and breathe easily, yet you are literally three days away from certain extinction and your refusal to accept mathematics cannot change what is about to happen to you!  You either start killing lillies FAST or you're dead!
These are facts folks.  They are governed by natural laws that are fixed and cannot be avoided.  I cannot change them, you cannot change them, Barack Obama cannot change them, the Republicans cannot change them.  Nobody can change them.
These facts are why this chart happened:
and why, if we don't cut that crap out right now, we are screwed with absolute certainty.
The willful refusal of politicians and financial types, the latter of whom absolutely know this and the former who have no excuse for not understanding it, to discuss this point clearly when it comes to all matters in the economy is why I wrote Leverage.
We cannot avoid the mathematical facts or their effects.  Unlike the laws of man that can be evaded through bribery and trickery mathematics cannot be.
You either accept these facts or you suffer the consequences.
One final point and I will leave you to think this over: The World Economic Forum (WEF) said recently that for us to achieve a 3% GDP growth for the next decade we would have to double the total systemic debt.  That is a roughly 7% annual growth rate in debt, or a "spread" of about 4% over "growth".  In order to do this, the amount of earnings from everyone in the economy that will have to be diverted to interest payments will also have to approximately double.  Yet it is the inability to pay that interest (and principal where it is paid down) that is factually known as the trigger for the 2007/08 financial collapse and this growth in debt, at their assumed 3% growth rate in GDP, will produce only a 34% increase in output with which you must pay for that doubling!
We must accept what we have done.
The fact is that if the pond will be covered entirely with lilies on October 31st it is now October 30th.
We have two choices: We either start killing lilies and find a way to keep them from reproducing, even though it appears we have half of our pond still uncovered and all is fine, or we will all perish with certainty.
Apparently the bankers are 'livid' at some politicians having come out in 'support' of Occupy Wall Street. (Not that anyone should believe that ANY politician ACTUALLY supports OWS.)  Apparently, the mere idea that politicians would bite the hand that feeds them is making bankers very, very angry.
Watch the video below to hear the messages lobbyists are carrying to Washington DC from the Wall Street Banks.  Pay close attention  You'll also hear the politicians' responses.  The squirming and panic to come up with a way to pay lip service to the protests while still procuring their massive donations from Wall Street would be comical if it didn't so clearly illustrate how little We The People are represented.
The dominoes of debt are toppling in Europe, and there is no way to stop the forces of financial gravity.
After 19 months of denial, propaganda and phony fixes, the political and finance  leaders of the European Union are claiming a "comprehensive solution" will be presented by Wednesday, October 26–or maybe by the G20 meeting on November 3, or maybe on Christmas, when Santa Claus delivers the gift global markets are demanding: a "solution" that actually pencils out and that forces monumental writeoffs of debt and thus equally monumental losses on European banks and bondholders.
There have been any number of insightful descriptions of what's going on beneath the artifice, spin and lies, for example:
Four Facts that PROVE the EFSF (rescue fund) Doesn't Matter At All(Zero Hedge)
Revised Troika Forecast Sees Total Greek Debt-To-GDP Peaking At 186%:  Here Is What Happens Next(Zero Hedge)
There Is No Bailout Spoon: The Math Behind The €2 Trillion EFSF Reveals  A "Pea Shooter" Not A "Bazooka"(Zero Hedge)
Citi Expects A 76% Haircut On Greek Debt(Zero Hedge)
EU Bank Stress Test: When No. 1 Financial-Strength Ranking Spells Doom(Bloomberg)
I have summarized the fundamentals in this one graphic: the European dominoes of debt.Simply put, there is no way the EU authorities can stop the first domino–Greek default or  equivalent writedown of its impossible debt load–from toppling the over-leveraged banks which  will be rendered insolvent when forced to recognize their losses.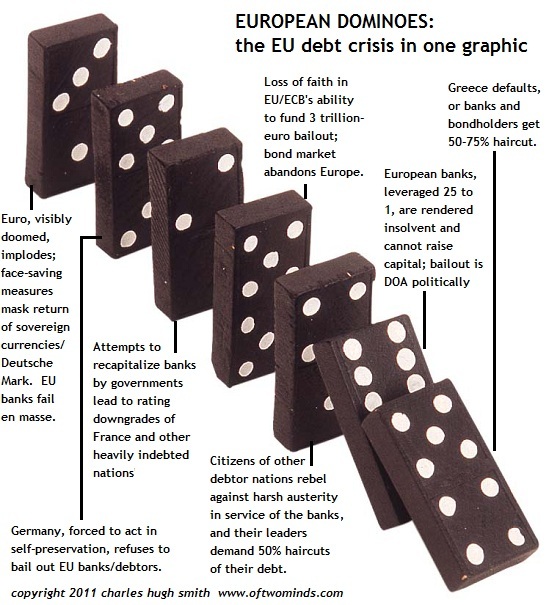 That leaves each nation with the politically unsavory option of bailing out its premier banks with taxpayer money, and squeezing the money out of its citizenry via higher taxes and austerity. That assumption of bank debt will in turn trigger downgrades of heavily indebted sovereign nations such as France, moves that will raise rates and make the bailout even more costly to taxpayers, who will also be suffering from reductions of income due to global recession.
Once the banks and bondholders accept a 50%-75% writedown in Greek debt, then the other debtor nations will be justified in demanding the same writedown in their crushing debts.  This dynamic leads to estimates that 3 trillion euros will be needed to bail all the players out. Alternatively, total losses will equal 3 trillion euros, wiping out banks and bondholders of sovereign debt.
The German economy is simply not big enough to fund a 3 trillion-euro bailout. Germany has 81 million people and its GDP is $3.3 trillion; the EU GDP is roughly $16 trillion. Compare those with the U.S., with 315 million people and a GDP of around $14.6 trillion.
As an act of self-preservation, Germany will be forced to either exit the euro outright or cloak its  withdrawal with a "euro 1 and euro 2″ scheme, a scenario I first laid out in March 2010:Why the Euro Might Devolve into Euro1 and Euro2   (March 2, 2010). (Other recent entries on the end-state of the European debt crisis:)
The Eurozone's Three Fatal Flaws   (September 21, 2011)
The Dynamics of Doom: Why the Eurozone Fix Will Fail   (July 25, 2011)
Why The European Union Is Doomed   (March 28, 2011)
In any event, the last domino, the artifice of a single currency, will fall one way or another.
It's important to understand that the supposedly "prudent" economies of France, Germany, South Korea and Canada are just as heavily indebted as the U.S. or "drowning in debt" nations such as Italy.In the long view, is Germany's load of 284% of GDP really that different from Italy's 313%? Yes, the mix of debt is different, but the point is that all of Europe, and indeed the developed world, is overloaded with debt: state, bank and private.
The idea that leveraging more debt can resolve this gargantuan over-indebtedness is beyond absurd. (Source: BusinessWeek)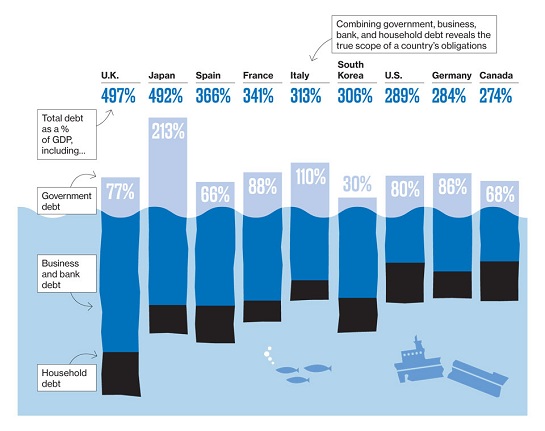 It has recently come to light that in the worst-case scenario (i.e. reality), "solving" Greece's debt crisis  would absorb the entire EFSF Rescue Fund's 400 billion euros.By all accounts, every estimate of Greek tax revenue is overstated, and every estimate of its expenses understated; Greek GDP is collapsing. In all probability, the reality is worse  than anyone is willing to confess, which means this chart is already outdated and hopelessly rosy: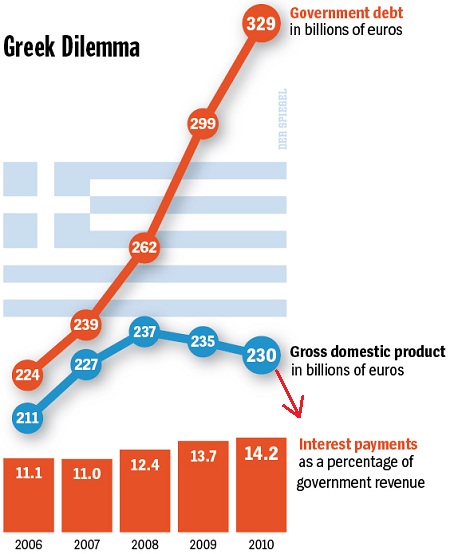 Way back in August, the euro was reckoned to be 20% above fair value of 1.15 to the U.S. dollar; once the dominoes start toppling in earnest, what will the euro's fair value be? Parity, or perhaps even lower?  Why  hold euros when the end-game is already visible?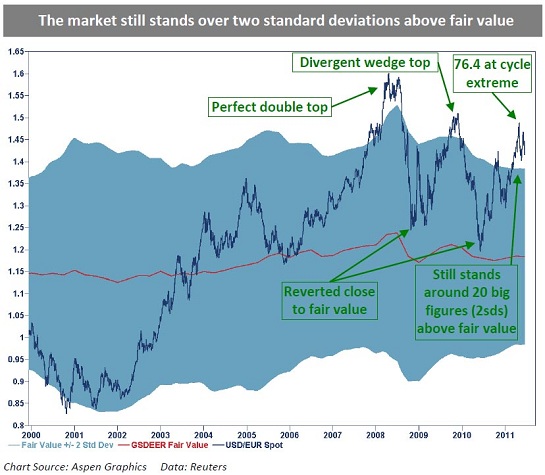 He/she who gets out first gets out best.
Charles Hugh Smith – Of Two Minds