Archive for November 13th, 2011
It hurts.  But he's right.  And only through lying to yourselves, and everyone around you, can you deny it.
We Are The Many
We Are The Many
Lyrics and Music by Makana
Makana Music LLC © 2011
Download song for free here:
http://makanamusic.com/?slide=we-are-the-many
The IMF entered the picture in November 2008, advising the government to reconstruct the banking system in a way that "includes measures to ensure fair valuation of assets [and] maximize asset recovery." The government created three "good" new banks from the ruins of its failed banks, transferring loans from the old to the new banks at a discount of up to 70 percent to reflect their fair value, based on independent third party valuation.

The vultures became owners of two out of three new Icelandic banks. On IMF advice the government negotiated an agreement so loose as to give them a hunting license on Icelandic households and businesses. The new banks acted much as U.S. collection agencies do when they buy bad credit-card debts, bank loans or unpaid bills from retailers at 30% of face value and then hound the debtors to squeeze out as much as they can, by hook or by crook.
A hunting license eh?
There comes a time when one must recognize that all "shooting galleries" where the target is a living human on the end of the range inherently results in the target having the right to shoot back.
That is, there is no such thing as a one-way hunting festival when the quarry is another human being.
Those who refuse to recognize that this is the moral equivalent of an armed takeover of the nation are fools.  The culprits here are "vulture funds" that came in and "recapitalized" but then at the same time are short-term trading on these distressed situations.  Their intent of course is to make as much money as possible, but there is no harm and no foul to be done to the people responsible — instead, the household is the one who takes in the seat, just as has happened here in the United States.
At some point the people must rise and put a stop to this.  The IMF has done this repeatedly through history in various nations, and there is no reason for any sovereign people to stand for it.  These are not your friends and they have every intention of screwing you to the maximum degree.
A few years ago Icelanders held a literal "torch vigil"; the implicit threat was clear.  It appears to be time for another one, and if the vultures that are involved in this charade are not immediately shown the door by the government the unfortunate reality is that the people may have to eject both the banksters and the government by whatever means are necessary.
"Once you have their money, never give it back."

Ferengi, First Rule of Acquisition
Here is a white paper that suggests that JP Morgan and Bank of America are trying to subordinate the customers' claims to their stolen funds and keep them in a pool of money to be distributed to the creditors by the Trustee, without any representation for the customers.  This is said to be the cause of the confusion and delay in the return of the funds.
There are also claims, not substantiated as far as I can tell, that the positions and assets that were taken from customers were liquidated in a manner so as to maximize the gains to other market participants with advantageous knowledge of those positions.  That is a serious charge that I don't quite understand. I hope the regulators will look into the transfer of customers assets and exactly how they were treated.
I hope that the regulators and the Justice Department can sort this out quickly, and prevent any further loss of confidence in the exchanges and financial system on the part of their customers.
I think it is fair to say that this entire situation has been handled badly.   Some of the early suggestions that customers would have to take haircuts to 'share' the loss with each other, that the funds would be frozen for years, and the general secrecy that has blanketed this has contributed greatly to the anxiety felt by the more aware among investing public at large.
This is of concern even to those who have no funds involved in this, and have nothing to gain or lose from it personally. It should give a chill feeling to all customers, as it seems to be a shocking breach of fiduciary responsibility. It is not wise to wait until one's own funds and assets are confiscated before asking questions and demanding answers.
As someone else has said, if a brokerage can take customer funds and assets at will, and use them for their own undisclosed speculation, and defy all guarantees, and neither they nor their accomplices are held accountable, then nothing is safe.
This white paper is obviously being told from the perspective of the customers and their attorneys.
I would be interested to hear the story or the party who received the customer assets. But as far as I know, they are silent, and their very identity remains a carefully guarded secret.
WHITE PAPER:
Background, Impacts & Solutions to MF Global's Demise
By John L. Roe & James L. Koutoulas, Esq.
November 10, 2011

The failure of MF Global has wide ranging consequences for the American economy and its bankruptcy is being handled in a manner that is making these consequences much worse than they need to be. The freezing of customer segregated funds is having a chilling effect on global financial markets. It also has a less obvious but significant impact on the day-to-day operations of farmers, mining operators, ranchers, and other commodity consumers and producers…

In fact, the only person served by the current bankruptcy process is the Trustee who has already submitted bills to the MF Global estate at $891/hour for his time and an average of approximately $500/hour for his staff. This is the same Trustee that spent 3 years working on the Lehman bankruptcy and billed the estate over $160 million dollars despite not returning any customer funds.

If this bankruptcy is managed the same way as Lehman's, it will be the end of the United States as a viable jurisdiction for commodity trading. Congress should use whatever power it has to prevent this from happening…

By subordinating customers with collateral in segregated funds to creditors of MF Global's estate, the Trustee is essentially making the creditors the beneficiary of a criminal act. If MF Global comingled segregated funds with corporate assets, it was a criminal act. Paying such a creditor's claim with a portion of those comingled funds would make them a beneficiary of that crime.

Paying JP Morgan with an Iowa farmer's money is not only morally and legally wrong, it risks the future of the American economic model. Who would want to hold a commodities account in the United States ever again? Considering the MF Global's clients have no representation on the creditors committee, but the big banks do (like JP Morgan and Bank of America), that is exactly what will happen without intervention.

Industry groups and regulators argue that the commodities trading industry is able to function with lighter regulations than securities trading because customer accounts are segregated from firm assets. However, in the MF Global case, there is $633M in these segregated client funds that are unaccounted for, either due to sloppy accounting or nefarious activity conducted by the firm. This has resulted in a compromise of the integrity of the segregated accounts system, and a complication of the bankruptcy proceeding by involving a number of parties with little to no experience in commodities.

The bankruptcy process has been delegated to SIPC, the securities insurance regulator, after it petitioned the bankruptcy court to begin a liquidation proceeding of MF Global's broker-dealer. SIPC stands for "Securities Investor Protection Corporation." It was created by the Securities Investment Protection Act of 1970 and was designed to protect owners of securities in a similar way to how the FDIC protects bank depositors. However, the vast majority of customer assets affected by this bankruptcy are NOT securities, rather they are cash and commodity futures contracts, and SIPC's attorneys have limited experience with commodity futures contracts. Despite the fact that about 11.6% of the segregated funds have yet to be accounted for, 88.4% have been. There is no reason, whatsoever, that these funds should not be immediately released to their rightful owners.
Read the rest of this White Paper here.
NEW YORK — A federal judge Wednesday challenged the SEC's plan to settle a fraud case against Citigroup for $285 million, saying that the deal would recoup only a fraction of investors' losses and would leave the firm free to proclaim its innocence in private lawsuits over the remaining damages.

The judge used the Citigroup case to mock the SEC's traditional way of doing business — allowing defendants to settle without admitting or denying wrongdoing.

The unproven allegations, U.S. District Court Judge Jed S. Rakoff said, "are no better than rumor or gossip."

"Does not the SEC of all agencies have an interest in establishing what the truth is?" Rakoff asked.
Well yes, it should.  But it doesn't.  And here's the real problem: This isn't the first offense.
In fact Citi has already promised not to do it again many years ago.  And yet they did it again.  This is not unique; let's remember NY Fed board member Kindler
New York-based Pfizer agreed to pay $430 million in criminal fines and civil penalties, and the company's lawyers assured Loucks and three other prosecutors that Pfizer and its units would stop promoting drugs for unauthorized purposes.

What Loucks, who's now acting U.S. attorney in Boston, didn't know until years later was that Pfizer managers were breaking that pledge not to practice so-called off-label marketing even before the ink was dry on their plea.

On the morning of Sept. 2, 2009, another Pfizer unit, Pharmacia & Upjohn, agreed to plead guilty to the same crime. This time, Pfizer executives had been instructing more than 100 salespeople to promote Bextra, a drug approved only for the relief of arthritis and menstrual discomfort, for treatment of acute pains of all kinds.
Yeah.  This disgusting practice is spread all over our financial system along with virtually all other areas of "rich and powerful" firms and individuals.
Claims that this is an "isolated incident" are blatant lies; among financial firms alone out of 19 firms you can count 51 offenses: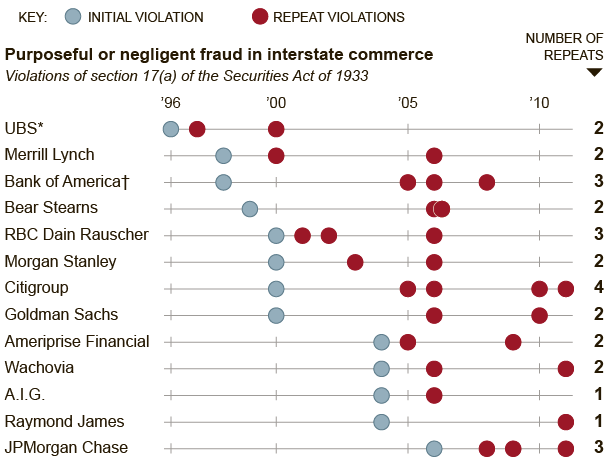 Source: http://publicintelligence.net/banks-dont-make-promises/
The problem with such "fines" is that the record demonstrates that they provide no deterrent at all.  As I have repeatedly pointed out if the penalty for robbing a bank was that you had to give back 1/3rd of the loot — and that's all — the bank would be robbed literally every hour on the hour.
The political folks who utterly refuse to address this issue – including the so-called "Tea Party" (Joe Walsh anyone?  Or how about Steve Southerland?) are simply pointing out that you are considered peasants and under the boot of an imperious King who grants those in his favor the right to screw you with impunity.
If you continue to support and vote for these jackals on either side of the aisle — if you continue to provide consent of the governed to the government under those terms — then you're consenting to being screwed.
It's that simple folks
You want to know why "OWS" is right?  It's found right here in this sort of so-called "justice" that the SEC is trying to mete out.  And don't start this crap about it only being "Democrats" that do this sort of thing: The Republican Party controls The House which means it also controls appropriation of funds and could literally close any department or agency that refused to bring actual prosecutions and demand actual jail sentences.
The so-called "Rule of Law" party likes to run pretty commercials, and in fact Herman Cain's campaign just called me seeking money a few minutes ago.
I told them that I'd give them a donation when hell freezes over, as not only does Judge Rakoff discern that this sort of "settlement" is a sham but so do I, and I'm not funding any more of that crap. 
The "nice girl" on the other end of the phone hung up on me.  Well f$#c you very little Herman, along with the rest of the Republican field.
The Tea Party had every opportunity to stand on exactly this principle and demand handcuffs and real solutions, and in fact Santelli's Scream was founded on this very principle, as has been my advocacy since I started this publication.  But that foundation — The Rule of Law and equality under the law — was almost-immediately co-opted by pretty-face Palin and others who immediately turned the focus to things that had nothing to do with how our economy got to be where it is.
If the "Tea Party" wishes to avoid being buried by history then it needs to get in front of this issue now and join with the only group of people who are currently out in the street protesting this exact crime.  They need to refuse to go home until the jackals that caused this economic mess are in the dock for their offenses.  This singular focus and the dismantling of the fraudulent edifices that permeate our financial system can be accomplished; what's more important is that doing so now is infinitely preferable to continuing the Ponzi and winding up with even more damage to be absorbed.  There's an opportunity here but the time remaining to take advantage of it is fleeting and soon will be gone if not seized.
That existing group, incidentally, is called Occupy Wall Street.
You may not recognize that it's over yet, but it is.
The European Financial Stability Facility (EFSF) last week announced it had successfully sold a €3bn 10-year bond in support of Ireland.

However, The Sunday Telegraph can reveal that target was only met after the EFSF resorted to buying up several hundred million euros worth of the bonds.

Sources said the EFSF had spent more than € 100m buying up its own bonds to help it achieve its funding target after the banks leading the deal were only able to find about €2.7bn of outside demand for the debt.
In other words the "success" of the debt auction was a lie.
The auction failed and the EFSF played with itself and then lied about what happened in order to make it look like the offering subscribed.
It did not.
It's over folks. 
The market may not recognize this immediately and you may not either, but the facts are what they are.  The game's up.  You cannot "sell debt to yourself" any more than taking a $20 out of one pocket and putting it in the other makes you $20 richer.
THE EFSF HAS FAILED.
Get ready; it's coming.
He may not have all the details right (he doesn't) but he sure as hell isn't an "Obama Socialist" and…..
"People have been ignorant" (indeed they have…..)
"Why do you need a permit to exercise a right" (no kidding; how dare you have freedom of speech…..)
So much for they're "all just looking for a handout"…… never let the facts get in the way of a bunch of political hacks running a nice pack of lies, eh?
Discussion (registration required to post)