Archive for November, 2011
Oh, so there was inside information passed around?
On the morning of July 21, before the Eton Park meeting, Paulson had spoken to New York Times reporters and editors, according to his Treasury Department schedule. A Times article the next day said the Federal Reserve and the Office of the Comptroller of the Currency were inspecting Fannie and Freddie's books and cited Paulson as saying he expected their examination would give a signal of confidence to the markets.
This is the narrative we heard on CNBC and elsewhere.
There's one problem: It was a lie.
At the Eton Park meeting, he sent a different message, according to a fund manager who attended. Over sandwiches and pasta salad, he delivered that information to a group of men capable of profiting from any disclosure.

Around the conference room table were a dozen or so hedge- fund managers and other Wall Street executives — at least five of them alumni of Goldman Sachs Group Inc. (GS), of which Paulson was chief executive officer and chairman from 1999 to 2006. In addition to Eton Park founder Eric Mindich, they included such boldface names as Lone Pine Capital LLC founder Stephen Mandel, Dinakar Singh of TPG-Axon Capital Management LP and Daniel Och of Och-Ziff Capital Management Group LLC.

After a perfunctory discussion of the market turmoil, the fund manager says, the discussion turned to Fannie Mae and Freddie Mac. Paulson said he had erred by not punishing Bear Stearns shareholders more severely. The secretary, then 62, went on to describe a possible scenario for placing Fannie and Freddie into "conservatorship" — a government seizure designed to allow the firms to continue operations despite heavy losses in the mortgage markets.
In other words all equity would be wiped out, as would preferred stock.
Did Paulson break any laws by disclosing his intentions on a preferential basis?  That's a bit more murky.  At first blush the answer would appear to be "no"; he had no duty to file an 8K since he wasn't an officer of Fannie or Freddie, and it would appear that Reg-FD wouldn't apply to him either.
The better question is whether he was a public fiduciary at the time, in which case disclosing inside information in such a preferential fashion would be a breach.
There's no way to know if the hedgies involved in the lunch traded on what they learned.  The Bloomberg story says that at least one of them called his lawyer who told him to stop trading in any such securities as that was material non-public inside information (duh!) but whether they and the rest did so is an open question.
Both Bill Black and Janet Tavakoli went on the record for Bloomberg:
"You just never ever do that as a government regulator — transmit nonpublic market information to market participants," says Black, who's a former general counsel at the Federal Home Loan Bank of San Francisco. "There were no legitimate reasons for those disclosures."

Janet Tavakoli, founder of Chicago-based financial consulting firm Tavakoli Structured Finance Inc., says the meeting fits a pattern.

"What is this but crony capitalism?" she asks. "Most people have had their fill of it."
Let's just call this what it really is: Theft.
Remember, all after-IPO trades of a stock or after-issue trades of some other security are at someone else's profit or expense.  That is, if you win someone else either loses directly or they lose opportunity — that is, they sell you their shares, you buy them, they don't make the money and you do.  Likewise, if you buy something and it goes down in price, you take the loss they otherwise would have.  And if you short something you've borrowed the shares from somebody and the person who you short them to swallows the loss while you gain.
Therefore what we really have to ask here is whether any shareholder of the common or preferred stock has a valid fraud claim against the Government and Paulson personally.  After all, his public statements, which if this story is accurate were intentional lies, resulted in a near-doubling of Fannie's stock over the space of four days.
Isn't it nice when the government steals your money?
Oh, and why do we sit for this crap again?
STOP THE LOOTING & START PROSECUTING!
Do you want to know the real reason banks aren't lending and the PIIGS [Portugal, Ireland, Italy, Greece, Spain] have control of the barnyard in Europe?
It's because risk in the $600 trillion derivatives market isn't evening out. To the contrary, it's growing increasingly concentrated among a select few banks, especially here in the United States.
In 2009, five banks held 80% of derivatives in America. Now, just four banks hold a staggering 95.9% of U.S. derivatives, according to a recent report from the Office of the Currency Comptroller.
The four banks in question: JPMorgan Chase & Co. (NYSE: JPM), Citigroup Inc. (NYSE: C), Bank of America Corp. (NYSE: BAC) and Goldman Sachs Group Inc. (NYSE: GS).
Derivatives played a crucial role in bringing down the global economy, so you would think that the world's top policymakers would have reined these things in by now – but they haven't.
Instead of attacking the problem, regulators have let it spiral out of control, and the result is a $600 trillion time bomb called the derivatives market.
Think I'm exaggerating?
The notional value of the world's derivatives actually is estimated at more than $600 trillion. Notional value, of course, is the total value of a leveraged position's assets. This distinction is necessary because when you're talking about leveraged assets like options and derivatives, a little bit of money can control a disproportionately large position that may be as much as 5, 10, 30, or, in extreme cases, 100 times greater than investments that could be funded only in cash instruments.
The world's gross domestic product (GDP) is only about $65 trillion, or roughly 10.83% of the worldwide value of the global derivatives market, according to The Economist. So there is literally not enough money on the planet to backstop the banks trading these things if they run into trouble.
Keith Fitz-Gerald is Chief Investment Strategist, Money Morning
The following is a transcript of a recent speech given by Professor William Black on an Economics Panel regarding the fradulent roots of our current crisis and the urgent need for criminal prosecutions among major US banks.
In the Savings and Loans crisis, which was 1/70th the size of this crisis, our agency made over 10,000 criminal referrals that resulted in the conviction on felony grounds of over 1,000 elites in what were designated as major cases. And to pick up on what's just been said, this is not just some sidelight to economics, this is why we have recurrent intensifying crises, is these epidemics of fraud from the C-Street—from the CEOs and CFOs.
In the Savings and Loans crisis, the inevitable National Commission said that fraud was invariably present at the typical large failure. In the Enron era, always frauds from the very top of the organization, and in this crisis the frauds came from the very top of the organization again. But what's different in this crisis? In this crisis, the same agency that I worked with that made over 10,000 criminal referrals in a tinier crisis made zero criminal referrals. They got rid of the entire function. And so there are zero convictions of anybody in the elite ranks of Wall Street. And if they can defraud us with impunity they will cause crisis after crisis and they will produce maximum inequality.
The group that has the audacity to refer to itself as the productive class is the largest destroyer of lives, jobs, and of wealth of any group ever produced in this world. They wiped out six million existing jobs and five to six million jobs that would've been created. As you've heard, they've left 26 million Americans wanting full-time work with no ability to find that work. If you look at just losses in the household sector, it is $11 trillion. A trillion is a thousand billion. And then they have the nerve to say they are the productive class; and, not this journalist, but what we get as faux journalism today, repeats this endlessly as if it were a fact—that they create jobs. They destroy jobs. They are mass destroyers of jobs.
I told you I would bring you a message of hope. I will disagree a little bit with a fact pattern about the Reagan administration and re-regulation on Savings and Loans, because that's where I was. I will tell you this: everyone opposed our re-regulation of the industry. The big deregulation bill, the equivalent of the repeal of Glass-Steagall and such, occurred in 1982 and became effective in 1983. By November 1983, we were already re-regulating the Savings and Loan industry. And we were called re-regulators because that was the greatest swear word the Reagan administration believed existed—to call people re-regulators. But this was not partisan—a majority of the members of the House at the time it was controlled by Democrats co-sponsored a resolution saying do not go forward with re-regulation.
Five US Senators who became known as the Keating 5 because the most infamous fraud of that era got them together—and who, by the way, did Charles Keating and that fraud use to recruit the Keating 5? Brought him as a lobbyist to walk the halls of the Senate—a guy named Alan Greenspan. Who also put in writing Lincoln Savings posed no foreseeable risk of loss. It was only the most expensive failure—a 3000 position error. And after he got everything wrong in the most important issues he had ever dealt with, after that fact we named him Chairman of the Federal Reserve because we promote incompetence if it helps the 1%.
The Reagan administration was so outraged that we were closing insolvent Savings and Loans with great political support that the Office of Management and Budget threatened to file a criminal referral against the head of our agency on the grounds that he was closing too many insolvent banks. Do we have that problem recently? You see Geithner out trying to close the big powerful banks? And that Reagan administration tried to appoint two members—there were only three members running the place—so this would've given control to Charles Keating, the most notorious fraudster in the Savings and Loans crisis, who selected two individuals to run the agency that would then not regulate him. One of them got knocked out on ambiguous political grounds and the other I had to blow the whistle to get him to resign in disgrace, but of course they didn't prosecute him.
We can prosecute these frauds. The Federal Housing Finance Administration has just filed complaints saying 17 of the largest banks in America committed massive fraud—endemic fraud—and that there's a paper trail proving that they did so. So where is the Justice department? Why is it not indicting these clear frauds?
When you are told no one could see this crisis coming, ask them about the subprime crisis of 1990 to 1991. It's a trick question. As all good things do in the world of fraud, this one started in Orange County, where you had significant people making liars loans. Now, remember, it is the lenders who put the lies in liars loans, not the borrowers. We know this empirically. And we stopped that—because it was insane—as regulators. And guess what happened? The leading folks making liars loans gave up their federal charter, gave up federal deposit insurance, and became a mortgage bank for the sole purpose of escaping regulation. And they changed their name. Some of you will recognize this name—to Ameriquest. Ameriquest was the leading predatory lender that in addition to making liars loans every day of the week targeted minorities to destroy that wealth you just heard about. They targeted Latinos, they targeted Blacks, and they were caught. They were caught three times doing this and the justice department refused to prosecute. Instead they settled for four hundred million dollars and guess what happened to the head of Ameriquest? Did he: a) resign in disgrace, b) was he indicted, or c) did we make him our ambassador to the Netherlands? Got it and won. How hard is this to figure out? Why do you think we made him our ambassador to the Netherlands? Because he was the leading political contributor to president of the United States of America. And that's bad but what comes next is far worse. Remember, this is the most notorious fraud in the nation. It targets minorities. Everybody knows it does so. Two entities rushed to acquire these personnel and this business and their names—Citicorp and Washington Mutual—who become two of the most notorious frauds in all of this.
So timewise I'll stop here but the case is, when we prosecuted, we had a ninety-percent conviction rate when they had the best criminal defense lawyers in the world and they spent money like water to protect the CEO from going to prison. So when they tell you no one can stop this, it is utter nonsense. I'll leave you with these statistics: the FBI warned of this in September 2004. In open testimony, it warned expressly that there was an epidemic—I'm quoting—an "epidemic of mortgage fraud" and it predicted it would cause a financial crisis. If that's not enough, the industry own anti-fraud experts in 2006, in writing, went to every mortgage banker in America and virtually every other lender and said three things: 1) stated income loans are an open invitation to fraudsters, 2) the incidence of fraud in such loans is 90%, and 3) these loans deserve the phrase—used by the industry behind closed doors—they are liars loans because they are pervasively fraudulent. How big did they get? Well, what did the industry do after it was warned? Did it stop making these loans? No! It massively increased the amount of these loans such that by 2006, one out of every three home loans in America was a liars loan. And that's why we have a crisis and it came from the very top of these organizations, and it went through—as the FHFA said in its complaint—the largest banks in the world were endemically fraudulent. It is not a few rotten apples. It is an orchard of one percenters who are rotten to the core.
h/t Financial Sense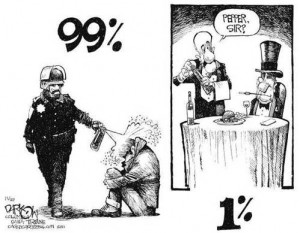 It looks like the EU is getting a bailout from the IMF that could be nearly $800 billion.  Gold is going straight up, and I am sure global stock markets will also surge on the bailout news.  This will not really fix what is wrong.  It will also not put an end to the chronic crisis mode Europe and the U.S. have been in for the past 3 years.  I mean, if all the global bailouts didn't fix the problem, including $16 trillion pumped out by the Fed after the 2008 meltdown, what's another $800 billion going to do?  The reason why things are not going to get better is that corruption is rampant and the financial system is totally broken.  Bailouts are treating the symptom, but the disease is unbridled fraud.  Many people don't realize this because the corporate controlled mainstream media will not report on crimes of the financial elite.
Last week, I wrote a piece called "False Narrative."  I was stunned by a comment from a guy named Jim that said, "It amazes me that you maintain the narrative of the "guilt" of private business that asked for consideration from Congress and the president and it was granted. Nobody has gone to jail because no laws were broken."  This is the most false of the false narratives.  The 2008 meltdown is 70 times bigger than the S&L crisis of the 1980's and early 1990's.  Back then, more than 1,000 financial elites were convicted of felonies.  According to Professor William Black, the reason why we have "recurrent intensifying crises . . . is these epidemics of fraud from the C-Street—from the CEOs and CFOs."  Professor Black holds duel PhD's in economics and law, but he is not just some run-of-the-mill academic.  Professor Black is also a former bank regulator who spearheaded the cleanup of the S&L crisis.  In a speech Black gave last week, he said, "In the Savings and Loans crisis, the inevitable National Commission said that fraud was invariably present at the typical large failure. In the Enron era, always frauds from the very top of the organization, and in this crisis the frauds came from the very top of the organization again. But what's different in this crisis? In this crisis, the same agency that I worked with that made over 10,000 criminal referrals in a tinier crisis made zero criminal referrals. They got rid of the entire function. And so there are zero convictions of anybody in the elite ranks of Wall Street. And if they can defraud us with impunity they will cause crisis after crisis and they will produce maximum inequality. . . . And that's why we have a crisis and it came from the very top of these organizations, and it went through—as the FHFA said in its complaint—the largest banks in the world were endemically fraudulent. It is not a few rotten apples. It is an orchard of one percenters who are rotten to the core." (Click here to read his complete speech.)
Don't believe the professor, then how about the "maestro" Alan Greenspan.  The former Fed Chief admitted the system was fraudulent and needed to be cleaned up last November.  He said, "If you cannot trust your counter-parties it won't work and . . . it didn't."  He was sitting on set with Ben Bernanke when he said it.  Look at the video below, and watch Mr. Bernanke's face when Greenspan dishes the dirt.
Look at the latest blowup with MF Global.  There is more than $1 billion of segregated customer funds missing and not a single criminal charge.  Does anyone think Jon Corzine is going to get prosecuted?  I'll be shocked if he is because he has friends in high places including the White House.
Just because nobody has gone to jail doesn't mean everything is going to be ok and we all get a free pass.  According to Karl Denninger at Market-ticker.org, the markets will be the ultimate regulator.  Denninger wrote last week, "Without enforcement of the law — swift and certain — there is no deterrent against this behavior.  There has been no enforcement and there is no indication that this will change.  It will take just one — or maybe two — more events like MF Global and Greek CDS "determinations" before the entire market — all of it — goes "no bid" as participants simply stuff their hands in their pockets and say "screw this."  It's coming folks, and I guarantee you this: Whatever your "nightmare" scenario is for such an event, it's not bearish enough."  (Click here for the complete Denninger post.  It's really good!)
You cannot have a thriving economy that is shrouded in fraud and mistrust.  Crimes continue to go unpunished, and mistrust is growing.  No bailout, no matter how big, will ever fix that.
It's for the children….errr…or something.  You guys don't mind, right?  And you Americans thinking that this can't happen here – think again.  Consider yourself warned.
* Govt targets pension funds for spending boost

* OECD sees UK economy slipping into recession in 2012

* Series of measures aimed to bolster growth

LONDON, Nov 28 (Reuters) – Britain unveiled plans on Monday to tap pension funds for the lion's share of an investment of up to 30 billion pounds ($46.5 billion) in big building projects to help to revitalise a stagnant economy forecast to slip back into recession next year.

The measures are the latest in a drip feed of government announcements ahead of Finance Minister George Osborne's autumn statement on Tuesday when growth forecasts will be cut as the euro zone crisis bites.

The OECD forecast on Monday that Britain would suffer a modest recession next year, urging the Bank of England to expand its asset purchase programme designed at shoring up a faltering economy.

Adding to the gloom, British retail sales fell at their fastest pace in 2-1/2 years in November, a survey by business lobby the CBI showed.

Britain's Conservative-led coalition has made it its priority to erase a budget deficit that peaked at 11 percent of national output.

It is cutting spending by around a fifth across most government departments, but the domestic squeeze has coincided with plunging demand from continental European markets hit by the eurozone crisis.

The unemployment level has hit a 15-year high and the government is likely to fail to hit a target of wiping out the structural deficit by 2015, when the next election must be held.

Responding to industry calls to help companies to access cash, Osborne announced measures on Sunday to underwrite 20 billion pounds of loans to smaller companies which are struggling to get credit.

Analysts backed the plans but said that they would take time to feed through into the economy.

"Measures to reprioritise capital spending and start the credit easing programme are welcome, but they are coming too late to do much about the impending recession in the UK," BNP Paribas economist David Tinsley said in a note.

"With the domestic demand in the UK already very weak heading into the crisis, it is hard to see where any growth next year will come from."

NO NEW BORROWING

Treasury Minister Danny Alexander said that the government would reallocate 5 billion pounds of spending to capital projects by 2015 but crucially added that a deficit-cutting coalition would not borrow any more.

"Through working with British pension funds, we're identifying ways to unlock around 20 billion pounds of pension fund investment to go into privately funded infrastructure," Alexander told BBC Radio 4.

Osborne said the government could invest up to 30 billion pounds in schools, roads and rail projects, a much needed boost for the country's creaking infrastructure.

He got a boost on Monday when the head of China's sovereign wealth fund said the country was keen to invest in the ailing infrastructure of Western countries, especially Britain.

"Britain has got to get away from the quick-fix, debt solutions that got us into this mess," Osborne said.

"We've got to weather the current economic storm but we've got to lay the foundation for a stronger economic future."

Pension funds are looking to ensure better returns after yields on British government bonds or gilts fell following buying by the Bank of England and by investors seeking a haven from eurozone turmoil.

Pension funds saw great potential in the scheme but again its effects would take time to work through.

"This could be a real win-win. The UK desperately needs to update its infrastructure, and pension funds are looking for inflation-linked, long-term investments," said Joanne Segars, chief executive of the National Association of Pension Funds.

"Pension funds hold over a trillion pounds in assets, but only around 2 percent of that is invested in infrastructure. There's the potential for that to be much higher."

Analysts at Panmure Gordon said the additional investment would provide a boost to British construction and engineering firms including Balfour Beatty, WS Atkins, Kier and Costain.
I'm sure this will end well.
The global economy is heading for a massive amount of trouble in the months ahead.  Right now we are seeing the beginning of a credit crunch that is shaping up to be very reminiscent of what we saw back in 2008.  Investors and big corporations are pulling huge amounts of money out of European banks and nobody wants to lend to those banks right now.  We could potentially see dozens of "Lehman Brothers moments" in Europe in 2012.  Meanwhile, bond yields on sovereign debt are jumping through the roof all over Europe.  That means that European nations that are already drowning in debt are going to find it much more expensive to continue funding that debt.  It would be a huge understatement to say that there is "financial chaos" in Europe right now.  The European financial system is in so much trouble that it is hard to describe.  The instant that they stop receiving bailout money, Greece is going to default.  Portugal, Italy, Ireland, Spain and quite a few other European nations are also on the verge of massive financial problems.  When the financial dominoes start to fall, the U.S. financial system is going to be dramatically affected as well, because U.S. banks have a huge amount of exposure to European debt.  The other day, I noted that investor Jim Rogers is saying that the coming global financial collapse "is going to be worse" than 2008.  Sadly, it looks like he is right on the money.  We are in a lot of trouble my friends, and things are going to get really, really ugly.
The sad thing is that we never have recovered from the last major financial crisis.  Right now, the U.S. economy is far weaker than it was back in 2007.  So what is going to happen if we get hit with another financial tsunami?  The following is what PIMCO CEO Mohamed El-Erian said recently….
"What's most terrifying, we are having this discussion about the risk of recession at a time when unemployment is already too high, at a time when a quarter of homeowners are underwater on their mortgages, at a time then the fiscal deficit is at 9 percent and at a time when interest rates are at zero."
Can things really get much worse than they are now?
Unfortunately, yes they can.
Not that things are not really, really bad right now.
In Los Angeles earlier this week, approximately 10,000 people lined up for free turkey dinners.
So how many people will be lining up for free food when the unemployment rate in the U.S. soars into double digits?
Right now there is so much economic pain in America that it is hard to describe.  According to a recent report from one nonprofit group, 45 percent of all people living in the United States "do not have enough money to cover housing, food, healthcare and other basic expenses".
If this is where we are at now, how much trouble will we be in as a nation if a financial crisis worse than 2008 hits us in 2012?
The primary cause of the coming financial crisis will almost certainly be the financial meltdown that we are seeing unfold in Europe.
The economic downturn that began in 2008 caused the debt levels of quite a few European nations to soar to unprecedented heights.  It has gotten to the point where the debts of many of those nations are no longer sustainable.
So investors are starting to demand much higher returns for the much greater risk associated with investing in the bonds of those countries.
But that makes it much more expensive for those troubled nations to fund their debts, and that means that their financial troubles get even worse.
Over the past 12 months, what we have seen happen to bond yields over in Europe has been nothing short of amazing.
Just check out this chart of what has been happening to the yield on 2 year Italian bonds over the past 12 months.
And keep in mind that these bond yields have been spiking even while the European Central Bank has been buying up unprecedented mountains of bonds in an attempt to keep bond yields low.
There has been a fundamental loss of faith in the financial system, and it is not just happening in Europe.
Just check out this chart.  As that chart shows, credit default swap spreads all over the globe are absolutely skyrocketing and are now higher than we have seen at any point since the great financial crisis that shook the world during 2008 and 2009.
Panic and fear are everywhere – especially in Europe.  In fact, it looks like a run on the banks has already begun in Europe.
The following comes from a recent article in The Economist….
"We are starting to witness signs that corporates are withdrawing deposits from banks in Spain, Italy, France and Belgium," an analyst at Citi Group wrote in a recent report. "This is a worrying development."
Nobody wants to lend money to European banks right now.  There is a feeling that they are all vulnerable and could fail at any time, and this lack of confidence actually makes that possibility even more likely.
The following is a short excerpt from a recent CNBC article….
Money-market funds in the United States have quite dramatically slammed shut their lending windows to European banks. According to the Economist, Fitch estimates U.S. money market funds have withdrawn 42 percent of their money from European banks in general.

And for France that number is even higher — 69 percent. European money-market funds are also getting in on the act.
So what can be done?
Well, in a different CNBC article, Mitchell Goldberg was quoted as saying that even "a bazooka" is not going to be good enough to fix this situation….
"It's too late for a bazooka," said Mitchell Goldberg, president of ClientFirst Strategy. "Now we need inter-continental ballistic missiles. This is getting worse very quickly."
This is kind of like watching a horrific car wreck happen in very slow motion.
The financial system of Europe is dying and everybody can see what is happening but nobody can seem to find a way to fix it.
Not that we are solving our own problems here in the United States.
The vaunted "supercommittee" that was supposed to get a handle on our debt problem was a complete and utter failure.
Barack Obama has shown that he has no clue what to do when it comes to the economy, and Ben Bernanke has been preoccupied with roaming around the country trying to get people to feel more "warm and fuzzy" about the Federal Reserve.
The Federal Reserve actually has more power over our economy than anyone else.  But instead of fixing things they only keep making things even worse.
The only people that the Fed seems to be helping are the banksters.
What you are about to read should really, really upset you.  According to a recent article in the Wall Street Journal, the Federal Reserve has actually been tipping off their upcoming moves to top financial professionals.  In turn, these financial professionals have been using that information to make a lot of money for themselves and for their clients….
Hours after an Aug. 15 meeting with Federal Reserve Chairman Ben Bernanke in his office, Nancy Lazar made a hasty call to investor clients: The Fed was dusting off an obscure 1960s-era strategy known as Operation Twist.

The news pointed to a boom in long-term bonds.

It was a good call. Over the next five weeks, prices on 10-year Treasury bonds soared, offering double-digit returns in an otherwise dismal year.

By the time the Fed announced its $400 billion Operation Twist on Sept. 21, the window for quick profits had all but slammed shut.

Ms. Lazar is among a group of well-connected investors and analysts with access to top Federal Reserve officials who give them a chance at early clues to the central bank's next policy moves, according to interviews and hundreds of pages of documents obtained by The Wall Street Journal through open records searches.
You just can't make stuff like this up.  The corruption at the Federal Reserve is totally out of control.  After nearly 100 years of total failure, it is time to shut down the Federal Reserve.
Not that Barack Obama should get a free pass for the role that he has played in this economic downturn.  He inherited a complete mess from Bush and has made it even worse.
Today, millions of business owners are so frustrated with Washington D.C. that they don't know what to do.
For example, one business owner down in Georgia has posted signs with the following message on all of his company's trucks….
"New Company Policy: We are not hiring until Obama is gone."
The business environment in this country becomes more toxic with each passing year, and the federal government has already strangled millions of small businesses out of existence.
In addition, politicians from both parties continue to stand aside as tens of thousands of businesses, millions of jobs and hundreds of billions of dollars of our wealth get shipped out of the country.
During 2010, an average of 23 manufacturing facilities a day were shut down in the United States.  We are committing national economic suicide, and the top politicians in both political parties keep cheering for more.
Well, millions of ordinary Americans can see what is happening and they are preparing for the worst.
The following report comes from an article that was recently posted on the website of the local CBS affiliate in St. Louis….
A chain of three stores that sells survival food and gear reports a jump in sales to people who are getting prepared for the "possible collapse" of society.

"We had to order fifty cases of the meals ready to eat to keep up with the demand in the past three months," said manager Steve Dorsey at Uncle Sam's Safari Outfitters Inc. in Webster Groves. "That's not normal.  Usually we sell 20 to 30 cases in a whole year."
So are you prepared for the coming collapse?
If you still have a great job and things are still going well for you, then you should definitely be thankful.  Compared to the rest of the world, most of us are incredibly blessed.
But let there be no doubt, the U.S. economy is going to get a lot worse in the years ahead.
Just because you have a job today does not mean that you will have one tomorrow.
Just because you have a nice car and a big home today does not mean that you will have them tomorrow.
We all need to try to become a lot less dependent on "the system", because "the system" is failing.
A whole lot of trouble is coming.
You better get ready.