G. Edward Griffin, in his book The Creature from Jekyll Island lets us look behind the scenes at who makes money and at what price.
Griffin named the mechanism on money creation after a cartoon character:
In the 1940s, there was a comic strip character called Mandrake the Magician. His specialty was creating things out of nothing and, when appropriate, to make them disappear back into that same void. It is fitting, therefore, that the process to be described in this section should be named in his honor.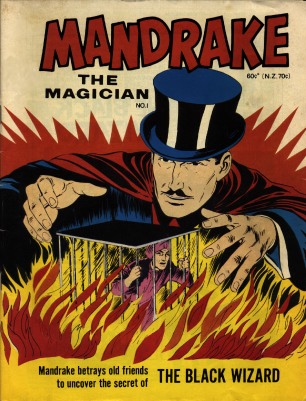 The Mandrake Mechanism Chapter 10 of The Creature from Jekyll Island by G. Edward Griffin
THE MANDRAKE MECHANISM . . . The method by which the Federal Reserve creates money out of nothing; the concept of usury as the payment of interest on pretended loans; the true cause of the hidden tax called inflation; the way in which the Fed creates boom-bust cycles.
In the 1940s, there was a comic strip character called Mandrake the Magician. His specialty was creating things out of nothing and, when appropriate, to make them disappear back into that same void. It is fitting, therefore, that the process to be described in this section should be named in his honor.
In the previous chapters, we examined the technique developed by the political and monetary scientists to create money out of nothing for the purpose of lending. This is not an entirely accurate description because it implies that money is created first and then waits for someone to borrow it.
On the other hand, textbooks on banking often state that money is created out of debt. This also is misleading because it implies that debt exists first and then is converted into money. In truth, money is not created until the instant it is borrowed. It is the act of borrowing which causes it to spring into existence. And, incidentally, it is the act of paying off the debt that causes it to vanish. There is no short phrase that perfectly describes that process. So, until one is invented along the way, we shall continue using the phrase "create money out of nothing" and occasionally add "for the purpose of lending" where necessary to further clarify the meaning.
So, let us now . . . see just how far this money/debt-creation process has been carried — and how it works.
The first fact that needs to be considered is that our money today has no gold or silver behind it whatsoever. The fraction is not 54% nor 15%. It is 0%. It has traveled the path of all previous fractional money in history and already has degenerated into pure fiat money. The fact that most of it is in the form of checkbook balances rather than paper currency is a mere technicality; and the fact that bankers speak about "reserve ratios" is eyewash. The so-called reserves to which they refer are, in fact, Treasury bonds and other certificates of debt.
Our money is "pure fiat" through and through.
The second fact that needs to be clearly understood is that, in spite of the technical jargon and seemingly complicated procedures, the actual mechanism by which the Federal Reserve creates money is quite simple. They do it exactly the same way the goldsmiths of old did except, of course, the goldsmiths were limited by the need to hold some precious metals in reserve, whereas the Fed has no such restriction.
THE FEDERAL RESERVE IS CANDID
The Federal Reserve itself is amazingly frank about this process. A booklet published by the Federal Reserve Bank of New York tells us: "Currency cannot be redeemed, or exchanged, for Treasury gold or any other asset used as backing. The question of just what assets 'back' Federal Reserve notes has little but bookkeeping significance."
Elsewhere in the same publication we are told: "Banks are creating money based on a borrower's promise to pay (the IOU) . . . Banks create money by 'monetizing' the private debts of businesses and individuals."
In a booklet entitled Modern Money Mechanics, the Federal Reserve Bank of Chicago says:
In the United States neither paper currency nor deposits have value as commodities. Intrinsically, a dollar bill is just a piece of paper. Deposits are merely book entries. Coins do have some intrinsic value as metal, but generally far less than their face amount.

What, then, makes these instruments — checks, paper money, and coins — acceptable at face value in payment of all debts and for other monetary uses? Mainly, it is the confidence people have that they will be able to exchange such money for other financial assets and real goods and services whenever they choose to do so. This partly is a matter of law; currency has been designated "legal tender" by the government — that is, it must be accepted.
In the fine print of a footnote in a bulletin of the Federal Reserve Bank of St. Louis, we find this surprisingly candid explanation:
Modern monetary systems have a fiat base — literally money by decree — with depository institutions, acting as fiduciaries, creating obligations against themselves with the fiat base acting in part as reserves. The decree appears on the currency notes: "This note is legal tender for all debts, public and private." While no individual could refuse to accept such money for debt repayment, exchange contracts could easily be composed to thwart its use in everyday commerce. However, a forceful explanation as to why money is accepted is that the federal government requires it as payment for tax liabilities. Anticipation of the need to clear this debt creates a demand for the pure fiat dollars.
MONEY WOULD VANISH WITHOUT DEBT
It is difficult for Americans to come to grips with the fact that their total money-supply is backed by nothing but debt, and it is even more mind boggling to visualize that, if everyone paid back all that was borrowed, there would be no money left in existence.
That's right, there would not be one penny in circulation — all coins and all paper currency would be returned to bank vaults — and there would be not one dollar in any one's checking account. In short, all money would disappear.
Marriner Eccles was the Governor of the Federal Reserve System in 1941. On September 30 of that year, Eccles was asked to give testimony before the House Committee on Banking and Currency. The purpose of the hearing was to obtain information regarding the role of the Federal Reserve in creating conditions that led to the depression of the 1930s.
Congressman Wright Patman, who was Chairman of that committee, asked how the Fed got the money to purchase two billion dollars worth of government bonds in 1933. This is the exchange that followed.
Eccles: We created it. Patman: Out of what? Eccles: Out of the right to issue credit money. Patman: And there is nothing behind it, is there, except our government's credit? Eccles: That is what our money system is. If there were no debts in our money system, there wouldn't be any money.
It must be realized that, while money may represent an asset to selected individuals, when it is considered as an aggregate of the total money supply, it is not an asset at all. A man who borrows $1,000 may think that he has increased his financial position by that amount but he has not. His $1,000 cash asset is offset by his $1,000 loan liability, and his net position is zero. Bank accounts are exactly the same on a larger scale. Add up all the bank accounts in the nation, and it would be easy to assume that all that money represents a gigantic pool of assets which support the economy. Yet, every bit of this money is owed by someone. Some will owe nothing. Others will owe many times what they possess. All added together, the national balance is zero. What we think is money is but a grand illusion. The reality is debt.