Debt bubble amnesia – 40 percent increase of Americans with accounts in collection in the last decade. System still heavily reliant on extreme consumption.
The debt hangover is still giving the nation a deep headache.  For example, in 2003 10 percent of Americans had an account in collections.  Today, it is more than 14 percent.  The addiction to debt is both troubling but what is more surprising is how little was learned from the financial crisis.  The stock market is pretending as if the European debt crisis was solved, that emerging markets had no growth challenges ahead, and that somehow we have solved the fiscal cliffwith no actual work.  Or can it be that those on the economic margins are simply not able to articulate their voice in a media that is largely controlled by those who can afford the largest microphone?  In the last year, you would have been lucky to hear about the 1 out of 7 Americans on food stamps to count on one hand on network television.  The bill is coming due and it is going to get harder to simply ignore.
Consumption and debt
Our economy is still being driven by massive amounts of consumption: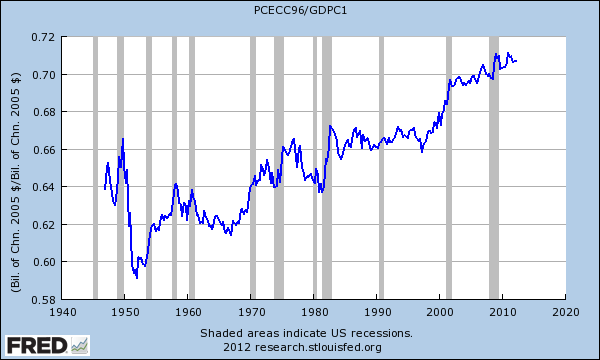 Consumption accounts for more than 70 percent of our GDP.  Yet as we are painfully aware much of this consumption was enjoyed with money many did not have.  Because of that we have a massive number of Americans with accounts in collections: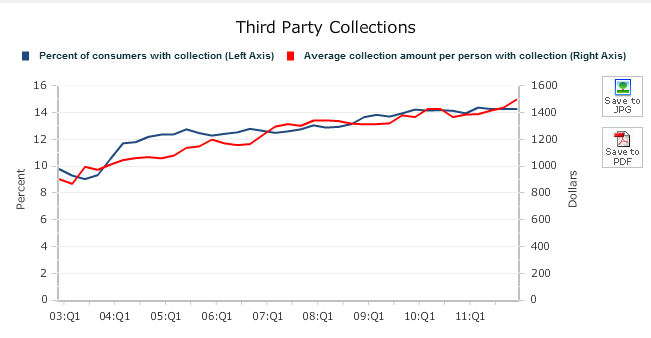 The typical amount in collection has risen by over 50 percent in the last decade although wages have gone absolutely nowhere.  A third of Americans have no savings at all so paying even a small amount back is going to be problematic.
Read the rest at My Budget 306