Archive for November, 2012
For a country in which the consumer is responsible for 70% of GDP, one wonders: without savings and without wages where will this "recovery" we hear so much propaganda about and which every investment bank this week went all in on (just like they did in the end of 2010 only to admit their error 4 months later) come from?Because every now and then it helps to step back from the trees and observe the forest. Behold: the forest.
Oh wait, we know where growth will come from: inventories
Source: Bloomberg Brief
In the "duh!" department for today we have this:
WASHINGTON, Nov. 30 (UPI) – Greece's bailout  hit a new hurdle when the International Monetary Fund said it would not give its  part of the money until Greece buys its bonds back.

IMF Managing Director Christine  Lagarde "would be in a position to recommend to our executive board the  completion of the first review of Greece's program" only after Athens delivers  "on the commitments agreed, in particular the implementation of debt buybacks,"  IMF spokesman Gerry Rice told reporters.
"Buy back" at a large discount, of course.
While the IMF and other "official" lenders give back nothing.
Of course this is how it is, right?  You want money from Joe The Loan Shark, you do what he says.  Or he sends over Guido to break your legs.
What I've yet to figure out is why private holders put up with this crap.  Oh I understand the mentality — "if I don't go along to get along I'll get zero."  But how many times do you have to get zero anyway, after you trust these clowns, before you simply erect the middle finger when the threats start and tell them "Go ahead, light the match — we're both standing in a pool of gasoline!"
C'mon folks — when you get down to it the bottom line here is that they can't pay.  We can't pay either, particularly when you look at the forward liabilities that have been promised out as "benefits", especially in medical care.
The lie machine of the political process, where one can promise people unicorns despite having absolutely no ability to pay as agreed and knowing this at the time you make the promise, is nothing new.  It pervades not only Europe but here in the United States, and crosses all political parties.  Even the so-called Libertarian Gary Johnson lied about his fiscal record — he claimed he "cut spending" in New Mexico as governor but factually increased not only spending but per-capita state debt!
In the private world this is fraud and is punishable by prison time. But as soon as it comes to the political world even those-ardent argument-makers for prosecution fold their tents and accede (e.g. Bill Black) to the claim that "it's unfair that the people who were promised something that was impossible have to face that reality."
We have built a world of people who believe in Unicorns and that the political promises to shower them with "other people's money" were both real and sustainable.  Neither is true, but none of the people of the world are yet willing to hold the politicians who lied to them accountable, while at the same time accepting that they were lied to and thus cannot have what they were promised.
There is no solution — here or in Greece — until that changes.
The United States is clearly in an advanced state of decline.  Many people around the world (and even inside America) rejoice at this, but not me.  I mourn for the country that I was born in and that I still love.  Yes, the United States has never been perfect, but the Republic that our Founding Fathers started truly has been a light to the rest of the world in a lot of ways over the centuries.  Unfortunately, our foundations are badly rotting and our nation is collapsing all around us.  Many Americans like to think that the United States is greater today than it has ever been before, but the truth is that America is like a patient that has stage 4 cancer that has spread to almost every area of the body.  Our nation is being destroyed in thousands of different ways, and more distressing news emerges with each passing day.  This article will mainly focus on the economic decline of America, but much could also be said about our social, political, moral and spiritual decline as well.  We are simply not the same country that we used to be.  Americans are proud, selfish, greedy, arrogant, ungrateful, treacherous and completely addicted to entertainment and pleasure.  Our country is literally falling apart all around us, but most Americans are so plugged into entertainment that they can't even be bothered to notice what is happening.  Most Americans seem to assume that we will always have endless prosperity just because of who we are, but unfortunately that simply is not true.  We inherited the greatest economic machine the world has ever seen and we have wrecked it, and now a very painful day of reckoning is approaching.  But most people will not understand until it is too late.
The following are 34 signs that America is in decline…
#1 According to the World Bank, U.S. GDP accounted for 31.8 percent of all global economic activity in 2001.  That number dropped to 21.6 percent in 2011.  That is not just a decline – that is a freefall.  Just check out the chart in this article.
#2 According to The Economist, the United States was the best place in the world to be born into back in 1988.  Today, the United States is only tied for 16th place.
#3 The United States has fallen in the global economic competitiveness rankings compiled by the World Economic Forum for four years in a row.
#4 According to the Wall Street Journal, of the 40 biggest publicly traded corporate spenders, half of them plan to reduce capital expenditures in coming months.
#5 More than three times as many new homes were sold in the United States in 2005 as will be sold in 2012.
#6 America once had the greatest manufacturing cities on the face of the earth.  Now many of our formerly great manufacturing cities have degenerated into festering hellholes.  For example, the city of Detroit is on the verge of financial collapse, and one state lawmaker is now saying that "dissolving Detroit" should be looked at as an option.
#7 In 2007, the unemployment rate for the 20 to 29 age bracket was about 6.5 percent.  Today, the unemployment rate for that same age group is about 13 percent.
#8 Back in 1950, more than 80 percent of all men in the United States had jobs.  Today,less than 65 percent of all men in the United States have jobs.
#9 If you can believe it, approximately one out of every four American workers makes 10 dollars an hour or less.
#10 Sadly, 60 percent of the jobs lost during the last recession were mid-wage jobs, but58 percent of the jobs created since then have been low wage jobs.
#11 Median household income in America has fallen for four consecutive years.  Overall, it has declined by over $4000 during that time span.
#12 The U.S. trade deficit with China during 2011 was 28 times larger than it was back in 1990.
#13 Incredibly, more than 56,000 manufacturing facilities in the United States have been shut down since 2001.  During 2010, manufacturing facilities were shutting down at the rate of 23 per day.  How can anyone say that "things are getting better" when our economic infrastructure is being absolutely gutted?
#14 Back in early 2005, the average price of a gallon of gasoline was less than 2 dollars a gallon.  During 2012, the average price of a gallon of gasoline has been $3.63.
#15 In 1999, 64.1 percent of all Americans were covered by employment-based health insurance.  Today, only 55.1 percent are covered by employment-based health insurance.
#16 As I have written about previously, 61 percent of all Americans were "middle income" back in 1971 according to the Pew Research Center.  Today, only 51 percent of all Americans are "middle income".
#17 There are now 20.2 million Americans that spend more than half of their incomes on housing.  That represents a 46 percent increase from 2001.
#18 According to the U.S. Census Bureau, the poverty rate for children living in the United States is about 22 percent.
#19 Back in 1983, the bottom 95 percent of all income earners in the United States had 62 cents of debt for every dollar that they earned.  By 2007, that figure had soared to $1.48.
#20 Total home mortgage debt in the United States is now about 5 times larger than it was just 20 years ago.
#21 Total credit card debt in the United States is now more than 8 times larger than it was just 30 years ago.
#22 The value of the U.S. dollar has declined by more than 96 percent since the Federal Reserve was first created.
#23 According to one survey, 29 percent of all Americans in the 25 to 34 year old age bracket are still living with their parents.
#24 Back in 1950, 78 percent of all households in the United States contained a married couple.  Today, that number has declined to 48 percent.
#25 According to the U.S. Census Bureau, 49 percent of all Americans live in a home that receives direct monetary benefits from the federal government.  Back in 1983, less than a third of all Americans lived in a home that received direct monetary benefits from the federal government.
#26 In 1980, government transfer payments accounted for just 11.7 percent of all income.  Today, government transfer payments account for more than 18 percent of all income.
#27 In November 2008, 30.8 million Americans were on food stamps.  Today, 47.1 millionAmericans are on food stamps.
#28 Right now, one out of every four American children is on food stamps.
#29 As I wrote about the other day, according to one calculation the number of Americans on food stamps now exceeds the combined populations of "Alaska, Arkansas, Connecticut, Delaware, District of Columbia, Hawaii, Idaho, Iowa, Kansas, Maine, Mississippi, Montana, Nebraska, Nevada, New Hampshire, New Mexico, North Dakota, Oklahoma, Oregon, Rhode Island, South Dakota, Utah, Vermont, West Virginia, and Wyoming."
#30 Back in 1965, only one out of every 50 Americans was on Medicaid.  Today, one out of every 6 Americans is on Medicaid, and things are about to get a whole lot worse.  It is being projected that Obamacare will add 16 million more Americans to the Medicaid rolls.
#31 In 2001, the U.S. national debt was less than 6 trillion dollars.  Today, it is over 16 trillion dollars and it is increasing by more than 100 million dollars every single hour.
#32 The U.S. national debt is now more than 23 times larger than it was when Jimmy Carter became president.
#33 According to a PBS report from earlier this year, U.S. households that make $13,000 or less per year spend 9 percent of their incomes on lottery tickets.  Could that possibly be accurate?  Are people really that foolish?
#34 As the U.S. economy has declined, the American people have been downing more antidepressants and other prescription drugs than ever before.  In fact, the American people spent 60 billion dollars more on prescription drugs in 2010 than they did in 2005.
So what are our "leaders" doing about all of this?
Not much.
They just continue to insist that everything is "just fine".
Sadly, the truth is that they live in a world that is very different from most of the rest of us.
Barack Obama is getting ready to take a 20 day vacation to Hawaii.
When was the last time you got to take a 20 day vacation?
And most of our "leaders" have no idea what it is like to struggle from month to month on a paycheck.
Overall, more than half of the members of Congress are millionaires.  We are led by wealthy men who are serving the interests of other wealthy men.
But the problem with our system is not limited to the president and the members of Congress.  The truth is that the political system in America has become a colossal beast that just continues to grow no matter who is in power.  The political establishment of both parties is totally dependent on this beast, and they will continue to feed it and serve it because it has been very good to them.  The following is from an outstanding article by Steve McCann…
The Republican and Democratic political establishments are made up of the following: 

1) many current and nearly all retired national office holders whose livelihood and narcissistic demands depends upon fealty to Party and access to government largesse;

2) the majority of the media elite, including pundits, editors, writers and television news personalities based in Washington and New York whose proximity to power and access is vital to their continued standard of living;  

3) academia, numerous think-tanks, so-called non-government organizations, and lobbyists who fasten onto those in the administration and Congress for employment, grants, favorable legislation and ego-gratification;  

4) the reliable deep pocket political contributors and political consultants whose future is irrevocably tied to the political machinery of the Party; and

5) the crony capitalists, i.e. leaders of the corporate and financial community as well as unions whose entities are dependent on or subject to government oversight and/or benevolence .
Do you think that there is any chance that this insidious system will be uprooted any time soon?
Of course not.
We will continue on the same path that we are on right now and America will continue to decline.
Many will rejoice as America falls, but I will not.
I will mourn for a mighty Republic that has fallen and for a dream that has been lost.
The fiscal cliff is coming!  Run for the hills!  There have been endless stories in the mainstream media about the "fiscal cliff" that our country is facing if the Democrats and the Republicans can't come to some sort of an agreement.  If there is no agreement, taxes will go up and government spending will be reduced by a very small amount.  And yes, that would likely push the U.S. economy into another recession, although there are many that would argue that we are already in a recession right now.  In any event, there is a tremendous amount of distress out there about the fact that something might interrupt the debt-fueled prosperity that we have all been enjoying.  You can almost hear them now: "No! Please don't cut government spending! Please don't raise taxes! Please keep stealing more than 100 million dollars from our children and our grandchildren every single hour of every single day so that we can continue this economic illusion that feels so very good."  The American people want the government to give everything to everybody, but they definitely do not want to pay for it.  They want a big government that showers them with government checks and government benefits, but they don't want to cough up the ridiculous amount of money that it would take to fund such a government.  So we just keep ripping off our kids and our grandkids.  What we are doing to future generations is not just immoral, it is criminal.  If they get the chance, someday they will look back and curse us for destroying their futures and destroying their country.  So why do we continue to do this to them?  Because we are greedy and selfish and we are absolutely desperate to maintain the massively overinflated standard of living that we have been enjoying.  We have lived way above our means for so long that we don't even know what "normal" is supposed to be anymore.
But nobody can spend far more money than they bring in forever.  At some point an adjustment comes, and our adjustment is going to be exceedingly painful.
Right now, the overwhelming consensus in the United States seems to be that we should put off any economic pain for as long as possible.  The American people don't want significant cuts to government spending and they don't want taxes to be raised to pay for the spending that we are already doing.
But if the Republicans and the Democrats don't agree to a deal soon, we are going to see taxes raised substantially and government spending cut by a little bit.  A recent CBS News article did a good job of describing exactly what this "fiscal cliff" that we are facing actually is…
There are two parts to the so-called fiscal cliff. The first is the scheduled expiration of the tax cuts enacted in 2001 and 2003 under President George W. Bush, the payroll tax holiday enacted under President Obama, and a host of other tax breaks. The second is $1.2 trillion in automatic spending cuts to defense and domestic programs that are looming due to a 2011 deal that resulted from House Republicans' reluctance to raise the debt limit.

Now, it's true that if lawmakers fail to work out any sort of deal, there will be severe long-term consequences for the economy: According to the Tax Policy Center, going off the "cliff" would affect 88 percent of U.S. taxpayers, with their taxes rising by an average of $3,500 a year. Many economists, as well as the nonpartisan Congressional Budget Office, say the combination of spending cuts and tax hikes that are set to take effect would tip the economy into a new recession.
Please keep in mind that the "$1.2 trillion in automatic spending cuts" is not for a single year.  When you break it down, the cuts to spending would be somewhere around 100 billion dollars a year.  And a lot of those "cuts" are actually spending increases that would be cancelled.  So those spending cuts would not really put much of a dent in our yearly budget deficits at all.
The tax increases would be more significant.  Middle class families would be paying thousands of dollars more per year in taxes.  These tax increases would raise some more revenue for the federal government, but they would also do significant damage to the economy in the short-term.
Do you know what they call a combination of government spending cuts and tax increases over in Europe?
They call it "austerity".
Nations like Greece and Spain have tried this.  They cut spending and raised taxes in an attempt to reduce government budget deficits.  What happens is that the spending cuts and the tax increases cause a significant economic slowdown and this causes tax revenues to come in much lower than projected.  So then more spending cuts and tax hikes are necessary in order to try to get closer to balancing the budget.  But then tax revenues fall even more.
In the end, both Greece and Spain still have large budget deficits and yet the economies of both nations are suffering through depression-like conditions.  The unemployment rate in both nations is now over 25 percent.  Just check out this chart right here to see how nightmarish austerity has been for the economies of both Greece and Spain.
So that is why everybody is freaking out about the fiscal cliff.  They don't want to go down the same road of austerity.  They want to keep living in an economic fantasy land where we can borrow our way to "prosperity".
But it is all a lie.  The lines at the Apple stores, the crazed consumers on Black Friday, the restaurants teeming full with people and the government that thinks that it can take care of everyone from the cradle to the grave and yet keep taxes low.  It is all a giant lie.
And no, please do not think that I am in favor of raising taxes.  I most definitely am not.  I believe that the government brings in more than enough money already.
Personally, I believe that we could have a system that completely eliminates income taxes and that funds the government through tariffs and various other forms of taxation.  It was good enough for the Founding Fathers and it should be good enough for us.  But that is a subject for another article.
Our current system has allowed us to live way beyond our means for an extended period of time, but it is only a matter of time until it all comes crashing down.
In fact, the game is already over.  We have already destroyed the future.  At this point it is only a matter of how long we can keep kicking the can down the road and putting off the pain.
Sadly, what we have done on a national level is simply a reflection of our "buy now, pay later" society.  We have become a nation that is constantly willing to sacrifice the future in order to make the present more pleasant.
Just check out this video.  We have become addicted to a prosperity that we cannot possibly pay for.  But as long as someone will keep lending us the money we will continue to enjoy it.
As I have mentioned previously, the government has spent about 11 dollars for every 7 dollars of revenue that it has actually brought in while Barack Obama has been president.
We print, borrow and spend without giving any thought to what we are doing to the future of this country.  We are shredding confidence in our currency and we are wrecking the greatest economic machine that the world has ever seen.
And all of our politicians and all of our "leaders" prance about as if they are the smartest generation of Americans ever, and they think that they are an "example" for the rest of the world, but if our Founding Fathers were around today they would be absolutely horrified about what they have done to the country that they built.
If you think that the economy is bad now, you just wait.
We are still in the "economic fantasy land" phase where we are enjoying a massively inflated standard of living constructed on a mountain of borrowed fiat currency.  Our economy is being held up by trillions of borrowed dollars, and all of that money makes the U.S. economy appear to be far more prosperous than it actually should be.
When we have to start living closer to what our real standard of living should be things are going to get really bad.
Most Americans simply don't understand that if the federal government went to a balanced budget tomorrow it would instantly plunge the U.S. economy into a depression.
Just look at Greece and Spain.  The same thing is going to happen to us one way or another.
So enjoy this false prosperity while you still can.  This is about as good as things are going to get, and from here on out it is downhill for America.
Yeah, ok, these are better (more-cooked?) estimates?
Real gross domestic product — the output of goods and services produced by labor and property located in the United States — increased at an annual rate of 2.7 percent in the third quarter of 2012 (that is, from the second quarter to the third quarter), according to the "second" estimate released by the Bureau of Economic Analysis.  In the second quarter, real GDP increased 1.3 percent.
Uh huh.  What was the improvement attributed to?
The acceleration in real GDP in the third quarter primarily reflected upturns in private inventory investment and in federal government spending, a deceleration in imports, an acceleration in residential fixed investment, and a smaller decrease in state and local government spending that were partly offset by a downturn in nonresidential fixed investment and decelerations in exports and in PCE.
That (government deficit spending) is bad, not good.  But it's reported as good and people lap it up.  And inventory build is indeed GDP, but building inventories mean that manufacturers are not selling as fast as they're producing — this typically happens right in front of recessions!
As for specific indications of future demand?  They're not so good:
Equipment and software decreased 2.7 percent, in contrast to an increase of 4.8 percent.

Real federal government consumption expenditures and gross investment increased 9.5 percent in the third quarter, in contrast to a decrease of 0.2 percent in the second.  National defense increased 12.9 percent, in contrast to a decrease of 0.2 percent.  Nondefense increased 3.0 percent, in contrast to a decrease of 0.4 percent.
Yep.  Blow money on bombs and guns; a time-honored way to create demand that is recurring.  So long as that's paid with taxes it's ok, but when it's not…..
I'm unimpressed and skeptical, although this report certainly throws some cold water on the "more monetary stimulus NOW!" screaming from certain people on the left.
Three visualizations describe the breakdown of PSMs–previously successful models: S-Curves, Supernovas and Rising Wedges.
A successful model traps those within it; escape becomes impossible.
I recently highlighted one historical example of a PSM (Previously Successful Model) inOur Dust Bowl Economy (November 20, 2012): in the ample-rain era of the 1920s, farmers in the semi-arid southern Midwest had reaped huge profits by plowing up and planting fragile native grasslands. They poured their profits into homesteads, equipment and more land to enable further expansion.
When grain surpluses pushed prices down, their "model" had only one "solution": plant more land and harvest even more grain to compensate for lower prices. When prices fell from $1 per bushel to $.25/bushel, the model collapsed.
This previously successful model exacerbated the Dust Bowl and left the trapped farmers with no alternative but to either keep trying to make a failed model work or leave and abandon all their sunk capital in land, homes and farm equipment.
A more current example can be found in Microsoft (MSFT a.k.a. Mister Softee), whose previously successful model took a 42% marketshare in smartphones and reduced it to 2%. Here is an excerpt from Microsoft has failed (semiaccurate.com):
Microsoft has three product lines that underpin everything, Windows, Windows Server, and Windows Mobile. On those, the other moneymakers, Office and Exchange, run exclusively. The apps use protocols that are locked down with dubious methods, and will not run on any competition. The competition is likewise excluded from doing what Microsoft can, either directly like Novell, or by raising the cost to the point of it not being profitable. This is how the wagons are circled, with every iteration, the cost of competing go up, and value of alternatives go up too.

The problem is that if you are locked in with a choice of 100% Microsoft or 0% Microsoft, once someone goes, it isn't a baby step, they are gone. Once you start using Google Docs and the related suites, you have no need for Office. That means you, or likely your company, saves several hundred dollars a head. No need for Office means no need for Exchange. No need for Exchange means no need for Windows Server. No need for Office means no need for Windows. Once the snowball starts rolling, it picks up speed a frightening pace. And that is where we are. The barriers to exit are now even more potent barriers to entry.

Microsoft bought Nokia to both kill off one competitor and to buy their market share. Microsoft at the time had approximately 12% smartphone OS marketshare, Nokia a bit over 30%. With the collaboration, Nokia and Microsoft, together with all the other OS partners selling Windows Phone 7.x, sales are now hovering around 2% of smartphone market share.

Microsoft's mobile aspirations have failed so spectacularly that it is almost impossible to account for. Rather than fix the lock in that excludes the overwhelming majority of the market that does not have a Windows phone, Microsoft doubled down with the new iteration playing the same compatibility games they did before to lock out developers, competitors, and innovators.

The death spiral for Microsoft is in full effect, and management is expending a lot of effort to speed it up. Microsoft is unwilling to change, and that is very clear. Even if they wanted to, they are culturally far beyond the point of being able to. What was a slow bleed of marketshare is now gushing, and management is clueless, intransigent, and myopic. Game over, the thrashing will continue for a bit, but it won't change the outcome. Microsoft has failed.
I would generalize that the Microsoft model of buying competitors and stitching together quasi-monopolies has failed: first in mobile, next in tablets and eventually in operating systems and Office.
We see the immense power of previously successful models. Straying from the previously successful trajectory looks needlessly risky, even as the trajectory has rolled over and is heading for unpleasant impact.
Anyone who questions the previously successful model (PSM) is suppressed, fired or sent to Siberia as a "threat" to the enterprise's success. Anyone who realizes the Titanic will inevitably sink and abandons ship leaves behind all their sunk capital: they leave with the figurative clothes on their back.
I have often covered the S-Curve model of initial development, rapid growth, eventual stagnation and collapse. Here is an example showing how financialization has peaked and will collapse: Our "Let's Pretend" Economy: Let's Pretend Financialization Hasn't Killed the Economy (March 8, 2012).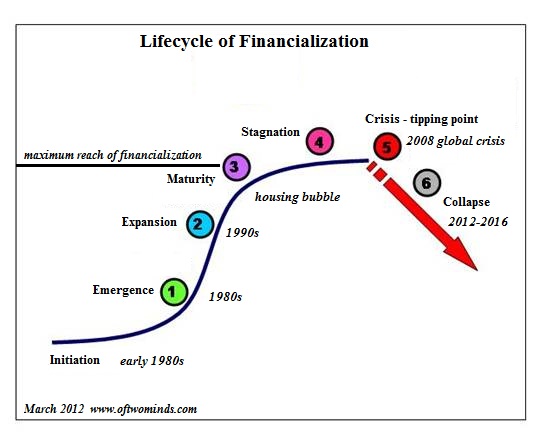 Since most of the systems and fiefdoms that are trapped in previously successful models are bureaucracies, we can also profitably use the "Supernova" model of rapid expansion, brief equilibrium and sudden collapse: The Lifecycle of Bureaucracy (December 2, 2010):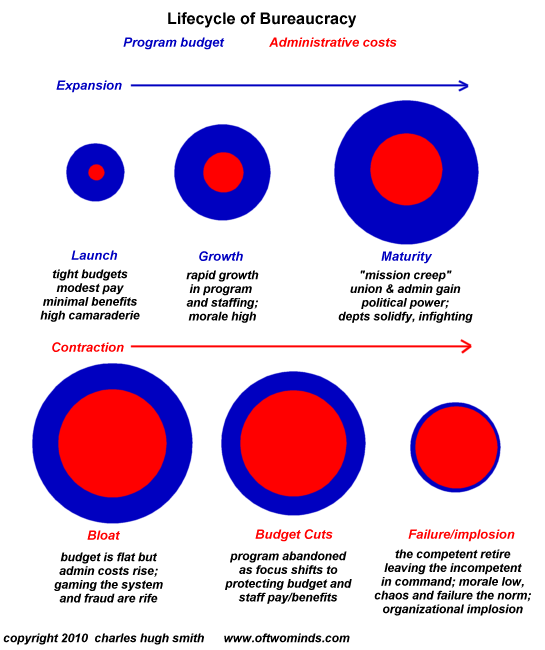 I have often addressed the way that bureaucracies arise to solve a problem and quickly progress to becoming an even bigger and more intractable problem themselves, generally because they only know how to expand (the ratchet effect) and have no institutional ability to shrink or become more efficient:
Complexity: Bureaucratic (Death Spiral) and Self-Organizing (Sustainable) (February 17, 2011)
Failure: Don't Despair, It's The New Normal (May 4, 2011)
Global Crisis: the Convergence of Marx, Orwell and Kafka (July 25, 2012)
We can also visualize PSMs (Previously Successful Models) as a rising wedge, a pattern well-known to technical analysis. The previously successful model essentially charts an expansionary course that the organization is locked into. As the model fails to produce results, inefficiencies and costs rise, pushing the lower boundary of failure ever closer to the actual revenues.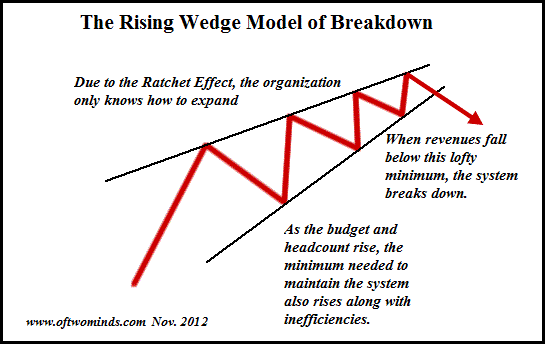 Once the revenues fall below this threshold of viability, the organization breaks down, as there is no organizational capacity to radically reduce costs and headcount while significantly increasing efficiency and return on investment.
This model of breakdown describes all the major systems of local and Federal Government: the Pentagon, Medicare, Medicaid, Social Security, the higher-education/student loan cartel, the mortgage/housing cartel, sickcare, and so on.
Charles Hugh Smith – Of Two Minds
---