Archive for January, 2013
First Seth Klarman, then Paul Singer, and now Bill Gross: the respected voices speaking up against the lunatics in the Marriner Eccles asylum is getting louder and louder.
From PIMCO's Bill Gross
Credit Supernova!
This is the way the world ends…
Not with a bang but a whimper.
T.S. Eliot
They say that time is money.* What they don't say is that money may be running out of time.
There may be a natural evolution to our fractionally reserved credit system which characterizes modern global finance. Much like the universe, which began with a big bang nearly 14 billion years ago, but is expanding so rapidly that scientists predict it will all end in a "big freeze" trillions of years from now, our current monetary system seems to require perpetual expansion to maintain its existence. And too, the advancing entropy in the physical universe may in fact portend a similar decline of "energy" and "heat" within the credit markets. If so, then the legitimate response of creditors, debtors and investors inextricably intertwined within it, should logically be to ask about the economic and investment implications of its ongoing transition.
But before mimicking T.S. Eliot on the way our monetary system might evolve, let me first describe the "big bang" beginning of credit markets, so that you can more closely recognize its transition. The creation of credit in our modern day fractional reserve banking system began with a deposit and the profitable expansion of that deposit via leverage. Banks and other lenders don't always keep 100% of their deposits in the "vault" at any one time – in fact they keep very little – thus the term "fractional reserves." That first deposit then, and the explosion outward of 10x and more of levered lending, is modern day finance's equivalent of the big bang. When it began is actually harder to determine than the birth of the physical universe but it certainly accelerated with the invention of central banking – the U.S. in 1913 – and with it the increased confidence that these newly licensed lenders of last resort would provide support to financial and real economies. Banking and central banks were and remain essential elements of a productive global economy.
But they carried within them an inherent instability that required the perpetual creation of more and more credit to stay alive. Those initial loans from that first deposit? They were made most certainly at yields close to the rate of real growth and creation of real wealth in the economy. Lenders demanded that yield because of their risk, and borrowers were speculating that the profit on their fledgling enterprises would exceed the interest expense on those loans. In many cases, they succeeded. But the economy as a whole could not logically grow faster than the real interest rates required to pay creditors, in combination with the near double-digit returns that equity holders demanded to support the initial leverage – unless – unless – it was supplied with additional credit to pay the tab. In a sense this was a "Sixteen Tons" metaphor: Another day older and deeper in debt, except few within the credit system itself understood the implications.
Economist Hyman Minsky did. With credit now expanding, the sophisticated economic model provided by Minsky was working its way towards what he called Ponzi finance. First, he claimed the system would borrow in low amounts and be relatively self-sustaining – what he termed "Hedge" finance. Then the system would gain courage, lever more into a "Speculative" finance mode which required more credit to pay back previous borrowings at maturity. Finally, the end phase of "Ponzi" finance would appear when additional credit would be required just to cover increasingly burdensome interest payments, with accelerating inflation the end result.
Minsky's concept, developed nearly a half century ago shortly after the explosive decoupling of the dollar from gold in 1971, was primarily a cyclically contained model which acknowledged recession and then rejuvenation once the system's leverage had been reduced. That was then. He perhaps could not have imagined the hyperbolic, as opposed to linear, secular rise in U.S. credit creation that has occurred since as shown in Chart 1. (Patterns for other developed economies are similar.) While there has been cyclical delevering, it has always been mild – even during the Volcker era of 1979-81. When Minsky formulated his theory in the early 70s, credit outstanding in the U.S. totaled $3 trillion.† Today, at $56 trillion and counting, it is a monster that requires perpetually increasing amounts of fuel, a supernova star that expands and expands, yet, in the process begins to consume itself. Each additional dollar of credit seems to create less and less heat. In the 1980s, it took four dollars of new credit to generate $1 of real GDP. Over the last decade, it has taken $10, and since 2006, $20 to produce the same result. Minsky's Ponzi finance at the 2013 stage goes more and more to creditors and market speculators and less and less to the real economy. This "Credit New Normal" is entropic much like the physical universe and the "heat" or real growth that new credit now generates becomes less and less each year: 2% real growth now instead of an historical 3.5% over the past 50 years; likely even less as the future unfolds.
Not only is more and more anemic credit created by lenders as its "sixteen tons" becomes "thirty-two," then "sixty-four," but in the process, today's near zero bound interest rates cripple savers and business models previously constructed on the basis of positive real yields and wider margins for loans. Net interest margins at banks compress; liabilities at insurance companies threaten their levered equity; and underfunded pension plans require greater contributions from their corporate funders unless regulatory agencies intervene. What has followed has been a gradual erosion of real growth as layoffs, bank branch closings and business consolidations create less of a need for labor and physical plant expansion. In effect, the initial magic of credit creation turns less magical, in some cases even destructive and begins to consume credit markets at the margin as well as portions of the real economy it has created. For readers demanding a more model-driven, historical example of the negative impact of zero based interest rates, they have only to witness the modern day example of Japan. With interest rates close to zero for the last decade or more, a sharply declining rate of investment in productive plants and equipment, shown in Chart 2, is the best evidence. A Japanese credit market supernova, exploding and then contracting onto itself. Money and credit may be losing heat and running out of time in other developed economies as well, including the U.S.
Investment Strategy
If so then the legitimate question is: how much time does money/credit have left and what are the investment consequences between now and then? Well, first I will admit that my supernova metaphor is more instructive than literal. The end of the global monetary system is not nigh. But the entropic characterization is most illustrative.Credit is now funneled increasingly into market speculation as opposed to productive innovation. Asset price appreciation as opposed to simple yield or "carry" is now critical to maintain the system's momentum and longevity. Investment banking, which only a decade ago promoted small business development and transition to public markets, now is dominated by leveraged speculation and the Ponzi finance Minsky once warned against.
So our credit-based financial markets and the economy it supports are levered, fragile and increasingly entropic – it is running out of energy and time. When does money run out of time?The countdown begins when investable assets pose too much risk for too little return; when lenders desert credit markets for other alternatives such as cash or real assets.
REPEAT: THE COUNTDOWN BEGINS WHEN INVESTABLE ASSETS POSE TOO MUCH RISK FOR TOO LITTLE RETURN. 
Visible first signs for creditors would logically be 1) long-term bond yields too low relative to duration risk, 2) credit spreads too tight relative to default risk and 3) PE ratios too high relative to growth risks. Not immediately, but over time, credit is exchanged figuratively or sometimes literally for cash in a mattress or conversely for real assets (gold, diamonds) in a vault. It also may move to other credit markets denominated in alternative currencies. As it does, domestic systems delever as credit and its supernova heat is abandoned for alternative assets. Unless central banks and credit extending private banks can generate real or at second best, nominal growth with their trillions of dollars, euros, and yen, then the risk of credit market entropy will increase.
The element of time is critical because investors and speculators that support the system may not necessarily fully participate in it for perpetuity. We ask ourselves frequently at PIMCO, what else could we do, what else could we invest in to avoid the consequences of financial repression and negative real interest rates approaching minus 2%? The choices are varied: cash to help protect against an inflationary expansion or just the opposite – long Treasuries to take advantage of a deflationary bust; real assets; emerging market equities, etc. One of our Investment Committee members swears he would buy land in New Zealand and set sail. Most of us can't do that, nor can you. The fact is that PIMCO and almost all professional investors are in many cases index constrained, and thus duration and risk constrained. We operate in a world that is primarily credit based and as credit loses energy we and our clients should acknowledge its entropy, which means accepting lower returns on bonds, stocks, real estate and derivative strategies that likely will produce less than double-digit returns.
Still, investors cannot simply surrender to their entropic destiny. Time may be running out, but time is still money as the original saying goes. How can you make some?
(1) Position for eventual inflation: the end stage of a supernova credit explosion is likely to produce more inflation than growth, and more chances of inflation as opposed to deflation. In bonds, buy inflation protection via TIPS; shorten maturities and durations; don't fight central banks – anticipate them by buying what they buy first; look as well for offshore sovereign bonds with positive real interest rates (Mexico, Italy, Brazil, for example).
(2) Get used to slower real growth: QEs and zero-based interest rates have negative consequences. Move money to currencies and asset markets in countries with less debt and less hyperbolic credit systems. Australia, Brazil, Mexico and Canada are candidates.
(3) Invest in global equities with stable cash flows that should provide historically lower but relatively attractive returns.
(4) Transition from financial to real assets if possible at the margin:buy something you can sink your teeth into – gold, other commodities, anything that can't be reproduced as fast as credit. Think of PIMCO in this transition. We hope to be "Your Global Investment Authority."We have a product menu to assist.
(5) Be cognizant of property rights and confiscatory policies in all governments.
(6) Appreciate the supernova characterization of our current credit system. At some point it will transition to something else.
We may be running out of time, but time will always be money.
Speed Read for Credit Supernova
1) Why is our credit market running out of heat or fuel?
a) As it expands at a rate of trillions per year, real growth in the economy has failed to respond. More credit goes to pay interest than future investment.

b) Zero-based interest rates, which are the result of QE and credit creation, have negative as well as positive effects. Historic business models may be negatively affected and investment spending may be dampened.

c)  Look to the Japanese historical example.
2) What options should an investor consider?
a) Seek inflation protection in credit market assets/ shorten durations.

b) Increase real assets/commodities/stable cash flow equities at the margin.

c) Accept lower future returns in portfolio planning.
William H. Gross
Managing Director
* The terms "money" and "credit" are used interchangeably in this IO.  Purists would dispute the usage and I would agree with them, arguing for the usage for simplicity's sake and the evolving homogeneity of the two.
† Outstanding credit includes all government debt as well as corporate, household and personal debt. Does not include "shadow" debt estimated at $20-30 trillion. [ZH: emphasis ours]
You can thank the reckless money printing that the Federal Reserve has been doing for the incredible bull market that we have seen in recent months.  When the Federal Reserve does more "quantitative easing", it is the financial markets that benefit the most.  The Dow and the S&P 500 have both hit levels not seen since 2007 this month, and many analysts are projecting that 2013 will be a banner year for stocks.  But is a rising stock market really a sign that the overall economy is rapidly improving as many are suggesting?  Of course not.  Just because the Federal Reserve has inflated another false stock market bubble with a bunch of funny money does not mean that the U.S. economy is in great shape.  In fact, the truth is that things just keep getting worse for average Americans.  The percentage of working age Americans with a job has fallen from 60.6% to 58.6% while Barack Obama has been president, 40 percent of all American workers are making $20,000 a year or less, median household income has declined forfour years in a row, and poverty in the United States is absolutely exploding.  So quantitative easing has definitely not made things better for the middle class.  But all of the money printing that the Fed has been doing has worked out wonderfully for Wall Street.  Profits are soaring atGoldman Sachs and luxury estates in the Hamptons are selling briskly.  Unfortunately, this is how things work in America these days.  Our "leaders" seem far more concerned with the welfare of Wall Street than they do about the welfare of the American people.  When things get rocky, their first priority always seems to be to do whatever it takes to pump up the financial markets.
When QE3 was announced, it was heralded as the grand solution to all of our economic problems.  But the truth is that those running things knew exactly what it would do.  Quantitative easing always pumps up the financial markets, and that overwhelmingly benefits those that are wealthy.  In fact, a while back a CNBC article discussed a very interesting study from the Bank of England which showed a clear correlation between quantitative easing and rising stock prices…
It said that the Bank of England's policies of quantitative easing – similar to the Fed's – had benefited mainly the wealthy.

Specifically, it said that its QE program had boosted the value of stocks and bonds by 26 percent, or about $970 billion. It said that about 40 percent of those gains went to the richest 5 percent of British households.

Many said the BOE's easing added to social anger and unrest. Dhaval Joshi, of BCA Research wrote that  "QE cash ends up overwhelmingly in profits, thereby exacerbating already extreme income inequality and the consequent social tensions that arise from it."
So should we be surprised that stocks are now the highest that they have been in more than 5 years?
Of course not.
And who benefits from this?
The wealthy do.  In fact, 82 percent of all individually held stocks are owned by the wealthiest 5 percent of all Americans.
Unfortunately, all of this reckless money printing has a very negative impact on all the rest of us.  When the Fed floods the financial system with money, that causes inflation.  That means that the cost of living has gone up even though your paycheck may not have.
If you go to the supermarket frequently, you know exactly what I am talking about.  The new "sale prices" are what the old "regular prices" used to be.  They keep shrinking many of the package sizes in order to try to hide the inflation, but I don't think many people are fooled.  Our food dollars are not stretching nearly as far as they used to, and we can blame the Federal Reserve for that.
For much more on rising prices in America, please see this article: "Somebody Should Start The 'Stuff Costs Too Much' Party".
Sadly, this is what the Federal Reserve does.  The system was designed to create inflation.  Before the Federal Reserve came into existence, the United States never had an ongoing problem with inflation.  But since the Fed was created, the United States has endured constant inflation.  In fact, we have come to accept it as "normal".  Just check out the amazing chart in the video posted below…
The chart in that video kind of reminds me of a chart that I shared in aprevious article…
Not that I expect the United States to enter a period of hyperinflation in the near future.
Actually, despite all of the reckless money printing that the Fed has been doing, I expect that at some point we are going to see another wave of panic hit the financial markets like we saw back in 2008.  The false stock market bubble will burst, major banks will fail and the financial system will implode.  It could unfold something like this…
1 – A derivatives panic hits the "too big to fail" banks.
2 – Financial markets all over the globe crash.
3 – The credit markets freeze up.
4 – Economic activity in the United States starts to grind to a halt.
5 – Unemployment rises above 20 percent and mortgage defaults soar to unprecedented levels.
6 – Tax revenues fall dramatically and austerity measures are implemented by the federal government, state governments and local governments.
7 – The rest of the globe rapidly loses confidence in the U.S. financial system and begins to dump U.S. debt and U.S. dollars.
I write about derivatives a lot, because they are one of the greatest threats that the global financial system is facing.  In fact, right now a derivatives scandal is threatening to take down the oldest bank in the world…
Banca Monte dei Paschi di Siena, the world's oldest bank, was making loans when Michelangelo and Leonardo da Vinci were young men and before Columbus sailed to the New World. The bank survived the Italian War, which saw Siena's surrender to Spain in 1555, the Napoleonic campaign, the Second World War and assorted bouts of plague and poverty.

But MPS may not survive the twin threats of a gruesomely expensive takeover gone bad and a derivatives scandal that may result in legal action against the bank's former executives. After five centuries of independence, MPS may have to be nationalized as its losses soar and its value sinks.
So when you hear the word "derivatives" in the news, pay close attention.  The bankers have turned our financial system into a giant casino, and at some point the entire house of cards is going to come crashing down.
In response to the coming financial crisis, I believe that our "leaders" will eventually resort to money printing unlike anything we have ever seen before in a desperate attempt to resuscitate the system.  When that happens, I believe that we will see the kind of rampant inflation that so many people have been warning about.
…
A titanic political battle is brewing between the parasitic aristocracy, the dependent class and the two classes creating value with their labor.
In the conventional view, America's socioeconomic classes are divided by income and wealth into various layers of Wealthy, Middle Class and Poor.
If we extend the analysis presented in Why Employment in the U.S. Isn't Coming Back(January 29, 2013) and Why Employment Is Dead in the Water (January 28, 2013), we getan entirely different framework that breaks naturally into four classes:
1. Parasitic financial Aristocracy (creates no value, skims national surplus)
2. High value creation (employed, heavily taxed)
3. Low value creation (employed/informal economy, lightly taxed)
4. No value creation (unemployed, dependent)
There are of course various distinctions that must be made within each broad class, but the point is the financial health of the nation ultimately depends on creating surplus value–value in excess of the costs of production and overhead.
Wealth that is incapable of generating new wealth is consumed, i.e. eating our seed corn: once the investable capital is gone, it is no longer available to leverage new wealth creation, and the nation spirals into poverty and conflict.
The key metrics are value creation and cost: assessing the value created by each class and the costs of maintaining each class.
In the conventional view, the wealthy subsidize the poor via taxes and donations to charity (i.e. noblesse oblige). But the conventional framework ignores the key question of where the wealthy obtained their fortunes, and the consequences of that wealth acquisition on the larger economy.
If the wealthy parasitically skimmed their wealth, they are in effect depriving the economy of capital that could have been productively invested elsewhere. If they created value far in excess of the costs of their enterprise, then they were conduits of high-value creation.
Here is a snapshot of parasitic wealth skimming: the financial aristocracy skims roughly 5% of the nation's entire output (GDP) from the 60% of the populace that are debt-serfs (the top 5% have wealth that is not debt-dependent, and the bottom 35% are too poor to have any credit).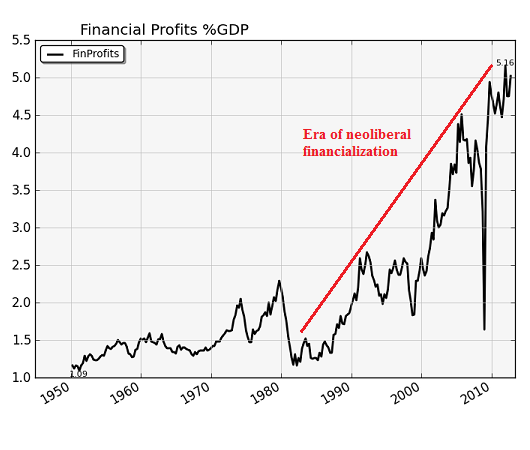 Financial profits per capita (per person): this eliminates the abstraction of numbers in the hundreds of billions of dollars by measuring the parasitic skim extracted from each American: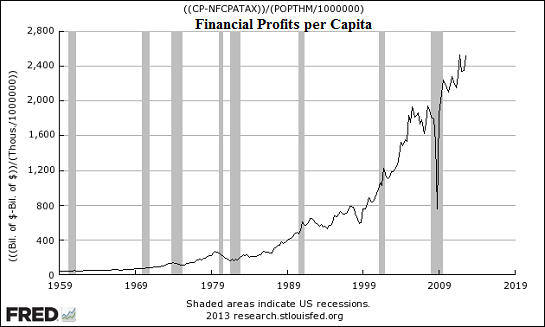 The financial sector is only the most visible part of the parasitic skim; most of the skim is hidden within cartels enabled and enforced by the Central State (Federal government).
Correspondent Mark G. has identified the two dead-giveaway characteristics of parasitic cartels:
1. Real outputs (i.e. surplus value) are visibly falling despite ever higher resource inputs (costs).
2. The cartel enforces a socio-political agenda that has nothing to do with the ostensible purpose of the cartel's operations.
This describes the national security cartel, the sickcare cartel, the higher-education cartel and the drug-war/gulag cartel, to name just the most obvious.
The national security cartel absorbs hundreds of billions of dollars annually, yet the value of trillion-dollar weapons systems like the F-35 are rapidly diminishing in an era of networked drones.
The sickcare cartel now absorbs almost 20% of the nation's entire economy (GDP) yet the health of the populace measurably declines by most international metrics.
The higher-education cartel manages to expand its share of the national income even as the cartel's output–the relevancy and value of its product, a college degree– is increasingly marginalized. (Students: You Are Exploited Debt-Serfs April 12, 2011)
Overcrowded classes now routinely view coursework on large screens that is drawn from the Internet rather than live lectures–lessons the students could get for free on their own. Textbooks that cost $150 each (how's that for cartel pricing?) cover material that is also available online for free or a very low cost. Meanwhile, administration costs are replacing instruction as the primary costs of the cartel: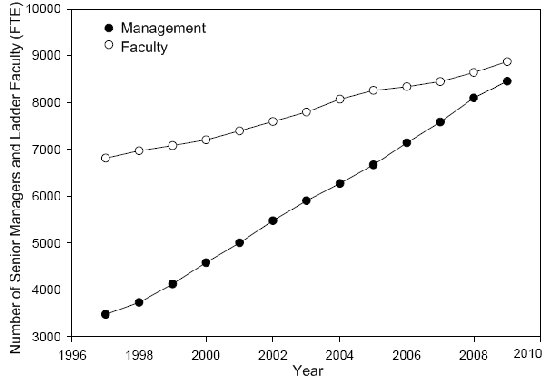 No wonder higher education and healthcare are "rights." That agenda guarantees the cartels' control of the national income will only expand.
The drug-war/gulag cartel consumes billions of dollars annually on suppressing marijuana and jailing drug users and nickel-bag dealers, while fully legal and readily available alcohol kills tens of thousands annually via vehicle accidents, murders committed while intoxicated, liver disease, etc., none of which can be traced to marijuana useage.
Forgotten thanks to the relentless drug-war/gulag cartel propaganda is the fact that U.S. physicians routinely prescribed cannabis in the late 19th as a cure for a variety of common ailments. (For the record, I am not a user attempting to justify my usage; this is simply unassailable historical fact.)
Since the value created by these cartels is far less than their costs, they are all part of the parasitic aristocracy skimming wealth rather than creating it.
As noted in the previous essays on employment, once an economy's cost basis rises above the value created by most labor, it is no longer financially possible to pay people to perform low-value creation work.
Robots and software become the only sustainable way to get the work done for a cost that is lower than the value created. Robot Economy Could Cause Up To 75 Percent Unemployment. As I explained in Why Employment in the U.S. Isn't Coming Back, ever-higher labor and overhead costs make this the only path open to enterprises that aren't subsidized or protected by the government.
What we need to consider is what happens as the parasitic and dependent classes take an ever-larger share of the national surplus while the classes creating most of the value decline in size and political influence.
This has nothing to do with what people "deserve" or what they've been promised; it has everything to do with what is economically sustainable. The conventional political discussion is focused on what everyone is receiving; the discussion that matters is how much value is being created, and can that wealth support a parasitic aristocracy, politically untouchable cartels and a vast and growing class of State dependents.
Based on income and taxes paid, it appears the high value creation class has shrunk to around 20% of the workforce, as the top 20% pay roughly 80% of the income and payroll taxes.
In general terms, there are 150 million people reporting earned income, i.e. working at some sort of job or self-employment. Roughly 38 million are part-time, and so full-time workers number around 112 million. As noted in Why Employment Is Dead in the Water, 38 million American workers earn less than $10,000 per year, a number that aligns with the number of part-time employees; 50 million earn less that $15,000 a year and 61 million earn less than $20,000 annually.
In broad-brush, the bottom 40% of wage earners work in low-value creation jobs. Their wages are capped by the value their labor creates. The top 20% are in high-value creation jobs and the middle 40% fill the spectrum between $100,000 and $21,000 a year in earned income.
Looking ahead, we can discern a time when the class creating most of the value and paying most of the taxes declines to the point that the value created is no longer large enough to support both a parasitic aristocracy and a vast class of dependents (children, retirees, disabled, unemployed, etc.) while the majority of wage earners are barely getting by on their declining household incomes. Recall that there are about 307 million Americans and roughly a third have living-wage jobs, i.e. full-time jobs.
Courtesy of Doug Short: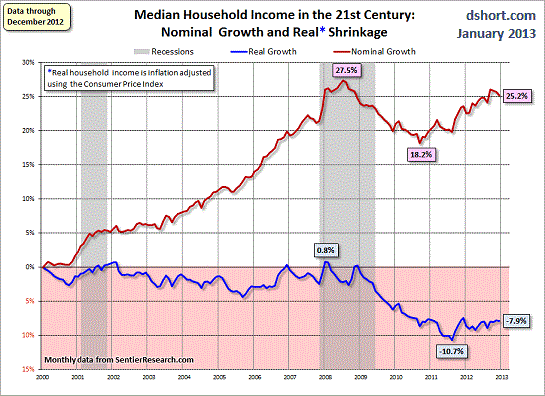 That sets the stage for a titanic political battle–one that could trigger a constitutional crisis–between the parasitic aristocracy, the dependent class and the two classes creating value with their labor.
In this context, America is filling the gap between the value we create and what we spend by borrowing $1 trillion+ a year on the Federal level and hundreds of billions more on the local-government and private-sector levels. All this debt isn't being "invested" in new value-creation; it is funding consumption and cartel skimming on a monumental scale.
Charles Hugh Smith – Of Two Minds
Told 'ya so, given the leading indicators in the Fed indices
Real gross domestic product — the output of goods and services produced by labor and property located in the United States – decreased at an annual rate of 0.1 percent in the fourth quarter of 2012 (that is, from the third quarter to the fourth quarter), according to the "advance" estimate released by the Bureau of Economic Analysis. In the third quarter, real GDP increased 3.1 percent.

That will be the end of that.
CNBC is spinning like crazy, but it's hard to spin this number.  It sucks.
The decrease in real GDP in the fourth quarter primarily reflected negative contributions from private inventory investment, federal government spending, and exports that were partly offset by positive contributions from personal consumption expenditures (PCE), nonresidential fixed investment, and residential fixed investment.  Imports, which are a subtraction in the calculation of GDP, decreased.

The downturn in real GDP in the fourth quarter primarily reflected downturns in private inventory investment, in federal government spending, in exports, and in state and local government spending that were partly offset by an upturn in nonresidential fixed investment, a larger decrease in imports, and an acceleration in PCE.
Yes, the government was real.  But the real inventory numbers are more meaningful.
"Buying" growth with federal spending doesn't work.  Rick Santelli is hammering on this and he's right – this is a crap report and is underlining exactly what has been going on for the last several years.
There were other big distortions in the data that were helpful to the number — for example, "equipment and software" which was up big, but almost all of that is likely attributable to the fear of expiring tax credits for accelerated depreciation (which means "look out below!" for first quarter's report in another three months!
Exports are down big (5.7%) and that is likely not related to tax policy.
Government spending's decrease was all defense; ex-defense it was up 1.4%.
Finally, real gross domestic purchases were only up 0.1% .vs. 2.6% in the third quarter.  That's real final demand – and it collapsed.  Note that this was into the holiday season and thus would be expected to be seasonally strong.
Disposable personal income was up big — and that will require some investigation.  A large part of this may be pulled-forward asset sales to get under the tax increase window.  The "savings rate" increase implies this was at least partly the case, and may be entirely the case.
Current-dollar GDP (adjusted for inflation) was up only 0.5%, which sucks.
This is a crap report but has hair all over it.  While there will undoubtedly be plenty of people pointing fingers when you get the one-time distortions from the fiscal cliff fears out of the report the real issue is found in inventory and domestic purchases – and both of those suck.
Update: As expected, the detail tables tell the tale — the personal income addition was from asset sales and special dividends, presumably to get in front of tax rate changes.  Specifically, wage income increased by $62 billion, but income receipt on assets was up $141.6 billion on the quarter, a monstrous change.  Last quarter this figure was slightly negative and historically it tends to be reasonably stable.
Discussion (registration required to post)
..and it just went in the box.
Now you get to guess how much is left before it gets to what is inside the box.
Iceland won a sweeping victory in a court fight over its responsibilities to foreign depositors in the Icelandic bank Landsbanki, which failed in 2008.

The court of the European Free Trade Association on Monday said Iceland didn't breach European Economic Area directives on deposit guarantees by not compensating U.K. and Dutch depositors in Landsbanki's online savings accounts, known as Icesave accounts.
Remember this?
Iceland's banks took a lot of deposits for very high interest rates from Europeans.  Then Iceland's banks blew up.  The nation's deposit insurance fund didn't have anywhere near enough money to pay everyone else — so it paid their citizens first, and left everyone else to twist in the wind.  A vote on this matter was taken and the citizens decided.
The other EU nations screamed, threatened and ultimately sued.
Well, now they've lost.
Not only did they lose, they lost in a court where is no path for appeal.  In other words, they really lost; it's over.
This, incidentally, is not just a matter for Iceland, you see.  There are other nations where demands have been made for citizens to cover other, non-citizen losses.  I can think of a few… like, for instance…. Greece.
Now it is true that the situations are not exactly analogous, and this particular precedent is only going to bind in a circumstance where an EEA nation but not an EU member has a similar situation where some sort of guarantee program (e.g. a deposit guarantee program, in this case) has insufficient funds.
What this decision does is provide a solid backstop to the opinion that such a guarantee program does not reach beyond the fund and into the general finances of the nation involved, nor can that nation be forced to do so retroactively.
This matters folks.
A lot.
The fuse has gone inside the box.
Discussion (registration required to post)
I am not the author of today's catchy headline. No, that was Gretchen Morgenson writing in the New York Times on January 5, 2013.
If you were hoping that things might be different in 2013 — you know, that bankers would be held responsible for bad behavior or that the government might actually assist troubled homeowners — you can forget it. A settlement reportedly in the works with big banks will soon end a review into foreclosure abuses, and it means more of the same: no accountability for financial institutions and little help for borrowers.

Last week, The New York Times reported that regulators were close to settling with 14 banks whose foreclosure practices had ridden roughshod over borrowers and the rule of law. Although the deal has not been made official and its terms are as yet unknown, the initial report said borrowers who had lost their homes because of improprieties would receive a total of $3.75 billion in cash. An additional $6.25 billion would be put toward principal reduction for homeowners in distress.
Gretchen was reporting a few days before the official announcement. The deal was done, and the settlement turned outto be $8.5 billion, with $3.3 billion of that set aside for cash relief for homeowners.
The settlement Bank of America, Citigroup Inc, JPMorgan Chase & Co, Wells Fargo & Co and five other banks entered with regulators pays out up to $125,000 in cash to homeowners whose homes were being foreclosed when the paperwork problems emerged.
Remember that $125,000 number. That's pure propaganda, given the size of the group of aggrieved mortgage holders.
About $3.3 billion of the $8.5 billion settlement with the Office of the Comptroller of the Currency will be in cash, with the rest in changes to the terms of loans or mortgage forgiveness.

In April 2011, the government required banks that collect payments on mortgages, known as servicers, to review whether errors in the foreclosure process had harmed borrowers.
Gretchen did some "back of the envelope" math for us. I am too lazy to correct it for the lower cash settlement.
Some back-of-the-envelope arithmetic on this deal is your first clue that it is another gift to the banks. It's not clear which borrowers will receive what money, but divvying up $3.75 billion among millions of people doesn't amount to much per person. If, say, half of the 4.4 million borrowers were subject to foreclosure abuses, they would each receive less than $2,000, on average. If 10 percent of the 4.4 million were harmed, each would get roughly $8,500.
Gretchen then did a follow-up on January 12, 2013 called Paying the Price, but Often Deducting It, which I will not quote. She notes that these unimpressive settlements are usually tax-deductible for the banks.
And then FRONTLINE (PBS) ran yet another hour-long documentary about why no bankers have gone to jail. It's called The Untouchables, and contains this quote from Lanny Breuer, who has been the head of the Department of Justice's criminal division in the 1st Obama administraton, and who was still in that position when the documentary was made.
MARTIN SMITH — You gave a speech before the New York Bar Association. And in that speech, you made a reference to losing sleep at night, worrying about what a lawsuit might result in at a large financial institution.

LANNY BREUER — Right.

MARTIN SMITH — Is that really the job of a prosecutor, to worry about anything other than simply pursuing justice?

LANNY BREUER — Well, I think I am pursuing justice. And I think the entire responsibility of the department is to pursue justice. But in any given case, I think I and prosecutors around the country, being responsible, should speak to regulators, should speak to experts, because if I bring a case against institution A, and as a result of bringing that case, there's some huge economic effect — if it creates a ripple effect so that suddenly, counterparties and other financial institutions or other companies that had nothing to do with this are affected badly — it's a factor we need to know and understand.
This is as candid a statement as you're ever going to read that the banks in question are considered too big to fail, and, as such, they are above the law. And now we learn that Lanny is resigning, having done his job to protect those banks, and having been exposed as a fraud.
Lanny Breuer is leaving his position as head of the Justice Department's criminal division, The Washington Post reported Wednesday.

As assistant attorney general, Breuer led the effort to pursue allegations of fraud and corruption at major banks in the wake of the financial meltdown. The Post said it was unclear when Breuer will leave, and didn't offer a reason. A DOJ spokeswoman told FRONTLINE that the department wouldn't comment on the report.

Breuer was featured in FRONTLINE's documentary The Untouchables, which aired on Tuesday and explored the reasons why no Wall Street executives have been prosecuted for fraud in connection with the financial crisis. Breuer told FRONTLINE that the DOJ had pursued charges when officials found evidence of fraud. "But in those cases where we can't bring a criminal case — and federal criminal cases are hard to bring — I have to prove that you had the specific intent to defraud. …If we cannot establish that, then we can't bring a criminal case," he said.
And now I will make a few remarks.
I find it telling that humans, in this case Americans, continue to pretend that they live in a legitimate, fair society, despite massive and compelling evidence to the contrary. Or a society which—once again?—things might be set right. As usual, that observation tells us a lot more about humans (and Americans) than it does about the specific injustices and corruption in these pro-forma "prosecutions" of the banks, which are merely typical examples of how elites control complex human societies. As such, this kind of behavior is exactly what we would expect to see, independent of the messy details about how elite control is implemented.
As usual, if you research this particular manifestation of typical human corruption, of elite control, you will find much wailing and gnashing of teeth, for example, at places like Naked Capitalism.
I mean, why does FRONTLINE (video below) even bother to make these documentaries? So I'm here to ask disconcerted "progressives" and do-gooders some simple questions—
What the fuck did you expect to happen with the banks?
What is it, exactly, that you are complaining about?
Do you actually expect that this typical human corruption might be eradicated?
If you have not already seen PBS Frontline's The Untouchables, I encourage you to do so.
Dave Cohen – Decline of the Empire