Archive for the '401k' Category
I've laid this out before but it's time to do it again, because it's coming folks.
The recent ditty on how "nobody needs more than $3m for retirement", defined as "whatever you need to get a $200,000 annuity", is just one facet of how this will play out.
Since I started writing The Ticker I have been repeatedly asked where one should put their assets to evade confiscation, whether through outright acts of theft, devaluation or any other means.
The simple answer: There isn't a reasonably-safe means of doing that for anyone who does not possess enough wealth to be willing to write off 20, 40 or even 60% of it and who doesn't have enough to be able to piss away 1% or more of it annually in compliance, monitoring and associated costs.
That basically means if you don't have tens of millions (and the first digit isn't a "1″ either) you're not in that game.  If you are then you can do a whole host of things that are reasonably certain to "work", where "work" is defined as "won't lose enough of it to wind up in the street" with a confidence level in the 90s or better.
This isn't where virtually everyone is, so listening to advice on how to do that is dumb since you're almost-certainly not in that position, and if you are you don't want to ask people like me, you want to get the legal, tax and accounting advice from licensed professionals who can actually do it.
For this reason I have steadfastly maintained that the only solution for ordinary people is political – that is, to rise and demand, through the political process in all of its forms, that the looting operations conducted by the various parts of our so-called "society" be stopped and the actors involved go to prison where they belong — whether they be banksters or medically-related "professionals" of various sorts.  This is the only path that has a reasonable probability of success for the common citizen.
If you are unwilling to take those steps, and 99% of America is, then you have only two additional options that are peaceful and lawful:
Withdraw from the economy to the greatest possible extent, making it difficult or impossible to attach your earnings.  This will get more and more difficult but for most people is not impossible.  It does mean living "less large"; that nice new car will have to be discarded in favor of an older but serviceable one, the fat-cat mansion eschewed for a small house or apartment chosen with a view toward low tax exposure and your work effort will have to be dialed back to a dull mewl instead of a roar — sub-$50,000 gross income.
Try to anticipate where the next steps will come.  That's what the rest of this article is about.
I have a decent feel for that.  See, I fully expect another large market swoon in the next 6 to 18 months, probably closer to the inside on time.  And by "large" I do mean large – 50% or worse, perhaps considerably worse.
This time, however, The Fed has used its bullets with QE and interest rate games and so has Congress and the White House.  What does this means?
It means the government needs to find a way to keep the game going.  They will look toward private and public retirement assets to do so because this is one of the very few remaining stores of wealth they can attach.  To do it they're going to play on your fear and offer you a carrot that is in fact a giant corn cob aimed you know where.
Here's what I expect.
They will "offer" to replace your loss in your trading account, including a taxable account, provided that you convert the entire thing to a ladder of 10 to 30 year Treasury notes at then current interest rates, which will be ridiculously low — lower than they are now — and agree to lock it up until you are 65.
Let's assume that 10 year rates are at about 1% and 30 year at about 2%.
How bad of a deal is this, assuming you just suffered a 50% capital (but unrealized) loss?
Catastrophically bad.
Let's further assume the deficit spending does not stop; after all, that's the point of this program — to make it "possible" for it to continue.  Let's further assume that the deficit is about 10% of GDP, which is not all that far from today's 8% and is less than the 12% range of a couple of years ago.
A 10% annual purchasing power debasement over 10 years results in a loss of 42% of your original purchasing power.   If you are paid 1% on a 10 year Treasury you get 10% back so you lose 32% in real terms.  This doesn't sound all that awful compared to the 50% unrealized loss but this assumes there is no recovery in the market at all.  In short you will have crystallized that loss and made it permanent.
Now let's look at 30 years.  Let's further assume that the 10% debasement goes on for 10 of them, then 5% for the next 20 years.  This is probably optimistic.  It results in an 81% loss of purchasing power.    You allegedly get 60% of that back via the "interest", assuming the ponzi system survives.
Note that if the system does not survive and the bonds default you may get zero.  That risk, of course, will be claimed to be "non-existent."  Uh huh.  Whether that happens via outright default or through dilution doesn't matter; either way a loss is a loss is a loss and what matters is how many gallons of gas you can buy, not how many chits you possess.
The latter (30 year) is your better deal, incidentally, provided you live for 30 years.  You can bet the deal will include forfeiture of any residual value and recapture against any Medicare and Medicaid expenses.  Additionally you will not be able to touch the amount until you are 65, and then you will berequired to take an actuarial 20 year payout to age 85, like it or not.
I'm willing to bet that 90% of the people offered this deal will take it and sign away their futures voluntarily.  I'm also willing to bet that all of the State and Local pension systems will be coerced into accepting this "deal" through being offered some sort of "safe harbor" against benefit reductions (which will be massive for pensioners) under some rubric of "Federal Sovereignty" that will trump so-called "guarantees" in these municipal and state pension laws.
Note that without this "deal" virtually all State and Local pension systems are going to blow up within the next decade or so.  It is a mathematical certainty.  Long before they blow up they will siphon off as much as they can from you in the form of increased property and other taxes; this will not be a quiet process either.  Your only means of avoiding this is to live somewhere that is rural and has none, or at least very few, of these obligations.  
Those of you who live in cities are going to get buggered to within an inch of your life, to be blunt.
If you think this is fanciful look at what is happening in Portugal right now; they are looking at paying public workers in Treasury Bills instead of cash.  That's the exact sort of "deal" I'm referring to – take this and get "paid", or (in this case) get fired!
As the noose tightens around the neck of the people you will see more and more blatant pump-and-dump schemes such as Bitcoin come onto the scene, along with more irrational (and indefensible on the facts) attempts to pump "assets" such as Gold.  What the people putting forward this premise never bother to mention is that transacting without reporting to the government is already a crime in most jurisdictions (evading of taxes) and that it's always easier to confiscate your funds through some sort of bogus "civil procedure" than it is to pass tax increases over the protests of angry constituents.
You don't really think "Civil Forfeiture" is about drugs, do you?
As such you can expect the seizure mentality to ramp up materially from where it is now; we have already gone well past the Rubicon when it comes to personal privacy if you transact in any way online or through otherwise-traceable means,  In short, forget about being rationally certain that your actions cannot be traced and thus attached.
I'd love to look at the next 10 years+ and say that things get "more bleak" beyond that horizon, but the fact of the matter is that the ponzi debt-leverage monster has run out of gas and the evidence for this is laid on the table here and now.
We don't have 10 years, in short, and one way or another there will be a massive shift and reform in how the world works financially.  The options here range from reasonably good to catastrophically bad, and if you're younger than 70 you're going to get to experience them — like it or not.
You should get off your political ass, but I'll bet that 99% of the people who read this either won't or will claim they are through either one of the existing Party hacksterisms (be they Dem or Pub) or some group (like the Libertarian Party) who's casus belli consists of such "terribly important" things like gay marriage and smoking pot, refusing to take on the actual meat of the issues that face us as a nation.
Good luck folks; I have set my plans in motion and will execute on them in a peaceful and lawful way, but I will not change my mind until and unless I see evidence that a material percentage of the public will get off their ass — and that appears to be damned unlikely. 
… that the government knows it is completely and totally f*%#ed,
this should disabuse you of it.
Democrats in the Senate on Thursday held a recess hearing covering a taxpayer bailout of union pensions and a plan to seize private 401(k) plans to more "fairly" distribute taxpayer-funded pensions to everyone.
I called this one a long time ago, and unfortunately, I am sad to report that they're actually trying to figure out how to do it.
If there's a pitchfork moment in this country it had better show up fairly soon, because if this report is accurate you can bet that these clowns are going to find a way to attach this in some obscure section of a 2,000+ page "must pass" bill – another one of those "you have to pass it so you can read it" deals.
I hate it when I'm right.  I hate it even more when tens of millions of Americans are going to get reamed to pay for the crimes of the handful on Wall Street, and their crony enablers in Washington DC.
And by the way – you don't hold hearings on something you don't intend to do.
The economic crisis has ushered in the end of a generation long bull market.  Most average investors ignore the fact that heavy market volatility is a sign of an unhealthy stock market.  The stock market since the lows reached in 2009 has been on an unstoppable bull run.  Yet the real economy where most Americans work and spend money has not reflected any of this irrational exuberance.  The S&P 500 has rallied 53 percent from the lows reached in early 2009 and that is including the current retracement back.  On Tuesday the stock market pulled back on data showing consumer confidence plunging from what analysts had expected.  Outside of Wall Street the economy is walking on eggshells.
If we look at S&P 500 data we find that we have entered into a new era: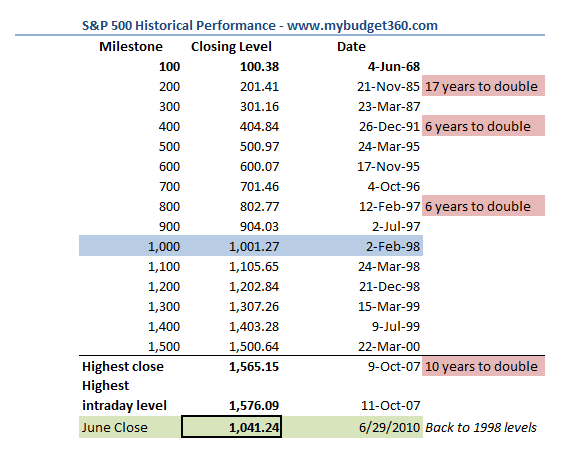 The above chart highlights milestones for the S&P 500 dating back to 1968.  For the S&P 500 to double from 100 to 200, it took a slow 17 years.  From 200 to 400 it took 6 years, an incredibly quick jump.  Another 6 years after that and the S&P 500 was riding high at 800.  From 1997 to 2007 the S&P 500 went from 800 to 1,576 in the intraday high that is now far in the past.  It almost doubled yet again in a 10 year horizon.  Yet that trend has been broken.  The S&P 500 is now back to 1,041 and has pulled back to levels seen in 1998.  Does anyone really see the S&P 500 going to 2,000 any time soon?
"The stock market needs to reflect the underlying health and productivity of the overall economy and not simply the gambling penchant of Wall Street banks."
Most of America is dealing with the new austerity that is being thrust on them from an unforgiving economy and a government that seems to be preoccupied with helping out the financial industry before setting things right with the average worker.  In other words, the middle class is being thrown to the wolves in this crisis.  The government is serving the interest of big money at the detriment of the middle class.
If we look at the volatility of the S&P 500 over the past 22 years we'll notice two different stories.  From 1988 to 2000, the stock market enjoyed a once in a lifetime bull run.  There were virtually no negative years and some incredible year over year gains.  Keep in mind that we are looking at a 12 year timeframe on a tiny chart but this is over a decade of mental conditioning here.  If we look from 2000 to our present day, the massive amount of volatility has sent the S&P 500 to levels seen in 1998: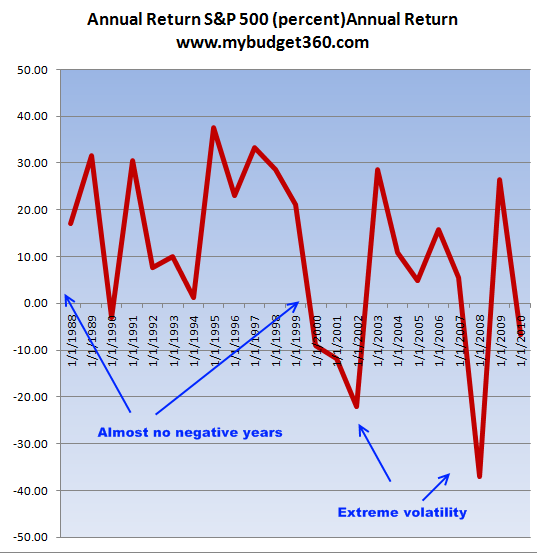 2008 was the worst stock market year since the Great Depression.  That is how bad that one year turned out for investors.  This large amount of volatility simply reflects a weak real economy and the recent stock market run to the peak of the mountain was super charged by taxpayer money going into large investment banks who in return went into the stock market and gambled your hard earned money.  Clearly it hasn't done much for consumer confidence, aiding in the foreclosure crisis, or bringing jobs back.  What then did all this money really accomplish?
If we look at the VIX which looks at option trading volume and is a good sign of volatility we also see this recent stock market reshuffling: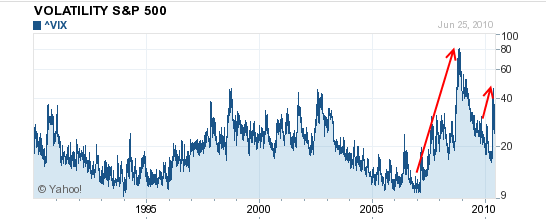 What we can gather from all this volatility is a new paradigm has arrived.  Most popular financial books that hype compound interest always focus on a convenient 7 to 10 percent annualized gain in the stock market.  That may have been the case from 1968 to 2000 but that isn't the case anymore.  What are you going to invest in when U.S. Treasuries are barely offering any interest and bank accounts are offering rates of 0.01 percent on savings accounts?  Your mattress would rival some of these rates.
The stock market right now is one large casino.  No real reform has taken place and that is why we see no real changes in the economy yet trillions of dollars funneled into a financial abyss.  Someone got this money but clearly it wasn't the middle class.  The public was told that money was going to go to shore up the housing market (didn't happen) and to keep lending to the public going (didn't happen).  So what did happen was that big investment banks used taxpayer money and gambled to bolster their own profits.  That was basically the smoke and mirrors campaign that we have gone through.
The middle class is largely a casualty of this all.  9 out of the top 10 jobs in this country are in low paying service sector work.  We hear this rhetoric about a double dip but the middle and working class never got out of the first dip to begin with.  Who is this double dip for?  Wall Street gamblers who have funneled taxpayer money into the casino?  Must be nice for their 53 percent rally but sadly none of that is reflected in the real economy.  If we want to be happy about gambling why not talk about the person who just won the lottery last night.   Wall Street certainly won the lottery here at the expense of the taxpayers.  The collapse of consumer confidence is merely a reflection of what most of us already know.  The real economy has never recovered.
This is the end of a generational bull run just like the 1920s came crashing down with the Great Depression.  Unlike that time, we have allowed the banks and Wall Street to continue to pollute our real economy with their gambling schemes.  Can you believe that no real reform has taken place?  No wonder why average Americans are displeased with both political parties and are furious at Wall Street.
The government is looking at ways to promote the conversion of 401(k)s and IRAs into steady payment streams after a significant decline in plan balances
By Theo Francis
(Bloomberg) — The Obama administration is weighing how the government can encourage workers to turn their savings into guaranteed income streams following a collapse in retiree accounts when the stock market plunged.
The U.S. Treasury and Labor Departments will ask for public comment as soon as next week on ways to promote the conversion of 401(k) savings and Individual Retirement Accounts into annuities or other steady payment streams, according to Assistant Labor Secretary Phyllis C. Borzi and Deputy Assistant Treasury Secretary Mark Iwry, who are spearheading the effort.
Annuities generally guarantee income until the retiree's death, and often that of a surviving spouse as well. They are designed to protect against the risk that retirees outlive their savings, a danger made clear by market losses suffered by older Americans over the last year, David Certner, legislative counsel for AARP, said in an interview.
"There's a real desire on a lot of people's parts to try to encourage something other than just rolling over a lump sum, to make sure this money will actually last a lifetime," said Certner, legislative counsel for Washington-based AARP, the biggest U.S. advocacy group for retirees.
Promoting annuities may benefit companies that provide them through employers, including ING Groep NV (INGA:NA) and Prudential Financial Inc. (PRU), or sell them directly to individuals, such as American International Group Inc. (AIG), the insurer that has received $182.3 billion in government aid.
Balances Fall
The average 401(k) fund balance dropped 31 percent to $47,500 at the end of March 2009 from $69,200 at the end of 2007, according to a Fidelity Investments review of 11 million accounts it manages. The Standard & Poor's 500 Index tumbled 46 percent in that period. The average balance of the Fidelity accounts recovered to $60,700 as of last Sept. 30 as the stock market rebounded.
There is "a tremendous amount of interest in the White House" in retirement-security initiatives, Borzi, who heads the Labor Department's Employee Benefits Security Administration, said in an interview.
In addition to annuities, the inquiry will cover other approaches to guaranteeing income, including longevity insurance that would provide an income stream for retirees living beyond a certain age, she said.
"There's been a fair amount of discussion in the literature taking the view that perhaps there ought to be more lifetime income," Iwry, a senior adviser to Treasury Secretary Timothy Geithner, said in an interview.
Lump Sums
"The question is how to encourage it, and whether the government can and should be helpful in that regard," Iwry said.
While traditional defined-benefit pensions were paid out as annuities, providing monthly payments for retirees and often their spouses, workers increasingly are taking advantage of options to receive lump-sum distributions.
Only 2 percent of 401(k) plan participants convert retirement savings into an annuity on retirement, according to a July 2009 report from the Retirement Security Project, a joint venture of Georgetown University's Public Policy Institute and the Brookings Institution in Washington.
A survey of 149 companies released on Dec. 17 by employee-benefits consultant Watson Wyatt Worldwide, now part of Arlington, Va.-based Towers Watson & Co. (TW), suggested that about 22 percent of employers with retirement savings plans offered retirees the choice between an annuity and a lump-sum distribution.
Annuity Sellers
Government success in getting workers to move retirement assets into annuities may prove profitable for insurers that sell annuities, Anne Mathias, policy research director for Washington Research Group, a policy analysis unit of Concept Capital, said in an interview.
Retirement plans, including 401(k) accounts, held $3.6 trillion in assets at the end of the second quarter of 2009, while annuity investments of all kinds totaled about $2.3 trillion, according to figures from the Washington-based Investment Company Institute, a trade association for asset managers.
The top sellers of individual annuities in the U.S. include AIG, MetLife Inc. (MET), Hartford Financial Services Group Inc. (HIG), Lincoln National Corp. (LNC) and New York Life Insurance Co., according to figures from the American Council of Life Insurers for 2008. The top group-annuity sellers include ING, Prudential Financial, MetLife and Manulife Financial Corp.
Under Fire
Asset managers are concerned the government may go too far in encouraging annuities, said Mike McNamee, a spokesman for the Investment Company Institute. Seven in 10 U.S. households would object to a requirement that retirees convert part of their savings into annuities, according to a survey the group released today.
"Households' views on policy changes revealed a preference to preserve retirement account features and flexibility," the institute said in a report.
The institute also said annuities have received support from academic research and "it is unclear why individuals usually forego the annuity option" even when it is available. The survey didn't ask about potential efforts by the government to encourage voluntary use of annuities.
Annuity sales to individuals have come under regulatory scrutiny in recent years over the size of sales commissions and whether some varieties are suitable for older investors.
Social Security
John Brennan, the former chairman of Vanguard Group, the Valley Forge, Pennsylvania-based mutual-fund company, criticized annuities today as often expensive and offering little inflation protection. Americans already benefit from "the best annuity in the world, which is Social Security," Brennan said in an interview on Bloomberg Television.
AARP's Certner said policy makers could avoid many of those pitfalls by encouraging the use of group annuities, which are bought by employers rather than individuals and often carry lower fees, or using approaches that provide retirement income without commercial annuities.
Adding lifetime income to 401(k) plans won't be sufficient for many workers because they can't, or don't, save enough to live on in old age, and Social Security often proves inadequate as more than a safety net, said Karen Ferguson, director of the Pension Rights Center in Washington, D.C.
Senate Bill
"It's a great idea, but how much are people really going to get out of it?" she said. A better approach would be to give employers incentives to revive defined-benefit pensions, which have languished as employers have focused on cheaper and more flexible 401(k) plans, Ferguson said.
One proposal raised by Iwry as co-author of a paper while at the Retirement Security Project, before joining the administration, has reached Congress. A bill requiring employers to report 401(k) savings both as an account balance and as a stream of income based on an annuity was introduced on Dec. 3 by Senators Jeff Bingaman, a New Mexico Democrat, Johnny Isakson, a Georgia Republican, and Herb Kohl, a Wisconsin Democrat.
To contact the reporter on this story: Theo Francis in Washington at tfrancis14@bloomberg.net.
You can take that to the bank.  Goldman never expends effort on something that isn't a guaranteed deal courtesy of our captured government.
May 18 (Bloomberg) — Goldman Sachs Group Inc., fighting a fraud lawsuit from U.S. regulators who accuse the company of misleading investors, is trying to persuade more Americans to trust the firm with their retirement funds.
The New York-based company is promoting alternative asset funds and designing target-date funds that provide guaranteed income to grab a bigger piece of the $2.7 trillion 401(k) market, said Bill McDermott, a managing director at Goldman Sachs Asset Management and head of its defined-contribution business.
"We understand risk and we understand asset allocation," said McDermott, who joined the firm in February to strengthen its retirement-plan products and marketing. "We're looking to leverage that for the 401(k) market."
Goldman's 401(k) plan assets totaled $17.5 billion as of March 31, according to the company. Fidelity Investments, the largest 401(k) asset manager, had $347.8 billion as of December 31. Assets in 401(k) plans are estimated to increase 41 percent, to $3.8 trillion, by the end of 2014, according to data from Cerulli Associates in Boston.
Goldman and BlackRock Inc., the world's largest asset manager, don't administer retirement plans and have been seeking more 401(k) business. The business has been dominated by firms such as Boston-based Fidelity and Vanguard Group, based in Valley Forge, Pennsylvania, which administer plans as well as manage assets.
'Writing on the Wall'
"A lot of investment-only managers are trying to get in," said Lori Lucas, defined contribution practice leader at San Francisco-based Callan Associates, an investment consulting firm. "They see the writing on the wall," as traditional pensions are replaced by 401(k) plans.
The U.S. Securities and Exchange Commission filed a lawsuit against Goldman on April 16 accusing the company of misleading investors in a mortgage-linked investment. Goldman denies those allegations and said it will fight the charges. A Senate panel grilled executives, including Chief Executive Officer Lloyd Blankfein, on April 27 about the case.
"Having issues certainly isn't going to help. But all the signs so far are telling us that clients are sitting tight," said Teresa Epperson, a partner at Mercatus, a Boston-based financial consulting firm. "Goldman's capabilities are in trading strategies and hedging risks. The extension of those absolute-return strategies could be attractive to plan sponsors."
Fiduciary Duty
The asset management division that McDermott works in is separate from the mortgage unit that sold the securities at the center of the SEC's fraud suit against Goldman. A key difference between the two businesses is that the asset management division operates under a fiduciary duty to its clients, whereas the sales and trading division doesn't.
"When a client gives us their money and their assets to manage, we are 100 percent their fiduciary, we must manage their money in the most prudent fashion possible using our best judgment possible," Goldman Sachs President Gary Cohn said on May 11 at an investor conference in New York. "The rest of Goldman Sachs is not in the fiduciary business."
Goldman's total assets under management at the end of the first quarter were $840 billion, down 4 percent, primarily because of outflows in money market funds, according to the company's first-quarter earnings release. Asset management is a smaller department at Goldman than investment banking or trading, representing 8.8 percent of the firm's 2009 revenue of $45.2 billion, according to Goldman's yearend earnings release.
Lower Risk
Alternative assets, such as commodities and real estate, can increase a portfolio's return and lower risk. They're gaining in 401(k) plans because more companies are creating their own custom target-date funds, said Callan's Lucas. Target- date funds move money from riskier investments such as stocks to more conservative alternatives like bonds as an investor approaches retirement.
The market drop of 2008, when the Standard & Poor's 500 Index declined 38 percent, showed that "there were very, very, very few safe havens," said Bud Pernoll, senior managing director of Santa Monica, California-based Bay Mutual Financial LLC, which advises corporate retirement plans on their investment options and works with Goldman. "You're starting to see plan sponsors look outside the traditional asset classes."
Large-Company Sales
Pernoll has added Goldman's Satellite Strategies Portfolio, a mutual fund with a portfolio of other mutual funds invested in assets such as real estate, commodities and emerging markets, to more than a dozen 401(k) plans he advises since the start of the year. The fund, with $585 million in assets, returned 28.6 percent in the last 12 months, according to data compiled by Bloomberg.
Goldman already has sold its funds to the 401(k) plans of companies including Intel Corp., Sun Microsystems Inc., and Sysco Corp., according to data compiled by BrightScope Inc., the San Diego-based 401(k) research firm.
The most popular Goldman funds for 401(k) plans are Goldman Sachs Mid Cap Value Fund and Goldman Sachs Small Cap Value Fund, according to BrightScope. The mid-cap fund returned 42.9 percent for the last 12 months, and the small-cap fund returned 45.2 percent in the same period, according to data compiled by Bloomberg.
Goldman is developing target-date offerings that include guaranteed income during retirement, McDermott said. That puts it in competition with BlackRock and AllianceBernstein L.P., the money management unit of AXA Group, in developing target-date funds that include annuities.
'Major Player'
"There's a lot of interest in product development, but not a lot of plan sponsor usage," Callan's Lucas said. That may be because big corporate plan sponsors are waiting for guidance from regulators. The Department of Labor has been studying annuities in retirement plans, and the Senate's Special Committee on Aging is scheduled to hold hearings on lifetime income June 16.
"We want to be a major player," said Goldman's McDermott, who previously worked in the corporate retirement divisions of AXA Equitable and Fidelity. He said he expects to increase the number of people on his team to 30 from 20 by yearend.
Goldman's alternative asset push "is ahead of the curve right now, so they see an opportunity to dominate that niche," said Steven Dimitriou, managing partner of Mayflower Advisors LLC, a Boston-based retirement plan consultant. "As soon as these funds start gaining traction, they're going to get copy- catted."
To contact the reporter on this story: Amy Feldman in New York at afeldman16@bloomberg.net.
The retirement myth – 1 out of 3 Americans has no savings or retirement account. Half of Americans have $2,000 or less in their retirement account. 401k new name for Wall Street grease.
Posted by mybudget360
Middle class Americans are witnessing the conversion of their retirement accounts into gambling pots used by Wall Street.  The metamorphosis of Wall Street into one giant fraud ridden center moved by investment banking funds has slowly occurred over the last four decades.  Average Americans have sat back over these years since they were given enough hope that they too, by investing in Wall Street managed funds can also become a multi-millionaire if they just try hard enough.  Yet this was all one giant ruse and direct challenge to the middle class to basically allow a bunch of financial predators to siphon off any productive value from the economy.  The 401k for example was a small unheard of investment item two decades ago.  It has now become a larger part of the retirement pie for Americans.
The idea of not working and having a long retirement is actually rather new to this era: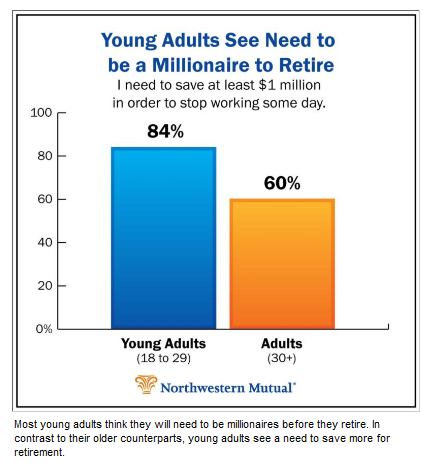 When Social Security came about in the 1930s, it was largely a program to keep families from starving and from going absolutely broke.  It was never intended as a long-term benefits program.  Yet life expectancy has increased over time and now today, many Americans depend on Social Security as their primary source of retirement:

58 million Americans receive either Social Security or SSI.  37 million Americans receive Social Security benefits from reaching retirement age (this will grow with baby boomers retiring).  And don't think that middle class Americans are living it up with Social Security.  The average monthly benefit from 53 million beneficiaries is $1,066 yet a large number of Americans depend on this as their primary source of retirement.  Some recent surveys say that as many as 1 out of 4 Americans will depend completely on Social Security as their primary retirement source.
As fragile as Social Security might appear, the 401k has become the bigger scam for Americans.  Many companies only offer a handful of investments to Americans to choose from and many are managed by the same Wall Street crooks that have caused massive volatility in the markets.  The 401k has allowed many employers to push off the retirement question or even caring about their workers as they once did by:
-Using Social Security as the last stop-gap measure

-Claiming they don't need to have any sort of pension plan
Many companies have no loyalty to any worker.  Over the decades Wall Street has brainwashed the public into believing that companies can do whatever they want to employees because Wall Street is just a "free market" where goods can travel where they want.  But as we are now realizing, Wall Street is simply one selective syndicate that decides to transfer wealth to the top 1 percent of our country with really no work involved.  It is manipulation and stealing of the productivity of the working economy.
The 401k was used with sophisticated charts put together by large investment firms showing Americans that if they only put away 5, 10, or even 15 percent of their income into the stock market through the magic of compounding, they too can retire rich just like their Wall Street idols.  Of course, this has all been a sham and many middle class Americans are waking up.  Over the last decade the stock market has done nothing but move sideways while miraculously, the banking sector has gotten bigger and bigger: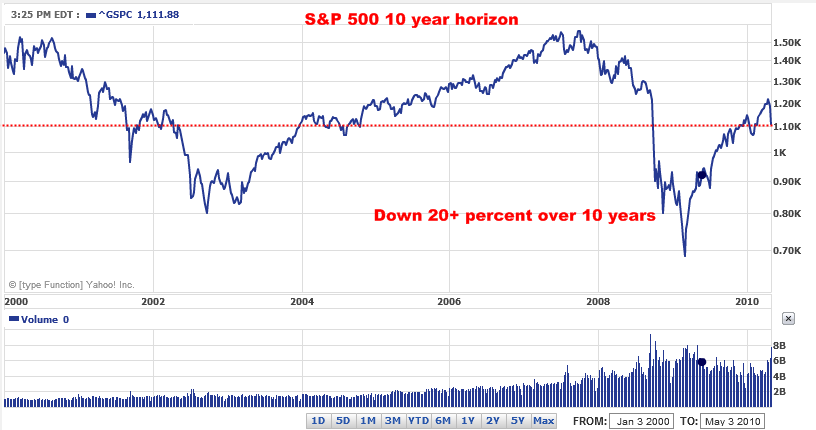 After 10 years, the S&P 500 is down over 20% even after the record breaking stock market rally.  No compounding going on here.  And when the market can fall 700 points in a matter of minutes, we start to realize that many retirement accounts are merely greasing the wheels of the Wall Street roulette game.
So this absurd notion of easy street has been pushed and sold by Wall Street to take away the responsibility banks and companies have for their workers.  They like to claim all is a free market but have no problem taking trillions in taxpayer bailouts.  Let us not forget that many Wall Street banks would be gone today without government assistance.
Let us dig deeper into the details of the 401k:
"(Bloomberg) The average 401(k) fund balance dropped 31 percent to $47,500 at the end of March 2009 from $69,200 at the end of 2007, according to a Fidelity Investments review of 11 million accounts it manages. The average balance of the Fidelity accounts recovered, to $60,700, as last Sept. 30 as the stock market rebounded."

"Seven in 10 U.S. households object to the idea of the government requiring retirees to convert part of their savings into annuities guaranteeing lifetime payments, according to an institute-funded report today. The Washington-based institute represents the mutual-fund industry."
I actually find this part interesting.  The average retirement account balance is small relative to what is needed in retirement.  How long will $60,000 last you without a paycheck?  Think you can cover your rent/house payment, medical bills, food, college for kids, and other items for 1, 2, or even 3 decades?  But many Americans, even after two decades of pure gambling on Wall Street still want to believe in that Horatio Alger myth:
"People value the tool of the 401(k)," Paul Schott Stevens, chief executive officer of the institute, said at a news conference in Washington. "They do not want government to take it away from them. They think the structure works very effectively."

U.S. direct-contribution plans, which include 401(k) and other employer-sponsored retirement programs, held about $3.6 trillion as of mid-2009, according to the report. They account for 25 percent of total U.S. retirement assets. Annuities, with $1.4 trillion, represent about 10 percent of U.S. retirement funds."
The structure does not work effectively.  The stock market has not gained over the last decade.  You would have done better by buying CDs or sticking your money into the mattress over the past decade.  This isn't because we have no good companies in the U.S.  On the contrary, we do and we still have the strongest economy around the globe.  But Wall Street uses that as a way of leveraging to the max and putting solid companies at risk for raids and stock manipulation.
Yet Wall Street and the financial industry like to parade the "average" retirement account including the millions of the top 1 percent; the actual details are different: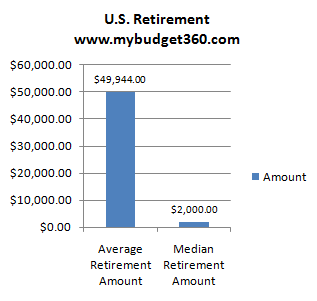 Source:  U.S. Census
While it is true that the average retirement accounts for many Americans is near $50,000 half of Americans have $2,000 or less in their account. Many middle class Americans are simply not prepared for retirement.  Even with Social Security, this will only be a small amount.  So with a large number of baby boomer depending on a smaller income in years to come, what does this do to our consumption based economy?  Also, you have to sell your stocks to get the funds out of them so what is going to happen with millions of baby boomer selling stocks into a market where younger Americans have very little to save, not to mention save for retirement?
I found an article back in 2002 talking about the 401k and the same issues were present even then.  But these articles are quickly forgotten after the stock market and housing bubble took off:
"While the fall in savings due to the stock market losses are causing a huge financial strain, many workers have no savings at all. According to a USA Today/Gallop Poll, more than one-third of adults say they have no money saved in any kind of retirement account and half of all households did not save a penny last year. "The average American household has virtually no chance to reach an adequate retirement savings in the next 50 years," commented Christian Weller of the Economic Policy Institute (EPI)."
Ironically things are worse today.  As we have shown in the above chart, the stock market is basically back to 2000 price levels.  A large part of Americans have no savings and no retirement accounts so they are completely at the mercy at whatever is available.  Keep in mind we now have 40 million Americans receiving food assistance.  401k accounts also had the phony allure of having "company" matching funds but this only went up to a certain point of income:
"Even when companies offered matching contributions to 401(k) plans, on average they only contributed 2 percent of pay, compared to the 6 to 7 percent of pay they typically contributed to traditional pension funds. Enron, like many companies, strongly encouraged employees to invest in the company's stock. Thousands of Enron's current, laid-off and retired workers lost most of their life savings when the company prevented workers from selling its stock held in 401(k) accounts, just as the stock price was plummeting."
Much of that is gone today.  Many companies are now using the recession as an excuse to even take away the company match.  So now you are left putting money into the stock market while half of trades are basically computer generated trades in the big giant casino.  Average Americans are basically putting their money into the one arm bandit of Wall Street.  Yet someone as usual is taking the profits:
"Reports on account balances in 401(k) plans often give a more optimistic picture of retirement savings, because the assets of higher income workers skew the results. At the end of 2000, while the average account balance was $49,024, 44 percent of participants had balances of less than $10,000.

In contrast to the plight of working people, however, the top executives of companies engulfed in financial scandals have no retirement worries, even in those instances where their companies have collapsed. In the case of Enron, Jeffrey Skilling made $78 million. Laid-off Enron workers received a mere $4,500 severance payment, no matter how many years they had worked for the company."
This is a battle for the survival of the middle class.  Many baby boomers who once believed Wall Street would be there to protect them will find they are out to sea with no paddle.  Maybe this will wake many people up to take action but given the strong belief in the get rich myth, you wonder if many would rather be paupers as long as they can believe in the phony notion of big money with little work and effort.  After all, Wall Street has mastered that game plan.