Archive for the 'Angela Merkel' Category
For all the groundless, starry-eyed optimism permeating Europe's bureaucratic corridors of the fading oligarchy these days (because this time is not like every other time that, too, was different), there has always existed one sure, never-fail antidote: Germany, which without fail has managed to ground Europe any time its delusion of grandure hit escape velocity. Sure enough, while all the statist soothsayers who threatened with Armageddon if the outcome of the Italian elections happened to be precisely the one that transpired, were stuck in backpedal mode, and scrambling to calm nerves that all shall be well after all, one person who refuses to play by the script is Lars Feld, member of panel of economic advisers to German Chancellor Angela Merkel, who in an interview with the Frankfurter Allgemeine Zeitung tomorrow says the euro crisis is to return shortly and "with a vengeance" as capital loss will lead to higher risk premiums for Italy's interest rates.
From Handelsblatt, previewing the FAZ Wednesday edition:
The Italian economy would not find their way out of the recession, according to the pessimistic assessment by Lars Feld: "The sustainability of Italian public finances is in jeopardy. The euro crisis will therefore return shortly with a vengeance."

Apparently, the Italians were not ready to move on the path of reform that has been taken by Mr. Mario Monti, Field said.

"You can not expect that Italy's European partners or the ECB will stabilize the Italian economy, when its people are not ready for reform."
And making sure Feld is not alone, he was joined by Anton Boerner, head of Germany's BGA exporters' association, who in turn said Italy must reform tax, labor, judicial system or risk "irreparable damage" of euro. Finally, Boerner says if Italy not willing to reform, "we have to think about how to deal with a modified eurozone."
What exactly a "modified" Eurozone means we don't know. We will, however, surely find out soon enough.
Steen Jakobsen, chief economist of Saxo Bank in Denmark, asks via email: "Is Merkel Misinterpreted? Will the FOMC Move Decisively?"
 The misunderstood Chancellor.

The market clearly believes Ms. Merkel will, ultimately, not withstand the pressure – and she will end up collateralizing rising debt. I remain extremely skeptical. I even dusted off my school German to read Der Spiegel and Focus, two major German weeklies, which give you a very different perspective.

As a generalization, the Anglo-Saxon driven investment banks and media tend to rely on poorly translated English versions of domestic financial papers, hence they lose the subtle difference on what Merkel is REALLY saying. This is what I believe Ms. Merkel, and Germany, think.

When countries join the euro, they also directly and indirectly accept the Stability-and-Growth Pact, hence anything that moves Germany and Europe closer to Stability-and-Growth will be supported by Germany.
Germany knows it will take time – more time than the market wants it to take. But Germany also realizes it will probably mean more crisis before the whole of Europe moves in the same direction.
The big loser if Germany "caves in" is Germany. Bund yields will rise and all of Europe will have to finance itself at higher rates – the exact same reason the Alexander Hamilton sinking fund will not work – why should Germans pay more for issuing debt and the high debtors pay less?
Germany has a game-theory upside in Greece failing to comply – only through more crisis will Club Med (Italy, France and Spain) move to more Europe. (The only thing Club Med wants for now is more German money, not more Europe…)
Merkel needs to reach across to SPD, the opposition, to get her 2/3 majority for the Fiscal Compact. Watch closely what "concessions" she is willing to give SPD. That will give us clear indication on where she stands vis-a-vis the Club Med call for the easy solution of Euro-bonds and Banking Union.
Merkel and Germany are pro-European. They want the EU to succeed and they will never leave the euro. But they are also aware that collateralizing debt without the Stability-and-Growth pact will end in tears as it will be extend-and-pretend squared. Throwing liquidity at a solvency issue avoids any real reforms and will be the fastest way to Japanisation.

From this old cynical trader's point of view, the more likely Merkel and Germany give up and bow to the pressure, the sooner will we face a full-blown crisis and collapse of Europe.

European Crisis Summit Score 0-19

Rhetoric and non-plans cannot continue to dominate the agenda at the EU Summits. The meeting on the 28/29 June is, by my count, meeting number 19 without a real result. Zero from nineteen games – talk about a team going towards relegation!

FOMC – more of the same The US data is still getting weaker, but not weak enough to warrant a panic from the FOMC tomorrow. Bernanke failed to provide the juice in his speech last week, so now the consensus is it will have to happen tomorrow. Otherwise… you know the rest of the sentence. The Fed will lower growth; it will probably also extend Operation Twist, but I doubt it will go all in considering the banking system issues and the overall need for having reserves.

On the other hand, however, the Fed also realizes that "promising" has a real impact on the market. So, overall, expect some small adjustment from FOMC/FED, but not enough.

Strategy

We would be almost square into this meeting, but looking to be heavily bearish on equities post the FOMC and EU Summit.

We still see a summer of discontent as the misinterpretation of Germany and FOMC will lead the market to realize that, for once, central banks and the politicians can't buy more time.

It is time to reflect not act, as their five-year experiment of doing the same thing expecting different results is leading them nowhere. Probably naive thinking by me… But I think we will all lose if I'm wrong, as extend-and-pretend squared is the road to the poor house.

Safe travels,
Steen Jakobsen
Market Won't Wait
I believe Steen has this essentially correct and that Germany giving in would ultimately just make matters worse in spite of all the "mother hen calls" from nearly every other economist.
Yet,  the market cannot and will not wait long enough for Merkel to be proven correct. Interest rates in Italy and Spain are at disaster levels and will likely get worse.
My position is summed up in these three posts.
In the meantime, I offer another musical tribute, this one from The Animals.
Please Don't Let Me Be Misunderstood
Mike "Mish" Shedlock
Global Economic Analysis
Merkel has suggested she would like to see the EU have the right to interfere in national budgets in extreme cases where euro zone stability is put at risk. But Germany has stopped short of that in its proposals and asks rather for sanctions for those that breach deficit rules to be written into the treaty.

This would involve the right to challenge states at the European Court, to have their budgets declared void, without meddling further in the details.
Uh huh.  Void a budget eh?  So what can you spend without a budget?  That would be…. nothing, right?
So what is the fundamental function of a government?  Why it is to provide services to the people that enable it (remember, all governments exist with the consent of the governed.)  What Merkel and the rest of Germany proposes is nothing less than the arrogation to themselves of the sovereign right of other nations.
That's what happens in a war ladies and gentlemen, and whether its done with a briefcase or a gun it is in fact the same thing.
The inevitable outcome of this action will be the same too, just as it was in the early 1900s and then again in the 1930s.
And people wonder why I have said that the "Tea Party" has no claim to anything here, as they sold out immediately upon election and have utterly refused to demand that the people and institutions responsible for the mess we are in be held to account.  In fact we have both sides of the aisle claiming that "there was no lawbreaking" going on — of course as I have repeatedly documented this is only true if you ignore repeat offenses in securities laws, money laundering for drug cartels and the filing of over a hundred thousand perjured affidavits — for openers.
As a direct and proximate cause of this willful aversion of eyes, along with the complicity and active involvement of both major political parties, we're seeing the inexorable march of the same dynamics that twice before led to massive armed conflicts once again arise on the land, and originating in the same part of the world where it did the last time.
We learned nothing.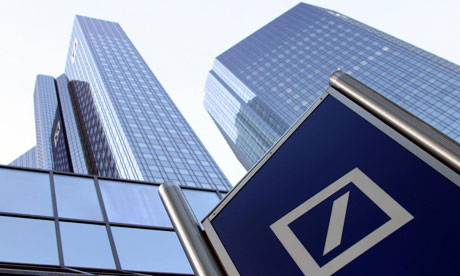 My my what crappy cards Douche Bank has there Ms. Merkel…..
European leaders cut off aid payments to Greece and said a referendum in five weeks will determine whether the debt-strapped nation becomes the first to exit the 17-country euro area.

Crisis talks ended in the French resort of Cannes late yesterday with German Chancellor Angela Merkel and French President Nicolas Sarkozy withholding 8 billion euros ($11 billion) of assistance and warning Greece it will surrender all European aid if it votes against a bailout package agreed upon only last week.

"The referendum will revolve around nothing less than the question: does Greece want to stay in the euro, yes or no?," Merkel told reporters. Sarkozy said Prime Minister George Papandreou's government won't get a "single cent" of aid if voters reject the plan.

This is truly amusing.  Let's go over the facts:
There is no means through the EU treaties to expel a nation from the Union.  They can choose to leave, but you can't throw them out.  Well, except one time-honored way — with guns.  Was that a threat of war on the part of Merkel, or is she full of crap?
Greece would be forced to spend only what it can take in via taxes if it refuses Germany's terms.  So what?  Let's put it more bluntly: Greece's government can't spend more than it takes in via taxes no matter what it does.  But if they give Merkel the finger, they suddenly don't have any debt to pay interest on any more, do they?  So why, under those circumstances, should Greece pay one penny?  A big fat middle finger erected in Germany's direction yields a better result than an "agreement" from Greece's point of view, assuming that GPap's government and people accept the inevitable: That which you can't pay for in the present tense you can't have.  If they won't accept that then it also doesn't matter as the entire house of cards will collapse around them anyway.
If Greece gives Merkel the finger, many large German (and almost certainly French) banks blow up.  There is no ability to backstop Italy, and it's next — the cascade will bury all these bullies.  Now who's got whom by the short and curlies here?  It sure isn't Merkel with the button in her hand – no, it's Papandreou. 
Merkel and Sarkozy blew it by not insisting that their banks get rid of their leverage after 2008 — they instead allowed the plunder to continue, intentionally ignoring the fact that their banks had intentionally taken a ticking thermonuclear financial device on their balance sheets.  Then they compounded their error by giving Papandreou the boogie stick while trying to threaten him and his people!
Germany and France and their people who keep returning these clowns to office deserve what's coming.  They, like we, refused to put a stop to the crap after the subprime mess first showed up and instead showered the banks with "free loans" and all sorts of "turn-the-other-wayitis" when it came to averting eyes.  Their central bank, like ours, and their regulatory apparatus, like ours, played footsie instead of stomping on the necks of those institutions and their corporate officers.  Oh sure, The Fed window helped too (how did that work out for Dexia, which was one of the big "hitters" at the window during the crisis?) 
Now the sheer stupidity of Merkel and Sarcozy is on public display — not only do they have 2-7 off-suit they flashed their damn cards and everyone at the table knows they don't have crap in the hole as well!
I find this entire exchange amusing beyond words, and even better, ironic.  I have long written about the European banks being more an enigma and less transparent than ours, if that can be believed, and once we found out that Greece had played hinky games with the banks willing cooperation and assistance to lie about deficits and budget balance it was clear that they were all involved up to their necks as willing co-conspirators in the lies.
Well, so be it.  You play with the bull sometimes you get the horns, and in this case they're pointed right at your ass Angela.  GPap has you and Sarkozy over a barrel and he knows it — he is now entitled to squeeze and there isn't anything you can do about it but whine and threaten. 
But unless you're prepared to back those threats with guns, planes, tanks and boots they're worth nothing.
Next up with another "boogie stick" that you two clowns handed out is Berlusconi; his banks are on the chopping block right behind Greece but if he tells you to stuff it then it's not one or two banks of yours that blow up, it's the entire EU that may come down around your ears.
Oh, and for those of you who think that the right thing to do here in America is simply sit back with the popcorn and watch the pretty fireworks in the east, please don't be that dumb.  As was clearly demonstrated with MF Global, exposure in our financial system is not as "de-minimus" as has been claimed repeatedly by our financial institutions.
This is a Lehman-style game spiked up with crystal meth just to make it interesting and is exactly what I expected when I said that the next wave of this crap was likely to originate in Europe..
Remember one thing when it comes to this sort of event folks:  There is never, ever only one of these: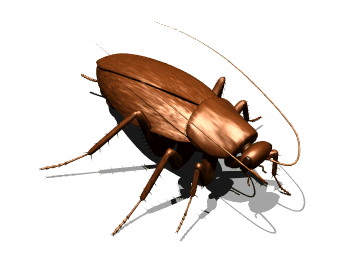 Unlike the Keynesian and Monetarist academic clowns that rule US academia German academics push for EU sovereign default plan
Almost 200 German economics professors have signed a declaration rejecting current proposals to resolve the eurozone debt crisis, instead calling for a way for distressed countries to declare bankruptcy.

More than 200 professors were invited to sign the document, and 189 did so, including prominent figures such as Manfred Neumann of the University of Bonn and Justus Haucap of the University of Duesseldorf, both in western Germany.

Instead of the collective support mechanism set up last year that could be made permanent in a modified form from 2013, the economists argued it would be better to let countries restructure their debts.

"Restructuring allows the countries concerned to reduce their debt and start over," said the economists.

The solution being mulled at present and likely to be approved by European leaders next month would amount to "a permanent guarantee" of some countries' debt, with "very serious consequences," they added.

The signatories also doubted the effectiveness of measures to reinforce the competitiveness of weaker eurozone countries and control members' public finances owing to the European Union's "limited firepower."

The document was published as lawmakers from Chancellor Angela Merkel's ruling coalition sent her a clear message ahead of negotiations on a permanent EU rescue plan to take place in Brussels.

The German deputies said the future European Stability Mechanism should not be allowed to buy eurozone government debt, as the European Commission and European Central Bank would like.
Those 189 academics simply want the ECB to admit that the debt owed by Greece, Ireland, Spain, Portugal, cannot possibly be paid back. What cannot be paid back, won't, and pretending that it will just makes problems worse. It is refreshing to see a large group of academics on the right side of an economic issue.
Axel Weber, once heir apparent to ECB presidency to replace Jean-Claude Trichet, resigned as president of the German central bank over the issue of the ECB buying sovereign debt. He did not want the ECB to buy debt, most of the rest of the ECB did.
Academics in Germany are disregarded even though they make economic sense. Keynesian and Monetarist academics in the US make no sense but are revered.
Mike "Mish" Shedlock
http://globaleconomicanalysis.blogspot.com

If she's not drinking this weekend she's not very bright.
The unprecedented and historic defeat, Fianna Fail's worst result in 85 years, makes the Irish government the first eurozone administration to be punished by voters in the aftermath of the EU's debt crisis. Voter turn-out was exceptionally high at more than 70 per cent, indicating public anger at the government and the EU.

Late last year, Ireland was forced to accept a £72 billion EU-IMF bailout to cover huge public debts that were ran up to save failed Irish banks.

The bail-out was designed to prevent financial contagion that threatened the existence of the euro…..
The problem is, as noted, that the bailout wasn't for Ireland's benefit and they were effectively forced to take it.
Well, now they've got a new government.  And it can say "Screw off."
But neither the two European leaders nor the European Central Bank or EU will permit any substantial changes, despite the huge popular Irish revolt against the bailout.
What are they going to do?  Invade?  I doubt it.
This isn't about "permission." It's about sovereignty.
Chancellor Merkel will tell Mr Kenny that if he wants to reduce the high, punitive 5.8 per cent interest rate charged on EU loans then Ireland will have to give up its low corporate tax rates – a measure regarded as vital to Ireland's recovery and one of the few economic policies it has not yet handed over to Brussels or Frankfurt.
No it doesn't.  Merkel needs to be told to take a running chainsaw up the back door – sideways.  Extortion is not an acceptable tool of negotiation.
The new Irish premier will also be warned that there is no question of forcing privately-owned financial institutions to assume Ireland's £85 billion bank debts because the resulting market panic would spread to Germany and France, tearing the euro single currency apart.
Good.  Then they have leverage and lots of it.  I suggest the Irish use it, and since the ECB, France and Germany have demonstrated that they're willing to extort and threaten, the rules of engagement have been set – there is no longer a need for pleasantries.
A European diplomat, from a large eurozone country, told The Sunday Telegraph that "the more the Irish make a big deal about renegotiation in public, the more attitudes will harden".
So what?  The "European Diplomat" would be wise to stay the hell out of Ireland.  I hear the Irish tend to have bad tempers, especially when screwed and drunk.
Have some more whiskey, my friends….
"It is not even take it or leave it. It's done. Ireland's only role in this now is to implement the programme agreed with the EU, IMF and European Central Bank. Irish voters are not a party in this process, whatever they have been told," said the diplomat.
Oh yeah?  What if they decide that serving heads on a plate is an acceptable response if these banksters try to come into the country?  What are they going to do about it?  
They can't exactly force Ireland to comply now, can they?
I suggest the Irish set up a line of these at all international ports of arrival, and anyone who is a European Bankster, including those from the ECB, Germany or France gets their passport stamped while having their picture taken with head forward through the hole.
France has sufficient experience with these devices that I'm sure that Trichet will figure it out.
Some folks in Ireland appear to get the point:
"We have a hostage, it is called the euro," he said. "The euro is insolvent. The only question is whether Ireland should be sacrificed to keep the Ponzi scheme going. We have to have a Plan B to the misnamed bailout, which is to go back to the Irish Punt."
Ireland needs to tell the German and French bankers they're not going to pay – and that isn't a negotiation.  It's a statement.
If they need that in more-graphic form, it's simply this:

The Market-Ticker