Archive for the 'Banks' Category
 Photo of World Bank headquarters in Washington, D.C.
A former insider at the World Bank, ex-Senior Counsel Karen Hudes, says the global financial system is dominated by a small group of corrupt, power-hungry figures centered around the privately owned U.S. Federal Reserve. The network has seized control of the media to cover up its crimes, too, she explained. In an interview with The New American, Hudes said that when she tried to blow the whistle on multiple problems at the World Bank, she was fired for her efforts. Now, along with a network of fellow whistleblowers, Hudes is determined to expose and end the corruption. And she is confident of success.
Citing an explosive 2011 Swiss study published in the PLOS ONE journal on the "network of global corporate control," Hudes pointed out that a small group of entities — mostly financial institutions and especially central banks — exert a massive amount of influence over the international economy from behind the scenes. "What is really going on is that the world's resources are being dominated by this group," she explained, adding that the "corrupt power grabbers" have managed to dominate the media as well. "They're being allowed to do it."
According to the peer-reviewed paper, which presented the first global investigation of ownership architecture in the international economy, transnational corporations form a "giant bow-tie structure." A large portion of control, meanwhile, "flows to a small tightly-knit core of financial institutions." The researchers described the core as an "economic 'super-entity'" that raises important issues for policymakers and researchers. Of course, the implications are enormous for citizens as well.
Hudes, an attorney who spent some two decades working in the World Bank's legal department, has observed the machinations of the network up close. "I realized we were now dealing with something known as state capture, which is where the institutions of government are co-opted by the group that's corrupt," she told The New American in a phone interview. "The pillars of the U.S. government — some of them — are dysfunctional because of state capture; this is a big story, this is a big cover up."
At the heart of the network, Hudes said, are 147 financial institutions and central banks — especially the Federal Reserve, which was created by Congress but is owned by essentially a cartel of private banks. "This is a story about how the international financial system was secretly gamed, mostly by central banks — they're the ones we are talking about," she explained. "The central bankers have been gaming the system. I would say that this is a power grab."
The Fed in particular is at the very center of the network and the coverup, Hudes continued, citing a policy and oversight body that includes top government and Fed officials. Central bankers have also been manipulating gold prices, she added, echoing widespread concerns that The New American has documented extensively. Indeed, even the inaccurate World Bank financial statements that Hudes has been trying to expose are linked to the U.S. central bank, she said.
"The group that we're talking about from the Zurich study — that's the Federal Reserve; it has some other pieces to it, but that's the Federal Reserve," Hudes explained. "So the Federal Reserve secretly dominated the world economy using secret, interlocking corporate directorates, and terrorizing anybody who managed to figure out that they were having any kind of role, and putting people in very important positions so that they could get a free pass."
The shadowy but immensely powerful Bank for International Settlements serves as "the club of these private central bankers," Hudes continued. "Now, are people going to want interest on their country's debts to continue to be paid to that group when they find out the secret tricks that that group has been doing? Don't forget how they've enriched themselves extraordinarily and how they've taken taxpayer money for the bailout."
As far as intervening in the gold price, Hudes said it was an effort by the powerful network and its central banks to "hold onto its paper currency" — a suspicion shared by many analysts and even senior government officials. The World Bank whistleblower also said that contrary to official claims, she did not believe there was any gold being held in Fort Knox. Even congressmen and foreign governments have tried to find out if the precious metals were still there, but they met with little success. Hudes, however, believes the scam will eventually come undone.
"This is like crooks trying to figure out where they can go hide. It's a mafia," she said. "These culprits that have grabbed all this economic power have succeeded in infiltrating both sides of the issue, so you will find people who are supposedly trying to fight corruption who are just there to spread disinformation and as a placeholder to trip up anybody who manages to get their act together.… Those thugs think that if they can keep the world ignorant, they can bleed it longer."
Of course, the major corruption at the highest levels of government and business is not a new phenomenon. Georgetown University historian and Professor Carroll Quigley, who served as President Bill Clinton's mentor, for example, wrote about the scheme in his 1966 book Tragedy And Hope: A History Of The World In Our Time. The heavyweight academic, who was allowed to review documents belonging to the top echelons of the global establishment, even explained how the corrupt system would work — remarkably similar to what Hudes describes.
"The powers of financial capitalism had a far-reaching aim, nothing less than to create a world system of financial control in private hands able to dominate the political system of each country and the economy of the world as a whole," wrote Prof. Quigley, who agreed with the goals but not the secrecy. "This system was to be controlled in a feudalist fashion by the central banks of the world acting in concert by secret agreements arrived at in frequent private meetings and conferences. The apex of the system was to be the Bank for International Settlements in Basel, Switzerland, a private bank owned and controlled by the world's central banks which were themselves private corporations."
But it is not going to happen, Hudes said — at least not if she has something do to with it. While the media are dominated by the "power grabber" network, Hudes has been working with foreign governments, reporters, U.S. officials, state governments, and a broad coalition of fellow whistleblowers to blow the entire scam wide open. There has been quite a bit of interest, too, particularly among foreign governments and state officials in the United States.
Citing the wisdom of America's Founding Fathers in creating a federal system of government with multiple layers of checks and balances, Hudes said she was confident that the network would eventually be exposed and subjected to the rule of law, stopping the secret corruption. If and when that happens — even if it may be disorderly — Hudes says precious metals will once again play a role in imposing discipline on the monetary system. The rule of law would also be restored, she said, and the public will demand a proper press to stay informed.
"We're going to have a cleaned-up financial system, that's where it is going, but in the meantime, people who didn't know how the system was gamed are going to find out," she said. "We're going to have a different kind of international financial system…. It'll be a new kind of world where people know what's going on — no more backroom deals; that's not going to keep happening. We're going to have a different kind of media if people don't want to be dominated and controlled, which I don't think they do."
While Hudes sounded upbeat, she recognizes that the world is facing serious danger right now — there are even plans in place to impose martial law in the United States, she said. The next steps will be critical for humanity. As such, Hudes argues, it is crucial that the people of the world find out about the lawlessness, corruption, and thievery that are going on at the highest levels — and put a stop to it once and for all. The consequences of inaction would be disastrous.
"Raise toner cartridges!"
"ChairSatan, they've blasted the laser printers and the toner cartridge is destroyed!"
"Use the keyboard — the KEYBOARD!"
"ChairSatan, the margin is too great and the clerk is on line 1 with terms for your surrender…."
Last night Japan imploded, down over 1,100 points.
Helping accelerate the decline was the China PMI which was under 50 (negative, that is), throwing cold water on theChina will save the world crowd.  In point of fact, China has been losing their battle with credit games for over two years — but these sorts of shifts take time to come to fruition.
Let us remember that margin debt has risen to outrageously ridiculous levels.  This means that the clerk is going to be making some calls, if they haven't already started being received.
As I have said over the last couple of months this has the nasty feel of still air just before a big tornado comes ripping through — or like 2007, or like early 2000.
Not only is margin debt ridiculously high, much of which is likely out to hedge funds (speaking of which, how many piled into that Japanese trade, turning the crank on their leverage as "profits" expanded) and now are looking at losses that are likely in the 5-7% range over one night?  I'll bet the list contains a few names and well-known ones.
CNBC is pumping just like they were last time… and the time before that.  "The declines are not nearly as bad."
Who remembers that in 2007 the same pattern initiated, with the Asian markets leading.
Then the losses were "magically" recovered and the market roared higher, finally posting its apex in the fall.
Today the market moves much faster.  I would not be even slightly surprised if the instabilities that central banks haveintentionally put into the system go "prompt critical" this year.
I'm sure there will be many who will dismiss this as "Oh that Denninger, he's just a perma-bear."
My riposte is simple:  While the extraordinary madness of crowds can take manias much further than anyone could ever believe, the math is never wrong.
Bernanke: I Love Bubbles
I like to feed the python that is lovingly curled around my neck.  It's not a problem that it keeps getting bigger, right?
Chairman Ben S. Bernanke
The Economic Outlook
Before the Joint Economic Committee, U.S. Congress, Washington, D.C.
May 22, 2013
Chairman Brady, Vice Chair Klobuchar, and other members of the Committee, I appreciate this opportunity to discuss the economic outlook and economic policy.

Current Economic Conditions
Economic growth has continued at a moderate pace so far this year. Real gross domestic product (GDP) is estimated to have risen at an annual rate of 2-1/2 percent in the first quarter after increasing 1-3/4 percent during 2012. Economic growth in the first quarter was supported by continued expansion in demand by U.S. households and businesses, which more than offset the drag from declines in government spending, especially defense spending.
So what was the growth rate in the real economy, subtracting back out your monetary debasement?  Oh wait — it wasn't a "growth" rate at all, was it?
Conditions in the job market have shown some improvement recently. The unemployment rate, at 7.5 percent in April, has declined more than 1/2 percentage point since last summer. Moreover, gains in total nonfarm payroll employment have averaged more than 200,000 jobs per month over the past six months, compared with average monthly gains of less than 140,000 during the prior six months. In all, payroll employment has now expanded by about 6 million jobs since its low point, and the unemployment rate has fallen 2-1/2 percentage points since its peak.
Uh huh.
Despite this improvement, the job market remains weak overall: The unemployment rate is still well above its longer-run normal level, rates of long-term unemployment are historically high, and the labor force participation rate has continued to move down. Moreover, nearly 8 million people are working part time even though they would prefer full-time work. High rates of unemployment and underemployment are extraordinarily costly: Not only do they impose hardships on the affected individuals and their families, they also damage the productive potential of the economy as a whole by eroding workers' skills and–particularly relevant during this commencement season–by preventing many young people from gaining workplace skills and experience in the first place. The loss of output and earnings associated with high unemployment also reduces government revenues and increases spending on income-support programs, thereby leading to larger budget deficits and higher levels of public debt than would otherwise occur.
Once again….
Consumer price inflation has been low. The price index for personal consumption expenditures rose only 1 percent over the 12 months ending in March, down from about 2-1/4 percent during the previous 12 months. This slow rate of inflation partly reflects recent declines in consumer energy prices, but price inflation for other consumer goods and services has also been subdued. Nevertheless, measures of longer-term inflation expectations have remained stable and continue to run in the narrow ranges seen over the past several years. Over the next few years, inflation appears likely to run at or below the 2 percent rate that the Federal Open Market Committee (FOMC) judges to be most consistent with the Federal Reserve's statutory mandate to foster maximum employment and stable prices.
Consumer price inflation has been low?  Well, I suppose maybe it is if you exclude things that are non-discretinary such as food, medical insurance (now mandatory under Obamacare) and similar.  But if you do include those things the actual cost of living — that is, what you must spend just to live — has gone up a lot in the last five years.
That is definitely not "low."
Over the nearly four years since the recovery began, the economy has been held back by a number of headwinds. Some of these headwinds have begun to dissipate recently, in part because of the Federal Reserve's highly accommodative monetary policy. Notably, the housing market has strengthened over the past year, supported by low mortgage rates and improved sentiment on the part of potential buyers. Increased housing activity is fostering job creation in construction and related industries, such as real estate brokerage and home furnishings, while higher home prices are bolstering household finances, which helps support the growth of private consumption.
The "headwinds" are caused by The Fed through its QE games.  This has destroyed consumer purchasing power for the very necessities that form non-discretionary purchases.
Severe fiscal and financial strains in Europe, by weighing on U.S. exports and financial markets, have also restrained U.S. economic growth over the past couple of years. However, since last summer, financial conditions in the euro area have improved somewhat, which should help mitigate the economic slowdown there while also reducing the headwinds faced by the U.S. economy. Also, credit conditions in the United States have eased for some types of loans, as bank capital and asset quality have strengthened.

Fiscal Policy
Fiscal policy, at all levels of government, has been and continues to be an important determinant of the pace of economic growth. Federal fiscal policy, taking into account both discretionary actions and so-called automatic stabilizers, was, on net, quite expansionary during the recession and early in the recovery. However, a substantial part of this impetus was offset by spending cuts and tax increases by state and local governments, most of which are subject to balanced-budget requirements, and by subsequent fiscal tightening at the federal level. Notably, over the past four years, state and local governments have cut civilian government employment by roughly 700,000 jobs, and total government employment has fallen by more than 800,000 jobs over the same period. For comparison, over the four years following the trough of the 2001 recession, total government employment rose by more than 500,000 jobs.

Most recently, the strengthening economy has improved the budgetary outlooks of most state and local governments, leading them to reduce their pace of fiscal tightening. At the same time, though, fiscal policy at the federal level has become significantly more restrictive. In particular, the expiration of the payroll tax cut, the enactment of tax increases, the effects of the budget caps on discretionary spending, the onset of the sequestration, and the declines in defense spending for overseas military operations are expected, collectively, to exert a substantial drag on the economy this year. The Congressional Budget Office (CBO) estimates that the deficit reduction policies in current law will slow the pace of real GDP growth by about 1-1/2 percentage points during 2013, relative to what it would have been otherwise.1 In present circumstances, with short-term interest rates already close to zero, monetary policy does not have the capacity to fully offset an economic headwind of this magnitude.
Expansionary?  Excuse me?  Government at all levels cannot "expand" the economy as it has to get the funds from somewhere.  There are only two choices: Tax people (taking their discretionary income) or debase through issuance of debt, whether taken up by the Fed or not (which also takes the people's discretionary purchasing power.)
Government, especially entitlements and welfare, do not expand the economy.  That comes from innovation in the private sector.  All government does is steal from the private sector and redistribute those funds.
Now some amount of this is agreeable to virtually everyone.  Nearly all want a strong common defense, for example, although we might argue somewhat over exactly how we should deploy that defense.  Most want roads.  Most want a police force of some composition and most people also would like a jail system for those who initiate violence against others as the alternative is for society to degenerate into a "Hatfield and McCoy" sort of tit-for-tat shooting gallery.
But government entitlement programs, including food stamps, welfare, Medicare, Medicaid and similar do not expand the economy.  They shift the economy from investment and innovation into simple consumption spending and worse, they directly and indirectly promote dependency instead of innovation among the population.
Although near-term fiscal restraint has increased, much less has been done to address the federal government's longer-term fiscal imbalances. Indeed, the CBO projects that, under current policies, the federal deficit and debt as a percentage of GDP will begin rising again in the latter part of this decade and move sharply upward thereafter, in large part reflecting the aging of our society and projected increases in health-care costs, along with mounting debt service payments. To promote economic growth and stability in the longer term, it will be essential for fiscal policymakers to put the federal budget on a sustainable long-run path. Importantly, the objectives of effectively addressing longer-term fiscal imbalances and of minimizing the near-term fiscal headwinds facing the economic recovery are not incompatible. To achieve both goals simultaneously, the Congress and the Administration could consider replacing some of the near-term fiscal restraint now in law with policies that reduce the federal deficit more gradually in the near term but more substantially in the longer run.
That is simply not going to happen so long as The Fed continues to encourage huge deficits and outrageous entitlement spending.  That in turn shifts capital from those who would invest, innovate and produce to pure consumption spending by those sitting on their ass.  This pattern will not change until The Fed stops promoting non-productive consumption.
Period.
Monetary Policy
With unemployment well above normal levels and inflation subdued, fostering our congressionally mandated objectives of maximum employment and price stability requires a highly accommodative monetary policy. Normally, the Committee would provide policy accommodation by reducing its target for the federal funds rate, thus putting downward pressure on interest rates generally. However, the federal funds rate and other short-term money market rates have been close to zero since late 2008, so the Committee has had to use other policy tools.
But it hasn't worked Ben.  So now what?  More of what has failed?
The first of these alternative tools is "forward guidance" about the FOMC's likely future target for the federal funds rate. Since December, the Committee's postmeeting statement has indicated that its current target range for the federal funds rate, 0 to 1/4 percent, will be appropriate "at least as long as the unemployment rate remains above 6-1/2 percent, inflation between one and two years ahead is projected to be no more than a half percentage point above the Committee's 2 percent longer-run goal, and longer-term inflation expectations continue to be well anchored." This guidance underscores the Committee's intention to maintain highly accommodative monetary policy as long as needed to support continued progress toward maximum employment and price stability.

The second policy tool now in use is large-scale purchases of longer-term Treasury securities and agency mortgage-backed securities (MBS). These purchases put downward pressure on longer-term interest rates, including mortgage rates. For some months, the FOMC has been buying longer-term Treasury securities at a pace of $45 billion per month and agency MBS at a pace of $40 billion per month. The Committee has said that it will continue its securities purchases until the outlook for the labor market has improved substantially in a context of price stability. The Committee also has stated that in determining the size, pace, and composition of its asset purchases, it will take appropriate account of the likely efficacy and costs of such purchases as well as the extent of progress toward its economic objectives.
This doesn't work either.  Presuming that the "reasonable" rate for 30 year money is 6% (which is likely at the low end) yet today's 30 year mortgage is 3.5%, today's P&I on a 30 year mortgage for a $200,000 loan is $895.48.
That same payment, at the non-distorted price of money, only buys $150,104.94 worth of house!
This is an intentional inflation of asset prices well above the natural clearing price.  While this distortion can be maintained for quite some time, the fact that it exists is irrefutable.
This is how crashes happen — not natural forces but intentional distortions, whether through government policy or outright fraud by private actors through intentional misrepresentation.
At its most recent meeting, the Committee made clear that it is prepared to increase or reduce the pace of its asset purchases to ensure that the stance of monetary policy remains appropriate as the outlook for the labor market or inflation changes. Accordingly, in considering whether a recalibration of the pace of its purchases is warranted, the Committee will continue to assess the degree of progress made toward its objectives in light of incoming information. The Committee also reiterated, consistent with its forward guidance regarding the federal funds rate, that it expects a highly accommodative stance of monetary policy to remain appropriate for a considerable time after the asset purchase program ends and the economic recovery strengthens.

In the current economic environment, monetary policy is providing significant benefits. Low real interest rates have helped support spending on durable goods, such as automobiles, and also contributed significantly to the recovery in housing sales, construction, and prices. Higher prices of houses and other assets, in turn, have increased household wealth and consumer confidence, spurring consumer spending and contributing to gains in production and employment. Importantly, accommodative monetary policy has also helped to offset incipient deflationary pressures and kept inflation from falling even further below the Committee's 2 percent longer-run objective.
See above.  Price is not necessarily value.  Price is just price.  When you promote distortions in price on purpose with the intent of sending false market signals due to the impact of compounding that is always present wherever there is a growth "rate", that is, an exponential function, by definition you are making the ultimate correction back to value worse.
The Fed is intentionally creating a bubble that will crash.  It is only a matter of when, not if, such a consequence will occur.
That said, the Committee is aware that a long period of low interest rates has costs and risks. For example, even as low interest rates have helped create jobs and supported the prices of homes and other assets, savers who rely on interest income from savings accounts or government bonds are receiving very low returns. Another cost, one that we take very seriously, is the possibility that very low interest rates, if maintained too long, could undermine financial stability. For example, investors or portfolio managers dissatisfied with low returns may "reach for yield" by taking on more credit risk, duration risk, or leverage. The Federal Reserve is working to address financial stability concerns through increased monitoring, a more systemic approach to supervising financial firms, and the ongoing implementation of reforms to make the financial system more resilient.
See above.  Your "$200,000″ house is not worth that as maintenance of that price requires indefinite maintenance of below-market interest rates.  Since the latter is impossible without complete destruction of the currency what Bernanke has provided is an intentional false price in the markets, both in housing and other assets.
Intentional manipulation of markets is usually thought of as a crime, not a benefit, and should lead to indictments, not praise.
Recognizing the drawbacks of persistently low rates, the FOMC actively seeks economic conditions consistent with sustainably higher interest rates. Unfortunately, withdrawing policy accommodation at this juncture would be highly unlikely to produce such conditions. A premature tightening of monetary policy could lead interest rates to rise temporarily but would also carry a substantial risk of slowing or ending the economic recovery and causing inflation to fall further. Such outcomes tend to be associated with extended periods of lower, not higher, interest rates, as well as poor returns on other assets. Moreover, renewed economic weakness would pose its own risks to financial stability.
Said current price is false.
Because only a healthy economy can deliver sustainably high real rates of return to savers and investors, the best way to achieve higher returns in the medium term and beyond is for the Federal Reserve–consistent with its congressional mandate–to provide policy accommodation as needed to foster maximum employment and price stability. Of course, we will do so with due regard for the efficacy and costs of our policy actions and in a way that is responsive to the evolution of the economic outlook.
A healthy economy can only come about when the cost of borrowing accurately reflects the risk and reward of lending actual capital (not ethereal hot air) into the market for whatever purpose and at whatever credit profit the borrower and lender negotiate.
Such an environment has not existed since the first circumvention of Glass-Steagall.  Willful and intentional distortion of asset prices and markets by The Fed and Congress, both acting in concert, have now led to three serial bubbles that have decimated economic conditions for the common American.
Federal Reserve ZIRP has essentially destroyed household income growth: Households headed by those 45 to 54 see their real household income growth drop by 16 percent from 1999.
The Federal Reserve has pursued a zero interest rate policy as a mechanism for pulling the US out of the financial crisis.  Interestingly enough low rates and heavy speculation were part of the cocktail that led us into the crisis in the first place.  Ben Bernanke recently mentioned a bit of concern that speculation is once again entering the markets.  The Fed of course is always cautious in their wording including saying things like sub-prime loans were no issue in 2007 right before the economy tanked.  The Fed is truly in uncharted territory here with a balance sheet of$3.3 trillion and nationwide with incomes stagnating, the ZIRP move by the Fed isn't exactly helping the middle class.  A modest amount of inflation is disastrous when you are seeing your income stuck in neutral or seeing it move in reverse.  Even older Americans are seeing tougher challenges (although young Americans have faced the brunt of this recession).  What is the aftermath of ZIRP?
ZIRP and Incomes
It is no mystery what the Fed has done with interest rates: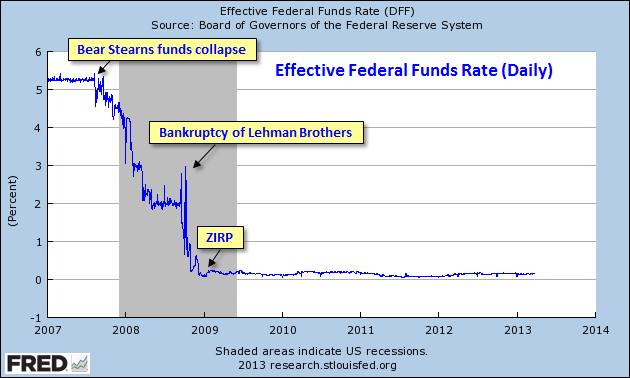 Keep in mind that in 2007, interest rates were brought back up after the insanity that was brought on by the first housing bubble. Yet by the time the Fed raised rates in 2007, it was already too late.  Ironically, the Fed decided at this point to fight the current fiscal crisis with what essentially led us into the crisis before.  Low rates that encouraged massive speculation were once again introduced into the market.
Today the low rates are creating massive speculation in the real estate market by large banks and hedge funds.  Yet this time, the interest is with rental properties.  It is clear that overall, many Americans are being edged out either by rising rents, property values, or the inability for a family to even purchase a home.  Part of this also comes from the Fed's balance sheet allowing banks to put naughty loans into perpetual purgatory.
We often read that older Americans have done well in this recession.  We even hear a sigh of relief since the student debt problem is one for the youth (assuming you don't care about the financial future of your kids).  Yet looking at income growth it isn't exactly clear that this group has done well: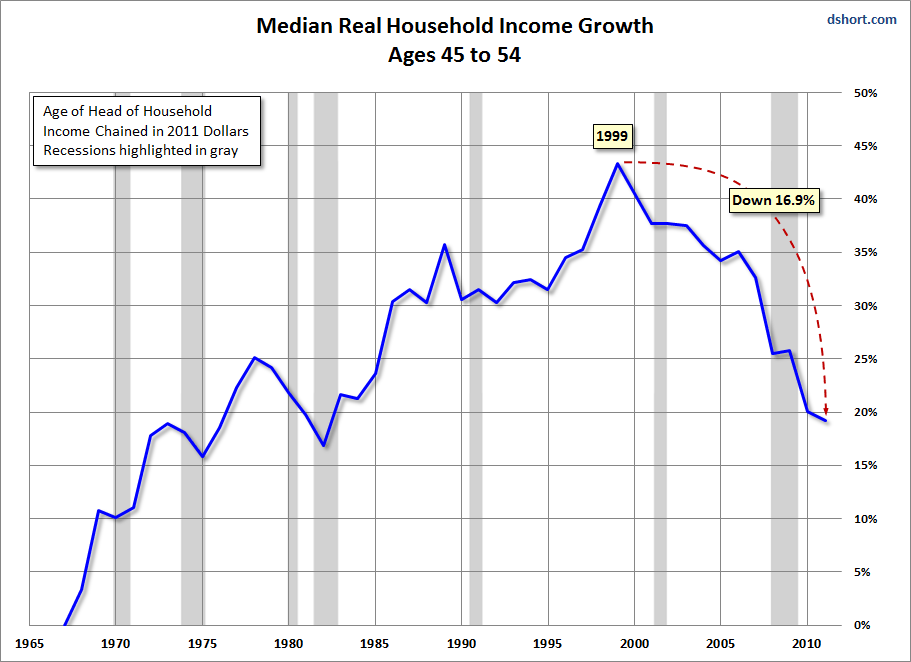 Real household income growth has declined by 16 percent for households in the 45 to 54 age range.  This is important because this age group rode two very important periods in our economic life cycle that are important.  They had a massive bull market for stocks but also had a chance to get in early on the tech bubble and also, the housing bubble.  While a good portion of this wealth has evaporated into thin air, time in the markets is one big way to win.
Read the rest at My Budget 360
Let's see how I do with the list.
Fast And Furious (guns for drug lords, resulting in murder of Americans and Mexicans)
Robosigning (over 100,000 perjured affidavits filed in court cases)
IRS Tea Party and other group and individual abuse in direct violation of the law (politically-based harassment and now apparently-perjured testimony before Congress)
Money Laundering for terrorists and drug lords (by multiple large banks)
Intentional and unlawful destruction of property rights (GM bondholders screwed for political cronies in the UAW)
Intentional and unlawful destruction of your saved wealth (QE, QE2, QE3, QEinfinity, $1 trillion+ deficits, etc; Treasury and Federal Reserve actions)
Benghazi (apparent illegal arming of terrorists, then an attempt to reverse that leading to the attack on our CIA outpost and what appears to beintentional indifference and orders to stand down during the attack that had to come from the White House despite ability to respond; this amounts to conspiracy with the terrorists to kill Chris Stevens and the others who died.)
Swindles by the billions in countless schemes during the 2000s related to securitizations and other hinky deals (where despite black letter legal requirements for actual endorsement and delivery of documents banks simply did not comply and now argue there should be no penalty for not having done so, and that these defects are "mere procedural errors" despite intent to not comply.)  The result is that our land title system no longer has any resemblance of integrity.
Intentional destruction of anything approaching a "free market" for health care going back 30+ years and now compounded through active conspiracy by Obama and all of the political parties to grant, protect and enforce through government monopolies and cost-shifting resulting in cost escalations of 500-1,000% or even more against market prices and now, with Obamacare, abuse of the IRS tax power to force another 100% or more increase in those expenses down your throat for the express purpose of enrichment of those in the medical industry.
I'm sure I've missed a bunch, but this is a good start.
What do all these (and more) have in common?
Your refusal, as Americans, to stand and demand that The Rule of Law be restored and honored and that those who refuse to do so be impeached (if in government) and stand trial for their abuses.
I keep hearing people ask when I, or someone else, will "lead" on this issue.
Why do you ask where the leader is?
Do you want a Hitler?  You're going to get one if you keep that shit up.
We the people do not need "leaders" to resolve this.
We all need to personally grow a pair of balls to replace that vacuum between our legs (or nestled in our pelvis where our ovaries are supposed to be.)
We need to get off our fat asses and stop demanding that someone else take care of what is our job as citizens of this nation.
You do not have the right to health care.
You do not have the right to a job.
You do not have the right to go to college.
You do not have the right to a house.
You do not have the right to food.
You do have the right to effort to generate some form of economic activity by your own hand and mind for yourself and those who you have as dependents through your own actions, such as your children (who exist because of your actions – your exercise of the power to create life.)  You may then expend the fruits of that economic activity as you see fit because such is your property; you earned it through an honest exchange with another.
You do have the right to life, liberty and the pursuit (but not guarantee of attainment) of happiness.  This means that all of the above — every single one of those abuses that have been served upon you — are unlawful.
But those three rights only exist so long as you will stand and defend them.  A person is a victim only until he or she gives consent.  
Put a different way: The only difference between sex and rape is consent. 
As soon as you consent to the frauds and abuses heaped upon you they cease to be frauds and abuses and become part of a sick sado-masochistic ritual you have willingly taken upon yourself.
They remain so until you stand and demand that it stop, backing that demand with whatever defensive force is necessary to stop what has now become rape rather than sex.
It is for that reason that I am an absolutist on where the Second Amendment's boundaries lie.  It is impossible as a matter of logic for me or anyone else to depend on someone else to stop a criminal who intends to take my life or that of those in my care, irrespective of how we would otherwise design such a social system.  By definition the first person able and often the only person able to stop such an assault is the victim that the perpetrator intends to assault or kill.  It matters not whether the assailant is an individual thug, a pair of thugs, an organized gang or a government agency.
The bottom line is the same; your right to life only exists so long as you are willing and able to defend it.
The same bottom line exists for liberty and the offense against it that is delineated in most of the above list; you have such a right only so long as you are willing to defend it.  The minute you cede that right you have consented to what you are experiencing and you lose the right to bitch about it until and unless you stand and take back that which God gave you.
This is basic logic and as soon as you cede basic logic you inevitably lose every other point of argument.  In this case when you lose those arguments you risk losing your life and/or liberty; you are literally risking death or enslavement.
Since 2007 I have written on these matters in the economic realm and laid forth arithmetic proving that what has been done is not an accident but rather is a swindle.  It is not a new swindle either; it is in fact one of the oldest in the history books, rivaling only prostitution in age.  Arithmetic is not subject to debate; you can choose to overlook it but you cannot change it.
Those of you who seek leaders are fools; each of you should lead for yourself and confine that leadership to yourself and your life along with those dependent upon you through acts of your own free choice, enjoying or suffering the consequences of those choices.
Your right to lead in that regard ends as soon as you demand that someone else pay for whatever it is that you want to acquire or suffer as a consequence of your actions and inactions, whether it be food, shelter, education, health care or anything else.
The first principle behind The Declaration is that we are a nation governed by laws, not men, with each such law that is valid and enforceable being able to be tied back all the way to The Declaration through The Constitution.
The Declaration sets forth the reason why although rights are absolute societies organize governments — it is for the purpose of providing a framework of laws to enforce those rights and punish violators.  Absent that you have only the law of the jungle, where the individual with the biggest teeth, claws and body mass wins while everything else is food.
That is what you have in the absence of the rule of law, and that is what we have collectively and individually allowed to occur in this country.  All of the above has occurred because we have regressed to The Law of the Jungle from The Rule of Law.
We either stop it or we will be consumed by it.
Financial promises made under different conditions and assumptions are null and void, period.
Essayist Eric A. touched on a key theme of the next decade in his two-part series A Brief History of Cycles and Time, Part 1 and Part 2: the political, social and financial dominance of the Baby Boom generation, and the eventual erosion of that dominance.
The promises made to the 76 million baby Boomers cannot be met. It's really very simple: promises made when the economy was growing by 4% a year and the next generation was roughly double the size of the generation entering retirement cannot be fulfilled in an economy growing 1.5% a year (and only growing at all as the result of massive expansions of public and private debt) in which the generation after the cohort entering retirement is significantly smaller.
Just look at this chart: demographics is destiny, and the so-called Silent Generation (roughly those born 1925 – 1942) currently drawing Social Security and Medicare benefits is somewhere between half and 2/3 the size of the Baby Boom.
Meanwhile, Generation X that follows the Baby Boom is almost half the size of the enormous cohort currently entering retirement. Sorry folks, the numbers don't add up, no matter how you finesse them: a smaller working population in a low-to-zero growth economy burdened with fast-rising debt cannot fund the pay-as-you-go retirement of 76 million citizens, fully 25% of the entire U.S. population.
(Recall that Social Security, Medicare and all other entitlements are pay-as-you-go. There is no trust fund; the current benefits are paid in full by taxes paid by current workers/taxpayers or by Federal borrowing via the sale of Treasury bonds.)
(The numbers and dates of generations are inexact; the Silent Generation, for example, is assumed to have missed serving in World War II but my father was born in 1926, joined the U.S. Navy in 1944 and was on a LST preparing for the invasion of Japan in early 1945, so this is not true of all Silents. The Baby Boom is typically defined as those born between 1946 and 1964, but many of those born in 1959-64 do not feel they belong to the "earlier" Baby Boom, and so some people divide the Baby Boom into two cohorts, or start Generation X in 1961. The lack of precision does not change the basic demographics.)
Everyone takes the present trend, takes out a ruler and pencil and projects it into the future, as if current trends will continue in a straight line. But they never do; the world is dynamic and trends change and reverse.

I have been surprised by the deep emotions that arise out of our cultural Id when generational characterizations and conflicts are openly discussed. Perhaps this is why these issues and feelings are rarely aired in the mainstream media.
In the free-form blogosphere, these officially inconvenient (i.e. suppressed) emotions are expressed, and these few honest expressions garner large audiences and a great many highly charged comments.
My position on the entitlements promised to the Baby Boomers has been clear since 2005 (Boomers, Prepare to Fall on Your Swords June 2005): demographics, the changing job market and the destructive consequence of financializing the U.S. economy render the entitlements promised (Social Security and Medicare) unpayable.
The current 115 million full-time workers cannot sustainably support the 110 million people currently drawing Social Security and Medicare/Medicaid–and the number of retirees entering these entitlement program will rise by millions in the decade ahead.
This worker-beneficiary ratio (already 1-to-1) will only become more unsustainable as Baby Boomers retire and the forces of The End of Work erode full-time jobs The End of (Paying) Work (January 21, 2009).
The Promises That Cannot Be Kept (July 6, 2011)
That Which is Unsustainable Will Go Away: Medicare (May 16, 2012)
The generation in power has the biggest stake in retaining the status quo.Anything that threatens the status quo threatens their power and all that has been promised to them by the status quo.
As a result, any real reform that reduces entitlements to a sustainable level is politically dead on arrival (DOA). Reform is thus as impossible as paying the promised entitlements.
Though he is often presented as belonging to a new generation, President Obama (born 1961) is a Baby Boomer in age, outlook and politics, accepting the fantasy that 25% of the nation can draw hefty, open-ended benefits from Medicare indefinitely.
The solution is to work backwards from what the current generation of workers can afford to pay, not to work forwards from promises made when things were different. The pool of money that can be skimmed from the productive economy via taxes to pay for national defense, the care of veterans, education, welfare in all its forms, corporate and individual, all the myriad departments of government and Social Security pensions and Medicare is not unlimited. Difficult choices will have to be made, and what was promised decades ago is not the key consideration: what is foremost is the sustainability of the nation as an ongoing concern, which means focusing on the generations coming of age and those shouldering the tax burden going forward.
It is a truism of the entitlement mindset that the greater the entitlements promised and offered, the greater the resentments and self-absorption of the beneficiaries. I have often written about the state of permanent adolescence the Savior State/entitlement mindset engenders:
Our Many Layers of Entitlement (September 29, 2011)
The State, Dependency, Addiction and Reciprocity (September 28, 2010)
Opting Out and the Culture of Entitlement (March 29, 2010)
Entitlements, Taxes, Inequality and Three-Way Class Warfare (September 20, 2010)
Tyranny of the Majority, Corporate Welfare and Complicity (April 9, 2010)
Entitlements and the Federal Deficit (February 5, 2011)
We desperately need an adult discussion focused on reality rather than resentment. The solution will require dismantling open-ended, everyone-deserves-everything Medicare, which will bankrupt the nation itself. The solution is currently "impossible": The "Impossible" Healthcare Solution: Go Back to Cash (July 29, 2009)
As for pay-as-you-go Social Security, it will have to be means-tested: those drawing thousands of dollars a month in other pensions will have to let go of "what wuz promised" so other Boomers who have only Social Security can receive their full benefit. What exactly is so difficult about that?
I am a Baby Boomer, born 1953, and I hope our generation musters the courage to face reality and the need for re-assessment and adjustment and yes, the word that is tossed around in endless lip-service but avoided in the real world, sacrifice. Anything less will be a generational failure of monumental proportions.
I refuse to burden our children and grandchildren with mountains of debt so I can get the full measure of "what I wuz promised." Financial promises made under different conditions and assumptions are null and void, period. Reality trumps "what wuz promised" every time.
What nobody dares say is that if the 76 million Boomers press their claims to the point the nation is bankrupted, then the next generations (X and Y) will have to wrest political power from the retirees, not for their own sake but for the sake of the nation and for the generations behind them.
Charles Hugh Smith – Of Two Minds