Archive for the 'bonds' Category
Pursuing opportunities of the past only speeds the dissolution of any Status Quo that depends on spent models of growth.
If we had to summarize the global effort to reflate various debt and asset bubbles to "restart growth," we might say the Status Quo is pursuing opportunities of the past.
Let's start with investing in real estate. Retail space is in massive oversupply. Others have done an excellent job describing the overcapacity, high vacancy rates and cannibalizing of sales at existing stores by adding stores: Are you seeing what I'm seeing?
Suffice it to say that an era of deleveraging, declining household income and aging populace is not a good foundation for retail expansion.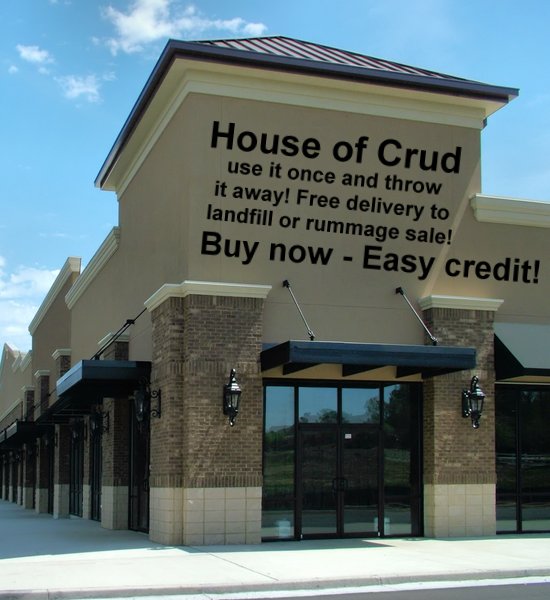 The wave of creative destruction unleashed by the Internet has yet to envelop commercial office space–but it's already reached the front steps. Just as online retail has decimated retail sectors such as bookstores, the Web is busy revolutionizing white-collar work, the mainstay of office towers and business parks.
Real work can now be done offsite/remotely at a home office, café, or anywhere but a cubicle at headquarters, and the cost advantages of this flexibility will not be going away. Yes, there are still powerful reasons to meet in person, but there are equally powerful reasons to permanently downsize travel and office costs.
Structural changes in the economy are increasing self-employment and contract labor and shrinking the scale of new enterprises. Millions of well-educated American workers already work at home, and since the average U.S. house has grown in size over the past 50 years, free-lancers and self-employed professionals have plenty of space rent-free.
High-growth companies which once hired thousands of employees and rented entire buildings are increasingly offer highly automated products and services. New-tech juggernaut Twitter recently leased more space in San Francisco as it was expanding its staff by–gasp!–200 employees. Will Twitter be filling that empty office tower near you? No, because its "service" is largely automated software. It now requires less than 1,000 employees to operate a global tech juggernaut.
Many global companies no longer need a headquarters; their senior staff work just like junior employees, from home, hotel room, cafe, etc. Airbnb, Coursera and Uber: The rise of the disruption economy.
The "recovery" in housing is limited for structural reasons. Household formation is in a multi-decade downtrend, household income is also in a structural decline since 2000 and trillions of dollars in subsidies and giveaways have barely budged the needle of housing sales, starts, etc.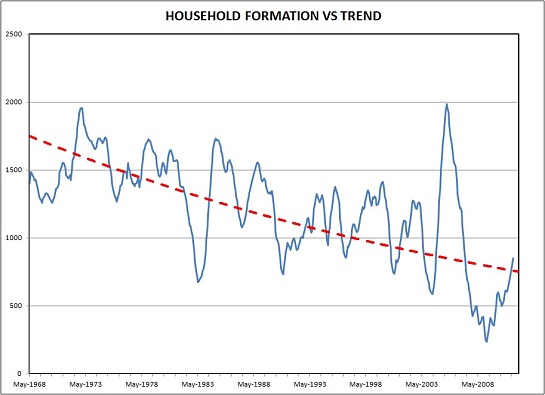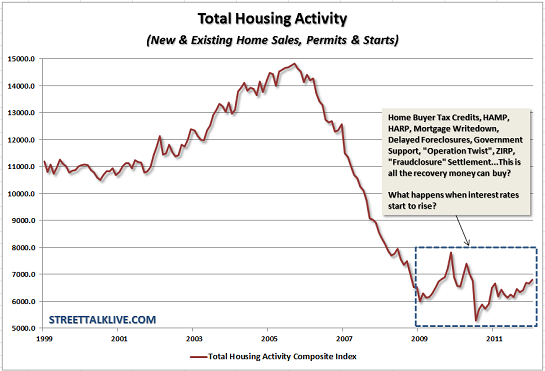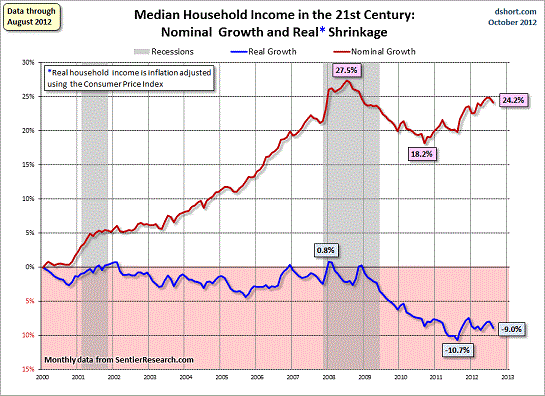 Buy and hold stocks: adjusted for inflation, returns on the "buy and hold stocks forever" strategy since 2000 registered a 14% loss, as we see in this chart, courtesy of master chartist Doug Short: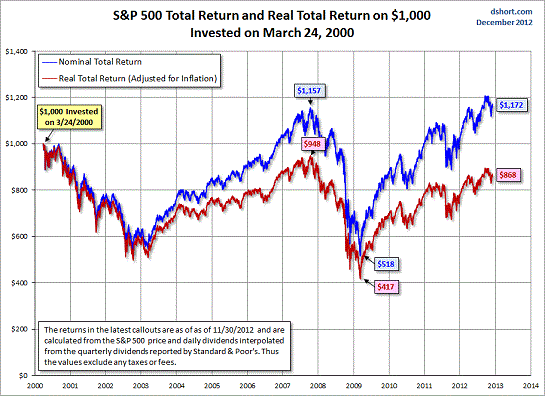 The "buy and hold bonds" strategy is also running out of air. Now that interest rates are zero or negative when adjusted for inflation, there are limits on how much bond yields can decline. This game may run for for awhile but the returns from here until the day rates rise in a "credit event" are modest. Not only have the low-hanging fruits been picked in the 31-year bond bull market, those buying now are stripping the last fruit from the top of the tree.
What happens to those who buy into opportunities of the past? As a guide, we can see what happened to household net worth since the 2007-8 global financial meltdown ended the financialization era: American Households Hit 43-Year Low In Net Worth.
Pursuing opportunities of the past only speeds the dissolution of any Status Quo that depends on spent models of growth.
Charles Hugh Smith – Of Two Minds
---
While all eyes are on the absurdist tragicomedy playing out in Europe, Japan is quietly circling a financial black hole as its export economy is destroyed by its strong currency and the global recession.
There is a terrible irony in export-dependent nations being viewed as "safe havens." Their safe haven status pushes their currencies higher, which then crushes their export sector, which then weakens their entire economy and stability, undermining the very factors that created their safe haven status.
As long as Germany stays within the Eurozone, Japan is the primary example of this dynamic. Should Germany leave the euro and return to its own currency, it too will begin orbiting the financial black hole of declining exports driven by a strengthening currency in a global recession.
Economies that are less reliant on exports are much less exposed to the consequences of a strengthening currency.
We can lay out the dynamic of Japan's currency and export-dependent economy thusly:
1. Export-dependent economies such as Japan, China and Germany rely on strong exports to sustain their employment and growth.
2. This means they must maintain positive current accounts (trade surpluses).
3. As their currencies strengthen, their exports become less competitive globally.
4. Export-dependent economies must pursue strategies to keep their currencies aligned with their buyers, the importing nations.
5. Germany has done so via the eurozone, which aligned its largest import market, Europe, with its own currency.
6. China has done so by pegging the renminbi (yuan) to the U.S. dollar and restricting foreign exchange (i.e. not allowing a free-floating renminbi).
7. Japan has neither of these advantages, and must intervene in the FX markets by buying and selling yen and dollars.
8. Despite its well-known debt problems (see chart below), Japan retains a massive and diverse industrial base, a current-account surplus (or modest deficit with its nuclear power plants largely offline) and large overseas assets.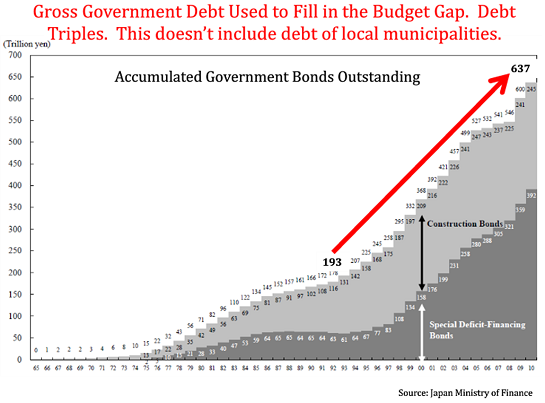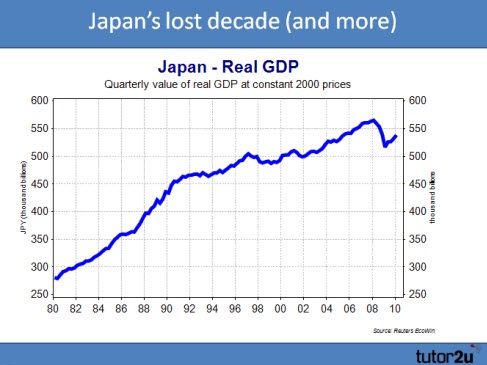 9. These assets, plus its homogeneous culture, makes Japan an island of stability in an increasingly unstable global economy.
10. For these reasons, the yen is considered a "safe haven" currency and yen-denominated bonds as "safe haven" liquid investments.
11. As demand for yen rises, the currency strengthens, weakening the competitiveness of Japanese exports.
12. The "safe haven" status of the yen ends up hurting the Japanese economy's primary engine, exports.
13. The stronger yen ends up weakening the very attributes that make the yen and Japanese bonds "safe havens."
14. As the global economy slides into recession, exports decline sharply under the double-whammy of falling demand and a rising currency.
15. Ironic, to say the least.
Charles Hugh Smith – Of Two Minds
This is going to get interesting rather quickly…
Germany's Bundesbank is the first of the 17 euro-area central banks to refuse to accept as collateral bank bonds guaranteed by member states receiving aid from the European Union and the International Monetary Fund,Frankfurter Allgemeine Zeitung reported.

The Bundesbank won't lend to banks against bank debt guaranteed by Greece, Ireland and Portugal from May, the newspaper said, citing unidentified officials. The Frankfurt-based central bank currently has less than 500 million euros ($667 million) of those bonds on its balance sheet, FAZ reported.
That ought to the end of the "fungibility" argument for Euro-area debt.
Or how about a new "household tax" being assessed in Ireland?  Wait…. a tax for being alive?  That sounds like Obama!  Unfortunately the Irish appear to have lost their balls — and their rifles from the IRA years.  They need to find at least one of the two, and soon — and hopefully the non-violent forms of recourse will be employed.  After being sold out repeatedly by the jackals of finance, one wonders if Irish whiskey has addled their brains to the point of inability to properly respond to being financially raped.
Oh, I forgot to tell you that the flat tax is being replaced next year by a progressive (funny, that word) tax that will assess some people with as much as 10 times the current liability (oops!)
Ireland is no stranger to corruption.  Remember Unicredit?  Maybe you can all explain to me why the Irish people should pay for the profligacy and intentional bad lending decisions made by Irish banks?  After all, they didn't get a seat at the table in the lender's committee when making the decision to loan (or not), so why should they bear the cost?
That's the key question, you see.  The ability to shift responsibility after the fact for bad decisions while pocketing the money for good ones (and even for bad ones!) is commonly known as slavery or despotism.  It is the sort of thing that has, in the past, led to revolution, especially when enabled and combined with official corruption.
More importantly, however, you can't obtain actual prosperity until these games and schemes stop and the bad loans are forced into the open and defaulted.  Covering them up with even more schemes and scams doesn't solve anything — it just makes for a bigger, more-convoluted mess.
If you think we've found an answer to any of the problems we began to stare down in 2007 and 2008 you need your thorazine dose adjusted — upward.
And no, this isn't an April Fools' joke.
It's happening folks…
Italian bond yields continue up.
That's not particularly news.
But now yields are going up in France, Spain and Belgium.
One downgrade to France and it all goes up in smoke for the EFSF.
Political movement no longer works.  You need fiscal resolution and you can't get there from here.  Don't believe for a minute that this isn't going to blow up in people's faces, because it both can and will.
"It's a confidence crisis," said Elwin de Groot, a senior market economist at Rabobank Nederland in Utrecht, Netherlands. "Investors have no confidence that the euro zone can solve its problems. They will look for the most safe place they can store their money, which is Germany. Everything else is suffering."
This is not going to end well and so far there is nobody talking about what has to actually happen either here or there — that is, whatever services people want from government they must be willing to pay for them with current tax revenues.
That's the beginning and end of it and the time to take this action is quickly coming to a close.  The market is going to enforce prudence whether the wonks in The Fed, in the ECB and in all of the governments involved like it or not.
Eurostat says that GDP in the Eurozone was 0.2% for the third quarter. This means that the Euro zone as a whole cannot run any fiscal deficit whatsoever without continuing an attempt to build the Ponzi.
I repeat: NOBODY is yet speaking to the truth of the matter.  Not central bankers, not governments, not politicians in either party here and nobody over in Europe.
The market is calling "BS!" on the games; the banksters and governments, having gotten away with bailing out the crooks in 2008 and then refusing to put a stop to the abuses, smugly thinking they could just go on their way and leave everything alone (including the asset-stripping and lying schemes of the banksters) are discovering that the market is refusing to play along and is going to force the truth into the open.
I have warned of this for four and a half years and have been ignored.  To date while there are people using a lot of "if" words, including Evans who is single-handedly destroying the credibility of The Fed right now on CNBC, and Liesman, rather than calling him on it, is (again) being an enabler.
Again folks, the bottom line is simple: You cannot continually borrow and spend more than you make, yet this is the game that governments have continually played for 30 years, and private businesses have attempted to "lever up" to "take advantage" of this without regard to the mathematical inevitability of this strategy's failure.
Spike in US CDS (credit default swaps):
It certainly looks like the chatter about a US "Technical Default" is making some folks nervous.
While yields remain at rock-bottom prices, there's been a noticeable uptick in 1-year CDS on US debt, notes Markit. As evidence that there's something unique to the US going on, that spike is not mirrored in the UK. Not only that, volumes on the US have surged as well. Politicians would be wise to pay attention.
Source:  Business Insider
Meanwhile…..
Treasury Prices Rise After Strongest-Bid 5-Year Auction Ever

The auction was heavily bid, with a cover of 3.20 that is the largest ever, according to CRT Capital. There was especially strong interest from indirect bidders, who took down 47.1% of the sale, compared to 40.4% over the last four auctions . . .

. . . Those strong results followed Tuesday's similarly impressive sale of $35 billion in 2-year notes. The auction was well oversubscribed and offered at the lowest yield since November.