Archive for the 'Bubbles' Category
A small note on the frankly hilarious news that the Dow Jones Industrial Average smashed through to all-time-highs.
First of all, while stock prices are soaring, household income and household confidence are slumping to all-time lows. Employment remains depressed, energy remains expensive, housing remains depressed, wages and salaries as a percentage of GDP keep falling, and the economy remains in a deleveraging cycle. Essentially, these are not the conditions for strong organic business growth, for a sustainable boom. We're going through a structural economic adjustment, and suffering the consequences of a huge 40-year debt-fuelled boom. While the fundamentals remain weak, it can only be expected that equity markets should remain weak. But that is patently not what has happened.
In fact, it has been engineered that way. Bernanke has been explicitly targeting equities, hoping to trigger a beneficent spiral that he calls "the wealth effect" — stock prices go up, people feel richer and spend, and the economy recovers. But with fundamentals still depressed, this boom cannot be sustained.
There are several popular memes doing the rounds to suggest, of course, that this time is different and that the boom times are here to stay, including the utterly hilarious notion that the Dow Jones is now a "safe haven". They are all variations on one theme — that Bernanke is supporting the recovery, and will do whatever it takes to continue to support it. Markets seem to be taking this as a sign that the recovery is real and here to stay. But this is obviously false, and it is this delusion that — as Hyman Minsky clearly explained last century — is so dangerous.
There are many events and eventualities under which throwing more money at the market will make no difference. Central banks cannot reverse a war, or a negative trade shock, or a negative production shock, or a negative energy shock simply by throwing money at it. And there are severe limits to their power to counteract financial contractions outside their jurisdiction (although in all fairness the Federal Reserve has expanded these limits in extending liquidity lines to foreign banks). Sooner or later the engineered recovery will be broken by an event outside the control of central bankers and politicians. In creating a false stability, the Federal Reserve has actually destabilised the economy, by distorting investors' perceptions.
But, of course, some analysts think that this time really is different. Here's a chart from Goldmanshowing the S&P500 by sectoral composition:
The implication here is clear — with no obvious sectoral bulge like that of the late 1970s, the tech bubble, and the financial bubble — there is no bubble. But what if the bubble is spread evenly over multiple sectors? After all, the Federal Reserve has been reinflating Wall Street in general rather than any one sector in particular.
Wall Street leverage is, unsurprisingly, approaching 2007 levels:
Is this the final blowout top? I'm not sure. But I would be shocked to see this bubble live beyond 2013, or 2014 at the latest. I don't know which straw will break the illusion. Middle eastern war? Hostility between China and Japan? North Korea? Chinese real estate and subprime meltdown? Student debt? Eurozone? Natural disasters? Who knows…
The wider implications may not be as bad as 2008. The debt bubble has already burst, and the deleveraging cycle has already begun. Total debt is slowly shrinking. It is plausible that we will only see a steep correction in stocks, rather than some kind of wider economic calamity. On the other hand, it is also plausible that this bursting bubble may herald a deeper, darker new phase of the depression.
With every day that the DJIA climbs to new all-time highs, more suckers will be drawn into the market. But it won't last. Insiders have already gone aggressively bearish. This time isn't different.
John Aziz – Azizonomics
Are we running out of time?  For the last several years, we have been living in a false bubble of hope that has been fueled by massive amounts of debt and bailout money.  This illusion of economic stability has convinced most people that the great economic crisis of 2008 was just an "aberration" and that now things are back to normal.  Unfortunately, that is not the case at all.  The truth is that the financial crash of 2008 was just the first wave of our economic troubles.  We have not even come close to recovering from that wave, and the next wave of the economic collapse is rapidly approaching.  Our economy is like a giant sand castle that has been built on a foundation of debt and toilet paper currency.  As each wave of the crisis hits us, the solutions that our leaders will present to us will involve even more debt and even more money printing.  And each time, those "solutions" will only make our problems even worse.  Right now, events are unfolding in Europe and in the United States that are pushing us toward the next major crisis moment.  I sincerely hope that we have some more time before the next crisis overwhelms us, but as you will see, time is rapidly running out.
The following are 12 things that just happened that show the next wave of the economic collapse is almost here…
#1 According to TrimTab's CEO Charles Biderman, corporate insider purchases of stock have hit an all-time low, and the ratio of corporate insider selling to corporate insider buying has now reached an astounding50 to 1….
While retail is being told to buy-buy-buy, Biderman exclaims that "insiders at U.S. companies have bought the least amount of shares in any one month," and that the ratio of insider selling to buying is now 50-to-1 – a monthly record.
#2 On Friday we learned that personal income in the United States experienced its largest one month decline in 20 years…
Personal income decreased by $505.5 billion in January, or 3.6%, compared to December (on a seasonally adjusted and annualized basis). That's the most dramatic decline since January 1993, according to the Commerce Department.
#3 In a stunning move, Michigan Governor Rick Snyder says that he will appoint an emergency financial manager to take care of Detroit's financial affairs…
Snyder, 54, took a step he avoided a year ago, empowering an emergency financial manager who can sweep aside union contracts, sell municipal assets, restructure services and reorder finances. He announced the move yesterday at a public meeting in Detroit.
If this does not work, Detroit will almost certainly have to declare bankruptcy.  If that happens, it will be the largest municipal bankruptcy in U.S. history.
#4 On Friday it was announced that the unemployment rate in Italy had risen to 11.7 percent.  That was a huge jump from 11.3 percent the previous month, and Italy now has the highest unemployment rate that it has experienced in 21 years.
#5 The youth unemployment rate in Italy has risen to a new all-time record high of 38.7 percent.
#6 On Friday it was announced that the unemployment rate in the eurozone as a whole had just hit a brand new record high of 11.9 percent.
#7 On Friday it was announced that the unemployment rate in Greece has now reached 27 percent, and it is being projected that it will reach30 percent by the end of the year.
#8 The youth unemployment rate in Greece is now an almost unbelievable 59.4 percent.
#9 On Saturday, hundreds of thousands of protesters filled the streets of Lisbon and other Portuguese cities to protest the austerity measures that are being imposed upon them.  It was reportedly the largest protest in the history of Portugal.
#10 According to Goldman Sachs, bank deposits declined all over Europe during the month of January.
#11 Over the weekend, the deputy governor of China's central bank declared that China is prepared for a "currency war"…
A top Chinese banker said Beijing is "fully prepared" for a currency war as he urged the world to abide by a consensus reached by the G20 to avert confrontation, state media reported on Saturday.

Yi Gang, deputy governor of China's central bank, issued the call after G20 finance ministers last month moved to calm fears of a looming war on the currency markets at a meeting in Moscow.

Those fears have largely been fuelled by the recent steep decline in the Japanese yen, which critics have accused Tokyo of manipulating to give its manufacturers a competitive edge in key export markets over Asian rivals.
#12 Italy is an economic basket case at this point, and the political gridlock in Italy is certainly not helping matters.  Former comedian Beppe Grillo's party could potentially tip the balance of power one way or the other in Italy, and over the weekend he made some comments that are really shaking things up over in Europe.  For one thing, he is suggesting that Italy should hold a referendum on the euro…
"I am a strong advocate of Europe. I am in favor of an online referendum on the euro," Beppe Grillo told Bild am Sonntag.

Such a vote would not be legally binding in Italy, where referendums can only be used to repeal laws or parts of laws, but would carry political weight. Grillo has said in the past that membership of the euro should be up to the Italian people.
In addition, Grillo is also suggesting that Italy's debt has gotten so large that renegotiation is the only option…
In an interview with a German magazine published on Saturday, Mr Grillo said that "if conditions do not change" Italy "will want" to leave the euro and return to its former national currency.
The 64-year-old comic-turned-political activist also said Italy needs to renegotiate its €2 trillion debt.

At 127 per cent of gross domestic product (GDP), it is the highest in the euro zone after Greece.
"Right now we are being crushed, not by the euro, but by our debt. When the interest payments reach €100 billion a year, we're dead. There's no alternative," he told Focus, a weekly news magazine.

He said Italy was in such dire economic straits that "in six months, we will no longer be able to pay pensions and the wages of public employees."
And of course government debt has taken center stage in the United States as well.
The sequester cuts have now gone into effect, and they will definitely have an effect on the U.S. economy.  Of course that effect will not be nearly as dramatic as many Democrats are suggesting, but without a doubt those cuts will cause the U.S. economy to slow down a bit.
And of course the U.S. economy has already been showing plenty of signs of slowing down lately.  If you doubt this, please see my previous article entitled "Consumer Spending Drought: 16 Signs That The Middle Class Is Running Out Of Money".
So what comes next?
Well, everyone should keep watching Europe very closely, and it will also be important to keep an eye on Wall Street.  There are a whole bunch of indications that the stock market is at or near a peak.  For example, just check out what one prominent stock market analyst recently had to say…
"Every reliable technical tool is warning of major peaking action," said Walter Zimmerman, the senior technical analyst at United-ICAP. "This includes sentiment, momentum, classical chart patterns, and Elliott wave analysis.

"Most of the rally in the stock market since 2009 can be chalked up to the Federal Reserve's attempt to create a 'wealth effect' through higher stock market prices. This only exacerbates the downside risk. Why? The stock market no is longer a lead indicator for the economy. It is instead reflecting  Fed manipulation. Pushing the stock market higher while the real economy languishes has resulted in another bubble.

"The next leg down will not be a partial correction of the advance since the 2009 lows. It will be another major financial crisis. The worst is yet to come."
Sadly, most people will continue to deny that anything is wrong until it is far too late.
Many areas of Europe are already experiencing economic depression, and it is only a matter of time before the U.S. follows suit.
Time is running out, and I hope that you are getting ready.
So what do you think?
How much time do you believe that we have left before the next wave of the economic collapse strikes?
Please feel free to post a comment with your thoughts below…
An over-indebted, overcapacity economy cannot generate real expansion. It can only generate speculative asset bubbles that will implode, destroying the latest round of phantom collateral.
I have endeavored to lay out the global endgame in four recent entries:
Is This the Terminal Phase of Global Capitalism 1.0? (February 8, 2013)
Note to Fed: Giving the Banks Free Money Won't Make Us Hire More Workers(February 11, 2013)
Cheap, Abundant Credit Creates a Low-Return, Bubble-Prone World (February 12, 2013)
Europe Is Not "Fixed": Two Charts (February 13, 2013)
For those seeking a summary, here is the global endgame in fourteen points:
1. In the initial "boost phase" of credit expansion, credit-based capital ( i.e. debt-money) pours into expanding production and increasing productivity: new production facilities are built, new machine and software tools are purchased, etc. These investments greatly boost production of goods and services and are thus initially highly profitable.
2. As credit continues to expand, competitors can easily borrow the capital needed to push into every profitable sector. Expanding production leads to overcapacity, falling profit margins and stagnant wages across the entire economy.
Resources (oil, copper, etc.) may command higher prices, raising the input costs of production and the price the consumer pays. These higher prices are negative in that they reduce disposable income while creating no added value.
3. As investing in material production yields diminishing returns, capital flows into financial speculation, i.e. financialization, which generates profits from rapidly expanding credit and leverage that is backed by either phantom collateral or claims against risky counterparties or future productivity.
In other words, financialization is untethered from the real economy of producing goods and services.
4. Initially, financialization generates enormous profits as credit and leverage are extended first to the creditworthy borrowers and then to marginal borrowers.
5. The rapid expansion of credit and leverage far outpace the expansion of productive assets. Fast-expanding debt-money (i.e. borrowed money) must chase a limited pool of productive assets/income streams, inflating asset bubbles.
6. These asset bubbles create phantom collateral which is then leveraged into even greater credit expansion. The housing bubble and home-equity extraction are prime examples of theis dynamic.
7. The speculative credit-based bubble implodes, revealing the collateral as phantom and removing the foundation of future borrowing. Borrowers' assets vanish but their debt remains to be paid.
8. Since financialization extended credit to marginal borrowers (households, enterprises, governments), much of the outstanding debt is impaired: it cannot and will not be paid back. That leaves the lenders and their enabling Central Banks/States three choices:
A. The debt must be paid with vastly depreciated currency to preserve the appearance that it has been paid back.
B. The debt must be refinanced to preserve the illusion that it can and will be paid back at some later date.
C. The debt must be renounced, written down or written off and any remaining collateral liquidated.
9. Since wages have long been stagnant and the bubble-era debt must still be serviced, there is little non-speculative surplus income to drive more consumption.
10. In a desperate attempt to rekindle another cycle of credit/collateral expansion, Central Banks lower the yield on cash capital (savings) to near-zero and unleash wave after wave of essentially "free money" credit into the banking sector.
11. Since wages remain stagnant and creditworthy borrowers are scarce, banks have few places to make safe loans. The lower-risk strategy is to use the central bank funds to speculate in "risk-on" assets such as stocks, corporate bonds and real estate.
12. In a low-growth economy burdened with overcapacity in virtually every sector, all this debt-money is once again chasing a limited pool of productive assets/income streams.
13. This drives returns to near-zero while at the same time increasing the risk that the resulting asset bubbles will once again implode.
14. As a result, total credit owed remain high even as wages remain stagnant, along with the rest of the real economy. Credit growth falls, along with the velocity of money, as the central bank-issued credit (and the gains from the latest central-bank inflated asset bubbles) pools up in investment banks, hedge funds and corporations.
The net result: an over-indebted, overcapacity economy cannot generate real expansion. It can only generate speculative asset bubbles that will implode, destroying the latest round of phantom collateral.
Here are three charts that illustrate #14:
Eurozone credit since the inception of the euro. This is roughly equivalent to TCMDO (Total Credit Market Debt Owed) in the U.S.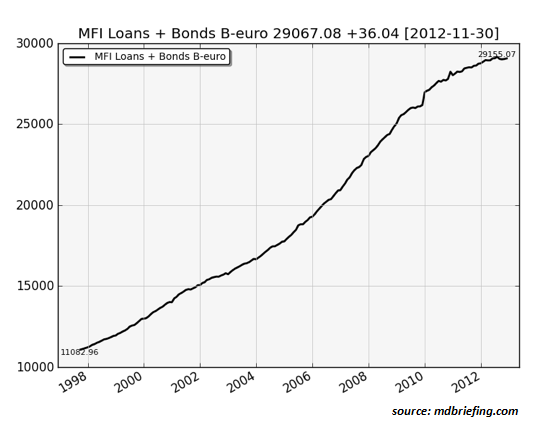 Eurozone credit growth: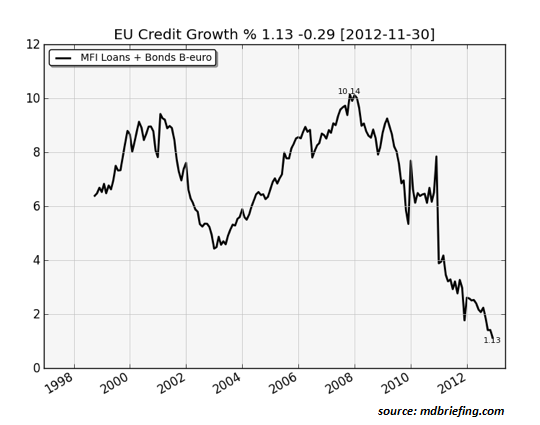 Money velocity in the U.S.: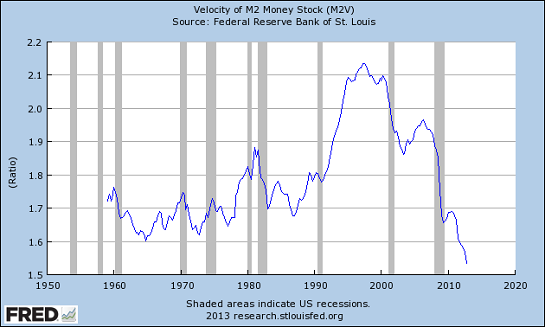 That is the endgame in three charts. Checkmate, game over.
Charles Hugh Smith – Of Two Minds
There's a much bigger cliff than the so-called fiscal cliff. The absolute worst result of the fiscal cliff would be a moderate uniform tax increase at a bad time, resulting in a moderate contraction. It is an obvious — but ultimately rather cosmetic — stumbling block on the so-called "road to recovery".
The much bigger cliff stems from the fact that the so-called recovery itself is build on nothing but sand. This is a result of underlying systemic fragilities that have never been allowed to break. I have spent the last year and a half writing about this graph — the total debt in the economy as a proportion of the economy's output:
This is the bubble that won't go away. This is the zombified mess that the Federal Reserve won't let dissolve (as happened regularly in the 19th century and early 20th century each time there was an unsustainable debt bubble). This is the shifting sand — preserved by the massive monetary stimulus programs — that the so-called recovery is built upon. During the 1980s and 1990s and 2000s cheap money pumped up the debt level in America. In 2008, the bubble burst, and the hyper-connective fragile financial system was set to burn. Then central banks around the world stepped in to "stabilise" (or as Nassim Taleb puts it, overstabilise) the financial system. The unsustainable reality of debt vastly exceeding income was put on life support.
A high pre-existing residual debt level makes growth challenging, as consumers and producers remain focussed on paying down the pre-existing debt load, they are drained by pre-existing debt service costs, and they are wary about taking on debt or investing in a weak and depressed environment. It's a classic Catch-22. The only true panacea for the depression is growth, but the economy cannot grow because it is depressed and zombified. That's where a crash comes in — the junk is liquidated, clearing the field for new growth. That is what Schumpeter meant when he talked of "the work of depressions", something that many mainstream economists still fail to grasp. (In fairness, a similar effect can probably be achieved without a depression through a very large scale debt relief program.)
Japan has been stuck in a deleveraging trap for twenty years, to no avail, all that has really occurred is that the private debt load has been transferred onto the central bank balance sheet —there has been very little net deleveraging) and while the Japanese central bank has completed round after round of quantitative easing — sustaining and preserving the past malinvestment and high debt load — the Japanese economy is still depressed.
That is the road America and most of the West are now on. And just as Japan's bank stocks did multiple times even after the Japanese housing bubble burst, American banking stocks — even in spite of a year of fraud, abuse, mismanagement and uber-fragility — have been shooting up, up, up and away:
The zombie financial sector is the real cliff — as interconnective as ever, as corrupt as ever, and most importantly, nearly as leveraged as ever:
This is a reinflated bubble built on foundations sand. I don't know which straw will break the illusion (middle eastern war? Hostility between China and Japan? Chinese real estate and subprime meltdown? Student debt? Eurozone? Natural disasters? Who knows…) but this bubble poses a far greater threat in 2013 than the fiscal shenanigans and the Boehner-Obama "Boner-Droner" snoozefest.
Debt.  There isn't a day that passes as of late that the issue of debt doesn't arise.  Federal debt and consumer debt (including mortgages) are of the most concern due to its impact on the domestic economy.   Debt is, by its very nature, a cancer on economic growth.  As debt levels rise it consumes more capital by diverting it from productive investments into debt service.  As debt levels spread through the system it consumes greater amounts of capital until it eventually kills the host.  The chart below shows the rise of credit market debt and its impact on both personal savings and economic growth.
From the 1950's through the late 1970's interest rates were in a generally rising trend with the Federal Funds rate at 0.8% in 1954 and rising to its peak of 19.1% in 1981.  Of course, during this time the U.S. was the manufacturing and production powerhouse of the entire global economy post the wide spread devastation of Europe, Germany and Japan during WWII.  The rebuilding of Europe and Japan, combined with the years of pent up demand for goods domestically, led to a strongly growing economy and increased personal savings.
However, beginning in 1980 the world changed.  The development of communications shrank the global marketplace while the rise of technology allowed the U.S. to embark upon a massive shift to export manufacturing to the lowest cost provider in order to import cheaper goods.  The deregulation of the financial industry led to new innovations in financial engineering, easy money and wealth creation through the use of leverage which led to a financial boom unlike any seen in history.  The 80-90′s was a period of unrivaled prosperity and the envy of every nation on earth.
Unfortunately – it was the greatest economic illusion ever witnessed.
The reality is that the majority of the aggregate growth in the economy was financed by deficit spending, credit creation and a reduction in savings.  In turn this reduced productive investment in the economy and the output of the economy slowed.   As the economy slowed, and wages fell, the consumer was forced to take on more leverage to maintain their standard of living which in turn decreased savings.   As a result of the increased leverage more of their income was needed to service the debt – and with that the "debt cancer" engulfed the system.
The Austrian business cycle theory attempts to explain business cycles through a set of ideas. The theory views business cycles "as the inevitable consequence of excessive growth in bank credit, exacerbated by inherently damaging and ineffective central bank policies, which cause interest rates to remain too low for too long, resulting in excessive credit creation, speculative economic bubbles and lowered savings."
In other words, the proponents of Austrian economics believe that a sustained period of low interest rates and excessive credit creation results in a volatile and unstable imbalance between saving and investment.   In other words, low interest rates tend to stimulate borrowing from the banking system which in turn leads, as one would expect, to the expansion of credit.   This expansion of credit then, in turn, creates an expansion of the supply of money.
Therefore, as one would ultimately expect, the credit-sourced boom becomes unsustainable as artificially stimulated borrowing seeks out diminishing investment opportunities. Finally, the credit-sourced boom results in widespread malinvestments. When the exponential credit creation can no longer be sustained a "credit contraction" occurs which ultimately shrinks the money supply and the markets finally "clear" which then causes resources to be reallocated back towards more efficient uses.
The chart below shows the increasing levels of money supply and debt versus the changes in economic and wage growth.  The impact of debt on the economy remains unrecognized by policy makers and central bankers who have failed to understand what the current downturn encompasses.  Therefore, these same individuals continue to chase economic theories based on a mistaken belief that the current recession is an ordinary period of falling aggregate demand.  However, the reality is something far different.
The reason that the policies which have been enacted by the current Administration up to this point have all but failed, be it "cash for clunkers"  to "Quantitative Easing", is because they were designed to either drag future consumption forward or to slow the deleveraging process.  The Keynesian view that "more money in people's pockets" will boost consumer spending, and ultimately grow GDP, has clearly been wrong.  It hasn't happened in 30 years.   What is missed is that things like temporary tax cuts, or one time injections, don't create economic growth but merely reschedules it.  While the average American will act on a near-term increase in their take home pay – any increased consumption in the present will be matched by a decrease later when the tax cut is revoked.
This is, of course, assuming the balance sheet at home hasn't broken.  The problem today is that for only the second time in the history of the United States we are in the process of deleveraging the balance sheet of the U.S. economy.   As we saw during the period of the"Great Depression" most economists thought that the simple solution was just more stimulus.   Work programs, lower interest rates, government spending all didn't work to stem the tide of the depression era.
The problem is that during a "balance sheet" recession the consumer is forced to pay off debt which detracts from their ability to consume.   This is the one facet that Keynesian economics doesn't factor in. More importantly it also impacts the production side of the equation as well since no act of saving ever detracts from demand.  Consumption delayed is merely a shift of consumptive ability to other individuals, and even better, money saved is often capital supplied to entrepreneurs and businesses that will use it to expand, and hire new workers. 
So, while classical economics says that production comes first, the problem becomes that during a "balance sheet recession" the economy is put into a stranglehold for productive investment. The continued misuse of capital and continued erroneous monetary policies have instigated not only the recent downturn but actually 30 years of an insidious slow moving infection that has destroyed the American legacy.
This is why we need real reform in government that leads to a smaller government, more clarity for businesses through pro-growth policies, real regulation of Wall Street which separates banks and brokerages, as well as programs and subsidies for bringing back to America those jobs that require a little hard work and a little bit of sweat but create a whole lot of pride and prosperity along the way.
It's time for our leaders to wake up and smell the burning of the dollar – we are at war with ourselves and the games being played out by Washington to maintain the status quo is slowing creating the next crisis that won't be fixed with monetary bailout.
Lance Roberts – Street Talk Live
Kocherlakota: New Definition Of "Insanity"
This is really amazing, when you take the time to think about it.
A hawk at the Federal Reserve has changed his plumage.

Narayana Kocherlakota, president of the Federal Reserve Bank of Minneapolis, said in a speech Thursday that the central bank should respond to high unemployment with an even more aggressive approach than the Fed announced last week.

His proposal: Pledge to keep short-term interest rates very low until the unemployment rate, which was 8.1% in August, falls to 5.5%. He said it could take four or more years to reach that goal.
What if it never happens?
In short, what happens if employment isn't falling because the economy has slack in it due to too-tight policy, but rather because too-loose policy has destroyed capital formation and in response to both this and an unfavorable fiscal environment along with idiotic trade policy that rewards enslavement of developing nations' labor forces and pollution of their land, air and water a structural shift has occurred?
So you QE until the cows come home but unemployment never falls, because trade policy isn't fixed, the health-care scam isn't fixed and both continues to vacuum up GDP and make the labor market increasing uncompetitive. In turn the destruction of purchasing power drives government to continue to deficit spend so as to "ease the pain" of the populace (e.g. with food stamps, "disability" that magically appears in huge percentages of the people, "free" health care and similar.)
If this is the case then loose monetary policy is exactly backward.
So what does the evidence show us about the labor market on a population-adjusted basis?
Have we seen robust population-adjusted labor advancement at any time in the last 10 years?
And have we seen actual inflation-adjusted income progress over the last 10 years?
More to the point on inflation-adjusted income what is happening now, over the last few quarters, as the "QE to the moon!" and fiscal trainwreck policies have been imposed?
Have they resulted in inflation-adjusted income growth?
Nope.
In fact since 2000 inflation-adjusted income has been negative!
Greenspan's policies in response to the tech market collapse, which Bernanke has emulated and in fact Bernanke wrote his "seminal paper" on monetary policy during that time, have been factually proven not to work.
Remember that the only thing that matters to you is what your hour of work buys.  You really don't care if you have a $10/hour salary and your daily food costs $10 or if you have a $1/hour salary and your daily food costs $1.
The problem with inflation, provided wages match it (but they never do due to slippage in all systems, including economic ones) is that it destroys the value of accumulated capital in terms of currency and as a consequence capital formation is severely damaged.  This in turn drives people to notaccumulate capital but instead use credit which in turn leads to financial and banking bubbles as we refuse to impose a One Dollar of Capital standard. 
The financial system is thus free to effectively counterfeit the currency and skim off a piece of it for itself which further damages capital formation and competitiveness, working exactly against the desire for a robust and competitive labor market.
These people need to be locked up in a rubber room, the excess liquidity must be removed and the law must be changed so that manipulations of this sort, if attempted in the future, result in life federal prison sentences (or even better, let's go back to the punishment in the original Coinage Act) for the crime of deliberate counterfeiting of the nation's currency.