Archive for the 'College' Category
Now I think I've seen it all.
Let's cut the crap — colleges market themselves to young men and women on the premise that their educational services will provide you a means to get a better job than you would otherwise obtain.  That's the entire purpose of a career-focused education and the only justification for the outrageous tuition charges they assess.
Well, as it turns out if you fail to benefit from the alleged "education" that these people sold you, and in the process you borrowed money using Perkins loans, the college is very likely to come after you, including in court!
Oh, and lest you think they'll just sue to the principal and accrued interest, nope.
As I've pointed out to a number of High Schoolers contemplating going to college and taking out loans, there are statutory penalties that apply if you default.  In the case of Perkins loans these amount to an additional 30% of the principal, increasing to 40% on a second collection attempt and another 40% on top of that if they sue.
That basically doubles the amount you owe.
Of course colleges don't talk about this before you matriculate.  After all, "education" as offered in these edifices is only partial, and the representations, both expressed and implied are many — but the warranties few.
My advice to young adults stands: DO NOT BORROW MONEY TO GO TO COLLEGE.
My advice to parents stands: DO NOT, UNDER ANY CIRCUMSTANCES, CONTRIBUTE TO YOUR NOW-ADULT KIDS BEING BAMBOOZLED BY THESE FINANCIAL TRAINWRECKS KNOWN AS "UNIVERSITIES" AND "COLLEGES."
Discussion (registration required to post)
Every single year, millions of young adults head off to colleges and universities all over America full of hopes and dreams.  But what most of those fresh-faced youngsters do not realize is that by taking on student loan debt they are signing up for a life of debt slavery.  Student loan debt has become a trillion dollar bubble which has shattered the financial lives of tens of millions of young college graduates.  When you are just starting out and you are not making a lot of money, having to make payments on tens of thousands of dollars of student loan debt can be absolutely crippling.  The total amount of student loan debt in the United States has now surpassed the total amount of credit card debt, and student loan debt is much harder to get rid of.  Many young people view college as a "five year party", but when the party is over millions of those young people basically end up as modern day serfs as they struggle to pay off all of the debt that they have accumulated during their party years.  Bankruptcy laws have been changed to make it incredibly difficult to get rid of student loan debt, so once you have it you are basically faced with two choices: either you are going to pay it or you are going to die with it.
But we don't warn kids about this before they go to school.  We just endlessly preach to them that they need a college degree in order to get a "good job", and that after they graduate they will easily be able to pay off their student loans with the "good job" that they will certainly be able to find.
Sadly, tens of millions of young Americans have left college in recent years only to find out that they were lied to all along.
As I have written about previously, college has become a giant money making scam and the victims of the scam are our young people.
Back in 1952, a full year of tuition at Harvard was only $600.
Today, it is over $35,000.
Why does college have to cost so much?
At every turn our young people are being ripped off.
For example, the cost of college textbooks has tripled over the past decade.
Has it suddenly become a lot more expensive to print books?
Of course not.
The truth is that an entire industry saw an opportunity to gouge students and they went for it.
The amount of money being spent on higher education in this country is absolutely outrageous.  One father down in Texas says that he will end up spending about 1.5 million dollars on college expenses for his five daughters before it is all said and done.
Unfortunately, most young adults in America don't have wealthy fathers so they have to take out large student loans to pay for their educations.
Average student loan debt at graduation is estimated to be about $28,720 right now.
That is a crazy figure and it has absolutely soared in recent years.  In fact, student loan debt in America has grown by 511 percent since 1999.
And student loan debt will follow you wherever you go.
If you do not pay your loans when you graduate, you could end up having your wages, your tax refunds and even your Social Security benefits garnished.
In addition, your account could be turned over to the debt collectors and they can be absolutely brutal.
The student loan debt bubble is the best thing to happen to debt collectors in ages.  The following is what one professional who works in the industry said in a recent article that he wrote for a debt collection industry publication….
As I wandered around the crowd of NYU students at their rally protesting student debt at the end of February, I couldn't believe the accumulated wealth they represented – for our industry.

It was lip-smacking.

At my right, to graphically display how she was debt-burdened, was a girl wearing a t-shirt emblazoned with the fine sum of $90,000, another with $65,000, a third with $20,000 and over there a really attractive $120,000 was printed on another shirt.  Guys were shouldering their share, with t-shirts of $20,000, $15,000, $27,000, $33,000 and $75,000.
There is no way that our young people can afford to take on those kinds of debt loads, and that is one reason why student loan delinquency rates continue to surge.
In fact, the student loan default rate in the United States has nearly doubled since 2005.
Today, one out of every six Americans that owes money on a student loan is in default.
One out of every six.
And it is going to get a whole lot worse.
At this point there are about 5.9 million Americans that are at least 12 months behind on their student loan payments.
So could the bursting of the student loan bubble do tremendous damage to our financial system?
Don't worry – Federal Reserve Chairman Ben Bernanke is promising that the student loan debt bubble won't cause a crisis.
And you can trust him, right?
For those living with the burden of unpaid student loan debt, life can be really tough.  Some try to avoid the debt collectors, but it is easier said than done.  The following is from a recent article in the New York Times….
Hiding from the government is not easy.

"I keep changing my phone number," said Amanda Cordeiro, 29, from Clermont, Fla., who dropped out of college in 2010 and has fielded as many as seven calls a day from debt collectors trying to recover her $55,000 in overdue loans. "In a year, this is probably my fourth phone number."

Unlike private lenders, the federal government has extraordinary tools for collection that it has extended to the collection firms. Ms. Cordeiro has already had two tax refunds seized, and other debtors have had their paychecks or Social Security payments garnisheed.
The biggest problem, of course, is that there are not nearly enough jobs for the hordes of college graduates that our system produces each year.
During 2011, 53 percent of all Americans with a bachelor's degree under the age of 25 were either unemployed or underemployed.
So without a good job, how are those young people supposed to service their student loans?
Once upon a time, a college degree was a guaranteed ticket to the middle class.
Sadly, those days are long gone.  Today, millions upon millions of college graduates have taken jobs that do not even require a college education.  The following is from a recent CNBC article….
In the last year, they were more likely to be employed as waiters, waitresses, bartenders and food-service helpers than as engineers, physicists, chemists and mathematicians combined (100,000 versus 90,000). There were more working in office-related jobs such as receptionist or payroll clerk than in all computer professional jobs (163,000 versus 100,000). More also were employed as cashiers, retail clerks and customer representatives than engineers (125,000 versus 80,000).
You probably know young people who have experienced the "wake up call" that comes as a result of entering the "real world" in this horrible economic environment.
It is not easy out there.
And this can be extremely disappointing for parents as well.  How would you feel if your daughter got very high grades all of the way through college and ended up working as a waitress because she couldn't find anything else?
Even those that pursue advanced degrees are having an extremely challenging time finding work in this economy.
For example, a Business Insider article from a while back profiled a law school graduate named Erin that is actually on food stamps….
She remains on food stamps so her social life suffers. She can't afford a car, so she has to rely on the bus to get around Austin, Texas, where she lives. And currently unable to pay back her growing pile of law school debt, Gilmer says she wonders if she will ever be able to pay it back.

"That has been really hard for me," she says. "I have absolutely no credit anymore. I haven't been able to pay loans. It's scary, and it's a hard thing to think you're a lawyer but you're impoverished. People don't understand that most lawyers actually aren't making the big money."
And the really sad thing is that the quality of the education that our young people are receiving is very poor.  I spent eight years attending U.S. universities, and most parents would be absolutely shocked at how little our college students are actually learning.
Going to college really has become a ticket to party for four or five or six years with a little bit of "education" thrown in.
But our society has put a very high value on those little pieces of paper called "diplomas" so we all continue to play along with the charade.
Some college students are finding other "creative" ways to pay for their educations other than going into tremendous amounts of debt.  For example, an increasing number of young women are seeking out "sugar daddies" who will "sponsor" their educations.  The following is from a Huffington Post article about this disturbing trend….
On a Sunday morning in late May, Taylor left her Harlem apartment and boarded a train for Greenwich, Conn. She planned on spending the day with a man she had met online, but not in person.

Taylor, a 22-year-old student at Hunter College, had confided in her roommate about the trip and they agreed to swap text messages during the day to make sure she was safe.

Once in Greenwich, a man who appeared significantly older than his advertised age of 42 greeted Taylor at the train station and then drove her to the largest house she had ever seen. He changed into his swimming trunks, she put on a skimpy bathing suit, and then, by the side of his pool, she rubbed sunscreen into the folds of his sagging back — bracing herself to endure an afternoon of sex with someone she suspected was actually about 30 years her senior.
Of course that young woman will probably deeply regret doing that later on in her life.
Once graduation comes, millions upon millions of our young people are discovering that it is really hard to be financially independent if you are drowning in student loan debt and you can't find a good job.
So what are they doing?
They are moving back in with Mom and Dad.
One poll discovered that 29 percent of all Americans in the 25 to 34 year old age bracket are still living with their parents.
Ouch.
So what do you think about all of this?  Please feel free to post a comment with your thoughts below….
Households are dumping trillions in hard-earned income down ratholes with marginal returns: costly higher education, healthcare and housing.
What happens when households dump huge percentages of their stagnant incomes down marginal-return ratholes? They get less wealthy, which is exactly what we're seeing. The average American household has been persuaded that pouring money into costly higher education, healthcare and housing are all "investments" that offer high yields.
Sadly, the opposite is true: the returns on these stupendously costly investments is marginal or negative. Let's start with higher education, a topic I have discussed at length numerous times.
In essence, a college degree has lost its scarcity value, and in an era of labor arbitrage (a.k.a. offshoring and international competition), automation and relentless pressure to lower costs, even advanced degrees in law, science and business management that once were perceived as guarantees of secure high-paying employment no longer have scarcity value: the number of people with advanced degrees far exceeds the number of open positions.
Meanwhile, the education cartel has raised prices at a rate that is three times the rate of inflation. The credulous "buyers" of expensive higher education continue to pay absurdly inflated prices for degrees that have marginal value in the real-world marketplace.
We can see the trend in the following chart: wages for college-educated workers have stagnated even as the costs of college have skyrocketed.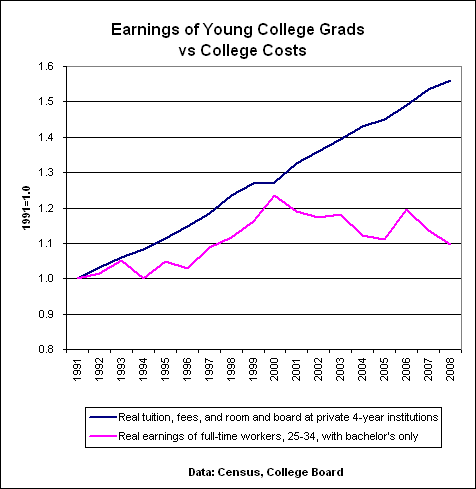 Banks that build lavish headquarters soon perish. There is something about erecting monuments of self-glorification and excess that exudes a fatal hubris. Please consider the lavish buildings universities have constructed in the supreme confidence that millions of debt-serfs will continue to willingly dump tens of thousands of dollars in hard-earned cash and crushing loans for degrees with increasingly marginal returns.
Sickcare, a.k.a. "healthcare," is another rathole of waste, fraud and malinvestment. I have covered the sickcare cartel in depth; the key metric of this rathole's depth is that we spend roughly twice as much per capita (per person) as competing developed democracies on healthcare and get questionable returns on the trillions spent.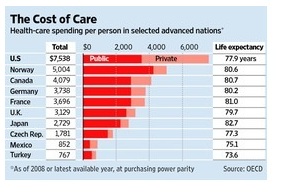 Buying a house was sold as a "can't miss" avenue to build middle class wealth. Instead, it became a $10 trillion rathole that either loses nominal value or stumbles along, unable to keep pace with the rising costs of ownership (property taxes, special assessments, etc.).
When owners finally give up the idea that the housing bubble can be reinflated, the house is sold for less than the mortgage to an investor who offers to rent the home to the previous owner for half the cost of the mortgage he was paying.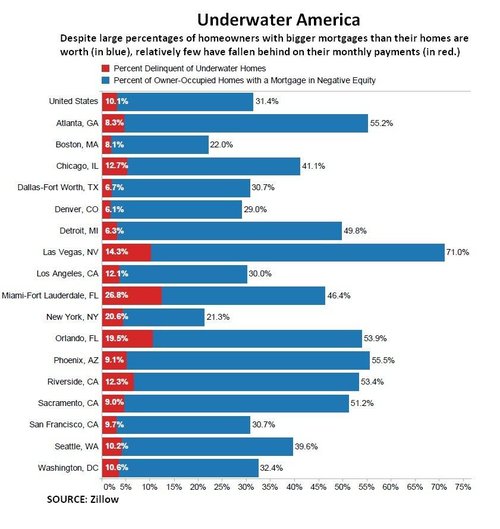 As higher education and sickcare costs rise, labor's share of the national income is declining. Households are earning less when measured in purchasing power, and the costs of college and sickcare skyrocket even as the returns on those "investments" become ever more marginal.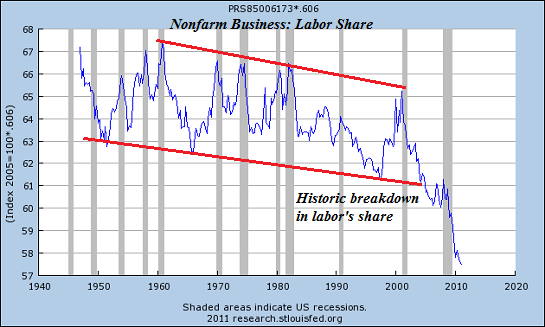 With income stagnant and trillions being dumped into the ratholes of higher education, sickcare and housing, it's little wonder that median net worth has plummeted. Americans saw wealth plummet 40 percent from 2007 to 2010:The Federal Reserve said the median net worth of families plunged by 39 percent in just three years, from $126,400 in 2007 to $77,300 in 2010. That puts Americans roughly on par with where they were in 1992.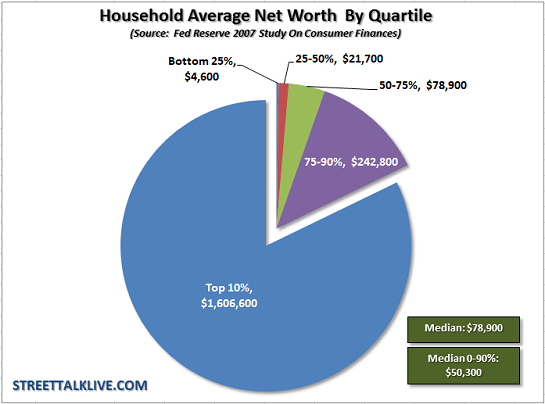 I am sickened by the vast sums I see households squandering on hopelessly marginal "investments" in expensive higher education, healthcare and housing. I too am caught in the crony-capitalist/State cartel web of waste, skimming and fraud: we have paid tens of thousands of dollars on no-frills healthcare insurance (no eyewear, no dental, no meds, $50 co-pay) in the past decade, and received perhaps 3% of this sum in care.
But to not have health insurance in America is to invite financial ruin should we suffer some serious illness. The same "must-have" argument supports the conventional wisdom about education: a young person "must have" a college degree if they hope to escape a lifetime of poverty. The issue isn't education per se, it's the ever-rising cost of an education that has arguably lost value in a global job market that faces a vast surplus of educated workers and a scarcity of secure, high-paying jobs.
Simply put, minting 10,000 PhD chemists (for example) does not magically create 10,000 jobs for PhD chemists.
I see family after family making enormous sacrifices to send their children to costly colleges or make bloated mortgage payments with little hope of positive return; I see families who did not have health insurance struggling to pay off crushing bills for hospital care. I personally know people with science PhDs and post-doctoral experience at top universities competing for scarce academic/research jobs against fields of 60 or more other qualified candidates.
Yes, education and healthcare are necessary, but cartels have leveraged this necessity into vast skimming operations that yield marginal returns even as their costs balloon without limit.
Housing is also a necessity, but it does not follow that it is a high-yield investment. Rather, it has become a sinkhole for hard-earned, scarce cash.
Ratholes are not investments, regardless of what the cartels profiting from the Status Quo claim.
Charles Hugh Smith – Of Two Minds
The big swindle and a fog of debt – hiding the unemployed in the higher education bubble and three years of economic recovery equates to 11.5 million more Americans on food stamps.
A large part of our recovery is running on public relations trickery and smoke and mirrors debt machinery.  Let me explain what I mean by this since on the surface we have been out of a recession since the summer of 2009.  Government debt is soaring and public debt in certain sectors is flying off the charts.  Take for example food stamp usage and student loan debt.  These payments typically rise during tough times as would be expected.  So you would conclude that being in year three of this so-called recovery that costs for both of these sectors would be retreating.  You would be absolutely wrong in this Alice and Wonderland debt world.  The student debt market has become a predatory landmine for prospective students and continues to grow like a wild fungus.  Food stamp usage is expected to be high deep into 2014.  Can you call it a recovery by using accounting magic that actually hides the continuing deterioration of the middle class?
Food stamp usage peaking during a recovery?
First, food stamp usage is at a peak: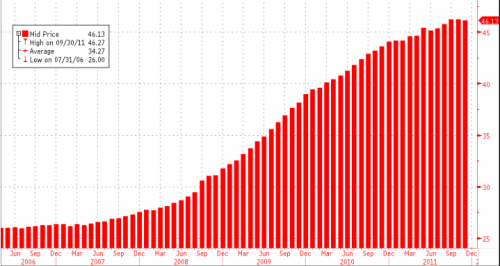 Source:  Zero Hedge
How is it a recovery when 15 percent of the population is receiving food assistance just to stay afloat?  But examine the chart carefully.  When the recession officially ended in 2009 there were 35 million Americans on food stamps.  Today, three years later and deep into a recovery we have 46.5 million Americans receiving food stamps!  In other words, food stamp usage has increased by more than 32 percent during the recovery.  Since when does a recovery involve increasing the amount of Americans on food stamps?
There is a cost to having 46.5 million Americans on food assistance: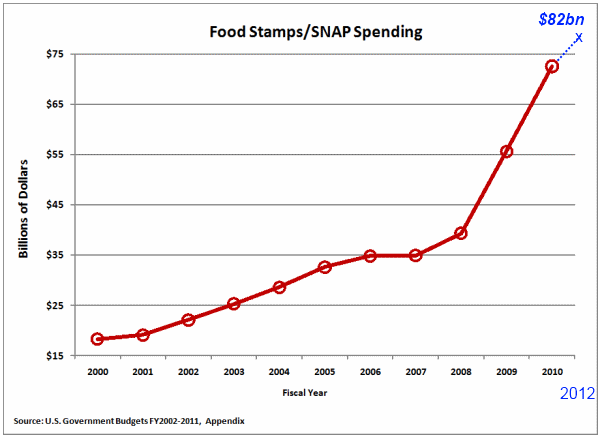 Source:  Cato Institute
We amended the chart with the expected cost of the program for 2012 which will cost roughly $82 billion.  In 2009, the year of the recovery, the cost of the program was running at roughly $40 billion.  So the cost is now over double that since payouts have increased in conjunction with the wonderful hidden inflation we are seeing with food prices.
Read the rest at My Budget 360
It's not your degree, you see…
Unable to find a job as a music teacher in the current economic crisis, he eventually went into default on his loans, which included Stafford, Perkins and private bank loans. Then this year, he decided to go on to earn a PhD, which would make it possible for him to get hired in his field. He applied to a top-rated university in the Northeast, but when it was time to send his school transcripts, Temple froze him out. "They said as long as I was in default on my loans, they would not issue a transcript!" says Rodriguez.

A spokesman from Temple confirms that it is school policy to withhold official transcripts from graduates who are in default on their student loans
Ah, so it's not your degree.  It's theirs.
Even though they suffered no loss and no injury if/when you default, they reserve the right to retroactively add terms and conditions to that degree after the program of study is completed.
This would be considered fraud were we to live in a land with the rule of law, and if undertaken in concert with others (like The Department of Education, which "encourages" this practice) Racketeering.
But we don't live in a land that follows the rule of law.  There is no law.  There is only might, and the ivory tower that is unworthy of a single nickel of your money or respect.  In fact, you ought to be urinating on that tower, not attending a class in it.
After all, it's not your degree that you earned, it's theirs and they can withdraw or withhold it at any time for any reason that they decide to conjure up later on, even though you did not agree to any such set of terms when you first undertook your course of study.
My answer to this entire "industry" is best-encompassed in the following nine seconds:
Wake up America.