Archive for the 'Consumer Prices' Category
There's no problem with food and energy prices going up…. right?
The Consumer Price Index for All Urban Consumers (CPI-U) increased 0.6 percent in September on a seasonally adjusted basis, the U.S. Bureau of Labor Statistics reported today. Over the last 12 months, the all items index increased 2.0 percent before seasonal adjustment.

For the second month in a row, the substantial increase in the all items index was mostly the result of an increase in the gasoline index, which rose 7.0 percent in September after increasing 9.0 percent in August. The other major energy indexes increased in September as well.
That'll leave a mark.
Let's have a look inside at the unadjusted figures.
Notables are Dairy, fruits and vegetables, up 0.5% and 0.4% respectively, while meats and cereals were each down a similar amount.  Non-alcoholic beverages were up 0.7% on the month, which is a curious change.
Energy commodities were up in a seirous way, other than piped gas and electricity; all sorts of fuels were up 4.1% (again, unadjusted.)  And all items less food and energy, unadjusted, was up 0.3%, not 0.1%, which is a 3.7% annualized rate of increase in core.
Apparel was up 4.1% while used vehicles were down 2.1%.  Demand problem?  Hmmm….
Finally, physicians and hospitals were up 0.4 and 0.5%, respectively, on the month.
If you want to see real stunners, look in the detail tables.  Women's clothing was up a shocking 24.2% on the month for outerwear and 13.4% for dresses (!)  Girls wasn't much better, up 10.1%.  It appears that whatever the "new fashion" game may be for this fall the clothing designers are screwing women in a big way; my recommendation would be to not bite on that bait.
Another interesting internal indication in the data is that car and truck rental prices were down over 7% on the month; this maybe an indication of travel softness.  These figures have been weak for the last year, and this is a rather notable secondary indication on business travel in particular.
Inflation has been picking up since the recession ended in 2009.  The problem with the CPI increasing year over year with no rise in household incomes is that the standard of living for most Americans erodes every year that incomes do not keep up.  Household incomes are back to levels last seen in the mid-1990s while the cost of necessities has gone up.  This brings us to our article today that examines the nuts and bolts of what constitutes the Consumer Price Index (CPI).  The CPI attempts to measure the changes in price for consumer goods and services.  Overall it did a very poor job of measuring the housing bubble because of the owner's equivalent of rent metric.  Today, it is understating inflation because of the excess spending on "wants" that occurred in the 2000s has now shifted to spending on "needs" but is being dragged down by the amount of family spending on needed goods.  We will dig deep into this data but suffice it to say that the Fed is creating inflation in items most Americans actually need to live their daily lives and the burden on the poor is actually increasing.
Do not believe the talk that inflation is nonexistent
Even a one percent rate of inflation is troubling if incomes are stagnant or falling.  Since the recession has ended inflation has occurred even as measured by the CPI: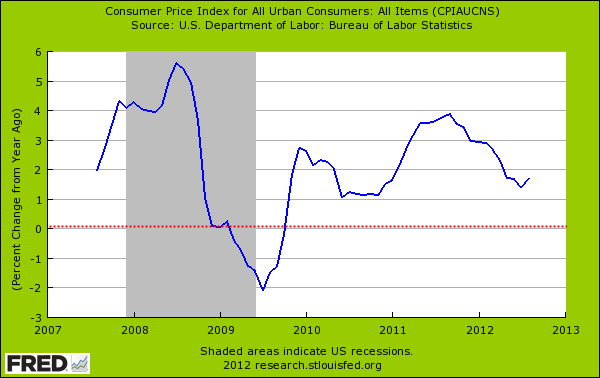 Over this same timeframe, household incomes have remained stagnant and household net worth has fallen close to 40 percent.  Yet there is something more troubling in the actual data.  The inflation rate is actually being understated because Americans have shifted consumption from non-essential goods to actually seeing inflation in things that they actually need.  In the 2000s spending on wasteful items was rampant and much of it came because of the easy access to debt.  Yet with 100 million credit cards being yanked out of the system, this spending has fallen dramatically.  So where exactly is the inflation occurring?
Change in Family Spending: 2007 – 2011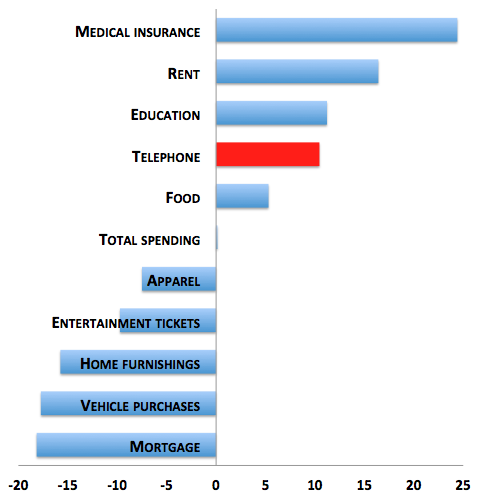 Source:  The Atlantic
This is a very important chart to examine.  What we find is that family spending has gone up on items that are daily needs.  The biggest change has occurred on medical insurance and rents.  The cost of rents going up has come thanks to the financial system allowing million of properties to be held off the market thus allowing prices to be pushed up as the population grows.  The price of rents going up isn't a sign that incomes are going up but a troubling fact that Americans have to allocate more of their funding to housing.  Of course, this is hitting working, middle class, and younger Americans hardest who actually do not own a home.
Read the rest at: My Budget 360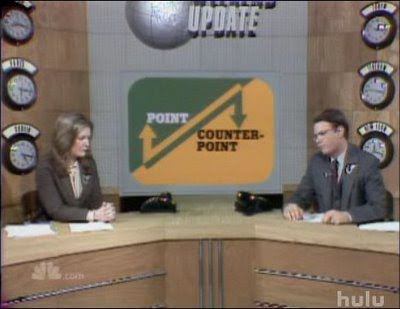 This afternoon Bernanke strode to the lectern and delivered a speech including this ditty:
But today I want to focus on a role that is particularly identified with the Federal Reserve–the making of monetary policy. The goals of monetary policy–maximum employment and price stability–are given to us by the Congress.
Notice those bolded words – price stability.
These goals mean, basically, that we would like to see as many Americans as possible who want jobs to have jobs, and that we aim to keep the rate of increase in consumer prices low and stable.
There is the lie; you just witnessed Ben Bernanke take words from a Statute – an actual law – and lie through his teeth about what they say.
This is the actual language in The Federal Reserve Act:
The Board of Governors of the Federal Reserve System and the Federal Open Market Committee shall maintain long run growth of the monetary and credit aggregates commensurate with the economy's long run potential to increase production, so as to promote effectively the goals of maximum employment, stable prices, and moderate long-term interest rates.
STABLE means unchanging.  It does not mean "the rate of increase in consumer prices (is) low and stable" – it means the target rate of change in consumer prices is zero.
This is the "Grand Lie" told by Bernanke, by Greenspan and by those who came before them.  It is an active and intentional act of law-breaking by every single member of the FOMC and has been serially since 1913!
Congress could change the law.  It could specify that inflation should be "low and stable."  But Congress said no such thing.  Congress mandated stable prices, not "slowly-increasing" prices.
And let's not kid ourselves as to the actual impact of such a policy.  The so-called "2%" inflation rate that is allegedly "low and stable" sounds like it's a pretty harmless thing.  After all, how can 2% hurt you?
Well, over 100 years, what does 2% inflation turn a $100 item into?  If you said $100 + ($2 (2% of $100) * 100), or $300, you're wrong.  Because an inflation rate is an exponential function that item will cost $710.26 100 years down the road.
In point of fact, however, the actual inflation rate has been approximately 3%, not 2%.  That doesn't sound like such a bad "miss", does it?
Well that same $100 item under a 3% inflation rate costs $1,865.89 100 years hence.
Do you still think this theft of saved funds is "no big deal" when in fact all you're left with of that $100 100 years hence in terms of purchasing power is about $5.36?
I believe that the original Coinage Act's provisions (passed in 1792), which proscribed death for intentional debasement of the currency, is the correct sanction for such treachery.
But despite the fact that there is currently no penalty clause of any sort in The Federal Reserve Act does not change the essential character of what Ben Bernanke and the FOMC are doing.
They are intentionally violating the law.
Now let's talk about the other essential claim that Bernanke made today:
In normal circumstances, the Federal Reserve implements monetary policy through its influence on short-term interest rates, which in turn affect other interest rates and asset prices.1 Generally, if economic weakness is the primary concern, the Fed acts to reduce interest rates, which supports the economy by inducing businesses to invest more in new capital goods and by leading households to spend more on houses, autos, and other goods and services. Likewise, if the economy is overheating, the Fed can raise interest rates to help cool total demand and constrain inflationary pressures.
How does lowering interest rates "lead households to spend more on houses, autos and other goods and services"?
Lowering interest rates doesn't make your wages go up, so you can't spend more from your earned income.
No, it leads you to spend more by borrowing more money.
But borrowing to consume is in general foolish.
To begin with the more money you have chasing goods and services the more they cost!  This is economics 101, and applies to everything.  Take a look at college costs over the last 30 years if you don't believe me and explain how Calculus has changed in that 30 years, and why it should cost five times (in inflation-adjusted dollars) as much to learn it today in college as it did in 1982.  There is only one reason this happened — too many dollars chasing too few goods and services.
As a result borrowing to consume is self-defeating as you wind up driving the price higher, which then leaves you in a position where you have to borrow even more!
That would be bad enough if it was the only thing that screws you when you engage in this behavior.
But it's not.
In fact, there are two other problems which are at least as serious and combined are much more-so.
The first is that when you buy a good or service today instead of tomorrow you inherently overpay for it compared to tomorrow's price.  This is due to the fact that human ingenuity continually improves productivity.  Consider the lowly handheld calculator.  If you want one today they're $3 at WalMart.  How much did they cost 30 or 40 years ago?
This is admittedly an extreme example, but far-less extreme examples abound.  A DVD player was $500 just a few years ago.  A couple of years later they were $100.  Now they can be had if you shop carefully for under $50.  Your desire to have it "right now" meant you paid more and got less.  This is perfectly fine provided you can afford to pay for the item with your current economic surplus (savings or current wages) but if you borrowed to own it then you overpaid twice — once because you drove up the price by chasing the goods and then again because you failed to take advantage of waiting for productivity improvements to lower the cost — and thus price.
Most people do understand this cost and accept it in the name of vanity, keeping up with the Joneses or whatever.  But it is the other cost — that is, interest — that is truly insidious.
See, when a loan is made even if the law is followed (and it is not) and actual capital is lent out that was previously acquired (and it is not) the interest that you are going to have to pay in the future does not exist in the economy.
Get this straight folks – it doesn't exist.
Now you can look at this situation in isolation — as "just you" — and shrug.
And you might get away with that.
For a while.
But 2008 showed us what happens when too many people shrug for too long.  When too many people borrow to spend now rather than spend what they can afford with current production and save some percentage of their income back to form capital eventually you hit the wall because the interest that was never created to pay the debts doesn't exist, and eventually someone raises their hand and says "this is a Ponzi scheme — credit must expand exponentially for everyone to be able to pay, which means it won't — and can't — go on forever.  I quit — give me my money NOW!"
The music stops and there are not enough chairs.
What government and The Fed have done since is not a solution.  It was and is a scam. It is an attempt to sell you on the premise that the bad debts that were taken on and left people without chairs can continue to exist and be serviced by the government running huge budget deficits.
This is a lie and it is trivially provable that it is a lie.
If the economy has 10,000 units of production and 10,000 units of credit and currency in it, and the government emits another 1,000 units of credit and currency nothing has changed other than the fact that each unit of production now requires more credit or currency to buy than it did before!
This is exactly identical mathematically to the government increasing taxes by the precise same amount without telling you it has done so! 
In fact, the government can and has lied to you and told you it has and is cutting taxes while in fact it has raised them!
But what happens when you raise taxes in this fashion?  The cost of employing people goes up and the number of employed people goes down.
And what has happened?
Exactly that.
Now how do you increase government funding and thus maintain the deficit spending if you can't put people back to work?
You can't.
The premise that Bernanke, Bush and Obama all operated on is that by spending in deficit they could con you into restarting the exponential borrowing charade.  Four years on we now know this strategy has failed; there are simply not enough qualified and willing borrowers in the economy to take on yet another exponential load of debt ($54 trillion, approximately, this time around) to run another "cycle" of this Ponzi scheme.
But if we keep this charade up for too long, since we have now centered the gross increase in borrowings in the Federal Government, and hit that wall, the government collapses.
That is what we now face, and the only question is how far we are away from disintegration of our society, government, economy and mass unemployment.
Bernanke said much else in his speech today, but these are the only two items that matter.  The rest was nothing more than arm-waving, and I'm quite sure he hopes you didn't catch his dissembling right up front — if anyone did, it certainly wasn't evident in the questions that were asked.
Wake up America.
And I don't say that lightly.  You can pay attention to the stock market all you like, but the REAL economy, the one that means something to YOU, is on the brink of collapse.  The following are reports that matter, measurements of goods and services and their respective prices at the ground level.
**********************************************************
Chicago PMI (Purchasers Management Index): Here It Comes!
This presages a nasty official ISM next week… (ISM = Institute for Supply Management)
"The Chicago Purchasing Managers reported September's Chicago Business Barometer fell to 49.7, its lowest level in three years…… Prices Paid showed the biggest gain in nearly two years."
This isn't good folks and serves as confirmation of what I've been saying for a while on the leading indicators I watch – recession is baked in the cake and it's too late to "fix it."
The markets have not priced this in but they're sure dumping on this today, with the DOW down triple digits and the SPX down 10 (so far.)
Employment in the survey is at a 2-1/2 year low, new orders, backlogs and supplier deliveries have their 3-month moving averages at the lowest levels since mid-2009.
Remember that mid-2009 was the alleged floor, which means we're now at levels that are at the worst they were before we allegedly turned the corner.
Production in the report remained positive, but new orders is not, backlogs turned last month below 50 and remained there this month, inventories are flat, employment is just barely positive (and for Chicago this is terrible — that economy is typically VERY resiliant) and prices paid ramped, reflecting commodity price increases.
How can this be?  It's simple, really — you were lied to.  Repeatedly.  Intentionally.  For the explicit purpose of goading you into overspending and borrowing (again) so that the banksters and politicans would not have to face the truth.
They failed, because arithmetic doesn't care about politics.
It just is.
We blew it folks.  We, the people blew it.
We have serially refused to hold our politicians to account.  We have refused to insist on jailing the banksters and putting a stop to the scams, from HFT on down the line.  We are cheering for the Party of Frauds on both sides of the aisle instead of demanding that someone, anyone, step forward with the truth.  We think it's all ok when the number of people on food stamps reaches an all-time high and a sudden ramp in "disabled" people is acceptable (who weren't disabled just a few years ago when jobs were easier to come by.)
The bill is on the table for our idiocy, especially our fiscal and monetary policy idiocy, and the waiter is tapping his foot.
Discussion below (registration required to post)
***************************************************************************
Personal Income And Spending: What's That Smell?
Personal income increased $15.0 billion, or 0.1 percent, and disposable personal income (DPI) increased $12.5 billion, or 0.1 percent, in August, according to the Bureau of Economic Analysis. Personal consumption expenditures (PCE) increased $57.2 billion, or 0.5 percent.  In July, personal income increased $18.5 billion, or 0.1 percent, DPI increased $15.4 billion, or 0.1 percent, and PCE increased $45.4 billion, or 0.4 percent, based on revised estimates.

Real disposable income decreased 0.3 percent in August, in contrast to an increase of 0.1 percent in July.  Real PCE increased 0.1 percent, compared with an increase of 0.4 percent.
Ouch.
But, is this a surprise?
See that nasty downturn on the right side of the chart?  That's what you're seeing above; that's about a 3.5% annualized decrease, which is exactly what the above shows.
The reason you didn't see that chart track during the 2000s is that during that time period we goaded people into borrowing against their home in ever-large increments.  But now we're out of people who can (and will) add more debt leverage on the consumer side and government deficit spending cannot substitute for this as all such spending is simply an immediate tax that is funded through purchasing power depreciation.
And just as in the 2000s the personal "savings" rate (income less outlays, which means that paying down debt counts as "saving") has dropped under 4%.  Capital formation continues to be destroyed.
We're in big trouble folks…..
***********************************************************************
Retail Sales: BIG Gas Sales Increase
The U.S. Census Bureau announced today that advance estimates of U.S. retail and food services sales for August, adjusted for seasonal variation and holiday and trading-day differences, but not for price changes, were $406.7 billion, an increase of 0.9 percent (±0.5%) from the previous month and 4.7 percent (±0.7%) above August 2011. Total sales for the June through August 2012 period were up 4.0 percent (±0.5%) from the same period a year ago. The June to July 2012 percent change was revised from 0.8 percent (±0.5%) to 0.6 percent (±0.2%).
Bah, really.
If you believe the seasonal adjustments then of the $3,572 (millions) increase $2,387, or two thirds was gasoline.
And that's not an increase in driving, it's increases in price.
Oh, and of the rest nearly all of it was car sales.
Discussion (registration required to post)
***********************************************************************
CPI: Some Like It Smoking Hot
And here comes the consumer price increases!
The Consumer Price Index for All Urban Consumers (CPI-U) increased 0.6 percent in August on a seasonally adjusted basis, the U.S. Bureau of Labor Statistics reported today. Over the last 12 months, the all items index increased 1.7 percent before seasonal adjustment.

The seasonally adjusted increase in the all items index was the largest since June 2009. About 80 percent of the increase was accounted for by the gasoline index, which rose 9.0 percent and was the major factor in the energy index rising sharply in August after declining in each of the four previous months.
It didn't rise, it skyrocketed.
Energy as a whole was up 4% on the month, with a 7.2% increase in motor fuels.
Oh yeah, and QE doesn't tend to make oil prices go up, does it?  Well let's see — as I drove my kid to school this morning I noted that overnight fuel prices were up six cents, or about 1-1/2%.
But don't worry, "core" inflation is contained.
Of course nobody we know buys gasoline or food, right?
*****************************
All over America the corn is dying.  If drought conditions persist in the middle part of the country, wheat and soybeans will be next.  Weeks of intense heat combined with extraordinarily dry conditions have brought many U.S. corn farmers to the brink of total disaster.  If there is not significant rainfall soon, many farmers will be financially ruined.  This period of time is particularly important for corn because this is when pollination is supposed to happen.  But the unprecedented heat and the extremely dry conditions are playing havoc with that process.  With each passing day things get even worse.  We have seen the price of a bushel of corn soar 
41 percent
 since June 14th.  That is an astounding rise.  You may not eat much corn directly, but it is important to realize that corn or corn syrup is just about in everything these days.  Just look at your food labels.  In the United States today, approximately 75 percent of all processed foods contain corn.  So a huge rise in the price of corn is going to be felt all over the supermarket.  Corn is also widely used to feed livestock, and if this crisis continues we are going to see a significant rise in meat and dairy prices as well.  Food prices in America have already been rising at a steady pace, and so this is definitely not welcome news.
The weather conditions in the middle part of the country during the last couple of months have been highly unusual.  The following is from a recent article in the Los Angeles Times….
It's not that the Midwest hasn't been extremely hot before, and it's not that it hasn't been incredibly dry.

But it's unusual for a vast swath of the Midwest to be so very hot and so very dry for so very long — particularly this early in the summer.

The current heat wave — which is spurring comparisons to the catastrophic heat of 1936 –  is "out of whack," meteorologist Jim Keeney said Friday in an interview with the Los Angeles Times.
Corn crops typically pollinate and mature in June and early July.  That is why this time of the year is so vitally important for corn.  We have reached a make it or break it moment.
The following is how an Accuweather.com report described what is happening right now….
Either heat or drought can stress the stalks, but both can basically shut down the pollination process. When this happens few, small or no ears of corn form.

According to AccuWeather.com Agricultural Meteorologists, you can't raise a corn crop with less than an inch of rain over six weeks, combined with 100-degree and higher temperatures. However, these conditions have taken place in much of the southern corn belt through the week of July 4, 2012.
If pollination does not happen, corn farmers might as well give up.
Just check out what agricultural economist Chris Hurt said the other day….
"Pollination problems just can't be overcome, even if the weather turns. There's no turning back. There's just failure."
At this point, half of all corn in the state of Indiana is already in poor shape.
With each passing day, the condition of the corn gets even worse.
As a recent article in the Chicago Tribune detailed, many farmers feel completely helpless at the moment….
Dave Kestel, who farms about 1,300 acres in Manhattan about 40 miles southwest of Chicago, said he feels helpless.

"Every day you get out there and it's the same heat and cloudless sky," he said. "You see your corn just withering out there, knowing you can't do anything about it."
The United States is suffering from a severe lack of rain.  Just look at the chart posted below.  According to the U.S. Drought Monitor, most of the country is experiencing drought conditions right now….
These drought conditions have also played a major role in the huge number of wildfires that we have seen lately.
There are a few northern states that are not feeling the drought right now, but otherwise the rest of the country is extremely dry.
So what does all of this mean for you and I?
A recent article by Holly Deyo summarized why we should all be praying for rain….
Since 75% of grocery store products use corn as a key ingredient, expect food prices to skyrocket. Corn is also a staple in many fast foods. Corn is in ethanol and the main food source or chickens. In addition to this, maize is in many things that aren't obvious like adhesives, aluminum, aspirin, clothing starch, cosmetics, cough syrup, dry cell batteries, envelopes, fiberglass insulation, gelatin capsules, ink, insecticides, paint, penicillin, powders, rugs and carpets, stamps, talcum, toothpaste, wallpaper, and vitamins. That's just for starters…

This is a huge heads up for you to purchase corn-using products NOW before these conditions reflect in grocery goods. It will be a narrow window of opportunity.
These thoughts are being echoed by many agricultural economists as well.  According toBusinessweek, the outlook for U.S. food prices is bleak….
"When people look at rising prices for hamburger, butter, eggs and other protein sources from higher corn costs, that's when more money ends up in the food basket," said Minneapolis- based Michael Swanson, a senior agricultural economist at Wells Fargo & Co., the biggest U.S. farm lender. "We were hoping for a break, and we aren't going to get it."
Unfortunately, the fact that the corn is dying all over America is not just a problem for the United States.
As Businessweek also recently noted, the fate of U.S. corn affects the entire globe….
When rain doesn't fall in Iowa, it's not just Des Moines that starts fretting. Food buyers from Addis Ababa to Beijing all are touched by the fate of the corn crop in the U.S., the world's breadbasket in an era when crop shortages mean riots.

This year they have reason to be concerned. Stockpiles of corn in the U.S. tumbled 48 percent between March and June, the biggest drop since 1996, the U.S. Department of Agriculture said last week. And that was before drought hit the Midwest.
The United States is the world's biggest exporter of corn by far, and if there is a massive corn crop failure in America it is going to be felt to the four corners of the earth.
Just check out what Abdolreza Abbassian, a senior economist with the U.N. Food & Agriculture Organization, said the other day….
"Everyone watches the U.S. because they can rely on it. Without it, the world would starve."
Back in February, I wrote an article that suggested that we could see dust bowl conditions return to the middle part of this country in the years ahead.
A lot of people were skeptical of that article.
Not quite as many people are skeptical today.
The following is from a recent article posted on MSNBC entitled "Fears of new Dust Bowl as heat, drought shrivel corn in Midwest"….
Crop insurance agents and agricultural economists are watching closely, a few comparing the situation with the devastating drought of 1988, when corn yields shriveled significantly, while some farmers have begun alluding, unhappily, to the Dust Bowl of the 1930s. Far more is at stake in the coming pivotal days: with the brief, delicate phase of pollination imminent in many states, miles and miles of corn will rise or fall on whether rain soon appears and temperatures moderate.
As I wrote about last week, if the weather does not turn around soon the implications are going to be staggering.
Even if we got some significant rainfall at this point a tremendous amount of damage has already been done according to the Washington Post….
Jay Armstrong, owner and operator of Armstong Farms in Kansas, flew his small plane over a portion of the affected area and landed with the impression that the potential damage is far worse than is commonly understood.

"At this time of year, when you look down in a place like Indiana or Illinois, you should see just lush green fields," Armstrong said. "I saw bare soil. I just thought to myself, the market has no idea what's coming."
So is there significant rain in the forecast?
Unfortunately, the answer is no.
The National Weather Service says that the corn belt will experience "above-normal temperatures" and "below-normal rainfall" over the next week.
At this point it does not look like there will be any significant rainfall for the foreseeable future….
"We got a break in the temperatures over the weekend but no rain of significance is in sight for next seven days," said Jim Keeney, a meteorologist for the National Weather Service the US central region based in Kansas City, Missouri.
Needless to say, that is really bad news.
Right now we just have more heat and more dryness to look forward to.  The skies are like iron and the earth is like brass.  We like to think that we have conquered nature, but at moments such as these we see that is not true at all.
A couple of weeks ago I wrote an article about all of the reasons why we should be concerned aboutthe second half of 2012.  In that article I did not even mention drought and crop failures.  Sometimes major problems have a way of piling on top of themselves.
The U.S. economy is already in bad enough shape without adding major crop failures to the mix.  This is something that we just don't need right now.
But it looks like we are going to have to deal with it.  Unless there is a major change in the weather, food prices are going to go up even more and large numbers of farmers and ranchers are going to be absolutely devastated.
Let us all pray for rain.  We desperately need it.