Archive for the 'Consumers' Category
The stock market is not crashing yet, but there are lots of other market crashes happening in the financial world right now.  Just like we saw back in 2008, it is taking stocks a little bit of extra time to catch up with economic reality.  But almost everywhere else you look, there are signs that a financial avalanche has begun.  Bitcoins are crashing, gold and silver are plunging, the price of oil and the overall demand for energy continue to decline, markets all over Europe are collapsing and consumer confidence in the United States just had the biggest miss relative to expectations that has ever been recorded.  In many ways, all of this is extremely reminiscent of 2008.  Other than the Bitcoin collapse, almost everything else that is happening now also happened back then.   So does that mean that a horrible stock market crash is coming as well?  Without a doubt, one is coming at some point.  The only question is whether it will be sooner or later.  Meanwhile, there are a whole lot of other economic crashes that deserve out attention at the moment.
The following are 11 economic crashes that are happening RIGHT NOW…
#1 Bitcoins
As I write this, the price of Bitcoins has fallen more than 70 percentfrom where it was on Wednesday.  This is one of the reasons why I have never recommended Bitcoins to anyone.  Yes, alternative currencies are a good thing, but there are a lot of big problems with Bitcoins.  Why would anyone want to invest in a currency that could lose 70 percent of its purchasing power in just two days?  Why would anyone want to invest in a currency where a single person can arbitrarily decide to suspend trading in that currency at any time?
An article by Mike Adams of Natural News described some of the things that we have learned about Bitcoins this week…
#1) The bitcoin infrastructure cannot handle a selloff. Once the rush for the exits gains momentum, you will not be able to get out. Only those who sell early will be able to exit the market.

#2) The bitcoin infrastructure is subject to the whims of just one person running MTGox who can arbitrarily decide to shut it down whenever he thinks the market needs a "cooling period." This is nearly equivalent to afinancial dictatorship where one person calls the shots.

#3) Every piece of bad news will be "spun" by exchanges like MTGox into good-sounding news. As bitcoin was crashing yesterday by 60% in value in mere hours, MTGox announced it was a "victim of our own success!" So while bitcoin holders watched $1 billion in market valuation evaporate, MTGox called it a success. Gee, then what would you call it when bitcoin loses 99%? A "raging" success?
#2 Gold
The price of gold was down by about 4 percent on Friday.  Gold has now fallen below $1500 an ounce for the first time since July 2011.  Overall, the price of gold has fallen by about 10 percent since the beginning of the year, and it is about 22 percent below the record high set back in September 2011.
Yes, the price of gold is likely being pushed down by the banksters.  And yes, gold is a fantastic investment for the long-term.  But there will be times when the price of gold does fall dramatically just like we saw back in 2008.
#3 Silver
The price of silver fell by about 5 percent on Friday.  If it falls much more it is going to be at a level that presents a historically good buying opportunity.
Just like gold, there will be times when the price of silver swings dramatically.  But the truth is that silver is probably an even better long-term investment than gold is.
#4 Oil
The price of oil declined by about 3 percent on Friday.  Many will consider this a positive thing, but just remember what happened back in 2008.  Back then, the price of oil dropped like a rock.  If the price of oil gets below $80, that could very well be a clear signal that a major economic crisis is about to happen.
#5 Consumer Confidence
As I mentioned above, consumer confidence in the U.S. just had its biggest miss relative to expectations that has ever been recorded.  The following is from an article posted on Zero Hedge on Friday…
Well if this doesn't send the market into all-time record high territory, nothing ever will: seconds ago the UMich Consumer Confidence plummeted from 78.6 to 72.3, on expectations of an unchanged 78.6 print. This was not only a 9 month low in the index, but more importantly the biggest miss to expectations in recorded history!
#6 Retirement Accounts
According to Wells Fargo, the number of Americans taking loans from their 401(k) accounts has risen by 28 percent over the past year…
Through an analysis of participants enrolled in Wells Fargo-administered defined contribution plans, the bank announced today that in the fourth quarter of 2012, there was a 28 percent increase in the number of people taking loans out from their 401(k) and that the average new loan balances increased to $7,126 from those taken out in the fourth quarter of 2011 – a 7% increase from $6,662.

Of the participants who took out loans, the greatest percentage were to people in their 50s (34.2%), followed by those in their 60s (28.9%) and then by those in their 40s (27.3%). The increase among participants in their 50s was nearly double the increase among those under 30. This is based on an analysis of a subset of 1.9 million eligible participants in retirement plans that Wells Fargo administers.

"The increased loan activity particularly among older participants is concerning because those are the years when workers can start to make 'catch-up' contributions and really need to focus on preparing for retirement," said Laurie Nordquist, director of Wells Fargo Retirement.
#7 Casino Spending
Casino spending is declining again.  Many people (including myself) would consider this to be a good thing, but casino spending is also one of the most reliable indicators about the overall health of the economy.  Remember, casino spending crashed during the last financial crisis as well.  That is why it is so alarming that casino spending is now back to levels that we have not seen since the last recession.
#8 Employment In Greece
Over in Europe, things just continue to get worse.  According to numbers that were just released, the unemployment rate in Greece has soared to27.2 percent, which was up from 25.7 percent the previous month.  That means that the unemployment rate in Greece rose by 1.5 percent in just a single month.  That is not just a crash – that is an avalanche of unemployment.
#9 European Financial Stocks
European financial stocks have been hit particularly hard lately.  And for good reason actually – most of the major banks in Europe are essentially insolvent at this point.  This week, European financial stocks fell to seven month lows, and this is probably only just the beginning.
#10 Spanish Bankruptcies
According to Reuters, the number of Spanish companies going bankrupt has risen by 45 percent over the past year…
A record number of Spanish companies went bust in the first quarter of 2013 as companies remained under intense pressure from tight credit conditions and meager demand, a study showed on Monday.

The 2,564 firms filing for insolvency proceedings in first three months of the year was a 10 percent rise from the previous quarter and a 45 percent increase on the same period in 2012, the survey by credit rating agency Axesor said.
#11 Demand For Energy
Just like we saw back in 2008, the overall demand for energy in the United States is falling rapidly.  There are some shocking charts that prove this that were recently posted on Zero Hedge that you can find right here.
Yes, it is good for people to use a bit less energy, but it is also a clear indication that economic activity is really starting to slow down.
But despite everything that you have just read, the Dow and the S&P 500 have been setting new record highs.
And if you listen to the mainstream media, you would think that thisstock market bubble can continue indefinitely.
Fortunately, there are a few voices of reason out there.  For example, just check out what Marc Faber recently told CNBC…
In the near-term, the U.S. stock market is overbought and adding that any more near-term gains portend big trouble for the market, "The Gloom, Boom & Doom Report" publisher Marc Faber told CNBC on Monday.

"If we continue to move up, the probability of a crash becomes higher," Faber predicted in a "Squawk Box" interview, saying it could happen "sometime in the second half of this year."
As I have written about previously, a bubble is always the biggest right before it bursts.  I hope that we still have at least a little bit more time before it happens, but I wouldn't count on it.
The economic fundamentals tell us that the stock market should be plunging, not rising.  At some point the boys over on Wall Street will get the message and the market will catch up to reality very, very rapidly.
But for the moment, the American people are feeling really good.  According to CNN, Americans are now more optimistic than they have been in six years…
As the stock market continues to show record highs, the number of Americans who say things are going well in the country has reached 50% for the first time in more than six years, according to a new national survey.
So what do you think will happen for the rest of the year?
Do you think that the good times will continue to roll, or do you believe that the bubble is about to burst?
Employment is dead in the water because opportunities for organic expansion are few and the cost basis of doing business in the U.S. keeps rising.
Let's start by reviewing the basics of employment in the U.S. Courtesy of the St. Louis Federal Reserve, here is the noninstitutional civilian population of the U.S. (Note that the Civilian Noninstitutional Population With No Disability, 16 years and over (LNU00074593)–roughly speaking, the workforce of the nation– is 215 million).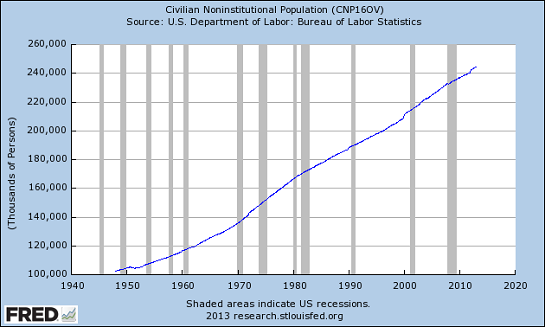 Here is the percentage of the population with some kind of job: note this could be self-employment that earns $1,000 a year or a job with 4 hours a week; recall that 38 million American workers earn less than $10,000 per year, 50 million earn less that $15,000 a year and 61 million earn less than $20,000 annually. All these numbers are drawn directly from Social Security Administration payroll data.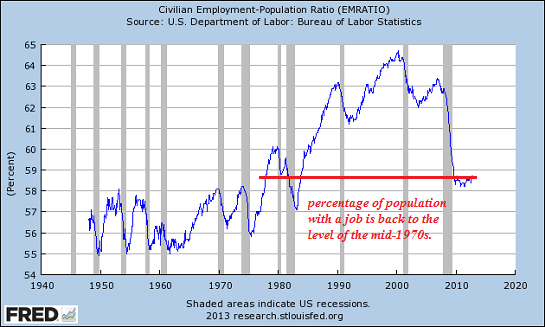 Here is real (adjusted) gross domestic product (GDP), which includes government spending: (in other words, as you borrow-and-blow trillions of dollars, GDP rises).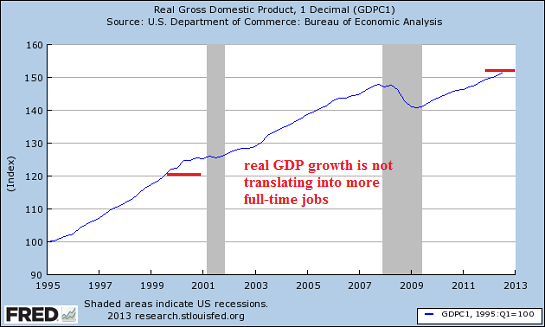 Unfortunately, employment hasn't risen along with the population or the GDP:the only metric with any meaning is full-time employment, as self-employed and part-time jobs may pay a few thousand dollars a year and should not be included in the same category as full-time jobs.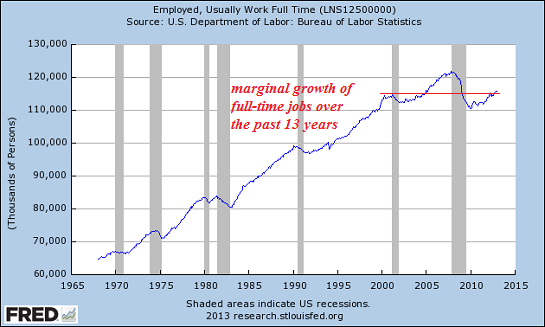 In sum: the population and GDP have both expanded smartly since 2000, but full-time employment has barely edged above levels reached 13 years ago.
Academic economists and political progressives would have us believe that the only thing restraining employers from hiring millions more people is lack of access to cheap credit.
The explicit assumption here is that cheap credit is all employers need to expand their workforce. This is so out of touch with reality that it beggars description. Progressives and academic economists generally claim the Federal Reserve's zero-interest policy (ZIRP) and its other policies of flooding the economy with liquidity "are working," i.e. boosting the economy.
Here is what the Fed's policies are boosting: financial sector profits Please compare this chart with the chart above of full-time employment, and then decide where the Fed's free money/easy credit is flowing.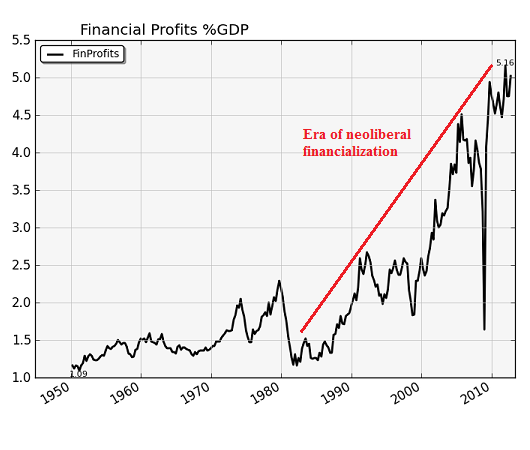 Here are financial profits per capita: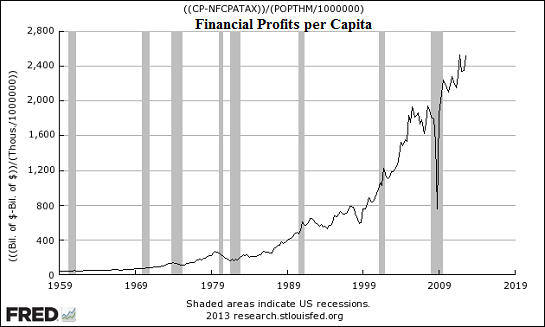 The only way to understand why employment is dead in the water is to stand in the shoes of a potential employer or entrepreneur. Remarkably, this perspective is unknown to economists and progressive politicians because they have never been an employer (and no, hiring a grad student to grade papers or an illegal nanny to watch your kids does not make you an employer.)
I have described this vast divide between small business employers, entrepreneurs and the self-employed and those working in government or Corporate America as one of the least explored social/economic divisions in the nation.
Those who have spent their careers in government or academia have little idea what it takes to hire more people. Number one is a business with strong demand for one's products or services. In a developed world with too much of everything except energy, that is no small challenge: the world is awash in over-capacity in every field except niche industries such as deepwater oil rigs.
Second, you need a process that generates so much value (specifically surplus value) that you will generate immediate profits by hiring more people.
If the value added by additional labor is low, then you have no reason to hire more employees, even if Ben Bernanke personally knocked on your door begging you to borrow a couple million dollars at low rates of interest.
If an additional unskilled worker will cost $10 an hour and might generate $100 a day in additional gross revenues, that is $20 in gross profit. But the overhead costs of operating a business are rising faster than inflation: junk fees imposed by cities, counties and states, workers compensation and disability premiums, healthcare costs (if you hire full-time workers), energy costs, and so on.
For most businesses, overhead costs 50% to 100% of total employee compensation–wages plus benefits and payroll taxes. So adding another employee to gross 20% more doesn't make it worthwhile–it actually generates a loss once overhead costs are paid.
The only time it makes sense to hire another worker is if that worker will create 100% or more surplus value from their labor. For example, a worker paid $200 a day in total compensation generates $400 more in gross revenues–enough to not only support the added overhead but net the business a profit.
In a global economy, competition constantly lowers the premium most businesses can charge. That places most businesses in the vice of declining gross margins and higher labor/ overhead costs. The only way to stay solvent is to grow revenues and slash costs so declining gross margins are still enough to pay the bills and leave some return on capital/time/risk invested.
Cheap credit doesn't create surplus value, increase gross margins or get rid of over-capacity. It is a financial non-sequitur for all but a relative handful of enterprises. The only firms interested in borrowing money for expansion are those relative few in sectors that are not burdened with overcapacity. That might include oil services, network security and a handful of others.
But high-margin sectors such as technology either get funding from venture capital or their high margins generate enough income to fuel expansion without taking on debt.
The only companies borrowing vast sums of money are those paying off higher-cost existing debt with new cheap-credit loans. The savings from lower interest payments don't flow to new hires, they flow to the bottom line and from there to executives, owners or stock buybacks that boost the portfolios of institutional owners.
Employment is dead in the water because opportunities for organic expansion are few and the cost basis of doing business in the U.S. keeps rising. That vise forces businesses large and small to reduce labor costs while boosting productivity. There is no other way to stay solvent in a post-bubble, over-capacity, over-indebted consumerist economy awash in too much of everything but energy, common sense and fiscal prudence.
Charles Hugh Smith – Of Two Minds
I stared at this yesterday when it first hit my screen in disbelief.  They actually ran this crap?
While the most sweeping provisions of the health care overhaul have not yet gone into effect, plenty of Americans will still be paying higher insurance premiums this year — as insurance companies try to preemptively cover the cost of a tax increase included in President Obama's Affordable Care Act.

That tax doesn't take effect until next year, when other major provisions like the so-called "individual mandate" and insurance subsidies also kick in. But that hasn't stopped insurance companies from charging higher premiums this year to cover the hike, as well as the cost of ObamaCare benefits such as free birth control and preventive care.

Premiums for individuals and small businesses are projected to increase due to the tax by roughly 2 percent this year and by as much as 3.7 percent in 2023, according to a widely cited analysis by the insurance industry.
2% and 3.7% eh?
Bah.
I have multiple reports of individual and small-group plan price hikes of 50, 60, 70, even 100% coming down this year and next.  Against that 2 or 3.7% is going to sound like a Girl Scout picnic.
The problem is that the "must-issue" and "community rating" provisions in the law are just more cost-shifting and promise to make everyone pay more, because they force everyone to buy — including those who otherwise would not.  Since there is no restraint on the services one consumes enforced by the size of your wallet there is no price feedback mechanism on the medical industry.
Couple that with the medical industry's penchant to force the 330 million Americans to pay for the development of basically everything (because most of the rest of the world steals it, either directly or by threat and thus gets the technologies for reproduction cost) and you have an intractable problem.
Remember, Obama said that health insurance costs would go down with Obamacare.
So who's have gone down?  Mine have gone up!  So has those of everyone who I know.  I have not found one person who, for like-for-like coverage, has seen costs go down, although I'm sure you will find some — for example, someone with AIDS who currently cannot afford to buy at all!
Obamacare was sold to the American public as a means of "controlling" runaway health costs.  It has done nothing of the sort; it has instead advanced that runaway, and yet we haven't even felt the full brunt of the law yet.
This is where our budget problem comes from as well.  There are plenty of people in Washington who knows this, yet you should note that there is a stony silence when it comes to discussing the root of the problem or doing anything to fix it.
Once in a while you will hear someone holler that Health Insurance companies are "ripping people off."  But that's not true — look at Tenet, with a 5.6% return on assets and a 7.6% operating margin (gross) and profit margin of 0.33%, or Cardinal with a 1.78% operating margin (!) and a 1% profit margin.  Raping the consumer?  Don't think so.
How about Merck?  Everyone hates Pharma, right?  Well, maybe you have a reason to — 23.4% operating margin and 14% net.  Or you could look at Pfizer, 31% operating margin and 15.6% net.
That's pretty damned healthy.
But let's assume you zeroed Pfizer's net — that is, you simply stole it (e.g. by taxation.)  How much difference would it make to the Federal Government's $850 billion in spending on health care last year?
Answer: About $6 billion, or well under 1%.
In other words, nothing.
That's because the problem doesn't lie there.  It lies in the cost-shifting, especially international cost-shifting.  It lies in the production of goods and servicesfor which there is no demand in the target markets at the market price, but there's plenty of demand (and thus supply) at a cross-subsidized price.
It is not so simple to say "we'll just tax the hell out of those Pharma folks!"  That will do nothing.  Likewise, you can't squeeze the provider side; there's nothing there to squeeze and blood does not flow from a stone.
So how do you get from here to where we need to go?
A couple of things have to happen — and happen now:
Cross-border cost-shifting must end immediately.  The current rubric is that we "must" let Canada, for example, have Viagra for $2/pill or "they will break patents."  The answer is "tough cookies."  We must prevent the use of the guns of government to allow these firms to wildly distort pricing across boundaries, whether state or national.
Were that to go away then anyone could buy Viagra for $2 and bring it here; the price in the US would collapse.  The makers of drugs and devices would argue that such will destroy the profit in these drugs and thus their development.
That's only true if the price in the foreign nations remains artificially depressed!
What the drug and device companies argue is that these nations tell them that if they do not sell at "their" price then the nation will break their patents and the company will get nothing.  Rather than knuckle under to extortion our answer as a nation must be this:  You can do that, but if you do our development budget will go to zero, since we cannot recover our costs.  If you take this action anyway, knowing that to be the case, there will be nothing for you to steal since the products will not exist in the first place.
The same applies to cost-shifting within provision of services.  Juanita the illegal Mexican comes here 7 months pregnant, drug and alcohol addicted, and goes into labor.  She has no money and (of course) no insurance.  The hospital is required to treat her and her newborn in the NICU, running up a $2m bill which it has no means to collect.
Then you come along with an inflamed appendix and it costs $20,000 to have it removed because $18,000 of that charge is your forced share of Juanita's care.  This is theft and it must stop right here and now — because if it doesn't the entire damned system is going to collapse.
There is no other nation on the planet that allows this sort of financial rape of their citizens to take place.  We're the only nation where it happens and we're fools.  The Democrats demagogue this issue but so have the Republicans — EMTALA, which is the law that forced this business model on hospitals, was a Reagan thing.
Without EMTALA a hospital would have rely on charitable donations for such procedures, because if it attempted to enforce such a cost-shift otherwise you would (and could!) choose to go across town to a hospital that refused to do so.  You'd pay for your procedure there instead, and rather quickly the hospital that tried to force you to buy Juanita's procedures would go out of business.
You would never accept a grocery store that charged you 10x as much as the next person in line because you looked like you had money but the person behind you did not.  This scam is performed every single day in our nation's hospitals and it, along with the above, is inflating the cost of care by a factor of five to ten over what your medical care would otherwise cost.
The bleating over how medical care is "unaffordable" and thus "requires" government help is self-inflicted. Were these distortions to be removed you could pay for your surgery with a credit card — yeah, the financing costs would be high, but you could do it.  Or you could sell your fancy rims on your ride to cover the cost of your child's birth.
This, my friends, is the root of our fiscal and competitiveness problem in America.
It is damn close to the entire budget issue that faces this nation at a Federal and State level.
We either fix it — and fix it now — or the rest of the debate about budgets and fiscal priorities simply will not make a damn bit of difference to the outcome.
Discussion below (registration required to post)
If Americans will trample one another just to save a few dollars on a television, what will they do when society breaks down and the survival of their families is at stake?  Once in a while an event comes along that gives us a peek into what life could be like when the thin veneer of civilization that we all take for granted is stripped away.  For example, when Hurricane Sandy hit New York and New Jersey there wasrampant looting and within days people were digging around in supermarket dumpsters looking for food.  Sadly, "Black Friday" also gives us a look at how crazed the American people can be when given the opportunity.  This year was no exception.  Once again we saw large crowds of frenzied shoppers push, shove, scratch, claw, bite and trample one another just to save a few bucks on cheap foreign-made goods.  And of course most retailers seem to be encouraging this type of behavior.  Most of them actually want people frothing at the mouth and willing to fight one another to buy their goods.  But is this kind of "me first" mentality really something that we want to foster as a society?  If people are willing to riot to save money on a cell phone, what would they be willing to do to feed their families?  Are the Black Friday riots a very small preview of the civil unrest that is coming when society eventually breaks down?
Once upon a time, Thanksgiving was not really a commercial holiday.  It was a time to get together with family and friends, eat turkey and express thanks for the blessings that we have been given.
But in recent years Black Friday has started to become even a bigger event than Thanksgiving itself.
Millions of Americans have become convinced that it is fun to wait in long lines outside retail stores in freezing cold weather in the middle of the night to spend money that they do not have on things that they do not need.
And of course very, very few "Black Friday deals" are actually made in America.  So these frenzied shoppers are actually killing American jobs and destroying the U.S. economy as well.
The absurdity of Black Friday was summed up very well recently in a statement that has already been retweeted on Twitter more than 1,000 times…
"Black Friday: because only in America people trample each other for sales exactly one day after being thankful for what they already have."
It has gotten to the point where it is now expected that there will be mini-riots all over the country early on Black Friday morning each year.  The following are a few examples of the craziness that we saw this year…
-"Fights break out when stores open on Black Friday"
-"Black Friday madness at Georgia Wal-Mart"
-"Black Friday Frenzy: 2 Run Down in Washington, Man Pulls Gun in Texas"
-"Black Friday 2012: Rush at Victoria's Secret Pink at Oak Park Mall in Overland Park, Kan."
-"Black Friday shoppers smash door at Urban Outfitters"
-"Black Friday Shopping Hysteria From Around The Country [PHOTOS]"
-"Disturbance leads to scare at Westroads Mall"
-"Teens In Custody After Woodland Mall Fight"
-"Boy Robbed During Black Friday Shopping At Arundel Mills"
-"Shoppers Were So Obsessed With Black Friday Deals They Left Their Infants Unattended"
Fortunately, many Americans are starting to get fed up with Black Friday.  In fact, one activist named Mark Dice actually went out and heckled Black Friday shoppers this year.  I found the following You Tube video to be very funny, and I think most of you will too…
In the end, it is not that big of a deal that people want to fight with one another to save 50 dollars on a cell phone.
But this kind of extreme selfishness and desperation could become a massive problem someday if society breaks down and suddenly millions of extremely selfish and desperate people are scrambling for survival.
With each passing day our economy is getting even weaker, and the next wave of the economic collapse is rapidly approaching.  What are people going to do when the next spike in unemployment hits us and nobody can find work?
To get an idea of where things are headed, just look at Europe.  In both Greece and Spain the unemployment rate is over 25 percent and civil unrest has become almost a constant problem in both of those countries.
So what kind of riots will we see in the United States when the economy gets much worse than it is now?
Already there are signs of social decay all around us, and most Americans are completely unprepared for what will happen if a major disaster or emergency does strike.
Sadly, the reality is that most Americans live on a month to month basis.  Most families do not have any emergency savings to speak of, and one recent poll found that 55 percent of all Americans only have enough food in their homes to survive for three days or less.
To me, that is an absolutely insane number.
We just came through a summer of extreme drought and global food supplies have dropped to a 40 year low.  Our world is becoming increasingly unstable, and the global financial system could fall apart at any time.  Most of us just assume that there will always be huge amounts of very cheap food available to us, but unfortunately that simply is not a safe assumption.  The following is from a recent article in the Guardian…
Evan Fraser, author of Empires of Food and a geography lecturer at Guelph University in Ontario, Canada, says: "For six of the last 11 years the world has consumed more food than it has grown. We do not have any buffer and are running down reserves. Our stocks are very low and if we have a dry winter and a poor rice harvest we could see a major food crisis across the board."

"Even if things do not boil over this year, by next summer we'll have used up this buffer and consumers in the poorer parts of the world will once again be exposed to the effects of anything that hurts production."
When I watch my fellow Americans trample one another to get a deal on a television or a video game, it makes me wonder what they would be willing to do if they went to the store someday and all the food was gone.
Desperate people do desperate things, and someday if there was a major economic breakdown in the United States I think the level of desperation in this country would be extremely frightening.
So what do you think?  Please feel free to post a comment with your thoughts below…
It's time we freed ourselves from needless stuff, needless calories, needless spending, needless guilt and needless derangement.
My Mom, bless her heart, drove a stake through the guilt-ridden, retail-riot needless-gift Christmas madness: "Let's not exchange gifts this year–none of us need more stuff or calories." Done! We are having a gift-free party, where the "gifts" will be the experience of conviviality and the memories.
No matter how "small" the gifts may be, the guilt-soaked onus to buy something, anything for everyone in the family/enterprise is deranging. What most households need is not more stuff but someone to haul stuff away.
Is Anybody Else Tired of Buying and Owning Stuff? (September 7, 2012). The real gift to loved ones would be freeing them of stuff they no longer use.
We as a nation are awash in stuff. Dumpsters are crammed with perfectly good food (an estimated 40% of food in America is thrown out), perfectly good electronics, still usable furniture, and on and on.
As for candy, confections, cakes, etc.–as Mom said, none of us need more sugar-fat calories. If we do give sweets this year, they will be homemade so we can use real ingredients and cut the sugar used in the recipe. We can also trim the portion sizes. Less is better in so many ways.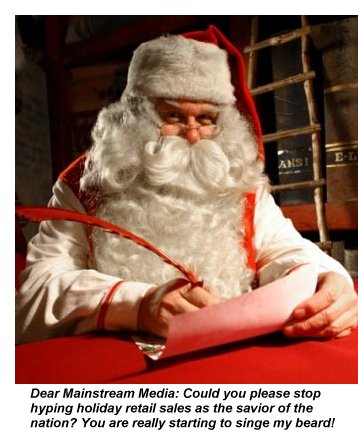 Part of the guilt of Christmas is the constantly repeated message that our economy will collapse if people don't buy more stuff on credit, even if the stuff is needless. Please, Santa, Let This Be the Last Christmas in America (that's supposed to "save" the U.S. economy) (November 23, 2010). Recall that holiday retail sales are a mere 3.4% of the U.S. GDP.
Well guess what, America–if your economy is based on buying useless stuff on credit, then it shouldcollapse, and the sooner the better, because there is another, better way to live: without credit, and without needless stuff.
In a largely loveless, technology-distracted, burned-out society, then the guilt of self-absorbed emotional miserliness drives us to salvage an expression of caring from a needless gift. Too busy to actually listen to your kids? Lavish them with a gift. Ditto your parents, colleagues, etc.
If time is the ultimate gift, then what better gift than time spent together enjoying a home-cooked meal or other conviviality?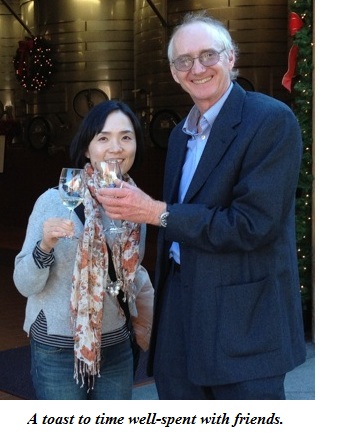 Yes, children expect multiple gifts, even if their rooms are already warehouses of consumerism, and a gift may be expected in certain business settings. But is there no other way to express caring than a frantically purchased retail-riot gift? How about sharing some item that is somebody else's surplus? This is now a business model: yerdle – why shop when you can share? "Sharing is more fun than shopping."
If you are in a position of responsibility, then how about ending the gift-exchange charade in your enterprise/division? Or if you face a full-blown rebellion in the family or company, then why not place a $5 limit on all gifts? Or require the gifts be home-made, or consumable?
If you must give gifts, then how about making them useful tools? This is the idea behind our list of practical kitchen tools: Favorite Practical Kitchen Tools (All Under $23, many under $10, most made in U.S.A.): if you feel you must give a gift, or want to help stock a new household's kitchen, then for goodness sakes, give something that is useful on a daily basis, not an electric pasta maker (or equivalent) that collects dust in a closet until the owner moves or has a garage/jumble sale.
Yes, we will give a few gifts to children, friends and key clients; but the gifts will be small, handmade or consumable. It's time we freed ourselves from needless stuff, needless calories, needless spending, needless guilt and needless derangement.
Charles Hugh Smith – Of Two Minds
This past week, the east coast of the US was hit by devastation and destruction… and it got hit by a hurricane too. The real damage was caused by the government response (big surprise,) the lack of preparedness of the people living there (even bigger surprise,) and the prohibition of those willing to help from actually providing that help (I am Jack's complete lack of surprise.)
In typical socialist fashion, the government has flexed its muscles to enforce the price gouging laws. What the economic illiterates do not understand is that "price fixing" makes the shortages worse than what they would have been without the intervention. Because of the natural disaster, many items become scarce. The pricing mechanism is the signal to move resources from one area to another. In order to get these resources moved to where they need to be, the price must increase. A full explanation is given here.
Price gouging does provide a positive social function. It limits the ability of the early shoppers to purchase all of the necessary supplies before others can get there. This would be a good example of rationing. This actually serves to prevent shortages! But the socialists in government believe it is better that people go completely without or with less, rather than somebody put forth extra work and turn an unusually large profit. Work and profit are not meant to go together. To those that defied the rules and brought supplies in… thank you for your service.
Because of the price controls, many items are now in short supply. The government, in its egalitarian wisdom, has now declared that items MUST be rationed. No matter what, you can only get a certain amount. To prove how economically illiterate these politicians are, all they would need to do is look back in history to the wage and price controls under Nixon or during World War II. They could also look to the entire history of the Soviet Union.
Of course, many of these problems could have been prevented had people been better prepared. At my local WalMart, bottled water is under $1 per gallon. Canned goods and instant soups/meals are relatively inexpensive. One of the major problems faced in this crisis is that without electricity, people were not able to use their credit cards and EBT (food stamp) cards. The fuel problem could be easily solved by purchasing a few gas cans, filling them up and putting them in a storage area. In 6 months, pour that gasoline into the car and refill the cans if you are worried about the gas going bad. If anything has been learned from the responses of different levels of government and their agencies, you MUST be able to depend upon yourself.
During a time of price controls, a woman walked into a butcher shop. She was dismayed
to see the butcher was selling steak for $10 per pound. She asked the butcher if the price
was correct and he said it was. She said, "The government has fixed the price of steak at
$6 per pound and you are charging too much. The guy across the street is selling steak at
$6 per pound." The butcher replied, "Go buy your steak from the guy across the street
then." The lady informed him that the guy across the street was sold out of steak. The
butcher replied, "When I am sold out, I charge $6 per pound also."
Much of this pain could have been avoided had the politicians allowed the market to operate on its own. Let the pricing mechanism work. Don't try to rewrite the laws of economics. And most important, don't arrest/kidnap people for helping out those in need. It's probably not a good idea to turn away people that have come to help, just because they don't have the proper gang affiliation. here and here.
Lou – Freedom Feens