Archive for the 'Consumption' Category
Employment is dead in the water because opportunities for organic expansion are few and the cost basis of doing business in the U.S. keeps rising.
Let's start by reviewing the basics of employment in the U.S. Courtesy of the St. Louis Federal Reserve, here is the noninstitutional civilian population of the U.S. (Note that the Civilian Noninstitutional Population With No Disability, 16 years and over (LNU00074593)–roughly speaking, the workforce of the nation– is 215 million).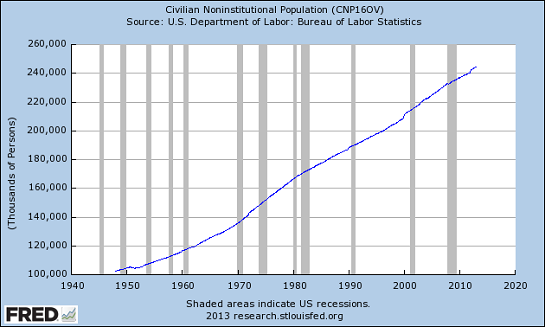 Here is the percentage of the population with some kind of job: note this could be self-employment that earns $1,000 a year or a job with 4 hours a week; recall that 38 million American workers earn less than $10,000 per year, 50 million earn less that $15,000 a year and 61 million earn less than $20,000 annually. All these numbers are drawn directly from Social Security Administration payroll data.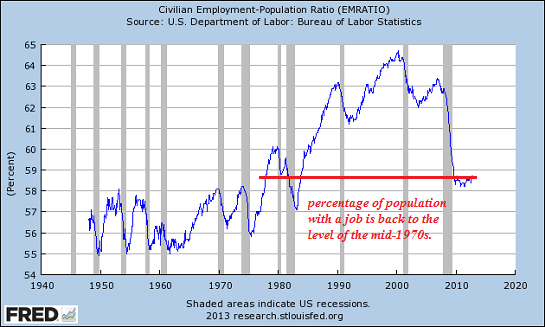 Here is real (adjusted) gross domestic product (GDP), which includes government spending: (in other words, as you borrow-and-blow trillions of dollars, GDP rises).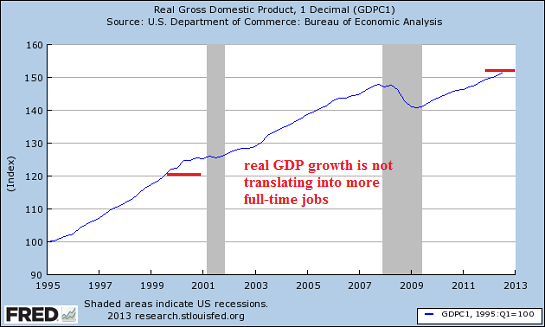 Unfortunately, employment hasn't risen along with the population or the GDP:the only metric with any meaning is full-time employment, as self-employed and part-time jobs may pay a few thousand dollars a year and should not be included in the same category as full-time jobs.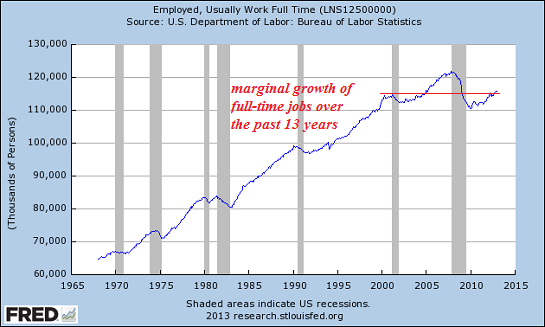 In sum: the population and GDP have both expanded smartly since 2000, but full-time employment has barely edged above levels reached 13 years ago.
Academic economists and political progressives would have us believe that the only thing restraining employers from hiring millions more people is lack of access to cheap credit.
The explicit assumption here is that cheap credit is all employers need to expand their workforce. This is so out of touch with reality that it beggars description. Progressives and academic economists generally claim the Federal Reserve's zero-interest policy (ZIRP) and its other policies of flooding the economy with liquidity "are working," i.e. boosting the economy.
Here is what the Fed's policies are boosting: financial sector profits Please compare this chart with the chart above of full-time employment, and then decide where the Fed's free money/easy credit is flowing.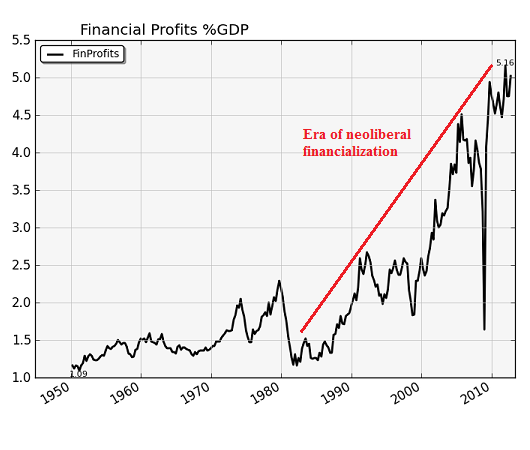 Here are financial profits per capita: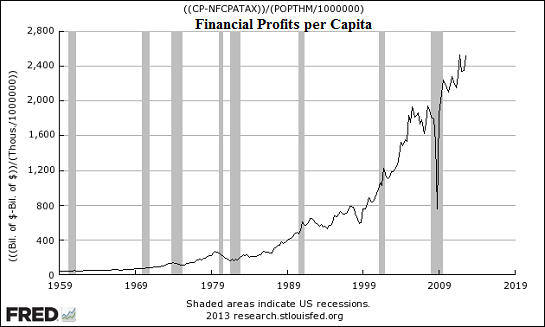 The only way to understand why employment is dead in the water is to stand in the shoes of a potential employer or entrepreneur. Remarkably, this perspective is unknown to economists and progressive politicians because they have never been an employer (and no, hiring a grad student to grade papers or an illegal nanny to watch your kids does not make you an employer.)
I have described this vast divide between small business employers, entrepreneurs and the self-employed and those working in government or Corporate America as one of the least explored social/economic divisions in the nation.
Those who have spent their careers in government or academia have little idea what it takes to hire more people. Number one is a business with strong demand for one's products or services. In a developed world with too much of everything except energy, that is no small challenge: the world is awash in over-capacity in every field except niche industries such as deepwater oil rigs.
Second, you need a process that generates so much value (specifically surplus value) that you will generate immediate profits by hiring more people.
If the value added by additional labor is low, then you have no reason to hire more employees, even if Ben Bernanke personally knocked on your door begging you to borrow a couple million dollars at low rates of interest.
If an additional unskilled worker will cost $10 an hour and might generate $100 a day in additional gross revenues, that is $20 in gross profit. But the overhead costs of operating a business are rising faster than inflation: junk fees imposed by cities, counties and states, workers compensation and disability premiums, healthcare costs (if you hire full-time workers), energy costs, and so on.
For most businesses, overhead costs 50% to 100% of total employee compensation–wages plus benefits and payroll taxes. So adding another employee to gross 20% more doesn't make it worthwhile–it actually generates a loss once overhead costs are paid.
The only time it makes sense to hire another worker is if that worker will create 100% or more surplus value from their labor. For example, a worker paid $200 a day in total compensation generates $400 more in gross revenues–enough to not only support the added overhead but net the business a profit.
In a global economy, competition constantly lowers the premium most businesses can charge. That places most businesses in the vice of declining gross margins and higher labor/ overhead costs. The only way to stay solvent is to grow revenues and slash costs so declining gross margins are still enough to pay the bills and leave some return on capital/time/risk invested.
Cheap credit doesn't create surplus value, increase gross margins or get rid of over-capacity. It is a financial non-sequitur for all but a relative handful of enterprises. The only firms interested in borrowing money for expansion are those relative few in sectors that are not burdened with overcapacity. That might include oil services, network security and a handful of others.
But high-margin sectors such as technology either get funding from venture capital or their high margins generate enough income to fuel expansion without taking on debt.
The only companies borrowing vast sums of money are those paying off higher-cost existing debt with new cheap-credit loans. The savings from lower interest payments don't flow to new hires, they flow to the bottom line and from there to executives, owners or stock buybacks that boost the portfolios of institutional owners.
Employment is dead in the water because opportunities for organic expansion are few and the cost basis of doing business in the U.S. keeps rising. That vise forces businesses large and small to reduce labor costs while boosting productivity. There is no other way to stay solvent in a post-bubble, over-capacity, over-indebted consumerist economy awash in too much of everything but energy, common sense and fiscal prudence.
Charles Hugh Smith – Of Two Minds
If Americans will trample one another just to save a few dollars on a television, what will they do when society breaks down and the survival of their families is at stake?  Once in a while an event comes along that gives us a peek into what life could be like when the thin veneer of civilization that we all take for granted is stripped away.  For example, when Hurricane Sandy hit New York and New Jersey there wasrampant looting and within days people were digging around in supermarket dumpsters looking for food.  Sadly, "Black Friday" also gives us a look at how crazed the American people can be when given the opportunity.  This year was no exception.  Once again we saw large crowds of frenzied shoppers push, shove, scratch, claw, bite and trample one another just to save a few bucks on cheap foreign-made goods.  And of course most retailers seem to be encouraging this type of behavior.  Most of them actually want people frothing at the mouth and willing to fight one another to buy their goods.  But is this kind of "me first" mentality really something that we want to foster as a society?  If people are willing to riot to save money on a cell phone, what would they be willing to do to feed their families?  Are the Black Friday riots a very small preview of the civil unrest that is coming when society eventually breaks down?
Once upon a time, Thanksgiving was not really a commercial holiday.  It was a time to get together with family and friends, eat turkey and express thanks for the blessings that we have been given.
But in recent years Black Friday has started to become even a bigger event than Thanksgiving itself.
Millions of Americans have become convinced that it is fun to wait in long lines outside retail stores in freezing cold weather in the middle of the night to spend money that they do not have on things that they do not need.
And of course very, very few "Black Friday deals" are actually made in America.  So these frenzied shoppers are actually killing American jobs and destroying the U.S. economy as well.
The absurdity of Black Friday was summed up very well recently in a statement that has already been retweeted on Twitter more than 1,000 times…
"Black Friday: because only in America people trample each other for sales exactly one day after being thankful for what they already have."
It has gotten to the point where it is now expected that there will be mini-riots all over the country early on Black Friday morning each year.  The following are a few examples of the craziness that we saw this year…
-"Fights break out when stores open on Black Friday"
-"Black Friday madness at Georgia Wal-Mart"
-"Black Friday Frenzy: 2 Run Down in Washington, Man Pulls Gun in Texas"
-"Black Friday 2012: Rush at Victoria's Secret Pink at Oak Park Mall in Overland Park, Kan."
-"Black Friday shoppers smash door at Urban Outfitters"
-"Black Friday Shopping Hysteria From Around The Country [PHOTOS]"
-"Disturbance leads to scare at Westroads Mall"
-"Teens In Custody After Woodland Mall Fight"
-"Boy Robbed During Black Friday Shopping At Arundel Mills"
-"Shoppers Were So Obsessed With Black Friday Deals They Left Their Infants Unattended"
Fortunately, many Americans are starting to get fed up with Black Friday.  In fact, one activist named Mark Dice actually went out and heckled Black Friday shoppers this year.  I found the following You Tube video to be very funny, and I think most of you will too…
In the end, it is not that big of a deal that people want to fight with one another to save 50 dollars on a cell phone.
But this kind of extreme selfishness and desperation could become a massive problem someday if society breaks down and suddenly millions of extremely selfish and desperate people are scrambling for survival.
With each passing day our economy is getting even weaker, and the next wave of the economic collapse is rapidly approaching.  What are people going to do when the next spike in unemployment hits us and nobody can find work?
To get an idea of where things are headed, just look at Europe.  In both Greece and Spain the unemployment rate is over 25 percent and civil unrest has become almost a constant problem in both of those countries.
So what kind of riots will we see in the United States when the economy gets much worse than it is now?
Already there are signs of social decay all around us, and most Americans are completely unprepared for what will happen if a major disaster or emergency does strike.
Sadly, the reality is that most Americans live on a month to month basis.  Most families do not have any emergency savings to speak of, and one recent poll found that 55 percent of all Americans only have enough food in their homes to survive for three days or less.
To me, that is an absolutely insane number.
We just came through a summer of extreme drought and global food supplies have dropped to a 40 year low.  Our world is becoming increasingly unstable, and the global financial system could fall apart at any time.  Most of us just assume that there will always be huge amounts of very cheap food available to us, but unfortunately that simply is not a safe assumption.  The following is from a recent article in the Guardian…
Evan Fraser, author of Empires of Food and a geography lecturer at Guelph University in Ontario, Canada, says: "For six of the last 11 years the world has consumed more food than it has grown. We do not have any buffer and are running down reserves. Our stocks are very low and if we have a dry winter and a poor rice harvest we could see a major food crisis across the board."

"Even if things do not boil over this year, by next summer we'll have used up this buffer and consumers in the poorer parts of the world will once again be exposed to the effects of anything that hurts production."
When I watch my fellow Americans trample one another to get a deal on a television or a video game, it makes me wonder what they would be willing to do if they went to the store someday and all the food was gone.
Desperate people do desperate things, and someday if there was a major economic breakdown in the United States I think the level of desperation in this country would be extremely frightening.
So what do you think?  Please feel free to post a comment with your thoughts below…
It's time we freed ourselves from needless stuff, needless calories, needless spending, needless guilt and needless derangement.
My Mom, bless her heart, drove a stake through the guilt-ridden, retail-riot needless-gift Christmas madness: "Let's not exchange gifts this year–none of us need more stuff or calories." Done! We are having a gift-free party, where the "gifts" will be the experience of conviviality and the memories.
No matter how "small" the gifts may be, the guilt-soaked onus to buy something, anything for everyone in the family/enterprise is deranging. What most households need is not more stuff but someone to haul stuff away.
Is Anybody Else Tired of Buying and Owning Stuff? (September 7, 2012). The real gift to loved ones would be freeing them of stuff they no longer use.
We as a nation are awash in stuff. Dumpsters are crammed with perfectly good food (an estimated 40% of food in America is thrown out), perfectly good electronics, still usable furniture, and on and on.
As for candy, confections, cakes, etc.–as Mom said, none of us need more sugar-fat calories. If we do give sweets this year, they will be homemade so we can use real ingredients and cut the sugar used in the recipe. We can also trim the portion sizes. Less is better in so many ways.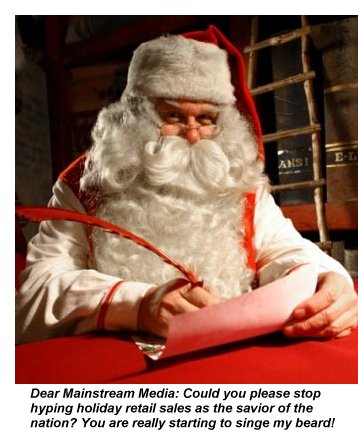 Part of the guilt of Christmas is the constantly repeated message that our economy will collapse if people don't buy more stuff on credit, even if the stuff is needless. Please, Santa, Let This Be the Last Christmas in America (that's supposed to "save" the U.S. economy) (November 23, 2010). Recall that holiday retail sales are a mere 3.4% of the U.S. GDP.
Well guess what, America–if your economy is based on buying useless stuff on credit, then it shouldcollapse, and the sooner the better, because there is another, better way to live: without credit, and without needless stuff.
In a largely loveless, technology-distracted, burned-out society, then the guilt of self-absorbed emotional miserliness drives us to salvage an expression of caring from a needless gift. Too busy to actually listen to your kids? Lavish them with a gift. Ditto your parents, colleagues, etc.
If time is the ultimate gift, then what better gift than time spent together enjoying a home-cooked meal or other conviviality?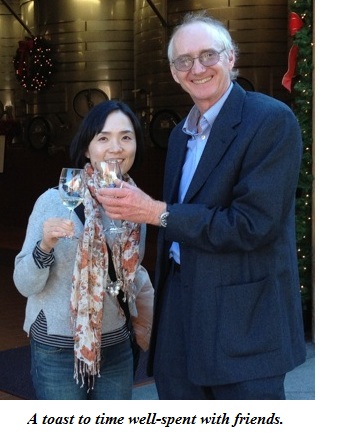 Yes, children expect multiple gifts, even if their rooms are already warehouses of consumerism, and a gift may be expected in certain business settings. But is there no other way to express caring than a frantically purchased retail-riot gift? How about sharing some item that is somebody else's surplus? This is now a business model: yerdle – why shop when you can share? "Sharing is more fun than shopping."
If you are in a position of responsibility, then how about ending the gift-exchange charade in your enterprise/division? Or if you face a full-blown rebellion in the family or company, then why not place a $5 limit on all gifts? Or require the gifts be home-made, or consumable?
If you must give gifts, then how about making them useful tools? This is the idea behind our list of practical kitchen tools: Favorite Practical Kitchen Tools (All Under $23, many under $10, most made in U.S.A.): if you feel you must give a gift, or want to help stock a new household's kitchen, then for goodness sakes, give something that is useful on a daily basis, not an electric pasta maker (or equivalent) that collects dust in a closet until the owner moves or has a garage/jumble sale.
Yes, we will give a few gifts to children, friends and key clients; but the gifts will be small, handmade or consumable. It's time we freed ourselves from needless stuff, needless calories, needless spending, needless guilt and needless derangement.
Charles Hugh Smith – Of Two Minds
Anecdotal evidence has been coagulating into numbers, and these numbers are now beginning to weigh down corporate earnings calls. It appears the toughest creature out there, the one that no one has been able to subdue yet, the ever wily and inexplicable American consumer, is having second thoughts about prescription drugs. And is fighting back. A paradigm shift.
We've already heard from some companies, such as drug maker Pfizer, whose revenues in the US plunged 18%, largely due to the collapse of its flagship drug Lipitor that is losing its battle with much cheaper generics. But the direst indications came from Express Scripts, the largest pharmacy benefit manager in the US—and perhaps one of the best gauges of spending patterns for prescription drugs.
During the earnings call, CEO George Paz, who ominously was "not prepared to provide 2013 guidance," embarked on a dark speech. The company's clients had "unprecedented concerns about our country's economic outlook," he said. Unprecedented concerns! So even worse than 2008-2009. He went on:
Our health claim clients are expecting membership reductions in 2013. Large employers have pulled back on hiring plans, using contractors and part-time employees when necessary. Mid to small employers are cutting back or postponing health care coverage decisions while waiting for more clarity on Health Care Reform. And we continue to see low rates of drug utilization as individuals deal with uncertainty at the household level.
He lamented "the current weak business climate and the unemployment outlook" and was worried about the "challenging macroeconomic environment." Shorts must have felt a certain frisson. Remains to be seen whether the dive that Express Scripts shares performed is a buying opportunity that will add to a cushy retirement or one that will slice off your fingers.
But beyond the company's fate, he'd pointed at what ails the US economy, including a shift to part-time workers and contractors often without healthcare benefits, and smaller employers who, in their struggle to survive, are cutting back on healthcare benefits. As these workers—the inexplicable American consumers—are left to their own devices, they have to make their own decisions about what prescription drugs, if any, to blow their scarce money on.
Express Scripts has seen this trend in another area. Its Drug Trend Report, which dissected prescription drugs sold to its members in 2010 and 2011, sketched the beginnings of the paradigm shift: in 2011, specialty drugs sales increased 17.1%, down from a 19.6% increase in 2010; traditional drugs only eked out a gain of 0.1%, the lowest increase since it began tracking the data; and spending on all prescription drugs combined rose only 2.7%, also a record low. That was for 2011.
But the report didn't include insights into the buying behavior of the 48.6 million uninsured Americans who're even more reluctant to spend money they don't have on prescription drugs they can live without. And it didn't include the trends of 2012, which as Paz phrased it, are cause for "unprecedented concerns."
Whatever the reasons, whether prescribing behavior by doctors or buying behavior by consumers, lack of insurance or lack of money, or the growing prevalence of generic alternatives: spending on prescription drugs, long considered recession-proof, seems to have bumped into a wall for the first time ever.
Healthcare costs in the US, around $2.6 trillion a year, or 17.9% of GDP, may be reaching a level beyond which the various players in the economy cannot go, or refuse to go, a market-based barrier of sorts. And the inexplicable American consumer may be on the forefront—not only those who don't have insurance, but also those who have high-deductible plans.
In 2012, plans with deductibles of $1,000 or more made up 19% of employee-sponsored health plans. Families covered by such plans, for better or worse, are cutting back medical spending … by 14%, according to a study last year. They're making medical decisions where at least one part of the equation is their own money. And they're accomplishing what no one has been able to accomplish so far, namely taming the untamable healthcare expense monster.
That the US has too much debt is no longer a controversial statement. Some may believe other problems are more urgent, or that we need to grow our way out rather than slash spending. But the debt-to-GDP ratio must decrease if we are to have a stable, prosperous economy. Read…One Chart Explains Why Government Debt Is Dragging on the Economy.
Wolf Richter for Zero Hedge
Debt.  There isn't a day that passes as of late that the issue of debt doesn't arise.  Federal debt and consumer debt (including mortgages) are of the most concern due to its impact on the domestic economy.   Debt is, by its very nature, a cancer on economic growth.  As debt levels rise it consumes more capital by diverting it from productive investments into debt service.  As debt levels spread through the system it consumes greater amounts of capital until it eventually kills the host.  The chart below shows the rise of credit market debt and its impact on both personal savings and economic growth.
From the 1950's through the late 1970's interest rates were in a generally rising trend with the Federal Funds rate at 0.8% in 1954 and rising to its peak of 19.1% in 1981.  Of course, during this time the U.S. was the manufacturing and production powerhouse of the entire global economy post the wide spread devastation of Europe, Germany and Japan during WWII.  The rebuilding of Europe and Japan, combined with the years of pent up demand for goods domestically, led to a strongly growing economy and increased personal savings.
However, beginning in 1980 the world changed.  The development of communications shrank the global marketplace while the rise of technology allowed the U.S. to embark upon a massive shift to export manufacturing to the lowest cost provider in order to import cheaper goods.  The deregulation of the financial industry led to new innovations in financial engineering, easy money and wealth creation through the use of leverage which led to a financial boom unlike any seen in history.  The 80-90′s was a period of unrivaled prosperity and the envy of every nation on earth.
Unfortunately – it was the greatest economic illusion ever witnessed.
The reality is that the majority of the aggregate growth in the economy was financed by deficit spending, credit creation and a reduction in savings.  In turn this reduced productive investment in the economy and the output of the economy slowed.   As the economy slowed, and wages fell, the consumer was forced to take on more leverage to maintain their standard of living which in turn decreased savings.   As a result of the increased leverage more of their income was needed to service the debt – and with that the "debt cancer" engulfed the system.
The Austrian business cycle theory attempts to explain business cycles through a set of ideas. The theory views business cycles "as the inevitable consequence of excessive growth in bank credit, exacerbated by inherently damaging and ineffective central bank policies, which cause interest rates to remain too low for too long, resulting in excessive credit creation, speculative economic bubbles and lowered savings."
In other words, the proponents of Austrian economics believe that a sustained period of low interest rates and excessive credit creation results in a volatile and unstable imbalance between saving and investment.   In other words, low interest rates tend to stimulate borrowing from the banking system which in turn leads, as one would expect, to the expansion of credit.   This expansion of credit then, in turn, creates an expansion of the supply of money.
Therefore, as one would ultimately expect, the credit-sourced boom becomes unsustainable as artificially stimulated borrowing seeks out diminishing investment opportunities. Finally, the credit-sourced boom results in widespread malinvestments. When the exponential credit creation can no longer be sustained a "credit contraction" occurs which ultimately shrinks the money supply and the markets finally "clear" which then causes resources to be reallocated back towards more efficient uses.
The chart below shows the increasing levels of money supply and debt versus the changes in economic and wage growth.  The impact of debt on the economy remains unrecognized by policy makers and central bankers who have failed to understand what the current downturn encompasses.  Therefore, these same individuals continue to chase economic theories based on a mistaken belief that the current recession is an ordinary period of falling aggregate demand.  However, the reality is something far different.
The reason that the policies which have been enacted by the current Administration up to this point have all but failed, be it "cash for clunkers"  to "Quantitative Easing", is because they were designed to either drag future consumption forward or to slow the deleveraging process.  The Keynesian view that "more money in people's pockets" will boost consumer spending, and ultimately grow GDP, has clearly been wrong.  It hasn't happened in 30 years.   What is missed is that things like temporary tax cuts, or one time injections, don't create economic growth but merely reschedules it.  While the average American will act on a near-term increase in their take home pay – any increased consumption in the present will be matched by a decrease later when the tax cut is revoked.
This is, of course, assuming the balance sheet at home hasn't broken.  The problem today is that for only the second time in the history of the United States we are in the process of deleveraging the balance sheet of the U.S. economy.   As we saw during the period of the"Great Depression" most economists thought that the simple solution was just more stimulus.   Work programs, lower interest rates, government spending all didn't work to stem the tide of the depression era.
The problem is that during a "balance sheet" recession the consumer is forced to pay off debt which detracts from their ability to consume.   This is the one facet that Keynesian economics doesn't factor in. More importantly it also impacts the production side of the equation as well since no act of saving ever detracts from demand.  Consumption delayed is merely a shift of consumptive ability to other individuals, and even better, money saved is often capital supplied to entrepreneurs and businesses that will use it to expand, and hire new workers. 
So, while classical economics says that production comes first, the problem becomes that during a "balance sheet recession" the economy is put into a stranglehold for productive investment. The continued misuse of capital and continued erroneous monetary policies have instigated not only the recent downturn but actually 30 years of an insidious slow moving infection that has destroyed the American legacy.
This is why we need real reform in government that leads to a smaller government, more clarity for businesses through pro-growth policies, real regulation of Wall Street which separates banks and brokerages, as well as programs and subsidies for bringing back to America those jobs that require a little hard work and a little bit of sweat but create a whole lot of pride and prosperity along the way.
It's time for our leaders to wake up and smell the burning of the dollar – we are at war with ourselves and the games being played out by Washington to maintain the status quo is slowing creating the next crisis that won't be fixed with monetary bailout.
Lance Roberts – Street Talk Live
Japan's faddishly fantastic fashions illustrate the exhaustion of consumerism as a driver of wealth creation. 
Japan is known for artful handcrafts, high-tech gadgets and outlandish fads. All modern economies depend on fads and fashions to drive consumption, and so Japan's leadership in fads reflects its advanced state of consumerism: it is a very wealthy nation, and its wealth has been distributed widely enough that the vast majority of its citizens have access to the "good things" produced by modern industrialized economies.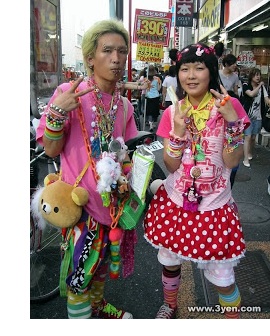 Thus it is unsurprising that Japan generates sufficient surplus on a national scale to support elaborate fads and fashions such as those on display in the Harajuku district of Tokyo:
Every Sunday, young people dressed in a variety of styles including gothic lolita, visual kei, and decora, as well ascosplayers spend the day in Harajuku socializing. A cosplay enthusiast will usually dress as a fictional or iconic character from a band, game, movie, anime, or manga.The fashion styles of these youths rarely conform to one particular style and are usually a mesh of many. Harajuku is also a fashion capital of the world, renowned for its unique street fashion.
The global reach of manga and anime is well-known, and so the overlap of fad, fashion and media (young people dressing up as manga characters) is also unsurprising.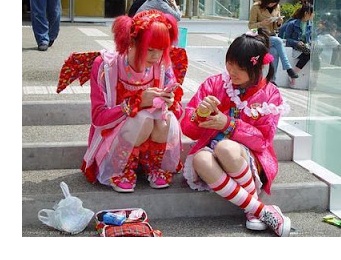 There is even a weekly television program on NHK (Japan's English-language network) that coverskawaii fashion. (Kawaii means "cute," though with a different range of meaning that "cute" in English. Kawaii includes what we might call cutesy, sweetly nostalgic or cartoonishly cute.)
There are certainly positives to this opt-in "public fashion show": self-expression in a conformist society, a bit of healthy rebellion against convention and good fun to share with friends, to name three.
But there is a less positive aspect, too: it is a phenomenon of extended adolescence, a state of "suspended animation" of young adults facing truncated opportunities for adulthood–secure careers, marriage, family, homeownership–who are stuck in a seemingly permanent adolescence.
It's as if there is a split in the road and no third way: some young people make it onto the traditional corporate or government career path, and everyone else is left in part-time suspended animation with few options for adult expression or development.
What few seem willing to acknowledge is the solipsistic, narcissistic nature of this reliance on public display of consumerist fantasy for self-identity. All consumerist fashion is based on superficiality and self-indulgence, of course; but if we look at the energy, money and attention "invested" in fashion lifestyles in Japan, we might conclude it is strong evidence that there is plenty of "money and time to burn" in Japan. While that is certainly true, this reliance on consumerist excess for self-identity and pastime is also evidence of a deeply troubled economy and society.
Young people have money and time to burn on outlandish costumes because few earn enough to have their own families or flats. They work part-time for low wages and live at home or in tiny one-room apartments. Few own cars because they 1) don't earn enough to support a car and 2) they're uninterested in acquiring status symbols or prestige signifiers.
This is not just a generational shift: it reflects a realistic understanding that opportunities for secure, high-paying employment have diminished over the past 20 years. There are plenty of low-level jobs, but few with the guarantees that their parents took for granted.
Sound familiar? This reality is playing out in Europe and the U.S. as well.
If all this is new to you, I strongly recommend you read my essay The Non-Financial Cost of Stagnation: "Social Recession" and Japan's "Lost Generations" (August 9, 2010).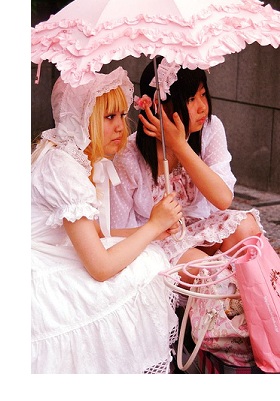 Here are a few highlights:
– Once-egalitarian Japan is becoming a nation of haves and have-nots.
– More than one-third of the workforce is part-time as companies have shed the famed Japanese lifetime employment system.
– The slang word "freeter" (for part-time worker) combines the English "free" and the German "arbeiter" or worker.
– A typical "freeter" wage is 1,000 yen ($7.80) an hour.
– As long ago as 2001, The Ministry of Health, Labor and Welfare estimated that 50 percent of high school graduates and 30 percent of college graduates now quit their jobs within three years of leaving school.
– Japan's slump has lasted so long, a "New Lost Generation" is coming of age, joining Japan's first "Lost Generation" which graduated into the bleak job market of the 1990s.
– These trends have led to an ironic moniker for the Freeter lifestyle: Dame-Ren (No Good People). The Dame-Ren (pronounced dah-may-ren) get by on odd jobs, low-cost living and drastically diminished expectations.
– Many young men now reject the macho work ethic and related values of their fathers. These "herbivores" reject the traditonal Samurai ideal of masculinity.Derisively called "herbivores" or "Grass-eaters," these young men are uncompetitive and uncommitted to work, evidence of their deep disillusionment with Japan's troubled economy.
– These shifts have spawned a disconnect between genders so pervasive thatJapan is experiencing a "social recession" in marriage, births, and even sex, all of which are declining.
– The trend of never leaving home has sparked an almost tragicomical countertrend of Japanese parents who actively seek mates to marry off their "parasite single" offspring as the only way to get them out of the house.
– An even more extreme social disorder is Hikikomori, or "acute social withdrawal," a condition in which the young live-at-home person will virtually wall themselves off from the world by never leaving their room.
Is it any wonder that in the face of such a bleak and maladaptive future, young people seek identity, community and solace in a fantasy world of fashion?When an economy is dominated by a Savior State that issues unsustainable promises, and a society is dependent on a consumerist frenzy of ceaseless fads, status signifiers and shopping for identity and what passes for community, then narcissism, restless emptiness and the aloneness mentioned yesterday in The Hidden Cost of the "New Economy": New-Type Depression are the inevitable results.
Beneath the surface of Japan, Inc., bullet trains, cute robots and exuberant fashions, this is the Japan few outsiders understand: the exhaustion of consumerism.
Charles Hugh Smith – Of Two Minds