Archive for the 'Cost of Living' Category
The stock market is not crashing yet, but there are lots of other market crashes happening in the financial world right now.  Just like we saw back in 2008, it is taking stocks a little bit of extra time to catch up with economic reality.  But almost everywhere else you look, there are signs that a financial avalanche has begun.  Bitcoins are crashing, gold and silver are plunging, the price of oil and the overall demand for energy continue to decline, markets all over Europe are collapsing and consumer confidence in the United States just had the biggest miss relative to expectations that has ever been recorded.  In many ways, all of this is extremely reminiscent of 2008.  Other than the Bitcoin collapse, almost everything else that is happening now also happened back then.   So does that mean that a horrible stock market crash is coming as well?  Without a doubt, one is coming at some point.  The only question is whether it will be sooner or later.  Meanwhile, there are a whole lot of other economic crashes that deserve out attention at the moment.
The following are 11 economic crashes that are happening RIGHT NOW…
#1 Bitcoins
As I write this, the price of Bitcoins has fallen more than 70 percentfrom where it was on Wednesday.  This is one of the reasons why I have never recommended Bitcoins to anyone.  Yes, alternative currencies are a good thing, but there are a lot of big problems with Bitcoins.  Why would anyone want to invest in a currency that could lose 70 percent of its purchasing power in just two days?  Why would anyone want to invest in a currency where a single person can arbitrarily decide to suspend trading in that currency at any time?
An article by Mike Adams of Natural News described some of the things that we have learned about Bitcoins this week…
#1) The bitcoin infrastructure cannot handle a selloff. Once the rush for the exits gains momentum, you will not be able to get out. Only those who sell early will be able to exit the market.

#2) The bitcoin infrastructure is subject to the whims of just one person running MTGox who can arbitrarily decide to shut it down whenever he thinks the market needs a "cooling period." This is nearly equivalent to afinancial dictatorship where one person calls the shots.

#3) Every piece of bad news will be "spun" by exchanges like MTGox into good-sounding news. As bitcoin was crashing yesterday by 60% in value in mere hours, MTGox announced it was a "victim of our own success!" So while bitcoin holders watched $1 billion in market valuation evaporate, MTGox called it a success. Gee, then what would you call it when bitcoin loses 99%? A "raging" success?
#2 Gold
The price of gold was down by about 4 percent on Friday.  Gold has now fallen below $1500 an ounce for the first time since July 2011.  Overall, the price of gold has fallen by about 10 percent since the beginning of the year, and it is about 22 percent below the record high set back in September 2011.
Yes, the price of gold is likely being pushed down by the banksters.  And yes, gold is a fantastic investment for the long-term.  But there will be times when the price of gold does fall dramatically just like we saw back in 2008.
#3 Silver
The price of silver fell by about 5 percent on Friday.  If it falls much more it is going to be at a level that presents a historically good buying opportunity.
Just like gold, there will be times when the price of silver swings dramatically.  But the truth is that silver is probably an even better long-term investment than gold is.
#4 Oil
The price of oil declined by about 3 percent on Friday.  Many will consider this a positive thing, but just remember what happened back in 2008.  Back then, the price of oil dropped like a rock.  If the price of oil gets below $80, that could very well be a clear signal that a major economic crisis is about to happen.
#5 Consumer Confidence
As I mentioned above, consumer confidence in the U.S. just had its biggest miss relative to expectations that has ever been recorded.  The following is from an article posted on Zero Hedge on Friday…
Well if this doesn't send the market into all-time record high territory, nothing ever will: seconds ago the UMich Consumer Confidence plummeted from 78.6 to 72.3, on expectations of an unchanged 78.6 print. This was not only a 9 month low in the index, but more importantly the biggest miss to expectations in recorded history!
#6 Retirement Accounts
According to Wells Fargo, the number of Americans taking loans from their 401(k) accounts has risen by 28 percent over the past year…
Through an analysis of participants enrolled in Wells Fargo-administered defined contribution plans, the bank announced today that in the fourth quarter of 2012, there was a 28 percent increase in the number of people taking loans out from their 401(k) and that the average new loan balances increased to $7,126 from those taken out in the fourth quarter of 2011 – a 7% increase from $6,662.

Of the participants who took out loans, the greatest percentage were to people in their 50s (34.2%), followed by those in their 60s (28.9%) and then by those in their 40s (27.3%). The increase among participants in their 50s was nearly double the increase among those under 30. This is based on an analysis of a subset of 1.9 million eligible participants in retirement plans that Wells Fargo administers.

"The increased loan activity particularly among older participants is concerning because those are the years when workers can start to make 'catch-up' contributions and really need to focus on preparing for retirement," said Laurie Nordquist, director of Wells Fargo Retirement.
#7 Casino Spending
Casino spending is declining again.  Many people (including myself) would consider this to be a good thing, but casino spending is also one of the most reliable indicators about the overall health of the economy.  Remember, casino spending crashed during the last financial crisis as well.  That is why it is so alarming that casino spending is now back to levels that we have not seen since the last recession.
#8 Employment In Greece
Over in Europe, things just continue to get worse.  According to numbers that were just released, the unemployment rate in Greece has soared to27.2 percent, which was up from 25.7 percent the previous month.  That means that the unemployment rate in Greece rose by 1.5 percent in just a single month.  That is not just a crash – that is an avalanche of unemployment.
#9 European Financial Stocks
European financial stocks have been hit particularly hard lately.  And for good reason actually – most of the major banks in Europe are essentially insolvent at this point.  This week, European financial stocks fell to seven month lows, and this is probably only just the beginning.
#10 Spanish Bankruptcies
According to Reuters, the number of Spanish companies going bankrupt has risen by 45 percent over the past year…
A record number of Spanish companies went bust in the first quarter of 2013 as companies remained under intense pressure from tight credit conditions and meager demand, a study showed on Monday.

The 2,564 firms filing for insolvency proceedings in first three months of the year was a 10 percent rise from the previous quarter and a 45 percent increase on the same period in 2012, the survey by credit rating agency Axesor said.
#11 Demand For Energy
Just like we saw back in 2008, the overall demand for energy in the United States is falling rapidly.  There are some shocking charts that prove this that were recently posted on Zero Hedge that you can find right here.
Yes, it is good for people to use a bit less energy, but it is also a clear indication that economic activity is really starting to slow down.
But despite everything that you have just read, the Dow and the S&P 500 have been setting new record highs.
And if you listen to the mainstream media, you would think that thisstock market bubble can continue indefinitely.
Fortunately, there are a few voices of reason out there.  For example, just check out what Marc Faber recently told CNBC…
In the near-term, the U.S. stock market is overbought and adding that any more near-term gains portend big trouble for the market, "The Gloom, Boom & Doom Report" publisher Marc Faber told CNBC on Monday.

"If we continue to move up, the probability of a crash becomes higher," Faber predicted in a "Squawk Box" interview, saying it could happen "sometime in the second half of this year."
As I have written about previously, a bubble is always the biggest right before it bursts.  I hope that we still have at least a little bit more time before it happens, but I wouldn't count on it.
The economic fundamentals tell us that the stock market should be plunging, not rising.  At some point the boys over on Wall Street will get the message and the market will catch up to reality very, very rapidly.
But for the moment, the American people are feeling really good.  According to CNN, Americans are now more optimistic than they have been in six years…
As the stock market continues to show record highs, the number of Americans who say things are going well in the country has reached 50% for the first time in more than six years, according to a new national survey.
So what do you think will happen for the rest of the year?
Do you think that the good times will continue to roll, or do you believe that the bubble is about to burst?
That doesn't square with soaring U.S. stock prices and company profits that have emboldened investors. Bond buying that pushed the Fed's balance sheet to a record $3.21 trillion and other unprecedented actions by Chairman Ben S. Bernanke "saved the world," David Blanchflower, a former Bank of England policy maker, said in response to Stockman's assertions.

"The reason that stocks have erased all their losses is entirely because of QE," said Blanchflower, who teaches at Dartmouth College in Hanover, New Hampshire, and served on the BOE's Monetary Policy Committee from 2006 to 2009. "To argue that that's independent of the actions of the Fed shows no understanding of what the Fed is doing and what they did."
He did eh?
QE destroys purchasing power both on a forward and present-terms basis.
Shooting up heroin may mask the fact that you're not performing any real work and make you feel really good, but the fact of the matter is that statistical facts are what they are.
Where is the saving, of the world or anywhere else?
More to the point: How does, in the intermediate and longer term, business continue to make "record corporate profits" except by impoverishing everyone when there is no return on saving and no actual job growth?
And if you impoverish everyone by forcing them into penury and at the same time you try and fail to restart the borrowing leverage machine what happens to asset prices when the market figures this out?
Oh sure, it may look like it's working for a while, but you're simply digging a bigger hole!  Rather than recognize the failures that already happened forcing more and more previous economic surplus into the current economy to maintain the illusion makes the economic destruction you must face worse.
This isn't a zero-sum game, it's a negative-sum game.  Crooning because stock prices are up is idiotic; what matters to the intermediate and long-run economic prosperity of the nation and her people as a whole is the ability of people to produce economic surplus which they can then choose to spend on things like retirement and education or they can invest it in new ventures, powering forward jobs and the common economic condition.
QE does exactly the opposite – it powers economic profligacy by government through making government deficits appear "sustainable" when in fact they are not while destroying both direct purchasing power and return on saving, forcing saved funds into the economy to cover current costs.  It therefore enables and causes the shifting of personal economic surplus to economic deficit and dependency while at the same time destroying the tax base that makes paying those handouts possible.
This is the best-telegraphed train wreck in the last 100 years and we're headed right for the gorge with a missing bridge!
You can argue politics but you can't argue the facts when it comes to arithmetic.
Math doesn't care what political party or persuasion you might follow.
Here's the bottom line folks:
These are the major spending items in the US Budget, from 1980 to today.  I am ignoring all the ones that don't matter, and I'm also intentionally leaving in one foil often used by both sides of the debate for scale purposes (Education.)
Of particular interest (and alarm) is Welfare, which doubled from 2007 to 2010.  But — it appears to have come down some in the least two years and change.  Therefore, while this is a problem, it is not the emergent one.
Those are the three categories on the top — Pensions (Social Security, mostly), Health Care and Defense.
One of them is discontinuous — Defense.  It is possible that the rough tripling from roughly 1998 to today has stopped.  If so then its impact on what is to come is not material.
Before you protest, please read the rest of this.
That leaves two categories — "Pensions" and "Health Care".
Note the right scale graph, the purple dashed line.  This is the reason that the so-called pundits, from Bernanke on down, all argue that we must deal with this sometime in the reasonable future, but right now we're not about to hit the wall.  That is, GDP is rising in rough conformance with those three major contributors to the government's spending profile.  And it is GDP (in one form or another) upon which all taxes are levied.  Therefore, by first appearance, they argue, we are not about to have an imminent crack-up.
They're wrong.
Note the category called "interest" and that it has been rising much slower that has the debt over the last few years.  It tracked the debt growth until approximately 1996.
This is when active manipulation took hold by both The Fed and Government.
It is when, approximately, we transferred from growth in the economy to debt-financing for consumption.
Now I want to project out a few other assumptions just a couple of years.
First, I will project forward both Pensions and Health Care to 2015, along with the Debt.
I'm assuming defense remains constant.  This is probably unrealistic given the screaming coming from the DOD right now, but let's assume it in order to give the budget folks the benefit of the doubt.
Note that our public debt has exceeded $20 trillion.  Note also that we have added $355 billion in annual expense to the budget and exactly none of it is discretionary.  The so-called "sequester", at $80 billion a year, is (by the second year) less than one quarter of this amount, and that assumes that every penny of it sticks.
Now I want to make one final assumption — The Fed loses control of interest rates because it is forced to abandon its programs due to either runaway "inflation" or the ongoing destruction of purchasing power in the American people's lives.
That ongoing destruction is happening now and it is responsible for the zero GDP print last quarter.  This is an emergent problem, not one for the future two, three or five years down the road, because without growing GDP that purple line does not go upward and the alleged ability to cope with the growing expenditures instantly evaporates.
That's the bad news.
The worse news is what happens if The Fed is forced to back off.
Let's assume that the One Year T-Bill rate goes back to the midpoint of its historical range (not including the 1980s discontinuity), or about 3.5%.  What happens?
The expense profile of the government does not rise by $355 billion in mandatory spending, it rises by nearly $900 billion annually in just two years time!
This increase is approximately one third of all tax revenues and into a flat GDP there is no chance of collecting the taxes necessary to fund it.
That in turn will provoke a discontinuous interest rate move.
Pensions we can fix; OASDI can be repaired.  We did the first piece of it with the expiration of the payroll tax cut that was (foolishly) passed.  The rest is handled by indexing (now!) the retirement age to longevity.
The medical spending problem cannot be fixed within the government alone.  It has to be addressed in the medical system as a whole.  In short, the medical system must contract in terms of dollars spent by about 80% and then rise at no faster than GDP in the future.
This has to happen now.  It can happen now, but doing so is a political nightmare.
We cannot do this in the future.  We cannot do this over a period of 10, 20 or 30 years.  We must do it right now, this year, today, in the present tense.
There is no other option and I don't give a damn how much the medical providers, hospitals and lobbyists scream.
"Scotty, I need warp power in 2 minutes or we're all dead." 
Really.
Yes, I'm fully-aware that the government and Fed will try to "kick the can" in some way, even if they see this as the imminent outcome of their acts.  But any further "can-kicking" just makes the problem worse by compounding the debt and expense profile even more.
Some of the back-of-the envelope numbers I had been working with gave us until about 2020 or thereabouts before the discontinuous spike occurred.  Those models were ones that I tweaked back in 2007 and were the reason for my alarm at the time — we had less than a decade left before the impact started.
But now we have both Europe (which is falling back into recession), Britain (which is an utter basket case) and Japan, which has effectively declared that it will debase its currency and destroy the purchasing power of its citizens into a depleted savings base.  In addition we have what is now a known set of outcomes from Obamacare, which I predicted would be an utter disaster and for many people would double their health care expenses (mostly insurance) and which is now known to be correct.
This changes have forced updates to those graphs and expectations and unfortunately they have pulled forward the "aw crap" date to as few as two years from now.
Note that these are quite-conservative estimates.  If defense spending rises from here then it's even worse.  If welfare spending rises (E.g. more food stamps anyone?) then it's even worse.  If we subsidize more student loans, it's even worse.  This estimate and work assumes that no other part of the federal budget increases by one single net penny — a ridiculously conservative set of assumptions.
If the corrective actions aren't taken in the immediate present tense then what you're looking at is the outcome that will happen, and when that outcome occurs immediate collapse of the government's funding model is assured. 
This is not speculative — it is arithmetic.
The only option The Fed would have would into such an event would be to try to "QE" the difference via what at that point amount to completely-phony auctions and "open market operations" on top of what it's doing now — that is, roughly double the destruction of purchasing power that is taking place today via their "QE-to-infinity."
But that simply transfers the deficit to the population directly via that destruction of purchasing power and it falls almost-entirely on the bottom two quintiles of the income spectrum.
That's a recipe for a nearly-guaranteed civil war as you will generate over 100 million Americans with nothing to lose.
Raw chart data from usgovernmentspending.com, traceable to US Budget data (official)
I stared at this yesterday when it first hit my screen in disbelief.  They actually ran this crap?
While the most sweeping provisions of the health care overhaul have not yet gone into effect, plenty of Americans will still be paying higher insurance premiums this year — as insurance companies try to preemptively cover the cost of a tax increase included in President Obama's Affordable Care Act.

That tax doesn't take effect until next year, when other major provisions like the so-called "individual mandate" and insurance subsidies also kick in. But that hasn't stopped insurance companies from charging higher premiums this year to cover the hike, as well as the cost of ObamaCare benefits such as free birth control and preventive care.

Premiums for individuals and small businesses are projected to increase due to the tax by roughly 2 percent this year and by as much as 3.7 percent in 2023, according to a widely cited analysis by the insurance industry.
2% and 3.7% eh?
Bah.
I have multiple reports of individual and small-group plan price hikes of 50, 60, 70, even 100% coming down this year and next.  Against that 2 or 3.7% is going to sound like a Girl Scout picnic.
The problem is that the "must-issue" and "community rating" provisions in the law are just more cost-shifting and promise to make everyone pay more, because they force everyone to buy — including those who otherwise would not.  Since there is no restraint on the services one consumes enforced by the size of your wallet there is no price feedback mechanism on the medical industry.
Couple that with the medical industry's penchant to force the 330 million Americans to pay for the development of basically everything (because most of the rest of the world steals it, either directly or by threat and thus gets the technologies for reproduction cost) and you have an intractable problem.
Remember, Obama said that health insurance costs would go down with Obamacare.
So who's have gone down?  Mine have gone up!  So has those of everyone who I know.  I have not found one person who, for like-for-like coverage, has seen costs go down, although I'm sure you will find some — for example, someone with AIDS who currently cannot afford to buy at all!
Obamacare was sold to the American public as a means of "controlling" runaway health costs.  It has done nothing of the sort; it has instead advanced that runaway, and yet we haven't even felt the full brunt of the law yet.
This is where our budget problem comes from as well.  There are plenty of people in Washington who knows this, yet you should note that there is a stony silence when it comes to discussing the root of the problem or doing anything to fix it.
Once in a while you will hear someone holler that Health Insurance companies are "ripping people off."  But that's not true — look at Tenet, with a 5.6% return on assets and a 7.6% operating margin (gross) and profit margin of 0.33%, or Cardinal with a 1.78% operating margin (!) and a 1% profit margin.  Raping the consumer?  Don't think so.
How about Merck?  Everyone hates Pharma, right?  Well, maybe you have a reason to — 23.4% operating margin and 14% net.  Or you could look at Pfizer, 31% operating margin and 15.6% net.
That's pretty damned healthy.
But let's assume you zeroed Pfizer's net — that is, you simply stole it (e.g. by taxation.)  How much difference would it make to the Federal Government's $850 billion in spending on health care last year?
Answer: About $6 billion, or well under 1%.
In other words, nothing.
That's because the problem doesn't lie there.  It lies in the cost-shifting, especially international cost-shifting.  It lies in the production of goods and servicesfor which there is no demand in the target markets at the market price, but there's plenty of demand (and thus supply) at a cross-subsidized price.
It is not so simple to say "we'll just tax the hell out of those Pharma folks!"  That will do nothing.  Likewise, you can't squeeze the provider side; there's nothing there to squeeze and blood does not flow from a stone.
So how do you get from here to where we need to go?
A couple of things have to happen — and happen now:
Cross-border cost-shifting must end immediately.  The current rubric is that we "must" let Canada, for example, have Viagra for $2/pill or "they will break patents."  The answer is "tough cookies."  We must prevent the use of the guns of government to allow these firms to wildly distort pricing across boundaries, whether state or national.
Were that to go away then anyone could buy Viagra for $2 and bring it here; the price in the US would collapse.  The makers of drugs and devices would argue that such will destroy the profit in these drugs and thus their development.
That's only true if the price in the foreign nations remains artificially depressed!
What the drug and device companies argue is that these nations tell them that if they do not sell at "their" price then the nation will break their patents and the company will get nothing.  Rather than knuckle under to extortion our answer as a nation must be this:  You can do that, but if you do our development budget will go to zero, since we cannot recover our costs.  If you take this action anyway, knowing that to be the case, there will be nothing for you to steal since the products will not exist in the first place.
The same applies to cost-shifting within provision of services.  Juanita the illegal Mexican comes here 7 months pregnant, drug and alcohol addicted, and goes into labor.  She has no money and (of course) no insurance.  The hospital is required to treat her and her newborn in the NICU, running up a $2m bill which it has no means to collect.
Then you come along with an inflamed appendix and it costs $20,000 to have it removed because $18,000 of that charge is your forced share of Juanita's care.  This is theft and it must stop right here and now — because if it doesn't the entire damned system is going to collapse.
There is no other nation on the planet that allows this sort of financial rape of their citizens to take place.  We're the only nation where it happens and we're fools.  The Democrats demagogue this issue but so have the Republicans — EMTALA, which is the law that forced this business model on hospitals, was a Reagan thing.
Without EMTALA a hospital would have rely on charitable donations for such procedures, because if it attempted to enforce such a cost-shift otherwise you would (and could!) choose to go across town to a hospital that refused to do so.  You'd pay for your procedure there instead, and rather quickly the hospital that tried to force you to buy Juanita's procedures would go out of business.
You would never accept a grocery store that charged you 10x as much as the next person in line because you looked like you had money but the person behind you did not.  This scam is performed every single day in our nation's hospitals and it, along with the above, is inflating the cost of care by a factor of five to ten over what your medical care would otherwise cost.
The bleating over how medical care is "unaffordable" and thus "requires" government help is self-inflicted. Were these distortions to be removed you could pay for your surgery with a credit card — yeah, the financing costs would be high, but you could do it.  Or you could sell your fancy rims on your ride to cover the cost of your child's birth.
This, my friends, is the root of our fiscal and competitiveness problem in America.
It is damn close to the entire budget issue that faces this nation at a Federal and State level.
We either fix it — and fix it now — or the rest of the debate about budgets and fiscal priorities simply will not make a damn bit of difference to the outcome.
Discussion below (registration required to post)
Debt.  There isn't a day that passes as of late that the issue of debt doesn't arise.  Federal debt and consumer debt (including mortgages) are of the most concern due to its impact on the domestic economy.   Debt is, by its very nature, a cancer on economic growth.  As debt levels rise it consumes more capital by diverting it from productive investments into debt service.  As debt levels spread through the system it consumes greater amounts of capital until it eventually kills the host.  The chart below shows the rise of credit market debt and its impact on both personal savings and economic growth.
From the 1950's through the late 1970's interest rates were in a generally rising trend with the Federal Funds rate at 0.8% in 1954 and rising to its peak of 19.1% in 1981.  Of course, during this time the U.S. was the manufacturing and production powerhouse of the entire global economy post the wide spread devastation of Europe, Germany and Japan during WWII.  The rebuilding of Europe and Japan, combined with the years of pent up demand for goods domestically, led to a strongly growing economy and increased personal savings.
However, beginning in 1980 the world changed.  The development of communications shrank the global marketplace while the rise of technology allowed the U.S. to embark upon a massive shift to export manufacturing to the lowest cost provider in order to import cheaper goods.  The deregulation of the financial industry led to new innovations in financial engineering, easy money and wealth creation through the use of leverage which led to a financial boom unlike any seen in history.  The 80-90′s was a period of unrivaled prosperity and the envy of every nation on earth.
Unfortunately – it was the greatest economic illusion ever witnessed.
The reality is that the majority of the aggregate growth in the economy was financed by deficit spending, credit creation and a reduction in savings.  In turn this reduced productive investment in the economy and the output of the economy slowed.   As the economy slowed, and wages fell, the consumer was forced to take on more leverage to maintain their standard of living which in turn decreased savings.   As a result of the increased leverage more of their income was needed to service the debt – and with that the "debt cancer" engulfed the system.
The Austrian business cycle theory attempts to explain business cycles through a set of ideas. The theory views business cycles "as the inevitable consequence of excessive growth in bank credit, exacerbated by inherently damaging and ineffective central bank policies, which cause interest rates to remain too low for too long, resulting in excessive credit creation, speculative economic bubbles and lowered savings."
In other words, the proponents of Austrian economics believe that a sustained period of low interest rates and excessive credit creation results in a volatile and unstable imbalance between saving and investment.   In other words, low interest rates tend to stimulate borrowing from the banking system which in turn leads, as one would expect, to the expansion of credit.   This expansion of credit then, in turn, creates an expansion of the supply of money.
Therefore, as one would ultimately expect, the credit-sourced boom becomes unsustainable as artificially stimulated borrowing seeks out diminishing investment opportunities. Finally, the credit-sourced boom results in widespread malinvestments. When the exponential credit creation can no longer be sustained a "credit contraction" occurs which ultimately shrinks the money supply and the markets finally "clear" which then causes resources to be reallocated back towards more efficient uses.
The chart below shows the increasing levels of money supply and debt versus the changes in economic and wage growth.  The impact of debt on the economy remains unrecognized by policy makers and central bankers who have failed to understand what the current downturn encompasses.  Therefore, these same individuals continue to chase economic theories based on a mistaken belief that the current recession is an ordinary period of falling aggregate demand.  However, the reality is something far different.
The reason that the policies which have been enacted by the current Administration up to this point have all but failed, be it "cash for clunkers"  to "Quantitative Easing", is because they were designed to either drag future consumption forward or to slow the deleveraging process.  The Keynesian view that "more money in people's pockets" will boost consumer spending, and ultimately grow GDP, has clearly been wrong.  It hasn't happened in 30 years.   What is missed is that things like temporary tax cuts, or one time injections, don't create economic growth but merely reschedules it.  While the average American will act on a near-term increase in their take home pay – any increased consumption in the present will be matched by a decrease later when the tax cut is revoked.
This is, of course, assuming the balance sheet at home hasn't broken.  The problem today is that for only the second time in the history of the United States we are in the process of deleveraging the balance sheet of the U.S. economy.   As we saw during the period of the"Great Depression" most economists thought that the simple solution was just more stimulus.   Work programs, lower interest rates, government spending all didn't work to stem the tide of the depression era.
The problem is that during a "balance sheet" recession the consumer is forced to pay off debt which detracts from their ability to consume.   This is the one facet that Keynesian economics doesn't factor in. More importantly it also impacts the production side of the equation as well since no act of saving ever detracts from demand.  Consumption delayed is merely a shift of consumptive ability to other individuals, and even better, money saved is often capital supplied to entrepreneurs and businesses that will use it to expand, and hire new workers. 
So, while classical economics says that production comes first, the problem becomes that during a "balance sheet recession" the economy is put into a stranglehold for productive investment. The continued misuse of capital and continued erroneous monetary policies have instigated not only the recent downturn but actually 30 years of an insidious slow moving infection that has destroyed the American legacy.
This is why we need real reform in government that leads to a smaller government, more clarity for businesses through pro-growth policies, real regulation of Wall Street which separates banks and brokerages, as well as programs and subsidies for bringing back to America those jobs that require a little hard work and a little bit of sweat but create a whole lot of pride and prosperity along the way.
It's time for our leaders to wake up and smell the burning of the dollar – we are at war with ourselves and the games being played out by Washington to maintain the status quo is slowing creating the next crisis that won't be fixed with monetary bailout.
Lance Roberts – Street Talk Live
Standard of living, meet falling US dollar – how a falling US dollar benefits banks at the expense of working Americans.
There is certainly a cost to a falling US dollar.  Many Americans are living the consequences of this multi-decade long trend.  The Federal Reserve has only added fuel to this trend but many families are now realizing that there does come a cost to unrelenting debt based solutions to fiscal problems.  Shopping at the local grocery store I've noticed that some items have doubled in the last few years.  Fueling up is also more expensive.  The issue with living on a low dollar policy is that eventually, you end up in a low wage capitalist system.  The easy money slowly inflates away especially on global items.  We are seeing this in the US in various arenas especially with higher education.  The end result is that the standard of living for the vast majority of Americans has fallen dramatically in the last few decades.
US dollar trend
The US dollar has been on a multi-decade long trend that has resulted in a 50 percent haircut: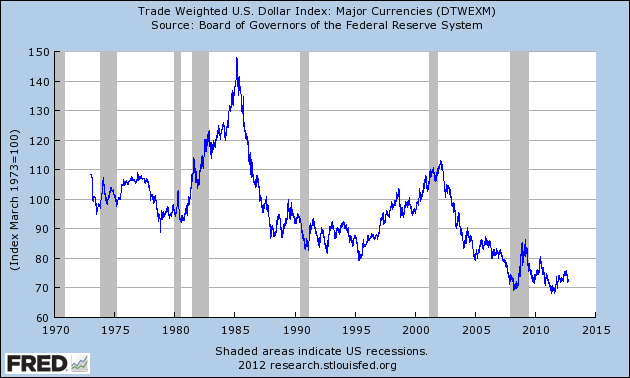 Think about what this has done in a more practical sense:
-Energy is more expensive because it is traded on a global market (you are trying to compete with others with a declining currency)

-Education.  Massive debt has devalued the dollars even further.  Very few families can actually afford to pay the sticker price of tuition and need to go into debt just to finance college.  Most of the middle class jobs are now in fields that require degrees since the jobs are not growing in manufacturing (that is, making actual things):

-Food gets more expensive since you are also competing globally here.  Take a look at your grocery bill and compare it to your bill from 10 years ago.  This stands in stark contrast to household income that has been stagnant for over a decade.
We rarely hear about the massive decline in the US dollar in the mainstream press.  This is not likely to come up in any of the campaigns because the Fed and government realize they need to inflate our debt away.  Who in their right mind thinks we are ever going to pay off that growing $16 trillion debt?  The middle class in the US is a shrinking group.
Read the rest at My Budget 360