Archive for the 'CPI' Category
Unemployment Claims: Back To Reality?
In the week ending February 16, the advance figure for seasonally adjusted initial claims was 362,000,  an increase of 20,000 from the previous week's revised figure of 342,000.  The 4-week moving average was 360,750, an increase of 8,000 from the previous week's revised average of 352,750.

….

The advance number of actual initial claims under state programs, unadjusted, totaled 346,428 in the week  ending February 16, a decrease of -14,758 from the previous week.   There were 346,659 initial claims in the comparable week in 2012.
So we have a reasonable actual .vs. "adjusted" number — heh, look at that!
What's the big table look like?
Interesting — the EUC rolloff continues, now under 2 million total.  This is very significant, but note carefully that there is yet to be any evidence that these "newly not-drawing-UE folks" are getting jobs.  That, in turn, should be expected to show up in retail spending over the next few months, and not in a good way either.
But this week, which was the first post the February employment report, did show a nearly 77,000 drop in regular claim participants.
Call it a mixed bag with a mild positive bias for today.
******************************************************************************
CPI (Consumer Price Index): Some Like It Hot(ter)
Well look at what we have here:
The Consumer Price Index for All Urban Consumers (CPI-U) was unchanged in January on a seasonally adjusted basis, the U.S. Bureau of Labor Statistics reported today. Over the last 12 months, the all items index increased 1.6 percent before seasonal adjustment.

The index for all items less food and energy increased 0.3 percent in January. This increase offset another decline in the gasoline index and resulted in the seasonally adjusted all items index being unchanged, as it was last month. Increases in the indexes for shelter and apparel accounted for much of the increase in the index for all items less food and energy, with advances in the indexes for recreation, medical care, and airline fares also contributing.
Oh oh.
That woud be a 3.66% annualized increase in core, which ought to perk up your ears.
Let's have a look inside at annualized increases, as we did with the PPI.
The first thing that stands out is that the "target" is "achieved" at a 1.9% core rate annualized.  But….
Shelter, particularly rent, is up closer to 3% while hospital services are up 4.7% and transportation is also up 3%, with insurance up nearly 5%.  The latter is a big perverse effect of QE, in that insurance companies make a fair bit of their money off fixed-income investments.  That's dead, of course.
If you like to eat, eat lamb.  It's down 15% on the year.
Don't eat apples.  They're up 11%. Fruits in general are up 4.6%, and vegetables 3.4%.
Electronics continued their dive, with TVs off 17% on the year.  Americanus Boobus has his idiot box for another year at an ever-lower price.
Don't go to college unless you want a textbook shoved up your butt. Their price is up 8% on the year, and the best part of it is that your professor is probably getting a piece of it.  That smile on his face?  It's because he's assaulting you coming and going.
Computers continue their inexorable decline, as do other consumer information items (e.g. cell phones, tablets, etc.)  Bye-bye margins.
And don't start this crap about how "health costs" have "leveled out."  The hell they have.  Health insurance is up 8.6% annualized, damned close to the 9% escalation that has been maintained historically over the last 30 years.  If you believe that it comprises only 0.658% of the total amount of money you spend as a consumer, which is what the government claims, then you're dumber than a box of rocks.
Can't afford a car and need to ride the bus?  That's up considerably more than the so-called "inflation index."  Oh, and that's a laugable 0.264% of your budget too.  Really, for those who actually use it?
Those are the lowlights — enjoy.
******************************************************************************
Philly Fed: Now You're F*ed
That will be the end of that debate.
The survey's broadest measure of manufacturing conditions, the diffusion index of current activity, decreased from a reading ]5.8 in January to ]12.5 this month (see Chart). The demand for manufactured goods also showed slight declines this month: The new orders index declined from a reading of ]4.3 in January to ]7.8 in February. Despite negative readings for general activity and new orders, the shipments index showed improvement: The index remained positive and edged slightly higher to 2.4. The percentage of firms reporting increased shipments (25 percent) was slightly greater than the percentage reporting declines (22 percent).
That's not good.
There was a small indication of stability — the number of employees basically was flat and the workweek only declined slightly.  But….. there is no unfilled order backlog, new orders are declining faster, inventories are drawn down materially below the flat-line and the price paid/received spread is still the wrong way.
These indices have been screaming recession incoming for the last six months.  That's the average lead time — which means it's here and now, and there are no policy steps remaining available to counteract it as Congress, instead of rationalizing fiscal policy three years ago has instead chosen to "support" phantom and fraudulent "demand" with deficit spending.
Buckle up and keep in mind the average declines in the market during a serious (and severe) recession when there are no effective policy tools available to attempt to counteract it.
******************************************************************
There's no problem with food and energy prices going up…. right?
The Consumer Price Index for All Urban Consumers (CPI-U) increased 0.6 percent in September on a seasonally adjusted basis, the U.S. Bureau of Labor Statistics reported today. Over the last 12 months, the all items index increased 2.0 percent before seasonal adjustment.

For the second month in a row, the substantial increase in the all items index was mostly the result of an increase in the gasoline index, which rose 7.0 percent in September after increasing 9.0 percent in August. The other major energy indexes increased in September as well.
That'll leave a mark.
Let's have a look inside at the unadjusted figures.
Notables are Dairy, fruits and vegetables, up 0.5% and 0.4% respectively, while meats and cereals were each down a similar amount.  Non-alcoholic beverages were up 0.7% on the month, which is a curious change.
Energy commodities were up in a seirous way, other than piped gas and electricity; all sorts of fuels were up 4.1% (again, unadjusted.)  And all items less food and energy, unadjusted, was up 0.3%, not 0.1%, which is a 3.7% annualized rate of increase in core.
Apparel was up 4.1% while used vehicles were down 2.1%.  Demand problem?  Hmmm….
Finally, physicians and hospitals were up 0.4 and 0.5%, respectively, on the month.
If you want to see real stunners, look in the detail tables.  Women's clothing was up a shocking 24.2% on the month for outerwear and 13.4% for dresses (!)  Girls wasn't much better, up 10.1%.  It appears that whatever the "new fashion" game may be for this fall the clothing designers are screwing women in a big way; my recommendation would be to not bite on that bait.
Another interesting internal indication in the data is that car and truck rental prices were down over 7% on the month; this maybe an indication of travel softness.  These figures have been weak for the last year, and this is a rather notable secondary indication on business travel in particular.
Inflation has been picking up since the recession ended in 2009.  The problem with the CPI increasing year over year with no rise in household incomes is that the standard of living for most Americans erodes every year that incomes do not keep up.  Household incomes are back to levels last seen in the mid-1990s while the cost of necessities has gone up.  This brings us to our article today that examines the nuts and bolts of what constitutes the Consumer Price Index (CPI).  The CPI attempts to measure the changes in price for consumer goods and services.  Overall it did a very poor job of measuring the housing bubble because of the owner's equivalent of rent metric.  Today, it is understating inflation because of the excess spending on "wants" that occurred in the 2000s has now shifted to spending on "needs" but is being dragged down by the amount of family spending on needed goods.  We will dig deep into this data but suffice it to say that the Fed is creating inflation in items most Americans actually need to live their daily lives and the burden on the poor is actually increasing.
Do not believe the talk that inflation is nonexistent
Even a one percent rate of inflation is troubling if incomes are stagnant or falling.  Since the recession has ended inflation has occurred even as measured by the CPI: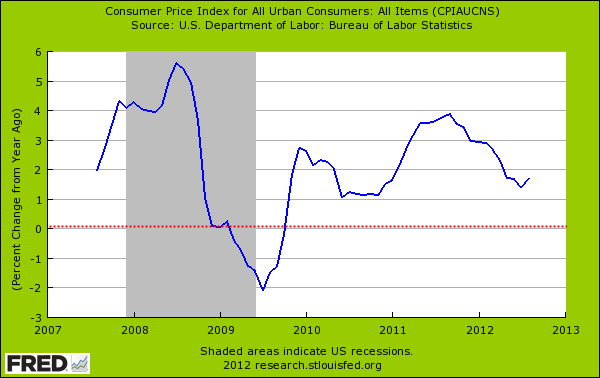 Over this same timeframe, household incomes have remained stagnant and household net worth has fallen close to 40 percent.  Yet there is something more troubling in the actual data.  The inflation rate is actually being understated because Americans have shifted consumption from non-essential goods to actually seeing inflation in things that they actually need.  In the 2000s spending on wasteful items was rampant and much of it came because of the easy access to debt.  Yet with 100 million credit cards being yanked out of the system, this spending has fallen dramatically.  So where exactly is the inflation occurring?
Change in Family Spending: 2007 – 2011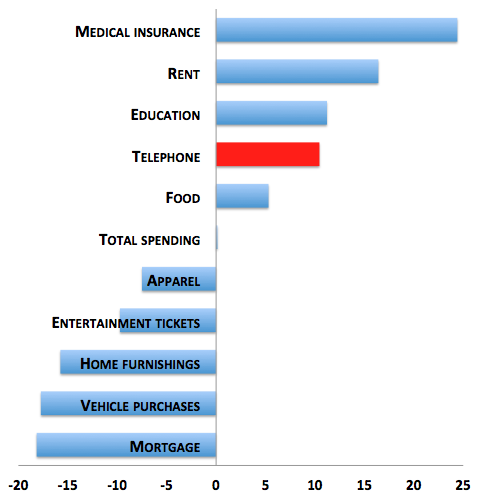 Source:  The Atlantic
This is a very important chart to examine.  What we find is that family spending has gone up on items that are daily needs.  The biggest change has occurred on medical insurance and rents.  The cost of rents going up has come thanks to the financial system allowing million of properties to be held off the market thus allowing prices to be pushed up as the population grows.  The price of rents going up isn't a sign that incomes are going up but a troubling fact that Americans have to allocate more of their funding to housing.  Of course, this is hitting working, middle class, and younger Americans hardest who actually do not own a home.
Read the rest at: My Budget 360
Retail Sales: BIG Gas Sales Increase
The U.S. Census Bureau announced today that advance estimates of U.S. retail and food services sales for August, adjusted for seasonal variation and holiday and trading-day differences, but not for price changes, were $406.7 billion, an increase of 0.9 percent (±0.5%) from the previous month and 4.7 percent (±0.7%) above August 2011. Total sales for the June through August 2012 period were up 4.0 percent (±0.5%) from the same period a year ago. The June to July 2012 percent change was revised from 0.8 percent (±0.5%) to 0.6 percent (±0.2%).
Bah, really.
If you believe the seasonal adjustments then of the $3,572 (millions) increase $2,387, or two thirds was gasoline.
And that's not an increase in driving, it's increases in price.
Oh, and of the rest nearly all of it was car sales.
Discussion (registration required to post)
***********************************************************************
CPI: Some Like It Smoking Hot
And here comes the consumer price increases!
The Consumer Price Index for All Urban Consumers (CPI-U) increased 0.6 percent in August on a seasonally adjusted basis, the U.S. Bureau of Labor Statistics reported today. Over the last 12 months, the all items index increased 1.7 percent before seasonal adjustment.

The seasonally adjusted increase in the all items index was the largest since June 2009. About 80 percent of the increase was accounted for by the gasoline index, which rose 9.0 percent and was the major factor in the energy index rising sharply in August after declining in each of the four previous months.
It didn't rise, it skyrocketed.
Energy as a whole was up 4% on the month, with a 7.2% increase in motor fuels.
Oh yeah, and QE doesn't tend to make oil prices go up, does it?  Well let's see — as I drove my kid to school this morning I noted that overnight fuel prices were up six cents, or about 1-1/2%.
But don't worry, "core" inflation is contained.
Of course nobody we know buys gasoline or food, right?
*****************************
Sadly, Congress and the White House seem incapable of agreeing on substantive measures to tackle the $10.4 trillion mountain of U.S. debt.

But there is one long-overdue piece of important business that can and should get done: The adoption of a more accurate gauge of U.S. inflation that would yield immediate savings and help put the economy on firmer ground. The fix has already been endorsed by lawmakers in both parties, the Obama administration, many economists and a series of bipartisan deficit-reduction panels. Best of all, it would help shore up Social Security. Trustees for the retirement fund on April 23 projected it would run dry in 2033, three years earlier than last year's forecast.

It has been widely recognized for almost two decades that the current measure, the consumer price index, contains several biases that cause it to overstate inflation anywhere from 0.3 percentage point to 0.8 percentage point, depending on which expert you talk to. The miscalculation has damaging consequences for the U.S. economy. The CPI is the benchmark that determines cost-of-living adjustments for a wide range of government programs, including Social Security and federal employee pensions. It also is used to peg income-tax brackets, exemptions, deductions and credits.

What Bloomberg is talking about is the use of so-called "chained" CPI.
What could possibly be wrong with this little word — "chained"?
If you've read Leverage you know that one of the big scams is that the so-called "CPI" (consumer price index), which is what the government calls "inflation", is intentionally misleading.
Among the intentional distortions are the use of "owners equivalent rent" instead of house prices; the rent for a given piece of property goes down during repressed interest rates, while housing bubbles are encouraged.  That is, it costs less to purchase for investment on a cash-flow basis during such a time, which tends to make prices go up — but rents go down, since cash flow is how rents are balanced in the marketplace.  And housing is the largest single expense for most households.
In addition the percentage computations for CPI are set for a "median" household.  This grossly understates the impact of rising food and energy prices for those who have a less-than-median income, and overstates them for wealthy households.  For example, electricity is allegedly 2.894% (about 3%) of your budget.  It's less than that for me, and I live in Florida where AC use is rampant.  But for someone who has a $200/month power bill here and a $50,000 gross income, netting around $40,000, their power bill is some 6% of their net income, not 3%.
Food at home is allegedly 8.6% of spending.  For my household it's considerably less than that.  For a family of four who only makes $25,000 a year I challenge you to feed them for under $200/month.
Then there's "hedonic adjustment", which is part and parcel of "chained CPI."  Some of this is already in the CPI; you can no longer buy a tube television, for example, but the LCD display is some 40% "better" according to the BLS — so the fact that it's 40% more expensive is not counted as "inflation."  Of course if your old TV breaks from your perspective you either pay 40% more or have no television at all.
Chained CPI is the extension of this distortion to all changes in purchasing habits that result from price changes and personal economic circumstance, removing that influence.  So as meat becomes too expensive for seniors and they "trade down" to dogfood, chained CPI would eliminate the price increase in meat from the computation by shifting the weighting to dogfood as behavior changes.
This is "hedonic adjustment" on steroids, and effectively allows the government to screw anyone who is impacted by actual price changes by counting their behavior change as a mitigating factor.
The gall of such a proposal is extraordinary — but not surprising given recent history.  It also belies the desperation of the government; the fact of the matter is that monetary inflation and personal income looks like this:
What's worse is that this income "growth" includes purely financial credit (e.g. credit default swap margin) that doesn't directly enter the chain of commerce.  If we remove that and re-base to account for income growth net of monetary inflation less financial credit we get this:
If you want to know why the government is so desperate to "rebase" CPI, it's found in that chart.  Put simply since 2000 you have been serially raped as a consumer in terms of actual spending power.  The common chestnut is that "rising asset prices are good", yet someone has to appear with money for you to sell to in order to realize that gain; until you sell the alleged "gain" is in fact fictitious as you can't spend a paper gain, only a realized one.
When government gets to the point that it starts counting dogfood as equivalent to steak in its statistical reports you know the end of the line — the brick wall that we're hurtling toward — has come within full view, and the closing rate toward that wall is very apparent.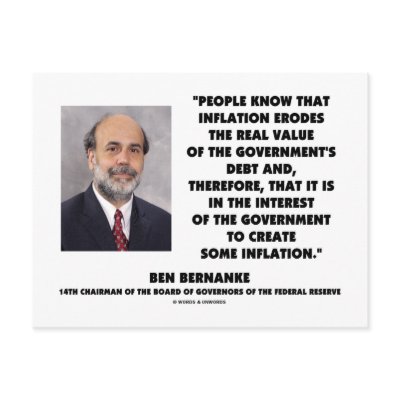 This is some sort of joke, right?
The Consumer Price Index for All Urban Consumers (CPI-U) increased 0.4 percent in February on a seasonally adjusted basis, the U.S. Bureau of Labor Statistics reported today. Over the last 12 months, the all items index increased 2.9 percent before seasonal adjustment.

The gasoline index rose sharply in February, accounting for over 80 percent of the change in the all items index. The gasoline increase led to a 3.2 percent rise in the energy index despite a decline in the index for natural gas. The food index was unchanged in February, with the food at home index unchanged for the second month in a row as major grocery store food indexes were mixed.
But remember, nobody needs any food and especially any energy.  And while natural gas is diving, gasoline is going up faster.
The big table (Table 1) remains amusing; Rick Santelli was on CNBS with a very legitimate screed about the CPI, one that I wrote about extensively in Leverage.  Specifically, the weighting is only "valid" for the "average" consumer.  But of course incomes are rarely average.  A lower-income person uses an extraordinary amount of their income for food, shelter and energy compared to higher-income people.  This means that costs in those areas have a wildly disparate impact on poorer Americans, and the poorer you are the worse it is.
Then there's hedonics.  Rick needs to use a better example; I like the television one since everyone can relate to it (we all have idiot boxes, right?)  The government claims that a LCD TV is "better" by a material amount — 70% in fact.  This is true, of course — a LCD TV does have a sharper picture, uses less energy and is physically smaller.  As such since the government says that a LCD TV is 70% "better" than a CRT one, if the price is 70% higher there is no "inflation" since you're getting the same utility value for the money spent.
That would be a decent argument if you could still choose to buy a CRT TV!  But you can't because they're not made any more.  Your options are to spend 70% or get nothing, and yet this is not called "inflation."
If you want to watch TV and yours just broke, I suspect you disagree.
There's a number of other interesting claims in the table too.  For example, "food away from home" is listed as up 3.1%.  One wonders what's going on there as I've noticed both price increases and negative changes in quality and quantity in eateries that are vastly more than 3% in the last year.  When you actually notice it the change is typically somewhere between 10-20% — consider that a 3% change in a $20 check is sixty cents.  It's highly unlikely that you would note the cost of eating out going up at that rate, or the quality of the food going down — unless it was dramatically more than 3%.
There are other problems for lower-income citizens as well.  Water, sewer and trash collection services are up (according to the table) 4.7% over the last year.  That's non-trivial.  Fuel oil of course is up big (as is gasoline, up 12%.)  Apparel is up sharply as well, as is transportation, with the largest cost increases coming in the form of fuel.
In the final analysis however the report did not surprise, and the market pretty-much ignored it.  Then again the TNX (10 year Treasury yield) says "no mas" on these figures as it continues its march higher, now over 2.3% and up 2.2% on the day.
May you live in interesting times.