Archive for the 'Credit' Category
This sort of story makes my blood boil:
Generation X, the unlucky cohort of Americans who became young adults during the boom years of the 1990s only to suffer a midlife bust, is facing bleak retirement prospects, according to a study.

The Pew Charitable Trusts said the typical Gen X couple, born between 1966 and 1975, only has enough savings to replace half of its pre-retirement earnings. Married Americans born during the first part of the baby boom, from 1946 to 1955, can expect to retire with about 82 percent of their income. The younger boomers, born between 1956 and 1964, can expect to quit work and make about 59 percent of pre-retirement earnings.
That's because they blew the damn money.
These are the same people who have incessantly demanded more and more government, more and more control over other people, more and more servicesand at the same time think an iPhone is more important than their retirement savings.
They're the ones driving new cars every 2 years and pissing away money chasing after the Joneses.  They have no sense of reality, especially when it comes to personal responsibility over their lives and bodies.  They are the "young people" who pressed for "freedom" – from responsibility.
They're the ones who flooded the market (and still do!) screaming for cheaper and more debt to buy houses, cars, cellphones and other alleged "badges" of prosperity.  They made up the majority of house-flippers, condo resale junkies and the schemers selling the nation on this crap.  They made up the majority of the Wall Street junkies pushing the credit heroin through the streets too.
In short many of them were the "I'm gonna get mine and fuck you" generation.  Yeah, many of the boomers were responsible for this too; in many ways they're even more responsible.  The sense of entitlement has gotten worse, not better, as you move forward in generational terms.
There are exceptions, of course.  I've met plenty of people who have had their own personal "Come to Jesus" moment on these matters — who understand that economic surplus is first and foremost personal, and that the premise that someone else (including the collective "someone else" found in government) owes you something makes you their slave, as once you stick your hand out they get to dictate terms.
There's a certain wry smile that crawls across my face when I run into someone learning that lesson the hard way.  But there's a sadness that goes with it, because the fact of the matter is that until a critical mass of people return to being able to think things through logically and put the effort in to do so the net position of our nation and her people is destined to deteriorate rather than advance.
Ronald Reagan famously said that it was "morning again in America"; unfortunately what he allowed and what we got was a false dawn.  Rather than be the stern father who says "Yes, son, it's morning, and this means you have 12 hours of daylight to bust your ass so after you buy your room for the night and food for your belly there is something left to save and thus invest in a future venture" he allowed Congress to fail to follow through on the bargain he struck and contract the size of government to fit the reduced tax revenues that were passed.
He could have done so but that would have been hard; simply refusing to sign any bills until the promise was kept would have been enough, but it also would have been politically nasty.
It's easy to be loved when you're handing out "free money."
The problem is that you're living an open and notorious fraud because there is no such thing as free money.
That fraud continues and has been amplified today.
The carrot of self-sustaining recovery will remain out of reach, for the policies presented as the path to recovery preclude the "virtuous cycle" everyone desires.
The enduring myth of the post-2008 era is that central-planning money printing and deficit spending would soon spark a self-sustaining recovery. Once consumers and businesses stepped up their own borrowing and spending, the central bank and state would then pare back money printing and deficit spending, as the increase in private-sector spending would fuel further borrowing and spending, i.e. become self-sustaining.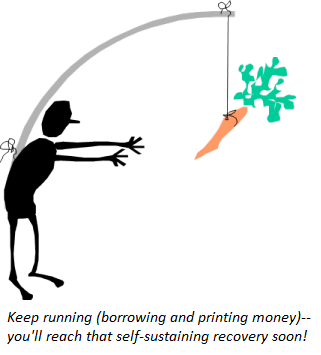 The reality is the mythical self-sustaining recovery is the carrot dangled in front of a credulous public: though we're constantly reassured "we're almost there" (the promised land of self-sustaining recovery), the mythical recovery remains out of reach, no matter how much money is printed or borrowed and blown in fiscal stimulus.
There are several key reasons for this.
1. As noted yesterday, consumption is not investment, no matter how many times you call consumption "an investment." Investment is planting one's seed corn (capital) wisely. Consumption ($300 million fighter aircraft, $70,000 biopsies, McMansions in the middle of nowhere, endless subsidies of housing and banking, etc.) is turning the seed corn into sour mash and indulging in a drunken orgy of squandered debt that cannot and will not be paid back in dollars with today's purchasing power.
2. Borrowing money (debt) yields diminishing return. There's this funny little thing called interest that piles up in a borrowing spree that eventually siphons off much of the debtor's income stream, effectively impoverishing the borrower.
There's another funny thing called mal-investment or mis-allocation of capital: when the borrowed money is nearly free (low interest rates), then even poor quality bets (oops, I mean "investments") get funded. This is especially true if the winnings are yours to keep but any losses you incur are covered by Big Brother–the Federal Reserve or the U.S. Treasury–and the taxpayers the government has indentured to the banking sector.
3. Debt that cannot be written down because that would impair the politically powerful financial sector remains a tightening noose around the throat of the economy. Capitalism requires creative destruction, which includes the liquidation of bad bets and unpayable debt. Since that is verboten in our State-managed crony-capitalism system, the impaired debt remains on the books, supported by endless government subsidies.
Both the phantom collateral and the subsidies derange and distort the markets, leading to further bad decisions as risk has been obscured.
4. As analyst Ramsey Su recently observed, It is obvious that the central banks of the world have printed too much money, (which) all went into the wrong hands and now has nowhere to go. In the oft-propagated myth of central bank intervention, helicopters drop cash into the economy to stimulate demand for goods and services, sparking the "virtuous cycle" of a self-reinforcing recovery.
But the money isn't dropped into households or the real economy–it's dropped into banks, which use it for speculation or funding cronies' speculations and asset grabs. If the Federal Reserve had wanted to do a real helicopter drop of money, it could have sent $10,000 in cash to every taxpayer. Instead, it lavished at least $23 trillion in subsidies, backstops and guarantees on the Too Big To Fail banks and the mortgage industry.
This neofeudal distribution of $7 trillion in new Federal debt to taxpayers and the Fed's trillions in "free money" to the parasitic financial sector has carved out a vicious cycle of lower real household incomes, higher interest payments and new asset bubbles in stocks, bonds and housing. These trillions of dollars in freshly issued money have flowed to financiers who have used it to chase yield in one asset class or another.
As a result of these neofeudal policies, the economy is now perched precariously on the edge of multiple asset bubbles and demographically impossible-to-fulfill promises of entitlements and other giveaways (such as mortgage/housing subsidies and a variety of corporate welfare scams).
The carrot of self-sustaining recovery will remain out of reach, for the policies presented as the path to recovery preclude the "virtuous cycle" everyone desires.
Charles Hugh Smith – Of Two Minds
An over-indebted, overcapacity economy cannot generate real expansion. It can only generate speculative asset bubbles that will implode, destroying the latest round of phantom collateral.
I have endeavored to lay out the global endgame in four recent entries:
Is This the Terminal Phase of Global Capitalism 1.0? (February 8, 2013)
Note to Fed: Giving the Banks Free Money Won't Make Us Hire More Workers(February 11, 2013)
Cheap, Abundant Credit Creates a Low-Return, Bubble-Prone World (February 12, 2013)
Europe Is Not "Fixed": Two Charts (February 13, 2013)
For those seeking a summary, here is the global endgame in fourteen points:
1. In the initial "boost phase" of credit expansion, credit-based capital ( i.e. debt-money) pours into expanding production and increasing productivity: new production facilities are built, new machine and software tools are purchased, etc. These investments greatly boost production of goods and services and are thus initially highly profitable.
2. As credit continues to expand, competitors can easily borrow the capital needed to push into every profitable sector. Expanding production leads to overcapacity, falling profit margins and stagnant wages across the entire economy.
Resources (oil, copper, etc.) may command higher prices, raising the input costs of production and the price the consumer pays. These higher prices are negative in that they reduce disposable income while creating no added value.
3. As investing in material production yields diminishing returns, capital flows into financial speculation, i.e. financialization, which generates profits from rapidly expanding credit and leverage that is backed by either phantom collateral or claims against risky counterparties or future productivity.
In other words, financialization is untethered from the real economy of producing goods and services.
4. Initially, financialization generates enormous profits as credit and leverage are extended first to the creditworthy borrowers and then to marginal borrowers.
5. The rapid expansion of credit and leverage far outpace the expansion of productive assets. Fast-expanding debt-money (i.e. borrowed money) must chase a limited pool of productive assets/income streams, inflating asset bubbles.
6. These asset bubbles create phantom collateral which is then leveraged into even greater credit expansion. The housing bubble and home-equity extraction are prime examples of theis dynamic.
7. The speculative credit-based bubble implodes, revealing the collateral as phantom and removing the foundation of future borrowing. Borrowers' assets vanish but their debt remains to be paid.
8. Since financialization extended credit to marginal borrowers (households, enterprises, governments), much of the outstanding debt is impaired: it cannot and will not be paid back. That leaves the lenders and their enabling Central Banks/States three choices:
A. The debt must be paid with vastly depreciated currency to preserve the appearance that it has been paid back.
B. The debt must be refinanced to preserve the illusion that it can and will be paid back at some later date.
C. The debt must be renounced, written down or written off and any remaining collateral liquidated.
9. Since wages have long been stagnant and the bubble-era debt must still be serviced, there is little non-speculative surplus income to drive more consumption.
10. In a desperate attempt to rekindle another cycle of credit/collateral expansion, Central Banks lower the yield on cash capital (savings) to near-zero and unleash wave after wave of essentially "free money" credit into the banking sector.
11. Since wages remain stagnant and creditworthy borrowers are scarce, banks have few places to make safe loans. The lower-risk strategy is to use the central bank funds to speculate in "risk-on" assets such as stocks, corporate bonds and real estate.
12. In a low-growth economy burdened with overcapacity in virtually every sector, all this debt-money is once again chasing a limited pool of productive assets/income streams.
13. This drives returns to near-zero while at the same time increasing the risk that the resulting asset bubbles will once again implode.
14. As a result, total credit owed remain high even as wages remain stagnant, along with the rest of the real economy. Credit growth falls, along with the velocity of money, as the central bank-issued credit (and the gains from the latest central-bank inflated asset bubbles) pools up in investment banks, hedge funds and corporations.
The net result: an over-indebted, overcapacity economy cannot generate real expansion. It can only generate speculative asset bubbles that will implode, destroying the latest round of phantom collateral.
Here are three charts that illustrate #14:
Eurozone credit since the inception of the euro. This is roughly equivalent to TCMDO (Total Credit Market Debt Owed) in the U.S.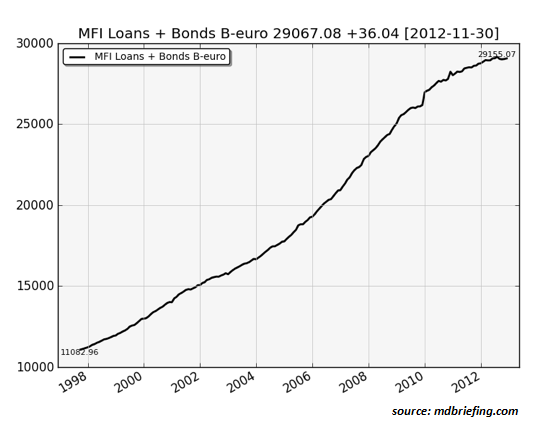 Eurozone credit growth: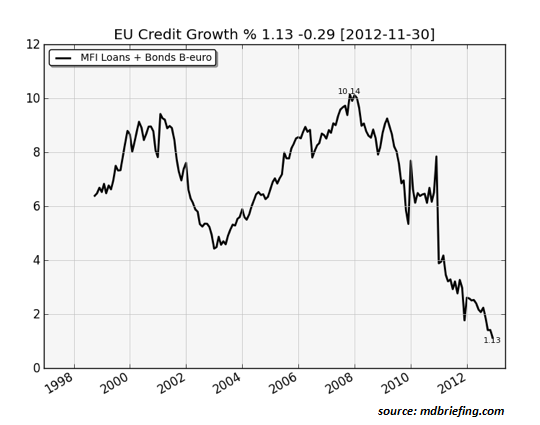 Money velocity in the U.S.: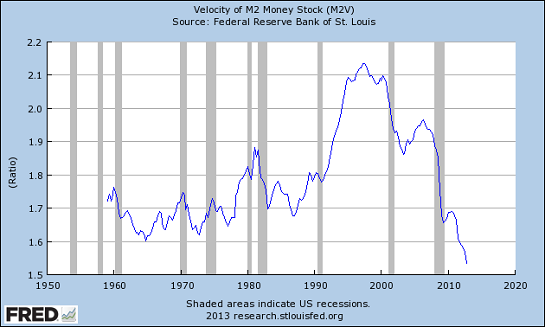 That is the endgame in three charts. Checkmate, game over.
Charles Hugh Smith – Of Two Minds
Debt.  There isn't a day that passes as of late that the issue of debt doesn't arise.  Federal debt and consumer debt (including mortgages) are of the most concern due to its impact on the domestic economy.   Debt is, by its very nature, a cancer on economic growth.  As debt levels rise it consumes more capital by diverting it from productive investments into debt service.  As debt levels spread through the system it consumes greater amounts of capital until it eventually kills the host.  The chart below shows the rise of credit market debt and its impact on both personal savings and economic growth.
From the 1950's through the late 1970's interest rates were in a generally rising trend with the Federal Funds rate at 0.8% in 1954 and rising to its peak of 19.1% in 1981.  Of course, during this time the U.S. was the manufacturing and production powerhouse of the entire global economy post the wide spread devastation of Europe, Germany and Japan during WWII.  The rebuilding of Europe and Japan, combined with the years of pent up demand for goods domestically, led to a strongly growing economy and increased personal savings.
However, beginning in 1980 the world changed.  The development of communications shrank the global marketplace while the rise of technology allowed the U.S. to embark upon a massive shift to export manufacturing to the lowest cost provider in order to import cheaper goods.  The deregulation of the financial industry led to new innovations in financial engineering, easy money and wealth creation through the use of leverage which led to a financial boom unlike any seen in history.  The 80-90′s was a period of unrivaled prosperity and the envy of every nation on earth.
Unfortunately – it was the greatest economic illusion ever witnessed.
The reality is that the majority of the aggregate growth in the economy was financed by deficit spending, credit creation and a reduction in savings.  In turn this reduced productive investment in the economy and the output of the economy slowed.   As the economy slowed, and wages fell, the consumer was forced to take on more leverage to maintain their standard of living which in turn decreased savings.   As a result of the increased leverage more of their income was needed to service the debt – and with that the "debt cancer" engulfed the system.
The Austrian business cycle theory attempts to explain business cycles through a set of ideas. The theory views business cycles "as the inevitable consequence of excessive growth in bank credit, exacerbated by inherently damaging and ineffective central bank policies, which cause interest rates to remain too low for too long, resulting in excessive credit creation, speculative economic bubbles and lowered savings."
In other words, the proponents of Austrian economics believe that a sustained period of low interest rates and excessive credit creation results in a volatile and unstable imbalance between saving and investment.   In other words, low interest rates tend to stimulate borrowing from the banking system which in turn leads, as one would expect, to the expansion of credit.   This expansion of credit then, in turn, creates an expansion of the supply of money.
Therefore, as one would ultimately expect, the credit-sourced boom becomes unsustainable as artificially stimulated borrowing seeks out diminishing investment opportunities. Finally, the credit-sourced boom results in widespread malinvestments. When the exponential credit creation can no longer be sustained a "credit contraction" occurs which ultimately shrinks the money supply and the markets finally "clear" which then causes resources to be reallocated back towards more efficient uses.
The chart below shows the increasing levels of money supply and debt versus the changes in economic and wage growth.  The impact of debt on the economy remains unrecognized by policy makers and central bankers who have failed to understand what the current downturn encompasses.  Therefore, these same individuals continue to chase economic theories based on a mistaken belief that the current recession is an ordinary period of falling aggregate demand.  However, the reality is something far different.
The reason that the policies which have been enacted by the current Administration up to this point have all but failed, be it "cash for clunkers"  to "Quantitative Easing", is because they were designed to either drag future consumption forward or to slow the deleveraging process.  The Keynesian view that "more money in people's pockets" will boost consumer spending, and ultimately grow GDP, has clearly been wrong.  It hasn't happened in 30 years.   What is missed is that things like temporary tax cuts, or one time injections, don't create economic growth but merely reschedules it.  While the average American will act on a near-term increase in their take home pay – any increased consumption in the present will be matched by a decrease later when the tax cut is revoked.
This is, of course, assuming the balance sheet at home hasn't broken.  The problem today is that for only the second time in the history of the United States we are in the process of deleveraging the balance sheet of the U.S. economy.   As we saw during the period of the"Great Depression" most economists thought that the simple solution was just more stimulus.   Work programs, lower interest rates, government spending all didn't work to stem the tide of the depression era.
The problem is that during a "balance sheet" recession the consumer is forced to pay off debt which detracts from their ability to consume.   This is the one facet that Keynesian economics doesn't factor in. More importantly it also impacts the production side of the equation as well since no act of saving ever detracts from demand.  Consumption delayed is merely a shift of consumptive ability to other individuals, and even better, money saved is often capital supplied to entrepreneurs and businesses that will use it to expand, and hire new workers. 
So, while classical economics says that production comes first, the problem becomes that during a "balance sheet recession" the economy is put into a stranglehold for productive investment. The continued misuse of capital and continued erroneous monetary policies have instigated not only the recent downturn but actually 30 years of an insidious slow moving infection that has destroyed the American legacy.
This is why we need real reform in government that leads to a smaller government, more clarity for businesses through pro-growth policies, real regulation of Wall Street which separates banks and brokerages, as well as programs and subsidies for bringing back to America those jobs that require a little hard work and a little bit of sweat but create a whole lot of pride and prosperity along the way.
It's time for our leaders to wake up and smell the burning of the dollar – we are at war with ourselves and the games being played out by Washington to maintain the status quo is slowing creating the next crisis that won't be fixed with monetary bailout.
Lance Roberts – Street Talk Live
Golem has an interesting post up this morning…
We've all seen the film 'Groundhog Day'. Well, we're in it.  Every morning the radio plays a song which has the chorus, "I rob you babe".  And sure enough when the news comes on, they have. A full five years of pumping money in to the banks and still our leaders will not even consider that they might be wrong. They still insist, as they have from the start, that "There is no alternative'. Call it bail outs, call it QE, call it monetary policy, rescue or suicide, it doesn't matter. What matters is we're still doing it.

….

So the simple reason our rulers insist on bailing out the banks is that by doing so the wealthy and the powerful are simply bailing out themselves and guaranteeing the continuation of a system which suits them perfectly.
Actually, what matters from a macro economic viewpoint — and thus from a matter of policy — is whether what is being done has worked and more importantly whether it can work.
There the answer is simple — no, and no.
But then one is compelled to ask — why not?
Take a look at this chart again:
Pretty simple, right?  Total systemic debt went from about $10 trillion in 1986 to $20 trillion (doubling) in 1996 to $40 trillion (doubling again) in 2004.  We hit the wall while trying to do it again in 2008.
Now think this through folks.  The so-called "economic growth" was, quite simply, not real.  It was manufactured using every-larger amounts of systemic leverage — debt.  That is what drove the so-called "economic progress."
Leaving aside whether the rich or the common person got the benefit is the simple question of what must happen in order to restart the cycle of averred "economic progress" that we had for those 30 years.
That's simple — the geometric growth of debt must resume.
But who is going to take that debt on?  For debt to increase someone must accept responsibility for the new debt.
To restart the geometric cycle of debt increases we would have to find someone who can (and will) add $54 trillion in debt on their balance sheet in the United States over the space of less than ten years.
So who's it going to be?
Before you say "the government will do it via deficit spending" note that this would be more than a five-fold expansion of the public federal debt from today's levels; more debt added per two year period than the entire last four on a continual 10 year basis.  Do you really think the market will tolerate that?
Can it be households?  How?  Mortgages would have to increase in size five-fold over the next ten years, which means house prices would have to increase close to four-fold.  Plausible?  No.
Business credit?  We've wrung all the efficiency gains out we can get.  This is why profit numbers are expected to decline this quarter.  The "benefit" of screaming at people to work harder and take less compensation has run to its endpoint!  That is what has supported equity markets.  Every dollar of debt a corporation takes will depress equity prices as the debt:equity ratio will rise ratably.  Never mind that corporations would have to increase their debt five-foldto make up enough for this to work.  If they did, the S&P would trade at 200 and the DOW at 2,000.
Financial instruments?  That's what blew up the world — and it's still contracting.  That is the very hole that government deficit spending is trying to fill in to prevent the banks from blowing up.
None of the other slices are large enough to garner more than a chuckle in potential consideration.
That's being done won't work because it can't work folks.
This isn't so much about the right or wrong of bailing out the fat cats who have all their alleged "wealth" in paper that has its best and highest use on the commode.  That's a good debate to have, and all the righteous anger over bailing those people out is well-placed.
But the policy question is more-simple — being entirely agnostic on who gets helped and why, is the alleged prescription able to lead to the claimed benefit?
And there the answer is simple: No.
This, incidentally, is why you had better all be prepared.  The more credit pumping that is done by the government the worse the impact on government services will be when failure occurs.
And since success is mathematically impossible all we're really arguing about here is timing.
From the wire:
*MOODY'S SEES CUTTING U.S. WITHOUT DEAL TO LOWER DEBT/GDP RATIO
Parse that and think about it.
It means that unless there is a deal that stops adding debt faster than GDP advances Moody's will cut the US credit rating.
That's public (not including Social Security and Medicare) debt-to-GDP by the federal government.
Before you cheer over the 1993-0200 time frame as a potential model note what happened to total debt-to-GDP during that period.
We're using the Federal Government's borrowing to cover for the fact that the private economy hit the debt-acceptance wall in 2007.
That's why it's happening — the government is desperately trying to evade recognition of the serial bubble blowing of the last 30 years and the economic consequences that must follow from what we have done.
And now Moody's joins S&P in telling the government: Cut it out or face the consequences.
This is not priced in.