Archive for the 'Crime' Category
What happens when you sit back silently and allow criminal behavior to go unpunished?
Tea Party leaders refused to accept an apology from the IRS Friday in which the agency acknowledged that it inappropriately flagged conservative groups for additional review during the 2012 election to see if they were violating their tax-exempt status.

Jenny Beth Martin, national coordinator for Tea Party Patriots, said she wants to see resignations over what she called the "disturbing, illegal and outrageous abuse of government power."
Resignations?
How about some fucking indictments?
"The House will investigate", says Cantor.  Sure it will.  Like it has investigated Benghazi?  Even after acknowledging that the narrative given the people was an utter fiction we're still pussyfooting around that issue and the dead Americans it produced.
Further, the IRS originally lied in that it claimed there was no such targeting. Just like the FBI lied when they said they had no contact with the Boston Bombers, and it was only when their families disclosed to the media irrefutable evidence that the FBI was bullshitting did they come clean.
Rep. Darrell Issa, R-Calif., said "the fact that Americans were targeted by the IRS because of their political beliefs is unconscionable."
No Darrell, it's unconstitutional and thus unlawful.
Just like bilking people with hinky deals on mortgage bonds is illegal — that's criminal fraud.
It is also unlawful to back-date deposits so as to make a bank look more sound than it is.  People lost real money because of that scam and the agency involved, the OTS, had people who did it previously during the S&L crisis.  Not only were they not prosecuted that time they weren't prosecuted this time either.
Unlawful bill collection tactics are, as the name implies, illegal.
So is filing knowingly perjured documents in courtrooms to take people's houses, which happened over 100,000 admitted times.
So is money laundering in the hundreds of millions of dollars for drug gangs by American banks.
So is knowingly allowing the delivery of thousands of guns to drug runners who intend to, and do, deliver them across the border into Mexico for the purpose of murdering people.
Instead of prosecuting any of this you Darrell, along with Boehner and the rest of you clowns allow The Fed and Treasury to reward the banksters who did this, screwing the American public blind, letting them get shot with guns provided by the government and paid for with laundered money run by the very same banksters — and exactly none of the people responsible for any of this crap have gone to jail.
WHERE ARE THE DAMNED INDICTMENTS ALONG WITH BILLS OF CONTEMPT AND IMPEACHMENT?
Why should I believe anything the government tells me?
Why should I obey the law, other than because I'm scared of the guns the government can point at me?
Why should I build or expand a business when anyone who has government favor can come steal anything — or everything — I build, and there isn't jack and crap I can do about it as they won't be prosecuted or punished in any way?  In fact, they'll be rewarded!
If you want to know how a nation dies without being conquered by war, pestilence or famine, this is how.  The good, honest, industrious people simply say "screw you" and refuse to effort to move the economy and nation forward.
We are there folks, and these two stories explain why.
Government investigators have found that JPMorgan Chase devised "manipulative schemes" that transformed "money-losing power plants into powerful profit centers," and that one of its most senior executives gave "false and misleading statements" under oath.

The findings appear in a confidential government document, reviewed by The New York Times, that was sent to the bank in March, warning of a potential crackdown by the regulator of the nation's energy markets.

The possible action comes amid showdowns with other agencies. One of the bank's chief regulators, the Office of the Comptroller of the Currency, is weighing new enforcement actions against JPMorgan over the way the bank collected credit card debt and its possible failure to alert authorities to suspicions about Bernard L. Madoff, according to people who were not authorized to discuss the cases publicly.
A confidential government document?  Why should any document of this sort be confidential when it bears on conduct that a regulated institution has taken toward the public?
There's part of your problem right there.  This isn't a single incident or issue either; it claims a pattern of conduct as do the other "showdowns."  Nor is this limited to JP Morgan — there is a long litany of financial institutions coming under "scrutiny" for various illegal and unethical acts and yet what's missing is prosecutions.
President Obama's nominee for Commerce secretary was embroiled in a massive bank failure more than a decade ago, in a collapse that cost depositors and federal insurers millions of dollars.

The 2001 collapse of Superior Bank FSB now appears likely to re-emerge, more than a decade later, as Commerce nominee Penny Pritzker prepares for a confirmation hearing and Republicans already draw attention to the bank implosion.
Tangled?  Like Hell.
This was an all-on scandal and cost the FDIC over $300 million.  Those who were over deposit limits were screwed out of $10 million they have yet to recover, and probably never will recover.  The bank had insufficient if not outright missing risk controls with subprime auto and home lending.
Being a bad businessperson though isn't an exercise of privilege — that's just being stupid.
But being able to cut in line before depositors is another matter, and the Prizkers did.
The FDIC "defended" their decision, but again we're back to the same problem we had with GM and Chrysler, where the rule of law is changed ex-post-facto to benefit wealthy and powerful people and screw the ordinary citizen.
Until this crap stops my entrepreneurial efforts are going to remain on the shelf, and I suspect I'm not alone in this regard.
If feedback from the real world is suppressed, then decisions will necessarily be bad.
You've probably heard this stock market truism: what everyone knows has no value. This has several components:
1. If you're basing your trading decisions on the same contexts and conclusions as everyone else, it's difficult to develop much of an edge.
2. Unless it's completely manipulated, the market generally doesn't reward "what everyone knows," i.e. the consensus, for long.
3. "What everyone knows" often includes trends and targets. For example, everyone now knows gold is in a bear market and the next technical target is $1,250 – $1,300. As a result, everyone's on one side of the boat: those recommending buying gold at $1,480 are few and far between.
Legendary traders like Jesse Livermore viewed the market as a mechanism for taking as much money from the consensus as possible: taking as few traders as possible along on bullish runs higher and punishing as many traders as possible on bearish declines.
This raises two questions:
1. What does everyone not know that might have value?
2. Is there some contrarian value in what everyone knows?
We all know the Federal Reserve is manipulating the stock market. It does so in two ways:
1. Financial repression: lowering the yield on "safe" assets such as Treasury bonds to negative rates (adjusted for inflation, you're paying the government to park your capital in its bonds), which drives capital into so-called risk assets that offer a yield, for example dividend-paying stocks and rental housing.
2. POMO and bulk purchases of futures contracts on the S&P 500 before the market opens. Studies have found that the majority of gains in the stock market occur on POMO (one of the Fed's quantitative easing programs) days and on days when large lots of E-Mini futures contracts are purchased, pushing the markets higher at the open.
Everyone knows markets in the U.S. and Japan are levitating higher as money is created and pushed (via currency devaluation and financial repression) into stocks.
What nobody knows is the eventual consequence of all this manipulation. Right now the consensus is "don't fight the Fed," meaning stay invested in stocks because they're going higher.
In less-manipulated markets, we would expect the consensus to eventually be punished, simply because the market rarely rewards the majority for long. But in central-planning manipulated markets, the feedback that is the foundation of open markets has been suppressed.
Feedback is another way of saying information from the real world is allowed to enter a transparent exchange. We know the exchange is no longer transparent, what with dark pools and high-frequency trading machines. We also know signals from the real economy are not the dominant market-moving forces.
What we know, but cannot say out loud lest the charade lose power, is that the Fed is manipulating the stock market higher because it has lost the ability to manipulate the real economy. Our political and financial Elites would prefer to extend their neofeudal dominance by expanding the traditional foundations of debt-based "prosperity": increasing household income so households can spend more and service more debt.
With household incomes for the bottom 90% in structural decline, they've failed, for reasons they either can't understand or dare not discuss.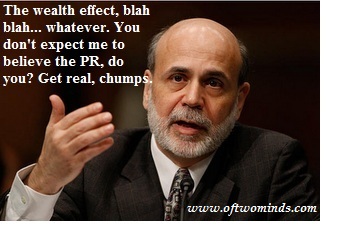 Their only control is the lever pushing stocks higher. Publicly, Fed chairman Bernanke has justified goosing the stock market and housing higher as the only available way to trigger the wealth effect, an inner state of consumerist bliss in which the owner of assets sees his assets gain in value. Feeling wealthier, he goes out and buys a bunch of junk he doesn't need with debt, boosting demand and bank profits.
As for the fact his real income is declining–sorry, Bucko, we can only boost your assets and herd you into risky bets and more debt. The 90% of you with no meaningful exposure to the stock market–well, don't you feel things are picking up when you see those "Dow hits new high" headlines? Of course you do; that's the propaganda value of goosing markets higher.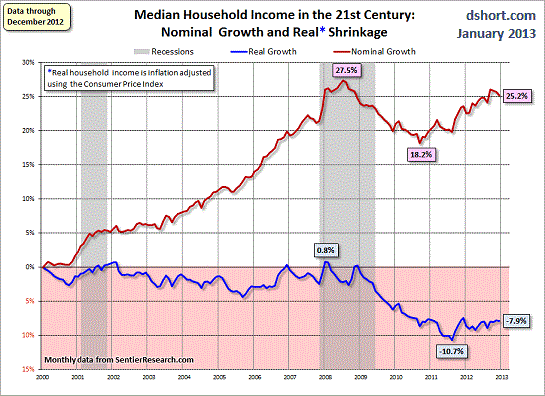 When the causal connection between risk and consequence has been severed, we call it moral hazard. When banks get to keep their gambling profits and taxpayers cover the banks' losses, this is moral hazard writ large.
In effect, the Fed is extending moral hazard to the entire stock and housing markets. What the Fed is implicitly promising is this: "Go ahead and sink your wealth and income into risky stocks and housing, because we have your back–we'll never let stocks or housing go down again."
Do we know if this campaign of extending moral hazard into every market is sustainable over the long term? No. It is an unprecedented experiment, just like the Krugman Cargo Cult Fantasy being played out by the authorities in Japan.
One thing to keep in mind is the size of the markets the Fed is manipulating. The Fed is injecting $85 billion a month into the stock market ($15 trillion) and the housing market ($17.6 trillion). It also manages the purchases of S&P 500 futures contracts via proxies, but these are in the billions of dollars, not hundreds of billions.
So the Fed is leveraging a relatively modest amount of money to manipulate and control very large markets. This is possible because the percentage of total assets that trade daily is small.
Should the herd that actually owns most of the stocks (mutual funds, pension funds, insurance companies, 401K management firms, etc.) get spooked and decide to book their profits, the Fed's $85 billion bazooka will be revealed as too small to stem the tide.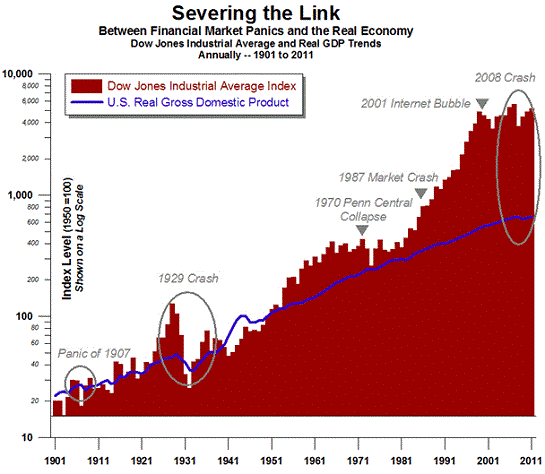 The keys to the Fed's success are trust and belief. These don't lend themselves to data and charting, though we can measure some aspects of trust/belief via sentiment indicators.
But the whole game really rests on participants' trust/belief that the Fed can continue pushing markets higher and that it will continue to do so.
The problem with cutting the links between risk and consequence and the real economy and the stock market is that a market deprived of feedback from reality is prone to disorderly disruption. Why is this so? Participants make decisions based on the information made available to them. If the information from the real world is suppressed or limited, then the decisions made by participants will necessarily be misinformed, i.e. wrong.
Moral hazard does not lead to positive outcomes. As I explained in my book Why Things Are Falling Apart and What We Can Do About It, this leads to making bigger and riskier bets at the casino, until a loss occurs that bankrupts the house.
What happens when a bet that can't lose does in fact lose? Trust is lost.
I see a lot of long-term charts where technical analysts extend past trends and cycles out 10 and 20 years. Many predict a new Bull Market in stocks starting in 2015 or maybe 2016 and running for 13 to 18 years.
It's easy to project the past onto the future, but what few observers seem to ask is: what happens to the belief system that supports the stock market when trust and credibility are undermined by central-planning manipulation that failed?
If feedback from the real world is suppressed, then decisions will necessarily be bad.
The only choice for participants who have lost faith in central planning's promise of permanently higher markets will be to abandon the manipulated markets entirely.
Charles Hugh Smith – Of Two Minds
No, really, banks rigging markets?
Banks are leaving the panel that sets ISDAFix, the benchmark for the $379 trillion swaps market, as regulators probe suspected manipulation of the rate.

HSBC Holdings Plc (HSBA), Europe's largest bank by assets, and Japan's Mizuho Financial Group (8411) stopped contributing to the ISDAFix dollar rate between November and January, and haven't been replaced, documents on the International Swaps and Derivatives Association's website show. The industry group didn't give any reason for the lenders' departure.
Oops.
There's no reason for banks to rig such a market, right?  I mean, it's only the size of the global economy 100x or so over in notional value, with literal billions riding on a single basis point.
The allegation?
The CFTC is probing whether ICAP brokers delayed updating rate-swaps prices on the so-called 19901 screen, which displays swaps prices, after they facilitated a trade between banks, according to one person familiar with the matter and a former broker in ICAP's Jersey City rate-swaps group who both asked not to be identified because of the investigation.
Yeah, nothing like holding back a price for profit.
This sort of crap, incidentally, is why allowing "bespoke" execution of these things is an outrage.  We're talking about contracts where the solvency of the side that's short (and thus may have to pay) is open to question yet unable to be proved up since there are no public posted margins (where everyone can see them — or your failure to deliver them) and the size of the transactions dwarf the economy of the nation in which you operate.
I have long held that there is only one way to stop the BS that goes on these markets, and that's by forcing all derivative contracts onto public exchanges where bid, offer and trade prices are independently posted as the transaction takes place, visible to everyone, and in addition public compliance with published and known margin requirements can be ascertained.
That would put an instant stop to the games.
But those games make banks billions at the expense of their customers every single year.  There is no argument in terms of market fairness or anything else for that matter, other than the game of "screw you" that banks run on their customers and hiding the true state of a financial firm's balance sheet, that can be raised for not forcing all of these contracts onto public exchanges.
What we need to see, in addition to public exchanges for these (and all other) contracts, is this:
The premium in America has shifted from truth to self-serving distortion, and from trust to manipulation.
The premium we place on truth and trustworthiness is self-evident. Truth is uniquely productive feedback from the real world. Truth (including factual data) is indispensable, for it alone enables us to correct errors, learn from mistakes and improve our effectiveness and communication.
We pay a premium for trust because the cost of dishonesty and artifice is steep.Would you pay more to buy a used car from someone you trust? If you place no premium on trustworthiness, then you buy the "great deal" used car you found online: oops, the "new" battery was spray-painted black, the crankcase leaks, the engine is shot and doesn't pass smog, and the certificate of ownership is forged.
The premium on truth and trust is eroding under the constant onslaught of officially manipulated data and markets, and a vast array of distortions and propaganda designed to serve the interests of ruling Elites and key constituencies.
We all know the negative premium placed on fact: telling the truth will get you fired. And not just in the corporate world: politicians from the President on down all worship at the altar of the carefully distorted unemployment rate.
The officially sanctioned lying and manipulation are now shameless. Never mind that millions of people have become statistical phantoms (i.e. not in the workforce) to generate that low rate, and college graduates working 3 hours a day (if they're called in at all) are gleefully counted as employed, as if there is no difference between a full-time job and a marginal one.
President Obama is touting rising auto sales as proof of the "recovery" (and implicitly, of his wise stewardship), studiously avoiding the fact that these stupendous auto sales are the result of offering low-interest rate auto loans to marginal borrowers with near-zero collateral (i.e. skin in the game).
How did blowing a credit bubble and securitizing the debt turn out last time?
Never mind: here we go again. Via Doug Nolan at Prudent Bear:
Springleaf Finance Corp., the lender to borrowers with poor or limited credit, sold $604 million of bonds last month backed by personal loans secured by household goods from furniture to electronics, its first such deal. Demand for riskier asset-backed bonds has grown as the Federal Reserve holds its benchmark interest rate at almost zero for a fifth year. Sales of securities linked to subprime auto loans doubled to $4 billion in January from a year earlier.
Manipulation and carefully crafted distortion erode trust, not just in the individuals employed to repeat the lies but in the institutions that issue them. The ruthless pursuit of self-interest is now the norm; truth is a terribly risky disruptor that must be hidden, masked or countered with plausible lies.
As a nation, we're like the obese person who looks at himself in the mirror and sees his body as normal–the distortion of truth is so complete that we literally no longer recognize reality. Untruth no longer arouses any moral indignation; we are either too jaded to care, or our moral compass now spins aimlessly from one manipulation to the next.
There can be no trust if there is no truth. How can we trust people who lie to us constantly, who issue one self-serving justification after another for their own parasitic predation? We cannot. How can we trust institutions whose credibility now rests on the continuation of lies that are so embedded in our financial sector and State that their collapse will bring down the entire house-of-cards debtocracy? We cannot.
The premium in America has shifted from truth to self-serving distortion, and from trust to manipulation. This spiritual and moral rot will end gloriously, have no doubt, for the stock market's permanent ascendancy dissolves all other narratives.
Charles Hugh Smith – Of Two Minds
So now we find out that not only did The Fed "accidentally" leak the minutes a full day early but that the recipient list included banks and lobbying organizations.
I have two questions:
Why are there special people who get emailed copies of these things while the rest of us look them up as PDF's on The Fed's web site?  Regulation FD anyone?  Yeah, I know, The Fed isn't a company but the principle is the same - giving someone special access in front of everyone is wrong.  Period.  It's also supposed to be illegal but it appears that some "exemptions" have shown up.  Those need to go away.  Now.
Why did none of the people who received this transmission early tell anyone about it? An innocent error only remains one when the person who gets the early transmission notifies someone that it happened so the problem can be mitigated.  That didn't occur.
Do I actually expect the SEC to bring charges and the DOJ to indict for insider trading?  Here's my response to that question: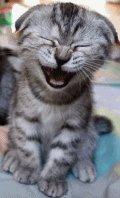 Yeah, right.  That'll happen when Hell freezes over.
But this is just one more example out of hundreds over the last few years of blatant and outrageous behavior — this may have begun as a mistake, but it didn't stay one for more than a few minutes.  Over 100 recipients and none alerted The Fed or SEC to what had happened.
Riiiiiight.