Archive for the 'Criminals' Category
Bernanke: I Love Bubbles
I like to feed the python that is lovingly curled around my neck.  It's not a problem that it keeps getting bigger, right?
Chairman Ben S. Bernanke
The Economic Outlook
Before the Joint Economic Committee, U.S. Congress, Washington, D.C.
May 22, 2013
Chairman Brady, Vice Chair Klobuchar, and other members of the Committee, I appreciate this opportunity to discuss the economic outlook and economic policy.

Current Economic Conditions
Economic growth has continued at a moderate pace so far this year. Real gross domestic product (GDP) is estimated to have risen at an annual rate of 2-1/2 percent in the first quarter after increasing 1-3/4 percent during 2012. Economic growth in the first quarter was supported by continued expansion in demand by U.S. households and businesses, which more than offset the drag from declines in government spending, especially defense spending.
So what was the growth rate in the real economy, subtracting back out your monetary debasement?  Oh wait — it wasn't a "growth" rate at all, was it?
Conditions in the job market have shown some improvement recently. The unemployment rate, at 7.5 percent in April, has declined more than 1/2 percentage point since last summer. Moreover, gains in total nonfarm payroll employment have averaged more than 200,000 jobs per month over the past six months, compared with average monthly gains of less than 140,000 during the prior six months. In all, payroll employment has now expanded by about 6 million jobs since its low point, and the unemployment rate has fallen 2-1/2 percentage points since its peak.
Uh huh.
Despite this improvement, the job market remains weak overall: The unemployment rate is still well above its longer-run normal level, rates of long-term unemployment are historically high, and the labor force participation rate has continued to move down. Moreover, nearly 8 million people are working part time even though they would prefer full-time work. High rates of unemployment and underemployment are extraordinarily costly: Not only do they impose hardships on the affected individuals and their families, they also damage the productive potential of the economy as a whole by eroding workers' skills and–particularly relevant during this commencement season–by preventing many young people from gaining workplace skills and experience in the first place. The loss of output and earnings associated with high unemployment also reduces government revenues and increases spending on income-support programs, thereby leading to larger budget deficits and higher levels of public debt than would otherwise occur.
Once again….
Consumer price inflation has been low. The price index for personal consumption expenditures rose only 1 percent over the 12 months ending in March, down from about 2-1/4 percent during the previous 12 months. This slow rate of inflation partly reflects recent declines in consumer energy prices, but price inflation for other consumer goods and services has also been subdued. Nevertheless, measures of longer-term inflation expectations have remained stable and continue to run in the narrow ranges seen over the past several years. Over the next few years, inflation appears likely to run at or below the 2 percent rate that the Federal Open Market Committee (FOMC) judges to be most consistent with the Federal Reserve's statutory mandate to foster maximum employment and stable prices.
Consumer price inflation has been low?  Well, I suppose maybe it is if you exclude things that are non-discretinary such as food, medical insurance (now mandatory under Obamacare) and similar.  But if you do include those things the actual cost of living — that is, what you must spend just to live — has gone up a lot in the last five years.
That is definitely not "low."
Over the nearly four years since the recovery began, the economy has been held back by a number of headwinds. Some of these headwinds have begun to dissipate recently, in part because of the Federal Reserve's highly accommodative monetary policy. Notably, the housing market has strengthened over the past year, supported by low mortgage rates and improved sentiment on the part of potential buyers. Increased housing activity is fostering job creation in construction and related industries, such as real estate brokerage and home furnishings, while higher home prices are bolstering household finances, which helps support the growth of private consumption.
The "headwinds" are caused by The Fed through its QE games.  This has destroyed consumer purchasing power for the very necessities that form non-discretionary purchases.
Severe fiscal and financial strains in Europe, by weighing on U.S. exports and financial markets, have also restrained U.S. economic growth over the past couple of years. However, since last summer, financial conditions in the euro area have improved somewhat, which should help mitigate the economic slowdown there while also reducing the headwinds faced by the U.S. economy. Also, credit conditions in the United States have eased for some types of loans, as bank capital and asset quality have strengthened.

Fiscal Policy
Fiscal policy, at all levels of government, has been and continues to be an important determinant of the pace of economic growth. Federal fiscal policy, taking into account both discretionary actions and so-called automatic stabilizers, was, on net, quite expansionary during the recession and early in the recovery. However, a substantial part of this impetus was offset by spending cuts and tax increases by state and local governments, most of which are subject to balanced-budget requirements, and by subsequent fiscal tightening at the federal level. Notably, over the past four years, state and local governments have cut civilian government employment by roughly 700,000 jobs, and total government employment has fallen by more than 800,000 jobs over the same period. For comparison, over the four years following the trough of the 2001 recession, total government employment rose by more than 500,000 jobs.

Most recently, the strengthening economy has improved the budgetary outlooks of most state and local governments, leading them to reduce their pace of fiscal tightening. At the same time, though, fiscal policy at the federal level has become significantly more restrictive. In particular, the expiration of the payroll tax cut, the enactment of tax increases, the effects of the budget caps on discretionary spending, the onset of the sequestration, and the declines in defense spending for overseas military operations are expected, collectively, to exert a substantial drag on the economy this year. The Congressional Budget Office (CBO) estimates that the deficit reduction policies in current law will slow the pace of real GDP growth by about 1-1/2 percentage points during 2013, relative to what it would have been otherwise.1 In present circumstances, with short-term interest rates already close to zero, monetary policy does not have the capacity to fully offset an economic headwind of this magnitude.
Expansionary?  Excuse me?  Government at all levels cannot "expand" the economy as it has to get the funds from somewhere.  There are only two choices: Tax people (taking their discretionary income) or debase through issuance of debt, whether taken up by the Fed or not (which also takes the people's discretionary purchasing power.)
Government, especially entitlements and welfare, do not expand the economy.  That comes from innovation in the private sector.  All government does is steal from the private sector and redistribute those funds.
Now some amount of this is agreeable to virtually everyone.  Nearly all want a strong common defense, for example, although we might argue somewhat over exactly how we should deploy that defense.  Most want roads.  Most want a police force of some composition and most people also would like a jail system for those who initiate violence against others as the alternative is for society to degenerate into a "Hatfield and McCoy" sort of tit-for-tat shooting gallery.
But government entitlement programs, including food stamps, welfare, Medicare, Medicaid and similar do not expand the economy.  They shift the economy from investment and innovation into simple consumption spending and worse, they directly and indirectly promote dependency instead of innovation among the population.
Although near-term fiscal restraint has increased, much less has been done to address the federal government's longer-term fiscal imbalances. Indeed, the CBO projects that, under current policies, the federal deficit and debt as a percentage of GDP will begin rising again in the latter part of this decade and move sharply upward thereafter, in large part reflecting the aging of our society and projected increases in health-care costs, along with mounting debt service payments. To promote economic growth and stability in the longer term, it will be essential for fiscal policymakers to put the federal budget on a sustainable long-run path. Importantly, the objectives of effectively addressing longer-term fiscal imbalances and of minimizing the near-term fiscal headwinds facing the economic recovery are not incompatible. To achieve both goals simultaneously, the Congress and the Administration could consider replacing some of the near-term fiscal restraint now in law with policies that reduce the federal deficit more gradually in the near term but more substantially in the longer run.
That is simply not going to happen so long as The Fed continues to encourage huge deficits and outrageous entitlement spending.  That in turn shifts capital from those who would invest, innovate and produce to pure consumption spending by those sitting on their ass.  This pattern will not change until The Fed stops promoting non-productive consumption.
Period.
Monetary Policy
With unemployment well above normal levels and inflation subdued, fostering our congressionally mandated objectives of maximum employment and price stability requires a highly accommodative monetary policy. Normally, the Committee would provide policy accommodation by reducing its target for the federal funds rate, thus putting downward pressure on interest rates generally. However, the federal funds rate and other short-term money market rates have been close to zero since late 2008, so the Committee has had to use other policy tools.
But it hasn't worked Ben.  So now what?  More of what has failed?
The first of these alternative tools is "forward guidance" about the FOMC's likely future target for the federal funds rate. Since December, the Committee's postmeeting statement has indicated that its current target range for the federal funds rate, 0 to 1/4 percent, will be appropriate "at least as long as the unemployment rate remains above 6-1/2 percent, inflation between one and two years ahead is projected to be no more than a half percentage point above the Committee's 2 percent longer-run goal, and longer-term inflation expectations continue to be well anchored." This guidance underscores the Committee's intention to maintain highly accommodative monetary policy as long as needed to support continued progress toward maximum employment and price stability.

The second policy tool now in use is large-scale purchases of longer-term Treasury securities and agency mortgage-backed securities (MBS). These purchases put downward pressure on longer-term interest rates, including mortgage rates. For some months, the FOMC has been buying longer-term Treasury securities at a pace of $45 billion per month and agency MBS at a pace of $40 billion per month. The Committee has said that it will continue its securities purchases until the outlook for the labor market has improved substantially in a context of price stability. The Committee also has stated that in determining the size, pace, and composition of its asset purchases, it will take appropriate account of the likely efficacy and costs of such purchases as well as the extent of progress toward its economic objectives.
This doesn't work either.  Presuming that the "reasonable" rate for 30 year money is 6% (which is likely at the low end) yet today's 30 year mortgage is 3.5%, today's P&I on a 30 year mortgage for a $200,000 loan is $895.48.
That same payment, at the non-distorted price of money, only buys $150,104.94 worth of house!
This is an intentional inflation of asset prices well above the natural clearing price.  While this distortion can be maintained for quite some time, the fact that it exists is irrefutable.
This is how crashes happen — not natural forces but intentional distortions, whether through government policy or outright fraud by private actors through intentional misrepresentation.
At its most recent meeting, the Committee made clear that it is prepared to increase or reduce the pace of its asset purchases to ensure that the stance of monetary policy remains appropriate as the outlook for the labor market or inflation changes. Accordingly, in considering whether a recalibration of the pace of its purchases is warranted, the Committee will continue to assess the degree of progress made toward its objectives in light of incoming information. The Committee also reiterated, consistent with its forward guidance regarding the federal funds rate, that it expects a highly accommodative stance of monetary policy to remain appropriate for a considerable time after the asset purchase program ends and the economic recovery strengthens.

In the current economic environment, monetary policy is providing significant benefits. Low real interest rates have helped support spending on durable goods, such as automobiles, and also contributed significantly to the recovery in housing sales, construction, and prices. Higher prices of houses and other assets, in turn, have increased household wealth and consumer confidence, spurring consumer spending and contributing to gains in production and employment. Importantly, accommodative monetary policy has also helped to offset incipient deflationary pressures and kept inflation from falling even further below the Committee's 2 percent longer-run objective.
See above.  Price is not necessarily value.  Price is just price.  When you promote distortions in price on purpose with the intent of sending false market signals due to the impact of compounding that is always present wherever there is a growth "rate", that is, an exponential function, by definition you are making the ultimate correction back to value worse.
The Fed is intentionally creating a bubble that will crash.  It is only a matter of when, not if, such a consequence will occur.
That said, the Committee is aware that a long period of low interest rates has costs and risks. For example, even as low interest rates have helped create jobs and supported the prices of homes and other assets, savers who rely on interest income from savings accounts or government bonds are receiving very low returns. Another cost, one that we take very seriously, is the possibility that very low interest rates, if maintained too long, could undermine financial stability. For example, investors or portfolio managers dissatisfied with low returns may "reach for yield" by taking on more credit risk, duration risk, or leverage. The Federal Reserve is working to address financial stability concerns through increased monitoring, a more systemic approach to supervising financial firms, and the ongoing implementation of reforms to make the financial system more resilient.
See above.  Your "$200,000″ house is not worth that as maintenance of that price requires indefinite maintenance of below-market interest rates.  Since the latter is impossible without complete destruction of the currency what Bernanke has provided is an intentional false price in the markets, both in housing and other assets.
Intentional manipulation of markets is usually thought of as a crime, not a benefit, and should lead to indictments, not praise.
Recognizing the drawbacks of persistently low rates, the FOMC actively seeks economic conditions consistent with sustainably higher interest rates. Unfortunately, withdrawing policy accommodation at this juncture would be highly unlikely to produce such conditions. A premature tightening of monetary policy could lead interest rates to rise temporarily but would also carry a substantial risk of slowing or ending the economic recovery and causing inflation to fall further. Such outcomes tend to be associated with extended periods of lower, not higher, interest rates, as well as poor returns on other assets. Moreover, renewed economic weakness would pose its own risks to financial stability.
Said current price is false.
Because only a healthy economy can deliver sustainably high real rates of return to savers and investors, the best way to achieve higher returns in the medium term and beyond is for the Federal Reserve–consistent with its congressional mandate–to provide policy accommodation as needed to foster maximum employment and price stability. Of course, we will do so with due regard for the efficacy and costs of our policy actions and in a way that is responsive to the evolution of the economic outlook.
A healthy economy can only come about when the cost of borrowing accurately reflects the risk and reward of lending actual capital (not ethereal hot air) into the market for whatever purpose and at whatever credit profit the borrower and lender negotiate.
Such an environment has not existed since the first circumvention of Glass-Steagall.  Willful and intentional distortion of asset prices and markets by The Fed and Congress, both acting in concert, have now led to three serial bubbles that have decimated economic conditions for the common American.
When is a crime not a crime?
Enron Corp.'s 2001 collapse revealed the extent of its manipulation of spot gas prices. Twelve years later, European Union regulators may discover energy traders never learned the lessons of the scandal.

BP Plc (BP/), Royal Dutch Shell Plc (RDSA) and Platts were visited by EU inspectors last week over allegations they "colluded in reporting distorted prices" to manipulate the published prices of oil and biofuel products, the European Commission in Brussels said after the raids.
While ENRON was a scandal due to manipulation it was the accounting — which was fictitious — that brought the company down.
Of course when you'll lie and cheat about one thing you'll do the same with something else; right?  We've already established what you are; now we're simply arguing over how big of a liar, cheat and fraud you might happen to be.
But look at what an "energy consultant" has to say:
"We're making exactly the same mistakes we did with Enron, just with a different commodity," Robert McCullough, an energy consultant, said by telephone from Portland, Oregon. "The same manipulation we saw in electricity and gas pricing is what we're seeing in oil."
Mistakes.
They're not crimes, they're not felonies, they're not things that should land you in prison for bilking people, they're "mistakes."
We will NEVER solve any of these problems — not in the energy markets, not in the land title business, not in the lending business generally, not in student loans, not in colleges, not in board rooms, not on Wall Street generally — until we call things what they are.
A shark is a shark.  A rattlesnake is a rattlesnake.  An alligator is an alligator.
And a violation of black-letter law, whether in land titles, front-running, intentional misrepresentation by a company or anything else is a crime, not a mistake.
You want to know what drives me to want to say "screw this!", turn off the computer and decide to raise a few goats and chickens instead of innovating, building and employing, and which has destroyed my interest in the latter over the last decade and a half?
THAT is what has done so and will continue to do so — and until it stops my position, and that of many other entrepreneurs, on this point will not change.
What happens when you sit back silently and allow criminal behavior to go unpunished?
Tea Party leaders refused to accept an apology from the IRS Friday in which the agency acknowledged that it inappropriately flagged conservative groups for additional review during the 2012 election to see if they were violating their tax-exempt status.

Jenny Beth Martin, national coordinator for Tea Party Patriots, said she wants to see resignations over what she called the "disturbing, illegal and outrageous abuse of government power."
Resignations?
How about some fucking indictments?
"The House will investigate", says Cantor.  Sure it will.  Like it has investigated Benghazi?  Even after acknowledging that the narrative given the people was an utter fiction we're still pussyfooting around that issue and the dead Americans it produced.
Further, the IRS originally lied in that it claimed there was no such targeting. Just like the FBI lied when they said they had no contact with the Boston Bombers, and it was only when their families disclosed to the media irrefutable evidence that the FBI was bullshitting did they come clean.
Rep. Darrell Issa, R-Calif., said "the fact that Americans were targeted by the IRS because of their political beliefs is unconscionable."
No Darrell, it's unconstitutional and thus unlawful.
Just like bilking people with hinky deals on mortgage bonds is illegal — that's criminal fraud.
It is also unlawful to back-date deposits so as to make a bank look more sound than it is.  People lost real money because of that scam and the agency involved, the OTS, had people who did it previously during the S&L crisis.  Not only were they not prosecuted that time they weren't prosecuted this time either.
Unlawful bill collection tactics are, as the name implies, illegal.
So is filing knowingly perjured documents in courtrooms to take people's houses, which happened over 100,000 admitted times.
So is money laundering in the hundreds of millions of dollars for drug gangs by American banks.
So is knowingly allowing the delivery of thousands of guns to drug runners who intend to, and do, deliver them across the border into Mexico for the purpose of murdering people.
Instead of prosecuting any of this you Darrell, along with Boehner and the rest of you clowns allow The Fed and Treasury to reward the banksters who did this, screwing the American public blind, letting them get shot with guns provided by the government and paid for with laundered money run by the very same banksters — and exactly none of the people responsible for any of this crap have gone to jail.
WHERE ARE THE DAMNED INDICTMENTS ALONG WITH BILLS OF CONTEMPT AND IMPEACHMENT?
Why should I believe anything the government tells me?
Why should I obey the law, other than because I'm scared of the guns the government can point at me?
Why should I build or expand a business when anyone who has government favor can come steal anything — or everything — I build, and there isn't jack and crap I can do about it as they won't be prosecuted or punished in any way?  In fact, they'll be rewarded!
If you want to know how a nation dies without being conquered by war, pestilence or famine, this is how.  The good, honest, industrious people simply say "screw you" and refuse to effort to move the economy and nation forward.
We are there folks, and these two stories explain why.
Government investigators have found that JPMorgan Chase devised "manipulative schemes" that transformed "money-losing power plants into powerful profit centers," and that one of its most senior executives gave "false and misleading statements" under oath.

The findings appear in a confidential government document, reviewed by The New York Times, that was sent to the bank in March, warning of a potential crackdown by the regulator of the nation's energy markets.

The possible action comes amid showdowns with other agencies. One of the bank's chief regulators, the Office of the Comptroller of the Currency, is weighing new enforcement actions against JPMorgan over the way the bank collected credit card debt and its possible failure to alert authorities to suspicions about Bernard L. Madoff, according to people who were not authorized to discuss the cases publicly.
A confidential government document?  Why should any document of this sort be confidential when it bears on conduct that a regulated institution has taken toward the public?
There's part of your problem right there.  This isn't a single incident or issue either; it claims a pattern of conduct as do the other "showdowns."  Nor is this limited to JP Morgan — there is a long litany of financial institutions coming under "scrutiny" for various illegal and unethical acts and yet what's missing is prosecutions.
President Obama's nominee for Commerce secretary was embroiled in a massive bank failure more than a decade ago, in a collapse that cost depositors and federal insurers millions of dollars.

The 2001 collapse of Superior Bank FSB now appears likely to re-emerge, more than a decade later, as Commerce nominee Penny Pritzker prepares for a confirmation hearing and Republicans already draw attention to the bank implosion.
Tangled?  Like Hell.
This was an all-on scandal and cost the FDIC over $300 million.  Those who were over deposit limits were screwed out of $10 million they have yet to recover, and probably never will recover.  The bank had insufficient if not outright missing risk controls with subprime auto and home lending.
Being a bad businessperson though isn't an exercise of privilege — that's just being stupid.
But being able to cut in line before depositors is another matter, and the Prizkers did.
The FDIC "defended" their decision, but again we're back to the same problem we had with GM and Chrysler, where the rule of law is changed ex-post-facto to benefit wealthy and powerful people and screw the ordinary citizen.
Until this crap stops my entrepreneurial efforts are going to remain on the shelf, and I suspect I'm not alone in this regard.
If feedback from the real world is suppressed, then decisions will necessarily be bad.
You've probably heard this stock market truism: what everyone knows has no value. This has several components:
1. If you're basing your trading decisions on the same contexts and conclusions as everyone else, it's difficult to develop much of an edge.
2. Unless it's completely manipulated, the market generally doesn't reward "what everyone knows," i.e. the consensus, for long.
3. "What everyone knows" often includes trends and targets. For example, everyone now knows gold is in a bear market and the next technical target is $1,250 – $1,300. As a result, everyone's on one side of the boat: those recommending buying gold at $1,480 are few and far between.
Legendary traders like Jesse Livermore viewed the market as a mechanism for taking as much money from the consensus as possible: taking as few traders as possible along on bullish runs higher and punishing as many traders as possible on bearish declines.
This raises two questions:
1. What does everyone not know that might have value?
2. Is there some contrarian value in what everyone knows?
We all know the Federal Reserve is manipulating the stock market. It does so in two ways:
1. Financial repression: lowering the yield on "safe" assets such as Treasury bonds to negative rates (adjusted for inflation, you're paying the government to park your capital in its bonds), which drives capital into so-called risk assets that offer a yield, for example dividend-paying stocks and rental housing.
2. POMO and bulk purchases of futures contracts on the S&P 500 before the market opens. Studies have found that the majority of gains in the stock market occur on POMO (one of the Fed's quantitative easing programs) days and on days when large lots of E-Mini futures contracts are purchased, pushing the markets higher at the open.
Everyone knows markets in the U.S. and Japan are levitating higher as money is created and pushed (via currency devaluation and financial repression) into stocks.
What nobody knows is the eventual consequence of all this manipulation. Right now the consensus is "don't fight the Fed," meaning stay invested in stocks because they're going higher.
In less-manipulated markets, we would expect the consensus to eventually be punished, simply because the market rarely rewards the majority for long. But in central-planning manipulated markets, the feedback that is the foundation of open markets has been suppressed.
Feedback is another way of saying information from the real world is allowed to enter a transparent exchange. We know the exchange is no longer transparent, what with dark pools and high-frequency trading machines. We also know signals from the real economy are not the dominant market-moving forces.
What we know, but cannot say out loud lest the charade lose power, is that the Fed is manipulating the stock market higher because it has lost the ability to manipulate the real economy. Our political and financial Elites would prefer to extend their neofeudal dominance by expanding the traditional foundations of debt-based "prosperity": increasing household income so households can spend more and service more debt.
With household incomes for the bottom 90% in structural decline, they've failed, for reasons they either can't understand or dare not discuss.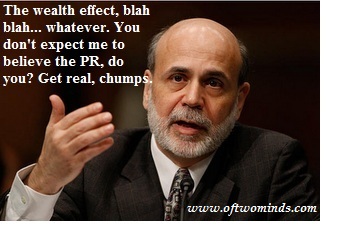 Their only control is the lever pushing stocks higher. Publicly, Fed chairman Bernanke has justified goosing the stock market and housing higher as the only available way to trigger the wealth effect, an inner state of consumerist bliss in which the owner of assets sees his assets gain in value. Feeling wealthier, he goes out and buys a bunch of junk he doesn't need with debt, boosting demand and bank profits.
As for the fact his real income is declining–sorry, Bucko, we can only boost your assets and herd you into risky bets and more debt. The 90% of you with no meaningful exposure to the stock market–well, don't you feel things are picking up when you see those "Dow hits new high" headlines? Of course you do; that's the propaganda value of goosing markets higher.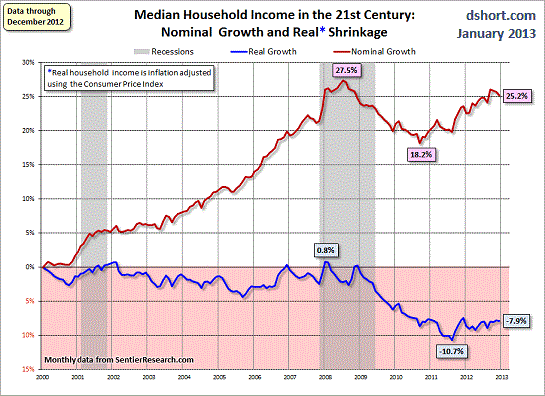 When the causal connection between risk and consequence has been severed, we call it moral hazard. When banks get to keep their gambling profits and taxpayers cover the banks' losses, this is moral hazard writ large.
In effect, the Fed is extending moral hazard to the entire stock and housing markets. What the Fed is implicitly promising is this: "Go ahead and sink your wealth and income into risky stocks and housing, because we have your back–we'll never let stocks or housing go down again."
Do we know if this campaign of extending moral hazard into every market is sustainable over the long term? No. It is an unprecedented experiment, just like the Krugman Cargo Cult Fantasy being played out by the authorities in Japan.
One thing to keep in mind is the size of the markets the Fed is manipulating. The Fed is injecting $85 billion a month into the stock market ($15 trillion) and the housing market ($17.6 trillion). It also manages the purchases of S&P 500 futures contracts via proxies, but these are in the billions of dollars, not hundreds of billions.
So the Fed is leveraging a relatively modest amount of money to manipulate and control very large markets. This is possible because the percentage of total assets that trade daily is small.
Should the herd that actually owns most of the stocks (mutual funds, pension funds, insurance companies, 401K management firms, etc.) get spooked and decide to book their profits, the Fed's $85 billion bazooka will be revealed as too small to stem the tide.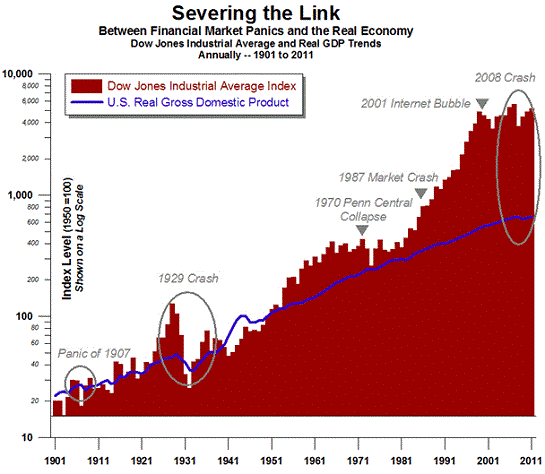 The keys to the Fed's success are trust and belief. These don't lend themselves to data and charting, though we can measure some aspects of trust/belief via sentiment indicators.
But the whole game really rests on participants' trust/belief that the Fed can continue pushing markets higher and that it will continue to do so.
The problem with cutting the links between risk and consequence and the real economy and the stock market is that a market deprived of feedback from reality is prone to disorderly disruption. Why is this so? Participants make decisions based on the information made available to them. If the information from the real world is suppressed or limited, then the decisions made by participants will necessarily be misinformed, i.e. wrong.
Moral hazard does not lead to positive outcomes. As I explained in my book Why Things Are Falling Apart and What We Can Do About It, this leads to making bigger and riskier bets at the casino, until a loss occurs that bankrupts the house.
What happens when a bet that can't lose does in fact lose? Trust is lost.
I see a lot of long-term charts where technical analysts extend past trends and cycles out 10 and 20 years. Many predict a new Bull Market in stocks starting in 2015 or maybe 2016 and running for 13 to 18 years.
It's easy to project the past onto the future, but what few observers seem to ask is: what happens to the belief system that supports the stock market when trust and credibility are undermined by central-planning manipulation that failed?
If feedback from the real world is suppressed, then decisions will necessarily be bad.
The only choice for participants who have lost faith in central planning's promise of permanently higher markets will be to abandon the manipulated markets entirely.
Charles Hugh Smith – Of Two Minds
No, really, banks rigging markets?
Banks are leaving the panel that sets ISDAFix, the benchmark for the $379 trillion swaps market, as regulators probe suspected manipulation of the rate.

HSBC Holdings Plc (HSBA), Europe's largest bank by assets, and Japan's Mizuho Financial Group (8411) stopped contributing to the ISDAFix dollar rate between November and January, and haven't been replaced, documents on the International Swaps and Derivatives Association's website show. The industry group didn't give any reason for the lenders' departure.
Oops.
There's no reason for banks to rig such a market, right?  I mean, it's only the size of the global economy 100x or so over in notional value, with literal billions riding on a single basis point.
The allegation?
The CFTC is probing whether ICAP brokers delayed updating rate-swaps prices on the so-called 19901 screen, which displays swaps prices, after they facilitated a trade between banks, according to one person familiar with the matter and a former broker in ICAP's Jersey City rate-swaps group who both asked not to be identified because of the investigation.
Yeah, nothing like holding back a price for profit.
This sort of crap, incidentally, is why allowing "bespoke" execution of these things is an outrage.  We're talking about contracts where the solvency of the side that's short (and thus may have to pay) is open to question yet unable to be proved up since there are no public posted margins (where everyone can see them — or your failure to deliver them) and the size of the transactions dwarf the economy of the nation in which you operate.
I have long held that there is only one way to stop the BS that goes on these markets, and that's by forcing all derivative contracts onto public exchanges where bid, offer and trade prices are independently posted as the transaction takes place, visible to everyone, and in addition public compliance with published and known margin requirements can be ascertained.
That would put an instant stop to the games.
But those games make banks billions at the expense of their customers every single year.  There is no argument in terms of market fairness or anything else for that matter, other than the game of "screw you" that banks run on their customers and hiding the true state of a financial firm's balance sheet, that can be raised for not forcing all of these contracts onto public exchanges.
What we need to see, in addition to public exchanges for these (and all other) contracts, is this: