Archive for the 'Crony Capitalism' Category
So now we find out that not only did The Fed "accidentally" leak the minutes a full day early but that the recipient list included banks and lobbying organizations.
I have two questions:
Why are there special people who get emailed copies of these things while the rest of us look them up as PDF's on The Fed's web site?  Regulation FD anyone?  Yeah, I know, The Fed isn't a company but the principle is the same - giving someone special access in front of everyone is wrong.  Period.  It's also supposed to be illegal but it appears that some "exemptions" have shown up.  Those need to go away.  Now.
Why did none of the people who received this transmission early tell anyone about it? An innocent error only remains one when the person who gets the early transmission notifies someone that it happened so the problem can be mitigated.  That didn't occur.
Do I actually expect the SEC to bring charges and the DOJ to indict for insider trading?  Here's my response to that question: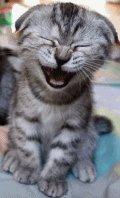 Yeah, right.  That'll happen when Hell freezes over.
But this is just one more example out of hundreds over the last few years of blatant and outrageous behavior — this may have begun as a mistake, but it didn't stay one for more than a few minutes.  Over 100 recipients and none alerted The Fed or SEC to what had happened.
Riiiiiight.
The silliness that makes you 

 in the morning…
President Barack Obama and his fellow Democrats sold many Americans on the Affordable Care Act largely by emphasizing two arguments: The law would help to reduce overall health-care costs, and it would provide health insurance to those who, for financial or health reasons, cannot get it now.

Unfortunately, both of these arguments are flawed. The law creates market distortions that will significantly raise premiums and costs for many Americans — including some middle- income families. And there are less costly, less distortionary and less intrusive ways to address the problem of the uninsured.
The "problem" of the uninsured?  You mean the "problem" that medical cartels, in concert with the government created out of whole cloth and now proposes to "save" us from?
Who is this clown?  Oh yeah, here we are:
(Lanhee Chen is a Bloomberg View columnist and a research fellow at the Hoover Institution at Stanford University. He was the policy director of Mitt Romney's 2012 presidential campaign. The opinions expressed are his own.)
Oh, that explains it.  Romneycare and all.
Let me give you just one example — a relatively common chemotherapy drug.  I won't name the drug as it might expose my source, but those in the practice of medicine are well-aware of the truth in this regard.
It has a cost including a market profit of about $30/dose.  You can't buy it in the United States for under $100, however.  As a patient you will likely pay 50% to 500% more in a clinic or hospital for that drug.
If you go to one of the nations where it is produced, however, you can buy it over the counter for $30.
So why does it cost $150-500 in the United States?
Because drug makers colluded with the US Government to make it a crime to buy that drug in some other nation and then bring it into the United States and sell it for whatever you wish to sell it for.  You must have a valid prescription to possess it at all and since that prescription must be for your personal use possession for any other purpose without explicit government permission (such as, for example, arbitrage of price between a high and low priced location) is a criminal offense for which you can be (and will be) prosecuted and imprisoned.
Or so the "business" argument goes.
Look at Wylie's recent loss at the US Supreme Court, and the arguments raised by publishing associations.  Specifically, this argument:
The potential longterm damage is not exclusive to publishers. It would have devastating consequences for authors, publishing industry employees and businesses directly supported by the industry, retailers, students and educators. Some examples of the damage:

Authors would be deprived of their rightful compensation because the royalties they receive from foreign versions of books, to the extent they are able to receive them, are typically lower than the royalties from US editions. The prospect of diminished earnings is likely to make academic authors and publishers less willing to engage in the labor-intensive process to create textbooks. The availability, quality and diversity of these critical educational tools would undoubtedly suffer.

It could affect high-quality, highly-educated US jobs which contribute millions to the economy in tax revenue.
Wait a second.  Why is the royalty lower for works sold in a foreign nation?
Note that the issue at hand here is not counterfeit goods.  It is that Wylie caused to be printed authorized editions of these books in another country, someone bought them there and shipped them here where they sold them for less money than Wylie would have liked.
The key point is that the seller legally purchased and owned the goods in question.
The US Supreme Court has ruled on this case and upheld the reimportation and resale of lawfully acquired copies of the books; it said in justification (in part) for its ruling:
A law that permits a copyright holder to control the resale or other disposition of a chattel once sold is similarly "against Trade and Traffi[c], and bargaining and contracting." Ibid. With these last few words, Coke emphasizes the im­portance of leaving buyers of goods free to compete with each other when reselling or otherwise disposing of those goods. American law too has generally thought that com­petition, including freedom to resell, can work to the ad­vantage of the consumer.
Except, of course, when it comes to anything having to do with the medical industry.
The argument is often raised that trade in counterfeit goods could do severe harm to a consumer (e.g. adulterated drugs.)  But nothing has been said about allowing trade incounterfeits.  In fact that's already separately illegal and adulterating drugs or tampering with devices is a separate and serious criminal offense.
No, what's been granted to this "industry" is a means to violate the Sherman Act, 15 USC.  This act provides the following:
Every person who shall monopolize, or attempt to monopolize, or combine or conspire with any other person or persons, to monopolize any part of the trade or commerce among the several States, or with foreign nations, shall be deemed guilty of a felony, and, on conviction thereof, shall be punished by fine not exceeding $100,000,000 if a corporation, or, if any other person, $1,000,000, or by imprisonment not exceeding 10 years, or by both said punishments, in the discretion of the court.
Every person.
This sort of cartel behavior is, by the black-letter law above, illegal in virtually all lines of business. Had I attempted to conspire to do that sort of thing when I ran my Internet company I would have gone to prison — and justly so.
But of course there are "exceptions", and those "exceptions" were granted by Congress under lobbying pressure from the medical industry.
So we have CON laws (which make legal otherwise felonious activity), we have reimportation laws (which make felonies out of what is described above as ordinary commerce) and we have specially granted exceptions riddled throughout the law that give the privilege of violating the black-letter felony statute found in 15 USC to various actors in the health care sector.
These actors use that privilege in spades, and as a consequence there is a problem of uninsured people that is created out of whole cloth by the outright prohibition of competition between sellers of goods and services which result in a factual price difference of, for example, a $100 scorpion antivenom manufactured in Mexico (and available there at that price) being sold in the United States in a hospital for nearly $40,000.
Then, having created a circumstance where most people who do not have "insurance" would be instantly bankrupted by a need for such antivenom (especially if you need two shots, which is the usual course of treatment!) or at least severely harmed (having to pay nearly $100,000 for $200 worth of drug) the political class now exploits this to talk about how we must "solve" the problem of people being uninsured when they created the problem of ridiculous pricing and thus the original "need" out of whole cloth!
The solution to this problem is not found in Obamacare, Romneycare or anything similar.
It is to return to the Rule of Law, pulling all of these protections from this so-called "industry", resulting in free and open competition – that is, to restore the underlying and essential right of property that vests when one lawfully acquires a thing in voluntary trade.
Applying the same Rule of Law found in 15 USC to the providers of medical services so as to imprison those who attempt to or do manipulate the market to restrain trade and elevate price in things such as diagnostic imaging and other procedures, along with restoring the rule of law in 15 USC to medical goods and services of all sorts, would cause the price of medical goods and services to instantly collapse and thus render the argument of "need" for insurance moot for virtually all cases.
Oh yes, there still would be a demand and market for medically-related insurance.  But even for those events, such as cancer or catastrophic injury, the price would be a tiny fraction of what it is now and thus would be affordable in a free market environment for virtually everyone.
Even currently-catastrophic chronic conditions, such as HIV, would have the cost of treatment collapse to affordable levels for most persons.  A fall in the price of these treatment regimes by 80-90% would immediately occur.
Consider that if you took the free-market price of an uncomplicated childbirth including doctor and anesthesiologist billing (e.g. the epidural), an utterly routine procedure that occurs millions of times a year, from 1963 and inflated it by the CPI to today, you would be able to have an uncomplicated birth in a hospital including three nights stay for just under $1,000.
Back in 1963 medicine was mostly a free-market enterprise and the sort of jackbooted legal environment that has resulted in the financial rape of our nation did not exist.  Today it does, and as a result the typical price of that uncomplicated birth is ten times the CPI-inflated 1963 price.
Most people, even very poor people, can come up with $1,000 when they have nine months to do so.  That's about $100/month, or less than most "poor" people in this country spend on beer, cigarettes or both in a given month.  It is clearly affordable to just about anyone and thus requires no "insurance" to cover it.
There is no solution to be found in yet more government privilege for the Health "Industry."  We can only resolve this problem by tearing down the special privileges and exceptions to long-standing law that this so-called "industry" has garnered for themselves, reducing its impact on our economy and eliminating the outrageous distortions and financial rapes that it inflicts on the American consumer.
(Interviewed by Louis James, Editor, International Speculator)
L: Doug, there is considerable disagreement over the significance of the Cyprus crisis. A lot of people are saying that it's just a flash in the pan; Cyprus is a small country, far off, and doesn't really matter. Other people are saying it's very significant. The European Central Bank took unprecedented steps. What do you think?
Doug: I think this could be the spark that ignites the keg of dynamite under the current financial system. All banks, all around the world, are bankrupt, and have been for years. That's because all the world's banks run on a fractional reserve basis.
L: I know what you mean, but we should spell that out: by law and backed with government guarantees, banks only have to keep a tiny fraction of the money people deposit on hand. They lend out the vast bulk of it, and in even in good times, they could not return all depositors' money at once, since loans cannot be called in instantaneously, and most would be defaulted on if they were. In bad times, the charade is even more hollow, since many loans that banks are currently owed will never ever get paid.
Doug: Yes, and they are all in that position. It was more serious in Cyprus because that economy is very leveraged to finance. In other words Cyprus was a banking epicenter for Europe. It was easier to make deposits – there were fewer questions asked – making banking the major business of the country. But I think the trouble will spread from there. It could spread to Luxembourg or Malta next; both are at least as leveraged to the financial sector as Cyprus. And from there… who knows?
Anyone with any sense should withdraw whatever cash they have in European banks, whether in euros or any other currency, immediately. Cyprus demonstrated that governments are quite willing and able to confiscate money sitting in a bank account in order to preserve the banking system. We live in Bizarro World.
L: Why would it spread? Cyprus was said to be particularly vulnerable because of its strong Greek connections; Cypriot banks had bought of lot Greek debt. Would people in Luxembourg be as exposed?
Doug: All banks are in effect creatures of the state at this point. They all own a lot of government bonds, which are considered the most secure form of capital. Of course, that's the opposite of the truth; all these governments are bankrupt as well. The Greek government is just more overtly bankrupt than most.
Actually, we should take a minute here to discuss what a properly run banking system looks like. Historically, banks offered two types of accounts: demand deposits and time deposits. Demand deposits are what we call checking accounts today, but the original idea was that you'd pay your bank to store your money securely, and you had the right to "demand" your deposit back immediately, and to transfer funds via check.
The idea of time deposits, which became savings accounts, was that the bank would pay you interest when you deposited your money with them for a specific period of time. That's why it's called a "time" deposit; you lent the bank your money for a given time, as did other depositors, and the banks would always know how much money they could lend out – at higher interest rates. Furthermore, loans made against time deposits were always short term, and also self-liquidating, against receivables, or excess inventory, for instance.
There were no government guarantees for deposits back then; bankers needed to capitalize their businesses with their own funds, and if they miscalculated, they were personally liable – and often did go bankrupt themselves if they made too many bad loans. Depositors naturally avoided banks known to make risky or illiquid loans. Banks competed to be known as the most prudent and solvent.
Both lenders and depositors were cautious. Before the early 20th century, people might well have laughed at today's depositors of Cypriot banks. If they were foolish enough to put their money in banks that made such stupid loans, they only get what they deserve.
L: Our friend Rick Rule likes to say that the idea that the state can guarantee everyone's deposits is just another unaffordable, unbacked social promise of the 20th century. Just another example of living beyond our means.
Doug: Yes. I don't think people understand this. People don't have a clue, do they? People read editorials by Paul Krugman and neither laugh nor roll their eyes. It's like they're all on Prozac.
L: The nature of real banking is not something they teach in school anymore, that's for sure.
Doug: Then it's worth repeating. The distinction between time and demand deposits is critical. They are completely different, actually unrelated businesses. Today the distinction has been totally lost. But it's much worse, since central banks have allowed the problem to compound to the nth degree.
Sound banks never made what we call consumer loans today, because there is no guarantee, no collateral. Banks in the past made only short-term commercial loans that were fully covered by the value of the assets being financed. You never had to rely on the good faith of the borrower. You simply facilitated short-term – short-term – liquidity. The idea of a 30-year, a 20-year, or even a 10- or 5-year mortgage was anathema to sound bankers. A building and loan society might grant a five-year mortgage to one of its members, with a very significant down payment; that's because even though it's an asset class with value, real estate is illiquid. Forget about credit cards. Forget about car loans; if you want a car, save up for one. It's funny, actually. Car loans started out with a one-year term and a big down stroke. Then they went to two years. Now they're five or more, when people don't just lease. So even the family car has gone from a minor asset to a long-term liability. Subprime loans would have been completely unthinkable in the past.
L: Many people might say that credit that tight would be impractical today.
Doug: Many people don't like the idea of having to live within their means. They feel they have a right to have whatever they want, now. That's why the average American has essentially zero net assets. If everyone had to pay cash for everything, our whole society – from individuals on the lower rungs to big corporations to the state itself – would be much, much wealthier. We would not be, individually and as a society, one paycheck from being forced to live in a cardboard box under an overpass.
L: Perhaps so, but again, many people think modern high finance is not just normal, but necessary for civilization today. Big Business requires Big Credit.
Doug: Nonsense. The way you become wealthy is by producing more than you consume, and saving the difference. We don't need a fractional reserve banking system, we don't need government guarantees, and we certainly don't need to use government IOUs backed by nothing masquerading as money.
I understand something like 20% of the US economy is financial in nature. It's ludicrous; millions of people spending billions of dollars bundling, swapping, and repackaging imaginary assets. I'd guess that in a free-market economy, banking and related industries would amount to about 2%, a tenth as much. Money is essentially just a medium of exchange and a store of value; it's problematic when it becomes a gigantic industry. All these people who spend their days gambling with ledger entries would have to go out and find something productive to do.
L: Get real jobs.
Doug: Exactly. The whole banking business is corrupt from top to bottom today. Part of the problem is that banks are no longer financed by the individuals who start them, putting their personal net worth on the line. Now, they are all publicly traded entities – just like all brokerages – playing with Other People's Money. Management has no incentive to do anything but pad their wallets, so they pay themselves gigantic salaries and bonuses, and give themselves options. These people aren't shepherding their money and that of clients they know personally. They've got zero skin in the game.
This is true all over the world, not just in the US and Europe. All these banks are going to blow up, and not just in far-off, little countries.
L: It's interesting that a part of the basis for your negative prognosis for the global financial network is rooted in human psychology – the perverse incentives of playing with Other People's Money, exacerbated by government guarantees and banks mistakenly viewing government bonds as safe investments.
Doug: Imagine you're a smart, young trader working for Goldman, Deutsche Bank, or one of these big financial institutions. It's actually in your interest to make incredibly crazy bets. You can win billions of dollars if red comes up on the financial roulette wheel. If that happens, you get a multimillion-dollar bonus. You win. But if your bet doesn't work out, what then? The bank loses a few billion dollars, and you just go work for another bank, with more experience on your résumé. And you do the same thing over again.
L: So what does one do with hundreds of trillions of dollars in derivatives?
Doug: I don't know, and neither does anyone else. Not even Warren Buffett. Nobody can possibly keep track of quadrillions of dollars of derivatives. It's a daisy chain in which nobody can really know who is creditworthy. It's impossible to assess the real counterparty risk. All these thousands of traders sitting at computer banks, second-guessing markets; it's actually quite insane. I can hear them on the phone: "Hello, New York? Buy! Hello, Tokyo? Buy! Hello, London? New York and Tokyo are buying. Sell." It's an immense waste of productive manpower, them and the divisions of highly paid lawyers, accountants, and administrators behind them. Little of this would exist in a free-market world without central banks spewing trillions of currency units out every year to support governments. Of course, a gigantic financial industry arose to deal with it.
In any event, the people who today imagine they run the show may have put a finger in a dike, but it's all going to come to very bad end.
One of the interesting things about this Cyprus thing is that, according to the numbers I hear bandied around, the Russians are supposed to have had somewhere in between $30 and $60 billion in Cyprus. Who knows what the real facts are, because you can't trust what's reported in the press… but I've been to Cyprus – both Northern Cyprus and the Republic of Cyprus. It's true that the place is overrun with Russians and Russian money.
Now, you've got to figure that if you're a Russian oligarch with a lot more than 100,000 euros in a bank and the bank tells you you're not getting it back – are you going to just sit on your hands and do nothing? I hate to say what I would do if I were a crony capitalist… but if I were, I might just send several very burly men with cold steel strapped under their arms to talk to the banker in question and make it very clear to him that I will get my money back.
L: I sure wouldn't want to sell life insurance to Cypriot bankers right now – nor ECB bureaucrats, for that matter.
Doug: I've read that just before this crisis hit the papers, billions and billions of Russian money found its way out of Cyprus. That's supposed to be why the Russians were raising hell at one point, and now they've gone quiet. My guess is that the Cypriots heard from their oligarch depositors or prudently gave them advance warning, and decided that the most important thing was getting that money back to them. But everyone else – people who don't have squads of hit men – gets screwed.
So much for Cyprus. I guess they'll go back to shepherding, growing olives, serving ouzo to the occasional hippie tourist, or whatever subsistence-level activities they did before becoming a banking haven, because no one anywhere in the world is going to deposit any money in Cyprus for a very long time. Cypriot businesses can't even get money out of the bank to pay their bills – they've just been hit with the financial equivalent of a nuclear bomb.
On the other hand, Cyprus has a little stock market that's probably at a washout bottom. Five years ago, at the top of the bubble, its Index peaked at around 3,300. Now it's about 100. That's one of the worst crashes in history, anywhere. I suspect that there are some very viable businesses available – companies selling for a tiny fraction of book. A smart speculator would be on a plane to start sorting through the wreckage. I think fortunes could be made there, especially since it now has capital controls. Which, incidentally, will become common everywhere.
The more important take-away from all this is that no bank in the world is safe at this point. They are all in exactly the position as Cypriot banks were before their crash.
L: In today's world, you almost have to have some money in the bank, if only to pay bills with.
Doug: Just keep enough cash for a few months' expenses. A bigger crash is coming, there's absolutely no question about that in my mind. The only question is whether it happens later this week, or next week, or next month, or a few months from now. I don't know, but it won't be long before it all starts unraveling.
I cannot stress strongly enough that I think anyone who chooses to keep a significant amount of money in any bank is patently stupid. I mean that in the technical sense of stupidity – being an unwitting tendency towards self-destruction. And I don't just mean European banks, though they are certainly closer to the edge – but it's true of Japanese banks, it's true of American banks, Chinese banks: it's true of all of them.
L: So where do you keep your money?
Doug: There is only one answer, as far as I'm concerned: buy gold. One of the most important financial truths I know is that gold is the only financial asset that is not simultaneously somebody else's liability. This is not an academic distinction. It never was, but the urgency of it is much more pressing today.
L: Do you really think the Cyprus crisis could spark the unwinding of the bankruptcy of the rest of the global financial system? Is this the first domino?
Doug: Well, it could be. But I have to tell you, I'm here in Punta del Este in Uruguay, and I just had lunch with some Spanish real estate developers. They have quite substantial assets, actually, and they didn't seem worried at all. I was surprised; these are rich, sophisticated people. But they seemed like most US tax slaves, who think Bernanke cares about them and can kiss everything and make it better. These guys see problems, but they think Christine Lagarde and her fellow bureaucrats are going to sort everything out. They see that real estate prices are off 50% in Spain, and are thinking that this is the time to buy. I think it's way too early, of course. Better to wait for massive riots. A lot of that property is going to catch fire from Molotov cocktails.
L: That's pretty striking. Of all Europeans, it's the Spanish and Italians you might expect to be most worried, and these Spanish guys didn't seem worried at all?
Doug: They were pretty sanguine. If I were in Europe, I'd run to my bank first thing. But I haven't heard of any bank runs in Europe. When it does happen, however, government printing presses will be running at even higher capacities than now, and people will have the problem of what to do with all that cash. A lot – like my Spanish friends I had lunch with today – are viewing real estate as a place to park wealth that can't just dry up and blow away. That's true, of course. But property has significant carrying costs, and prices can plummet if there are no buyers; there's a huge liquidity risk associated with getting overweight in real estate. That brings me back to gold again.
L: Some people are saying that increased distrust of banks in Europe might actually be bearish for gold prices. Europeans needing to move large amounts of cash will buy dollars, and many people are still programmed to sell gold when the dollar rises.
Doug: That's plausible, but I just don't see gold going down in a big way at this point. I really don't.
I just met a fellow in Cafayate last week – a very interesting guy who runs a gold exploration project in south Kivu province in the DRC. He says that there are Chinese all over Kivu, buying gold from the artisanal miners, on the order of 40-50,000 ounces per month – and they're paying London spot prices. Apparently this is under the auspices of the Chinese government itself, as it allows them to dump dollars off the market and cart home the gold. The Chinese are stuck with far more dollars than they can get rid of without provoking a panic, so this makes perfect sense. It's quite clever of them, actually.
And this is just one story, from one place. So no, I don't see gold going down.
L: Okay. We already know that you say to buy gold for prudence; are there any other investment implications?
Doug: Well, I mentioned the Cyprus stock market. That's the sort of thing I might do if I were younger – hop on a plane tomorrow and go check out the opportunities for crisis investing at a time when there are almost no other buyers.
More generally, I just have to say again that the trailing half of the storm is coming, and it's going to be much worse than 2008. Investors who don't rig for stormy weather will go down with their ships.
You know, another thing my Spanish friends said was that more and more people they know are thinking of moving to South America. It's much cheaper, there's less crime, less regulation, less taxation, and more opportunity. I think other Europeans – all Europeans – should think of following suit.
L: And folks in the US?
Doug: Them too. Things look calmer in the US right now, but the government in the land that was once America is now much more powerful, aggressive, arrogant, grasping, and ruthless than the governments in Europe.
I'd say to all people, all around the world, that the failure of Cyprus is like the failure of the Credit-Anstalt Bank in Austria that failed in 1931 and set off the banking crisis that followed the stock market crash of 1929, and then the Great Depression. You need to plan for further crisis and the deepening of the Greater Depression that has already started – and start taking concrete steps now to implement that plan.
I can't say exactly when the next big step down is coming, but it is.
L: Okay Doug. Well… another cheerful conversation – but an important one, I think.
Doug: You're all very welcome.
While Doug Casey isn't rummaging through the wreckage of the Cypriot stock market in search of bargains, he is implementing a plan to create new wealth. It's a strategy that he, fellow contrarian investing legend Rick Rule, and others have used to make multiple fortunes over the years. On April 8 you can hear them reveal exactly how they do it… and how you can too.
Our April Fool's wish: someone in the inner circle of power would finally tell the truth.
In an unprecedented abandonment of his carefully scripted responses to Congressional questions, Federal Reserve Chairman Ben Bernanke unleashed what appeared to be a heart-felt and spontaneous disavowal of the financial and political systems of the United States.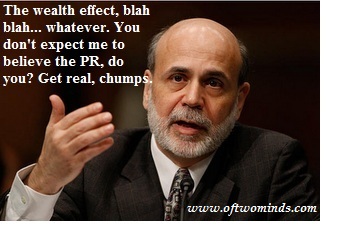 Asked a question about the wealth effect, Bernanke paused and said, "The wealth effect. Ah, right." He then smiled faintly and shook his head. "You want to know about the wealth effect? Well, I'll be candid with you.This whole thing is a kleptocracy–the financial system, the political system, it's one big kleptocracy. That's the real wealth effect."
Seeming to find his footing, Bernanke continued with a passion that startled the audience. "You know, I told myself to just repeat the party line for another year so I could step down quietly and let Yellen or another of the toadies take over, but I realized that I can no longer stomach the lies, the obfuscation and the plundering."
"Yes, I have a plum position lined up at Goldman Sachs after my retirement. You know, give a few speeches and pocket a couple of million dollars, but I am tired of the dirtiness of all this money."
Leaning into the microphone, Bernanke asked, "Aren't you tired of the dirtiness of all the money you take? Aren't you tired of the lies we're all living?"
"I am supposed to be an expert in economics. So I'll tell you how the system works in very simple terms. It's no different from the late Roman Empire, actually. The trick is to get close to the seat of Imperial power, which in our country is the Federal government. You bribe those on the make–there's always an abundance of them–to grant you special privileges, subsidies, contracts or a monopoly. You skim a great fortune off this proximity to political and financial power, and then you take this fortune and buy a rentier income–you know, thousands of rental homes, farmland, buildings in Manhattan, tax-free municipal bonds, and so on."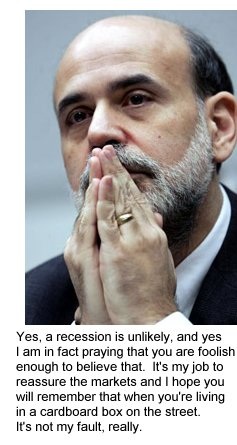 "This is how we ended up with cartels running everything: national defense, healthcare, higher education, the financial sector. You–the elected nobility–enable this vast skimming operation in the name of democracy and capitalism. But we all know those are facades. Democracy is a fraud at the national level, but we're all too cowardly to confess it."
Taking a sip of water, Bernanke said, "Let me tell you a little secret about all our policies based on Keynesian principles. Paul Krugman and I put on witch doctor masks and we dance around a campfire waving dead chickens and chanting nonsense. That's Keynesianism."
"It's hopelessly flawed, a disaster, for one simple reason: the Keynesians think all investment is productive, when the truth is most investment is unproductive and has to be written off. But that isn't allowed to happen any more, because those close to power would lose."
"As a result, everything we do and say here in Washington and in New York is a travesty of a mockery of a sham, an endless parade of lies, half-truths and spin. President Bush, in his own homespun way, spoke the truth when he said, 'This sucker's going down.' He meant the kleptocracy, the whole fraud we're living to enrich ourselves and keep power. I have had enough, ladies and gentleman, and this is my last public appearance as an employee of the Federal Reserve."
Fed officials explained the chairman's spontaneous comments as "the unfortunate result of a mix-up in the chairman's medication," triggering speculation that Mr. Bernanke had stopped taking Ibogaine. Sudden bursts of truth-telling are one side-effect of withdrawal, according to those familiar with the psychotropic medication.
According to sources within the Federal Reserve and Treasury, those supporting Janet Yellen as the new chair of the Fed are battling another faction who believe it would better serve the interests of the economy to install a high-frequency trading machine at the helm of the Fed. "There is a growing sense that it's time to cut out the middleman, so to speak, and just let the HFT computers openly trade the Fed's accounts," said one unnamed source.
Alas, April Fools. Sadly, no one in power has the courage to tell the truth.
Wait a minute–one former insider is willing to tell the truth–David Stockman:
The Great Deformation: The Corruption of Capitalism in America
The Great Deformation (Kindle edition)
Charles Hugh Smith – Of Two Minds
And we're still at risk of it happening all over again
Then, when the Fed's fire hoses started spraying an elephant soup of liquidity injections in every direction and its balance sheet grew by $1.3 trillion in just thirteen weeks compared to $850 billion during its first ninety-four years, I became convinced that the Fed was flying by the seat of its pants, making it up as it went along. It was evident that its aim was to stop the hissy fit on Wall Street and that the threat of a Great Depression 2.0 was just a cover story for a panicked spree of money printing that exceeded any other episode in recorded human history.
David Stockman, The Great Deformation
David Stockman, former director of the OMB under President Reagan, former US Representative, and veteran financier is an insider's insider. Few people understand the ways in which both Washington DC and Wall Street work and intersect better than he does.
In his upcoming book, The Great Deformation: The Corruption of Capitalism in America, Stockman lays out how we have devolved from a free market economy into a managed one that operates for the benefit of a privileged few. And when trouble arises, these few are bailed out at the expense of the public good.
By manipulating the price of money through sustained and historically low interest rates, Greenspan and Bernanke created an era of asset mis-pricing that inevitably would need to correct.  And when market forces attempted to do so in 2008, Paulson et al hoodwinked the world into believing the repercussions would be so calamitous for all that the institutions responsible for the bad actions that instigated the problem needed to be rescued — in full — at all costs.
Of course, history shows that our markets and economy would have been better off had the system been allowed to correct. Most of the "too big to fail" institutions would have survived or been broken into smaller, more resilient, entities. For those that would have failed, smaller, more responsible banks would have stepped up to replace them – as happens as part of the natural course of a free market system:
Essentially there was a cleansing run on the wholesale funding market in the canyons of Wall Street going on. It would have worked its will, just like JP Morgan allowed it to happen in 1907 when we did not have the Fed getting in the way. Because they stopped it in its tracks after the AIG bailout and then all the alphabet soup of different lines that the Fed threw out, and then the enactment of TARP, the last two investment banks standing were rescued, Goldman and Morgan [Stanley], and they should not have been. As a result of being rescued and having the cleansing liquidation of rotten balance sheets stopped, within a few weeks and certainly months they were back to the same old games, such that Goldman Sachs got $10 billion dollars for the fiscal year that started three months later after that check went out, which was October 2008. For the fiscal 2009 year, Goldman Sachs generated what I call a $29 billion surplus – $13 billion of net income after tax, and on top of that $16 billion of salaries and bonuses, 95% of it which was bonuses.

Therefore, the idea that they were on death's door does not stack up. Even if they had been, it would not make any difference to the health of the financial system. These firms are supposed to come and go, and if people make really bad bets, if they have a trillion dollar balance sheet with six, seven, eight hundred billion dollars worth of hot-money short-term funding, then they ought to take their just reward, because it would create lessons, it would create discipline. So all the new firms that would have been formed out of the remnants of Goldman Sachs where everybody lost their stock values – which for most of these partners is tens of millions, hundreds of millions – when they formed a new firm, I doubt whether they would have gone back to the old game. What happened was the Fed stopped everything in its tracks, kept Goldman Sachs intact, the reckless Goldman Sachs and the reckless Morgan Stanley, everyone quickly recovered their stock value and the game continues. This is one of the evils that comes from this kind of deep intervention in the capital and money markets.
Stockman's anger at the unnecessary and unfair capital transfer from taxpayer to TBTF bank is matched only by his concern that, even with those bailouts, the banking system is still unacceptably vulnerable to a repeat of the same crime:
The banks quickly worked out their solvency issues because the Fed basically took it out of the hides of Main Street savers and depositors throughout America. When the Fed panicked, it basically destroyed the free-market interest rate – you cannot have capitalism, you cannot have healthy financial markets without an interest rate, which is the price of money, the price of capital that can freely measure and reflect risk and true economic prospects.

Well, once you basically unplug the pricing mechanism of a capital market and make it entirely an administered rate by the Fed, you are going to cause all kinds of deformationsas I call them, or mal-investments as some of the Austrians used to call them, that basically pollutes and corrupts the system. Look at the deposit rate right now, it is 50 basis points, maybe 40, for six months. As a result of that, probably $400-500 billion a year is being transferred as a fiscal maneuver by the Fed from savers to the banks. They are collecting the spread, they've then booked the profits, they've rebuilt their book net worth, and they paid back the TARP basically out of what was thieved from the savers of America.

Now they go down and pound the table and whine and pout like JP Morgan and the rest of them,you have to let us do stock buy backs, you have to let us pay out dividends so we can ramp our stock and collect our stock option winnings. It is outrageous that the authorities, after the so-called "near death experience" of 2008 and this massive fiscal safety net and monetary safety net was put out there, is allowing them to pay dividends and to go into the market and buy back their stock. They should be under house arrest in a sense that every dime they are making from this artificial yield group being delivered by the Fed out of the hides of savers should be put on their balance sheet to build up retained earnings, to build up a cushion. I do not care whether it is fifteen or twenty or twenty-five percent common equity and retained earnings-to-assets or not, that is what we should be doing if we are going to protect the system from another raid by these people the next time we get a meltdown, which can happen at any time.

You can see why I talk about corruption, why crony capitalism is so bad. I mean, the Basel capital standards, they are a joke. We are just allowing the banks to go back into the same old game they were playing before. Everybody said the banks in late 2007 were the greatest thing since sliced bread. The market cap of the ten largest banks in America, including from Bear Stearns all the way to Citibank and JP Morgan and Goldman and so forth, was $1.25 trillion. That was up thirty times from where the predecessors of those institutions had been. Only in 1987, when Greenspan took over and began the era of bubble finance – slowly at first then rapidly, eventually, to have the market cap grow thirty times – and then on the eve of the great meltdown see the $1.25 trillion to market cap disappear, vanish, vaporize in panic in September 2008. Only a few months later, $1 trillion of that market cap disappeared in to the abyss and panic, and Bear Stearns is going down, and all the rest.

This tells you the system is dramatically unstable. In a healthy financial system and a free capital market, if I can put it that way, you are not going to have stuff going from nowhere to @1.2 trillion and then back to a trillion practically at the drop of a hat. That is instability; that is a case of a medicated market that is essentially very dangerous and is one of the many adverse consequences and deformations that result from the central-bank dominated, corrupt monetary system that has slowly built up ever since Nixon closed the gold window, but really as I say in my book, going back to 1933 in April when Roosevelt took all the private gold. So we are in a big dead-end trap, and they are digging deeper every time you get a new maneuver.
Click the play button below to listen to Chris' interview with David Stockman (56m:33s):
Ok folks, if you live in Cyprus and are one of the common people there, perhaps a "wealthy" person such as a business owner but not one of the "connected few", now it has come out how you were screwed.
Laiki Bank customers in the UK face no restrictions on access to their cash and have been told it is "business as usual" at the firm's four British branches, despite an overnight decision to close its Cyprus parent.

….

Ruth Harvey of Laiki Bank in the UK said that although not all of the details of the impact of the agreement were known, there was no need for the 13,000 UK customers to panic. "We are open, it's business as usual, and there are no restrictions on our client's accounts," she said. "The message we want to get over to our customers is to keep calm and carry on."
So if you knew this and had the capability, you apparently could have moved all your money out of this Cyprus bank during the freeze.
I am willing to bet that if you are a Russian oligarch with a lot of money (formerly) in Cyprus you did exactly that.
I'm also willing to bet that if you're a Cypriot citizen you probably didn't know this and as a result you got screwed since you could only get a couple hundred — or even €100 — at a time from an ATM.
And before you scream "but those rich people deserved it!" let me point out that business people with payroll accounts in these banks are utterly screwed and so are their workers, who worked in good faith and now there is no money to pay them with.
The details of this "program" are as yet not entirely certain, but history is that there is always a way by which the common man gets rooked and the privileged few do not.  This time it was blatantly "in your face"; along with the ECB and TARGET2 pledges of which there is no evidence that they will be zeroed along with common holders of bonds or stock it also appears that if you happened to be one of the "privileged few" you were also able to escape being "bailed in."
Rule of law?
What's that?
Incidentally, as a former "largish" small-business CEO of a few dozen employees, there is not a snowball's chance in Hell that I will ever consider setting up another such enterprise until and unless the people who have gotten this unfair advantage are clawed back from and jailed and the rule of law is restored.
Since I do not expect that to happen my response to those who would like me to deploy capital and set up another employment-producing business is best-expressed by this: