Archive for the 'Depression' Category
Higher Numbers of Americans Take Their Lives than During the Depths of the Great Depression
Suicide rates are tied to the economy.
The Boston Globe reported in 2011:
A new report issued today by the Centers for Disease Control and Prevention finds that the overall suicide rate rises and falls with the state of the economy — dating all the way back to the Great Depression.

The report, published in the American Journal of Public Health, found that suicide rates increased in times of economic crisis: the Great Depression (1929-1933), the end of the New Deal (1937-1938), the Oil Crisis (1973-1975), and the Double-Dip Recession (1980-1982). Those rates tended to fall during strong economic times — with fast growth and low unemployment — like right after World War II and during the 1990s.
During the depths of the Great Depression, suicide rates in America significantly increased. As the Globe notes:
The largest increase in the US suicide rate occurred during the Great Depression surging from 18 in 100,000 up to 22 in 100,000 …
We've previously pointed out that suicide rates have skyrocketed recently:
The number of deaths by suicide has also surpassed car crashes, and many connect the increase in suicides to the downturn in the economy. Around 35,000 Americans kill themselves each year (and more American soldiers die by suicide than combat; the number of veterans committing suicide is astronomical and under-reported). So you're2,059 times more likely to kill yourself than die at the hand of a terrorist.
NBC News reported in March:
Suicide rates are up alarmingly among middle-aged Americans, according to the latest federal government statistics.

They show a 28 percent rise in suicide rates for people aged 35 to 64 between 1999 and 2010.
RT reports:
In a letter to The Lancet medical journal, scientists from Britain, Hong Kong and United States said an analysis of data from Centers for Disease Control and Prevention indicated that while suicide rates increased slowly between 1999 and 2007, the rate of increase more than quadrupled from 2008 to 2010, Reuters reported.
Earlier this month, NY Daily News wrote:
The Great Recession may have been at the root of a great depression that caused suicides to soar among middle-aged Americans, a government report speculates.

The annual suicide rate for adults ages 35 to 64 spiked in the past decade, according to a study from the U.S. Centers for Disease Control and Prevention.

And a shaky economy that nose-dived into the worst financial crisis since the Depression may be the biggest reason why.

***

The CDC's Morbidity and Mortality Weekly Report said the annual suicide rate jumped 28.4% from 1999-2010.

It was the biggest increase of any age group, said the CDC, citing "the recent economic downturn" as one of the "possible contributing factors" for the increase.

"Historically, suicide rates tend to correlate with business cycles, with higher rates observed during times of economic hardship," the report said.
David Stuckler (a senior research leader in sociology at Oxford), and Sanjay Basu (an assistant professor of medicine and an epidemiologist in the Prevention Research Center at Stanford), write in the New York Times:
The correlation between unemployment and suicide has been observed since the 19th century.
(And see these articles by the Wall Street Journal and the Los Angeles Times.   This is obviously true world-wide.  For example, last year the New York Times reported:
The economic downturn that has shaken Europe for the last three years has also swept away the foundations of once-sturdy lives, leading to an alarming spike in suicide rates. Especially in the most fragile nations like Greece, Ireland and Italy, small-business owners and entrepreneurs are increasingly taking their own lives in a phenomenon some European newspapers have started calling "suicide by economic crisis."

***

In Greece, the suicide rate among men increased more than 24 percent from 2007 to 2009, government statistics show. In Ireland during the same period, suicides among men rose more than 16 percent. In Italy, suicides motivated by economic difficulties have increased 52 percent, to 187 in 2010 — the most recent year for which statistics were available — from 123 in 2005.)
Indeed, more Americans are killing themselves today than during the Great Depression. Specifically, there were were 123 million Americans in 1930.  The maximum suicide rate during the depths of the Great Depression was 22 out of 100,000  Americans.  That means that up to  27,060 Americans killed themselves each year.
In contrast, the U.S. Centers for Disease Control reports that 38,364 Americans committed suicide in 2010. In other words, 2010 suicides were approximately 142% of suicides during the depths of the Great Depression. (The suicide rate is lower today than during the Great Depression, but – given that there aremore Americans – there are more suicides each year.)
The head of my local county's mental health services confirmed to me today that there are now more suicides now than during the Great Depression.
The Root Causes: Unemployment and Foreclosure
Why do more people kill themselves during severe downturns?  It's not just a downturn in the business cycle in some general sense.  It's more specific than that.
Unemployment and foreclosure are the largest triggers in increased suicide risk.
David Stuckler and Sanjay Basu write:
People looking for work are about twice as likely to end their lives as those who have jobs.

***

Unemployment is a leading cause of depression, anxiety, alcoholism and suicidal thinking.
ABC News points out:
"Joblessness is a risk factor for suicide," said Nadine Kaslow, professor of psychology in the Department of Psychiatry and Behavioral Sciences at Emory University in Atlanta. "The stress is just overwhelming. … People are freaked out."
Bloomberg reports:
"The suicide rate started accelerating in 2008, 2009 and 2010 — someone might still be working, but their house is underwater, or they're working but they're working part-time," Eric Caine, the director of the CDC's Injury Control Research Center for Suicide Prevention, said by telephone. "These things ripple into families. There's an economic stress."
NY Daily News writes:
"Most people who commit suicide tend to suffer from major depression, and this vulnerability tends to be brought forth by very stressful situations like losing one's home or job," [Dr. Dan Iosifescu, director of mood and anxiety disorders program at Mount Sinai Hospita] said.
NBC News reports:
The American Association for Suicidology says economic recessions don't normally affect suicide rates.

"Although US suicide rates did increase slightly during the years of the Great Depression, reaching a peak rate of 17.4/100,000 in 1933, subsequent US recessions have not been found to lead to increased national rates of suicide in the period of or immediately following each recession," the group says.

The latest numbers suggest suicide rates for middle-aged Americans now surpass the peak during the Depression. And there's another possible explanation.

"There is a clear and direct relationship between rates of unemployment and suicide," the suicidology group says in its statement.

"The peak rate of suicide in 1933 occurred one year after the total US unemployment rate reached 25 percent of the labor force. Similar findings have been documented internationally. At the individual level, unemployed individuals have between two and four times the suicide rate of those employed."

The group also raises concern about the home foreclosure rate.
Indeed, it is likely that more people have lost their jobs during this "Great Recession" than during the Great Depression … especially when you look at the masses of people who have given up altogether and dropped out of the work force.
And it is possible that more people have lost their homes through foreclosure than during the Great Depression as well.
No wonder there are so many suicides …
Postscript:  If you suffer from depression, this may help.
Wow, someone bothered with History?
The solution to weak economic growth may be higher interest rates.

That seemingly paradoxical remedy can apply if the cause of the slump is a confidence shock that cheap borrowing costs are failing to reverse, two Columbia University economists said in a report published this week. In such a situation, ultra-easy monetary policy risks making fears of deflation a self-fulfilling prophecy as spenders sit tight.
1920/21.
Post-war American industry put on too much capacity and extended (far) too much credit.  We had a nasty credit bubble and prices, including stock prices, went up.  A lot.
But between the turn of 1920 and the middle of 1921 there was a truly ugly deflationary collapse as the overheated credit markets blew up and production exceeded the ability of the consumer to buy.  Stock prices dropped by about half and the collapse in prices at the producer level came at the fastest rate in American history — surpassing even that of The Depression!
So did the Federal Government increase spending to stimulate the economy and did The Fed (which existed, I remind you) cut rates?
Nope.
Exactly the opposite.
The Federal Reserve increased rates and The Federal Government balanced the budget.
The over-levered went bankrupt.
But the market cleared, and 18 months later the economy was back to full employment.
You never hear this deflationary recession talked about in economics class, although you should.  The only reason it was not called "A Depression" is that it didn't last long enough to qualify.
There are many lessons in history; lowering interest rates and deficit spending in fact don't work.  At their best they can manage to substitute false government-fed demand for a while and blow an even bigger bubble than existed before.  But frequently they fail entirely and you get the 1930s or the last two decades in Japan.
On the other hand, if you stop the deficit spending (and thus the debasement of people's capital — their savings) that comes with it, and you refuse to feed an overlevered lending market with ever-cheaper credit, history says the market clears and then the economy recovers.
Japan's faddishly fantastic fashions illustrate the exhaustion of consumerism as a driver of wealth creation. 
Japan is known for artful handcrafts, high-tech gadgets and outlandish fads. All modern economies depend on fads and fashions to drive consumption, and so Japan's leadership in fads reflects its advanced state of consumerism: it is a very wealthy nation, and its wealth has been distributed widely enough that the vast majority of its citizens have access to the "good things" produced by modern industrialized economies.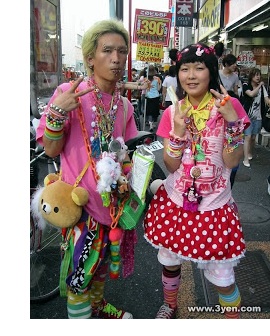 Thus it is unsurprising that Japan generates sufficient surplus on a national scale to support elaborate fads and fashions such as those on display in the Harajuku district of Tokyo:
Every Sunday, young people dressed in a variety of styles including gothic lolita, visual kei, and decora, as well ascosplayers spend the day in Harajuku socializing. A cosplay enthusiast will usually dress as a fictional or iconic character from a band, game, movie, anime, or manga.The fashion styles of these youths rarely conform to one particular style and are usually a mesh of many. Harajuku is also a fashion capital of the world, renowned for its unique street fashion.
The global reach of manga and anime is well-known, and so the overlap of fad, fashion and media (young people dressing up as manga characters) is also unsurprising.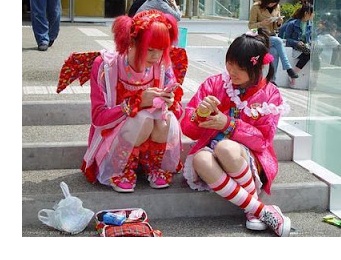 There is even a weekly television program on NHK (Japan's English-language network) that coverskawaii fashion. (Kawaii means "cute," though with a different range of meaning that "cute" in English. Kawaii includes what we might call cutesy, sweetly nostalgic or cartoonishly cute.)
There are certainly positives to this opt-in "public fashion show": self-expression in a conformist society, a bit of healthy rebellion against convention and good fun to share with friends, to name three.
But there is a less positive aspect, too: it is a phenomenon of extended adolescence, a state of "suspended animation" of young adults facing truncated opportunities for adulthood–secure careers, marriage, family, homeownership–who are stuck in a seemingly permanent adolescence.
It's as if there is a split in the road and no third way: some young people make it onto the traditional corporate or government career path, and everyone else is left in part-time suspended animation with few options for adult expression or development.
What few seem willing to acknowledge is the solipsistic, narcissistic nature of this reliance on public display of consumerist fantasy for self-identity. All consumerist fashion is based on superficiality and self-indulgence, of course; but if we look at the energy, money and attention "invested" in fashion lifestyles in Japan, we might conclude it is strong evidence that there is plenty of "money and time to burn" in Japan. While that is certainly true, this reliance on consumerist excess for self-identity and pastime is also evidence of a deeply troubled economy and society.
Young people have money and time to burn on outlandish costumes because few earn enough to have their own families or flats. They work part-time for low wages and live at home or in tiny one-room apartments. Few own cars because they 1) don't earn enough to support a car and 2) they're uninterested in acquiring status symbols or prestige signifiers.
This is not just a generational shift: it reflects a realistic understanding that opportunities for secure, high-paying employment have diminished over the past 20 years. There are plenty of low-level jobs, but few with the guarantees that their parents took for granted.
Sound familiar? This reality is playing out in Europe and the U.S. as well.
If all this is new to you, I strongly recommend you read my essay The Non-Financial Cost of Stagnation: "Social Recession" and Japan's "Lost Generations" (August 9, 2010).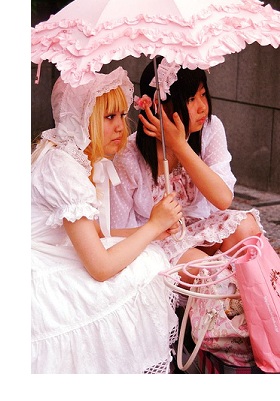 Here are a few highlights:
– Once-egalitarian Japan is becoming a nation of haves and have-nots.
– More than one-third of the workforce is part-time as companies have shed the famed Japanese lifetime employment system.
– The slang word "freeter" (for part-time worker) combines the English "free" and the German "arbeiter" or worker.
– A typical "freeter" wage is 1,000 yen ($7.80) an hour.
– As long ago as 2001, The Ministry of Health, Labor and Welfare estimated that 50 percent of high school graduates and 30 percent of college graduates now quit their jobs within three years of leaving school.
– Japan's slump has lasted so long, a "New Lost Generation" is coming of age, joining Japan's first "Lost Generation" which graduated into the bleak job market of the 1990s.
– These trends have led to an ironic moniker for the Freeter lifestyle: Dame-Ren (No Good People). The Dame-Ren (pronounced dah-may-ren) get by on odd jobs, low-cost living and drastically diminished expectations.
– Many young men now reject the macho work ethic and related values of their fathers. These "herbivores" reject the traditonal Samurai ideal of masculinity.Derisively called "herbivores" or "Grass-eaters," these young men are uncompetitive and uncommitted to work, evidence of their deep disillusionment with Japan's troubled economy.
– These shifts have spawned a disconnect between genders so pervasive thatJapan is experiencing a "social recession" in marriage, births, and even sex, all of which are declining.
– The trend of never leaving home has sparked an almost tragicomical countertrend of Japanese parents who actively seek mates to marry off their "parasite single" offspring as the only way to get them out of the house.
– An even more extreme social disorder is Hikikomori, or "acute social withdrawal," a condition in which the young live-at-home person will virtually wall themselves off from the world by never leaving their room.
Is it any wonder that in the face of such a bleak and maladaptive future, young people seek identity, community and solace in a fantasy world of fashion?When an economy is dominated by a Savior State that issues unsustainable promises, and a society is dependent on a consumerist frenzy of ceaseless fads, status signifiers and shopping for identity and what passes for community, then narcissism, restless emptiness and the aloneness mentioned yesterday in The Hidden Cost of the "New Economy": New-Type Depression are the inevitable results.
Beneath the surface of Japan, Inc., bullet trains, cute robots and exuberant fashions, this is the Japan few outsiders understand: the exhaustion of consumerism.
Charles Hugh Smith – Of Two Minds
According to Wikipedia, Narcissistic personality disorder (NPD) affects one percent of the population and has little to do with looking at yourself in the mirror.  It has a lot to do with unrealistic fantasies of success, power and intelligence.   Some NPD sufferers become cult leaders or mass murderers, the rest become  economists and policy-makers.   Despite having a highly elevated sense of self-worth,  narcissists have fragile self-esteem and  handle criticism unpredictably, so let's keep this to ourselves….
Velocity of money is the  frequency with which a unit of money is spent on new goods and services.   It is a far better indicator of economic activity than GDP, consumer prices, the stock market, or sales of men's underwear (which Greenspan was fond of ogling).  In a healthy economy, the same dollar is collected as payment and subsequently spent many times over.  In a depression, the velocity of money goes catatonic.  Velocity of money is calculated by simply dividing GDP by a given money supply.  This VoM chart using monetary base  should end any discussion of what "this" is and whether or not anybody should be using the word "recovery" with a straight face:
In just four short years, our "enlightened" policy-makers have slowed money velocity to depths never seen in the Great Depression.  Hard to believe, but the guy who made a career out of Monday-morning quarterbacking the Great Depression has already proven himself a bigger idiot than all of his predecessors (and in less than half the time!!).  During the Great Depression, monetary base was expanded in response to slowing economic activity, in other words it was reactive  (here's a graph) . They waited until the forest was ablaze before breaking out the hoses, and for that they've been rightly criticized.  Our "proactive"  Fed elected to hose down a forest that wasn't actually on fire, with gasoline, and the results speak for themselves.  With the IMF recently  lowering its 2012 US GDP growth forecast to 2%, while  the monetary base is expanding at about a 5% clip, know that velocity of money is grinding lower every time you breathe.
The Fed's refusal to recognize the importance of velocity of money quickly goes from idiotic to insidious.  Here's a question:  If I give you 50¢ and as a result of that transaction, you owe me $1.00, what interest rate have I charged you?  Obviously, I've charged you 100% interest and I don't give a rat's ass about you or your kids.  I'm pure evil and you're pure stupid.  But believe it or not, this kind of master-slave  arrangement isn't enough to satisfy a true narcissist.   The narcissist needs to be exalted for his actions, no matter how unjust.
He likes to be thought of as "accommodative."
In 2011, every dollar of GDP growth created $2.08 in debt.  In real life, that's 108% interest plus the nominal rate, and our twisted leaders want  you say, "Thank you sir, may I have another!"
2011 wasn't an anomaly either; it's the new normal.  Since the Bush deficit increases (to call a spade a spade) went into effect,  the rise in debt has exceeded the rise in GDP 6 of the last 10 years (the four years of positive GDP-minus-Debt can be directly attributed to the housing bubble).  That never happened in the U.S. during Great Depression/WWII era.  One place where it did happen was in the Weimar Republic (which shortly thereafter became known as Nazi Germany) .  No one's ever done a better job of explaining how quickly things unraveled there than Art Cashin (this is an absolute MUST read):
In 1920, a loaf of bread soared to $1.20, and then in 1921 it hit $1.35. By the middle of 1922 it was $3.50. At the start of 1923 it rocketed to $700 a loaf. Five months later a loaf went for $1200. By September it was $2 million. A month later it was $670 million (wide spread rioting broke out). The next month it hit $3 billion. By mid month it was $100 billion. Then it all collapsed.

 ….In 1913, the total currency of Germany was a grand total of 6 billion marks. In November of 1923 that loaf of bread we just talked about cost 428 billion marks.
So I've got a whole bag of "F*%k You!" for anyone who still thinks nothing could be worse than another Great Depression.  The path we're on ends with mountains of corpses when the great experiment fails.
America's most prestigious education institutions have become grooming salons for malignant narcissists.  Men and women high on their own self-important sense of entitlement, but short on any sense of honor or duty (like passing a budget or arresting someone who stole a billion dollars) and devoid of any real insight or achievement.  So far it's working out quite nicely for them:
Fun fact:  Washington DC now boasts, by far, the highest and fastest growing income per capita in America.
No matter what color Kool-aid you prefer, a Harvard Law School graduate who wipes his ass with the constitution will occupy the White House  until 2016.   Any flavor difference you think you detect is artificial.  Neither party has any intention of balancing the budget or stopping the generational rape of America.  They exist only to give you the illusion of choice.
There's another reason nobody wants you thinking about velocity of money and triple-digit principle-based interest rates.  When you get comfortable with the idea that the same dollar gets spent over and over in the economy,  you'll begin to reconcile that notion with the fact that total government spending (Federal, State and Local) accounted for over 40% of GDP  in 2011.  Then it becomes clear that you are already living in on of those countries where the government controls everything (call it whatever -ism you want).   Next thing you know,  you'll start connecting the dots between the nation's skyrocketing public debt and the private fortunes amassed by a select few, and no one who's in on the fix wants that.
Better than one in seven Americans are now on food stamps thanks to Washington's disastrous policies, but narcissists refuse to recognize the consequences of their own actions.  That's how they sleep at night.  They see themselves as saviours, feeding the inferior huddled masses too stupid to fend for themselves, so of course they deserve more money.  The only thing they learn from shitty results is that they need more power, more control and more money.
The so-called "fiscal cliff" represents nothing more than a return to policies proven far less dysfunctional than the current ones, but Washington doesn't see it that way. Instead they want you to beg them to save you from this horrific monster and adore them when they double down on policies that serve to increase your dependency on them.
By any and all reasonable measures, it's worse than the Great Depression, and still deteriorating.  Just remember that truth is the narcissist natural enemy before you speak.
***
Notes for nerds:
The Fed calculates and publishes M1 velocity, M2 velocity (currently at all-time lows) and MZM velocity (also at all-time lows), however velocity of monetary base (which has data back to 1918) must be calculated manually by dividing GDP by monetary base.   Here's the link to that chart with downloadable data:
http://research.stlouisfed.org/fred2/graph/?g=9wK
William T. Gavins Fed paper on understanding recent changes to the monetary base:
http://research.stlouisfed.org/publications/review/09/03/Gavin.pdf
This chart, with downloadable data compares changes in National Debt vs.  Changes in GDP, so it shows how much bang for the buck you're getting.  2002-2011, 9.3 Trillion in National Debt has produced 4.8 Trillion in GDP growth, making the effective interest rate (based on repaying principal only) 94%.
http://research.stlouisfed.org/fred2/graph/?g=9wJ
If you're not familiar with malignant narcissism (I wasn't until very recently):
http://en.wikipedia.org/wiki/Narcissistic_personality_disorder
Art Cashin's terrific piece on the Weimar collapse:
http://www.zerohedge.com/news/art-cashin-most-important-history-lesson-last-century
Foodstamp data:
http://www.zerohedge.com/news/465-million-americans-record-223-million-us-households-foodstamps
2011 Total Government spending:
http://www.usgovernmentspending.com/total_2011USrt_13rs5n
Mark McHugh – Across The Street
According to the Obama administration, the unemployment rate in the United States has been slowly coming down over the past couple of years.  But is that actually true?  When you take a closer look at the data you quickly realize that the real unemployment numbers are much worse than we are being told.  For example, if the labor force participation rate was the same today as it was back when Barack Obama first took office, the unemployment rate in the United States would be a whopping 11.2 percent.  But every month the Obama administration has been able to show "progress" because of the fiction that hundreds of thousands of Americans are "disappearing" from the labor force each month.  Frankly, the way that they come up with these numbers is an insult to our intelligence.  Personally, I much prefer the employment-population ratio.  It is a measure of the percentage of working age Americans that actually have jobs.  I like to call it "the employment rate".  So what happened to the "employment rate" in August?  It fell slightly to 58.3 percent.  It is lower than it was when the last recession supposedly ended, and it is almost as low as it has been at any point since the very beginning of this crisis.  A few times during this economic downturn it has actually hit 58.2 percent.  Needless to say, things are not getting any better.  So why aren't the American people being told the truth?
After every other recession in the post-World War II era, the employment rate has always rebounded.
But not this time.
Does this look like a recovery to you?….
So how in the world can Barack Obama claim that we are better off now?
In August 2010, 58.5 percent of working age Americans had jobs.
In August 2012, 58.3 percent of working age Americans had jobs.
So where is the recovery?
It is two years later and a smaller percentage of Americans are employed.
It is very frustrating to me that we are not being told the truth about the unemployment numbers.  The following are some more indications that the real unemployment numbers are much worse than we are being told….
-In July, 142,220,000 Americans were working.  In August, only 142,101,000 Americans were working.  So the number of Americans working fell by 119,000 and yet the government would have us believe that the unemployment rate actually declined from 8.3 percent to 8.1 percent.
-According to the federal government, 96,000 jobs were added to the economy in August and the U.S. labor force shrank by 368,000 even though our population is continually growing. If the size of the U.S. labor force had stayed the same, the official unemployment rate would have actually gone up to 8.4 percent.
-Almost all of the new jobs added in August were the result of the "birth-death" model used by the Labor Department to estimate jobs added by new businesses.  That model has been heavily criticized for being inaccurate.  If you take the 87,000 jobs added by that model out of the equation, then the U.S. economy only added 9,000 jobs in August.  But it takes somewhere around 125,000 new jobs each month just to keep up with the growth of the population.
-If the labor participation rate was sitting where it was when Barack Obama first took office, the unemployment rate in the United States would actually be 11.2 percent.
-If the labor participation rate was sitting at the 30 year average of 65.8 percent, the unemployment rate in the United States would actually be 11.7 percent.
-John Williams of Shadow Government Statistics would put the "real" rate of unemployment up around 23 percent after adding in all workers that have given up looking for work and all underemployed workers.
-The labor participation rate for men has fallen to 69.9 percent.  This is the lowest level that it has been since the U.S. government began tracking this statistic back in 1948.
-There was more bad news for manufacturing in this latest report.  During the month of August the U.S. manufacturing sector lost approximately 15,000 jobs.
-The official unemployment rate has now been above 8 percent for 43 months in a row.
-The percentage of working age Americans with a job has been below 59 percent for 36 months in a row.
-The employment numbers for both June and July were revised downward significantly.  For June, it turns out that only 45,000 jobs were added to the economy as opposed to the 64,000 that were originally reported.  For July, it turns out that only 141,000 jobs were added to the economy as opposed to the 163,000 that were originally reported.
-Incredibly, 58 percent of the jobs created since the end of the last recession have been low income jobs.
-The U.S. economy currently has 4.7 million less jobs than it did when the last recession started.
So what is the solution to these problems?
The media is breathlessly proclaiming that more quantitative easing is on the way and that the Federal Reserve will save the economy and send the stock market soaring to new heights.
A headline on CNBC on Friday boldly declared the following: "Market Sees 'Helicopter Ben' Coming to the Rescue".
You can almost hear the chopper blades whirling now.
Apparently Bernanke has had a love of showering the economy with money for a very long time.  For example, you can see a picture of a young Ben Bernanke in action right here.
Of course that is a joke, but you get the point.
In recent years Federal Reserve Chairman Ben Bernanke and the rest of his cohorts have printed money like there is no tomorrow.
So have the previous rounds of quantitative easing solved our problems?
Of course not.
The employment rate is even lower today than it was two years ago.
But all of that money printing has sent the stock market soaring and it has enabled the big Wall Street banks to make an obscene amount of money.
The truth is that the Federal Reserve, the Obama administration and the big Wall Street banks don't really care about you.
They don't really care that the middle class is rapidly shrinking and that the number of Americans on food stamps has risen by more than 14 million since Barack Obama became president.
What they care about is what is good for them.
As I have written about previously, if we continue on the same path that we have been on for the past several decades, there will never be enough jobs in America ever again.
On our current trajectory, we will end up just like Greece where the unemployment rate is now up to 24.4 percent.
Once upon a time the economy of Greece was thriving.
But today, many formerly middle class Greek citizens are leaving Greece and are picking up whatever work they can find….
As a pharmaceutical salesman in Greece for 17 years, Tilemachos Karachalios wore a suit, drove a company car and had an expense account. He now mops schools in Sweden, forced from his home by Greece's economic crisis.

"It was a very good job," said Karachalios, 40, of his former life. "Now I clean Swedish s—."

Karachalios, who left behind his 6-year-old daughter to be raised by his parents, is one of thousands fleeing Greece's record 24 percent unemployment and austerity measures that threaten to undermine growth.
Would you be willing to do that?
Don't laugh.
Someday when the unemployment rate in the United States gets that high we will see large numbers of desperate Americans leaving this country in search of work somewhere else.
Already, an increasing number of Americans are buying expired food at auctions.
Times are hard and people are trying to get by any way that they can.
More than 100 million Americans are already on welfare and things have not even gotten that bad yet.
This is nothing compared to what is coming.
As you can see from the chart posted near the top of this article, the last economic downturn appears to have permanently weakened the U.S. economy.
Now the next wave of the economic collapse is rapidly approaching.
How much worse will things get when it finally hits us?
That is something to think about.