Archive for the 'Devaluation' Category
Things look eerily similar to 1936: From devaluations lifting stocks to inflationary side-effects of money flow and from short-covering, money-on-the-sidelines, Jobs, Europe, low-volume ramps…
While chart analogs provide optically pleasing (and often far too shockingly correct) indications of the human herd tendencies towards fear and greed, a glance through the headlines and reporting of prior periods can provide just as much of a concerning 'analog' as any chart. In this case, while a picture can paint a thousand words; a thousand words may also paint the biggest picture of all. It seems, socially and empirically, it is never different this time as these 1936 Wall Street Journal archives read only too well… from devaluations lifting stocks to inflationary side-effects of money flow and from short-covering, money-on-the-sidelines, Jobs, Europe, low-volume ramps, BTFD, and profit-taking, to brokers advising stocks for the long-run before a 40% decline.
Things look eerily similar eh?
But when we look at the headlines in the Wall Street Journal from mid 1936 to mid 1937 as the market topped out (orange oval), dipped, was bought back, then collapsed 40% in 3 months, nothing ever changes…
Government Bailouts Repaid – Bullish Implications…
N.Y. Central Has Repaid All Government Loans
The Wall Street Journal, 978 words
Dec 1, 1936
WASHINGTON Numerous railroad developments here yesterday were climaxed by the announcement of RFC Chairman Jesse H. Jones that New York Central had repaid all of its government loans, totaling $16,858,950, most of which was not due until 1941.
….
For a wonderful comparison of this Fiscal Cliff with the one in 1937 see Steve Keen's presentation before congress in Dec of 2012:
http://www.debtdeflation.com/blogs/2012/12/11/briefing-on-the-fiscal-cliff-at-congress/
WASHINGTON (AP) — A record number of U.S. counties – more than 1 in 3 – are now dying off, hit by an aging population and weakened local economies that are spurring young adults to seek jobs and build families elsewhere.
New 2012 census estimates released Thursday highlight the population shifts as the U.S. encounters its most sluggish growth levels since the Great Depression.
Despite the plethora of propagandist panderings, the reality of the Business Roundtable (BRT – an association of chief executive officers of leading U.S. companies) findings are far less enthralling than the headlines might suggest. In fact, despite the protestation that their economic outlook ticked up – which as the chart below shows so evidently – is merely a reversion to the lows of 2011; the sad 'fact' is that expectations for higher Sales, CapEx, and Employment are as bad as they have been since early 2010. CapEx, the much-vaunted miracle driver of revenues this year, is below Q4 2009 levels of expectation. Even the BRT itself offers up the words 'moderate' when describing the changes and yet the mainstream media pounce on an uptick like cardinals to the new Pope. It appears that we will have to wait another quarter to see what the CEOs of the nations largest companies are really doing as their stocks soar to record highs.
The BRT CEO Economic Outlook in context… back at the lows of the pre-crisis and post-crisis 2010 lows – and as is very clear, the hope in the blue lines continues to be dragged back to reality of the economy (green line)…
If anyone is confused why European stocks just hit their highest levels in nearly 5 years (if not all time highs – there America with its 48 million foodstamp recipients has it beat), the chart below should provide some lack of color. According to Eurostat, in Q4 the number of persons employed in Europe compared to Q4 declined by 0.3% in the Euroarea, and 0.2% in the Eu27. The decline was -0.8% and -0.4% for the EA17 and EU27 compared to a year ago. Of course, if the Fed and ECB keeps pushing stocks higher, monetary illogic dictates that eventually this number will rise because somehow having more diluted claims on money floating around is good for jobs. Just not yet.
The Greek Unemployment Nightmare Continues To Get Worse
Ever since Italian elections yielded inconclusive results a few weeks ago, everyone has been wondering what happens next and how markets will digest the process.
Center-left candidate for prime minister Pier Luigi Bersani was expected to come out on top. While he managed to do that, center-right rival Silvio Berlusconi and anti-establishment candidate Beppe Grillo took a bigger share of the vote than anyone expected. Now, Bersani has to form a coalition with one or the other in order to form a government, and both routes could be problematic. (For more on that, click here.)
That means Italy could be headed straight back to elections, introducing further uncertainties that could result in unfriendly scenarios for markets.
Luca Jellinek, head of European Rates Strategy at French investment bank Crédit Agricole, suggests that the worst case scenario going forward is also most likely.
…
Someone is obviously not complying with the central-planner script and rotating fast enough into equities.
In February, total NYSE matched volume (defined as the number of shares of equity securities and exchange-traded products executed on the NYSE Group's exchanges), dropped 13.6% from a year ago, 9.4% from January, and at 20.5 billion shares in the 19 trading days of February, represents a fresh decade low for the exchange (source).
from kimblechartingsolutions:
CLICK ON CHART TO ENLARGE
Is the number "13″ Lucky/important to the stock market?
For some odd reason every 13th year since the 1974 stock market low, a historical event/year has taken place….13 years later.
1974….Stock Market low

1987… Stock Market Crash

2000…Tech Bubble Peak

2013…Another important historical year at hand?
Stay tuned!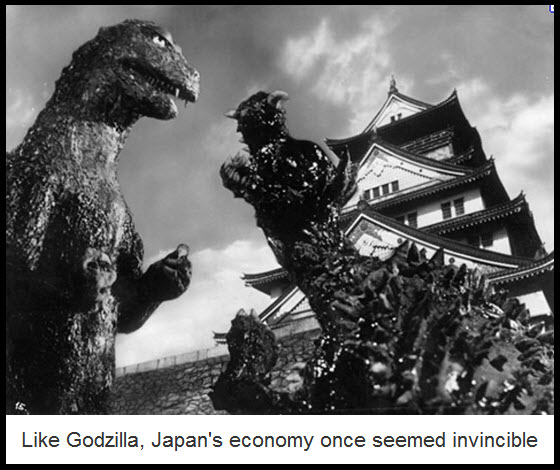 You knew it was going to happen.
Japan adopted an "official" 2% inflation target.  At the same time the so-called "independent" BOJ said it will begin open-ended money-printing starting in January of next year, when it will begin buying a total of 12 trillion Yen of government bonds monthly.
This is about $135 billion in dollars, more or less, per month — or about $1.6 trillion annually.
The market initially spiked on this, but then people started to contemplate: This is a fiscal devaluation of about 22% annually!
That's well beyond eating the seed corn and into the realm of burning the furniture — and perhaps the wallpaper.
The impact of this policy on the common Japanese citizen is going to be catastrophic and will lead to the collapse of the economy and government.  This is not speculation; it is mathematically certain.  We are talking about a "fiscal operation" that is approximately three times what our government is doing, and the impact here has been horrifying, boosting unemployment and pressing firmly into the neck of Americans while driving food stamps and other social "program" demand to the moon.
The impact in Japan will be nothing short of cataclysmic, which leads one to wonder: Are they really that dumb or is this a promise that nobody intends to actually keep?
The market seems to believe the second — for now.  I don't blame traders either — it doesn't take long for me to pull out my trusty HP12c [calculator] and figure out the fiscal impact, nor to do a back-of-the-envelope on what this will do the common Japanese citizen.  There aren't enough non-radioactive sticks left in the country to hand out for tongue-biting protection on this deal — short of an intent to wind up in a hot war (probably with China) my only reaction to this announcement is "You must be lying — or nuts!"
We're boxed into the same corner here in America, incidentally.  The House appears to be prepared to once again play "kick the can", basically postponing the debt ceiling issue for three months in a gambit to try to force The Senate to do its Constitutional job and pass a budget.
This won't matter.  Without putting a stop to deficit spending the spiral of exponential growth in debt will continue and this cannot continue on anything approaching an indefinite forward horizon.  Obama's first term added roughly $6 trillion dollars to the National Tab, expanding it by some 60%.  Trying to do that again over the next four years, which is exactly where we're headed at an accelerating rate, is going to wind up leaving us in the same box that Japan is in but with much higher levels of government dependence at the starting gate, which means that the fiscal demands will be even more-severe than they are for the Japanese.
This will not work and no agenda to "promote growth" will fix it either; you cannot grow out of this just as we didn't during the 1980-2007 time frame — debt increased at a rate of about 3% more than GDP did over the entire period, irrespective of the claims otherwise.
The numerical facts are what they are.  I would like to believe in various machinations and their ability to produce outcomes that are desirable, but I have to cede "desires" to arithmetic.  Irrespective of what I want or anyone else wants to believe in, the math cannot be argued with or bargained against — it is not a political creature and does not respond to political incentives, including bribes.
The Senate, to a large degree, knows this and "gets it."  I'm certain of it, having spoken with the staff of a few folks in that chamber.  I'm not sure The House leadership does, but if they don't they had damned well better figure this out and then figure out how to deal with it.
This much I know for certain — The Senate won't raise this until and unless The House is on board, because it's political suicide to do so without a sizable caucus behind it.  It's one thing to sacrifice one's political career to do the right thing — it's another to do so pointlessly when there is nobody standing with you and as such you will accomplish nothing by personally taking the pipe.
I have long been a critic of Ryan's budget proposals as they simply refuse to accept the drivers of the deficit in this country and what has to be done to fix it.  There's a new version, I'm sure, of Ryan's follies on the way through the pipe and it will be interesting to see if there's any hint of recognition of those drivers in it.  I doubt it, simply because there has been no evidence that reality has yet intruded in The House leadership.
Here's the problem, in short: The time to get in front of this problem has already run; that was back in 2007 and 2008.  Now, four years and a 60% increase in Federal Debt later, the exact outcome that was inevitable has become realized – but the worst of the consequences has thus far been forestalled by adding huge numbers of people to the public dole.
To those in The House who think we can get through this on the path we're on: You're wrong.
The political calculation is now much more-perilous, and comes down to this:
If we don't stop this foolishness the odds of a fiscal crisis of some sort in the next two years is extremely likely and within four nearly certain.  If you get the timing wrong then Pelosi gets the gavel back in 2014 and we're utterly screwed across the board.
So to the leadership in The House, I leave you this: You're not kicking the can, you're kicking yourselves in the balls.  Stop it — that's stupid – and start dealing with the actual drivers of this problem now.
Discussion (registration required to post)
The devalue-your-way to prosperity proponents are out in full force in spite of the mathematical silliness of it all.
Three writers of the Wall Street Journal article Weak Currency Stands to Buoy Zone Exports propose Europe is in the midst of a "weak recession" and a falling Euro will help exporters.
Weak recession? We will see about that.
At the top of the "beggar-thy-neighbor", weak-currency devaluation list is Martin Feldstein who writing on the Financial Times specifically proposes A weak euro is the way forward.
The Way Forward – Not
Feldstein believes "The key is to expand the net exports of those trade deficit countries to the world outside the eurozone."
Yet at the same time Feldstein readily admits "The politicians who planned the euro, generally did not think about future current account imbalances or other economic problems. They wanted the euro as a means of accelerating political integration."
Moreover, Feldstein specifically notes "Productivity in Germany rose much faster than it did in Italy, Spain and France. Germany also placed limits on wage growth. Those two factors mean that labour costs in Germany's tradable sector have risen some 30 per cent less since the start of the euro than labour costs and prices in those countries with slower productivity growth."
Proposal to Fix the Unfixable
Devaluing the Euro cannot and will not fix those structural problems. In essence Feldstein wants to fix a problem that is not fixable.The amazing thing is Feldstein nonetheless wants to try anyway with proposals he knows full well cannot work.
Put Feldsetein in the can-kicking group with this admission: "A decline of the euro cannot be a permanent solution to differences in  productivity trends within the eurozone. But it would give those  countries time to improve productivity growth before the euro's  fundamental strength returns."
Can the Euro Be Saved?
Given that the Euro is fundamentally flawed, even if it could be saved, why should it be saved? At what cost? To whom?
Feldstein does not specifically address any of those questions, although does wonder how much the Euro needs to fall.
Wondering how far the Euro needs to decline to "save the euro" is akin to wondering how many peanuts elephants need to eat before one can launch a rocket ship to the moon.
Ironically, Feldstein concludes "If those relative improvements in productivity do not happen, there may  be no choice but to end the eurozone as we know it today."
Why Don't We Start There?
Getting Greece, Spain, Portugal productivity up to the standards of Germany is NOT going to happen while all those countries are on the same currency with the same interest rate (and probably not under any circumstances at all).
While currency devaluation may in theory help one country in isolation, it cannot save the global economy or  Europe as an entity.
Feldstein should know that, and I suspect he does. Unfortunately, he refuses to go down the only path that makes political and economic sense.
This is after all, not only about economics, but also about political realities.
Political and Economic Realities
The political and economic reality is the Euro has failed. It was fundamentally flawed from the beginning.  Politics suggests it is too late to start over. Germany will not go along, and in my opinion, for excellent reasons.
So, instead of attempting to fix the unfixable, why not work on the best plan to break up the Eurozone?
Mathematical Realities
Not every country can run a current account surplus. Yet, every country wants to. On May 19, 2011, Paul Krugman Praised a Weaker US Dollar.
What's driving the turnaround in our manufacturing trade? The main answer is that the U.S. dollar has fallen against other currencies, helping give U.S.-based manufacturing a cost advantage. A weaker dollar, it turns out, was just what U.S. industry needed.
Yet the Federal Reserve finds itself under intense pressure from the right to make the dollar stronger, not weaker.
Mathematical Impossibilities 
Krugman and the Fed want a weak Dollar
Feldstein and European countries want a weak Euro
Switzerland wants a weak Swiss Franc
Japan wants a weak Yen
China wants a weak Yuan
Can someone, anyone, tell me how that is supposed to work?
Magically it's supposed to. Yet, mathematically its impossible in relation to each. However, it is possible in relation to another currency: gold.
Amazingly, not even Nouriel Roubini can figure that out, which prompted my article Dear Nouriel Roubini: The Fundamental Case for Gold Has Not Changed; To Understand, All Roubini Need Do is Look in a Mirror.
Here's the deal: If the Euro slips, the dollar must by definition rise. If dollar exports then drop, the Fed may respond with QE3 and Japan may sell the Yen.
Note the extreme silliness of the circular proposals to weaken everything, yet the writers cannot even see it. It's a sad testament to the absurd grip Keynesian and Monetarist theory has on academia, Nobel prize economists, and in general economic writers most places you look.
Mike  "Mish"  Shedlock
You're losing purchasing power by the second.  Every dollar you earn is worth less and less every day.
Things have gotten very ugly for the US Dollar.
Up until last week, the US Dollar looked as though it might be staging some kind of a rally with a series of higher lows. However, we never quite made it above resistance but have taken out
the multi-month trendline instead.
Worse still, we've seen a new lower low formed, which indicates the upward momentum (however small) has been broken. We now have only two lines of support standing between the US Dollar and
all time lows:
This is quite a development as stocks have been showing pronounced weakness over the last month or so. And typically when the markets switch to a "risk off" mode money pours into the US Dollar.
But then again, we have the Fed still juicing the system behind the scenes:
As you can see, aside from a brief dip at the beginning of July, the US monetary base continues its near vertical trajectory, which tells us that the Fed continues to print money despite QE 2 ending.
It's not much of a surprise, the Fed knows how to do one thing only: print money. However, the fact the Dollar is showing so poorly while Europe is taking a hit is a major warning that all is not well with the greenback.
I've long said that we were heading into some kind of inflationary collapse. We might get another round of deflation first (courtesy of Europe imploding), but the end result will be the same: the US Dollar falling when the US defaults on its debts.
On that note, our FREE Special Report titled The Inflationary Disaster explains not only why inflation is definitely coming to the US financial system, why the Fed will be powerless to stop it, and three investments that absolutely EXPLODE as a result of this.
All in all its 14 pages contain a literal treasure trove of information on how to take steps to prepare AND profit from what's to come. And it's all 100% FREE.
To pick up your copy today, go to http://www.gainspainscapital.com and click on FREE REPORTS.
Good Investing!
Graham Summers for Zero Hedge
An attempt to show that our political elite is selling us down a river by devaluing our currency, thereby initiating inflation. Prices aren't going up because of corporate greed, the political elite all over the world are devaluing fiat currencies to pay for debt they created. Hence the movement to precious metals … something no government can print at will. Be sure to watch the end.
How's that hopey-changey thing working out for you?  New boss same as the old boss….only worse.
How the Financially Connected Prospered in a Decade where Wealth Evaporated for the Majority: S&P 500 Down 24 Percent for the Decade, Real Home Values down 3%, U.S. Dollar down 23%, and Unemployment back to 1980 Levels.
Posted by mybudget360
As we usher in the New Year the filthy rich are counting their blessings and must be very appreciative of the massive bailouts that protected their wealth.  The top one percent of this country control 42 percent of all financial wealth so it shouldn't come as any surprise that most of the bailouts went to Wall Street and those that are tethered to it for income.  As the stock market continues to rally Americans collecting food stamps stands at the highest number ever at 37 million.  We also have 27 million Americans looking for work or are simply stringing a few hours together to keep some sort of paycheck coming in.  The vast majority of Americans are simply exhaling a sigh of relief that the 2000s are now a thing of the past.  Yet if something isn't changed radically in our system we are bound to enter another financial shock in the near term.
First, the S&P 500 is down a stunning 24.1 percent since the start of the decade.  Yet Goldman Sachs managed to pull off almost an 80 percent gain during the same time:

So for the poor average American who simply dollar cost averaged into the stock market as every good corporatocracy banker would tell them, they would have fallen behind someone who simply dollar cost averaged into their mattress.  Yet if you happened to dump your money with the government sponsored and back stopped Goldman Sachs you would have done much better.  Ironically these bankers are the same people who created the financial instruments that sent our economy into a tailspin.
The average American is finally realizing that much of the corporate power in Washington is doing very little for them and doing more and more for Wall Street.  So the stock market over the decade brought negative returns to Americans.  How did the housing market do?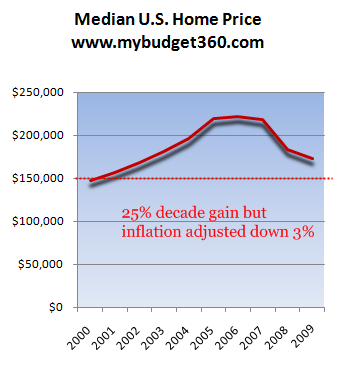 The median U.S. home price in November of 1999 came in at $137,600 and ended November 2009 at $172,600.  This 25 percent gain is wiped out once we factor in the Federal Reserve inflating away the U.S. Dollar.  Housing over the decade is actually down 3 percent.  This is where the largest store of the average American wealth is stashed and it went negative for the decade.  Yet somehow the ultra rich seemed to make out like bandits with all the bailouts even though are economy was still fizzling out from two mega bubbles.  There is a reason they call it a golden parachute.
Let us recap.  The stock market brought negative returns both nominally and in real terms for the decade and housing is actually down in real terms.  So how did Americans do over the decade in the employment front?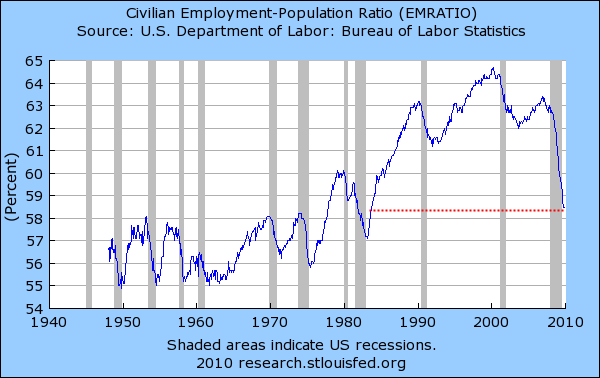 The unemployment rate is the highest it has been since the early 1980s.  If we look at the employment population ratio we will see that our economy is still trending to the downside.  Yet the corporatocracy is happy to feed the propaganda line that the average American is better off.  Really?  How so?  Once the bubble decade wealth imploded the typical American is now in a worse position.  The national debt also exploded during this decade.  So housing values cratered, the stock market is still massively down, and employment is still in shambles.  Yet we are to believe things are just fine.  People are now finally waking up to the reality that the current system is designed to rip them off and steal from them at every point in the road.
Take credit cards and bailouts for example.  Some credit card companies are hiking fees up on customers before new regulations hit this year.  These are the same companies that benefitted handsomely from the corporatocracy bailouts.  This money came from the average American yet they are sticking it to them each and every other way.  For example, last month I was stuck by a "savings withdrawal fee" from Chase.  I never saw this before.  So I called up the bank and asked them what this was.  It amounted to a $12 fee for each transaction.  As it turns out, the wonderful Federal Reserve through Regulation D yanks money out for people making more than 6 ACH transfers per month from savings accounts.  So if you wanted to move your money from say your toxic too big to fail bank to say a local community bank, make sure you don't do more than 6 transfers for the month or you are going to be hit with a $12 fee for this.  Insane policies like this make me realize that something is going to give in this decade.
But over the decade our U.S. dollar must have gone up right?  Let us take a look: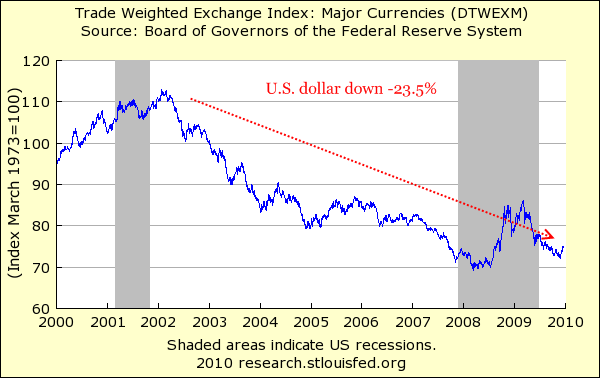 The U.S. dollar is down 23.5 percent for the decade.  So if any of you actually left the country and spent abroad you would quickly realize how weak the dollar has gotten.  This has to do with the massive government spending over the decade.  Over the holiday Congress voted to up the debt ceiling since we are breaking through every imaginable barrier possible.  Take a look at this below chart: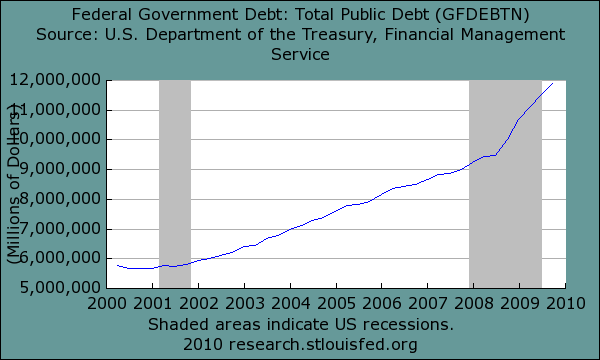 We went from $5.7 trillion to over $12 trillion in Federal government public debt in 10 years.  And what did we really get?  We just went through countless data points and where are we better off?  The reality is the money is being dumped into the vortex of the banking and corporate interest that run this country.  It is amazing that even with unemployment claims the media is championing this as a good sign yet they don't even bother to look at emergency unemployment claims that are flying off the chart!  That is, they are focusing once again on the wrong data.
So it is going to be a challenging decade for average Americans.  The economy flew off the cliff and instead of reforming the system things are back to normal and the corporatocracy keeps on stealing from the population.  The mega wealthy are doing fine and the gap between rich and poor is the largest it has been since the Great Depression.  Welcome to the new gilded age.  Our lost decade is now in the bag.  Are we up for another one?  Let us hope not.