Archive for the 'Economics' Category
I've been warning people that all is not well in the world.
This morning I'm standing on the red button.
We are, right here and now, sitting on key support for copper.  If it fails, and given the pattern I believe it will, we're going under $3 and could see an all-on crash in copper prices.
Why is this important?  Because it's a measure of industrial demand — that is, industrial production on a global basis.
Europe is a damned basket case.  That their markets haven't collapsed are testament to the litany of lies promulgated by central bankers and politicians.  But lies only are effective for a while and always eventually lose their luster.
Portugal is out of money.  Spain's pension system is effectively all in Spanish government debt; zero diversity.  Ireland's banking system, along with most of the rest of the continent, is about to roll over again and the idiots over in Europe, just as here, refused to force their banks to take the bogus leverage and swap crap out and shoot it after 2008.  Politics trumped arithmetic — for a while.
But politics never wins over arithmetic in the end; it is a poor substitute for fact.
There will be more intervention — that much is a certainty.  But note that even big companies like P&G are now extending payment for suppliers; the firm now wants 75 days to pay.  What happened to 2% 10, Net 30?  I'll tell you what happened to it – it disappeared in a puff of bogus accounting games and "machined" earnings.  When huge corporations start playing this game the end of the line has arrived.
Buried in that article is a nasty little ditty — major companies are now taking 60-100 days to pay.  That's outrageous.
What's worse is the so-called "earnings surprises and beats."  Never-mentioned is the fact that companies have been buying back stock like crazy over the last few years, often with borrowed money rather than operating earnings.  That is, they're increasing leverage and then so-called "analysts" are screaming about how "cheap" their stock is.  In a word: 

Now we have a problem.  The economy has rolled over in Europe and they are locked in a deep recession fed by Germany and to a lesser extent France — nations desperate to prevent their banks from being exposed as grossly insolvent.  The ECB is going along with this because it has more worthless bonds in the kitty than its capital, which means that it is insolvent too.
The premise that Bernanke and the ECB have run is that low rates and "QE" style games will prompt a "recovery."  Five years+ into this mess that is now known factually to be a blown thesis!
But admitting the truth means accepting that we have in fact been in a grossly ugly recessionary — or even depression — environment for the last five years that has been intentionally and fraudulently covered up by artificially low rates, market distortions and deficit spending enabled by the chief drug pushers themselves.  The political implications of doing that are unacceptable, so it doesn't happen.  Not here, not there.
It's not helped by the fact that "new math" doesn't bother to explain how exponents work in the real world despite the fact that every single 8th grader in the world should instantly recognize that the games being played both can't and aren't working.
China stoked their idiocy with ridiculous building for which there is no demand.  All of that was fueled with cheap credit too, which is even easier to make happen in a communist nation.  But the economic "expansion" that enabled this to happen without the BS ball going up and exploding is now slowing down as the weight of this lending presses its thumb on the scale.  Within the next year or two that bubble should burst with catastrophic consequences.  Never mind the internal and demographic problems.
Japan, for its part, thought it could "QE" its way to prosperity.  The irony is that they have thought this for 20 years and it has failed.  Their "big experiment" will also fail; their problems are structural and attempting to evade the decisions of 20 years previous in turning their banks into zombies — exactly as we're doing here and Europe is doing there – cannot be backed out of the equation.  There is a small element of panic showing up over in Japan already and that's likely to grow.
Add to all of this the quiet repeal of the STOCK act here in America a few days ago.  That's right — while America was watching people get their legs blown off in Boston our Congress made legal once again insider trading by…. Congress.  The "debate" over this change took a literal 10 seconds in the Senate and a whole 14 in the House.  Neither chamber bothered with debate at all; it was passed by unanimous consent in both chambers.
All of those who claim to stand for transparency and proper government, including the man who I publicly supported for Congress in Michigan — Kerry Bentivolio: Go fuck yourselves.  This is exactly the reason that nobody should respect any member of Congress, ever, period.   Unanimous consent means just that – each and every member of Congress stands guilty of not only accepting but explicitly supporting insider trading by Congress.
One final fact: Artificially-low interest rates actually hurt lending.  Why would you lend someone your capital for less than a reasonable return?  There's only way you'd do that — if someone else was backstopping your supposed "lending."  That's what printing credit is all about if you're "too big to fail", but the fact of the matter is that the cost comes out of everyone's pocket and as a result real firms with real prospects for real performance are shortchanged and those who would either be lenders at a market rate of return refuse to engage in the market.
Worse, those with good ideas refuse to hire and build businesses because those people, who actually can perform basic arithmetic and understand exponents, know they will get hammered to pay the bills for those who got uneconomic loans and will not be able to pay.  
In this environment actual economic growth is factually impossible.
"Here it comes."
When I first heard about the Cyprus ritual execution bailout, I had thought that the widespread predictions that the island nation's economy would contract by 20% to 30% over the next two years were off base.
I thought it would happen much faster, on the order of two to three months. An estimated 45% (mind you, 45%!) of the economy is banking, and almost all of that international banking. So if you generously assume 200% of the 900% of GDP was bona fide domestic assets (remember you have a lot of retirees), the other 7/9 goes poof. And that's before you get to the fact that a lot of the services provided to foreign customers (the higher-end accounting and legal services) will have no future in a purely domestic banking business. So assume 90% of that 45% disappears in short order.
That much of an economy vaporizing is a state change. It's not clear how Cyprus can regroup or recover even if the surplus international banking types could decamp. How do natives, whose money is presumably entirely in Cyprus (assuming it was not devastated by the hits to depositors at Laiki and Bank of Cyprus) emigrate with capital controls? How can they get their money out to make a new start somewhere else, if that's their inclination? Again, while the Cypriot government initially said that capital controls would only be in place a matter of day, no expert believes that. They anticipate they'll be in place for years to keep the remaining deposits from vanishing.
I did not make predict the speed of decline because the my assessment seemed too extreme. Surely I was missing something. Even though it looked to me as if Germany had done the economic equivalent of nuking half the island, and there would be knock-on effects from that level of devastation, I figured I had to be missing something in terms of how quickly the bad effects would take hold.
Well, maybe not. Recall that we predicted that depositors of over €100,000 in Laiki, the number two bank, would be wiped out. Reuters tells us that depositors with over €100,000 in the biggest bank, Bank of Cyprus, will have no liquidity (see boldface):
Big depositors in Cyprus's largest bank stand to lose far more than initially feared under a European Union rescue package to save the island from bankruptcy, a source with direct knowledge of the terms said on Friday.

Under conditions expected to be announced on Saturday, depositors in Bank of Cyprus will get shares in the bank worth 37.5 percent of their deposits over 100,000 euros, the source told Reuters, while the rest of their deposits may never be paid back…

Officials had previously spoken of a loss to big depositors of 30 to 40 percent….

At Bank of Cyprus, about 22.5 percent of deposits over 100,000 euros will attract no interest, the source said. The remaining 40 percent will continue to attract interest, but will not be repaid unless the bank does well.
Translation:
The over €100,000 deposits in Laiki are gone.
At the Bank of Cyprus:
The 37.5% of >€100,000 deposits being converted to shares is a seriously out of the money option. What would you value that at? Not much.

40% won't be accessible even under a best case scenario for years. The duration of time deposits is to be determined, and any returns depends on the bank's performance. And of course, depositors may not get it all back.

The remaining 22.5% may or may not be available in two to three months.
The New York Times' story is broadly consistent with the Reuters account, indicating that over 60% of deposits at the Bank of Cyprus could be toast:
Under the terms of the transaction, large depositors would have 77.5 percent of their savings turned into different forms of equity, with the rest remaining as a frozen, non-interest-bearing deposit that they would be able to access in the future.

If the bank does well, depositors would be able to sell their stock. But even in the best case, in which the bank thrives on the back of a quickly recovering economy — a long shot most economists believe — the loss is likely to exceed 60 percent and could well be much more than that.

Lawyers and bankers who have analyzed the transaction believe the ultimate loss to the depositor could be anywhere between 60 and 77.5 percent.
Notice that the Times doesn't buy the effort to pass off the "term deposit" that you maybe never see again and whose payout depends on performance as anything other than equity. It is silent on what happens to the remaining 22.5%. It does point out that nothing has been announced and final terms may therefore differ from the rumors.
Now remember, Laiki and Bank of Cyprus were the core of the payments system in Cyprus. And it would be very difficult for a business of meaningful size not to have over €100,000 in deposits. If you freeze a significant majority of the commercial balances, how can you operate? How can these businesses even survive and pay each other? By e-mail, Antonis Polemitis of Ledra Capital teased out the implications:
If the Reuters story is correct, for the purposes of liquidity on Tuesday morning, that is a 100% haircut.

If that is what they do, I am not sure how Cyprus can engage in economic activity on Tuesday without going to barter or scrips.

I mean, that basically will mean 100% of the large deposits (all the business accounts) at Laiki and BoC are lost or not available as of next week. The Laiki wipe out may have been survivable. If you wipe (for liquidity purposes at least), both Laiki and BoC, then we are not talking about whether or not GDP drops X%, we are talking about 'how do you actually engage in commerce?'

If they do this, there is little chance it can last more than a month — the economy will simply fail at even basic functions…
And if the plan has been accurately reported and plays out as Polemitis fears, it will undermine the "Cyprus is a special case" narrative. This Eurozone fiasco is making Geithner look good. The former Treasury secretary used the need to keep the confidence fairy alive as the excuse for any and every sop to the banks, from coddling miscreant executives to foaming the runway with mortgage borrowers to stealth bailouts. But the Eurocrats have completely ignored the impact of undermining confidence in the banking system. The fact that Cyprus has a decent-sized population of English retirees means that the British media will report on the Cyprus meltdown, which will be a stark contrast with Greece, where the economic devastation has not gotten the coverage it warrants. Grim accounts of the destruction wrought by the tender ministrations of the Troika should strengthen the position of the growing Euroskeptic sentiment in Italy, borne out by the success of Berlusconi and Grillo in the recent elections. Playing into the hands of Italian refuseniks should be the last thing Brussels and Berlin want. The cost of getting tough with Cyprus is likely to be far greater than they anticipate.
It's over folks.
The Euro clowns have now said out loud that the Cyprus model is how banks will be resolved in the future as a "template."
Good.
Now what is Deutsche Bank's leverage ratio?  The real one, not what they claim?
Oh, and the rest of the banks in Europe too.
How many are still running at 50:1 or even 100:1 leverage — 1-2% reserve ratios in fact despite their claims, when one looks at actual values of assets and not mark-to-fantasy and uncollateralized derivatives?
That would be virtually all of them.
Do you have your money in a European bank or own their bonds?
This is what is about to be done to you as demonstrated in Cyprus.
A titanic political battle is brewing between the parasitic aristocracy, the dependent class and the two classes creating value with their labor.
In the conventional view, America's socioeconomic classes are divided by income and wealth into various layers of Wealthy, Middle Class and Poor.
If we extend the analysis presented in Why Employment in the U.S. Isn't Coming Back(January 29, 2013) and Why Employment Is Dead in the Water (January 28, 2013), we getan entirely different framework that breaks naturally into four classes:
1. Parasitic financial Aristocracy (creates no value, skims national surplus)
2. High value creation (employed, heavily taxed)
3. Low value creation (employed/informal economy, lightly taxed)
4. No value creation (unemployed, dependent)
There are of course various distinctions that must be made within each broad class, but the point is the financial health of the nation ultimately depends on creating surplus value–value in excess of the costs of production and overhead.
Wealth that is incapable of generating new wealth is consumed, i.e. eating our seed corn: once the investable capital is gone, it is no longer available to leverage new wealth creation, and the nation spirals into poverty and conflict.
The key metrics are value creation and cost: assessing the value created by each class and the costs of maintaining each class.
In the conventional view, the wealthy subsidize the poor via taxes and donations to charity (i.e. noblesse oblige). But the conventional framework ignores the key question of where the wealthy obtained their fortunes, and the consequences of that wealth acquisition on the larger economy.
If the wealthy parasitically skimmed their wealth, they are in effect depriving the economy of capital that could have been productively invested elsewhere. If they created value far in excess of the costs of their enterprise, then they were conduits of high-value creation.
Here is a snapshot of parasitic wealth skimming: the financial aristocracy skims roughly 5% of the nation's entire output (GDP) from the 60% of the populace that are debt-serfs (the top 5% have wealth that is not debt-dependent, and the bottom 35% are too poor to have any credit).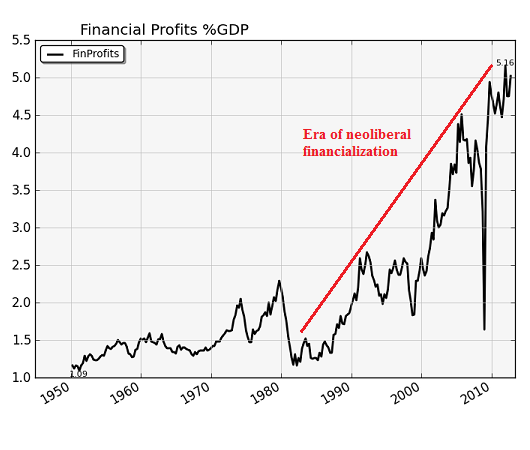 Financial profits per capita (per person): this eliminates the abstraction of numbers in the hundreds of billions of dollars by measuring the parasitic skim extracted from each American: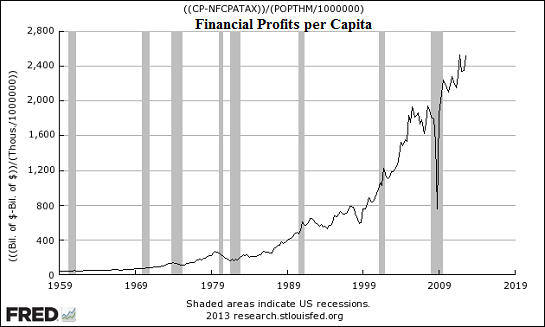 The financial sector is only the most visible part of the parasitic skim; most of the skim is hidden within cartels enabled and enforced by the Central State (Federal government).
Correspondent Mark G. has identified the two dead-giveaway characteristics of parasitic cartels:
1. Real outputs (i.e. surplus value) are visibly falling despite ever higher resource inputs (costs).
2. The cartel enforces a socio-political agenda that has nothing to do with the ostensible purpose of the cartel's operations.
This describes the national security cartel, the sickcare cartel, the higher-education cartel and the drug-war/gulag cartel, to name just the most obvious.
The national security cartel absorbs hundreds of billions of dollars annually, yet the value of trillion-dollar weapons systems like the F-35 are rapidly diminishing in an era of networked drones.
The sickcare cartel now absorbs almost 20% of the nation's entire economy (GDP) yet the health of the populace measurably declines by most international metrics.
The higher-education cartel manages to expand its share of the national income even as the cartel's output–the relevancy and value of its product, a college degree– is increasingly marginalized. (Students: You Are Exploited Debt-Serfs April 12, 2011)
Overcrowded classes now routinely view coursework on large screens that is drawn from the Internet rather than live lectures–lessons the students could get for free on their own. Textbooks that cost $150 each (how's that for cartel pricing?) cover material that is also available online for free or a very low cost. Meanwhile, administration costs are replacing instruction as the primary costs of the cartel: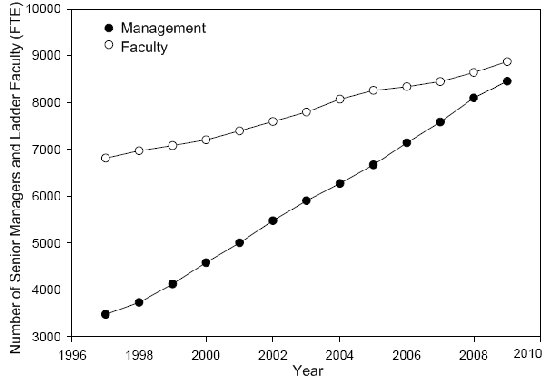 No wonder higher education and healthcare are "rights." That agenda guarantees the cartels' control of the national income will only expand.
The drug-war/gulag cartel consumes billions of dollars annually on suppressing marijuana and jailing drug users and nickel-bag dealers, while fully legal and readily available alcohol kills tens of thousands annually via vehicle accidents, murders committed while intoxicated, liver disease, etc., none of which can be traced to marijuana useage.
Forgotten thanks to the relentless drug-war/gulag cartel propaganda is the fact that U.S. physicians routinely prescribed cannabis in the late 19th as a cure for a variety of common ailments. (For the record, I am not a user attempting to justify my usage; this is simply unassailable historical fact.)
Since the value created by these cartels is far less than their costs, they are all part of the parasitic aristocracy skimming wealth rather than creating it.
As noted in the previous essays on employment, once an economy's cost basis rises above the value created by most labor, it is no longer financially possible to pay people to perform low-value creation work.
Robots and software become the only sustainable way to get the work done for a cost that is lower than the value created. Robot Economy Could Cause Up To 75 Percent Unemployment. As I explained in Why Employment in the U.S. Isn't Coming Back, ever-higher labor and overhead costs make this the only path open to enterprises that aren't subsidized or protected by the government.
What we need to consider is what happens as the parasitic and dependent classes take an ever-larger share of the national surplus while the classes creating most of the value decline in size and political influence.
This has nothing to do with what people "deserve" or what they've been promised; it has everything to do with what is economically sustainable. The conventional political discussion is focused on what everyone is receiving; the discussion that matters is how much value is being created, and can that wealth support a parasitic aristocracy, politically untouchable cartels and a vast and growing class of State dependents.
Based on income and taxes paid, it appears the high value creation class has shrunk to around 20% of the workforce, as the top 20% pay roughly 80% of the income and payroll taxes.
In general terms, there are 150 million people reporting earned income, i.e. working at some sort of job or self-employment. Roughly 38 million are part-time, and so full-time workers number around 112 million. As noted in Why Employment Is Dead in the Water, 38 million American workers earn less than $10,000 per year, a number that aligns with the number of part-time employees; 50 million earn less that $15,000 a year and 61 million earn less than $20,000 annually.
In broad-brush, the bottom 40% of wage earners work in low-value creation jobs. Their wages are capped by the value their labor creates. The top 20% are in high-value creation jobs and the middle 40% fill the spectrum between $100,000 and $21,000 a year in earned income.
Looking ahead, we can discern a time when the class creating most of the value and paying most of the taxes declines to the point that the value created is no longer large enough to support both a parasitic aristocracy and a vast class of dependents (children, retirees, disabled, unemployed, etc.) while the majority of wage earners are barely getting by on their declining household incomes. Recall that there are about 307 million Americans and roughly a third have living-wage jobs, i.e. full-time jobs.
Courtesy of Doug Short: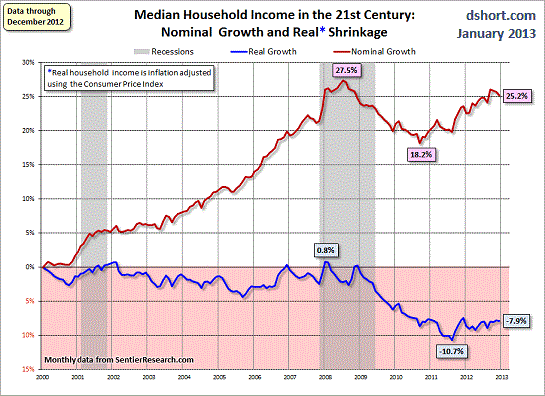 That sets the stage for a titanic political battle–one that could trigger a constitutional crisis–between the parasitic aristocracy, the dependent class and the two classes creating value with their labor.
In this context, America is filling the gap between the value we create and what we spend by borrowing $1 trillion+ a year on the Federal level and hundreds of billions more on the local-government and private-sector levels. All this debt isn't being "invested" in new value-creation; it is funding consumption and cartel skimming on a monumental scale.
Charles Hugh Smith – Of Two Minds
In a recent opinion piece for The Salem News, Joseph F. Doyle seems to understand the nature of the revolving door that exists between big finance and our government…
All through America, and for that matter, the Western World, there is the feeling that government, particularly the United States government, is just another organized crime group. There are some specific incidences that seem to glaringly verify that suspicion even more than others.
Doyle covers a couple examples in detail, then when describing the system as it is functioning now, Doyle calls it "a winner-take-all dynamic of crony capitalism," concluding…
The "revolving door" in our government must be closed, permanently. Financial institutions that are "too big to fail" (or to prosecute) must be broken up. Campaign financial reform is a white-hot must. Most of all, punishment for malfeasance encompassing the government and financial sectors must be sure, swift and draconian.
Mr. Doyle, we couldn't agree more…
STOP THE LOOTING AND START PROSECUTING!
There may be cause for "Longer-term optimism":
There Is Reason For Longer-Term Optimism

I can't go into details this morning about exactly why, or what.

But if you've followed me for any length of time at all you know that I have been extremely negative when it comes to our government budgetary process and the prospects for us to have a sustainable environment in that regard at any time in the reasonable future.

My opinion is now shifting toward positive, believe it or not.

I cannot go into exactly why.  All I can tell you at the present time is that there are a number of people in the US Senate who have "gotten it" for some time, and now it appears that this is spreading to The House.

Now I could easily be wrong, and if I am I'll say so as soon as I know.

But cautious optimism is now creeping into the pattern of activity, despite the short term debt-ceiling reprieve vote.

Sausage tastes good, but nobody wants to see how it's made.

Sausage is being made.

Stay tuned.

Discussion (registration required to post)
One possible hint at what this glimmer may be, comes from Market Watch: Sequester cuts looking harder to undo, wherein potential budget cuts under the sequester are discussed, which had been postponed by the 11th-hour fiscal cliff deal.
So, you see, there may be good reason for an otherwise fiscally-conservative congressman to support the temporary debt ceiling increase. Before you prepare an effigy of your congressman, pause and give that some thought…they may have information you do not.
There may even be another hint forthcoming over the weekend.
Stay tuned.