Archive for the 'Economists' Category
Employment is dead in the water because opportunities for organic expansion are few and the cost basis of doing business in the U.S. keeps rising.
Let's start by reviewing the basics of employment in the U.S. Courtesy of the St. Louis Federal Reserve, here is the noninstitutional civilian population of the U.S. (Note that the Civilian Noninstitutional Population With No Disability, 16 years and over (LNU00074593)–roughly speaking, the workforce of the nation– is 215 million).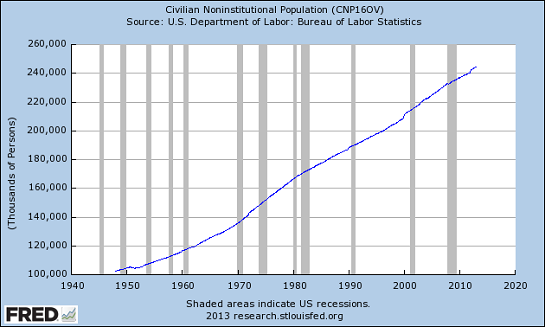 Here is the percentage of the population with some kind of job: note this could be self-employment that earns $1,000 a year or a job with 4 hours a week; recall that 38 million American workers earn less than $10,000 per year, 50 million earn less that $15,000 a year and 61 million earn less than $20,000 annually. All these numbers are drawn directly from Social Security Administration payroll data.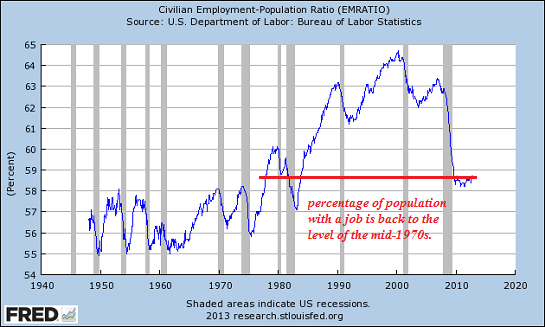 Here is real (adjusted) gross domestic product (GDP), which includes government spending: (in other words, as you borrow-and-blow trillions of dollars, GDP rises).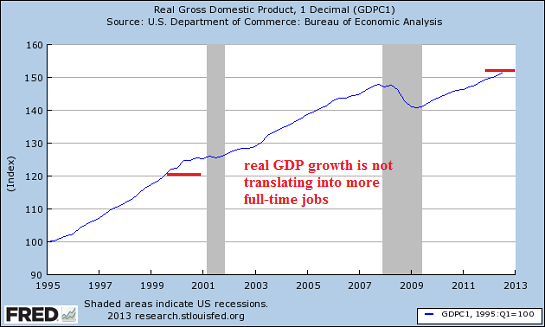 Unfortunately, employment hasn't risen along with the population or the GDP:the only metric with any meaning is full-time employment, as self-employed and part-time jobs may pay a few thousand dollars a year and should not be included in the same category as full-time jobs.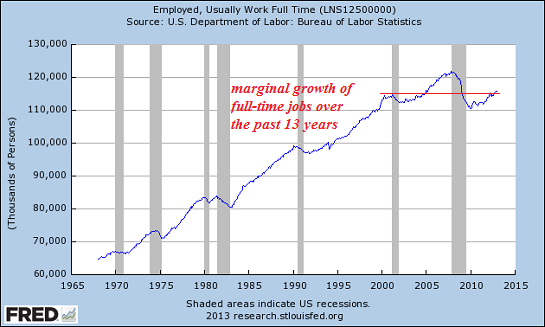 In sum: the population and GDP have both expanded smartly since 2000, but full-time employment has barely edged above levels reached 13 years ago.
Academic economists and political progressives would have us believe that the only thing restraining employers from hiring millions more people is lack of access to cheap credit.
The explicit assumption here is that cheap credit is all employers need to expand their workforce. This is so out of touch with reality that it beggars description. Progressives and academic economists generally claim the Federal Reserve's zero-interest policy (ZIRP) and its other policies of flooding the economy with liquidity "are working," i.e. boosting the economy.
Here is what the Fed's policies are boosting: financial sector profits Please compare this chart with the chart above of full-time employment, and then decide where the Fed's free money/easy credit is flowing.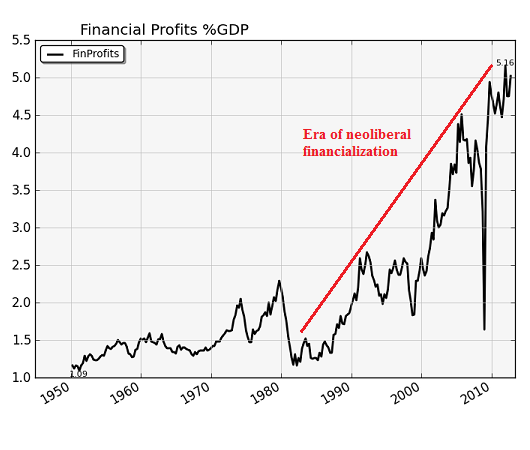 Here are financial profits per capita: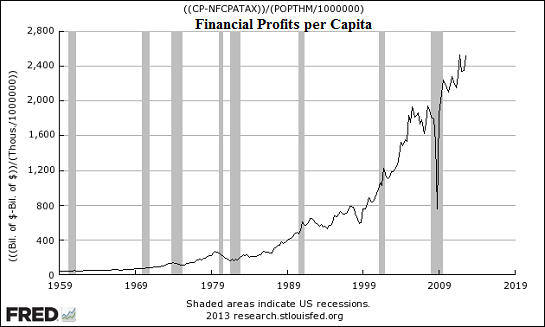 The only way to understand why employment is dead in the water is to stand in the shoes of a potential employer or entrepreneur. Remarkably, this perspective is unknown to economists and progressive politicians because they have never been an employer (and no, hiring a grad student to grade papers or an illegal nanny to watch your kids does not make you an employer.)
I have described this vast divide between small business employers, entrepreneurs and the self-employed and those working in government or Corporate America as one of the least explored social/economic divisions in the nation.
Those who have spent their careers in government or academia have little idea what it takes to hire more people. Number one is a business with strong demand for one's products or services. In a developed world with too much of everything except energy, that is no small challenge: the world is awash in over-capacity in every field except niche industries such as deepwater oil rigs.
Second, you need a process that generates so much value (specifically surplus value) that you will generate immediate profits by hiring more people.
If the value added by additional labor is low, then you have no reason to hire more employees, even if Ben Bernanke personally knocked on your door begging you to borrow a couple million dollars at low rates of interest.
If an additional unskilled worker will cost $10 an hour and might generate $100 a day in additional gross revenues, that is $20 in gross profit. But the overhead costs of operating a business are rising faster than inflation: junk fees imposed by cities, counties and states, workers compensation and disability premiums, healthcare costs (if you hire full-time workers), energy costs, and so on.
For most businesses, overhead costs 50% to 100% of total employee compensation–wages plus benefits and payroll taxes. So adding another employee to gross 20% more doesn't make it worthwhile–it actually generates a loss once overhead costs are paid.
The only time it makes sense to hire another worker is if that worker will create 100% or more surplus value from their labor. For example, a worker paid $200 a day in total compensation generates $400 more in gross revenues–enough to not only support the added overhead but net the business a profit.
In a global economy, competition constantly lowers the premium most businesses can charge. That places most businesses in the vice of declining gross margins and higher labor/ overhead costs. The only way to stay solvent is to grow revenues and slash costs so declining gross margins are still enough to pay the bills and leave some return on capital/time/risk invested.
Cheap credit doesn't create surplus value, increase gross margins or get rid of over-capacity. It is a financial non-sequitur for all but a relative handful of enterprises. The only firms interested in borrowing money for expansion are those relative few in sectors that are not burdened with overcapacity. That might include oil services, network security and a handful of others.
But high-margin sectors such as technology either get funding from venture capital or their high margins generate enough income to fuel expansion without taking on debt.
The only companies borrowing vast sums of money are those paying off higher-cost existing debt with new cheap-credit loans. The savings from lower interest payments don't flow to new hires, they flow to the bottom line and from there to executives, owners or stock buybacks that boost the portfolios of institutional owners.
Employment is dead in the water because opportunities for organic expansion are few and the cost basis of doing business in the U.S. keeps rising. That vise forces businesses large and small to reduce labor costs while boosting productivity. There is no other way to stay solvent in a post-bubble, over-capacity, over-indebted consumerist economy awash in too much of everything but energy, common sense and fiscal prudence.
Charles Hugh Smith – Of Two Minds
The list gets longer on those schools that I deem to issue worthless degrees….
One of the hallmarks of intelligence is the ability to keep an open mind when having a discussion with someone whose viewpoint is diametrically opposed to yours. However, while it is true there are at least two sides to every subject, it doesn't necessarily follow that each side deserves consideration. Often, the two sides are a right one and a wrong one.
The author goes on to list monstrous events of proven evil, such as the Holocaust and the Norway shooting.  In fact, of eight paragraphs, he uses the entire top half of his op-ed to set up this sort of straw-man fallacy.
Being a professor, this is not an accident.
There's a saying in both business and the law: When the facts are arrayed on your side, you use them.  When they're not, you pound the table, scream and shout and hope your opponent doesn't realize you're bullshitting him.
The operative theory here is to use intentional logical fallacy as a means of cutting of actual debate, lest the truth of your position come to the fore and you lose that debate.  The author of this hack job then says:
Discussing our financial crisis, Nobel Laureate Paul Krugman, wrote: "No, what makes America look unreliable isn't budget math, it's politics. And please, let's not have the usual declarations that both sides are at fault. Our problems are almost entirely one-sided — specifically, they're caused by the rise of an extremist right that is prepared to create repeated crises rather than give an inch on its demands."

One doesn't need to have won a Nobel Prize in economics to come to the same conclusion as Mr. Krugman. One side, composed of the majority in the tea party and their Republican allies, insists that America should solve its deficit problem by cutting education, Social Security, Medicare and Medicaid. This wrong side would cut funding for environmental control and the rebuilding of our infrastructure, as well as for other vital programs. They adamantly refuse to consider the opposing side's reasons for being unwilling to make drastic cuts in those programs, or their demand that millionaires, billionaires and huge corporations share the burden by paying their fair share of taxes.
Really?  Entirely one-sided?  Who, pray tell, authored and signed Medicare Part D?  Who put forward Medicare in the first place?  Was that "one-sided", despite the known fact at the time that there was a demographic time bomb already in existence that would guarantee the outcome we now stare down?
Who, pray tell, refused to get tax policy under control when they had not only the White House but also both houses of Congress and thus could pass whatever the hell they wanted? 
The facts are this:
You could tax the income of everyone who made over $1m at an incremental rate of 100% and not close the deficit.  Never mind that doing so would be immediately responded to by nobody making over $1 million, since there's no reason to work hard enough to earn something when you will get to keep none of it.
The "tax preferences for oil companies and corporate jets" are a minuscule part of the problem.  We're talking about tens of billions of dollars annually and the problem is $1,700 billion.  That is, it's a single-digit percentage of the deficit.  Those are convenient leftist talking points but any claim that closing them would provide a solution is a bald and intentional lie.  Yes, we should close those loopholes simply to deny the left these talking points, but any argument that these changes would be material to the outcome is an intentional and public fraud.
Likewise, "corporate taxes" is a lie because all taxes are paid by people.  Since the four lowest quintiles make up 80% of the population (by definition) and you need about $150,000 in income a year to get into the top quintile, if you raise corporate taxes you're going to effectively raise taxes on the four bottom quintiles as well as the top one, since those costs will simply by passed through.
The "wrong side" has correctly identified the problem: The Federal Government has never managed to collect more than about 18% of GDP in taxes on an "all-in" basis.  That's $2.7 trillion predicated on a GDP of $15 trillion.  We're spending a trillion more than that right now.
Yes, we can (and should) fix the tax code.  Chief among those fixes are guaranteeing that everyone have skin in the game – if you have income, you pay taxes – somehow.  This means that "voting for a living" becomes unprofitable because everyone gets assessed for the programs you vote for.
If you have a system that doesn't conform to this maxim then some group of people will forever attempt to steal more and more from everyone else since there is no check and balance against them doing so.
Perhaps the people will pay for these programs and perhaps they will not.  That's a decision for society to make.  But what we cannot do is continue to spend more than the government taxes – that is, more than it takes in.
You either pay for every program you want or you don't have the program.  That's the only sustainable path forward and we either do it voluntarily or we will do it on an involuntary basis.  What this clown is in fact arguing for is the involuntary option – that is, he is in fact arguing for civil and political unrest, and perhaps the collapse of our government.
Well well well….
We believe the Federal Reserve's large-scale asset purchase plan (so-called "quantitative easing") should be reconsidered and discontinued.  We do not believe such a plan is necessary or advisable under current circumstances.  The planned asset purchases risk currency debasement and inflation, and we do not think they will achieve the Fed's objective of promoting employment.

We subscribe to your statement in the Washington Post on November 4 that "the Federal Reserve cannot solve all the economy's problems on its own."  In this case, we think improvements in tax, spending and regulatory policies must take precedence in a national growth program, not further monetary stimulus.

We disagree with the view that inflation needs to be pushed higher, and worry that another round of asset purchases, with interest rates still near zero over a year into the recovery, will distort financial markets and greatly complicate future Fed efforts to normalize monetary policy.

The Fed's purchase program has also met broad opposition from other central banks and we share their concerns that quantitative easing by the Fed is neither warranted nor helpful in addressing either U.S. or global economic problems.
The signature list is….. impressive.
In response The Fed said:
"As the Chairman has said, the Federal Reserve has Congressionally-mandated objectives to help promote both increased employment and price stability. In light of persistently weak job creation and declining inflation, the Federal Open Market Committee's recent actions reflect those mandates.  The Federal Reserve will regularly review its program in light of incoming information and is prepared to make adjustments as necessary.  The Federal Reserve is committed to both parts of its dual mandate and will take all measures to keep inflation low and stable as well as promote growth in employment.  In particular, the Fed has made all necessary preparations and is confident that it has the tools to unwind these policies at the appropriate time. The Chairman has also noted that the Federal Reserve does not believe it can solve the economy's problems on its own.  That will take time and the combined efforts of many parties, including the central bank, Congress, the administration, regulators, and the private sector."
Note the lie.
Price Stability does not mean "low inflation."  It means zero inflation.
That's what stable is.
If your income is "stable" it is neither going up or down.  If the level of water in your pool is "stable" you don't need to put $100 a month worth of city water into it in order to keep it full because some is "leaking out" – it's stable – that is, at the same level.
If your bank balance is "stable" then the amount of money you have is neither going up or down.
The upside for The Fed's BS game is very low.  Your own economists think we might get a half-percent in GDP out of this.  I think they're nuts – we'll get less GDP, because input cost ramps create margin compression which in turn drives up risk premia in the bond market (lower prices, higher yields) and at the same time risks a stock market collapse.
A necessary condition for economic stability is a stable currency.  Stable means that I can invest tomorrow and have a reasonable belief that my money will buy the same thing in 5, 10 or 20 years that it buys today.  That is stable.
An expectation of constant debasement, which is what The Fed has pursued since 1913, has led to serial asset bubbles and ever-larger distortions in our economy.  We were blessed with huge technological advances in the 1950s and again in the 1980s – but instead of using them to build a long-term sustainable future, which requires a stable currency over decades, The Fed's policy caused people to squander that opportunity and instead chase assets in an attempt to stay ahead of the inflation monster.
This is a colossal failure of policy and a violation of black-letter law – never mind your willful blindness to criminal activity, as exposed here (once again) below.
Krugman has "explained" why deflation is "bad".  Well, he's tried.  But in fact he's made the case for deflation, especially following insane bouts of INflation.
His idiocy requires a response….
Ok, point-by-point:
So first of all: when people expect falling prices, they become less willing to spend, and in particular less willing to borrow.
Why is this bad?  Real capital formation comes from savings.  Indeed, it is the essence of capital formation of all sorts.  You can't lend except from excess capital (production ex required spending, that is, surplus) so being less willing to borrow or spend is a net public good over time.
Yes, it makes the Madison Avenue people go nuts, and it particularly makes those people nuts who want to blow bubbles with borrowed money (which always ends in a bust with a huge number of people going bankrupt) but in terms of public policy saving of surplus and thus capital formation should be encouraged, not punished.
A second effect: even aside from expectations of future deflation, falling prices worsen the position of debtors, by increasing the real burden of their debts.
GOOD!
It's supposed to be expensive to borrow.
Again, there are three sorts of borrowing:
Productive borrowing.  That is, borrowing for the purpose of purchasing the means of production, where the reasonably-expected outcome is that the productive means purchased will return more than the amortized principal and interest on the loan.  An example of this sort of borrowing is taking out a line of credit to buy a CNC machine which, along with raw materials, electricity, tools and labor turns out precision aircraft parts.  This sort of borrowing is of net benefit to society as a whole, as it generates employment and net increases in GDP after the fully-amortized cost of the loan.

Consumptive borrowing.

This serves

only

to pull forward demand.  That is, it is borrowing to buy today what one cannot afford until tomorrow.  This produces a

temporary

distortion in the supply:demand curve.  Since the signal it sends to the economy is false, in that the demand proffered cannot be maintained indefinitely without an ever-increasing amount of debt being taken on (by definition a Ponzi Scheme) it is thus of negative value to society

and as a matter of policy should be discouraged.

Speculative borrowing.

  This is borrowing to place a bet that whatever is purchased will sell for a higher price tomorrow than it does today – not for utility value or consumption itself. 

This is the most-destructive form of borrowing of all

, since it is

both

inherently a Ponzi scheme

and

provides for no positive consumption boost whatsoever, as the item(s) purchased are not bought for the purpose of consumption in the first place.  That is, this is not "pulled forward" demand (that would otherwise exist tomorrow)

it is entirely false demand that but for speculative borrowing would not exist

at all, at any price

.  Policy should thus

always

discourage such borrowing.
Now the right of free action says that there will always be some mix of these three forms of borrowing in the economy.  That is, absent draconian (and unconstitutional) acts one cannot prevent someone from borrowing to speculate, or to pull forward demand.
But the public interest makes clear that society should not provide incentives to borrow for purposes that are against the public interest.  It is for this reason above all others that "zero interest rates" and other similar policy pronouncements, along with inflation, are CORROSIVE and DESTRUCTIVE to long-term economic stability and growth – they DESTROY the incentive to form capital, and it is from capital formation that all legitimate and productive new business interests spring.
Finally, in a deflationary economy, wages as well as prices often have to fall – and it's a fact of life that it's very hard to cut nominal wages — there's downward nominal wage rigidity. What this means is that in general economies don't manage to have falling wages unless they also have mass unemployment, so that workers are desperate enough to accept those wage declines.
Oh, so the cure for wages that are above the economic value of the work performed is to keep paying people for work they don't do, like, for example, government workers who make $250,000 pensions as SCHOOL ADMINISTRATORS?  Exactly where's the money supposed to come from Paul?
Remember folks:
All borrowing must inherently come from surplus capital – that is, production less the cost of production and sustenance.  IT CANNOT BE OTHERWISE since one cannot manufacture CAPITAL out of thin air – one must PRODUCE it.
There is an underlying problem with people like Krugman: They hate private capital formation and private self-determination with a passion. 
They can't deal with the idea that government doesn't have all the answers, even when government is demonstrated to be the problem and blows serial bubbles on purpose, driving policies that offshore tens of millions of jobs.
Then when the bubble bursts they refuse to see the basic math of exponents, and proclaim that we must continue to spend more than we make – even though such policies are mathematically impossible to continue forever, just as all such exponents are into any physical environment bounded by actual fixed size.
Since the Earth is a rock of fixed size, it is thus inherently impossible for such "prescriptions" to work in the intermediate and long term.
Krugman claims to have an advanced degree.  I presume that having such means he passed basic algebra, in which class he would learn how exponents work.
I therefore must presume that the garbage that comes from his mouth is knowingly falsely spewed, and not argued from ignorance.
The only solution to be found in a free market to such idiocy is to lead a boycott of those "media institutions" that give people like him a voice, along with their advertisers.
It's time folks.
The giant banks are treating the American Citizen like we work for them, are holding the economy hostage, and are taking our deposits and using them to speculate in casino style gambling.
They've bought and paid for Congress and the White House. See this, this and this.
Will Americans exercise our power, or become serfs to a permanent banking royalty?
An economist says the healthcare bill "is just another bailout of the financial system", and lawyers say that it is unconstitutional.
Will we defeat this giveaway to the insurance giants, or become permanent slaves to mandatory insurance requirements?
Top scientists, economists and environmentalists all say
that cap and trade is a scam which won't significantly reduce C02
emissions, and will only help in making the financial players who
crashed the economy even more wealthy.
Will we defeat this
worthless scam, or allow the failed banks like Goldman Sachs, JP Morgan
and Citigroup – who have already taken many billions of taxpayer
dollars – to make a fortune off of this con game at our expense?
Will
Americans reclaim our nation in 2010 from the thugs and con artists, or
put our heads down and stay subservient while the little we have left
in the way of money, resources and dignity is stolen by the giant
banks, insurance companies and carbon trading players?
Submitted by James Bianco of Bianco Research

•    The Wall Street Journal – Fed Proposes Tool to Drain Extra Cash
The Federal Reserve on Monday proposed selling interest-bearing term deposits to banks, a move the U.S. central bank would make when it decides to drain some of the liquidity it pumped into the economy during the financial crisis. The new facility is intended to help ensure that the Fed can implement an exit strategy before a banking system awash with Fed money triggers inflation. Fed Chairman Ben Bernanke has described term deposits as "roughly analogous to the certificates of deposit that banks offer to their customers." Under the plan, the Fed would issue the term deposits to banks, potentially at several maturities up to one year. That would encourage banks to park reserves at the Fed rather than lending them out, taking money out of the lending stream.The central bank said the proposal "has no implications for monetary policy decisions in the near term." "The Federal Reserve has addressed the financial market turmoil of the past two years in part by greatly expanding its balance sheet and by supplying an unprecedented volume of reserves to the banking system," it said. "Term deposits could be part of the Federal Reserve's tool kit to drain reserves, if necessary, and thus support the implementation of monetary policy." Michael Feroli, an economist at J.P. Morgan Chase, said "it's another step forward in the exit-strategy infrastructure, but it's been well flagged in advance, so it's not a surprise." When Fed officials decide to tighten credit, they would likely use the term-deposits program ahead of — or in conjunction with — adjusting their traditional policy lever, the target for the federal funds interest rate at which banks lend to each other overnight. The Fed also said Monday that its balance sheet rose slightly to $2.2 trillion in the week ending Dec. 23. The Fed's total portfolio of loans and securities has more than doubled since the beginning of the financial crisis. As part of its efforts to fight the downturn, the central bank is buying $1.25 trillion in mortgage-backed securities, a program it says will end in March. The Fed now holds $910.43 billion in mortgage-backed securities, it said Monday.
•    Bloomberg.com – Fed Proposes Term-Deposit Program to Drain Reserves
The Federal Reserve today proposed a program to sell term deposits to banks to help mop up some of the $1 trillion in excess reserves in the U.S. banking system.  The plan, subject to a 30-day comment period, "has no implications for monetary policy decisions in the near term," the central bank said in a statement released in Washington. Fed Chairman Ben S. Bernanke is preparing tools and strategies to shrink or neutralize the inflationary impact from the biggest monetary expansion in U.S. history. Central bankers are also conducting tests of reverse repurchase agreements and discussing the possibility of asset sales. Term deposits may help the central bank "assert operational control over the federal funds rate" once officials decide to lift the overnight bank lending rate from the current range of zero to 0.25 percent, said Lou Crandall, chief economist at Wrightson ICAP LLC in Jersey City, New Jersey. Excess cash "would be locked up" rather than put downward pressure on the federal funds rate, he said.The Fed won't begin raising interest rates until the third quarter of 2010, according to the median estimate of 62 economists surveyed by Bloomberg News in the first week of December.
•    The Financial Times – Fed to offer term deposits to banks
The US Federal Reserve plans to offer term deposits to banks as part of its "exit strategy" from the exceptionally loose monetary policy used to fight the recession. In a consultation paper released on Monday the Fed said it planned to change its rules so that it could pay interest on money locked up at the central bank for a defined period. The Fed added that the well-flagged rule change – designed to allow it more influence over the $1,100bn in excess reserves held by banks – was part of "prudent planning. . . and has no implications for monetary policy decisions in the near term". It is one of a number of measures that has been outlined over the past few months by Ben Bernanke, chairman of the Fed, as an option to drain liquidity from the financial system in a manner that protects the economic recovery while heading off the threat of inflation.
•    The Federal Reserve – Notice of proposed rulemaking; request for public comment.
The Board is requesting public comment on proposed amendments to Regulation D, Reserve Requirements of Depository Institutions, to authorize the establishment of term deposits. Term deposits are intended to facilitate the conduct of monetary policy by providing a tool for managing the aggregate quantity of reserve balances. Institutions eligible to receive earnings on their balances in accounts at Federal Reserve Banks ("eligible institutions") could hold term deposits and receive earnings at a rate that would not exceed the general level of short-term interest rates. Term deposits would be separate and distinct from those maintained in an institution's master account at a Reserve Bank ("master account") as well as from those maintained in an excess balance account. Term deposits would not satisfy required reserve balances or contractual clearing balances and would not be available to clear payments or to cover daylight or overnight overdrafts. The proposal also would make minor amendments to the posting rules for intraday debits and credits to master accounts as set forth in the Board's Policy on Payment System Risk to address transactions associated with term deposits.
Comment
We believe the proposal of this new tool signals the Federal Reserve is still flailing around trying to look busy so everyone is assured they have a plan.  The fact is they have no plan and are still throwing everything on the wall to see what sticks. From the November 4 FOMC minutes:
Participants expressed a range of views about how the Committee might use its various tools in combination to foster most effectively its dual objectives of maximum employment and price stability. As part of the Committee's strategy for eventual exit from the period of extraordinary policy accommodation, several participants thought that asset sales could be a useful tool to reduce the size of the Federal Reserve's balance sheet and lower the level of reserve balances, either prior to or concurrently with increasing the policy rate. In their view, such sales would help reinforce the effectiveness of paying interest on excess reserves as an instrument for firming policy at the appropriate time and would help quicken the restoration of a balance sheet composition in which Treasury securities were the predominant asset. Other participants had reservations about asset sales–especially in advance of a decision to raise policy interest rates–and noted that such sales might elicit sharp increases in longer-term interest rates that could undermine attainment of the Committee's goals. Furthermore, they believed that other reserve management tools such as reverse RPs and term deposits would likely be sufficient to implement an appropriate exit strategy and that assets could be allowed to run off over time, reflecting prepayments and the maturation of issues. Participants agreed to continue to evaluate various potential policy-implementation tools and the possible combinations and sequences in which they might be used. They also agreed that it would be important to develop communication approaches for clearly explaining to the public the use of these tools and the Committee's exit strategy more broadly.
The Federal Reserve first hinted at term deposits almost two months ago, although exactly what they were talking about was left vague until now.
Remember that the Federal Reserve has to withdraw over a trillion dollars of excess liquidity.  The easiest way to do this is to sell hundreds of billions of MBS, Treasuries and agencies.   As the bold highlighted passage above implies, they are scared to death of doing this, so they propose complicated schemes to withdraw liquidity like reverse repos and now term deposits.
We have argued that these schemes will not work.  They cannot be done in the sizes necessary or enough to even matter.  The Federal Reserve could possibly drain tens of billions of dollars via these schemes, but collectively that will amount to a rounding error when the goal is to withdraw over a trillion in excess reserves.
The Federal Reserve does not want to admit defeat, so they continue pursuing these strategies that will not make a difference.  We believe they also do it to "look busy" as they are taking measurements and notes as to how to withdraw all the liquidity they have pumped in.  They think this will give the market comfort that someone is on the case and that inflation expectations will not get out of control.  The market is not buying this.  Inflation expectations, s measured by TIPS inflation breakeven rates, are going vertical.
Reinvestment Risk
As to term deposits, the Federal Reserve is proposing an illiquid short term instrument for banks to invest in.  Banks would buy these instruments and "lock up" the excess reserves they now have.  This would have the same effect as draining excess reverses.  The maturities of these instruments would be as long as one year.
It is unclear if there will be a secondary market for these instruments, and if so, how liquid it will be.
Without a secondary market, buyers of these instruments face huge reinvestment risk.  The future course of short term interest rates is arguably to the most uncertain it has been in decades.  Will the Federal Reserve stay near zero until 2012 or will they be forced to raise rates in the first half of 2010?  Given all this uncertainty, who wants to lock up money in something that cannot be sold before maturity?  This is especially true given the Federal Reserve's statement that the "maximum-allowable rate for each auction of term deposits would be no higher than the general level of short- term interest rates."
The general level of short-term interest rates is set on known instruments that have generations of history and active secondary markets.  If the Federal Reserve wants to introduce a new, and wholly unknown instrument with an uncertain secondary market and offer no interest rate premium, then we cannot see how this will work beyond a token amount after some arm twisting to get them sold.  The Federal Reserve will have to offer a premium for uncertainty and illiquidy to make this fly in any major way, something they said they will not do.
Complicated Is Simple
The Federal Reserve owns 80% of AIG.  With each passing day it looks like the Federal Reserve is adopting AIG Financial Product's business practices.  That is, when faced with a financial problem, they create complicated tools (like CDS).  When critics says these new products will not work, tell them they do not know what they are talking about and create even more complicated tools to dazzle everyone.  Once the tools are so complicated that no one understands them, you will be hailed as an expert with no peer.  You might even be named TIME's Person of the Year.