Archive for the 'education' Category
A titanic political battle is brewing between the parasitic aristocracy, the dependent class and the two classes creating value with their labor.
In the conventional view, America's socioeconomic classes are divided by income and wealth into various layers of Wealthy, Middle Class and Poor.
If we extend the analysis presented in Why Employment in the U.S. Isn't Coming Back(January 29, 2013) and Why Employment Is Dead in the Water (January 28, 2013), we getan entirely different framework that breaks naturally into four classes:
1. Parasitic financial Aristocracy (creates no value, skims national surplus)
2. High value creation (employed, heavily taxed)
3. Low value creation (employed/informal economy, lightly taxed)
4. No value creation (unemployed, dependent)
There are of course various distinctions that must be made within each broad class, but the point is the financial health of the nation ultimately depends on creating surplus value–value in excess of the costs of production and overhead.
Wealth that is incapable of generating new wealth is consumed, i.e. eating our seed corn: once the investable capital is gone, it is no longer available to leverage new wealth creation, and the nation spirals into poverty and conflict.
The key metrics are value creation and cost: assessing the value created by each class and the costs of maintaining each class.
In the conventional view, the wealthy subsidize the poor via taxes and donations to charity (i.e. noblesse oblige). But the conventional framework ignores the key question of where the wealthy obtained their fortunes, and the consequences of that wealth acquisition on the larger economy.
If the wealthy parasitically skimmed their wealth, they are in effect depriving the economy of capital that could have been productively invested elsewhere. If they created value far in excess of the costs of their enterprise, then they were conduits of high-value creation.
Here is a snapshot of parasitic wealth skimming: the financial aristocracy skims roughly 5% of the nation's entire output (GDP) from the 60% of the populace that are debt-serfs (the top 5% have wealth that is not debt-dependent, and the bottom 35% are too poor to have any credit).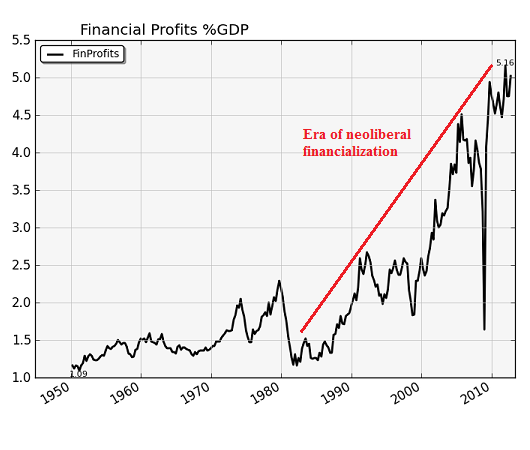 Financial profits per capita (per person): this eliminates the abstraction of numbers in the hundreds of billions of dollars by measuring the parasitic skim extracted from each American: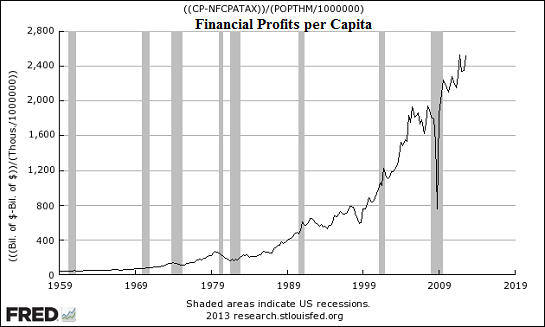 The financial sector is only the most visible part of the parasitic skim; most of the skim is hidden within cartels enabled and enforced by the Central State (Federal government).
Correspondent Mark G. has identified the two dead-giveaway characteristics of parasitic cartels:
1. Real outputs (i.e. surplus value) are visibly falling despite ever higher resource inputs (costs).
2. The cartel enforces a socio-political agenda that has nothing to do with the ostensible purpose of the cartel's operations.
This describes the national security cartel, the sickcare cartel, the higher-education cartel and the drug-war/gulag cartel, to name just the most obvious.
The national security cartel absorbs hundreds of billions of dollars annually, yet the value of trillion-dollar weapons systems like the F-35 are rapidly diminishing in an era of networked drones.
The sickcare cartel now absorbs almost 20% of the nation's entire economy (GDP) yet the health of the populace measurably declines by most international metrics.
The higher-education cartel manages to expand its share of the national income even as the cartel's output–the relevancy and value of its product, a college degree– is increasingly marginalized. (Students: You Are Exploited Debt-Serfs April 12, 2011)
Overcrowded classes now routinely view coursework on large screens that is drawn from the Internet rather than live lectures–lessons the students could get for free on their own. Textbooks that cost $150 each (how's that for cartel pricing?) cover material that is also available online for free or a very low cost. Meanwhile, administration costs are replacing instruction as the primary costs of the cartel: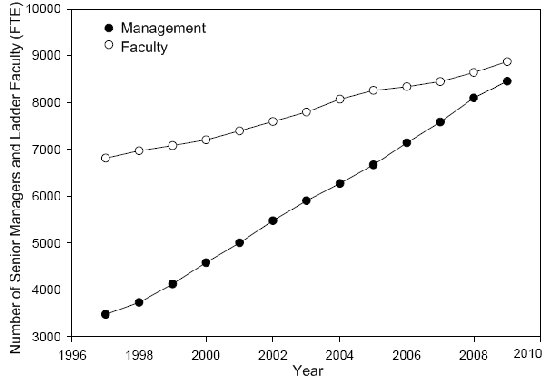 No wonder higher education and healthcare are "rights." That agenda guarantees the cartels' control of the national income will only expand.
The drug-war/gulag cartel consumes billions of dollars annually on suppressing marijuana and jailing drug users and nickel-bag dealers, while fully legal and readily available alcohol kills tens of thousands annually via vehicle accidents, murders committed while intoxicated, liver disease, etc., none of which can be traced to marijuana useage.
Forgotten thanks to the relentless drug-war/gulag cartel propaganda is the fact that U.S. physicians routinely prescribed cannabis in the late 19th as a cure for a variety of common ailments. (For the record, I am not a user attempting to justify my usage; this is simply unassailable historical fact.)
Since the value created by these cartels is far less than their costs, they are all part of the parasitic aristocracy skimming wealth rather than creating it.
As noted in the previous essays on employment, once an economy's cost basis rises above the value created by most labor, it is no longer financially possible to pay people to perform low-value creation work.
Robots and software become the only sustainable way to get the work done for a cost that is lower than the value created. Robot Economy Could Cause Up To 75 Percent Unemployment. As I explained in Why Employment in the U.S. Isn't Coming Back, ever-higher labor and overhead costs make this the only path open to enterprises that aren't subsidized or protected by the government.
What we need to consider is what happens as the parasitic and dependent classes take an ever-larger share of the national surplus while the classes creating most of the value decline in size and political influence.
This has nothing to do with what people "deserve" or what they've been promised; it has everything to do with what is economically sustainable. The conventional political discussion is focused on what everyone is receiving; the discussion that matters is how much value is being created, and can that wealth support a parasitic aristocracy, politically untouchable cartels and a vast and growing class of State dependents.
Based on income and taxes paid, it appears the high value creation class has shrunk to around 20% of the workforce, as the top 20% pay roughly 80% of the income and payroll taxes.
In general terms, there are 150 million people reporting earned income, i.e. working at some sort of job or self-employment. Roughly 38 million are part-time, and so full-time workers number around 112 million. As noted in Why Employment Is Dead in the Water, 38 million American workers earn less than $10,000 per year, a number that aligns with the number of part-time employees; 50 million earn less that $15,000 a year and 61 million earn less than $20,000 annually.
In broad-brush, the bottom 40% of wage earners work in low-value creation jobs. Their wages are capped by the value their labor creates. The top 20% are in high-value creation jobs and the middle 40% fill the spectrum between $100,000 and $21,000 a year in earned income.
Looking ahead, we can discern a time when the class creating most of the value and paying most of the taxes declines to the point that the value created is no longer large enough to support both a parasitic aristocracy and a vast class of dependents (children, retirees, disabled, unemployed, etc.) while the majority of wage earners are barely getting by on their declining household incomes. Recall that there are about 307 million Americans and roughly a third have living-wage jobs, i.e. full-time jobs.
Courtesy of Doug Short: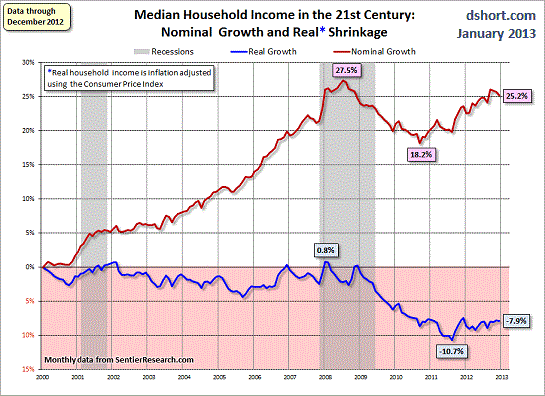 That sets the stage for a titanic political battle–one that could trigger a constitutional crisis–between the parasitic aristocracy, the dependent class and the two classes creating value with their labor.
In this context, America is filling the gap between the value we create and what we spend by borrowing $1 trillion+ a year on the Federal level and hundreds of billions more on the local-government and private-sector levels. All this debt isn't being "invested" in new value-creation; it is funding consumption and cartel skimming on a monumental scale.
Charles Hugh Smith – Of Two Minds
Advanced democracies have lost upward mobility.
Both capitalism and democracy promise the opportunity for upward mobility.Capitalism offers upward mobility to anyone with a profitable idea or productive skillset and work ethic. Democracy implicitly promises a "level playing field" of meritocracy, where talent, drive and hard work open opportunities for advancement.
Crony capitalism offers wealth to the class that already possesses it. Feudalism bestows "rights" to wealth to a favored few. In a way, upward mobility is a real-world test of a nation's economic and social order: if upward mobility exits in name only, then that nation is neither capitalist nor democratic. Stripped of propaganda and misleading labels, it is a feudal society or a crony-capitalist economy masquerading as a capitalist democracy.
Japan is an interesting case study. Some readers of last week's series on Japan noted that Japan was still very wealthy and life was good there. Indeed, some commentators have made the case that Japan has purposefully indebted itself to mask the wealth generated by its export machine: The Myth That Japan is Broke. (via Mike H.)
Here is last week's series:
Narcissism, Consumerism and the End of Growth
Japan and the Exhaustion of Consumerism
The Hidden Cost of the "New Economy": New-Type Depression
The Future of America Is Japan: Stagnation
The Future of America Is Japan: Runaway Deficits, Runaway Debts
My focus was the consequences of economic stagnation, not measuring Japan's national wealth, and this raises the issue of upward mobility: Yes, Japan remains very wealthy, but the wealth is concentrated in a specific neofeudal class; Japan's economy has lost the upward mobility of its long 1950-1990 growth phase.
We are blessed to have many young (20s and 30s) Japanese friends, single and married. Though it is not a random selection, it is geographically and socially diverse. In reviewing each friend/couple's education, financial stability, homeownership and the wealth of their parents, I realized every young person (under 40) who owns a house or flat has parents who made the purchase of their education and home financially possible.
Everyone without wealthy parents–and "wealth" means enough income/savings to pay for an entire university education in cash, and then pay 50% or more of their child's home purchase in cash–does not own a home, even those with a college education.
In other words, wealth is being transferred within the class that already earned and accumulated the wealth. It is not being earned by young people. The untidy truth is that they aren't paid enough to buy a home and accumulate wealth for their children.
What nobody in Japan dares discuss is the fact that tens of millions of young "freeters" will never make enough to get married, much less own a home or save enough to educate their children, unless they receive a lump sum of wealth from their parents while they are young enough for it to matter. If their parents don't have enough wealth to matter, then the freeters are doomed to membership in Japan's expanding underclass.
So a nation can claim $3 trillion in offshore assets or whatever wealth metric you choose, but if that nation has lost upward mobility, then the wealth is increasingly concentrated in a neofeudal structure. How "wealthy" do we say a nation is that has lost upward mobility?
Once upward mobility is lost, "social recession" sets in and the social contract frays.
How different is the U.S.? Most people who don't have physicians in their nuclear family or close circle of friends think that an M.D. is the ticket to upward mobility. In many cases, this is an exaggeration. I just received an email from an M.D. who stated that adjusted for inflation, his highest earnings were 30 years ago, in 1981. Others write to tell me that the hundreds of thousands of dollars in student loans that those without wealthy parents must borrow to attend medical school take many years to pay off, even with salaries that most people consider generous.
This is an example drawn from what most assume is the top-level "surefire ladder to wealth." We could look at non-Elite graduates of Ivy League universities (i.e. the non-Elites accepted in the name of diversity) and see how they're doing in terms of wealth accumulation that can be passed down to their kids. Sure, they're "doing well" in most cases, making a comfortable living, but are they making enough to pay off their student loans, own a home that isn't 90% owned by the bank and accumulate enough savings to not only pay their children's education in cash but also help them buy their own home with at least 25% down in cash? If not, then they're not really accumulating wealth that can be transferred, they're simply consuming it.
Correspondent Chris Sullins added transferrable generational wealth to my short list of "what makes someone middle class": Priced Out of the Middle Class(June 28, 2012). How many American households can pay for their children's university education in cash and then fund their purchase of a home?
Here are the eight "threshold" characteristics of membership in the middle class:
1. Meaningful healthcare insurance
2. Significant equity (25%-50%) in a home or other real estate
3. Income/expenses that enable the household to save at least 6% of its income
4. Significant retirement funds: 401Ks, IRAs, income property, etc.
5. The ability to service all debt and expenses over the medium-term if one of the primary household wage-earners lose their job
6. Reliable vehicles for each wage-earner
7. Hard assets and cash that can be transferred to the next generation, i.e. generational wealth.
8. Ability to invest in offspring (education, extracurricular enrichment activity, etc.).
How many households meet these criteria? Not many. This is now a list for the upper-middle class, the top 10% who earn in excess of $150,000 a year. But even households with significant incomes and inheritances from their parents are losing items on this list.
What I am seeing, once again anecdotally, is the consumption of family wealth as America "eats its seed corn." Families with savings are "investing" them in $120,000 per child college educations that may not qualify the young person for a job that pays enough to duplicate their parents' purchasing power–or a job at all.
Having lost their corporate job, they're burning $12,000 to $15,000 annually buying their own health insurance.
Having drunk the debt-is-cheap Kool-Aid, they're heavily indebted, and much of their income goes to debt service and taxes.
Families that had significant cash wealth in 2000 are burning through that cash at an alarming rate. By the time the children are all educated and back living at home or in their own apartments, then Mom and Dad have to buy them vehicles, pay their dental bills, etc. because Junior doesn't earn enough to actually support himself.
The wealth that could have been transferred to the next generation has been consumed suporting a "middle class" lifestyle and providing the next generation with what was once the basis for advancement: a university education, healthcare insurance, a reliable vehicle, etc. Now that jobs are hard to find and compensation is low, the next generation still needs the accumulated wealth of the household to get by.
That is not upward mobility, it is downward mobility, on a vast and largely unnoticed scale.
Charles Hugh Smith – Of Two Minds
---
Every single year, millions of young adults head off to colleges and universities all over America full of hopes and dreams.  But what most of those fresh-faced youngsters do not realize is that by taking on student loan debt they are signing up for a life of debt slavery.  Student loan debt has become a trillion dollar bubble which has shattered the financial lives of tens of millions of young college graduates.  When you are just starting out and you are not making a lot of money, having to make payments on tens of thousands of dollars of student loan debt can be absolutely crippling.  The total amount of student loan debt in the United States has now surpassed the total amount of credit card debt, and student loan debt is much harder to get rid of.  Many young people view college as a "five year party", but when the party is over millions of those young people basically end up as modern day serfs as they struggle to pay off all of the debt that they have accumulated during their party years.  Bankruptcy laws have been changed to make it incredibly difficult to get rid of student loan debt, so once you have it you are basically faced with two choices: either you are going to pay it or you are going to die with it.
But we don't warn kids about this before they go to school.  We just endlessly preach to them that they need a college degree in order to get a "good job", and that after they graduate they will easily be able to pay off their student loans with the "good job" that they will certainly be able to find.
Sadly, tens of millions of young Americans have left college in recent years only to find out that they were lied to all along.
As I have written about previously, college has become a giant money making scam and the victims of the scam are our young people.
Back in 1952, a full year of tuition at Harvard was only $600.
Today, it is over $35,000.
Why does college have to cost so much?
At every turn our young people are being ripped off.
For example, the cost of college textbooks has tripled over the past decade.
Has it suddenly become a lot more expensive to print books?
Of course not.
The truth is that an entire industry saw an opportunity to gouge students and they went for it.
The amount of money being spent on higher education in this country is absolutely outrageous.  One father down in Texas says that he will end up spending about 1.5 million dollars on college expenses for his five daughters before it is all said and done.
Unfortunately, most young adults in America don't have wealthy fathers so they have to take out large student loans to pay for their educations.
Average student loan debt at graduation is estimated to be about $28,720 right now.
That is a crazy figure and it has absolutely soared in recent years.  In fact, student loan debt in America has grown by 511 percent since 1999.
And student loan debt will follow you wherever you go.
If you do not pay your loans when you graduate, you could end up having your wages, your tax refunds and even your Social Security benefits garnished.
In addition, your account could be turned over to the debt collectors and they can be absolutely brutal.
The student loan debt bubble is the best thing to happen to debt collectors in ages.  The following is what one professional who works in the industry said in a recent article that he wrote for a debt collection industry publication….
As I wandered around the crowd of NYU students at their rally protesting student debt at the end of February, I couldn't believe the accumulated wealth they represented – for our industry.

It was lip-smacking.

At my right, to graphically display how she was debt-burdened, was a girl wearing a t-shirt emblazoned with the fine sum of $90,000, another with $65,000, a third with $20,000 and over there a really attractive $120,000 was printed on another shirt.  Guys were shouldering their share, with t-shirts of $20,000, $15,000, $27,000, $33,000 and $75,000.
There is no way that our young people can afford to take on those kinds of debt loads, and that is one reason why student loan delinquency rates continue to surge.
In fact, the student loan default rate in the United States has nearly doubled since 2005.
Today, one out of every six Americans that owes money on a student loan is in default.
One out of every six.
And it is going to get a whole lot worse.
At this point there are about 5.9 million Americans that are at least 12 months behind on their student loan payments.
So could the bursting of the student loan bubble do tremendous damage to our financial system?
Don't worry – Federal Reserve Chairman Ben Bernanke is promising that the student loan debt bubble won't cause a crisis.
And you can trust him, right?
For those living with the burden of unpaid student loan debt, life can be really tough.  Some try to avoid the debt collectors, but it is easier said than done.  The following is from a recent article in the New York Times….
Hiding from the government is not easy.

"I keep changing my phone number," said Amanda Cordeiro, 29, from Clermont, Fla., who dropped out of college in 2010 and has fielded as many as seven calls a day from debt collectors trying to recover her $55,000 in overdue loans. "In a year, this is probably my fourth phone number."

Unlike private lenders, the federal government has extraordinary tools for collection that it has extended to the collection firms. Ms. Cordeiro has already had two tax refunds seized, and other debtors have had their paychecks or Social Security payments garnisheed.
The biggest problem, of course, is that there are not nearly enough jobs for the hordes of college graduates that our system produces each year.
During 2011, 53 percent of all Americans with a bachelor's degree under the age of 25 were either unemployed or underemployed.
So without a good job, how are those young people supposed to service their student loans?
Once upon a time, a college degree was a guaranteed ticket to the middle class.
Sadly, those days are long gone.  Today, millions upon millions of college graduates have taken jobs that do not even require a college education.  The following is from a recent CNBC article….
In the last year, they were more likely to be employed as waiters, waitresses, bartenders and food-service helpers than as engineers, physicists, chemists and mathematicians combined (100,000 versus 90,000). There were more working in office-related jobs such as receptionist or payroll clerk than in all computer professional jobs (163,000 versus 100,000). More also were employed as cashiers, retail clerks and customer representatives than engineers (125,000 versus 80,000).
You probably know young people who have experienced the "wake up call" that comes as a result of entering the "real world" in this horrible economic environment.
It is not easy out there.
And this can be extremely disappointing for parents as well.  How would you feel if your daughter got very high grades all of the way through college and ended up working as a waitress because she couldn't find anything else?
Even those that pursue advanced degrees are having an extremely challenging time finding work in this economy.
For example, a Business Insider article from a while back profiled a law school graduate named Erin that is actually on food stamps….
She remains on food stamps so her social life suffers. She can't afford a car, so she has to rely on the bus to get around Austin, Texas, where she lives. And currently unable to pay back her growing pile of law school debt, Gilmer says she wonders if she will ever be able to pay it back.

"That has been really hard for me," she says. "I have absolutely no credit anymore. I haven't been able to pay loans. It's scary, and it's a hard thing to think you're a lawyer but you're impoverished. People don't understand that most lawyers actually aren't making the big money."
And the really sad thing is that the quality of the education that our young people are receiving is very poor.  I spent eight years attending U.S. universities, and most parents would be absolutely shocked at how little our college students are actually learning.
Going to college really has become a ticket to party for four or five or six years with a little bit of "education" thrown in.
But our society has put a very high value on those little pieces of paper called "diplomas" so we all continue to play along with the charade.
Some college students are finding other "creative" ways to pay for their educations other than going into tremendous amounts of debt.  For example, an increasing number of young women are seeking out "sugar daddies" who will "sponsor" their educations.  The following is from a Huffington Post article about this disturbing trend….
On a Sunday morning in late May, Taylor left her Harlem apartment and boarded a train for Greenwich, Conn. She planned on spending the day with a man she had met online, but not in person.

Taylor, a 22-year-old student at Hunter College, had confided in her roommate about the trip and they agreed to swap text messages during the day to make sure she was safe.

Once in Greenwich, a man who appeared significantly older than his advertised age of 42 greeted Taylor at the train station and then drove her to the largest house she had ever seen. He changed into his swimming trunks, she put on a skimpy bathing suit, and then, by the side of his pool, she rubbed sunscreen into the folds of his sagging back — bracing herself to endure an afternoon of sex with someone she suspected was actually about 30 years her senior.
Of course that young woman will probably deeply regret doing that later on in her life.
Once graduation comes, millions upon millions of our young people are discovering that it is really hard to be financially independent if you are drowning in student loan debt and you can't find a good job.
So what are they doing?
They are moving back in with Mom and Dad.
One poll discovered that 29 percent of all Americans in the 25 to 34 year old age bracket are still living with their parents.
Ouch.
So what do you think about all of this?  Please feel free to post a comment with your thoughts below….
I'm going to reprise a Ticker from 2011-10-18, which you can read here if you want the original, but in a political context.
There was once a nation that was comprised of fish.  The fish lived in a pond that was 64×64 in size, or 4096 square units of surface area.  As with all fish they survived on dissolved oxygen in the water, which came to the water by exchange with the atmosphere above.  Plants grew in the water, receiving their energy from the sun while recycling the waste emitted by the fish as nutrients, and the fish ate the plants. All was well in the nation of fish.
But the economy of fish was limited by its growth.  Some of the bottom where the fish lived was rather rocky, and not much suited to cultivation of aquatic plants.  Some of the bottom was fertile, and beneath still more were various rare and natural treasures, such as energy sources that the fish could use for manufacturing.
One day a bright fish that worked for a bank called "Goldfishbank" got the idea that since plants were food, and more growth is better, the nation would be served by faster "growth."  He introduced to the pond a species of lilly that reproduced very rapidly.  In fact, it produced a new lilly once each day.  He began by placing just one lilly of one unit of size, or 1/4096th of the surface of the pond, in the water.
The next day there were two, and the fish nation cheered.  Then four, and the fish nation demanded that this fine fish be President.  Then eight, and all was even better in the world.
There were, however, some fish that became alarmed, for they had not been sleeping in school.  They knew, as well, that their very survival depended on the exchange of oxygen with the air above, and that absent this exchange all of the fish would surely die.
The great prosperity that appeared to flow, however, led the scholars to be shouted down.
Unfortunately the great prosperity resulted in the price of fish dwellings, foods and fuels rising precipitously.  The credit created by all of this growth, which had heretofore appeared to be impossible, made everyone feel wealthy.  After just eight days what was 1 lilly had become 128; both great and permanent prosperity appeared to have blessed the fish.
Two days later the pond was 12.5% covered with lillies.
But in the middle of this prosperity there was much corruption and theft.  The interest rates charged to lend money were corrupted by some of the fish banksters, who reasoned that they were merely making very smal changes in what they reported, and due to the leverage they employed, reaping billions of profits.  This they did by stealing pennies from each fish per day.  Nobody would jail them.
There were other fish that were involved in lending for dwellings, and they too scammed the public.  Some of the lenders collapsed, yet they paid only small fines while most of the fish suffered monstrous losses, with many losing their homes.
Still other parts of the fish economy were involved in health care, and they got laws passed to make differential pricing, cost-shifting and other monopoly behavior protected, for this was their way to riches.  Soon the fish nation spent twice as much on health care as a percentage of its economy as all the other fish nations, but all these monopoly protections, enacted into law, were not seen as the corruption they were.
Unemployment became a problem and the fish nation saw its standard of living decline.  This was puzzling, for the proponents of the new lily had said that such prolific growth would lead to permanent prosperity.  There were many who claimed that the lily was simply not prolific enough, and that means must be found to spur even more lilies to grow.
The three major political parties sparred over the unemployment and economic malaise.  The two largest ones offered that taxes should be increased on the most-fortunate fish and that taxes should be decreased for all fish, respectively.  But neither put forward a plan to cut down the size of the government, which was sapping an increasing amount of the economy.
The third party decided to state that it should cut the size of the government by 43%.  But it refused to address the main growth drivers of the government, that being the medical industry's special protections.  Nor did that party appear to give a damn about all the scams and frauds, which had stolen monstrous amounts of wealth from all the fish.
Soon the political debate within that third party turned to whether fish should be able to smoke pot, which was currently prohibited under penalty of law, and whether a fish named Steve should be able to marry one named Larry.  Some fish believed this was a civil right and of the utmost importance, while others believed it was Satanic.
Yet these were the only points of political debate on which this third party focused, instead of on the financial institutions that had skimmed off all the "prosperity" that had been promised to the fish nation by the Goldfishbank and others in the financial industry, along with the medical industry that had lobbied for their special protections and which were bankrupting the fish nation's government.
A few of the third party analysts saw that in point of fact the lily issue was soon to kill all the fish and the entire fish nation economy.  They were poo-pooed and called alarmists, for the sun was still visible in the sky above, and their rising stridency was called "divisive" or that "if you simply changes your approach you could actually influence people."  They were even told that their commentary was "self-righteous."
But that commentary, labeled "divisive" and in fact dismissed with "that ends our conversation and damages both our working relationship and friendship" was based the simple fact that while just 12.5% of the pond was covered, the entire fish nation was only three days from extinction, and the last two days had been wasted arguing over gay marriage and dope smoking instead of addressing the impending and mathematically-certain disaster.
It's not your degree, you see…
Unable to find a job as a music teacher in the current economic crisis, he eventually went into default on his loans, which included Stafford, Perkins and private bank loans. Then this year, he decided to go on to earn a PhD, which would make it possible for him to get hired in his field. He applied to a top-rated university in the Northeast, but when it was time to send his school transcripts, Temple froze him out. "They said as long as I was in default on my loans, they would not issue a transcript!" says Rodriguez.

A spokesman from Temple confirms that it is school policy to withhold official transcripts from graduates who are in default on their student loans
Ah, so it's not your degree.  It's theirs.
Even though they suffered no loss and no injury if/when you default, they reserve the right to retroactively add terms and conditions to that degree after the program of study is completed.
This would be considered fraud were we to live in a land with the rule of law, and if undertaken in concert with others (like The Department of Education, which "encourages" this practice) Racketeering.
But we don't live in a land that follows the rule of law.  There is no law.  There is only might, and the ivory tower that is unworthy of a single nickel of your money or respect.  In fact, you ought to be urinating on that tower, not attending a class in it.
After all, it's not your degree that you earned, it's theirs and they can withdraw or withhold it at any time for any reason that they decide to conjure up later on, even though you did not agree to any such set of terms when you first undertook your course of study.
My answer to this entire "industry" is best-encompassed in the following nine seconds:
Wake up America.
Back in September we noted a peculiar RFP by the Fed which sought to become a secret 'big brother' to the social media world, and to "monitor billions of conversations and generate text analytics based on predefined criteria." The Fed's desired product should be able to "determine the sentiment of a speaker or writer with respect to some topic or document"… "The solution must be able to gather data from the primary social media platforms – Facebook, Twitter, Blogs, Forums and YouTube. It should also be able to aggregate data from various media outlets such as: CNN, WSJ, Factiva etc." Most importantly, the "Listening Platform" should be able to "Handle crisis situations, Continuously monitor conversations, and Identify and reach out to key bloggers and influencers." While it is unclear just how successful the Fed has been in eavesdropping on various critical blogs, and divining "sentiment", it now appears that the propaganda masters at the Office of Central Planning have decided to go for young American minds while they are still pliable. It appears that as part of its reenactment of Goebbels "economic education" curriculum, the Fed will now directly appeal to K 8-12 student, in which it will elucidate on the premise of "Constitutionality of a Central Bank." You know – just in case said young (and soon to be very unemployed) minds get ideas that heaven forbid, the master bank running the US is not exactly constitutional – you know, that whole thing between Andrew Jackson and the Second Bank of the United States…
And in case one is wondering what dogmatic propaganda their childredn will be filled with, here is tje course outline.
Lesson Description
The Constitution of the United States outlines the basic principles of the U.S. government. This lesson focuses on the express and implied powers of Congress and the power of the Supreme Court to decide whether a law is unconstitutional. In this lesson, students learn about McCulloch v. Maryland, a case decided in 1819 over (1) whether the state of Maryland had the right to tax the Second Bank of the United States and (2) whether Congress had violated the Constitution in establishing the Bank. Students also review the expressed powers of Congress identified in the Constitution and analyze how Congress implements the necessary and proper (elastic) clause to enact its expressed powers. Finally, students use their knowledge of McCulloch v. Maryland and the necessary and proper clause to consider the constitutionality of the Federal Reserve System.
Concepts
Expressed powers Federal Reserve Act Fiat money Implied powers Necessary and proper (elastic) clause Precedent Value of money [ZH: lol]
Objectives
Students will:
define expressed powers, implied powers, precedent, fiat money, the Federal Reserve Act, the necessary and proper (elastic) clause, and the value of money;
cite examples of the expressed powers granted to Congress in Article 1, Section 8 of the Constitution;
explain the meaning of the necessary and proper (elastic) clause;
explain the significance of the McCulloch vs. Maryland Supreme Court case; and
give examples of the implied powers necessary to implement various expressed powers.
Yet the oddest thing about the lesson plan is visual #4. It speaks for itself:
Well thanks for the warning…
Full lesson:
Constitutionality of Central Bank