Archive for the 'Employment' Category
Employment is dead in the water because opportunities for organic expansion are few and the cost basis of doing business in the U.S. keeps rising.
Let's start by reviewing the basics of employment in the U.S. Courtesy of the St. Louis Federal Reserve, here is the noninstitutional civilian population of the U.S. (Note that the Civilian Noninstitutional Population With No Disability, 16 years and over (LNU00074593)–roughly speaking, the workforce of the nation– is 215 million).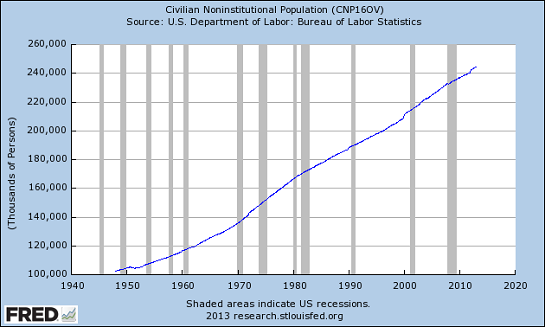 Here is the percentage of the population with some kind of job: note this could be self-employment that earns $1,000 a year or a job with 4 hours a week; recall that 38 million American workers earn less than $10,000 per year, 50 million earn less that $15,000 a year and 61 million earn less than $20,000 annually. All these numbers are drawn directly from Social Security Administration payroll data.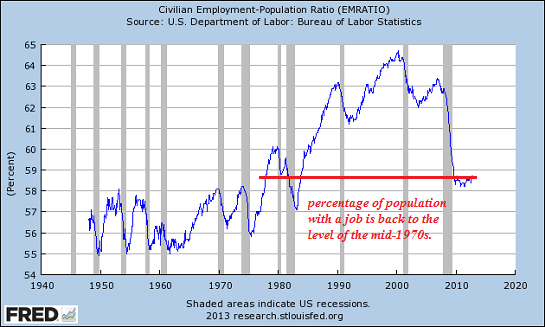 Here is real (adjusted) gross domestic product (GDP), which includes government spending: (in other words, as you borrow-and-blow trillions of dollars, GDP rises).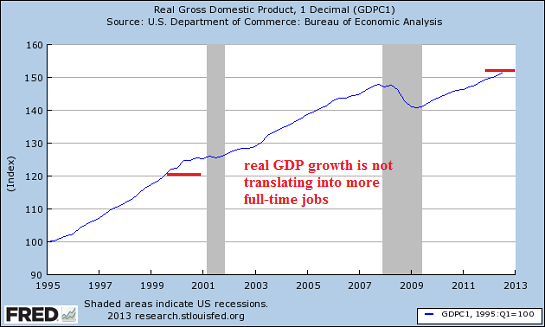 Unfortunately, employment hasn't risen along with the population or the GDP:the only metric with any meaning is full-time employment, as self-employed and part-time jobs may pay a few thousand dollars a year and should not be included in the same category as full-time jobs.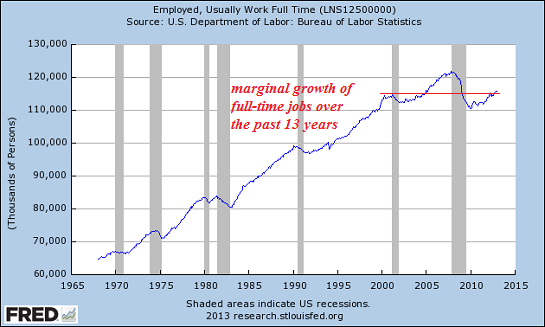 In sum: the population and GDP have both expanded smartly since 2000, but full-time employment has barely edged above levels reached 13 years ago.
Academic economists and political progressives would have us believe that the only thing restraining employers from hiring millions more people is lack of access to cheap credit.
The explicit assumption here is that cheap credit is all employers need to expand their workforce. This is so out of touch with reality that it beggars description. Progressives and academic economists generally claim the Federal Reserve's zero-interest policy (ZIRP) and its other policies of flooding the economy with liquidity "are working," i.e. boosting the economy.
Here is what the Fed's policies are boosting: financial sector profits Please compare this chart with the chart above of full-time employment, and then decide where the Fed's free money/easy credit is flowing.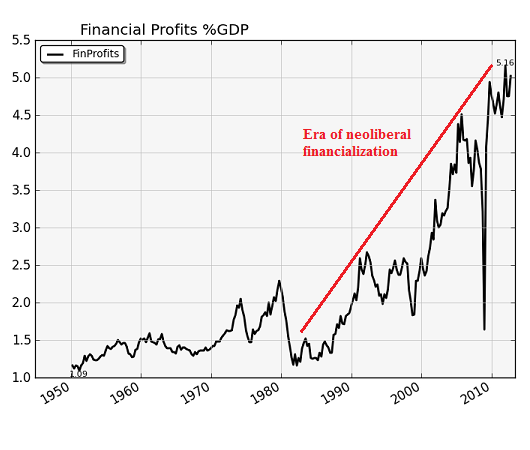 Here are financial profits per capita: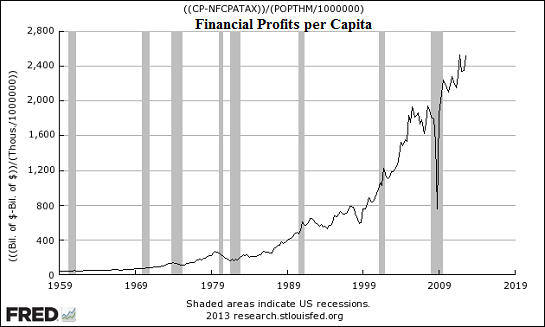 The only way to understand why employment is dead in the water is to stand in the shoes of a potential employer or entrepreneur. Remarkably, this perspective is unknown to economists and progressive politicians because they have never been an employer (and no, hiring a grad student to grade papers or an illegal nanny to watch your kids does not make you an employer.)
I have described this vast divide between small business employers, entrepreneurs and the self-employed and those working in government or Corporate America as one of the least explored social/economic divisions in the nation.
Those who have spent their careers in government or academia have little idea what it takes to hire more people. Number one is a business with strong demand for one's products or services. In a developed world with too much of everything except energy, that is no small challenge: the world is awash in over-capacity in every field except niche industries such as deepwater oil rigs.
Second, you need a process that generates so much value (specifically surplus value) that you will generate immediate profits by hiring more people.
If the value added by additional labor is low, then you have no reason to hire more employees, even if Ben Bernanke personally knocked on your door begging you to borrow a couple million dollars at low rates of interest.
If an additional unskilled worker will cost $10 an hour and might generate $100 a day in additional gross revenues, that is $20 in gross profit. But the overhead costs of operating a business are rising faster than inflation: junk fees imposed by cities, counties and states, workers compensation and disability premiums, healthcare costs (if you hire full-time workers), energy costs, and so on.
For most businesses, overhead costs 50% to 100% of total employee compensation–wages plus benefits and payroll taxes. So adding another employee to gross 20% more doesn't make it worthwhile–it actually generates a loss once overhead costs are paid.
The only time it makes sense to hire another worker is if that worker will create 100% or more surplus value from their labor. For example, a worker paid $200 a day in total compensation generates $400 more in gross revenues–enough to not only support the added overhead but net the business a profit.
In a global economy, competition constantly lowers the premium most businesses can charge. That places most businesses in the vice of declining gross margins and higher labor/ overhead costs. The only way to stay solvent is to grow revenues and slash costs so declining gross margins are still enough to pay the bills and leave some return on capital/time/risk invested.
Cheap credit doesn't create surplus value, increase gross margins or get rid of over-capacity. It is a financial non-sequitur for all but a relative handful of enterprises. The only firms interested in borrowing money for expansion are those relative few in sectors that are not burdened with overcapacity. That might include oil services, network security and a handful of others.
But high-margin sectors such as technology either get funding from venture capital or their high margins generate enough income to fuel expansion without taking on debt.
The only companies borrowing vast sums of money are those paying off higher-cost existing debt with new cheap-credit loans. The savings from lower interest payments don't flow to new hires, they flow to the bottom line and from there to executives, owners or stock buybacks that boost the portfolios of institutional owners.
Employment is dead in the water because opportunities for organic expansion are few and the cost basis of doing business in the U.S. keeps rising. That vise forces businesses large and small to reduce labor costs while boosting productivity. There is no other way to stay solvent in a post-bubble, over-capacity, over-indebted consumerist economy awash in too much of everything but energy, common sense and fiscal prudence.
Charles Hugh Smith – Of Two Minds
Even if the US Labor Department has determined that the unemployment level has finally plateaued after months of staggering jobs statistics, the truth behind the numbers isn't all that nice. Only four* out of every 10 adults in the US is employed.
While the percentage of Americans filing jobless benefit claims isn't what it was during an unemployment epidemic that ravaged the country throughout the majority of US President Barack Obama's administration, the Labor Department's numbers are largely inflated on account of how they determine what actually constitutes looking for work.
Officially, the unemployment rate in America for the month of September was only 7.8 per cent, but that statistic stems from only the number of citizens who have been actively searching for a paycheck. In reality, only around 5 per cent of the adult population in the US is unemployed in the eyes of the government, because they have been handing in applications during the four weeks before the Labor Department conducted their research. Additionally, another 3 per cent are interested in work, but haven't actively engaged in a job hunting during that span, creating an unemployment figure of just under 8 per cent.
The real figures, however, reveal a much scarier statistic.
"The employment-to-population ratio is the best measure of labor market conditions and it currently shows that there has been almost no improvement whatsoever over the past three years," Paul Ashworth, chief North American economist for Capital Economics, writes in a note to clients obtained by CNN. That figure, which accounts for the proportion of working Americans compared with the number of adults in the country, is a lot higher than 8 per cent.
For now, 58.7 per cent of American adults are working if the actual employment-population ratio is taken into consideration, leaving about 82 million, or almost 41 per cent of people unemployed. Only 8 per cent, however, are even interested in work, leaving 33 per cent of Americans not only jobless — but with no desire for work.
"The ratio expresses more clearly how many people find working to be a 'good or attractive deal,'" Tyler Cowen, economist and director of the Mercatus Center at George Mason University, adds to CNN.
If the numbers seem drastic, it's because they are. So rampant in fact is the country's seeming disregard for work that other just-released statistics show that funding welfare programs for the American population was the most expensive endeavor undertaken in all of Fiscal Year 2011.
Republicans on the Senate Budget Committee released findings this week showing that the government spent roughly $1.03 trillion on welfare programs last year, funding 83 separate efforts to provide assistance to Americans. Days earlier, a separate study out of Capitol Hill revealed that the number of people enrolled to receive federal assistance by way of food stamps has hit a new record high with roughly 47 million US residents.
"These astounding figures demonstrate that the United States spends more on federal welfare than any other program in the federal budget," Alabama Sen. Jeff Session writes in a letter provided to The Daily Caller this week. "It is time to restore — not retreat from — the moral principles of the 1996 welfare reform. Such reforms, combined with measures to promote growth, will help both the recipient and the Treasury."
"No longer should we measure compassion by how much money the government spends, but by how many people we help to rise out of poverty," Sessions adds. "Welfare assistance should be seen as temporary whenever possible, and the goal must be to help more of our fellow citizens attain gainful employment and financial independence. This is about more than rescuing our finances. It's about creating a more optimistic future for millions of struggling Americans."
*EDITOR's NOTE: RT has a typo here; it should be 6 out of 10 adults are employed.
Rick Santelli does 'the math' and discovers that Obama created exactly ZERO jobs.
More information on the employed to population ratio and impact on the budget.
We are currently experiencing a pre-election surge in all economic metrics; and then comes the hangover as can be confirmed by looking at hiring plans. Morgan Stanley's Business Conditions Index (a multi-factor real-time bottom-up economy tracker) has tumbled this month, giving back most of the very recent gains but it is the 'outlook for hiring' that is the most worrisome. Despite the stronger than expected employment report for October, both hiring indices fell to multi-year lows. The hiring index dropped 10 points to 44%, its lowest since December 2009, and the hiring plans index sunk 13 points to 44%, lowest since August 2009.  Due to its leading indicator nature, this means that imminent payrolls may not stop rising; but in a few short months will post the first sequential decline since 2010. What this means for the unemployment rate is self-explanatory - but by then the election will be decided.
Source: Morgan Stanley
Kocherlakota: New Definition Of "Insanity"
This is really amazing, when you take the time to think about it.
A hawk at the Federal Reserve has changed his plumage.

Narayana Kocherlakota, president of the Federal Reserve Bank of Minneapolis, said in a speech Thursday that the central bank should respond to high unemployment with an even more aggressive approach than the Fed announced last week.

His proposal: Pledge to keep short-term interest rates very low until the unemployment rate, which was 8.1% in August, falls to 5.5%. He said it could take four or more years to reach that goal.
What if it never happens?
In short, what happens if employment isn't falling because the economy has slack in it due to too-tight policy, but rather because too-loose policy has destroyed capital formation and in response to both this and an unfavorable fiscal environment along with idiotic trade policy that rewards enslavement of developing nations' labor forces and pollution of their land, air and water a structural shift has occurred?
So you QE until the cows come home but unemployment never falls, because trade policy isn't fixed, the health-care scam isn't fixed and both continues to vacuum up GDP and make the labor market increasing uncompetitive. In turn the destruction of purchasing power drives government to continue to deficit spend so as to "ease the pain" of the populace (e.g. with food stamps, "disability" that magically appears in huge percentages of the people, "free" health care and similar.)
If this is the case then loose monetary policy is exactly backward.
So what does the evidence show us about the labor market on a population-adjusted basis?
Have we seen robust population-adjusted labor advancement at any time in the last 10 years?
And have we seen actual inflation-adjusted income progress over the last 10 years?
More to the point on inflation-adjusted income what is happening now, over the last few quarters, as the "QE to the moon!" and fiscal trainwreck policies have been imposed?
Have they resulted in inflation-adjusted income growth?
Nope.
In fact since 2000 inflation-adjusted income has been negative!
Greenspan's policies in response to the tech market collapse, which Bernanke has emulated and in fact Bernanke wrote his "seminal paper" on monetary policy during that time, have been factually proven not to work.
Remember that the only thing that matters to you is what your hour of work buys.  You really don't care if you have a $10/hour salary and your daily food costs $10 or if you have a $1/hour salary and your daily food costs $1.
The problem with inflation, provided wages match it (but they never do due to slippage in all systems, including economic ones) is that it destroys the value of accumulated capital in terms of currency and as a consequence capital formation is severely damaged.  This in turn drives people to notaccumulate capital but instead use credit which in turn leads to financial and banking bubbles as we refuse to impose a One Dollar of Capital standard. 
The financial system is thus free to effectively counterfeit the currency and skim off a piece of it for itself which further damages capital formation and competitiveness, working exactly against the desire for a robust and competitive labor market.
These people need to be locked up in a rubber room, the excess liquidity must be removed and the law must be changed so that manipulations of this sort, if attempted in the future, result in life federal prison sentences (or even better, let's go back to the punishment in the original Coinage Act) for the crime of deliberate counterfeiting of the nation's currency.
Much ink has been spilled, including by myself, in the immediate aftermath of Bernanke's idiocy with "QE3″.
But we should all remind ourselves of two ugly and inescapable facts:
1. QE is allegedly about "creating jobs"; this is the part of Bernanke's mandate that he claims is falling short.  (Note that he completely ignores "moderate long term interest rates"; an under 2% 10 year is anything but moderate)
2. There have been no jobs created, net of working-age population increases, since QE-anything began.
We can prattle on about this, that and the other thing, but we cannot escape this reality.  The only thing that matters when it comes to employment is the percentage of working-age people that have jobs.  That's it.  It's all there is from a standpoint of economic progress and it's also all there is from a standpoint of fiscal sustainability as only the employed pay taxes.
QE has been an abject and objective failure.
Period.
The real reason for QE is that the banks are still ridiculously levered compared to both historical norms and sustainable levels.
This has expressed itself in housing – and still does, despite what you hear on CNBS:
That latter chart, incidentally, implies a further 50% decrease in the price of houses — or a doubling of GDP — is somewhere in the offing.  (Or, of course, some combination of the two.)  Since a doubling of GDP will take literal decades at a 1% growth rate the obvious answer to that riddle is found in home prices.
Preventing this correction in the banking system, which is inherently tied to home prices, is what QE is about.  The Fed and Federal Government are walking hand-in-hand in this regard, as the Federal Government is handing out money like seawater at oceanside to everyone under the sun in ever-increasing numbers — food stamps, Medicaid, student loans, you name it — all in a puerile and ultimately futile attempt to protect a financial system that got too full of itself and then turned to fraud and scam in an attempt to keep the "money train" rolling.
But without capital formation the economy cannot recover.
Capital formation requires a positive rate of return on lent capital.
ZIRP and QE destroy that positive rate of return on lent capital.
Oh sure, in the short run the stock market loves "more liquidity" — much like a drug addict loves his meth and a drunk loves his booze.  But the drug addict eventually rots his teeth and his brain turns to mush, while the drunk winds up with liver cancer.
Both must either stop the stupid or die.
So must we.
Much of the misery and rage we see around the world is tied to high commodity prices.  And those are also tied to currency debasement and speculation fueled by excess liquidity.
We have a toxic witches' brew created by an evil, deranged and delusional wizard and his minions, and if that wizard is not caged and his minions put out to pasture it will not be long before the damage becomes so great that the system folds back on itself and collapses.
There are solutions to this mess but there are no easy solutions.  There are no solutions that do not involve admitting what we've done and shutting off the "free money" spigot along with the exponential expansion of credit.
We have already hit that wall.  Everything since 2008 has been nothing more than an attempt to restart exponential credit creation and the attempt has failed, as total systemic debt has only grown 1.85% since 2008.
This is very important to understand — QE began at the end of 2008 and its intention was to "spur lending" — that is, restart the exponential credit cycle.
It has objectively and factually failed.
The market may well take a while to suss this out and come to the inevitable conclusion about what this means for solvency of financial institutions and households, along with asset prices.
But the market will figure it out.
It always does.
Bernanke has fired his last round, but all of them since the first QE have objectively been a clean miss, and there's no evidence available that this will be any different.
Consider that financial leverage chart and its implications — and be prepared.
Potential employers have to respond to the incentives and disincentives that exist in today's world, and those do not favor conventional permanent employees.
I know you're hard-working, motivated, tech-savvy and willing to learn. The reason I can't hire you has nothing to do with your work ethic or skills; it's the high-cost Status Quo, and the many perverse consequences of maintaining a failing Status Quo.
The sad truth is that it's costly and risky to hire anyone to do anything, and "bankable projects" that might generate profit/require more labor are few and far between. The overhead costs for employees have skyrocketed. So even though the wages employees see on their paychecks have stagnated, the total compensation costs the employer pays have risen substantially.
Thirty years ago the overhead costs were considerably less, adjusted for inflation, and there weren't billboards advertising a free trip to Cabo if you sued your employer. (I just saw an advert placed by a legal firm while riding a BART train that solicited employees to sue their employers, with the incentive being "free money" for a vacation to Cabo.)
The other primary reason is that there are few (to borrow a phrase used by John Michael Greer) "bankable projects," that is, projects where hiring another worker would pay for the costs of the additional overhead, labor and capital and generate a reason for making the investment, i.e. a meaningful profit.
There is very little real "new business" in a recessionary, deflationary economy: any new business is poaching from an established business. The new restaurant isn't drawing people from their home kitchens, it's drawing customers from established restaurants.
The only competitive advantage in a deflationary economy is to be faster, better and cheaper or have a marketing and/or technology edge. But marketing and technological advantages offer increasingly thin edges. The aspirational demand (driven by the desire to be hip or cool) for a new good or service has a short half-life. As for technology: miss a product cycle and you're history.
Put these together–higher costs and risks for hiring people, and diminishing opportunities for expansions that lead to profit–and you have a scarcity of projects where hiring people makes financial sense.
Faster, better and cheaper usually means reducing the labor input, not increasing it.In a deflationary economy, it's extremely difficult to grow revenues (sales), and as costs continue climbing inexorably, the only way to survive is to cut expenses so there is still some net for the owner/proprietor to live on.
Consider the tax burden on a sole proprietor who might want to hire someone. The 15.3% Social Security/Medicare tax starts with dollar one. After the usual standard deductions, the Federal income tax is 15%, and 25% on all earned income above $34,800. My state tax is around 5%. Since every other advanced democracy pays basic healthcare coverage out of tax revenues, the $12,000/year we pay for barebones healthcare insurance is the equivalent of a tax. That's 15% of our income. Property tax is also $12,000 annually, so that's another 15%.
Above $35,000 in income, my tax burden is 15% + 25% + 5% + 15% + 15% = 75%.You can imagine how much money I would need to clear to be able to afford hiring someone. The number of businesses that generate huge sums of profit are few and far between, and the number of businesses that scale up from a one-person shop to mega-millions in revenues is also extremely limited.
The potential employer is faced with this reality: the money to hire a new employee will come out of my pay, at least at first. Hiring an additional worker only makes sense if the new employee will immediately generate enough additional revenue to fund his/her own wage and overhead costs, the added expense of supervision and a profit substantial enough to offset the risks.
I should stipulate that my knowledge of hiring people and being an employer is not academic. My partner and I launched a business in late 1981, in the depths of what was at that time the deepest recession since the end of World War II. We had a very diverse ethnic workforce and did millions of dollars of work. Rather than make a fortune I lost $50,000 and had to mortgage the house we'd built by hand to make good all debts. I exited in 1987 with my personal integrity intact: nobody lost money working for us.
The losses were basically the result of me pushing the outer boundaries of my experience and thus my competence in an unforgiving, very competitive environment. The learning curve in business is steep and pricey.
I have also been involved in saving/managing a small non-profit organization that had expanded payroll far beyond what the organization's revenues could support.
What newly minted employers understand that employees rarely understand is that the overhead costs of hiring even one person do not scale at first. To hire one person, even part-time, the employer needs to set up a complex infrastructure to manage the payroll taxes and accounting, and comply with a variety of statutes. If the employer does not follow the many laws regarding labor, witholding taxes, workers compensation, liability coverage, disability insurance, unemployment insurance and so on, then the employer is at risk of penalties and/or lawsuits.
If a business does $1 million in gross receipts a year and already has five employees and a manager, it's not that burdensome to hire a seventh employee–the framework is all set up. But the cost of setting all that up for employee #1 is not trivial, especially when you realize the complex machinery all has to be overseen and managed.
In the Silicon valley model, a couple of guys/gals work feverishly in the living room/garage until they have a product/service to sell to venture capital. If the pitch succeeds, the VCs give them a couple million dollars and they hire a manager to sort out all the paperwork, management, etc.
Most small businesses/proprietors don't get handed a couple million dollars. They have to grow organically, one step at a time. Each expansionist step is fraught with risks, especially when opportunities to grow revenue are few and far between and are generally crowded with competitors.
Thirty years ago the employer's share of Social Security tax was not today's 7.65%; it was much less. Worker's compensation rates were lower, as were disability and liability insurance rates. Adjusted for inflation, healthcare insurance was half (or less) of today's absurdly expensive rates. To pay someone a modest $20,000 annual salary today would cost at least $30,000 in total compensation costs, and if the employee is middle-aged or requires family healthcare coverage, it could easily exceed $40,000. That sum many be trivial in the bloated $3.7 trillion Federal government or in Corporate America, but in millions of small businesses that $40,000 is the proprietor's entire net income.
In other words, as costs of hiring anyone to do anything have climbed while revenues have stagnated, the threshold to hire an employee keeps getting higher. Back in the day, I could hire a young person out of high school for a modest cost in overhead, and the work-value they produced to justify the expense was also modest. I could afford to hire marginal workers and as long as they didn't get in the way too much and ably performed basic tasks then I could afford to have them on the payroll.
The same was true of older workers, veterans living on the beach who wanted work, etc.–I could afford to give all sorts of people a chance to prove their value because the costs and risks were low.
That's simply less true today. The costs and risks are much, much higher.
Liability has become a lottery game where anyone with assets or income is a target for "winner take all" lawsuits. I would have to be insane to hire someone to work around my property on an informal basis: if the person injured himself, I would face the risks of losing my property to the legal defense costs and potential settlements that exceed the homeowners' insurance policy.
In an office environment, I could be sued for harassment or for engendering a "stressful work environment." If you think these kinds of cases are rare, you need to get out more.
Simply put, the feeble hope of increasing revenues does not even come close to offsetting the tremendous risks created by having employees.
There's a Catch-22 aspect to all this; small business can't expand revenues without employees, but the costs/risks of having employees makes that a gamble that is often not worth taking. The lower-risk, lower-cost survival strategy is to automate everything possible in back-office work and free up the proprietor's time to grow revenues that then flow directly to the bottom line.
Managing people is not easy, and it's often stressful. Once a proprietor hires an employee, he/she must wear a number of new hats: psychiatrist/counselor, manager, coach, teacher, to name but a few. Frankly, I don't need the stress. I would rather earn a modest living from my labor and avoid all the burdens of managing people. (In my case, that included bailing workers out of jail, loaning them my truck which was subsequently rolled and destroyed, and a bunch of other fun stuff.)
I am not embittered, I am simply realistic. I enjoyed my employees' company, even the one who rolled my truck and the ones who managed to get into trouble with the law. But I got tired of meetings and all the wasted motion of office management, and I got tired of taking cash advances on my credit cards to make payroll.
If anyone out there thinks being an entrepreneur/small business proprietor is easy and a surefire pathway to the luxe life, then by all means, get out there and start a business and hire a bunch of people. I applaud your energy and drive, and sincerely hope you are wildly successful.
I hope you now understand why so many businesses only want to work with contract labor/ self-employed people: having employees no longer makes financial sense for many small enterprises. What makes sense is paying someone a set fee to accomplish a set task, and that's it, the obligation of both parties is fulfilled. If the task isn't completed, then the fee isn't paid.
Revenues just aren't steady enough in many cases to support a permanent employee. When the work comes in, then contract labor is brought in to get the work done. When it's done, they're gone, and all their overhead costs are theirs.
It's extraordinarily difficult to generate revenue in a deflationary economy, and extraordinarily difficult to scrape off a net income as expenses such as taxes, insurance, healthcare, etc. continue climbing year after year.
Self-employment places a premium on professionalism and results. Unlike offices filled with managers and employees, nobody cares about your problems, conflicts, complaints about the common-area fridge or your attendence at meetings. Once you've been self-employed for a while, and you only hire/work with other self-employed people, then you look back on conventional work places as absurdist theaters of schoolyard politics, tiresome resentments and child-parent conflicts acted out by self-absorbed adults.
Once you're self-employed, your focus shifts to nurturing a productive network of clients, customers and like-minded, reliable, resourceful self-employed people who will give you work/work for you when you need help. Building trust and following through on what you promised to do become your priority.
The economy is different now, and wishing it were unchanged from 30 years ago won't reverse the clock. We have to respond to the incentives and disincentives that exist in today's world, and those do not favor conventional permanent employees except in sectors that are largely walled off from the market economy: government, healthcare, etc.
But these moated sectors cannot remain isolated from the deflationary market economy forever, and what was considered safely walled off from risk and change will increasingly face the same market forces that have changed private-sector enterprise.
If you want security and a steady income, it may be more rewarding to build it yourself via highly networked self-employment.
Charles Hugh Smith – Of Two Minds