Archive for the 'Entitlements' Category
Probably the last thing regular readers of this website need is additional evidence supporting the coming governmental and economic collapse. I apologize for yet another article on this topic, but newer readers need to understand what is coming and do what they can to protect themselves.
Government default is inevitable and with it another Depression. The Depression will be more painful than the so-called Great Depression which occurred seven decades ago. There are several reasons why.  The primary one is our interdependence upon one another. In a functional economy, the division of labor is a good thing. This specialization and trade with each other has made our lives easier and wealthier than they otherwise would have been.
When an economy becomes dysfunctional, everything changes. Trade declines, or in the case of an economic collapse, virtually ceases entirely. The interdependence and specialization which contributed to our high standard of living ceases now become liabilities.
Trade as used above refers to all types  of trade. It obviously refers to international trade but goes beyond the clothing and electronics from Asia. Domestic trade will
Seventy plus years ago, we were less well-off but also less dependent on markets to provide our goods and services. We were more self-sufficient. A greater portion of the population was rural and agrarian. They raised their own food, made their own clothes, knew how to repair things, etc. Today we are dependent upon functioning markets to provide our range of needs.
This specialization is one of the primary reasons why we are wealthier, but it also is a liability in the event of an economic collapse. How would most of us eat if grocery stores were not re-stocked? Would you be able to repair a late-model automobile? Without gasoline, how would we get anywhere?
It is questions like these, most of which are unanswerable by today's specialized generation, that will make another Great Depression harder than the one experienced over seven decades ago when people were less affluent but also more independent.
Wayne Allen Root provides a list of other considerations which  suggest this coming event will be worse:
Because The Great Depression had NONE of the structural, economic, and social problems, nor the massive obligations we are now facing. Read the facts:

In 1929 America was not $16 trillion in debt, plus facing over $100 trillion in unfunded liabilities. That's over $360,000 in debt per citizen.

In 1929, most of our states were not bankrupt, insolvent and dependent on federal government handouts to survive. One county (Cook County which includes Chicago, Illinois) now owes over $108 billion in debt (the biggest part of it in unfunded government employee pensions).

In 1929, we did not have 21 million government employees with bloated salaries, obscene pensions, and free health care for life. Today 1 out of 5 federal employees earn over $100,000.

Today, 77,000 federal employees earn more than the governors of their states.

Staggering numbers of federal government employees retire at a young age with $100,000 pensions for life.

Unfortunately on the state and local levels it's even worse. There is now nearly $4 trillion in unfunded pension liabilities for state government employees.

Protected by their unions and the politicians they elect, government employees are bankrupting America. In Illinois there are retired government employees making over $425,000 per year.

No one could have imagined any of this in 1929. There is no possible way to pay these bills moving forward.

In 1929, Social Security, Medicare, and Medicaid didn't exist. The federal government had no such obligations threatening to consume the entire federal budget within a few years.

In 1929, there was no such thing as welfare, food stamps, aid to dependent children, or English as a second language programs. American's didn't consider it the responsibility of government to pay for breakfast and lunch for school students – let alone for illegal immigrants at school.

Who could have imagined back in 1929 that one seventh of America's population would be on food stamps…and the federal government would ADVERTISE to encourage even more Americans to sign up for food stamps and welfare.

Who could imagine back then that the federal government would team up with the President of Mexico to encourage Mexicans living illegally in America to sign up for food stamps?

Who could have imagined back then that the president would offer not just welfare, but waivers to allow any state to opt out of requiring work to receive welfare?

Back in 1929, who could have imagined 86 pregnant teenage girls all in one Memphis high school?

In 1929 we had families, moral codes, and churches to prevent this kind of tragedy. Do you actually believe this is just one abnormal high school? There must be record numbers of pregnant teens all over America. They have figured out that the choice is to either work a drab, depressing job paying minimum wage, or pump out babies and have government pay your bills for decades to come. But where will the money come from? This will overwhelm the system with generations of massive debt. This is a nightmare.

In 1929, legal immigrants wanted only to work. My grandparents, who came to this country from Russia and Germany, received no government benefits. They worked day and night to provide for their family and become American citizens. It was sink or swim. My grandmother Anna Root never took a penny in welfare, even when my grandfather died and left her with no job, no money, and 7 young children. So back in 1929 immigrants cost us very little.

Today we have millions of illegal immigrants and their children collecting billions of dollars in entitlements from U.S. taxpayers.

In one state (California) illegal aliens cost taxpayers over $10.5 billion annually just for education, health care and incarceration. Do you now understand why California is bankrupt and insolvent? This is spreading across the country.

More dysfunction? Today new studies show that almost 20% of American children under age 18 are obese and therefore prone to suffer pre-diabetes, diabetes, or cardiovascular disease.

Even worse, by 2020 experts predict that 52% of the adult population of America will have either pre-diabetes or diabetes.

Do you understand the cost of diabetes? This alone will overwhelm and bankrupt America's health care system.

In 1929 we had no federal disability program. Today almost 11 million Americans are on disability. There are more citizens on the disabled rolls than the population of 39 of our 50 states. This is far worse than the welfare or unemployment rolls- which have time limits. Disability is forever. The ratio of able-bodied workers to disabled in 1967 was 41 to 1. As of June 2012 it is now 16 to 1. It is impossible to pay this bill long term.

But wait…it gets worse. Now soldiers are in on the act. Are you aware 45% of returning vets are claiming "disability" – a number that dwarfs all prior records in the history of warfare. No nation can afford this.

In 1929, we had an education system that was the envy of the world. Today our public schools are in shambles. We spend the most money in the world, and get among the worst results. The difference today? Teachers unions are in charge, instead of parents. Our students graduate with few skills, are qualified only for low paying manufacturing jobs that no longer exist — they've been shipped to China and India. What will this workforce do for the rest of their lives? Live off the government dole? Who will pay for it?

In 1929 taxes were much lower. Forget the tax rates — they were meaningless. In those days we had a cash economy, so most businesses paid little or no taxes. Sales and FICA taxes didn't exist. Today the combined local, state, property, gas, sales, FICA and federal taxes are the highest burden in history.

Unconvinced?

When income taxes started in 1913, the average American was untouched. Only the richest 350,000 Americans paid a 2% income tax. Today the average American works until April 12th just to pay his or her taxes.

This stifles entrepreneurship and hinders the financial risk-taking necessary to create jobs and get out of a Great Depression.

New numbers just out for July back up my contention that disaster looms. Sales tax revenues plunged an alarming $539 million below expectations in California last month. The jobless rate rose in July in 9 out of 10 battleground states — Iowa, Florida, Michigan, Nevada, New Hampshire, Pennsylvania, Virginia, Colorado and North Carolina all had higher unemployment (while Ohio held steady). They say bad news comes in threes. Well here's the worst news of all- the American Petroleum Institute reports that demand for oil in July was at the lowest level since 1995. These figures are alarming — to say the least.

Do you get the picture? Our country is staring at the Greatest Depression ever. We face a  long slow decline towards the end of America — unless we change paths and policy quickly.

The economy is crumbling. The situation is turning more hopeless by the hour. The more government gets involved, the worse it gets. Coincidence?
http://www.economicnoise.com (http://s.tt/1oJ6I)
Isn't it amusing how this is entirely ignored within the markets?
The U.S. fiscal gap, calculated (by us) using the Congressional Budget Office's realistic long-term budget forecast — the Alternative Fiscal Scenario — is now $222 trillion. Last year, it was $211 trillion. The $11 trillion difference — this year's true federal deficit — is 10 times larger than the official deficit and roughly as large as the entire stock of official debt in public hands.
We of course are not really talking about this.  Oh we do talk about the $1 trillion+, more or less, that we add to the "official debt", but nowhere is mentioned the growth in the actual liabilities — if, that is, you accept that things like Medicare are actual obligations.
Hint: They're not.
When fully retired, 78 million baby boomers will collect, on average, more than 85 percent of per-capita gross domestic product ($40,000 in today's dollars) in Social Security, Medicare and Medicaid benefits. Each passing year brings these outlays one year closer, which raises their present value.
No they won't.  Not because they won't try to, but because the working people of the nation won't pay it.  If pressed that hard they will do what all people do when pressed hard enough — they will revolt, violently if necessary.  The reason why is obvious and inescapable; nobody submits to being a slave voluntarily and communism doesn't work as the quality and quantity of work drops as you try to put your boot on the people's neck.
Ask young people about this – will you give up everything you earn and have so your Dear Old Dad can live in the way to which he is "entitled", including all the medical care he wants despite being 300lbs and eating like a pig for the last 30 years?
Answer: No.
Compassion?  Sure, especially for their own parents.  But forcible extraction of literally every bit of value in the labor that working people have so that the "old farts" can sit in their ass and collect that to which they're "entitled"?
Not a prayer in Hell.
That's a problem.
The answer for the U.S. isn't pretty. Closing the gap using taxes requires an immediate and permanent 64 percent increase in all federal taxes. Alternatively, the U.S. needs to cut, immediately and permanently, all federal purchases and transfer payments, including Social Security and Medicare benefits, by 40 percent. Or it can mix these terrible fiscal medicines with honey, namely radical fiscal reforms that make the economy much fairer and far stronger. What the government can't do is pay its bills by spending more and taxing less. America's children, whose futures are being rapidly destroyed, are smart enough to tell us this.
Actually, if we don't cut this crap out they're going to tell us with guns, pitchforks and torches — or simply by refusing to work at all.
This is the problem with confiscatory tax rates — they drive behavior.  People say that "very few" people ever paid the 90% tax rates of years past.  That's true.  Nobody made that much, on purpose.
You could set the tax rate over $250,000 at 100% if you wanted to.  There are two problems with such a move — first, doing so wouldn't close the deficit (there aren't enough people who make over $250,000 and enough income to steal doing this to reach budget balance) but more importantly if you did this the next year nobody would make more than $249,999 since they would get to keep none of it!
What would that do to our economy? Good question; a lot of people would spend a lot of time at the beach instead of innovating and creating, I suspect.  And while this might be good for the makers of rum and various other libations, I doubt very much the net economic effect would be positive.
As I noted yesterday  (and, I might note, forms one of the key items in Leverage, available to the right) there are interconnected items in our national debate that nobody wants to talk about as interconnected items.  Yet we have to, because they form the basis of the fiscal challenges we face.
Policy decisions were intentionally taken that, on any objective basis, amount to massive frauds against the public.  A tiny minority of people — banksters — have benefited tremendously from these frauds.  The expansion of the credit bubble over the last 30 years has made a tiny percentage of the population fabulously "wealthy" but the wealth they obtained was false prosperity in the first instance.  It appeared to be "freely earned and/or given" but it was not; it was stolen as the premise under which it was tendered wasknowingly false and the beneficiaries are the ones who constructed the knowingly-false edifice under which they obtained it.
When you get down to brass tacks it all comes down to the reality of two exponential functions.  They always run away from one another.  It cannot be otherwise; this is a basic principle of arithmetic, and no amount of arm-waving can or ever will change it.
That's the bottom line right there.  Any two growth functions, where one has a larger growth figure than the other, will run away from one another.  Growth in debt, irrespective of the name you give it (e.g. "entitlements", whatever) may never exceed the growth in the economy.
If it does the above happens.  It will not happen some of the time, it will not happen only if you get unlucky, it will not happen only on Tuesdays, it will happen each and every time, without fail, and it will screw you each and every time without fail.  It must therefore never be allowed to happen.
This is what all fiscal policy debates are ultimately about.  It has never and will never be about anything else.  It can't be about anything else, because this is the reality of that fiscal debate, whether people wish to deal with and admit it or not.
We're still arguing over stupid things, more than 30 years after the alleged debate began.
Until we address and conform our debate to the above simple mathematical relationship no progress will be made, and the longer we wait to do so the higher the odds that an all-on fiscal and economic collapse becomes inevitable.
Government promises to public employees have created "zero-risk" Wonderlands protected from the market forces of risk and consequence. These islands of privilege are snapping back to join the real economy.
Every government entity that reckoned it was moated from the market economy will be snapped back to "discover" risk and consequence. Let's lay out the dynamic:
1. Every government can only spend what its economy generates in surplus.
2. Every government transfers risk and consequence from itself, its employees and its favored vested interests to the citizenry and taxpayers.
3. Every government collects and distributes the surplus of its private sector to its employees, favored constituencies and vested interests.
4. Since the government (State) promises guaranteed salaries, benefits and entitlements to its employees and favored constituencies, these individuals believe they are living in a risk-free Wonderland that is completely protected from the market economy.
5. Risk cannot be repealed or eliminated, it can only be masked or transferred to others.
6. The Federal government and the Federal Reserve have pursued a policy of inflating serial speculative credit-based bubbles.
7. These bubbles inflated assets, profits and taxes, creating the illusion that blow-off speculative tops were "the new normal."
8. Speculative credit-based bubbles misallocate capital and incentivize malinvestment on a spectacular scale.
9. Once the bubble deflates, the capital is lost or trapped in illiquid malinvestments.
10. As a direct result of the dot-com bubble, Stockton's tax revenues (general fund) leaped to $139 million in 2001. As a direct consequence of the housing bubble, it jumped to $186 million in 2007.
11. This "new normal" encouraged the belief that the stock market would double or triple every decade into the future, generating 8%+ annual returns for public union employee pension funds.
12. The city government granted employees open-ended guarantees of lifetime healthcare coverage.
13. This meant that there was no limit on the cost of each employee's benefits.
14. As noted here many times, healthcare costs rise by 7%-10% every year, even as the economy which supports healthcare grows by 2% on average.
15. Healthcare alone will bankrupt the nation, and the bankruptcy of entities that promised open-ended healthcare is merely one manifestation of the coming bankruptcy of the entire sickcare/entitlement Status Quo.
16. Once the stock market reverts to the mean and is revalued to the "new normal" of global recession and low earnings growth, it will decline by 40% or more and yields will remain around 2%.
17. Pension funds earning 2% at best based on expectations of permanent 8% returns cannot sustainably pay the benefits promised.
18. If the city attempts to make up the shortfall annually, the services provided to the citizenry will be gutted. The risk and consequence of malinvestment and favoritism has been offloaded onto the citizens while those protected by the government moat live "risk-free" lives of guaranteed pensions and benefits.
19. The public-employee pension and healthcare benefits were separated from the market economy with this government guarantee: regardless of what happens in the real economy, you will be paid pensions and benefits that have zero exposure to the market economy and private-sector pensions/benefits.
20. In effect, the government has placed its employees and vested interests in a moated "risk-free" zone outside the market economy. The risk that is distributed to all participants in an open market (i.e. a democracy) is transferred to the citizens and taxpayers.
21. Any government that siphons off an increasing share of its taxpayers' disposable income (to distribute to the privileged few) in return for declining services will eventually be overthrown by the citizenry and taxpayers who must bear the full consequences of the city's mismanagement of their capital and income.
22. Every city, county and state in the U.S. which has secured a risk-free wonderland for its favored few will "snap back" into the real economy and face the discipline of the credit market and the "discovery" of price and value.
23. Risk cannot be eliminated by government mandate, it can only be transferred to others. No government entity can maintain a "risk-free" fortress outside the market forever. The moat around Wonderland will be drained or filled, regardless of what promises were made.
24. Government has no mechanism to transparently price risk, value and return on investment. The market will "discover" all these and re-set government services and salaries accordingly.
Charles Hugh Smith – Of Two Minds
Medicare is an example of an unsustainable system that will go away in the decade ahead.
Here are the sobering facts about the number of workers and those drawing Social Security, Medicare and Medicaid entitlements in the U.S.While the government claims to have a "trust fund" to pay for Social Security and Medicare, this is illusory propaganda. There are no funds set aside to pay these entitlements–they are "pay as you go" programs funded by current tax revenues.  If the tax revenues don't cover the programs' expenses, the Treasury sells bonds, i.e. issues debt to pay the entitlements.
Social Security (SSA) has 61 million beneficiariesas of March 2012.
Medicare has 49 million beneficiariesas of November 2011.
Medicaid has over 50 million beneficiaries; another source puts the current number at 58 million.
Kaiser Family Foundation says roughly 7 million "dual-eligibles" who receive both Medicaid and Medicare, so let's use the data point of 50 million Medicaid-only recipients.
We can assume that most people drawing Medicare benefits also draw Social Security, while the 8+ million drawing disability from Social Security are also covered by Medicaid.
However you slice it, there are roughly 60 million people drawing Social Security and Medicare/Medicaid and another 50 million Medicaid recipients for a total of 110 million people drawing significant entitlements.
As I have noted here many times, there are only 115 million full-time jobs in the U.S.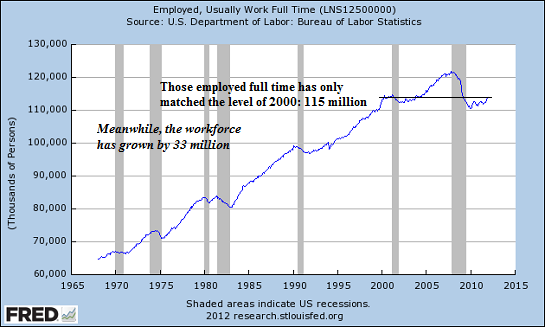 That means the ratio of workers to recipients of  significant "pay as you go" entitlements is roughly 1-to-1: 115 million full-time workers and 110 million people drawing Social Security and Medicare/Medicaid.
These programs consume the majority of the Federal budget.  The Federal government spends around $3.7 trillion and collects around $2.6 trillion in taxes, so the basic deficit is $1.1 trillion. Off-balance sheet "supplemental appropriations" mean the real deficit is actually considerably higher.
Social Security costs $817 billion, Medicare and Medicaid costs total about $800 billion  annually, and program outlays rise every year. The Pentagon/National Security budget is around $690 billion.
As I detailed in The Fraud at the Heart of Social Security   (January 17, 2011), the program paid out $707 billion in 2010 and collected $631 billion in taxes, a $76 billion shortfall for 2010. The current program (2012) cost is $817 billion, a leap of $100 billion in a few short years as Baby Boomers flood into the program.
Of the roughly 150 million workers in the U.S., 38 million earn less than $10,000 per year, 50 million earn less that $15,000 a year and 61 million earn less than $20,000 annually. All these numbers are drawn directly from Social Security Administration payroll data.
100 million wage earners, or 2/3 the entire workforce, earn less than $40,000 per year.
Median pay in the U.S. is about $26,360 annually, while the average pay is about $40,000. Since the average American household takes in $63,091 per year, it seems the typical wage is roughly $30,000 a year.
The Medicare tax is 2.9% of wages, 1.45% each for employer and employee.If the typical worker makes $30,000 a year for 35 years, then lifetime earnings are about $1 million. If we take the $40,000/year average, then that rises to around $1.4 million in lifetime earnings. The 2.9% Medicare tax thus totals about $30,000 to $40,000 in lifetime contributions for the average worker.
The average benefits extracted from the system run from $393,000 to $525,000  (due to the benefits extended to non-working spouses, benefits for never-married people may be somewhat lower). Average annual costs per beneficiary run as high as $18,000, though expenses typically rise significantly in the last year of life.
As I have reported here earlier, a friend's father was in the hospital a few years ago for less than a week for "observation" and a non-invasive gall-stone procedure. Medicare was billed $120,000, or roughly the lifetime contributions of three workers for this modest procedure and a few days in a hospital. My Mom had an office procedure performed on one of her toes and Medicare was billed $12,000.  An office procedure (not in surgery) that took a few minutes absorbed 1/3 of my entire lifetime contributions to Medicare.
What we have is a system where the full-time worker to beneficiary is already 1-to-1 and the system pays out 10 times more per person than it collects in taxes.  The Medicare system would need about 10 workers for every beneficiary to be sustainable. Right now the ratio is just above 2-to-1. That simply is not sustainable.
Tweaking the payouts doesn't change the basic math: "pay as you go" entitlements are not sustainable when the number of recipients equals the number of full-time workers. Programs that pay out $400,000 per person (many of whom did not work a lifetime) and collect $40,000 per lifetime of full-time work are not sustainable.
Wishing the math were different does not make it different.
For more on this topic, please see:
America's Hidden 8%  VAT: Sickcare(May 10, 2012)
How We Do Harm: A Doctor Breaks Ranks About Being Sick in America (print)     (Kindle)
Charles Hugh Smith – Of Two Minds
The dwindling middle class, squeezed by higher taxes and costs, is losing its political voice.
The middle class is doomed by some very basic dynamics. Economic historian David Hackett Fischer laid out the fundamental dynamic in his book The Great Wave: Price Revolutions and the Rhythm of History.
By assembling price and wage data stretching back hundreds of years, Fischer found that cycles of economic growth spawned population growth, an expanding number of workers entering the market economy (as opposed to the non-market subsistence economy) and a demand-driven expansion of essential commodities such as grain and energy (wood, coal, oil, etc.).
In the initial phase, wages rise and commodity prices remain stable as supplies of essential goods expand and the demand for labor pushes up wages.
But this virtuous cycle reverses when the supply of essentials no longer keeps pace with rising population and demand: the price of essentials begin an inexorable rise even as an oversupply of labor drives down wages.
We like to think that modern economies have escaped this cycle, but that is hubris and denial, not reality, for the 20th and early 21st centuries have been characterized by inflation (the U.S. dollar has lost approximately 96% of its value since 1900) and wages have stagnated for the past 40 years: Soaring Poverty Casts Spotlight on 'Lost Decade':
According to the Census figures, the median annual income for a malefull-time, year-round worker in 2010 — $47,715 — was virtually unchanged, in 2010 dollars, from its level in 1973, when it was $49,065.Overall, median household income adjusted for inflation declined by 2.3 percent in 2010 from the previous year, to $49,445. That was 7 percent less than the peak of $53,252 in 1999.
We can see this steady decline in wages in this chart: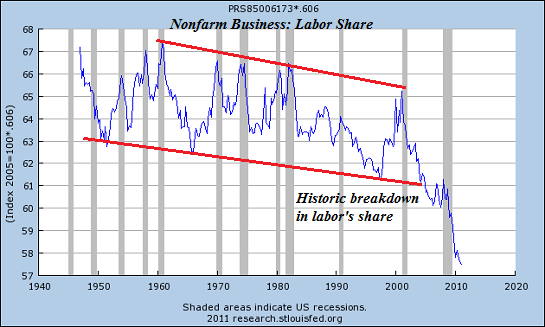 The more recent fall-off is depicted in this chart: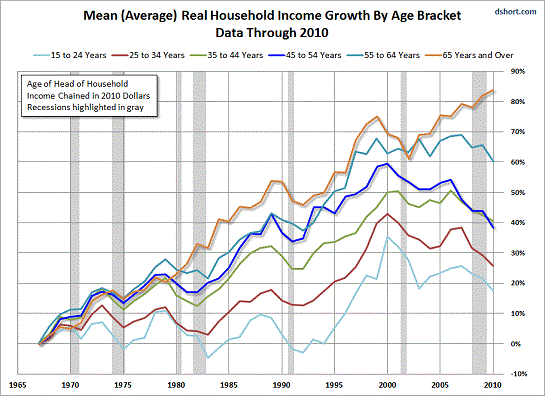 Notice that the only age bracket with rising incomes is the 65 and over cohort; everyone younger than 65 has seen their income slashed. And this is assuming "official" inflation is accurate; if it understates real inflation (loss of purchasing power), then the income declines are actually much more severe than charted here.
As I have observed many times before, the middle class filled this gap between rising costs and stagnating wages with debt. This chart reflects this reality: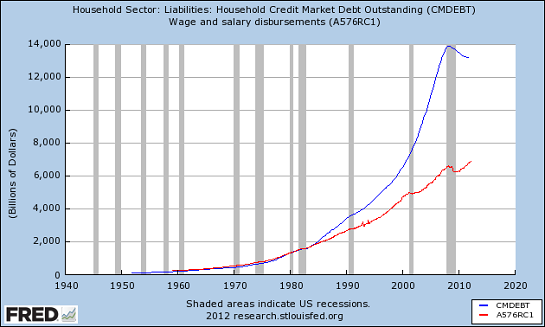 Household debt has soared far above wages. (Note that this chart is not adjusted to inflation; in real terms, wages have been flat for decades).
Now that the average household is heavily indebted with student loans, vehicle loans, credit card debt and mortgages, its ability to leverage a declining income into more debt is seriously impaired. So filling the gap between rising costs and declining wages with debt is no longer a possibility.
Living within their means and servicing their mountains of debt removes most families from the middle class. As a rough metric, I define middle class as any household with the following attributes:
1. Meaningful healthcare insurance, either provided by an employer or paid by the household
2. Significant equity (20%+ of home value) in a home or other real estate
3. An income and expense sheet that enables the household to save at least 6% of its income
4. Significant retirement funds, either employer-provided or self-funded 401Ks or IRAs, family business, etc.
5. The ability to service all debt and expenses over the medium-term if one of the two primary household wage-earners lose their job, i.e. either the household has significant savings or its debts are modest compared to the household income.
Anything less than this basket of attributes is too precarious to qualify as middle class. These basics of financial security were standard-issue for the middle class in the postwar era.
A household could have all of the above attributes on an annual income of $40,000, or they may not have them with an income of $80,000, as "middle class" means some measure of financial security, i.e. owning assets and carrying a debt load that isn't large enough to crush the household balance sheet if income declines.
We can further understand the precariousness of many American households by examining IRS tax data. The top 25% of taxpayers–34 million workers out of a workforce of 160 million and 140 million wage earners–pay almost 90% of all Federal income taxes. Where Do You Rank as a Taxpayer?
An adjusted gross income (AGI) of $66,193 or more puts you in the top 25% of earners. The top-earning 25% of taxpayers reported 65.81% of all AGI and paid 87.30% of total federal income taxes ( $755.9 billion).How much do you need to make to be in the top 50% of earners? Just $32,396. Fall below that level and you are in the bottom half, along with nearly 70 million of your fellow taxpayers. All told, that group earned just 13% of the income reported on 2009 tax returns. And they coughed up 2.25% of all the income taxes paid.
All these numbers mask the sobering reality that 38 Million Workers Made Less Than $10,000 in 2010– Equal to California's Population (The Atlantic magazine)
If we dig into the data, we find that the top 25% (34 million workers) is really the top 33%, as only 104 million tax returns actually pay any Federal tax–and as noted above, the bottom 70 million paid a scant 13% of all Federal taxes while the top 34 million paid 87% of all income taxes.
Many Unhappy Returns? (America's aggregate 1040, from IRS tax data).
In 2009, the IRS reported 140.5 Million personal income tax returns were filed. From this starting point, 36.3 Million returns (or, one quarter of the total) are lost to the tax base because of losses, exclusions or deductions. By line 43, taxable income, only 104.2 Million returns survive. In aggregate dollar amounts, total income from all sources falls from $7.7 Trillion to $5.1 Trillion — a decline of more than one-third. This latter amount is what truly constitutes the tax base, since it is the income ultimately subjected to tax.
Of course Social Security taxes are paid by low-income workers, but this amounts to 7.6% of income–not zero, but not too punishing compared to Federal tax rates.
What all this reveals is that the middle class has lost its political power. Roughly 40% of all households receive a check or equivalent from the Federal government, while at the top Power Elite crony capitalists skim capital gains and pay an average of 17% of all income.
The 100 million dependents on the Federal government (Central State) vote to support their share of the largesse, regardless of the consequences to future generations, and the Power Elite crony capitalists buy political protection for their cartels and financialization scams. The dwindling middle class ends up paying most of the taxes even as their percentage of the population falls to the point that their political voice is drowned out by more numerous dependents and Elites that both favor the Status Quo.
The Federal government is supporting its dependents and its crony-capitalist Elites with borrowed money: $1.5 trillion every year, fully 40% of the Federal budget. It is in effect filling the gap between exploding costs and declining income, just like the middle class did until they ran out of collateral to leverage.
The dwindling middle class, now at best perhaps 25% of the workforce, has been reduced to tax donkeys supporting those above and below who are dependent on Federal largesse.
Fisher found that this cycle ends in transformational political upheaval. No wonder; even as the class paying most of the taxes shrinks and is pressured by higher costs, the class of dependents expands as the economy deteriorates and the super-wealthy Power Elites continue to control the levers of Central State power.
I address these dynamics in various ways in all my books:
Resistance, Revolution, Liberation (Kindle edition)
An Unconventional Guide to Investing in Troubled Times (print edition)
An Unconventional Guide (Kindle edition)
Survival+: Structuring Prosperity for Yourself and the Nation
Survival+ (Kindle edition)
Survival+ The Primer
Primer (Kindle edition)
Weblogs & New Media: Marketing in Crisis
Marketing in Crisis (Kindle edition) 
Charles Hugh Smith – Of Two Minds
Which lifestyle choice produces better results – being a hard working American or being a government parasite?  Actually, when you look at the cold, hard numbers they may just surprise you.  In America today, we deeply penalize hard work and we greatly reward government dependence.  If you live in a very liberal area of the country and you know how to game the system, it is entirely possible to live a comfortable existence without ever working too much at all.  In fact, there are some Americans that have been living off of "government benefits" for decades.  Many of these people actually plan their lives around doing exactly what they need to do to qualify for as many benefits as possible.  America is rapidly turning into a European-style socialist welfare state and it is destroying our nation socially and financially.  Ever since the "war on poverty" began our debt has absolutely exploded and yet now there are more poor people in this country than ever before.  Obviously something is not working.
Now don't get me wrong.  I deeply believe in having compassion for those that are going through tough times and having a safety net for those that cannot take care of themselves.  We should not have a single person in this nation going without food or sleeping in the streets.
But in America today it is absolutely ridiculous how many people are climbing aboard the "safety net".  At this point, an astounding 49 percent of all Americans live in a home that receives some form of government benefits.
So who pays for all of this?
The people that drag themselves out of bed and go to work each day pay for it all.
For a few moments, let's examine how the lifestyle of a typical hard working American compares to the lifestyle of a government parasite.
In America today, the median yearly household income is somewhere around $50,000.  About half of all American households make more than that and about half of all American households make less than that.  When you break it down, it comes to about $4000 a month.
So how far does $4000 go in America today?
Unfortunately, it doesn't go very far at all.
First of all, a hard working American family will need some place to live.  Unfortunately, the vast majority of the decent jobs are near the big cities, and it is more expensive to live near the big cities.  Let's assume that an average family of four will spend about $1000 a month on rent or on a mortgage payment.
The government parasite, on the other hand, has a whole host of federal, state and local housing programs to take advantage of.  During the recent economic downturn, more Americans than ever have been turning to the government for help with housing costs.  For example, federal housing assistance outlays increased by a whopping 42 percent between 2006 and 2010.
Once you have a place to live, you have to provide power and heat for it.  For the average hard working American, this is going to probably average about $300 a month, although this can vary greatly depending on where you live.
For the government parasite, there are once again a whole host of government programs to help with this.  For example, LIHEAP (Low Income Home Energy Assistance Program) assists low income households in paying their home heating bills.
Most average hard working Americans are also going to need phone and Internet service.  Let's assume that the hard working family of four in our example is extremely thrifty and only spends $100 a month for these services.
For the government parasite, cell phone service is not a problem.  As I have written about previously, those that "qualify" can receive a free cell phone and free cell phone minutes every single month from the federal government.  In addition, in some areas of the nation low income families can qualify for deeply subsidized home Internet service.
In order to earn money, our hard working family is going to need to get to work.  In most households, both parents have decided to work these days so both of them will need cars.  Let's assume that the family is very thrifty and that both cars were purchased used and that the car payments only total about $400 a month.
The hard working family will also need auto insurance for the two vehicles.  Let's assume that both parents have a great driving record and that they only pay a total of about $100 a month for car insurance.
The cars will also need to be filled up with gasoline.  The average U. S. householdspent $4155 on gasoline during 2011, but let's assume that our family is very, very careful and that they only spend about $300 on gas each month.
So what about the government parasite?  Well, the government parasite does not need to go to work, so this expense can potentially be eliminated entirely.  But since most other things are paid for by the government or are deeply subsidized, in many instances government parasites are actually able to afford very nice vehicles.
In addition, a new bill (The Low-Income Gasoline Assistance Program Act) has been introduced in Congress that would give "qualifying" households money to help pay for gasoline….
Low-Income Gasoline Assistance Program Act – Directs the Secretary of Health and Human Services to make grants to states to establish emergency assistance programs to pay eligible households for the purchase of gasoline.
A hard working American family is also going to need health insurance.  Well, we all know how expensive health insurance has become.  In fact, health insurance costs have risen by 23 percent since Barack Obama became president.  But let's assume that our hard working family has somehow been able to find an amazing deal where they only pay $500 a month for health insurance for a family of four.
For the government parasite, health insurance is not needed.  If there is an emergency, the government parasite can just go get free medical care at any emergency room.
And of course there is always Medicaid.  Back in 1965, only one out of every 50 Americans was on Medicaid.  Today, one out of every 6 Americans is on Medicaid, and things are about to get a whole lot worse.  It is being projected that Obamacare will add 16 million more Americans to the Medicaid rolls.
So what about food?
Everyone has to eat, right?
Well, the hard working family in our example is faced with an environment where food prices are constantly rising but paychecks are not keeping up.  Let's assume that the hard working family in our example clips coupons and cuts corners any way that it can and only spends about $50 for each member of the family on food and supplies each week.  That comes to a total of $800 a month for the entire family.
So what about the government parasite?
Government parasites need to eat too.
Well, that is where food stamps come in.  Right now, there are more than 46 million Americans on food stamps.  Since Barack Obama became president, the number of Americans on food stamps has increased by 14 million.  Food stamps have become so popular that rappers are even making rap videos about using food stamp cards.
Okay, so after all of this where do we stand?
Well, the average hard working family so far has spent $3500 out of the $4000 that they have to spend for the month.
We still need to find money for clothing, for paying off credit card debt, for paying off student loan debt, for dining out, for entertainment, for medications, for pets, for hobbies, for life insurance, for vacations, for car repairs and maintenance, for child care, for gifts and for retirement savings.
But wait.
There is actually no money left at all because we have forgotten one of the biggest expenses of all.
Taxes.
When you total up all federal, state and property taxes, our average hard working family is going to pay at least $1000 a month in taxes.
So that puts our average hard working family in the hole every single month.
Meanwhile, the government parasite does not pay any taxes because he or she does not earn enough money to be taxed.
Are you starting to get the picture?
In many ways, life can be so much easier when you are constantly taking from the government instead of constantly giving to the government.
New Jersey Governor Chris Christie recently put it this way….
"We'll have a bunch of people sitting on a couch waiting for their next government check"
Once again, I am not dumping on those that have been through all kinds of nightmares because of this economy.  As I have written about so frequently, the U.S. economy is simply not producing enough jobs for everyone anymore, and this is creating major problems.
Just about everyone needs a helping hand at some point, and we should always be compassionate to those that are in need.
However, there is also a growing number of Americans that are content to simply give up and live off of the government, and that is fundamentally wrong.
It is not the job of the U.S. government to take care of you from the cradle to the grave.  What the U.S. government is supposed to do is to make sure that we have a well functioning economy that operates in an environment where hard working individuals and small businesses can thrive, and sadly the U.S. government has failed miserably in that regard.
We desperately need the U.S. economy to be fixed, but I wouldn't hold my breath waiting for that to happen.
As economic conditions get even worse in this country, millions more Americans are going to turn to the government for assistance and at some point the safety net is going to break.
What is our country going to look like when that happens?