Archive for the 'epic fail' Category
A new report from the conservative Government Accountability Institute (GAI) finds that President Barack Obama's and Attorney General Eric Holder's failure to criminally charge any top Wall Street bankers is likely a result of cronyism inside the Department of Justice and political donations made to Obama's campaign.
Despite Obama's and Holder's "heated rhetoric" against Wall Street (in 2009, Obama blamed the 2008 financial collapse on "reckless speculation of bankers" while Holder charged that "unscrupulous executives, Ponzi scheme operators and common criminals alike have targeted the pocketbooks and retirement accounts of middle class Americans"), they haven't "filed a single criminal charge against any top executive of an elite financial institution," GAI wrote in its report, exclusively obtained by The Daily Caller.
GAI argues that the Obama administration's decision to not go after Big Finance is due to senior DOJ leadership — Holder, Associate Attorney General Tom Perrelli, Associate Attorney General Tony West, Assistant Attorney General Lanny Breuer, Deputy Attorney General James Cole and Deputy Associate Attorney General Karol Mason — who "all came to the DOJ from prestigious white-collar defense firms where they represented the very financial institutions the DOJ is supposed to investigate."
The report details how Holder and Breuer both came to the DOJ from Covington & Burling, a "top-tier Washington law firm" with a client list that includes financial firms like Wells Fargo, J.P. Morgan Chase, Bank of America, CitiBank, Deutsche Bank, Goldman Sachs, ING, Morgan Stanley, UBS and Wilmington Trust.
GAI said that President Obama's decision to choose Holder, "a white-collar defense attorney from Covington," as his attorney general, over a "more fiery prosecutor," appears to have sent "a subtle signal to the financial community" that this administration isn't going to actually do anything, despite the harsh words.
Cole, the report outlines, was with Bryan Cave LLP — "a white-shoe firm with A-list clients" — before becoming Holder's right-hand man at the DOJ. One of Cole's clients while at Bryan Cave LLP, the GAI report shows, was insurance and financial giant AIG.
Cole had done $20 million worth of work for AIG between 2004 and 2008, but his close ties with the company — which was "at the heart of the financial crisis largely because of its noncompliance in regulatory and compliance issues" — didn't stop Obama or Holder from welcoming him aboard their administration.
The Obama administration's decision to not appoint an independent counsel to investigate the MF Global scandal, despite more than 60 members of Congress demanding it, also reeks of cronyism, the GAI report details. Obama bundler and former Democratic New Jersy Gov. Jon Corzine was at the center of MF Global.
GAI points out how West — the DOJ's no. 3 official — worked as a white-collar defense attorney for Morrison and Foerster before he came to the DOJ. Morrison and Foerster is currently providing legal representation to MF Global. Holder and Breuer's old law firm — Covington & Burling — provided legal services to MF Global too, before MF Global sought bankruptcy protection.
GAI adds that the appearance of MF Global cronyism is "further complicated" by how Reid Weingarten — an attorney at Steptoe & Johnson — was selected to be MF Global treasurer Edith O'Brien's lawyer.
"Weingarten previously served as Holder's attorney following the controversial pardon of Marc Rich in the Clinton Justice Department," the GAI report reads, adding that the blog Main Justice points out how Weingarten is "one of Holder's best friends."
In addition to those officials' potential personal financial interests — were they to return to their old firms after their time at the DOJ ends — in avoiding investigating those big banks, GAI points out how "Obama's top DOJ officials played prominent roles in his 2008 campaign."
Holder, the nation's top DOJ official, "co-chaired the campaign with Tony West, the DOJ's third highest official."
"No other modern administration has staffed the DOJ with big money fundraisers," GAI wrote. "Holder bundled $50,000 for Obama's 2008 campaign, while Perrelli, West, and Mason all bundled $500,000 for the campaign. West also helped Obama raised an estimated $65 million in California."
GAI president Peter Schweizer told TheDC that cronyism appears to be infiltrating the halls of the DOJ with the Obama administration, and that it appears Holder's team has no interest in fighting for accountability when it comes to Wall Street because he, Obama and the rest of the DOJ team have a financial interest in not enforcing those laws.
"When we think of cronyism and the problems of cronyism and crony capitalism, we think in terms of economic loss and gain," Schweizer said in a phone interview. "What we're showing here is that cronyism is now permeating our justice system. So, it's not just a question of dollars and cents, it's a question of whether you're going to face legal jeopardy or not on what you're doing."
"The issue of a revolving door — people who go in and out of, for instance, the Department of Energy who go work for energy companies then come back to the Department of Energy — is always there," Schweizer added. "But, we're not used to associating the top leadership of the Justice Department with the revolving door. And, I think that's what makes this so troubling — because you can't trust them. All their financial interests are tied up with these large firms that do an enormous amount of business with Wall Street."
In the report, GAI details how the George W. Bush and Bill Clinton administrations both actually took down financial criminals — unlike the Obama administration. Between 2002 and 2008, for instance, GAI points out how a Bush administration task force "obtained over 1,300 corporate fraud convictions, including those of over 130 corporate vice presidents and over 200 CEOs and corporate presidents."
"Clinton's DOJ prosecuted over 1,800 S&L [savings and loans] executives, senior officials, and directors, and over 1,000 of them were sent to jail," GAI adds.
But, despite having "promised more of the same," especially in the wake of the 2008 financial crisis, the Obama administration's DOJ has not brought criminal charges against a single major Wall Street executive.
The Bush and Clinton administrations' track records on prosecuting white-collar crime, and the Obama administration's failure to do so, Schweizer said, is "evidence that this has less to do with some sort of partisan or philosophical issue."
"I think it has to do with the fact that, previously, under Clinton or under Bush, you had senior people who were prosecutors — who not only had previous experience, but were actually active prosecutors," Schweizer said. "The problem that you have at the Obama Justice Department, particularly bizarre at this time and place where we were coming off the financial crisis, is that they really have no recent prosecutors at the top of the Justice Department. They're all white-collar criminal defense attorneys. That's what's so troubling. One would think that, given the financial crisis, and the widespread conduct, they would have at least carved out some senior positions for prosecutors who could really drill down on this. That's what Clinton did, and that's what Bush did."
As one of many examples of where Holder's DOJ could have gone after Wall Street but failed, GAI cites how Michigan Democratic Sen. Carl Levin "proposed that the DOJ criminally investigate Goldman Sachs for its handling of the Abacus 2007-AC1 transaction" in an April 2011 Senate Permanent Subcommittee on Investigations report. In that 635-page report, Levin and his staff — who are Democrats — recommended that Holder's DOJ investigate potential crimes committed. Levin's subcommittee and the Federal Financial Crisis Inquiry Commission both made formal referrals to the DOJ for investigation – and Forbes magazine ran an article with the headline, "Criminal Charges Loom for Goldman Sachs After Scathing Report."
Nothing happened. But, over the course of the rest of 2011, Obama went on a massive fundraising drive down Wall Street.
"By the fall of 2011, Obama had collected more donations from Wall Street than any of the Republican candidates, and employees at Bain Capital had donated more than twice as much to Obama as they did to [Mitt] Romney, the firm's founder," GAI wrote in its report.
"In the weeks before and after the Senate report on Goldman Sachs, several Goldman executives and their families made contributions to Obama's Victory Fund and related entities and some contributors maxed out at the largest individual donation allowed, $35,800."
"Five senior Goldman Sachs executives wrote more than $130,000 in checks to the Obama Victory Fund," GAI continued. "Two of these executives had never donated to Obama before and had previously only given small donations to individual candidates."
While GAI said in the report that it would be a "reach to conclude that the Department of Justice dropped its criminal investigation of Goldman Sachs solely in response to large campaign contributions" from its executives, it certainly doesn't pass the smell test — and calls for investigations continue.
Justice Inaction Report
Just when you think that things can't get more stupid in my old town of Chitcago, the political folks open their mouths and remove all doubt.
When asked about the "gap" between law enforcement and the black community, McCarthy reached back 400 years for an answer.

"It's a big issue. It's a long time coming. We've done a lot of things wrong in policing in this country. I'm willing to admit that," said McCarthy. "But this goes back 200-300 years to the time when Pilgrims came here and things developed from that, the African American experience in this country."

But the Pilgrims weren't the only people being blamed for the violence. The superintendent also laid blame at the feet of America's finest and inferred – without actually stating it – that white police officers are the problem.
America's "finest"?
Oh please.
But playing the race card is equally stupid.
But for decades, vast sums of money have been poured into poor communities on Chicago's South and West sides.

Where has the money gone?
It's been stolen.  See, economic empowerment, starting with the removal of incentives to be a thug (and yes, getting rid of the drug war would be a big help) isn't really on any of these people's agenda.  It's far more profitable to blame "whitey" and repress the people, then claim that you can "fix it" if just a bit more freedom (and a lot more money!) is sacrificed on your unholy altar.
Instead, how about this idea: The City of Chicago recognizes the 2nd Amendment.  In full.  Be a thug, you might get shot.  By a law-abiding citizen who answers your thuggery with a couple of 1,000 fps hunks of lead hurled at your center-of-mass.
Senseless violence?  Oh there's plenty of that.  And plenty of stupid too.  Like Heaven Sutton.  Where do I start with that?  A kid selling "candy" at 11:00 PM in the middle of an area known for gang activity?  Really, candy?  What sort of candy was she selling, may I ask, and to whom?
Who knows if the alleged gang-banger is really the person who shot the kid; it appears from what I can determine that this was a "two gangs in one place, someone starts blasting" incident.  Am I surprised?  Oh hell no, not when only criminals have guns — everyone else who is law-abiding has been disarmed by Constitution-ignoring — that is, a lawless – government!
Of course the gang-bangers don't care if it's "illegal" to carry (and use!) a gun — that's why we call them criminals.  The first rule of being a criminal is that you don't give a damn about the law.  The second one appears to be that you pick up a "hot" pistol and that you're prepared to use it.
When you really need someone to put a stop to the asshole waving a pistol around and shooting people with it right damn now the police will be there in 5 minutes — or 10, or 20.  Just dial 911 and the hearses will be be right over to carry off the dead.
Yeah.
It wouldn't take very long for this crap to stop were Chitcago to stop being stupid and make legal Constitutional Carry.  See, gang-bangers may be many things, but none of them are really all that interested in being DRT (Dead Right THERE), which is exactly what they would be were that change to be implemented.
The fact is that the law-abiding citizens radically outnumber the gang-bangers and while more dead bodies is not a good answer to any particular problem if there are going to be dead bodies due to the acts and decisions taken by gang-bangers I prefer ex-gang-bangers instead of ex-7 year old girls.
In the meantime, until and unless Rahm pulls his head out of his ass (which, incidentally, is unlikely to happen — ever) nor is it likely that the residents of Chitcago will demand that the Jackass-in-Chief abdicate and be replaced by someone who actually read the Bill of Rights my recommendation is that everyone avoid Chitcago.  Don't do business there and definitely don't visit and spend money.
You're an unarmed target and that's exactly how the thugs – and City Government – like it.
Discussion (registration required to post)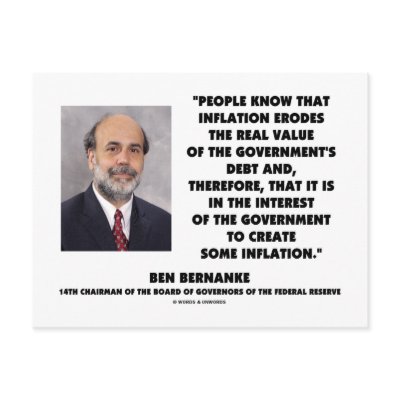 This is some sort of joke, right?
The Consumer Price Index for All Urban Consumers (CPI-U) increased 0.4 percent in February on a seasonally adjusted basis, the U.S. Bureau of Labor Statistics reported today. Over the last 12 months, the all items index increased 2.9 percent before seasonal adjustment.

The gasoline index rose sharply in February, accounting for over 80 percent of the change in the all items index. The gasoline increase led to a 3.2 percent rise in the energy index despite a decline in the index for natural gas. The food index was unchanged in February, with the food at home index unchanged for the second month in a row as major grocery store food indexes were mixed.
But remember, nobody needs any food and especially any energy.  And while natural gas is diving, gasoline is going up faster.
The big table (Table 1) remains amusing; Rick Santelli was on CNBS with a very legitimate screed about the CPI, one that I wrote about extensively in Leverage.  Specifically, the weighting is only "valid" for the "average" consumer.  But of course incomes are rarely average.  A lower-income person uses an extraordinary amount of their income for food, shelter and energy compared to higher-income people.  This means that costs in those areas have a wildly disparate impact on poorer Americans, and the poorer you are the worse it is.
Then there's hedonics.  Rick needs to use a better example; I like the television one since everyone can relate to it (we all have idiot boxes, right?)  The government claims that a LCD TV is "better" by a material amount — 70% in fact.  This is true, of course — a LCD TV does have a sharper picture, uses less energy and is physically smaller.  As such since the government says that a LCD TV is 70% "better" than a CRT one, if the price is 70% higher there is no "inflation" since you're getting the same utility value for the money spent.
That would be a decent argument if you could still choose to buy a CRT TV!  But you can't because they're not made any more.  Your options are to spend 70% or get nothing, and yet this is not called "inflation."
If you want to watch TV and yours just broke, I suspect you disagree.
There's a number of other interesting claims in the table too.  For example, "food away from home" is listed as up 3.1%.  One wonders what's going on there as I've noticed both price increases and negative changes in quality and quantity in eateries that are vastly more than 3% in the last year.  When you actually notice it the change is typically somewhere between 10-20% — consider that a 3% change in a $20 check is sixty cents.  It's highly unlikely that you would note the cost of eating out going up at that rate, or the quality of the food going down — unless it was dramatically more than 3%.
There are other problems for lower-income citizens as well.  Water, sewer and trash collection services are up (according to the table) 4.7% over the last year.  That's non-trivial.  Fuel oil of course is up big (as is gasoline, up 12%.)  Apparel is up sharply as well, as is transportation, with the largest cost increases coming in the form of fuel.
In the final analysis however the report did not surprise, and the market pretty-much ignored it.  Then again the TNX (10 year Treasury yield) says "no mas" on these figures as it continues its march higher, now over 2.3% and up 2.2% on the day.
May you live in interesting times.
Does anyone need any additional evidence that our political system is completely broken?  The bipartisan congressional supercommittee that was given two months to come up with at least $1.2 trillion in deficit cuts over the next decade has failed to reach an agreement.  It is an epic failure and a national embarrassment.  The truth is that they never even came close to an agreement.  In fact, as you will read below, the two sides on the panel have been barely even talking to each other.  In the end, the supercommittee was a super joke.  Meanwhile, the U.S. national debt has passed the 15 trillion dollar mark and we are facing trillion dollar deficits as far as the eye can see.  We are heading directly for a national financial disaster, and our "leaders" seem powerless to do anything about it.
According to the supercommittee's rules, any plan would have had to have been submitted to the Congressional Budget Office by Monday in order to give the CBO 48 hours to analyze how much the plan would reduce budget deficits over the coming decade.
When the supercommittee was announced, it made headlines all over the world, but now it is ending with a whimper.
The supercommittee was never a good idea in the first place, but you would have thought that they could have come up with something over the course of two months.
But instead all they are giving us are a whole bunch of excuses and a whole lot of hot air.
What a joke.
Is it really that difficult to come up with $1.2 trillion in cuts over a decade?
It isn't as if they would even be cutting very deeply.  $1.2 trillion in cuts would not even cut the budget by $150 billion a year.  We would still be talking about trillion dollar deficits way into the future.
But instead of agreeing to some token cuts, they have chosen to do nothing and to blame each other.
So now $1.2 trillion in "automatic budget cuts" will go into effect starting in 2013.  But even that $1.2 trillion figure contains a lot of "fuzzy math".  For example, it includes $169 billion in "projected savings" from "reduced interest costs" on the national debt.
I would love to see how they came up with that figure.
In any event, the truth is that none of these numbers really matter at all.
Why?
None of the budget cuts go into effect until after the 2012 election.  That means that this Congress can vote to repeal the automatic cuts well before then.
Some in Congress are already pushing for this.  For example, U.S. Senator John McCain said the following recently….
"It's something we passed. We can reverse it."
Or, even more likely, once the new president and the new Congress are elected in 2012 they will almost certainly choose to abandon this agreement.
When it comes to politics, the only thing that matters is what happens before the next election.
All of this talk of future cuts is just an illusion.  When the next president and the next Congress come to power, they will want to do their own thing.
So after all of the huffing and puffing over the last couple of years, what has actually been accomplished as far as reducing our horrific budget deficits?
Not much at all.
We racked up a $1.3 trillion budget deficit during the fiscal year that just ended, and this fiscal year we will be somewhere in the same neighborhood.
We have been living in the greatest debt bubble in the history of the world, and at some point all of this is going to end very, very badly.
The total amount of debt in this country (government, business and consumer) has been rising much, much faster than our national income has.  If you don't believe this, just check out this chart.
In particular, government debt is totally out of control.  When Barack Obama first took office, the national debt was 10.6 trillion dollars.
It is now over 15 trillion dollars.
We are in debt up to our eyeballs and we desperately need our leaders to do something about it.
But according to a recent Politico article, the members of the supercommittee haven't even been talking to each other….
The supercommittee last met Nov. 1 – three weeks ago! It was a public hearing featuring a history lesson, "Overview of Previous Debt Proposals," with Alan Simpson, Erskine Bowles, Pete Domenici and Alice Rivlin. The last PRIVATE meeting was Oct. 26. You might as well stop reading right there: The 12 members (6 House, 6 Senate; 6 R, 6 D) were never going to strike a bargain, grand or otherwise, if they weren't talking to each other. Yes, we get that real deal-making occurs in small groups. But there never WAS a functioning supercommittee: There was Republican posturing and Democratic posturing, with some side conversations across the aisle.
Can you believe that?
Could it really be true that they have not met since November 1st?
Is Congress really that much of a joke?
According to Real Clear Politics, the approval rating for Congress is sitting at about 12 percent right now.
After this, it may get even lower.
Instead of working on a solution to our problems, the members of the supercommittee have been busy going on television and telling us who to blame.
The following is a short exceprt from a recent article in the Washington Post….
Republicans on the supercommittee held a conference call Saturday morning, and aides said members from both parties continued to talk by phone. But neither side was predicting a last-minute breakthrough. Instead, seven panel members booked appearances on the Sunday talk shows, as both sides readied their best arguments for why the other is at fault.
Our politicians are obsessed with finding someone else to blame and with getting ready for the next election.
Meanwhile, the ship is going down and people are starting to panic.
And this is not going to look good to the rest of the world at all.  There is a very real risk that one of the other major credit rating agencies will decide to downgrade U.S. debt.
The second downgrade of debt is often more important than the first.  When the first downgrade happened, U.S. debt still had a AAA rating from the other two major credit rating agencies.
But after another downgrade, the average credit rating of U.S. debt will be less than AAA.  That will mean that U.S. debt will no longer be a cash proxy.  A lot of transactions that take place right now in the financial world would not be able to happen if that takes place.
So what do our leaders need to do?
Well, the truth is that we should recognize that they are in a really, really tough position.  Decades of nightmarish decisions have left us out of good options under our current financial system.
The reality is that members of Congress are damned if they do and they are damned if they don't.
This is what I mean – if we don't deal with our national debt now, everyone agrees that a massive day of reckoning is coming down the road.  Greece is an example of what happens when debt catches up with a nation.
However, if we did cut the federal budget very deeply right now, it would almost certainly bring on a huge economic contraction.
Right now, insane federal spending is one of the only things keeping this economy afloat.  If you were to suddenly pull half a trillion dollars (or more) of federal spending out of the economy, it would have a devastating impact.
A lot of people out there correctly argue for a huge reduction in federal spending, but they greatly underestimate the amount of pain that it would cause.
Let there be no doubt, all of this federal debt has enabled us to enjoy a "false prosperity" for several decades, and when we dramatically cut back on spending a lot of that "false prosperity" is going to disappear.
Our "real economy" is rapidly being gutted and America is becoming poorer as a nation every single day.  One way that we have been making up the difference is by going into almost unbelievable amounts of government debt.  When the government debt bubble pops, the pain is going to be enormous.
If you do not believe this right now, you will believe it soon enough.
Not that we should keep going into huge amounts of debt.
Every dollar that we "borrow" is actually being stolen from our children and our grandchildren.
In fact, that is what Thomas Jefferson believed.  According to Jefferson, when the federal government borrows money in one generation which must be paid back by future generations it is equivalent to stealing….
And I sincerely believe, with you, that banking establishments are more dangerous than standing armies; and that the principle of spending money to be paid by posterity, under the name of funding, is but swindling futurity on a large scale.
We have got to stop stealing from future generations.  If they get the chance, they will curse us for what we have done to them.
Anyone out there that supports our current system of running endless budget deficits is supporting a horrific crime against our children and our grandchildren.
But once again, we all need to clearly understand that when the borrowed money stops flowing out of Washington D.C., our economy is going to get much worse.
Are you prepared for the unemployment rate to double?
Are you prepared for foreclosures to soar to unprecedented heights?
Are you prepared for economic pain unlike anything you have ever seen before?
According to the New York Times, there are 100 million Americans that are either living in poverty or that are considered to be among the "near poor" right now.
So how bad will things get if we plunge into a depression?
Anyone that believes that we can drastically cut the federal budget and improve the economy at the same time under our current system is not being rational.
Just look at what is happening to Greece.  They implemented substantial budget cuts (although not nearly big enough to bring them to a balanced budget) and they have plunged into a nightmarish economic depression.
Right now, we are in a position where we are going to experience a horrific amount of pain whatever we do.  If we keep piling up debt at this rate we will experience a nightmare, but if we pop the debt bubble and try to live within our means we will also experience a nightmare.
There is a way out of this, but our politicians are not talking about it.  As I have written about previously, if the federal government abolishes the Federal Reserve and starts issuing debt-free money, we could eliminate our federal budget deficits, cut taxes and improve the economy all at the same time.
But nobody is even talking about debt-free money.
Instead, all of our politicians are talking about "fixing" the current system.
Well, let me tell you, it is impossible to solve our problems under the current system.  If we insist on maintaining our current debt-based financial system, it will only end in a massive amount of pain.
The American people need to get educated about our financial system.  They need to learn that the Federal Reserve and the debt-based currency that they issue are at the very heart of our economic problems.
Back in 1913, prior to the passage of the Federal Reserve Act, the national debt was only about $2.9 billion.
Today, our national debt is over 5000 times larger.
Debt-based central banking is a perpetual debt machine.  It is at the heart of our financial problems and it is also at the heart of the financial problems that Europe is experiencing.
Unfortunately, the American people don't understand this, and there are virtually no politicians out there that are even talking about this.
Very dark days are ahead for America.
You had better get prepared.
You may not recognize that it's over yet, but it is.
The European Financial Stability Facility (EFSF) last week announced it had successfully sold a €3bn 10-year bond in support of Ireland.

However, The Sunday Telegraph can reveal that target was only met after the EFSF resorted to buying up several hundred million euros worth of the bonds.

Sources said the EFSF had spent more than € 100m buying up its own bonds to help it achieve its funding target after the banks leading the deal were only able to find about €2.7bn of outside demand for the debt.
In other words the "success" of the debt auction was a lie.
The auction failed and the EFSF played with itself and then lied about what happened in order to make it look like the offering subscribed.
It did not.
It's over folks. 
The market may not recognize this immediately and you may not either, but the facts are what they are.  The game's up.  You cannot "sell debt to yourself" any more than taking a $20 out of one pocket and putting it in the other makes you $20 richer.
THE EFSF HAS FAILED.
Get ready; it's coming.
Europe has officially entered the Tropic Thunder zone, where one, forget one thousand , monkeys armed with one simple solar-powered calculator, can come up with a better plan than (JP Morgan-advised) Europe. Because as we pointed out on Thursday, "nothing changes the fact that with €100 billion set aside for bank recaps, a woefully low number and one which will do nothing to assure investors that banks have sufficient capital, there is still not enough cash to "guarantee" all future issuance" – well it appears that Europe finally did the math which led us to conclude that the EFSF is DOA.  So what is Europe's solution? Why double counting aid already pledged of course:  "EU bank plan may include aid already pledged to bailout states-sources." Uh, what? "A drive to lift bank capital across Europe by up to 110 billion euros ($153 billion) is expected to include the roughly 46 billion euros already pledged to Ireland, Greece and Portugal to help their lenders, EU sources told Reuters….
Another official confirmed the intention to count money already earmarked for banks in Ireland, Greece and Portugal in any recapitalisation plan. "The problem with shock and awe numbers is that it implies that the money is there," said one official, reflecting on ministers' reluctance to set public goals for recapitalisation. "But governments don't have the money."… Just as was repeated here over and over and over and over… And yes, that red stuff shooting out of the place where your head was a few second ago, is blood. It is now Europe's official "plan" (for at least the next 2-3 hours) to use mystical, magical money, which is somehow double-counted to bail out both a bank and a country at the same time…
Ugh:
If over a third of the EU's bank recapitalisation drive, which investors hoped would inject more than 100 billion euros of fresh money, is accounted for under old bailout programmes markets are likely to react with disappointment.

It would effectively shrink the overall package, designed to protect EU banks from the fallout of a Greek default and ease their borrowing difficulties amid a creeping credit freeze, from more than 100 billion euros to something around 60 billion.

It would also rest the burden for EU bank recapitalisation in large part on Spain, Italy and France, which one official said together accounted for roughly 45 percent of the overall shortfall found in recent checks of EU banks by supervisors.

The matter is due to be discussed in the run-up to Wednesday's second summit of European leaders and countries may yet change tack to increase the planned boost for banks.
…
Well, it's official: the lunatics have taken over the Titanic.