Archive for the 'Federal Deposit Insurance Corporation' Category
The Federal Reserve has been going back and forth with reporting from Bloomberg regarding the massive bailouts and loans made to the financial sector during the crisis.  What is rather astonishing is the ability to discuss trillions of dollars of loans made to largely irresponsible financial institutions with absolutely no oversight.  Like an angry couple on Maury Povich, only an objective outsider can see how dysfunctional the relationship has become.   All of this happened in the shadows.  What is more astonishing is a large amount of questionable assets that were shifted from bank balance sheets are still sitting comfortably in the balance sheet of the Federal Reserve.  This is not disputed.  Profits at banks are on the rise but it is hard to lose money when you have unlimited access to taxpayer bailouts and the ability to dilute the currency of the nation.  U.S. banks hold $9.7 trillion in deposits with a FDIC Deposit Insurance Fund (DIF) that currently has $7.8 billion.  Do the math on that one.
A glance of U.S. banking data
Here is a nice snapshot of U.S. banking data: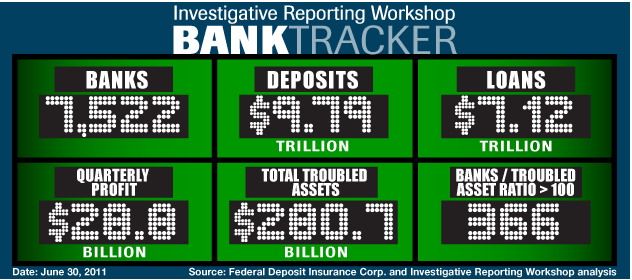 Source:  Bank Tracker
What is the most amazing fact is that over $9.7 trillion in deposits is backed by a measly $7.8 billion.  This is like trying to stop a hurricane with a paper napkin.  Most Americans are earning virtually nothing on their deposits at banks but what other options are available?  Should they enter the highly volatile and opaque stock market?  When a typical savings account is paying close to 0 percent it is hard to digest but the volatility of the stock markets for this entire year have rendered a nearly neutral result.  Even money market accounts have fallen strongly since the recession hit: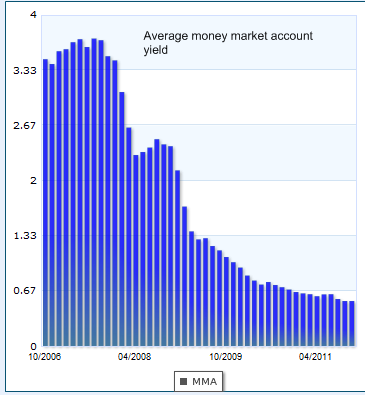 "The typical money market account is down over 80 percent since 2006.  It isn't like inflation has suddenly disappeared or that our debt problems have gone away like dust in the wind.  To the contrary the economy has gotten much more mired in a stagnating funk."
Banks are back at making profits but it is hard to lose when you have unlimited taxpayer bailouts: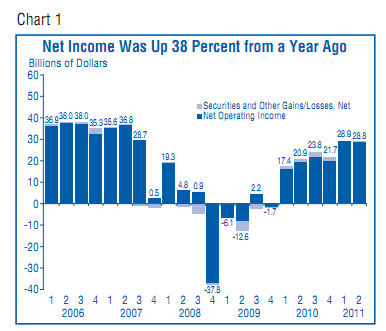 Source:  FDIC
While the Federal Reserve was trying to cast doubt on the results published by Bloomberg, they failed to address the massive amount of "assets" that remain on their balance sheet.
Read the rest at My Budget 360
The graphic below pretty much sums up Goldman's most recent quarter…
An unmitigated disaster, and worse than practically everybody on the Street anticipated, save that brash-ass blogging dude brandishing those old fashioned analytical weapons of choice… Two months or so ago (Monday, 22 August 2011), I penned the public blog post that also relased my most recent research on Goldman Sachs - The Squid Is A Federally (Tax Payer) Insured Hedge Fund Paying Fat Bonuses That Can't Trade In Volatile Markets? Who's Gonna Tell The Shareholders and Tax Payer??? -  as excerpted:
The chart below demonstrates how the volatility of the revenues from the trading and principal investments trickles down into volatility of the total revenues and profits of Goldman Sachs. I don't call Goldman the world's most expensive federally insured hedge fund for nothing!
And for those who haven't been following my Squid Hunting series, there's a lot more to come from those boys at 200 West Street. If you want to know what will happen next, just look at the first few pages of the lastest Goldman subscription docs (click here to subscribe):
After all, eventually someone must query, So, When Does 3+5=4? When You Aggregate A Bunch Of Risky Banks & Then Pretend That You Didn't?
| | |
| --- | --- |
|  I'm Hunting Big Game Today:The Squid On The Spear Tip, Part 1 & Introduction | Summary: This is the first in a series of articles to be released this weekend concerning Goldman Sachs, the Squid! In this introduction (for those who do not regularly follow me) I demonstrate how the market, the sell side, and most investors are missing one of the biggest bastions of risk in the US investment banking industry. I will also… |
|  Hunting the Squid, Part2: Since When Is Enough Derivative Exposure To Blow Up The World Something To Be Ignored? | Welcome to part two of my series on Hunting the Squid, the overvaluation and under-appreciation of the risks that is Goldman Sachs. Since this highly analytical, but poignant diatribe covers a lot of material, it's imperative that those who have not done so review part 1 of this series, I'm Hunting Big Game Today:The Squid On The Spear Tip, Part… |
| Reggie Middleton Serves Up Fried Calamari From Raw Squid: Goldman Sachs and Market Perception of Real Risks! | For those who don't subscribe to BoomBustblog, or haven't read I'm Hunting Big Game Today:The Squid On The Spear Tip, Part 1 & Introduction and Hunting the Squid, Part2: Since When Is Enough Derivative Exposure To Blow Up The World Something To Be Ignored?, not only have you missed out on some unique artwork, you've potentially missed out on 300%… |
|  Hunting the Squid, part 4: So, What Else Can Go Wrong With The Squid? Plenty!!! | Yes, this more of the hardest hitting investment banking research available focusing on Goldman Sachs (the Squid), but before you go on, be sure you have read parts 1.2. and 3:  I'm Hunting Big Game Today:The Squid On A Spear Tip, Part 1 & Introduction Hunting the Squid, Part2: Since When Is Enough Derivative Exposure To Blow Up The World Something To… |
| I actually show up in person! | |
My next post should also include research on the next bank that we have found that has been (again) overlooked by the market, the media and the sell side. Can we expect the same that we saw in BNP, Bear, Lehman, etc.? Well, paying subscribers shall find out forthwith.
I can be reached via the following channels, or directly via email:
I will be releasing the date (probably this week), location and time of the NYC meet and greet within the next 24 hours or so, so we can chat, drink, debate, argue and fraternize with pretty woman together in a trendy spot in the Meat Packing District or the Bowery (I apologize in advance to all of my female readers/subscribers). Those who are interested in attending should
email customer support
. There has been strong interest in the London meeting, enough to warrant the venue – I simply need to get the travel and venue organized due to a change of plans.
The tragedy of the too big to fail banking sector – over $1 trillion in deposits are over the $250,000 FDIC limit.  $6.5 trillion in insured deposits backed by $3.9 billion.
It is amazing how much ill placed faith is thrown into the current banking system when there is plenty of evidence of insatiable malfeasance.  The FDIC recently released its quarterly banking report and somehow dismal information was twisted as being positive.  Take for example the reality that $6.5 trillion in insured deposits are backed by $3.9 billion.  Does this give anyone any comfort?  What is even more staggering is you have $1 trillion in deposits above the $250,000 FDIC protection limit riding it out with absolutely no protection.  The banking sector is going to face dramatic problems ahead because the past issues of bad loans have yet to be realized.  Sure, accounting trickery and fancy financial magic can buy you a few years but ultimately you have to come to terms with the deep issues in the balance sheet.  The FDIC is overseeing an industry with $13 trillion in "assets" and only carries a $3.9 billion insurance fund.  It appears the wizard behind the curtain is blowing more smoke than ever.
$1 trillion in deposits with no protection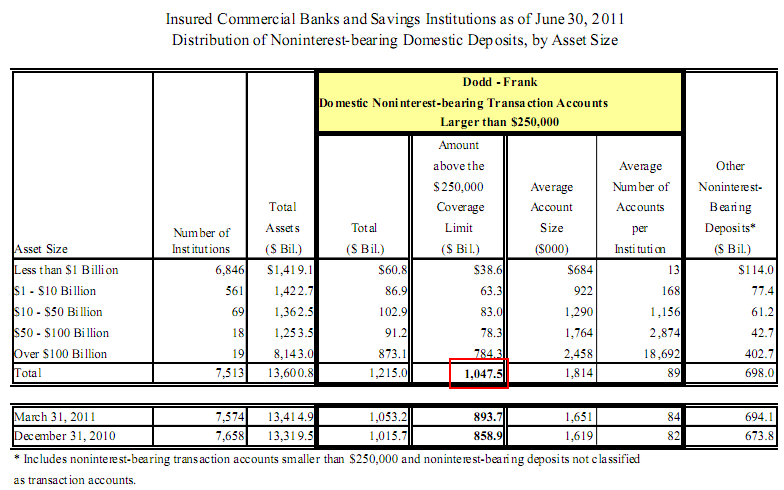 One of the upsetting revelations in the quarterly report is the fact that over $1 trillion in deposits are not insured by the $250,000 limit.  Most of these deposits are placed in the too big to fail institutions.  As you can see from the table above, the U.S. has over 7,500 banking institutions but only 19 with over $100 billion in assets.  Incredibly, these are the most problematic banks as well.  The vast majority of these deposits are simply out to sea with no sail.  This only brings up the issue of potentially more bailouts as if the trillions of dollars given to the banking sector were not enough already.  Look at how well the bailouts have helped the wilting economy.
Contrary to what the public is told, the banking sector is not in healthy shape.  Take a look at these too big to fail banks and how well they have done in 2011:

Many of the biggest banks in the country are down from 12 percent all the way up to 38 percent including the recent rally.  Bank of America with over $2 trillion in banking assets has fallen by a jaw dropping 38 percent.
Read the rest at My Budget 360
Oops:
FDIC OBJECTS TO BANK OF AMERICA MORTGAGE-BOND ACCORD
THE REASON FOR THE OBJECTION IS THAT THE FDIC DOES NOT HAVE ENOUGH
INFORMATION TO EVALUATE THE SETTLEMENT
Time to sell the other half of that China Constricution Bank stake… And Merrill… and Countrywide (goodluck), and pretty much anything else that is not nailed down. But don't worry: it's a liquidity, not a capital issue, or something. In other news, the Buffett "Eureka alert" is on BathCon 1.
Full FDIC objection attached:
I've not heard this yet in the MSM, and it's a serious miscalculation.
Note that since the "downgrade" rumors started the ten year treasury yield has dove.  You'd think it would do the opposite.  You'd be wrong.
The issue with the downgrade is not the fundamental risk of holding Treasuries.  The difference between "AAA" and "AA+" is nearly immaterial.
Rather, the problem is the capital calls it will generate within the banks and the impairment against capital from stock price declines.
We're now back to stock prices last seen in October – in less than two weeks.
The real problem though is in bank stocks like this:
Note that given the utter fraud of allowing a bank to count "equity value" as capital, when it cannot be spent and is subject to 10% or more swings in value in a single day, means that precipitous stock price drops like this can instantly render a bank insolvent.  We could have fixed that in 2008 and 2009 but of course that would have meant that banks would have had to actually go find capital from real people to make loans with, and that was unacceptable – so in addition to allowing them to "mark assets to fantasy" we also allow them to count as "capital" things you can't spend, thereby allowing them to generate profits from that phantom "capital" – and huge losses when the deception is revealed.
Incidentally that very scheme – counting as "money" things that aren't (in the original case capitalized interest on OptionARMs) was what set off my alarm bells on WaMu in early 2007.  If you remember they were paying out dividends (that's real cash!) with "money" that didn't actually exist (their cash earnings were insufficient; the rest of their "earnings" from which dividends were being paid was that capitalized interest.)  Of course we know how that turned out, right?  Yes, it took a while, but the outcome, given the behavior and enough time, was obvious more than a year before it all went to hell for them.
Oh yeah, check this out: 13/34 EMA on the SPX weekly is about to cross negative – a fairly reliable long-term BEAR MARKET timing signal.
Stock prices in general don't bother me much – you can trade either way. 
But if the banks threaten to blow again due to capital problems there is no ability to save them this time and you will lose your deposit money as the FDIC has no money and Treasury cannot borrow enough with the debt limits in the way to save even one of these monster banks, say much less all of them.
Most people, even smart people, know surprisingly little about the way money really works in Big Government. With the debt ceiling fiasco suddenly raising awareness of the possibility of a total global financial blowout, now seems like a good time to remind people of
seven disturbing facts
about money that are almost never acknowledge in the old media.
Fact #1 – There is no FDIC insurance fund.
The money at your bank is insured against loss by the FDIC's insurance fund, right? Nope. That's total fiction. There is no actual money in the fund. The FDIC insurance money has already been looted by the U.S. Treasury which has simply replaced the money with a bunch of IOUs.
Why does this matter? Because it means that if the U.S. government goes into default, so will the FDIC! And that means all your bank funds have zero insurance. That's gonna be a big shock for tens of millions of people when they finally figure this out one day…
Fact #2 – There are no social security funds, either.
When you pay social security taxes, all that money goes into a trust fund that's held for safekeeping until the day it pays you back, right?
Ha! That's the "sucker's view" of social security that only ignorant people believe. In reality, there is no money in the social security trust fund because it too has all been looted by the U.S. Treasury and spent. In truth, social security is already broke. Can't wait for people to wake up and figure this one out, either…
Fact #3 – The U.S. Treasury is stealing money from you every day, even if you pay no taxes!
Here's a mind-boggling truth that most people just can't seem to get their heads around: The U.S. Treasury is stealing money from you every single day by the simple fact that they keep creating new money and handing it out to wealthy banksters. Well, technically this is being done by the Federal Reserve, which isn't even part of the federal government. But it's all done in cahoots with the Treasury, which is eroding the value of your money through these money creation and distribution actions.
That's why prices keep going up all around you, folks: Food isn't suddenly worth more money; the truth is that your money is worth less! That's how the Treasury and the Federal Reserve steal from you without even breaking into your home.
Probably 99.9% of the population has no understanding of this phenomenon — the erosion of currency valuation through the centralized government printing of more currency.  And yet it is a government scam that has been carried out against citizens of the world time and time again, spanning millennia! As history has clearly shown, every nation that goes down the path of printing more currency to pay its bills eventually ends up in a runaway hyperinflation scenario followed by
economic collapse. The USA will be no different.
Fact #4 – The "balanced solution" isn't balanced.
Don't you love the quirky White House Press Secretary who keeps spewing out the phrase "balanced solution" even while the debt deal leaves the U.S. budget entirely unbalanced?
When you're spending more money than you're earning, that's not financial balance. When the White House says "balanced" what it really means is "compromised" — as in, half way between the Republican position (spend us into purgatory) and the Democratic position (spend us into oblivion). Neither party has any real solution to the cancerous growth of Big Government. That's because they are creatures of Big Government!
Politicians can no more solve the problems of Big Government than arsonists can solve the problem
of office fires. Because they are, themselves, creatures of runaway debt spending (how else do you get elected these days?), they simply do not possess the cognitive framework from which real financial solutions must stem.
Fact #5 – The government is going to steal everything from you before it collapses
Oh my, this is a tough one for people to get their heads around… especially those who naively trust governments to act in the interests of the People. The simple truth of the matter — and I've publicly made this prediction before — is that the government is going to STEAL almost everything you own as it heads toward a total financial implosion.
This will include:
• The government theft of private retirement accounts. The feds will claim they're taking them over "for your protection."  Yeah, right. And then one day they will simply all vanish. Kiss your IRA
goodbye…
• The government theft of precious metals. Within the next 3 years, watch for a national emergency to be declared, followed by government confiscation of gold and silver. The feds will take your gold and hand you paper money in exchange. The paper money, of course, will be all but worthless shortly thereafter. Only the suckers, of course, will actually turn in their metals…
• Government takeover of your bank accounts. As banks begin to fail in the big collapse, the government will step in and take ownership of the failed institutions, just as it did with Fannie Mae and Freddie Mac (which used to be publicly-owned companies but are now largely just government finance operations). This will put your bank accounts under the direct control of the White House, which can use executive orders to do things like banning all wire transfers out of the country or limiting daily withdrawals and transfers.  Sure, you'll still "own" your money in the bank, you just won't be able to freely access it!
Fact #6 – Most people have no idea about fractional reserve banking, derivatives, the
money supply or the Federal Reserve
It's not just that most
people
don't understand banking and finance; it's that even
members of
Congress
have no idea how all this works. With few exceptions (like Ron Paul), they're just clueless!
Get this: Even most bankers don't even know how fractional reserve banking really works. They don't understand derivatives, either, which is why they screwed them up so badly in the housing boom that crashed in 2007. And because bankers, investors and bureaucrats have no idea how it all works, they unwittingly turn it all into a runaway catastrophe.
Allowing ignorant adults to play with debt and derivatives is like letting infants play with nuclear weapons. It can only lead to something messy.
Fact #7 – Most people are betting their lives on the dollar
People buy insurance for their cars, their homes and even their health. But when it comes to money, 99 out of 100 people in America are betting their entire financial existence on the U.S. dollar! They get their paychecks in dollars, their savings accounts are in dollars, and all their assets are denominated in dollars. As a result, they have no diversity to protect them against dollar devaluation.
That's kinda crazy, considering just how quickly the dollar could collapse in the near future and become totally worthless. That's why smart people are diversifying their assets and converting
dollars into land, gold, silver or even storable food. Here in central Texas, even ammunition has a long-term barter value that far exceeds dollars.
Looking around at the financial behaviors of others, I'm just stunned at how many people are betting everything on the dollar because they never realized they had any other option (that's the way the government likes to keep it, of course!).
Coming soon: A huge national finance education of the masses
Mark my words, folks: The great financial collapse of America is now closer than ever.  While I can't put an exact prediction date on it, there's absolutely no doubt that it's coming. The morons in Washington aren't doing anything to avoid it, either — they're all just cashing in as much as they can before the big collapse rolls in.
Bunch of cowards and crooks running this country. They don't understanding banking and finance, and they're determined to make sure you don't either. Because the less you know about what's really going on, the longer they can continue to loot the U.S. economy while people stand around and do nothing.
How bad is the situation, really? Just yesterday, Vice President Joe Biden called Congressional Tea Party members "terrorists" for their insistence that the U.S. budget be balanced. So now, the mere idea of calling for a balanced budget turns you into a "terrorist" to be prosecuted under the Patriot Act.
And why not? Demanding financial sanity MUST be labeled an act of terrorism for our criminal government to continue its own criminal looting operation. Next we'll probably see the President ordering the arrest and prosecution of any members of Congress — i.e. "terrorists" — who do not go along with unlimited increased in the debt ceiling.
Now you see what the terrorism laws are really all about: They are legislative weapons to be used against political enemies, not actual terrorists. Meanwhile, Big Government is technically engaged in the use of financial weapons of mass destruction against the People, yet no one notices.
A bizarre world we live in, folks. It is dominated by the mindless masses and run by criminal sociopaths. Those who demand real solutions are labeled terrorists, and those who try to explain all this to everybody else are labeled "alarmists."
Just wait until this house of cards collapses, though. There will be a day of reckoning in which a whole bunch of apologies will be owed to all those people who tried to warn the nation what was
really happening (and where it would lead us).
Mike Adams for Natural News