Archive for the 'GDP' Category
The carrot of self-sustaining recovery will remain out of reach, for the policies presented as the path to recovery preclude the "virtuous cycle" everyone desires.
The enduring myth of the post-2008 era is that central-planning money printing and deficit spending would soon spark a self-sustaining recovery. Once consumers and businesses stepped up their own borrowing and spending, the central bank and state would then pare back money printing and deficit spending, as the increase in private-sector spending would fuel further borrowing and spending, i.e. become self-sustaining.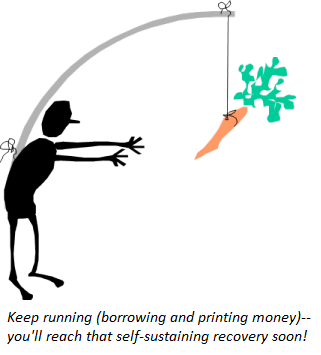 The reality is the mythical self-sustaining recovery is the carrot dangled in front of a credulous public: though we're constantly reassured "we're almost there" (the promised land of self-sustaining recovery), the mythical recovery remains out of reach, no matter how much money is printed or borrowed and blown in fiscal stimulus.
There are several key reasons for this.
1. As noted yesterday, consumption is not investment, no matter how many times you call consumption "an investment." Investment is planting one's seed corn (capital) wisely. Consumption ($300 million fighter aircraft, $70,000 biopsies, McMansions in the middle of nowhere, endless subsidies of housing and banking, etc.) is turning the seed corn into sour mash and indulging in a drunken orgy of squandered debt that cannot and will not be paid back in dollars with today's purchasing power.
2. Borrowing money (debt) yields diminishing return. There's this funny little thing called interest that piles up in a borrowing spree that eventually siphons off much of the debtor's income stream, effectively impoverishing the borrower.
There's another funny thing called mal-investment or mis-allocation of capital: when the borrowed money is nearly free (low interest rates), then even poor quality bets (oops, I mean "investments") get funded. This is especially true if the winnings are yours to keep but any losses you incur are covered by Big Brother–the Federal Reserve or the U.S. Treasury–and the taxpayers the government has indentured to the banking sector.
3. Debt that cannot be written down because that would impair the politically powerful financial sector remains a tightening noose around the throat of the economy. Capitalism requires creative destruction, which includes the liquidation of bad bets and unpayable debt. Since that is verboten in our State-managed crony-capitalism system, the impaired debt remains on the books, supported by endless government subsidies.
Both the phantom collateral and the subsidies derange and distort the markets, leading to further bad decisions as risk has been obscured.
4. As analyst Ramsey Su recently observed, It is obvious that the central banks of the world have printed too much money, (which) all went into the wrong hands and now has nowhere to go. In the oft-propagated myth of central bank intervention, helicopters drop cash into the economy to stimulate demand for goods and services, sparking the "virtuous cycle" of a self-reinforcing recovery.
But the money isn't dropped into households or the real economy–it's dropped into banks, which use it for speculation or funding cronies' speculations and asset grabs. If the Federal Reserve had wanted to do a real helicopter drop of money, it could have sent $10,000 in cash to every taxpayer. Instead, it lavished at least $23 trillion in subsidies, backstops and guarantees on the Too Big To Fail banks and the mortgage industry.
This neofeudal distribution of $7 trillion in new Federal debt to taxpayers and the Fed's trillions in "free money" to the parasitic financial sector has carved out a vicious cycle of lower real household incomes, higher interest payments and new asset bubbles in stocks, bonds and housing. These trillions of dollars in freshly issued money have flowed to financiers who have used it to chase yield in one asset class or another.
As a result of these neofeudal policies, the economy is now perched precariously on the edge of multiple asset bubbles and demographically impossible-to-fulfill promises of entitlements and other giveaways (such as mortgage/housing subsidies and a variety of corporate welfare scams).
The carrot of self-sustaining recovery will remain out of reach, for the policies presented as the path to recovery preclude the "virtuous cycle" everyone desires.
Charles Hugh Smith – Of Two Minds
When I first heard about the Cyprus ritual execution bailout, I had thought that the widespread predictions that the island nation's economy would contract by 20% to 30% over the next two years were off base.
I thought it would happen much faster, on the order of two to three months. An estimated 45% (mind you, 45%!) of the economy is banking, and almost all of that international banking. So if you generously assume 200% of the 900% of GDP was bona fide domestic assets (remember you have a lot of retirees), the other 7/9 goes poof. And that's before you get to the fact that a lot of the services provided to foreign customers (the higher-end accounting and legal services) will have no future in a purely domestic banking business. So assume 90% of that 45% disappears in short order.
That much of an economy vaporizing is a state change. It's not clear how Cyprus can regroup or recover even if the surplus international banking types could decamp. How do natives, whose money is presumably entirely in Cyprus (assuming it was not devastated by the hits to depositors at Laiki and Bank of Cyprus) emigrate with capital controls? How can they get their money out to make a new start somewhere else, if that's their inclination? Again, while the Cypriot government initially said that capital controls would only be in place a matter of day, no expert believes that. They anticipate they'll be in place for years to keep the remaining deposits from vanishing.
I did not make predict the speed of decline because the my assessment seemed too extreme. Surely I was missing something. Even though it looked to me as if Germany had done the economic equivalent of nuking half the island, and there would be knock-on effects from that level of devastation, I figured I had to be missing something in terms of how quickly the bad effects would take hold.
Well, maybe not. Recall that we predicted that depositors of over €100,000 in Laiki, the number two bank, would be wiped out. Reuters tells us that depositors with over €100,000 in the biggest bank, Bank of Cyprus, will have no liquidity (see boldface):
Big depositors in Cyprus's largest bank stand to lose far more than initially feared under a European Union rescue package to save the island from bankruptcy, a source with direct knowledge of the terms said on Friday.

Under conditions expected to be announced on Saturday, depositors in Bank of Cyprus will get shares in the bank worth 37.5 percent of their deposits over 100,000 euros, the source told Reuters, while the rest of their deposits may never be paid back…

Officials had previously spoken of a loss to big depositors of 30 to 40 percent….

At Bank of Cyprus, about 22.5 percent of deposits over 100,000 euros will attract no interest, the source said. The remaining 40 percent will continue to attract interest, but will not be repaid unless the bank does well.
Translation:
The over €100,000 deposits in Laiki are gone.
At the Bank of Cyprus:
The 37.5% of >€100,000 deposits being converted to shares is a seriously out of the money option. What would you value that at? Not much.

40% won't be accessible even under a best case scenario for years. The duration of time deposits is to be determined, and any returns depends on the bank's performance. And of course, depositors may not get it all back.

The remaining 22.5% may or may not be available in two to three months.
The New York Times' story is broadly consistent with the Reuters account, indicating that over 60% of deposits at the Bank of Cyprus could be toast:
Under the terms of the transaction, large depositors would have 77.5 percent of their savings turned into different forms of equity, with the rest remaining as a frozen, non-interest-bearing deposit that they would be able to access in the future.

If the bank does well, depositors would be able to sell their stock. But even in the best case, in which the bank thrives on the back of a quickly recovering economy — a long shot most economists believe — the loss is likely to exceed 60 percent and could well be much more than that.

Lawyers and bankers who have analyzed the transaction believe the ultimate loss to the depositor could be anywhere between 60 and 77.5 percent.
Notice that the Times doesn't buy the effort to pass off the "term deposit" that you maybe never see again and whose payout depends on performance as anything other than equity. It is silent on what happens to the remaining 22.5%. It does point out that nothing has been announced and final terms may therefore differ from the rumors.
Now remember, Laiki and Bank of Cyprus were the core of the payments system in Cyprus. And it would be very difficult for a business of meaningful size not to have over €100,000 in deposits. If you freeze a significant majority of the commercial balances, how can you operate? How can these businesses even survive and pay each other? By e-mail, Antonis Polemitis of Ledra Capital teased out the implications:
If the Reuters story is correct, for the purposes of liquidity on Tuesday morning, that is a 100% haircut.

If that is what they do, I am not sure how Cyprus can engage in economic activity on Tuesday without going to barter or scrips.

I mean, that basically will mean 100% of the large deposits (all the business accounts) at Laiki and BoC are lost or not available as of next week. The Laiki wipe out may have been survivable. If you wipe (for liquidity purposes at least), both Laiki and BoC, then we are not talking about whether or not GDP drops X%, we are talking about 'how do you actually engage in commerce?'

If they do this, there is little chance it can last more than a month — the economy will simply fail at even basic functions…
And if the plan has been accurately reported and plays out as Polemitis fears, it will undermine the "Cyprus is a special case" narrative. This Eurozone fiasco is making Geithner look good. The former Treasury secretary used the need to keep the confidence fairy alive as the excuse for any and every sop to the banks, from coddling miscreant executives to foaming the runway with mortgage borrowers to stealth bailouts. But the Eurocrats have completely ignored the impact of undermining confidence in the banking system. The fact that Cyprus has a decent-sized population of English retirees means that the British media will report on the Cyprus meltdown, which will be a stark contrast with Greece, where the economic devastation has not gotten the coverage it warrants. Grim accounts of the destruction wrought by the tender ministrations of the Troika should strengthen the position of the growing Euroskeptic sentiment in Italy, borne out by the success of Berlusconi and Grillo in the recent elections. Playing into the hands of Italian refuseniks should be the last thing Brussels and Berlin want. The cost of getting tough with Cyprus is likely to be far greater than they anticipate.
There seems to be a rather fundamental lack of understanding regarding what happened in Greece and what is going on in Cyprus right now.
Unfortunately that lack of understanding is intentional.  See, the debt merchants of the world, despite publishing voluminous statistics that prove their schemes are unsustainable and foolish, continue to prattle on about how we must have "shared sacrifice" and such similar pablum in order to "save" people from what are claimed to be "accidents."
People like Bernanke, LaGarde, Merkel and the other merry merchants of economic destruction must be praying every night that you do not bother to sit down with a calculator and sheet of graph paper, or worse a computer that replaces both (and makes the job easier), because if you do, whether here in the United States or in any other nation you will instantly see what has been done over the last 30 years — and what has to be done now.
That is the day in which these people fear for their political if not literal necks, because once a critical mass of the population understands what has been done they will also understand that (1) it was not an accident and (2) what is being done now cannot possibly work.
About 30 years ago, if you remember, we had a nasty inflationary problem that was stoked by an oil shock.  But the problem did not originate there — it came from a wage-price spiral that was initiated by those who believed that extracting ever-larger pieces of the economic pie to redistribute to others could be "absorbed" in some form or fashion.  As the people's real purchasing power declined they demanded larger wages, and at the time there was sufficient union negotiating power to force those wages upward.
But that didn't work out because for virtually every business the largest component of cost in the goods and services it provides is found in labor.  As a result those demands for higher wages were met but they immediately translated into higher prices, which resulted (once again!) in lower purchasing power in real terms.  That is, the goal to be able to buy more eggs or gallons of milk with an hour's labor failed.
So once again the workers threatened strikes, and once again wages went up.  And so did prices.  Oops.
There is a common misconception that Volcker "choked off" this cycle.  He did no such thing.  The market discerned that due to spiral of destruction in purchasing power credit had to be priced far higher than it was, and interest rates — especially time-sensitive ones — went much higher.  Volcker followed that rather than fighting it, making all sorts of noise about how he was "in charge."
You are wrong if you believe the narrative that he was in charge.  He was not able to overcome the market — nobody is, not even a Fed chairman.
Notice that the red line, the MARKET rate for 13 week T-bills, moves ahead of the FOMC in most instances.  Volcker was not in control — the market was.
This alarmed him.  It alarmed the "monetary authorities."  But worse, at that time there was a serious problem brewing overseas that was about to ensnare our banks — the Latin American debt crisis.
Citibank, along with others, had made a lot of loans to nations south of our border.  They had performed little diligence on the ability of their economies to pay back the money owed, and in fact they couldn't pay.  As this became apparent it threatened to collapse our largest banks.
The decision was taken to intentionally ignore the fact that these bonds, which our banks owned and which were not going to be repaid as agreed, were impaired.  That is, our banks were given explicit permission to lie for an extended period of time about their solvency with the expectation that they could "earn" through the imposition of outrageous fees and costs on others, enough to return themselves to solvency over time.
This was the beginning of the modern financial scam that has been run serially since by governments around the world, which now threatens to blow up the EU, and which if we do not stop it will eventually blow up the United States.
At its core this premise is a fraud — that one can pretend to be able to pay tomorrow for something you have today, and it's perfectly ok as a consequence tolie about your credit quality.
THAT is Volcker's true legacy – explicit and intentional support of financial frauds.
Thus began this age in America:
This graph is very simple.  It represents, from Fed Z1 and BEA GDP data, the gross amount of change, in dollars, for each quarter in both debt outstanding across all sectors of the economy and the gross change in domestic output.  You will notice that for each quarter up until the crash there was never a change in output for even one three month period that was not simply bought on a credit card.
That is, the real change is negative becasue otherwise you are counting a given dollar twice!
That green line is the actual quarterly changed in domestic output created by economic surplus – that is, not borrowed with a claim that you'll pay tomorrow.
We have created a 30 year long deficit in this regard and the debt that we created in order to do so remains.
The reason there is no economic growth to speak of is that the convergence point is in fact right near zero!  As you can see post 2007 when the crash occurred every time you try to start spiking credit creation upward again the economy turns south in nominal terms.  You saw it in 2010 and now you're seeing it again as the early 2012 credit spike has led to a collapse in nominal GDP.
The monetary and fiscal authorities are trying to restart what they did from the 1980s through 2007 but it is not working.  It is not working because it cannot work; the consumer is debt-saturated and either unwilling or unable to lever up while making the payments, even temporarily, and every time this is attempted the economy responds by contracting.
We now have five years of empirical evidence in the form of hard data that what I claimed back in 2007 — that this model would not work because it could not work — is correct.
Greece and now Cyrus also refused to abandon this "business model" even though they had the same data available to them that I have here.  They continued to press the issue until it enveloped their governments.  They were egged on and in fact defrauded by multiple actors including those who proclaimed that their banks were "healthy" and "passed" stress tests despite having knowledge that the collateral they were posting was trash and almost-certain to become worth less — or worthless entirely.
When the known-in-advance event occurred those same entities proclaimed that these governments now had to cede sovereignty despite being the very entities that took the collateral knowing it was junk and did not haircut it nor throw it back.
This is very much like having someone come into your gas station asking for a gallon of gasoline to commit arson with, giving it to them and then claiming innocence when they burn down a nightclub and murder 80 people.  
You might be able to get away with that if you had no knowledge of what was going on but when you willfully and intentionally accepted and continued to accept garbage as "good collateral" this excuse is knowingly false.
There is no path forward for Cyprus (or Greece), or for that matter any other nation with a debt addiction that resides in any other path than repudiating the excessive debt.  Yes, that means defaulting.  It means that people must lose their money, and the people who lose should be those who bought or took as collateral blown debt instruments.  In the case of Cyprus this means the ECB and European banks who bought and are holding the crap paper that was known impaired at the time of posting and remains so.  If the ECB and European Banks refuse to accept these facts then their members must be indicted, tried, convicted and hung for their act of knowing and intentional gross fraud that was intended to and now has led to the looting of the public.
In the case of the United States we still have a monstrous amount of debt that must be removed from the system.  We cannot "earn out way out of the hole"because the economy is not capable of generating sufficient organic growth to do so; it has all been debt-financed!
If we do not stop expanding the size of the Federal Government we will wind up in exactly the same place that Greece and Cyprus are, except that there is no "sugar daddy" in the form of the ECB and Germany to "dictate terms."  Only disorderly collapse awaits us if we do not cut this crap out, and do it now.  We cannot slow the rate of expansion we must stop it – here, now and today.
We are far more fortunate than Cyprus, at least at present.  Our imbalance is almost-entirely centered around health expense.  We can take apart the medical monopolies and schemes simply by restoring the rule of law to those entities where they are currently exempt, restoring open competition, demanding level and published pricing and let the market work.  The medical system's share of the economy will collapse by 75% or more overnight.  This will result in much short-term pain but it will be over almost as fast as it began as those resources will get redeployed in other areas of the economy — our competitiveness globally will skyrocket as that parasitic drain on our productivity will evaportate.
If we do not act, however, and further institutionalize the imbalance that is choking us to death then we will have the same thing happen here that is occurring in Cyprus.  The medical industry is to our nation what the offshore banking industry is to Cyprus, and it uses the same sort of subterfuge and legal privilege granted to those banksters in collusion with the ECB.  That is, just as the Cyprus banks posted collateral with the ECB and other Target2 institutions that both knew was impaired and yet did not force it back on the holders (thus putting a stop to the spiral before it gained critical mass and trashed their economy and nation) if we do not stop our medical firms from pulling the same crap, charging people $39,000 for a vial of antivenom that they paid $4,000 for, and which cost $100 in Mexico at the manufacturer — or charging one person $1,700 for an MRI scan that another pays $250 — we will meet the fate of Greece and Cyprus because the net impact of these policies is to drive government expansion well beyond the economy's size and that will result in the destruction of our economic system.
There are those who have argued with my economic analysis over the last five or so years and said that we'd manage to get through this without having to take the leverage out of the system and that "it will all be ok if we just rescue X."
The data is now in — the old model from the 1980s of using debt leverage to "generate" economic growth no longer works as it has been run to exhaustion, exactly as I put forward more than five years ago, and despite five full years of refusal to accept this and reform the system the facts are now on the table that even with all sorts of "extraordinary policy" such as QE and zero interest rates a restart of the debt-leverage system has repeatedly failed and every attempt to do so is quickly met with a decline in nominal GDP, not an advance.
WE MUST STOP NOW WHILE THERE IS STILL TIME TO DO SO.
To much fanfare, Paul Ryan's budget proposal is highlighted in the Wall Street Journal this morning.   Much cheering is being done by the 'conservatives' (Yay! Spending cuts!) while there is much hand-wringing being done by the other side (Oh-noes! Cuts are too big!).    Is EITHER reaction merited?  Well, I decided to pose the question to a 5th grader after cutting through much of the political-speak in the WSJ article.  Let's boil it down to very simple, 5th grade math.  This requires an understanding of simple addition, subtraction and the concept of greater than and less than.  ( +, -, <, >)  Most children have a relatively firm grasp on this by the 4th or 5th grade.
Paul Ryan's budget states that he would reduce spending from the current 5% annual increase to a mere 3.4% increase.  He claims that this reduction in the rate of spending will result in a balanced budget by 2023.  Well, for this math to work, it would mean that GDP (that which we produce or make) must exceed the rate of spending.  In other words, GDP growth must be substantially greater than the 3.4% rate of spending.   Therefore, annualized GDP growth must be a minimum of 5% over the next 10 consecutive years in order for Paul Ryan's proposal to actually 'balance the budget' by 2023.  Keep in mind, this 5% growth must occur in each and every successive year up until 2023 for Representative Ryan's bill to actually balance the budget.  That means, not just two or three years, but TEN years of consecutive 5% growth.
Let's see if this is a realistic expectation.  We will look to the government's own historical records of United States GDP.
The last time we had even one isolated occurrence of 5% growth was in 1968.  It was a one-time thing and has not been repeated since.   As a matter of fact, since 1973 we've hardly managed to hold above 3% growth.   In addition, for the past 8 years, GDP growth has been SUBSTANTIALLY UNDER 3%!  Regular readers of this site will also know that economic indicators have not and do not foretell any increase in GDP growth in either the near or medium-term future.  So, the likelihood of growth remaining at 2% or LESS for the foreseeable future is actually quite high.
So, I posed the following question to a 5th grader:  If the annual spending increase is 3.4% and the annual growth is 2%, can you get out of debt?  Is 3.4 < or > 2?  In other words if you earn $10 per week in allowance, but spend $24 a week, will you get out of debt or get further in debt?  Is 24 < or > than 10?
5th grader's answer:  I'll be bankrupt.  Oh, and even if we could get 5% growth and this budget 'worked'…..I'LL BE TWENTY IN 2023!!!  This whole thing is dumb.
I would agree.  How long will we allow politicians to lie to us, hoping we can't do simple math?
Here's the bottom line folks:
These are the major spending items in the US Budget, from 1980 to today.  I am ignoring all the ones that don't matter, and I'm also intentionally leaving in one foil often used by both sides of the debate for scale purposes (Education.)
Of particular interest (and alarm) is Welfare, which doubled from 2007 to 2010.  But — it appears to have come down some in the least two years and change.  Therefore, while this is a problem, it is not the emergent one.
Those are the three categories on the top — Pensions (Social Security, mostly), Health Care and Defense.
One of them is discontinuous — Defense.  It is possible that the rough tripling from roughly 1998 to today has stopped.  If so then its impact on what is to come is not material.
Before you protest, please read the rest of this.
That leaves two categories — "Pensions" and "Health Care".
Note the right scale graph, the purple dashed line.  This is the reason that the so-called pundits, from Bernanke on down, all argue that we must deal with this sometime in the reasonable future, but right now we're not about to hit the wall.  That is, GDP is rising in rough conformance with those three major contributors to the government's spending profile.  And it is GDP (in one form or another) upon which all taxes are levied.  Therefore, by first appearance, they argue, we are not about to have an imminent crack-up.
They're wrong.
Note the category called "interest" and that it has been rising much slower that has the debt over the last few years.  It tracked the debt growth until approximately 1996.
This is when active manipulation took hold by both The Fed and Government.
It is when, approximately, we transferred from growth in the economy to debt-financing for consumption.
Now I want to project out a few other assumptions just a couple of years.
First, I will project forward both Pensions and Health Care to 2015, along with the Debt.
I'm assuming defense remains constant.  This is probably unrealistic given the screaming coming from the DOD right now, but let's assume it in order to give the budget folks the benefit of the doubt.
Note that our public debt has exceeded $20 trillion.  Note also that we have added $355 billion in annual expense to the budget and exactly none of it is discretionary.  The so-called "sequester", at $80 billion a year, is (by the second year) less than one quarter of this amount, and that assumes that every penny of it sticks.
Now I want to make one final assumption — The Fed loses control of interest rates because it is forced to abandon its programs due to either runaway "inflation" or the ongoing destruction of purchasing power in the American people's lives.
That ongoing destruction is happening now and it is responsible for the zero GDP print last quarter.  This is an emergent problem, not one for the future two, three or five years down the road, because without growing GDP that purple line does not go upward and the alleged ability to cope with the growing expenditures instantly evaporates.
That's the bad news.
The worse news is what happens if The Fed is forced to back off.
Let's assume that the One Year T-Bill rate goes back to the midpoint of its historical range (not including the 1980s discontinuity), or about 3.5%.  What happens?
The expense profile of the government does not rise by $355 billion in mandatory spending, it rises by nearly $900 billion annually in just two years time!
This increase is approximately one third of all tax revenues and into a flat GDP there is no chance of collecting the taxes necessary to fund it.
That in turn will provoke a discontinuous interest rate move.
Pensions we can fix; OASDI can be repaired.  We did the first piece of it with the expiration of the payroll tax cut that was (foolishly) passed.  The rest is handled by indexing (now!) the retirement age to longevity.
The medical spending problem cannot be fixed within the government alone.  It has to be addressed in the medical system as a whole.  In short, the medical system must contract in terms of dollars spent by about 80% and then rise at no faster than GDP in the future.
This has to happen now.  It can happen now, but doing so is a political nightmare.
We cannot do this in the future.  We cannot do this over a period of 10, 20 or 30 years.  We must do it right now, this year, today, in the present tense.
There is no other option and I don't give a damn how much the medical providers, hospitals and lobbyists scream.
"Scotty, I need warp power in 2 minutes or we're all dead." 
Really.
Yes, I'm fully-aware that the government and Fed will try to "kick the can" in some way, even if they see this as the imminent outcome of their acts.  But any further "can-kicking" just makes the problem worse by compounding the debt and expense profile even more.
Some of the back-of-the envelope numbers I had been working with gave us until about 2020 or thereabouts before the discontinuous spike occurred.  Those models were ones that I tweaked back in 2007 and were the reason for my alarm at the time — we had less than a decade left before the impact started.
But now we have both Europe (which is falling back into recession), Britain (which is an utter basket case) and Japan, which has effectively declared that it will debase its currency and destroy the purchasing power of its citizens into a depleted savings base.  In addition we have what is now a known set of outcomes from Obamacare, which I predicted would be an utter disaster and for many people would double their health care expenses (mostly insurance) and which is now known to be correct.
This changes have forced updates to those graphs and expectations and unfortunately they have pulled forward the "aw crap" date to as few as two years from now.
Note that these are quite-conservative estimates.  If defense spending rises from here then it's even worse.  If welfare spending rises (E.g. more food stamps anyone?) then it's even worse.  If we subsidize more student loans, it's even worse.  This estimate and work assumes that no other part of the federal budget increases by one single net penny — a ridiculously conservative set of assumptions.
If the corrective actions aren't taken in the immediate present tense then what you're looking at is the outcome that will happen, and when that outcome occurs immediate collapse of the government's funding model is assured. 
This is not speculative — it is arithmetic.
The only option The Fed would have would into such an event would be to try to "QE" the difference via what at that point amount to completely-phony auctions and "open market operations" on top of what it's doing now — that is, roughly double the destruction of purchasing power that is taking place today via their "QE-to-infinity."
But that simply transfers the deficit to the population directly via that destruction of purchasing power and it falls almost-entirely on the bottom two quintiles of the income spectrum.
That's a recipe for a nearly-guaranteed civil war as you will generate over 100 million Americans with nothing to lose.
Raw chart data from usgovernmentspending.com, traceable to US Budget data (official)
A glance at headlines over the past few months and there is little mention of anything but Europe's periphery struggling but market performance implying that a turnaround is about to occur. Most of this is based on a belief that the core is doing 'well' and that the periphery is gradually becoming more competitive. However, as if elections were not enough to worry Frau Merkel, it turns out, as Diapason's Sean Corrigan notes,Germany's Industrial Production, stymied by a surging EUR, has just suffered its third biggest quarterly decline on record - plunging back to 2007 levels. Furthermore, France's Industrial Production is back at levels first seen in 1997 – also plunging (perhaps explaining Hollande's recent exclamations at EUR strength); as the core is starting to soften significantly.
Charts: Bloomberg