Archive for the 'income' Category
Federal Reserve ZIRP has essentially destroyed household income growth: Households headed by those 45 to 54 see their real household income growth drop by 16 percent from 1999.
The Federal Reserve has pursued a zero interest rate policy as a mechanism for pulling the US out of the financial crisis.  Interestingly enough low rates and heavy speculation were part of the cocktail that led us into the crisis in the first place.  Ben Bernanke recently mentioned a bit of concern that speculation is once again entering the markets.  The Fed of course is always cautious in their wording including saying things like sub-prime loans were no issue in 2007 right before the economy tanked.  The Fed is truly in uncharted territory here with a balance sheet of$3.3 trillion and nationwide with incomes stagnating, the ZIRP move by the Fed isn't exactly helping the middle class.  A modest amount of inflation is disastrous when you are seeing your income stuck in neutral or seeing it move in reverse.  Even older Americans are seeing tougher challenges (although young Americans have faced the brunt of this recession).  What is the aftermath of ZIRP?
ZIRP and Incomes
It is no mystery what the Fed has done with interest rates: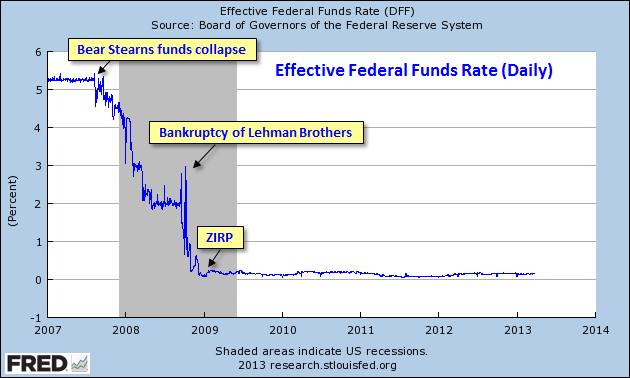 Keep in mind that in 2007, interest rates were brought back up after the insanity that was brought on by the first housing bubble. Yet by the time the Fed raised rates in 2007, it was already too late.  Ironically, the Fed decided at this point to fight the current fiscal crisis with what essentially led us into the crisis before.  Low rates that encouraged massive speculation were once again introduced into the market.
Today the low rates are creating massive speculation in the real estate market by large banks and hedge funds.  Yet this time, the interest is with rental properties.  It is clear that overall, many Americans are being edged out either by rising rents, property values, or the inability for a family to even purchase a home.  Part of this also comes from the Fed's balance sheet allowing banks to put naughty loans into perpetual purgatory.
We often read that older Americans have done well in this recession.  We even hear a sigh of relief since the student debt problem is one for the youth (assuming you don't care about the financial future of your kids).  Yet looking at income growth it isn't exactly clear that this group has done well: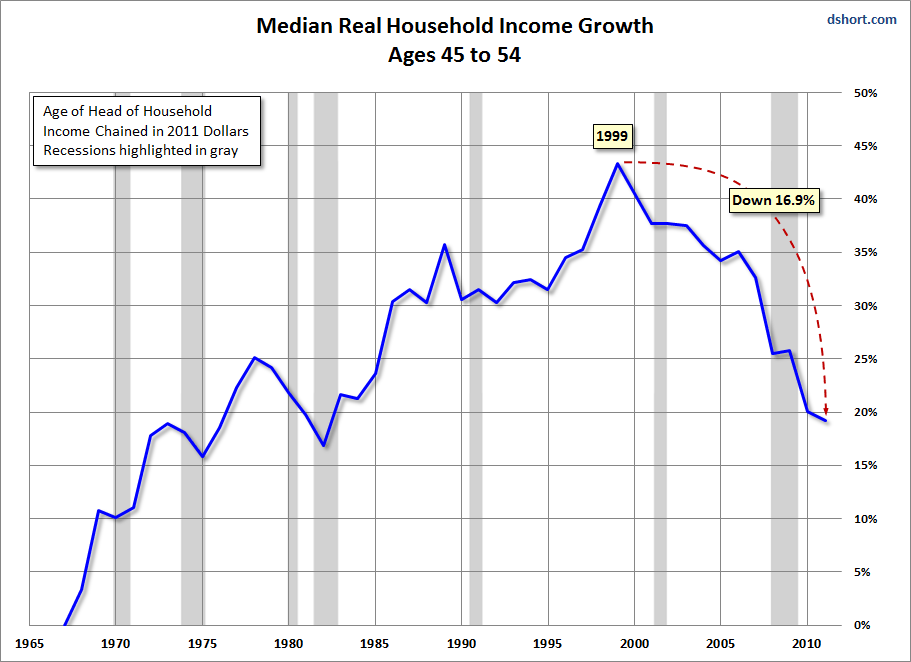 Real household income growth has declined by 16 percent for households in the 45 to 54 age range.  This is important because this age group rode two very important periods in our economic life cycle that are important.  They had a massive bull market for stocks but also had a chance to get in early on the tech bubble and also, the housing bubble.  While a good portion of this wealth has evaporated into thin air, time in the markets is one big way to win.
Read the rest at My Budget 360
Financial promises made under different conditions and assumptions are null and void, period.
Essayist Eric A. touched on a key theme of the next decade in his two-part series A Brief History of Cycles and Time, Part 1 and Part 2: the political, social and financial dominance of the Baby Boom generation, and the eventual erosion of that dominance.
The promises made to the 76 million baby Boomers cannot be met. It's really very simple: promises made when the economy was growing by 4% a year and the next generation was roughly double the size of the generation entering retirement cannot be fulfilled in an economy growing 1.5% a year (and only growing at all as the result of massive expansions of public and private debt) in which the generation after the cohort entering retirement is significantly smaller.
Just look at this chart: demographics is destiny, and the so-called Silent Generation (roughly those born 1925 – 1942) currently drawing Social Security and Medicare benefits is somewhere between half and 2/3 the size of the Baby Boom.
Meanwhile, Generation X that follows the Baby Boom is almost half the size of the enormous cohort currently entering retirement. Sorry folks, the numbers don't add up, no matter how you finesse them: a smaller working population in a low-to-zero growth economy burdened with fast-rising debt cannot fund the pay-as-you-go retirement of 76 million citizens, fully 25% of the entire U.S. population.
(Recall that Social Security, Medicare and all other entitlements are pay-as-you-go. There is no trust fund; the current benefits are paid in full by taxes paid by current workers/taxpayers or by Federal borrowing via the sale of Treasury bonds.)
(The numbers and dates of generations are inexact; the Silent Generation, for example, is assumed to have missed serving in World War II but my father was born in 1926, joined the U.S. Navy in 1944 and was on a LST preparing for the invasion of Japan in early 1945, so this is not true of all Silents. The Baby Boom is typically defined as those born between 1946 and 1964, but many of those born in 1959-64 do not feel they belong to the "earlier" Baby Boom, and so some people divide the Baby Boom into two cohorts, or start Generation X in 1961. The lack of precision does not change the basic demographics.)
Everyone takes the present trend, takes out a ruler and pencil and projects it into the future, as if current trends will continue in a straight line. But they never do; the world is dynamic and trends change and reverse.

I have been surprised by the deep emotions that arise out of our cultural Id when generational characterizations and conflicts are openly discussed. Perhaps this is why these issues and feelings are rarely aired in the mainstream media.
In the free-form blogosphere, these officially inconvenient (i.e. suppressed) emotions are expressed, and these few honest expressions garner large audiences and a great many highly charged comments.
My position on the entitlements promised to the Baby Boomers has been clear since 2005 (Boomers, Prepare to Fall on Your Swords June 2005): demographics, the changing job market and the destructive consequence of financializing the U.S. economy render the entitlements promised (Social Security and Medicare) unpayable.
The current 115 million full-time workers cannot sustainably support the 110 million people currently drawing Social Security and Medicare/Medicaid–and the number of retirees entering these entitlement program will rise by millions in the decade ahead.
This worker-beneficiary ratio (already 1-to-1) will only become more unsustainable as Baby Boomers retire and the forces of The End of Work erode full-time jobs The End of (Paying) Work (January 21, 2009).
The Promises That Cannot Be Kept (July 6, 2011)
That Which is Unsustainable Will Go Away: Medicare (May 16, 2012)
The generation in power has the biggest stake in retaining the status quo.Anything that threatens the status quo threatens their power and all that has been promised to them by the status quo.
As a result, any real reform that reduces entitlements to a sustainable level is politically dead on arrival (DOA). Reform is thus as impossible as paying the promised entitlements.
Though he is often presented as belonging to a new generation, President Obama (born 1961) is a Baby Boomer in age, outlook and politics, accepting the fantasy that 25% of the nation can draw hefty, open-ended benefits from Medicare indefinitely.
The solution is to work backwards from what the current generation of workers can afford to pay, not to work forwards from promises made when things were different. The pool of money that can be skimmed from the productive economy via taxes to pay for national defense, the care of veterans, education, welfare in all its forms, corporate and individual, all the myriad departments of government and Social Security pensions and Medicare is not unlimited. Difficult choices will have to be made, and what was promised decades ago is not the key consideration: what is foremost is the sustainability of the nation as an ongoing concern, which means focusing on the generations coming of age and those shouldering the tax burden going forward.
It is a truism of the entitlement mindset that the greater the entitlements promised and offered, the greater the resentments and self-absorption of the beneficiaries. I have often written about the state of permanent adolescence the Savior State/entitlement mindset engenders:
Our Many Layers of Entitlement (September 29, 2011)
The State, Dependency, Addiction and Reciprocity (September 28, 2010)
Opting Out and the Culture of Entitlement (March 29, 2010)
Entitlements, Taxes, Inequality and Three-Way Class Warfare (September 20, 2010)
Tyranny of the Majority, Corporate Welfare and Complicity (April 9, 2010)
Entitlements and the Federal Deficit (February 5, 2011)
We desperately need an adult discussion focused on reality rather than resentment. The solution will require dismantling open-ended, everyone-deserves-everything Medicare, which will bankrupt the nation itself. The solution is currently "impossible": The "Impossible" Healthcare Solution: Go Back to Cash (July 29, 2009)
As for pay-as-you-go Social Security, it will have to be means-tested: those drawing thousands of dollars a month in other pensions will have to let go of "what wuz promised" so other Boomers who have only Social Security can receive their full benefit. What exactly is so difficult about that?
I am a Baby Boomer, born 1953, and I hope our generation musters the courage to face reality and the need for re-assessment and adjustment and yes, the word that is tossed around in endless lip-service but avoided in the real world, sacrifice. Anything less will be a generational failure of monumental proportions.
I refuse to burden our children and grandchildren with mountains of debt so I can get the full measure of "what I wuz promised." Financial promises made under different conditions and assumptions are null and void, period. Reality trumps "what wuz promised" every time.
What nobody dares say is that if the 76 million Boomers press their claims to the point the nation is bankrupted, then the next generations (X and Y) will have to wrest political power from the retirees, not for their own sake but for the sake of the nation and for the generations behind them.
Charles Hugh Smith – Of Two Minds
Higher Numbers of Americans Take Their Lives than During the Depths of the Great Depression
Suicide rates are tied to the economy.
The Boston Globe reported in 2011:
A new report issued today by the Centers for Disease Control and Prevention finds that the overall suicide rate rises and falls with the state of the economy — dating all the way back to the Great Depression.

The report, published in the American Journal of Public Health, found that suicide rates increased in times of economic crisis: the Great Depression (1929-1933), the end of the New Deal (1937-1938), the Oil Crisis (1973-1975), and the Double-Dip Recession (1980-1982). Those rates tended to fall during strong economic times — with fast growth and low unemployment — like right after World War II and during the 1990s.
During the depths of the Great Depression, suicide rates in America significantly increased. As the Globe notes:
The largest increase in the US suicide rate occurred during the Great Depression surging from 18 in 100,000 up to 22 in 100,000 …
We've previously pointed out that suicide rates have skyrocketed recently:
The number of deaths by suicide has also surpassed car crashes, and many connect the increase in suicides to the downturn in the economy. Around 35,000 Americans kill themselves each year (and more American soldiers die by suicide than combat; the number of veterans committing suicide is astronomical and under-reported). So you're2,059 times more likely to kill yourself than die at the hand of a terrorist.
NBC News reported in March:
Suicide rates are up alarmingly among middle-aged Americans, according to the latest federal government statistics.

They show a 28 percent rise in suicide rates for people aged 35 to 64 between 1999 and 2010.
RT reports:
In a letter to The Lancet medical journal, scientists from Britain, Hong Kong and United States said an analysis of data from Centers for Disease Control and Prevention indicated that while suicide rates increased slowly between 1999 and 2007, the rate of increase more than quadrupled from 2008 to 2010, Reuters reported.
Earlier this month, NY Daily News wrote:
The Great Recession may have been at the root of a great depression that caused suicides to soar among middle-aged Americans, a government report speculates.

The annual suicide rate for adults ages 35 to 64 spiked in the past decade, according to a study from the U.S. Centers for Disease Control and Prevention.

And a shaky economy that nose-dived into the worst financial crisis since the Depression may be the biggest reason why.

***

The CDC's Morbidity and Mortality Weekly Report said the annual suicide rate jumped 28.4% from 1999-2010.

It was the biggest increase of any age group, said the CDC, citing "the recent economic downturn" as one of the "possible contributing factors" for the increase.

"Historically, suicide rates tend to correlate with business cycles, with higher rates observed during times of economic hardship," the report said.
David Stuckler (a senior research leader in sociology at Oxford), and Sanjay Basu (an assistant professor of medicine and an epidemiologist in the Prevention Research Center at Stanford), write in the New York Times:
The correlation between unemployment and suicide has been observed since the 19th century.
(And see these articles by the Wall Street Journal and the Los Angeles Times.   This is obviously true world-wide.  For example, last year the New York Times reported:
The economic downturn that has shaken Europe for the last three years has also swept away the foundations of once-sturdy lives, leading to an alarming spike in suicide rates. Especially in the most fragile nations like Greece, Ireland and Italy, small-business owners and entrepreneurs are increasingly taking their own lives in a phenomenon some European newspapers have started calling "suicide by economic crisis."

***

In Greece, the suicide rate among men increased more than 24 percent from 2007 to 2009, government statistics show. In Ireland during the same period, suicides among men rose more than 16 percent. In Italy, suicides motivated by economic difficulties have increased 52 percent, to 187 in 2010 — the most recent year for which statistics were available — from 123 in 2005.)
Indeed, more Americans are killing themselves today than during the Great Depression. Specifically, there were were 123 million Americans in 1930.  The maximum suicide rate during the depths of the Great Depression was 22 out of 100,000  Americans.  That means that up to  27,060 Americans killed themselves each year.
In contrast, the U.S. Centers for Disease Control reports that 38,364 Americans committed suicide in 2010. In other words, 2010 suicides were approximately 142% of suicides during the depths of the Great Depression. (The suicide rate is lower today than during the Great Depression, but – given that there aremore Americans – there are more suicides each year.)
The head of my local county's mental health services confirmed to me today that there are now more suicides now than during the Great Depression.
The Root Causes: Unemployment and Foreclosure
Why do more people kill themselves during severe downturns?  It's not just a downturn in the business cycle in some general sense.  It's more specific than that.
Unemployment and foreclosure are the largest triggers in increased suicide risk.
David Stuckler and Sanjay Basu write:
People looking for work are about twice as likely to end their lives as those who have jobs.

***

Unemployment is a leading cause of depression, anxiety, alcoholism and suicidal thinking.
ABC News points out:
"Joblessness is a risk factor for suicide," said Nadine Kaslow, professor of psychology in the Department of Psychiatry and Behavioral Sciences at Emory University in Atlanta. "The stress is just overwhelming. … People are freaked out."
Bloomberg reports:
"The suicide rate started accelerating in 2008, 2009 and 2010 — someone might still be working, but their house is underwater, or they're working but they're working part-time," Eric Caine, the director of the CDC's Injury Control Research Center for Suicide Prevention, said by telephone. "These things ripple into families. There's an economic stress."
NY Daily News writes:
"Most people who commit suicide tend to suffer from major depression, and this vulnerability tends to be brought forth by very stressful situations like losing one's home or job," [Dr. Dan Iosifescu, director of mood and anxiety disorders program at Mount Sinai Hospita] said.
NBC News reports:
The American Association for Suicidology says economic recessions don't normally affect suicide rates.

"Although US suicide rates did increase slightly during the years of the Great Depression, reaching a peak rate of 17.4/100,000 in 1933, subsequent US recessions have not been found to lead to increased national rates of suicide in the period of or immediately following each recession," the group says.

The latest numbers suggest suicide rates for middle-aged Americans now surpass the peak during the Depression. And there's another possible explanation.

"There is a clear and direct relationship between rates of unemployment and suicide," the suicidology group says in its statement.

"The peak rate of suicide in 1933 occurred one year after the total US unemployment rate reached 25 percent of the labor force. Similar findings have been documented internationally. At the individual level, unemployed individuals have between two and four times the suicide rate of those employed."

The group also raises concern about the home foreclosure rate.
Indeed, it is likely that more people have lost their jobs during this "Great Recession" than during the Great Depression … especially when you look at the masses of people who have given up altogether and dropped out of the work force.
And it is possible that more people have lost their homes through foreclosure than during the Great Depression as well.
No wonder there are so many suicides …
Postscript:  If you suffer from depression, this may help.
The jobs recovery is a complete and total myth.  The percentage of the working age population in the United States that had a job in March 2013 was exactly the same as it was all the way back in March 2010.  In addition, as you will see below, there are now more than 101 million working age Americans that do not have a job.  But even though the employment level in the United States has consistently remained very low over the past three years, the Obama administration keeps telling us that unemployment is actually going down.  In fact, they tell us that the unemployment rate has declined from a peak of 10.0% all the way down to 7.6%.  And they tell us that in March the unemployment rate fell by 0.1% even though only 88,000 jobs were added to the U.S. economy.  But it takes at least 125,000 new jobs a month just to keep up with population growth.  So how in the world are they coming up with these numbers?  Well, the reality is that the entiredecline in the unemployment rate over the past three years can be accounted for by the reduction in size of the labor force.  In other words, the Obama administration is getting unemployment to go down by pretending that millions upon millions of unemployed Americans simply do not want jobs anymore.  We saw this once again in March.  According to the U.S. Bureau of Labor Statistics, more than 600,000 Americans dropped out of the labor market during that month alone.  That pushed the labor force participation rate down  to 63.3%, which is the lowest it has been in more than 30 years.  So please don't believe the hype.  The sad truth is that there has been no jobs recovery whatsoever.
If things were getting better, there would not be more than 101 million working age Americans without a job.
So exactly where does that statistic come from?  Well, the following explains where I got that number…
According to the U.S. Bureau of Labor Statistics, there are 11,742,000 working age Americans that are officially unemployed.
In addition, the U.S. Bureau of Labor Statistics says that there are89,967,000 working age Americans that are "not in the labor force".  That is a new all-time record, and that number increased by a whopping663,000 during the month of March alone.
When you add 11,742,000 working age Americans that are officially unemployed to the 89,967,000 working age Americans that are "not in the labor force", you come up with a grand total of 101,709,000 working age Americans that do not have a job.
When you stop and think about it, that is an absolutely staggering statistic.
And anyone that tells you that "a higher percentage of Americans are working today" is telling you a complete and total lie.  During the last recession the percentage of working age Americans with a job fell dramatically, and since then we have not seen that number bounce back at all.  In fact, this is the very first time in the post-World War II era that we have not seen the employment-population ratio bounce back after a recession.  At this point, the employment-population ratio has been under 60 percent for 49 months in a row…
Since the end of 2009, the employment-population ratio has been remarkably steady.  Just check out these numbers…
March 2008: 62.7 percent
March 2009: 59.9 percent
March 2010: 58.5 percent
March 2011: 58.4 percent
March 2012: 58.5 percent
March 2013: 58.5 percent
We should be thankful that the percentage of working age Americans with a job did not continue to decline, but we should also be quite alarmed that it has not bounced back at all.
If there was going to be a recovery, there would have been one by now.  The next major economic downturn is rapidly approaching, and that is going to push the employment-population ratio down even farther.
So why is the U.S. economy not producing as many jobs as it used to?  Well, certainly the overall decline of the economy has a lot to do with it.  We are a nation that is drowning in debt and that is getting poorer by the day.
But since the end of the last recession, corporate profits have bounced back in a big way and are now at an all-time high.  So you would figure that the big corporations should be able to hire a lot more workers by now.
Unfortunately, that is not the way things work anymore.  Big corporations are trying to minimize the number of expensive American workers that they have on their payrolls as much as possible these days.
One way that they are doing this is through the use of technology.  Thanks to robots, computers and other forms of technology, big corporations simply do not need as many human workers as they used to.  In future years, this trend is only going to accelerate.  I wrote about how this is changing the world of employment in one of my previous articles entitled "Rise Of The Droids: Will Robots Eventually Steal All Of Our Jobs?"
Another way that big corporations are replacing expensive American workers is by shipping their jobs off to the other side of the globe.  Big corporations know that they can make bigger profits by making stuff in foreign countries where they can pay workers less than a dollar an hour with no benefits.  How in the world are American workers supposed to compete with that?
For much more on how U.S. jobs are being killed by offshoring, please see this article: "55 Reasons Why You Should Buy Products That Are Made In America".
And of course immigration is having a dramatic impact on the labor market in some areas of the country as well.  Cheap labor has dramatically driven down wages in a lot of professions.  For example, once upon a time you could live a very nice middle class lifestyle as a roofer.  But now many roofers really struggle to make a living.
When you add everything up, it paints a very bleak picture for the future of the American worker.
The cost of living keeps rising much faster than wages do, and the competition for good jobs has become incredibly fierce.
Meanwhile, the government continues to make things even easier for those that are not working.  This has caused some Americans to give up completely and to be content with letting the government take care of them.  The following is from a recent article by Monty Pelerin…
As we make it easier to get unemployment benefits for longer time periods, more people take advantage of the system. So too with food stamps and disability. All programs are at or near record levels in what is supposed to be four years into an economic recovery. For many, the benefits of becoming a government dependent exceed what they can earn. One study reported that a family of four, collecting all the benefits for which they were entitled, would have to earn $65,000 per annum to have the same after-tax purchasing power.

If you are a product of the government schools and are legal to work (i.e., have skills enough that you are affordable at the minimum wage or higher), at what point do you realize that there is no need to go through the hassle of actual work. You can live pretty well by staying home and taking advantage of the entitlements available to you. That is exactly what a larger and larger percentage of the population are realizing. In many cases, it is economically irrational to work.

This behavior creates a social pathology that only worsens over time. Kids learn from their parents that work is not necessary and the many ways to game the system. In this regard, look for this problem to become worse over time unless these programs are cut back.
In some areas of the country, it actually pays not to work very hard.  According to Gary Alexander, the Secretary of Public Welfare for the state of Pennsylvania, a "single mom is better off earnings gross income of $29,000 with $57,327 in net income & benefits than to earn gross income of $69,000 with net income and benefits of $57,045."
But the truth is that most Americans still want to work hard and would gladly take a good job if they could just find one.  The following is one example that was featured in a recent Fox News article…
After a full year of fruitless job hunting, Natasha Baebler just gave up.

She'd already abandoned hope of getting work in her field, working with the disabled. But she couldn't land anything else, either — not even a job interview at a telephone call center.

Until she feels confident enough to send out resumes again, she'll get by on food stamps and disability checks from Social Security and live with her parents in St. Louis.

"I'm not proud of it," says Baebler, who is in her mid-30s and is blind. "The only way I'm able to sustain any semblance of self-preservation is to rely on government programs that I have no desire to be on."
And that is how most Americans feel.
Most Americans do not want to be dependent on the government.
Most Americans want to work hard and take care of themselves.
Unfortunately, our economy is not producing nearly enough jobs for everyone and it never will again.
So there will continue to be millions upon millions of Americans that find that they cannot take care of themselves and their families without government assistance no matter how hard they try.
And this is just the beginning – things are going to get much worseduring the next major wave of the economic collapse.
Yes, at the moment there are more than 101 million working age Americans that do not have a job, but that number is actually going to go much higher in the years ahead.  The anger and frustration caused by a lack of employment opportunities is going to shake this nation.
That is why it is important to try to become less dependent on your own job.  In this economic environment, a job can disappear at literally any moment.  Anything that you can do to become less dependent on the system would be a good thing.
Unemployment, Taxes and Unfunded Retirement are Squeezing Each Generation
The American spirit is rooted in the belief of a better tomorrow. Its success has been due to generations of men and women who toiled, through both hardship and boom times, to make that dream a reality.
But at some point over the past several decades, that hope for a better tomorrow became an expectation. Or perhaps a perceived entitlement is more accurate.
It became assumed that the future would be more prosperous than today, irrespective of the actual steps being taken in the here and now.
And for a prolonged time – characterized by plentiful and cheap energy, accelerating globalization, technical innovation, and the financialization of the economy – it seemed like this assumption was a certain bet.
But these wonderful tailwinds that America has been enjoying for so many decades are sputtering out. The forces of resource scarcity, debt saturation, price inflation, and physical limits will impact our way of life dramatically more going forward than living generations have experienced to date.
And Americans, who had the luxury of abandoning savings and sacrifice for consumerism and credit financing, are on a collision course with that reality. Like the grasshopper in Aesop's fable, they have partied away the fair seasons and winter is now on the way, which they are not prepared for.
The prudent thing to do here would be to have an honest, adult-sized conversation with ourselves about our level of (un)readiness and how best to use the resources and time we have left while the system still works more or less the way we're used to. There are certainly strategies and steps we can take in the here and now to best match priorities to needs, and meet the future as prepared as possible.
But you won't find this discussion in the national media. Our politicians insist on charting a course of more of the same, no matter how unsustainable, adamant not to touch any political third rails – for fear of not pleasing the electorate and/or donors. Major media outlets have abandoned the investigative journalism that once held the mirror of truth up to power, and instead, run superficial puff pieces that conclude with platitudes – for fear of not offending viewers and/or sponsors. The message is clear: The future will be better as soon as economic growth returns. Or oil prices come down. Or the iPhone 6 comes out. Or whatever the magic bullet du jour.
So it's up to the concerned and critical-thinking among us to look at the math, the hard data underlying the headlines, and construct what we can best calculate to be true.
And the truth is: The three adult generations in the U.S. are suffering, and their burdens are likely to increase with time. Each is experiencing a squeeze that is making it harder to create value, save capital, and pursue happiness than at any point since WWII. At that point, we were a creditor nation with an economy exploding into dominance on the world stage. Now, however, the U.S. is the largest debtor nation and our economic hegemony is increasingly at siege across a number of fronts.
A continuation of the status quo is a decision to sleepwalk face-first into the constraints hurtling towards us.
Instead, shouldn't we stop fooling ourselves and ask: What should we be doing differently?
We'll address that after we walk through the numbers.
Seniors Woefully Unprepared for Retirement
In the late 1970s, the 401k emerged as a new retirement vehicle. Among its touted benefits was the ability of the individual to save as much as s/he thought prudent for his/her financial future. Companies loved the new private savings plans because they gave them a way out of putting aside mandatory savings for worker pensions. For a long time, everyone thought this was a big step forward.
Three decades later, what we're realizing is that this shift from dedicated-contribution pension plans to voluntary private savings was a grand experiment with no assurances. Corporations definitely benefited, as they could redeploy capital to expansion or bottom line profits. But employees? The data certainly seems to show that the experiment did not take human nature into account enough – specifically, the fact that just because people have the option to save money for later use doesn't mean that they actually will.
First off, not every American worker (by far) is offered a 401k or similar retirement plan through work. But of those that are, 21% choose not to participate (source).
As a result, 1 in 4 of those aged 45-64 and 22% of those 65+ have $0 in retirement savings (source). Forty-nine percent of American adults of all ages aren't saving anything for retirement.
Of those with retirement savings, the numbers are not good. Over half of US retirees have less than $25,000 in savings:

(Source)
Most planners advise saving enough before retirement to maintain annual living expenses at about 70-80% of what they were during one's income-earning years. Medicare out-of-pocket costs alone are expected to be between $240,000 and $430,000 over retirement for a 65-year-old couple retiring today.
The gap between retirement savings and living costs in one's later years is pretty staggering:
As the table above shows, nearly 83% of retired households have less saved than Medicare costs alone will consume.
One-third of retired households are entirely dependent on Social Security. On average, that's only $1,230 per month – a hard income to live on. (source)
34 percent of older Americans depend on credit cards to pay for basic living expenses such as mortgage payments, groceries, and utilities. (source)
As for Medicare, the out-of-pocket costs could easily soar over retirement. The Wall Street Journal reportsthat the current estimate of Medicare's unfunded liability now tops $42 Trillion. Such a mind-boggling gap makes it highly likely that current retirees will not receive all of the entitlements they are being promised.
And the denial being shown by baby boomers entering retirement is frightening. Many simply plan to work longer before retiring, with a growing percentage saying they plan to work "forever".
But the data shows that declining health gives older Americans no choice but to leave the work force eventually, whether they want to or not. Years of surveys by the Employment Benefit Research Institute show that fully half of current retirees had to leave the work force sooner than desired due to health problems, disability, or layoffs.
Add to this the nefarious impact of the Federal Reserve's prolonged 0% interest rate policy, which makes it extremely hard for retirees with fixed-income investments to generate a meaningful income from them.
The number of Americans aged 65 years and older is projected to more than double in the next 40 years:
Will the remaining body of active workers be able to support this tsunami of underfunded seniors? Don't bet on it.
Taxes and Inflation Are Sucking Productive Workers Dry
To borrow from another fable, U.S. policy is doing its best to kill the goose that lays the golden eggs. Bottlenecked between retirees and the younger "millennial" generation is the current "productive peak" working class. As government, mired in debt and budget deficits, grows desperate to boost tax receipts and keep interest rates on its debt manageable, it is increasingly both siphoning capital and stealing purchasing power from those generating income.
History shows that this cannot continue indefinitely. Eventually you exhaust the incentive for working and your productive class goes on strike.
How close are we to that breaking point? It's not hard to find a litany of articles on the Internet these days warning that it's coming soon:
Personal Incomes & the Decline of the American Saver

If we put all of this together we can see a picture of the average American.  The chart below shows the annual change in personal incomes combined with the annual change in personal expenditures.  What is clear is that consumption has been supported by rising transfer receipts (welfare) and a drop in the personal savings rate which is now at the lowest level since just prior to the last recession.  The consumer is clearly struggling to maintain their current standard of living and all indications are that they are going to lose this battle.
Consumer Spending Drought: 16 Signs That the Middle Class Is Running out of Money

Is "discretionary income" rapidly becoming a thing of the past for most American families?  Right now, there are a lot of signs that we are on the verge of a nightmarish consumer spending drought.  Incomes are down, taxes are up, many large retail chains are deeply struggling because of the lack of customers, and at this point nearly a quarter of all Americans have more credit card debt than money in the bank.  Considering the fact that consumer spending is such a large percentage of the U.S. economy, that is very bad news.  How will we ever have a sustained economic recovery if consumers don't have much money to spend?  Well, the truth is that we aren't ever going to have a sustained economic recovery.  In fact, this debt-fueled bubble of false hope that we are experiencing right now is as good as things are going to get.  Things are going to go downhill from here, and if you think that consumer spending is bad now, just wait until you see what happens over the next several years
Looking from a bird's-eye view, real wages have been falling in the U.S. for decades. The below chart includes numbers based on the officially reported Consumer Price Index (or CPI, the methodology of which has been changed many times to make the output "kinder and gentler"), as well as those from ShadowStats, which applies a standardized and less fuzzy methodology to try to get to a truer picture. You can see that according to ShadowStats (the dark blue line), real wages have been plummeting in recent years as the Federal Reserve has been running the money-printing machines at full tilt:
Meanwhile, the cost of living has soared as the Fed's liquidity has found its way into the commodities markets and driven prices of essentials higher:
So today's worker is enjoying paying for substantially costlier goods with a materially devalued income – that is, if they are fortunate enough to have an income. Unemployment in the U.S. is still painfully high. Even the recently-celebrated declines are due to a jump in part time jobs as workers take on multiple jobs to simply get by. Full-time jobs are actually on the decline.
At the same time, in pursuit of greater efficiencies, U.S. corporations are investing more than ever in automation. Many of the less-skilled jobs lost during the Great Recession are simply not coming back, as human labor is increasingly replaced by robots and intelligent machines.
And yes, while the stock market is up nicely in the past year, the wealth gains from this are hyper-concentrated within the top 10% – really the top 1%, as this excellent video visualizes. (Warning: viewing this may make the blood boil.) The mean U.S. household currently only has about $50k in savings (and that average is skewed upwards by the super-rich).
These workers have also been whipsawed over the past decade by several asset bubbles blown by central banks that have knee-capped their efforts to amass wealth. The S&P 500 stock index has just returned to price territory last seen in 2001 and 2007, and housing prices are only slowly beginning to rise again in the aftermath of the vicious correction begun in 2007. Sadly, it seems that new bubbles in stocks, bonds and housing are being inflated once again – sure to take a large swath of wealth from these workers when they burst.
Perhaps the arriving cohort of younger workers will be able to support their elders once they hit their peak earning years.  We can hope.
But again, the prospects do not look encouraging.
Millennials at Risk of Becoming a Lost Generation
Pity the recent college graduate. The cost of higher education has been far outstripping inflation for years, largely due to that fact that most colleges have no exposure to their students' ability to repay their loans. So universities actually have an incentive to continue to raise tuition and other fees as high as the market will possibly bear.
The average graduate student has a student loan balance of over $27,000 (not including credit-card or other types of debt that many students also have). This puts them into a hole early in their adult lives that delays their ability to create families, buy a first home, or start businesses.
This challenge to capital formation is compounded by the frighteningly high unemployment rate ofapproximately 12% for those under 30. Not only are companies still hiring conservatively, but given the factors mentioned above, younger workers find themselves competing with older ones for entry-level positions to an extent not seen in living memory.
It's no wonder there's a growing perception that going deep into debt for a college diploma isn't a smart trade-off. A number of today's graduates will be finally paying off their balances around the same time their own children are heading off to college.
And along with the joys of debt-serfdom, younger workers are realizing they can't count on:
loyalty from the companies they work for
a national infrastructure that is the envy of the world
low oil prices
affordable healthcare
affordable home prices
easy access to credit
Social Security
…and a number of other elements of the "American promise" that preceding generations were able to take for granted.
It's no surprise that millions of young workers are giving up on searching for work.
Of course, the big danger for this generation's members is that the longer they go without work experience, the less appealing they become to employers when hiring does begin to pick back up. Tomorrow's new college graduates will be hired for entry-level positions, leaving many of today's unskilled seekers "unemployable" – a lost generation.
Let's Stop Fooling Ourselves
In summary, if we're being honest with ourselves, the current narrative of recovery being pushed by Wall Street and the mainstream media doesn't make any sense. The American experience of rising standards of living and general prosperity have always rested upon a deep and healthy middle class. That middle class, by almost any available economic or financial measure, is steadily losing ground as a direct consequence of Fed and DC policies.
By forcing the stock market higher, the Fed has simply made a small minority of the country better off  By funneling endless amounts of free money to the biggest banks, the Fed has enriched the banking system. The Fed truly seems to believe that this is the right course of action: that a stable and profitable banking system coupled to rising stock prices will somehow generate the necessary confidence within the middle class required for them to once again go on a borrowing binge.
Because that's what the system has devolved into, for better or worse: our economy is founded on credit and borrowing, not earnings and savings. The problem is, outside of the manufactured statistics of government and the manufactured stock prices of the Fed, the median family has far less earning power this year than last. And it knows in its heart of hearts that DC will tax more and return less as time goes on, and that job security no longer exists as corporations ruthlessly pursue bottom line results. Quite rationally, many families are realizing that's not an appropriate environment for taking on more debt.
More profoundly, the big picture numbers just don't add up. A nation that's collectively in hock to the tune of 373% of GDP – not including entitlement liabilities  which launch that figure to more than 1000% – needs to seriously face the fact that it cannot make good on its current promises, let alone entertain making them larger. And yet here we are, with every outlet of the current power structure vigorously promoting that "all is well" while minimizing or completely ignoring those who would seek to open a dialog about the wisdom, or lack thereof, of ramming asset prices higher and supporting historically ruinous levels of deficit spending by printing money out of thin air.
Adam Taggart – Peak Prosperity
Yesterday we showed all those key economic criteria (that get so little airtime for obvious reasons), which were prevalent the last time the Dow Jones Industrial Average hit an all time high, back in 2007, all of which reflected a far more vibrant economy, and more importantly, an economy,and market, not propped up by a $14 trillion global central bank liquidity tsunami. Today, our chart of the day comes from BloombergBrief, which shows yet another aspect of the "low wage" recovery, namely that while the bulk of the jobs lost heading into the "recovery" were of middle and higher paying jobs, the offset have been part-time and other low-paying jobs, which explains also why the purchasing power of the average American, in real terms, declines with every passing day.
It is this that Ben Bernanke keeps slamming his head into the pavement over (metaphorically of course: everyone knows the Chairman's only purpose is to make his banker friends richer beyond their wildest dreams), because as long as his artificially imposed "wealth effect" refuses to trickle down in the form of better paying jobs and higher wages, nothing will change, and every periodic surge in "recovery" propaganda, usually taking place in the start of every year, will be met with the same failure as has been the case for the past 4 years.
From Bloomberg:
Recent analysis of current population survey data by the National Employment Law Project shows that 60 percent of job losses during the Great Recession were among middle-wage earners, with low-wage earners accounting for only 21 percent of job losses. During the recovery, those numbers have been flipped; only 22 percent of job growth occurred in the middle-wage occupations while 58 percent of job gains were for low-wage occupations.
The chart below needs no further explanation: