Archive for the 'Insolvency' Category
I've been warning people that all is not well in the world.
This morning I'm standing on the red button.
We are, right here and now, sitting on key support for copper.  If it fails, and given the pattern I believe it will, we're going under $3 and could see an all-on crash in copper prices.
Why is this important?  Because it's a measure of industrial demand — that is, industrial production on a global basis.
Europe is a damned basket case.  That their markets haven't collapsed are testament to the litany of lies promulgated by central bankers and politicians.  But lies only are effective for a while and always eventually lose their luster.
Portugal is out of money.  Spain's pension system is effectively all in Spanish government debt; zero diversity.  Ireland's banking system, along with most of the rest of the continent, is about to roll over again and the idiots over in Europe, just as here, refused to force their banks to take the bogus leverage and swap crap out and shoot it after 2008.  Politics trumped arithmetic — for a while.
But politics never wins over arithmetic in the end; it is a poor substitute for fact.
There will be more intervention — that much is a certainty.  But note that even big companies like P&G are now extending payment for suppliers; the firm now wants 75 days to pay.  What happened to 2% 10, Net 30?  I'll tell you what happened to it – it disappeared in a puff of bogus accounting games and "machined" earnings.  When huge corporations start playing this game the end of the line has arrived.
Buried in that article is a nasty little ditty — major companies are now taking 60-100 days to pay.  That's outrageous.
What's worse is the so-called "earnings surprises and beats."  Never-mentioned is the fact that companies have been buying back stock like crazy over the last few years, often with borrowed money rather than operating earnings.  That is, they're increasing leverage and then so-called "analysts" are screaming about how "cheap" their stock is.  In a word: 

Now we have a problem.  The economy has rolled over in Europe and they are locked in a deep recession fed by Germany and to a lesser extent France — nations desperate to prevent their banks from being exposed as grossly insolvent.  The ECB is going along with this because it has more worthless bonds in the kitty than its capital, which means that it is insolvent too.
The premise that Bernanke and the ECB have run is that low rates and "QE" style games will prompt a "recovery."  Five years+ into this mess that is now known factually to be a blown thesis!
But admitting the truth means accepting that we have in fact been in a grossly ugly recessionary — or even depression — environment for the last five years that has been intentionally and fraudulently covered up by artificially low rates, market distortions and deficit spending enabled by the chief drug pushers themselves.  The political implications of doing that are unacceptable, so it doesn't happen.  Not here, not there.
It's not helped by the fact that "new math" doesn't bother to explain how exponents work in the real world despite the fact that every single 8th grader in the world should instantly recognize that the games being played both can't and aren't working.
China stoked their idiocy with ridiculous building for which there is no demand.  All of that was fueled with cheap credit too, which is even easier to make happen in a communist nation.  But the economic "expansion" that enabled this to happen without the BS ball going up and exploding is now slowing down as the weight of this lending presses its thumb on the scale.  Within the next year or two that bubble should burst with catastrophic consequences.  Never mind the internal and demographic problems.
Japan, for its part, thought it could "QE" its way to prosperity.  The irony is that they have thought this for 20 years and it has failed.  Their "big experiment" will also fail; their problems are structural and attempting to evade the decisions of 20 years previous in turning their banks into zombies — exactly as we're doing here and Europe is doing there – cannot be backed out of the equation.  There is a small element of panic showing up over in Japan already and that's likely to grow.
Add to all of this the quiet repeal of the STOCK act here in America a few days ago.  That's right — while America was watching people get their legs blown off in Boston our Congress made legal once again insider trading by…. Congress.  The "debate" over this change took a literal 10 seconds in the Senate and a whole 14 in the House.  Neither chamber bothered with debate at all; it was passed by unanimous consent in both chambers.
All of those who claim to stand for transparency and proper government, including the man who I publicly supported for Congress in Michigan — Kerry Bentivolio: Go fuck yourselves.  This is exactly the reason that nobody should respect any member of Congress, ever, period.   Unanimous consent means just that – each and every member of Congress stands guilty of not only accepting but explicitly supporting insider trading by Congress.
One final fact: Artificially-low interest rates actually hurt lending.  Why would you lend someone your capital for less than a reasonable return?  There's only way you'd do that — if someone else was backstopping your supposed "lending."  That's what printing credit is all about if you're "too big to fail", but the fact of the matter is that the cost comes out of everyone's pocket and as a result real firms with real prospects for real performance are shortchanged and those who would either be lenders at a market rate of return refuse to engage in the market.
Worse, those with good ideas refuse to hire and build businesses because those people, who actually can perform basic arithmetic and understand exponents, know they will get hammered to pay the bills for those who got uneconomic loans and will not be able to pay.  
In this environment actual economic growth is factually impossible.
"Here it comes."
Some ugly facts for your Saturday….
From 1990 to 2000 GDP expanded at an average rate of 4.80%.  Debt expanded at an average rate of 7.51%
From 2000 to 2010 GDP expanded at an average rate of 4.13%.  Debt expanded at an average rate of 6.55%.
From 2010 to 2Q 2012 GDP expanded at a rate of 3.93%.  But debt expanded at only 0.94%, which is a massive paradigm shift from the previous 20 years.
This is good instead of bad, right?
In a word, no.  It is signaling the end of the self-delusional game we've been running for the last three decades.  That endpoint is here, now and today.
Real economic growth has to subtract out government deficit spending. When you do that it looks like this:
There has been no growth of materiality since 2000.  We cheated.  And we cheated before too, but in the private sector with all the Internet scam companies that blew up in the tech wreck.
And by the way, at current run rates (although the numbers are not in yet) this year in terms of actual deficit and actual adjusted GDP will be almost identical to 2011, unless something dramatic changes in the next two months.
We have a grown a few things though.  First, let's look at the growth in Federal (only) health spending.  This is what we've done thus far (smoothed, using the endpoints — $53 billion in 1980 and $850 billion last year.)
And then there's what that rate projects out to for the next 35 years, which is what the government has promised all those who are 50 and older – your Medicare will not change if you're 50 or older — remember?
Best of luck with that, Kemosabe; roughly $16 trillion on federal health spending alone in 2043?  

By the way, for the math-challenged by 2029 we will spend more on health care than the entire federal budget is today.  If you believe that can happen, say much less that 2043 will happen, I have a bridge for sale in Brooklyn.  The foundation might have had a bit of trouble of late though.  I think it was called "Sandy".  Heh, that works, doesn't it?
Of course we've all heard that the economy is recovering since early 2009.  That recovery must be real because this statistic is just skyrocketing — the number of people (and households) on food stamps.  Uh, if the economy is recovering, why does this number keep going up and why has it gone up by more than 50% in the last four years — and has never gone back down?
That must be because the fine government people and "eCONomists" are all lying to you.  Let's see if we can find the lies.
We'll being with employment.  We keep hearing that we're gaining jobs.  This is half-true.  We have in fact added 7.2 million jobs from January 2010 to today.
Unfortunately we also added 7.15 million working-age people during the same time period.  So in point of fact, we added jobs – all 50,000 of them, when you account for working-age population growth.
Eh, that's not so good, and nobody wants to talk about that.
Of course during the same time gasoline prices have roughly doubled, and most food items are up dramatically in price — 50% or more.  Milk, eggs, cheese, meats.  I wonder if that would force people onto food stamps — stagnant employment and outrageously-rising costs.
It just might!
Why is that happening?  Well that might be due to the Federal Budget.  Ok, ok, it's not really a budget because they didn't pass one.  But this is where we're spending our money, and where we're taking in money in taxes — and what we're putting on the credit card.  I ordered a few things to point out that we must pay the interest, we must pay "General Government" (that's the light bill for the Capitol, among other important things) and we probably want to pay for things like the Fibbies (various federal law enforcement entities and their infrastructure.)  It's also important to keep in mind the size of those shards of the budget, so when someone says "but the FBI and government is so wasteful on such programs" you can point to exactly how much we would "save" if we stopped doing all of it.
That is, not enough to matter.
So if we were to stop deficit spending today we could pay the interest on the debt, we could pay for the lights in the White House, we could pay for the FBI and similar, we could pay for Medicare, Medicaid and Social Security.
But then we run out of money half-way through Defense and have nothing for Welfare, Other spending, Education or Transportation. 
Zip, zero, nada.
There's this little problem with that chart too which explains all of the above with employment and food stamps, along with the other markers of actual economic health.  That nasty red bar with the label "Debt", and which both sides of the aisle claim we can continue to add onto every year, is actually dilution of the nation's wealth.  This is exactly identical to imposing a tax, and it's over a trillion dollars annually.  In point of fact from 2008 to 2012 (calendar) it has been $1.40 trillion, $1.647 trillion, $1.852 trillion, $1.225 trillion and at the current (10 month) run-rate for 2012 it will be $1.246 trillion this year.
Remember, President Obama, when he took office, told us all that he would cut the deficit in half from the fiscal 2008 level, which was about $600 billion, by the time he came up for re-election.
He instead more than doubled the annual deficit and added about $5 trillion in debt across his first term.
And let's not forget that this is not just a Democrat thing.  Oh no — all spending bills must originate in The House.  Without the House there is no spending and there is no deficit.  And who controls The House?  Why that would be Mr. Speaker Boehner, and I do think he has an "R" after his name.  Despite all the screaming about "fiscal responsibility" he (and Paul Ryan) are abject liars; when push comes to shove they are all more than happy to shove all right – they shove you, your children and every senior citizen right into the hole right along with help from Obama, Nancy Pelosi and Harry Reid.
But that's not the bad news.  The bad news is that at the rate of escalation going on today we will try to do this by the end of the decade:
Now that is just not going to work at all; we'll pay that light bill, the Fibbies and Health Care but then will run out of money about halfway through Social Security, at which point the FBI will have plenty to do as Granny's shotgun comes out.
So as you go about your weekend, contemplate these facts:
You can't fix medical entitlement spending.  You instead have to fix the medical system, and the only way to do that is to pull all of the monopoly-style protections so that the cost of care in terms of dollars spent crumbles by 75% or more.  This will result in a lot of short-term unemployment and contraction in GDP, but if it's not done our government and society will blow up.  This is a mathematical certainty.
You can't keep escalating defense spending either.  But to fix that you must solve our energy dependence problem, because a huge part of why we spend over $750 billion a year is found there.  Oh, it might help if we didn't hand man-portable anti-aircraft missiles to our "friends" that happen to be affiliated with Al-Qaida too, as we reportedly did in Libya.
If we contracted Medical Spending by 75% and Defense by half, expiring the payroll tax credit and indexing Social Security retirement to longevity we would balance the budget and stop destroying our nation's competitiveness and middle class.
Doubt me?  Here's the graph, and those three things are all I changed; Social Security does not move in expense but tax receipts go up due to the payroll tax cut expiration by about $200 billion a year.
There isn't any other way to do it.  Welfare, even if cut dramatically, can't be cut enough.  Other spending, education and transportation don't have enough margin in them either — even cutting them in half won't get there.  Social Security can be slowed in escalation but in point of fact most of it is paid for by the Payroll Tax, or at least it was before Congress raided it with the allegedly "temporary" payroll tax deduction that costs about $210 billion a year in revenue.  Indexing retirement to longevity gets us the rest of the way there by halting the advance of spending on that program.
It comes down to medical spending and defense, and with medical spending the only solution is to remove the monopoly protections and allow competition to force the industry to eat well over a trillion dollars a year in decreased gross revenues, accepting the impact that has on the economy and employment in the short term.  On defense we must resolve our energy dilemma and stop pandering to the Middle East, then literally go home, cutting defense spending in half.  There is no other answer; raising taxes to close the debt gap is exactly identical to what we're doing now in terms of economic damage; the downward spiral will continue if that is attempted exactly as if we do not and keep trying to deficit spend our way out of the hole.
This is reality folks, and yet nobody wants to face it.
Arithmetic cannot be bargained with.
It just is.
It's time we do away with the notion behind the incessant flow of stories and warnings about upcoming hyperinflation in the US. It can't and therefore won't happen, at least not for years into the future. It would be a lot more constructive – and necessary – to focus on the reality we see before us than on such a purely mythological tale. Because that's all it is. Bubbles, and yes, that includes credit bubbles, have their own internal dynamics: they MUST pop when they reach critical mass.
Trying to prevent the pop, or even increase that mass, is futile. And even though that may be more about physics than about finance, why it is so hard to understand is beyond me. The deleveraging, a.k.a. debt deflation, has hardly begun, and it for now remains largely hidden behind a veil of QEs. That doesn't negate the fact that ultimately QE is powerless to stop it, even as it sure manages to fool a lot of people into thinking it can.
But don't take my word for it. You could start with – even – the IMF saying European banks will need to sell $4.5 trillion in assets through 2013. And then try to explain how that could possibly link to hyperinflation. For now: never mind.
Puru Saxena wrote a good piece on the topic recently, here are a few excerpts:
The world's major economies are struggling and their private-sector is deleveraging (paying off debt). If history is any guide, this deflationary process is likely to continue for several years.
You will recall that heading into the global financial crisis, corporations and households in the developed world were leveraged to the hilt. During the pre-crisis era, debt was considered a birth right and for decades, the private-sector leveraged its balance-sheet. Unfortunately, when the US housing market peaked and Lehman went bust, asset values plummeted but the liabilities remain unchanged. Thus, for the first time in their lives, people in the developed world experienced the wrath of excessive leverage.
Today, the private-sector in the West is struggling and for the vast majority of households, their liabilities now exceed their assets. Furthermore, incomes have also declined (or vanished), thereby making the debt servicing even more difficult. Consequently, in order to avoid bankruptcy, the private-sector in the developed world is now trying its best to reduce its debt overhang. Instead of getting excited by near-zero interest rates and taking on even more debt, it is now doing the unthinkable and paying off its liabilities.
Figure 1 shows that despite the Federal Reserve's carrot of almost free credit, the private-sector in the US is deleveraging. As you can see, since the bursting of the housing bubble, America's companies and households have been accumulating large surpluses. Make no mistake, it is this deleveraging which is responsible for the sluggish economic activity in much of the developed world. Furthermore, this urge to repay debt is the real reason why monetary policy in the West has become ineffective.
Figure 1: America's private-sector is not playing Mr. Bernanke's game. Source: Nomura
If you review data, you will note that in addition to the US, most nations in Western Europe are also deleveraging and this explains why the continent's economy is on its knees.
The truth is that such periods of deleveraging continue for several years and when the private-sector decides to repay debt, interest rates remain subdued and monetary policy becomes ineffective. Remember, during a normal business cycle, monetary easing succeeds in igniting another wave of leverage. However, when the private-sector is already leveraged to the hilt and it is dealing with negative equity, low interest rates fail to kick start another credit binge.
As much as Mr. Bernanke would like to ignore this reality, it is clear to us that this is where the developed world stands today. Furthermore, this ongoing deleveraging is the primary reason why the Federal Reserve's stimulus has failed to increase America's money supply or unleash high inflation. Figure 2 shows that over the past 4 years, the US monetary base has grown exponentially, yet this has not translated into money supply or loan growth.
Figure 2: Liquidity injections have failed to increase US money supply. Source: Nomura
At this stage, it is difficult to forecast when the ongoing deleveraging will end. However, we suspect that the private-sector may continue to pay off debt for at least another 4-5 years. In our view, unless the US housing market improves and real-estate prices rise significantly, American households will not be lured by record-low borrowing costs. Furthermore, given the fact that tens of millions of baby boomers are approaching retirement age, we believe that the ongoing deleveraging will not end anytime soon. Due to this rare aversion to debt, interest rates in the West will probably remain low for several years. [..]
Once you realize just how enormous that gap is (see that last graph) between the monetary base vs the money supply, and the seemingly smaller gap between monetary base vs loans and leases, maybe then you see a light a-shinin'. Maybe you never thought about things that way before, or maybe you never saw it in a graph, and you needed to see that. It surely carries a very large argument against hyperinflation.
Puru Saxena thinks there are positive signs in US housing numbers, that there's a bottom, and he's certainly not the only one; that's one train everyone seems to be eager to jump on.
I'm sorry, but I think the recent alleged US housing recovery is a proverbial soap bubble. In the article below, Tyler Durden at ZH calls it a "subsidized bounce". He also says: "two concurrent housing bubbles can not happen", and he may well be right, but if he is, it means that perhaps what we see is a bubble within a bubble, a mother and child bubble, instead of two concurrent ones. Durden brings interesting numbers and developments to the forefront. It would be good if more people digest them, and only then decide whether this is a recovery or not.
US households are not merely deleveraging, and taken as a whole you could perhaps make a point that they're not at all. They go one step beyond deleveraging: they're simply and plainly defaulting.
US Households Are Not "Deleveraging" – They Are Simply Defaulting In Bulk
Lately there has been an amusing and very spurious, not to mention wrong, argument among both the "serious media" and the various tabloids, that US households have delevered to the tune of $1 trillion, primarily as a result of mortgage debt reductions (not to be confused with total consumer debt which month after month hits new record highs, primarily due to soaring student and GM auto loans). The implication here is that unlike in year past, US households are finally doing the responsible thing and are actively deleveraging of their own free will.
This couldn't be further from the truth, and to put baseless rumors of this nature to rest once and for all, below we have compiled a simple chart using the NY Fed's own data, showing the total change in mortgage debt, and what portion of it is due to discharges (aka defaults) of 1st and 2nd lien debt. In a nutshell: based on NYFed calculations, there has been $800 billion in mortgage debt deleveraging since the end of 2007. This has been due to $1.2 trillion in discharges (the amount is greater than the total first lien mortgages, due to the increasing use of HELOCs and 2nd lien mortgages before the housing bubble popped).
In other words, instead of actual responsible behavior of paying down debt, the primary if not only reason there has been any "deleveraging" at all at the US household level, is because of excess debt which became insurmountable, not because it was being paid down, the result of which is that more and more Americans are simply handing their keys in to the bank and walking away, and also explains why the US banking system is now practicing Foreclosure Stuffing, as defined first here, as the banks know too well, if all the housing inventory which is currently in the default pipeline were unleashed, it would rip off any floor below the US housing "recovery" which is not a recovery at all, but merely a subsidized bounce, as millions of units are held on the banks' books in hopes that what limited inventory there is gets bid up so high the second housing bubble can be inflated before the first one has even fully burst.
Naturally, two concurrent housing bubbles can not happen, Bernanke's fondest wishes to the contrary notwithstanding, especially since as shown above, US households do not delever unless they actually file for bankruptcy, and in the process destroy their credit rating for years, making them ineligible for future debt for at least five years.
It is thus safe to say that all the other increasingly poorer US households [..] are merely adding on more and more debt in hopes of going out in a bankrupt blaze of glory just like everyone else: from their neighbors, to all "developed world" governments. And why not: after all this behavior is being endorsed by the Fed with both hands and feet.
The following graph from TD Securities ( through Sam Ro at BI ) makes a good case for the "subsidized bounce" definition Durden applies to the present US housing market. It's no secret there's a huge shadow inventory overhanging US housing, and now it comes out that those great new home numbers are not what everybody would like to think they are.
Many more houses are built than sold. And get shoved on top of the pile that's already there, both the shadow inventory and the out of the closet one. Which begs the question: how long does a home stay in the "new" category? Does it take 1 year of staying empty for it to move to "existing"? 2 years, 3 years? 5? For one thing, builders and developers certainly have a huge incentive to continue to advertise it as new.
A graph from the same source:
How this constitutes a recovery I just can't fathom. I think that is just something people would like so much to see that they actually see it. Moreover, there remains the issue that it's very hard for most to comprehend what debt deflation is, what its dynamics are, and what consequences it has.
We have lived through the by far biggest credit bubble in history. It should be clear to everyone that this bubble has not fully – been – deflated yet (and if it's not, good luck). Until it has, economic recovery and housing recovery are pipedreams. And so is hyperinflation, though that may be more of a pipe nightmare. There is no way QE, or money printing, or whatever you name it, can cause hyperinflation against the tide of a deflating bubble. Once a bubble has fully burst, it is a possibility. But only then. And only if and when a country has become unable to borrow in international debt markets. Greece perhaps soon, but for the US it's years away, if ever.
Darrel Whitten at iStockAnalyst has more:
QE Not Preventing Slowest Growth Since 2009 Recession
QE Ad Infinitum: Why QE is Not Reviving Growth
In a speech in November of 2002, Fed chairman Ben Bernanke made the now infamous statement, "the U.S. government has a technology, called the printing press, that allows it to produce as many U.S. dollars as it wishes essentially at no cost," thus earning the nickname "Helicopter Ben". Then, he was "confident that the Fed would take whatever means necessary to prevent significant deflation", while admitting that "the effectiveness of anti-deflation policy would be significantly enhanced by cooperation between the monetary AND fiscal authorities."
Five years after the 2008 financial crisis, Helicopter Ben undoubtedly has a greater appreciation for the issues the BoJ faced in the 1990s. The US 10-year treasury bond (as well as global bond) yields have been in a secular decline since 1980 and hit new historical lows after the crisis. What the bond market has been telling us even before the QE era is that bond investors expect even lower sustainable growth as well as ongoing disinflation/deflation, something that Helicopter Ben has been unable to eradicate despite unprecedented Fed balance sheet deployment.
A Broken Monetary Transfer Mechanism
Effective monetary policy is dependent on the function of what central bankers call the Monetary Transmission Mechanism, where "central bank policy-induced changes in the nominal money stock or the short-term nominal interest rate impact real economy variables such as aggregate output and employment, through the effects this monetary policy has on interest rates, exchange rates, equity and real estate prices, bank lending, and corporate balance sheets."
Yet two monetary indicators, i.e., the money multiplier and the velocity of money clearly demonstrate that the plumbing of this monetary transmission mechanism is dysfunctional. In reality, the modern economy is driven by demand-determined credit, where money supply (M1, M2, M3) is just an arbitrary reflection of the credit circuit. As long as expectations in the real economy are not affected, increases in Fed-supplied money will simply be a swap of one zero-interest asset for another, no matter how much the monetary base increases. Thus the volume of credit is the real variable, not the size of QE or the monetary base.
Prior to 2001, the Bank of Japan repeatedly argued against quantitative easing, arguing that it would be ineffective in that the excess liquidity would simply be held by banks as excess reserves. They were forced into adopting QE between 2001 and 2006 through the greater expedient of ensuring the stability of the Japanese banking system. Japan's QE did function to stabilize the banking system, but did not have any visible favorable impact on the real economy in terms of demand for credit. Despite a massive increase in bank reserves at the BoJ and a corresponding increase in base money, lending in the Japanese banking system did not increase because: a) Japanese banks were using the excess liquidity to repair their balance sheets and b) because both the banks and their corporate clients were trying to de-lever their balance sheets.
Further, instead of creating inflation, Japan experienced deflation, and these deflationary pressures continue today amidst tepid economic growth. This process of debt de-leveraging morphing into tepid long-term, deflationary growth with rapidly rising government debt is now referred to as "Japanification".
Two Measures of Monetary Policy Effectiveness
(1) The Money Multiplier. The money multiplier is a measure of the maximum amount of commercial bank money (money in the economy) that can be created by a given unit of central bank money, i.e., the total amount of loans that commercial banks extend/create. Theoretically, it is the reciprocal of the reserve ratio, or the amount of total funds the banks are required to keep on hand to provide for possible deposit withdrawals.
Since September 2008, the quantity of reserves in the U.S. banking system has grown dramatically. Prior to the onset of the financial crisis, required reserves were about $40 billion and excess reserves were roughly $1.5 billion. Following the collapse of Lehman Brothers, excess reserves exploded, climbing to $1.6 trillion, or over 10X "normal" levels. While required reserves also over this period, this change was dwarfed by the large and unprecedented rise in excess reserves. In other words, because the monetary transfer mechanism plumbing is stopped-up, monetary stimulus merely results in a huge build-up of bank reserves held at the central bank.
If banks lend out close to the maximum allowed by their reserves, then the amount of commercial bank money equals the amount of central bank money provided times the money multiplier. However, if banks lend less than the maximum allowable according to their reserve ratio, they accumulate "excess" reserves, meaning the amount of commercial bank money being created is less than the central bank money being created. As is shown in the following FRED chart, the money multiplier collapsed during the 2008 financial crisis, plunging from from 1.5 to less than 0.8.
Further, there has been a consistent decline in the money multiplier from the mid-1980s prior to its collapse in 2008, which is similar to what happened in Japan. In Japan, this long-term decline in the money multiplier was attributable to a) deflationary expectations, and b) a rise in the ratio of cash in the non-financial sector. The gradual downtrend of the multiplier since 1980 has been a one-way street, reflecting a 20+ year dis-inflationary trend in the U.S. that turned into outright deflation in 2008.
(2) The Velocity of Money. The velocity of money is a measurement of the amount of economic activity associated with a given money supply, i.e., total Gross Domestic Product (GDP) divided by the Money Supply. This measurement also shows a marked slowdown in the amount of activity in the U.S. economy for the given amount of M2 money supply, i.e., increasingly more money is chasing the same level of output. During times of high inflation and prosperity, the velocity of money is high as the money supply is recycled from savings to loans to capital investment and consumption.
During periods of recession, the velocity of money falls as people and companies start saving and conserving. The FRED chart below also shows that the velocity of money in the U.S. has been consistently declining since before the IT bubble burst in January 2000—i.e., all the liquidity pumped into the system by the Fed from Y2K scare onward has basically been chasing its tail, leaving banks and corporates with more and more excess, unused cash that was not being re-cycled into the real economy.
Monetary Base Explosion Not Offsetting Collapsing Money Multiplier and Velocity
The wonkish explanation is BmV = PY, (where B = the monetary base, m = the money multiplier, V = velocity of money), PY is nominal GDP. In other words, the massive amounts of central bank monetary stimulus provided by the Fed and other central banks since the 2008 financial crisis have merely worked to offset the deflationary/recessionary impact of a collapsing money multiplier and velocity of money, but have not had a significant, lasting impact on nominal GDP or unemployment.
The only verifiable beneficial impact of QE, as in the case of Japan over a decade ago and the U.S. today is the stabilization of the banking system. But it is clear from the above measures and overall economic activity that monetary policy actions have been far less effective, and may even have been detrimental in terms of deflationary pressures by encouraging excess bank reserves. Until the money multiplier and velocity of money begin to re-expand, there will be no sustainable growth of credit, jobs, consumption, housing; i.e., real economic activity. By the same token, the speed of the recovery is dependent upon how rapidly the private sector cleanses their balance sheets of toxic assets.
QE falls into a black hole. And it leads into an – if possible even larger – black hole. Ben Bernanke and Mario Draghi have neither the power nor the tools to stop deleveraging and debt deflation. That's just a myth they, and many with them who stand to benefit from that myth, like you to continue believing. It makes it all that much easier for them.
That surge in excess bank reserves (see the second graph above) comes from QE. It is your money, everyone's money. And it does nothing to "heal" the economy you live in and depend on for your survival; it just takes away more of it all the time. That is the one thing Ben and Mario have power over: they can give money away that you will have to pay for down the line. They can lend it out to banks knowing that it will never be repaid, and not care one inch. Knowing meanwhile that you won't either, because you don't look at what's down the line, you look at today, and today everything looks fine. Except for that graph, perhaps, but hey, how many people are there who understand what it says?
One thing Ben and Mario can not do, however, is create hyperinflation. They can't even truly create any type of real inflation (which is money/credit supply x velocity vs goods and services), for that matter. They're stuck as much as you yourself are in the dynamics of this bursting bubble.
At The Automatic Earth, Nicole – Stoneleigh – Foss and I have been saying for years that deleveraging and debt deflation are an inevitable consequence of what went before and an equally inevitable precursor of anything that may come after. And I have often said that the deleveraging will be so severe that what may come after is only moderately interesting, since you won't hardly recognize your world once deflation has run its course. Apparently this is hard to understand, the hyperinflation myth just won't die. What can I say? Time to get serious.
Debt bubble amnesia – 40 percent increase of Americans with accounts in collection in the last decade. System still heavily reliant on extreme consumption.
The debt hangover is still giving the nation a deep headache.  For example, in 2003 10 percent of Americans had an account in collections.  Today, it is more than 14 percent.  The addiction to debt is both troubling but what is more surprising is how little was learned from the financial crisis.  The stock market is pretending as if the European debt crisis was solved, that emerging markets had no growth challenges ahead, and that somehow we have solved the fiscal cliffwith no actual work.  Or can it be that those on the economic margins are simply not able to articulate their voice in a media that is largely controlled by those who can afford the largest microphone?  In the last year, you would have been lucky to hear about the 1 out of 7 Americans on food stamps to count on one hand on network television.  The bill is coming due and it is going to get harder to simply ignore.
Consumption and debt
Our economy is still being driven by massive amounts of consumption: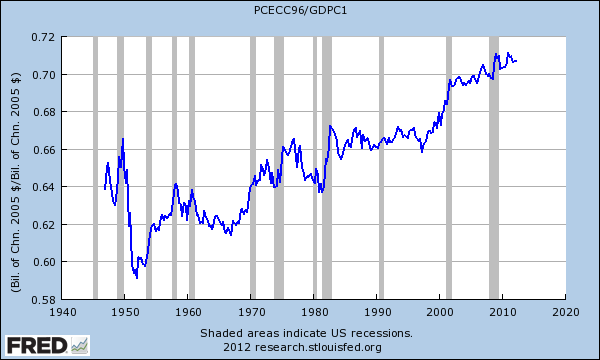 Consumption accounts for more than 70 percent of our GDP.  Yet as we are painfully aware much of this consumption was enjoyed with money many did not have.  Because of that we have a massive number of Americans with accounts in collections: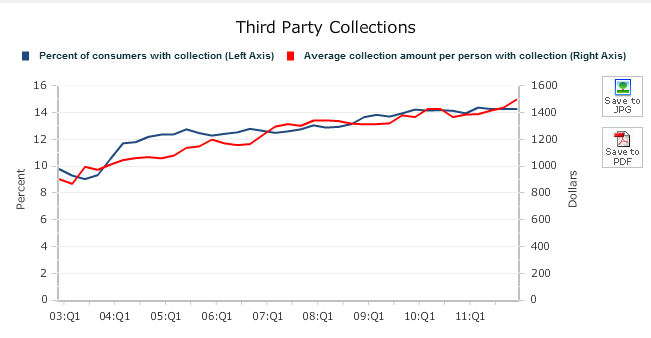 The typical amount in collection has risen by over 50 percent in the last decade although wages have gone absolutely nowhere.  A third of Americans have no savings at all so paying even a small amount back is going to be problematic.
Read the rest at My Budget 306
Households are dumping trillions in hard-earned income down ratholes with marginal returns: costly higher education, healthcare and housing.
What happens when households dump huge percentages of their stagnant incomes down marginal-return ratholes? They get less wealthy, which is exactly what we're seeing. The average American household has been persuaded that pouring money into costly higher education, healthcare and housing are all "investments" that offer high yields.
Sadly, the opposite is true: the returns on these stupendously costly investments is marginal or negative. Let's start with higher education, a topic I have discussed at length numerous times.
In essence, a college degree has lost its scarcity value, and in an era of labor arbitrage (a.k.a. offshoring and international competition), automation and relentless pressure to lower costs, even advanced degrees in law, science and business management that once were perceived as guarantees of secure high-paying employment no longer have scarcity value: the number of people with advanced degrees far exceeds the number of open positions.
Meanwhile, the education cartel has raised prices at a rate that is three times the rate of inflation. The credulous "buyers" of expensive higher education continue to pay absurdly inflated prices for degrees that have marginal value in the real-world marketplace.
We can see the trend in the following chart: wages for college-educated workers have stagnated even as the costs of college have skyrocketed.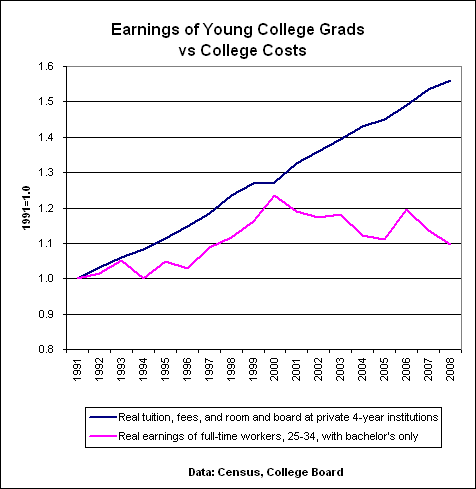 Banks that build lavish headquarters soon perish. There is something about erecting monuments of self-glorification and excess that exudes a fatal hubris. Please consider the lavish buildings universities have constructed in the supreme confidence that millions of debt-serfs will continue to willingly dump tens of thousands of dollars in hard-earned cash and crushing loans for degrees with increasingly marginal returns.
Sickcare, a.k.a. "healthcare," is another rathole of waste, fraud and malinvestment. I have covered the sickcare cartel in depth; the key metric of this rathole's depth is that we spend roughly twice as much per capita (per person) as competing developed democracies on healthcare and get questionable returns on the trillions spent.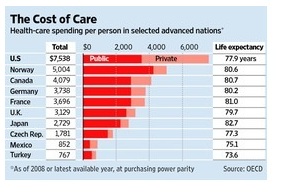 Buying a house was sold as a "can't miss" avenue to build middle class wealth. Instead, it became a $10 trillion rathole that either loses nominal value or stumbles along, unable to keep pace with the rising costs of ownership (property taxes, special assessments, etc.).
When owners finally give up the idea that the housing bubble can be reinflated, the house is sold for less than the mortgage to an investor who offers to rent the home to the previous owner for half the cost of the mortgage he was paying.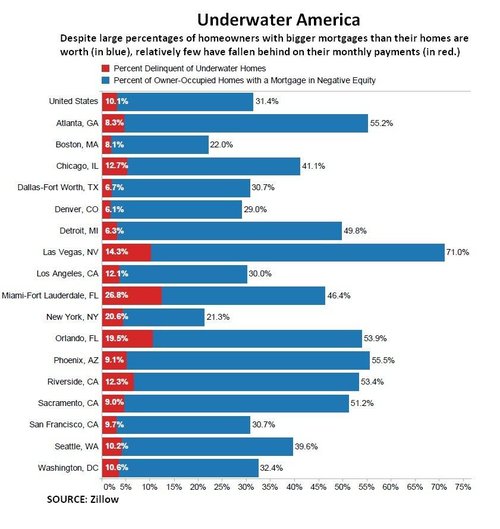 As higher education and sickcare costs rise, labor's share of the national income is declining. Households are earning less when measured in purchasing power, and the costs of college and sickcare skyrocket even as the returns on those "investments" become ever more marginal.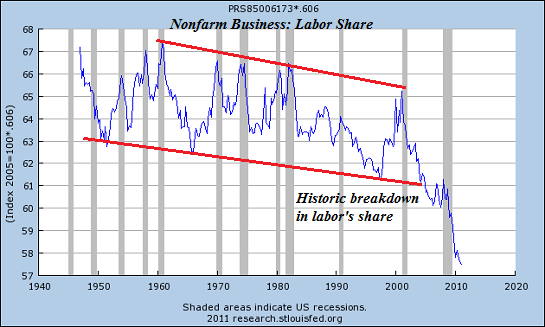 With income stagnant and trillions being dumped into the ratholes of higher education, sickcare and housing, it's little wonder that median net worth has plummeted. Americans saw wealth plummet 40 percent from 2007 to 2010:The Federal Reserve said the median net worth of families plunged by 39 percent in just three years, from $126,400 in 2007 to $77,300 in 2010. That puts Americans roughly on par with where they were in 1992.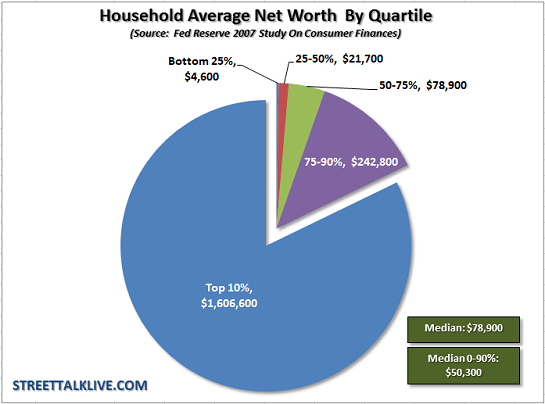 I am sickened by the vast sums I see households squandering on hopelessly marginal "investments" in expensive higher education, healthcare and housing. I too am caught in the crony-capitalist/State cartel web of waste, skimming and fraud: we have paid tens of thousands of dollars on no-frills healthcare insurance (no eyewear, no dental, no meds, $50 co-pay) in the past decade, and received perhaps 3% of this sum in care.
But to not have health insurance in America is to invite financial ruin should we suffer some serious illness. The same "must-have" argument supports the conventional wisdom about education: a young person "must have" a college degree if they hope to escape a lifetime of poverty. The issue isn't education per se, it's the ever-rising cost of an education that has arguably lost value in a global job market that faces a vast surplus of educated workers and a scarcity of secure, high-paying jobs.
Simply put, minting 10,000 PhD chemists (for example) does not magically create 10,000 jobs for PhD chemists.
I see family after family making enormous sacrifices to send their children to costly colleges or make bloated mortgage payments with little hope of positive return; I see families who did not have health insurance struggling to pay off crushing bills for hospital care. I personally know people with science PhDs and post-doctoral experience at top universities competing for scarce academic/research jobs against fields of 60 or more other qualified candidates.
Yes, education and healthcare are necessary, but cartels have leveraged this necessity into vast skimming operations that yield marginal returns even as their costs balloon without limit.
Housing is also a necessity, but it does not follow that it is a high-yield investment. Rather, it has become a sinkhole for hard-earned, scarce cash.
Ratholes are not investments, regardless of what the cartels profiting from the Status Quo claim.
Charles Hugh Smith – Of Two Minds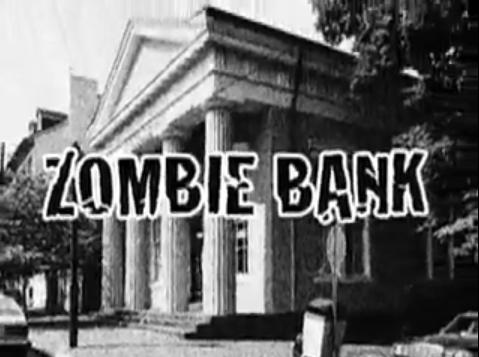 Oh, and we don't have (by implication) zombie banks in the US?
Germany's regulator balked last year when the European Banking Authority conducted stress tests on financial firms, objecting to the agency's definition of capital and allowing one state-owned lender to withhold some results.

The refusal to go along with the European Union regulator reflects an aversion by governments to ceding control to a central authority that may doom talks about creating a banking union and thwart plans to shift the burden of bailing out Spanish and Irish lenders to other euro-area nations.
So let me guess — the definition of capital is like Clinton's redefinition of the word "is"?  Or is that the definition of the word "sex"?
This would be laughable if it weren't so serious.  The simple reality is that this is not so much about "zombie banks" as it is about zombification of the economy.
When you allow an economy to exist on a pyramid of counterfeited currency through the bogus emission of credit instruments of various sorts, unbacked by capital, you turn the economy into a joke.  The simple mathematics of exponents guarantee that once this paradigm gets entrenched there is no exit possible without economic depression because each credit dollar so-created comes with interest attached and thus you not only have the requirement to pay back the principal from tomorrow's earnings you must pay back more than the original principal, and those funds become unavailable for spending in the present tense.
Credit, backed by capital in some form or fashion, is nothing more than a time-shift.  That is, if I buy a car today on credit and the lender puts up only the value of the vehicle at any point in time, then the asset's capital value has been impounded and liquified.
This is the salutary impact of credit in the economy.
But when credit is unbacked by capital it is dilutive to the value of every other unit of credit and currency in the economy, because it does not impound capital to balance out the credit so-created.  That is, it is not a time shift.
We all hear about "printed money" from central banks but in point of fact this is what was "printed":
Starting in the early 1980s the spread widened between debt and GDP and today still stands at 75% above historical (and sound) levels.  In 2004 and again in 2007 net credit issuance was more than six times that of GDP expansion.
What's particularly galling is that this phenomena was not just a 2000-era thing. Indeed in the 1980s we also added a ridiculous multiple of debt compared to GDP in one quarter — 1985Q4 added approximately $385 billion in debt but only $60 billion in GDP, or 6:1.
Those who argue that we have had "low inflation" are simply lying.  Asset prices count and all you have to do is look at stock indices to figure out "where it went."
We will never restore economic balance by stealing from one person to give to another.  Politicians use this sort of "class warfare" weapon all the time, but none will speak to this issue, and the reason is simple — if they do their own ability to deficit spend disappears.
Wake up America and indeed the entire western world.  Economic balance requires stability of the currency.  Business can only invest with some reasonable expectation of outcome when the principle of stability in the economy is honored.  All business people inherently take the risk that comes from public acceptance of their products and services, but when unbridled credit creation occurs you are adding the certainty of destruction of the consumer's purchasing power into the mix and thus adding a "use by" date to every business person's product mix.
This may feel good much as does taking that first drink or first dose of some drug, but the hangover is a bitch and can only be avoided by refusing the drink or dope in the first place.
Fraud is never free, and unbacked credit emission is fraud.  All you need to know to validate that premise is that governments and banksters both do their level damndest best to obfuscate their balance sheets and "protect" their zombies — creatures of their own creation that have been bled dry and are sapping the vitality of the economy as a whole.