Archive for the 'Japan' Category
BOE Warns An Imminent Private Equity Crash, China Just Sounded a Warning Bell For What's Coming Our Way, Morgan Stanley: The Central-Bank-Inspired "Omnishambles" Is Closer Than Most Think, DEUTSCHE BANK: Only Jesus Can Save The Euro Area
Bank of England fears that larger private equity deals done in the boom years 'pose a risk to the stability of the financial system' as refinancing looms
The Bank of England warned on Thursday that the next phase of the UK's six-year financial and economic crisis may be triggered by the collapse of debt-laden companies bought by private equity firms in the boom years before the crash.
In its latest quarterly bulletin, Threadneedle Street said the need over the next year to refinance firms subject to heavily leveraged buyouts posed a systemic threat.
The Bank added that it would use its new role as the watchdog of the City to monitor private equity deals in future "episodes of exuberance" to prevent a repeat of the debt-driven takeover boom in the run-up to the banking crisis.
"In the mid-2000s, there was a dramatic increase in acquisitions of UK companies by private equity funds," the Bank said.
It seems more likely to Morgan Stanley's Gerard Minack that central bankers may win the battle: sustaining recovery in developed economies with extraordinarily loose monetary policy. For a while this would go hand-in-hand with better equity performance. The battle is against a crisis caused by too loose monetary policy, elevated debt and mis-priced risk. Ironically, he notes, central bankers may overcome these problems by running even looser monetary policy, encouraging a new round of levering up, and fresh mis-pricing of risk. However, winning the battle isn't winning the war. If central bankers do win this round, the next downturn could be, in Minack's view, an omnishambles. In short, it seems more likely that central bankers may add another leg to the credit super-cycle. The key question for investors in this scenario is when (and how) this cycle may end, and Minack's hunch is that this cycle is already closer to 2006 than 2003.
Let's wind the clock back to 2008.
The world was thought to be ending. Lehman went bust. Markets were plunging. Everyone was scared that growth was over. It was as though the global economy was grinding to a halt.
But then China's stock market bottomed. The Chinese Government announced a massive stimulus plan to turn its economy around. And sure enough the Chinese economy took off again.
A few months later, the US markets bottomed courtesy of extraordinary stimulus from the US Federal Reserve. Three months after that, the US economy was showing what everyone claimed were "green shoots."
And the world began to gradually shift towards growth and increased confidence.
Why do I bring all of this up? Because it was China's stimulus and China's economy that supposedly lead the world back towards growth again. China is the proverbial canary in the coalmine, the economy that most quickly reveals what's coming and where we're all heading…
Well, China's heading for inflation.
BIG INFLATION.
China should be on "high alert" over inflation after February's figures exceeded forecasts, central bank Governor Zhou Xiaochuan said, signaling a heightened focus on controlling prices.
Monetary policy is "no longer relaxed" and is "relatively neutral" as demonstrated by a 13 percent target for money-supply growth that's tighter than expansion in the last two years, Zhou, head of the People's Bank of China, said at a press conference today during the annual gathering of China's National People's Congress…
"The central bank has always attached great importance to consumer prices," Zhou said. "Therefore we will use monetary policy and other measures to hopefully stabilize prices and inflation expectations."
China's new leaders including Li Keqiang, set to become premier this week, inherit the task of sustaining a recovery from the slowest growth in 13 years while reining in asset prices and credit. February inflation, distorted by the weeklong Lunar New Year holiday, accelerated to a 10-month-high of 3.2 percent.
http://www.bloomberg.com/news/2013-03-13/pboc-s-zhou-says-china-should-be-on-high-alert-on-inflation.html
…
Deutsche Bank's global head of FX strategy, Bilal Hafeez, recently gave a speech at the annual Deutsche Bank Mittelstand (small and medium-sized enterprises) FX conference in Hamburg, Germany.
The bank's research department transcribed Hafeez's speech and sent it out to clients in a note.
The speech focuses on the euro area's economic woes and the need for the currency bloc to move forward with further integration in order to be economically successful.
Hafeez opens the speech with a reflection on parenting and a child's years as a "terrible teen."
The gist is that euro member states are behaving like infighting teens – which is preventing further integration – and they need a role model that everyone across Europe can respect.
"I can only think of one figure that is respected by most Europeans and has never sinned, Jesus!" said Hafeez.
Japan is falling on their sword for the good of the NY & London criminal banksters by purchasing their worthless derivatives.
The Japanese have decided to perform Hari-kari on themselves and disembowel their economy on a global stage. In what can only be described as willful suicide, the BOJ has decided to begin buying derivatives. The most volatile financial weapon of mass destruction will be purchased by the Japanese, the question is why?
As the US economy continues its death spiral, Japan has been ordered to jump on the grenade and keep the dollar charade going for just a little bit longer.
Japan is finished, energy and food prices are through the roof and they are moving from the lost decades to being the lost civilization.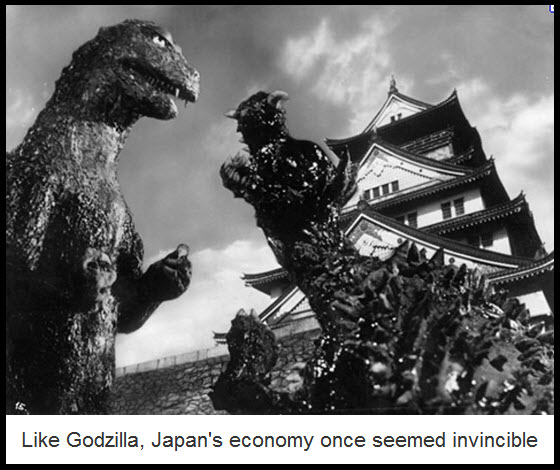 You knew it was going to happen.
Japan adopted an "official" 2% inflation target.  At the same time the so-called "independent" BOJ said it will begin open-ended money-printing starting in January of next year, when it will begin buying a total of 12 trillion Yen of government bonds monthly.
This is about $135 billion in dollars, more or less, per month — or about $1.6 trillion annually.
The market initially spiked on this, but then people started to contemplate: This is a fiscal devaluation of about 22% annually!
That's well beyond eating the seed corn and into the realm of burning the furniture — and perhaps the wallpaper.
The impact of this policy on the common Japanese citizen is going to be catastrophic and will lead to the collapse of the economy and government.  This is not speculation; it is mathematically certain.  We are talking about a "fiscal operation" that is approximately three times what our government is doing, and the impact here has been horrifying, boosting unemployment and pressing firmly into the neck of Americans while driving food stamps and other social "program" demand to the moon.
The impact in Japan will be nothing short of cataclysmic, which leads one to wonder: Are they really that dumb or is this a promise that nobody intends to actually keep?
The market seems to believe the second — for now.  I don't blame traders either — it doesn't take long for me to pull out my trusty HP12c [calculator] and figure out the fiscal impact, nor to do a back-of-the-envelope on what this will do the common Japanese citizen.  There aren't enough non-radioactive sticks left in the country to hand out for tongue-biting protection on this deal — short of an intent to wind up in a hot war (probably with China) my only reaction to this announcement is "You must be lying — or nuts!"
We're boxed into the same corner here in America, incidentally.  The House appears to be prepared to once again play "kick the can", basically postponing the debt ceiling issue for three months in a gambit to try to force The Senate to do its Constitutional job and pass a budget.
This won't matter.  Without putting a stop to deficit spending the spiral of exponential growth in debt will continue and this cannot continue on anything approaching an indefinite forward horizon.  Obama's first term added roughly $6 trillion dollars to the National Tab, expanding it by some 60%.  Trying to do that again over the next four years, which is exactly where we're headed at an accelerating rate, is going to wind up leaving us in the same box that Japan is in but with much higher levels of government dependence at the starting gate, which means that the fiscal demands will be even more-severe than they are for the Japanese.
This will not work and no agenda to "promote growth" will fix it either; you cannot grow out of this just as we didn't during the 1980-2007 time frame — debt increased at a rate of about 3% more than GDP did over the entire period, irrespective of the claims otherwise.
The numerical facts are what they are.  I would like to believe in various machinations and their ability to produce outcomes that are desirable, but I have to cede "desires" to arithmetic.  Irrespective of what I want or anyone else wants to believe in, the math cannot be argued with or bargained against — it is not a political creature and does not respond to political incentives, including bribes.
The Senate, to a large degree, knows this and "gets it."  I'm certain of it, having spoken with the staff of a few folks in that chamber.  I'm not sure The House leadership does, but if they don't they had damned well better figure this out and then figure out how to deal with it.
This much I know for certain — The Senate won't raise this until and unless The House is on board, because it's political suicide to do so without a sizable caucus behind it.  It's one thing to sacrifice one's political career to do the right thing — it's another to do so pointlessly when there is nobody standing with you and as such you will accomplish nothing by personally taking the pipe.
I have long been a critic of Ryan's budget proposals as they simply refuse to accept the drivers of the deficit in this country and what has to be done to fix it.  There's a new version, I'm sure, of Ryan's follies on the way through the pipe and it will be interesting to see if there's any hint of recognition of those drivers in it.  I doubt it, simply because there has been no evidence that reality has yet intruded in The House leadership.
Here's the problem, in short: The time to get in front of this problem has already run; that was back in 2007 and 2008.  Now, four years and a 60% increase in Federal Debt later, the exact outcome that was inevitable has become realized – but the worst of the consequences has thus far been forestalled by adding huge numbers of people to the public dole.
To those in The House who think we can get through this on the path we're on: You're wrong.
The political calculation is now much more-perilous, and comes down to this:
If we don't stop this foolishness the odds of a fiscal crisis of some sort in the next two years is extremely likely and within four nearly certain.  If you get the timing wrong then Pelosi gets the gavel back in 2014 and we're utterly screwed across the board.
So to the leadership in The House, I leave you this: You're not kicking the can, you're kicking yourselves in the balls.  Stop it — that's stupid – and start dealing with the actual drivers of this problem now.
Discussion (registration required to post)
Japan's faddishly fantastic fashions illustrate the exhaustion of consumerism as a driver of wealth creation. 
Japan is known for artful handcrafts, high-tech gadgets and outlandish fads. All modern economies depend on fads and fashions to drive consumption, and so Japan's leadership in fads reflects its advanced state of consumerism: it is a very wealthy nation, and its wealth has been distributed widely enough that the vast majority of its citizens have access to the "good things" produced by modern industrialized economies.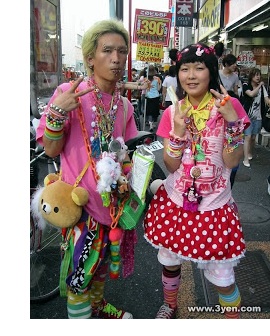 Thus it is unsurprising that Japan generates sufficient surplus on a national scale to support elaborate fads and fashions such as those on display in the Harajuku district of Tokyo:
Every Sunday, young people dressed in a variety of styles including gothic lolita, visual kei, and decora, as well ascosplayers spend the day in Harajuku socializing. A cosplay enthusiast will usually dress as a fictional or iconic character from a band, game, movie, anime, or manga.The fashion styles of these youths rarely conform to one particular style and are usually a mesh of many. Harajuku is also a fashion capital of the world, renowned for its unique street fashion.
The global reach of manga and anime is well-known, and so the overlap of fad, fashion and media (young people dressing up as manga characters) is also unsurprising.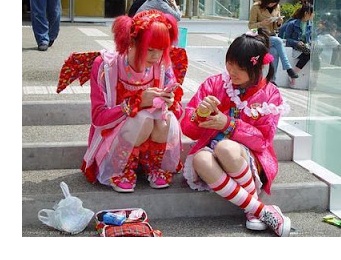 There is even a weekly television program on NHK (Japan's English-language network) that coverskawaii fashion. (Kawaii means "cute," though with a different range of meaning that "cute" in English. Kawaii includes what we might call cutesy, sweetly nostalgic or cartoonishly cute.)
There are certainly positives to this opt-in "public fashion show": self-expression in a conformist society, a bit of healthy rebellion against convention and good fun to share with friends, to name three.
But there is a less positive aspect, too: it is a phenomenon of extended adolescence, a state of "suspended animation" of young adults facing truncated opportunities for adulthood–secure careers, marriage, family, homeownership–who are stuck in a seemingly permanent adolescence.
It's as if there is a split in the road and no third way: some young people make it onto the traditional corporate or government career path, and everyone else is left in part-time suspended animation with few options for adult expression or development.
What few seem willing to acknowledge is the solipsistic, narcissistic nature of this reliance on public display of consumerist fantasy for self-identity. All consumerist fashion is based on superficiality and self-indulgence, of course; but if we look at the energy, money and attention "invested" in fashion lifestyles in Japan, we might conclude it is strong evidence that there is plenty of "money and time to burn" in Japan. While that is certainly true, this reliance on consumerist excess for self-identity and pastime is also evidence of a deeply troubled economy and society.
Young people have money and time to burn on outlandish costumes because few earn enough to have their own families or flats. They work part-time for low wages and live at home or in tiny one-room apartments. Few own cars because they 1) don't earn enough to support a car and 2) they're uninterested in acquiring status symbols or prestige signifiers.
This is not just a generational shift: it reflects a realistic understanding that opportunities for secure, high-paying employment have diminished over the past 20 years. There are plenty of low-level jobs, but few with the guarantees that their parents took for granted.
Sound familiar? This reality is playing out in Europe and the U.S. as well.
If all this is new to you, I strongly recommend you read my essay The Non-Financial Cost of Stagnation: "Social Recession" and Japan's "Lost Generations" (August 9, 2010).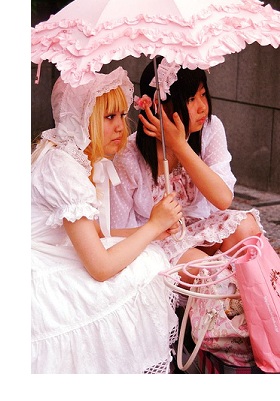 Here are a few highlights:
– Once-egalitarian Japan is becoming a nation of haves and have-nots.
– More than one-third of the workforce is part-time as companies have shed the famed Japanese lifetime employment system.
– The slang word "freeter" (for part-time worker) combines the English "free" and the German "arbeiter" or worker.
– A typical "freeter" wage is 1,000 yen ($7.80) an hour.
– As long ago as 2001, The Ministry of Health, Labor and Welfare estimated that 50 percent of high school graduates and 30 percent of college graduates now quit their jobs within three years of leaving school.
– Japan's slump has lasted so long, a "New Lost Generation" is coming of age, joining Japan's first "Lost Generation" which graduated into the bleak job market of the 1990s.
– These trends have led to an ironic moniker for the Freeter lifestyle: Dame-Ren (No Good People). The Dame-Ren (pronounced dah-may-ren) get by on odd jobs, low-cost living and drastically diminished expectations.
– Many young men now reject the macho work ethic and related values of their fathers. These "herbivores" reject the traditonal Samurai ideal of masculinity.Derisively called "herbivores" or "Grass-eaters," these young men are uncompetitive and uncommitted to work, evidence of their deep disillusionment with Japan's troubled economy.
– These shifts have spawned a disconnect between genders so pervasive thatJapan is experiencing a "social recession" in marriage, births, and even sex, all of which are declining.
– The trend of never leaving home has sparked an almost tragicomical countertrend of Japanese parents who actively seek mates to marry off their "parasite single" offspring as the only way to get them out of the house.
– An even more extreme social disorder is Hikikomori, or "acute social withdrawal," a condition in which the young live-at-home person will virtually wall themselves off from the world by never leaving their room.
Is it any wonder that in the face of such a bleak and maladaptive future, young people seek identity, community and solace in a fantasy world of fashion?When an economy is dominated by a Savior State that issues unsustainable promises, and a society is dependent on a consumerist frenzy of ceaseless fads, status signifiers and shopping for identity and what passes for community, then narcissism, restless emptiness and the aloneness mentioned yesterday in The Hidden Cost of the "New Economy": New-Type Depression are the inevitable results.
Beneath the surface of Japan, Inc., bullet trains, cute robots and exuberant fashions, this is the Japan few outsiders understand: the exhaustion of consumerism.
Charles Hugh Smith – Of Two Minds
If Japan's economy has stagnated during a global boom, what will it do during a global bust? 
Japan's economy has stagnated for two decades despite the global economy experiencing one of its greatest economic booms ever. To get a sense of the stagnation, let's look at some charts, courtesy of frequent contributor B.C.
It's difficult to maintain widespread prosperity if the percentage of the populace powering the economy declines. Here is a chart of the employment-population ratio in Japan and the U.S.
B.C.'s comment: The US is 12 years behind the Japanese peak Baby Boomer curve (1947-49 and 1956-61). Beginning next year, the peak demographic drag effects begin in earnest for those peak Boomers turning age 62-65 en masse. With US fertility rate falling below replacement at 1.9, we will not experience a reacceleration of the employment-population ratio.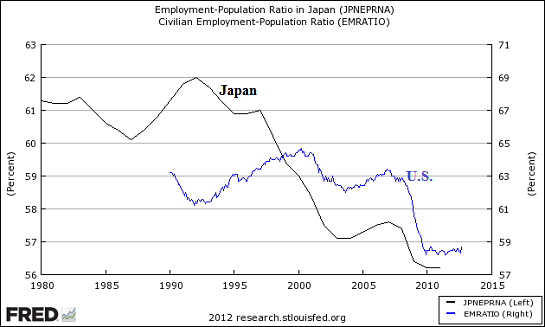 Despite 23 years of unprecedented stimulus and deficit spending, Japan's consumer price index (CPI) is at 1994 levels. Japan's stock market and real estate bubbles peaked between 1989 and 1991. CPI rose smartly in the post-bubble decline and then leveled off, rising during the tech/dot-com bubble of the late 1990s and the global commodity bubble of 2008. But despite these temporary (and modest) spikes, adjusted CPI is back to 1994 levels. So much for inflating away one's debts.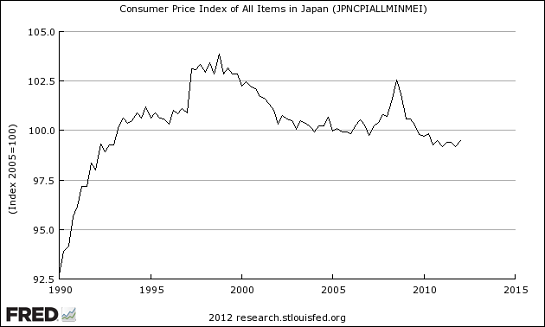 Japan's gross domestic product (GDP) has oscillated around the zero line for 20 years. Japan was in effect bailed out by China's massive stimulus spending after the 2008 global financial meltdown, but now that China's growth and stimulus are both slowing, saviors of Japan's export-dependent GDP are nowhere in sight.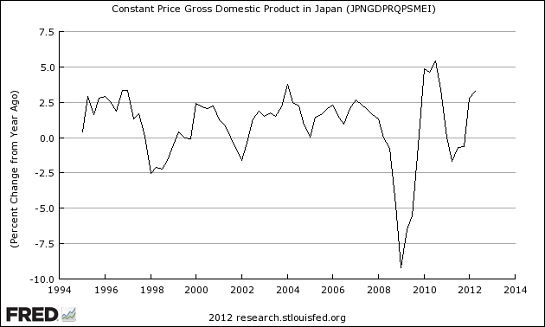 Japan has relied on government deficit spending to prop up its economy and GDP. Deficit spending means borrowing money via the bond market and squandering it on sclerotic fiefdoms, entrenched cartels and bridges to nowhere (the construction industry cartel).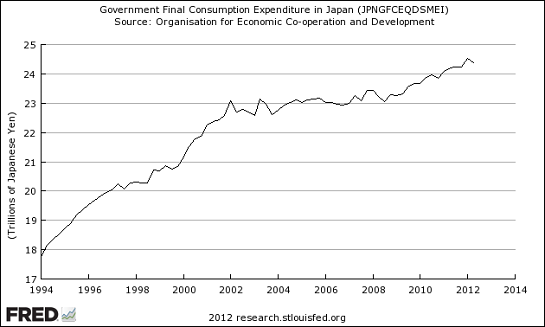 Subtract government spending from GDP and we get a snapshot of the private-sector economy. The private-sector GDP topped in 2007, and has not recovered that peak.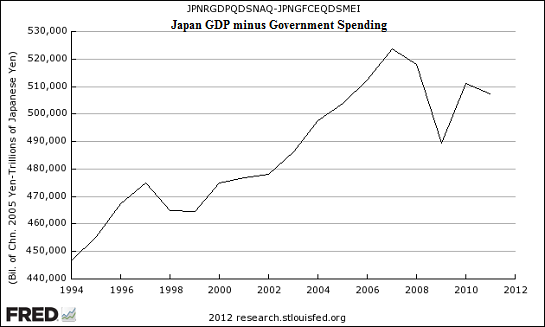 Yesterday we covered Japan's "fiscal cliff," as tax revenues don't even cover interest on the national debt and Social Security. ( The Future of America Is Japan: Runaway Deficits, Runaway Debts)
Japan continues to avoid fiscal or financial crisis, and perhaps it can do so for decades to come. But we should note that Japan has had the incredible, once-in-a-lifetime tailwind of a global boom for the past 23 years. That has enabled Japan, and all the other developed economies, the means to avoid facing their structural and demographic problems.
If Japan's economy has stagnated during a global boom, what will it do during a global bust? How will it fare as demographic forces reduce its workforce while increasing the number of retirees depending on government spending? Can a nation borrow its way to prosperity while its tax base erodes and its Central State expenses skyrocket?
Japan's stable stagnation will continue in a linear fashion–until it doesn't.
Charles Hugh Smith – Of Two Minds
If you want a look at the fiscal future of the U.S., look west to Japan, a nation that sits precariously on a fiscal cliff a thousand feet high. 
If you want to know how the Keynesian Cargo Cult's grand experiment in borrowing money to fund bloated fiefdoms, rapacious cartels and bridges to nowhere ends, just look west (from California) to Japan. The Japanese State, partly because they seem to believe in the Cargo Cult, and partly to avoid exposing the insolvency of their crony-capitalist financial sector, has been borrowing and spending money on a vast scale for two decades.
The Keynesian Cargo Cult's primary article of faith is that borrowing and blowing huge sums of money on anything and everything will magically restore "aggregate demand," i.e. the animal spirits that drive people to borrow and blow money on consumption. This is of course pure insanity, as people cannot borrow if their balance sheet has been destroyed, their real incomes are declining and they have lost trust in institutions that fear transparency and the truth like the Devil fears garlic.
Recall that the Federal Reserve's Survey of Consumer Finances for 2007-2010 found that the median net worth of households fell a staggering 39%, from $126,400 to $77,300, and average household income fell 11% from $88,300 to $78,500.
But rather than face the fraud and corruption at the heart of American (and Japanese) finance and governance, the Keynesians just want to leave the predatory, parasitic crony-capitalist Status Quo intact and create an illusory world of bogus "demand" and grotesque malinvestment funded by ever-increasing debt. In effect, the entire Keynesian Project seeks to reinflate asset and government revenue bubbles–the very causes of the global financial meltdown.
Let's see how the Keynesian protection of a corrupt, parastic Status Quo and pursuit of monumental malinvestment has worked for Japan. Here is the Ministry of Finance's Highlights of the Budget for FY2012 (via Andrew P.). Consider the ramifications of these numbers:
REVENUES: 90,334 (billion yen)
Tax revenues: 42,346
Other revenues: 3,744
Government Bond Issues (borrowing): 44,244
EXPENDITURES: 90,334
National Debt Service (interest): 21,944
Social Security: 26,390
Other: 42,000
So interest on the debt and Social Security are 114% of tax revenues. Put another way, tax revenues don't even cover interest on the runaway debt and Social Security costs.
An amazing 49% of the governments budget is borrowed money. Even with near-zero yields on Japanese government bonds (less than 1%), 52% of tax revenues are spent on national debt interest.
Recall that the interest rate Japan's government is paying on its stupendous debt is about 1%. Were that to double to a mere 2%, all of the new debt would go just to pay the interest on existing debt.
This is truly the Red Queen's Race. (Losing the Red Queen's Race – February 17, 2010) And it's been going on a long, long time. Japan's budget/borrowing imbalance was already severe a decade ago when I wrote this: Japan's Runaway Debt Train (2001).
Since 2005, annual borrowing has increased 10,000 billion yen (BY) while expenditures rose by 8,000 BY. Tax revenues have been stagnant at 44,000 BY while the interest expense has risen 19% and Social Security costs have increased by 29%.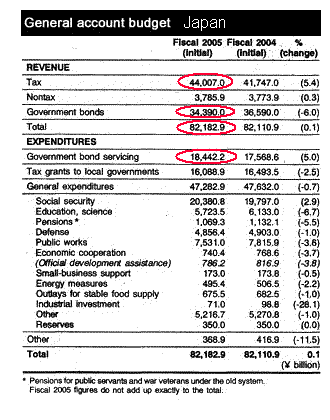 You see what's happening: tax revenues are unchanged from seven years ago while interest and Social Security costs increase dramatically as the debt inexorably expands and more retirees qualify for Social Security.
Now take a look at the 2012 United States federal budget. Net interest on the $16 trillion national debt is "only" $242 billion, while Social Security costs totaled $778 billion. So far, debt and Social Security ($1 trillion) are "only" 40% of total tax revenues, but like Japan, rapidly rising debt will increase interest while a rapidly increasing population of retirees qualifying for Social Security will drive those costs dramatically higher in the years ahead.
Given $2.47 trillion in total tax revenues, $3.8 trillion in expenditures and a deficit of $1.3 trillion, 34% of the Federal budget is borrowed money. We are borrowing 52% of total tax revenues.
Does anyone seriously think this is the "road to recovery"? If you want a look at the fiscal future of the U.S., look west to Japan, a nation that sits precariously on a fiscal cliff a thousand feet high.
Charles Hugh Smith – Of Two Minds
While all eyes are on the absurdist tragicomedy playing out in Europe, Japan is quietly circling a financial black hole as its export economy is destroyed by its strong currency and the global recession.
There is a terrible irony in export-dependent nations being viewed as "safe havens." Their safe haven status pushes their currencies higher, which then crushes their export sector, which then weakens their entire economy and stability, undermining the very factors that created their safe haven status.
As long as Germany stays within the Eurozone, Japan is the primary example of this dynamic. Should Germany leave the euro and return to its own currency, it too will begin orbiting the financial black hole of declining exports driven by a strengthening currency in a global recession.
Economies that are less reliant on exports are much less exposed to the consequences of a strengthening currency.
We can lay out the dynamic of Japan's currency and export-dependent economy thusly:
1. Export-dependent economies such as Japan, China and Germany rely on strong exports to sustain their employment and growth.
2. This means they must maintain positive current accounts (trade surpluses).
3. As their currencies strengthen, their exports become less competitive globally.
4. Export-dependent economies must pursue strategies to keep their currencies aligned with their buyers, the importing nations.
5. Germany has done so via the eurozone, which aligned its largest import market, Europe, with its own currency.
6. China has done so by pegging the renminbi (yuan) to the U.S. dollar and restricting foreign exchange (i.e. not allowing a free-floating renminbi).
7. Japan has neither of these advantages, and must intervene in the FX markets by buying and selling yen and dollars.
8. Despite its well-known debt problems (see chart below), Japan retains a massive and diverse industrial base, a current-account surplus (or modest deficit with its nuclear power plants largely offline) and large overseas assets.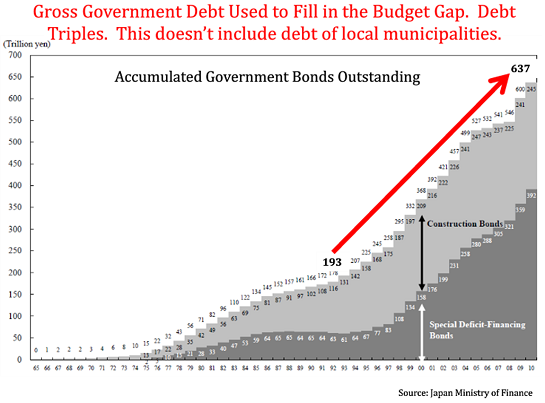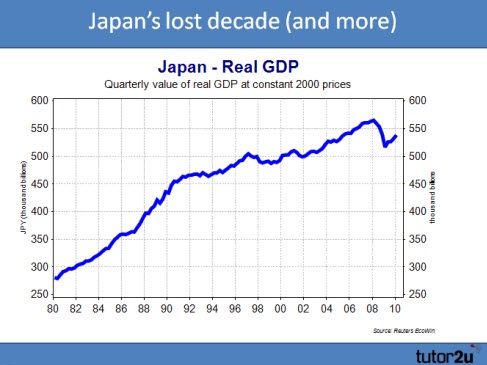 9. These assets, plus its homogeneous culture, makes Japan an island of stability in an increasingly unstable global economy.
10. For these reasons, the yen is considered a "safe haven" currency and yen-denominated bonds as "safe haven" liquid investments.
11. As demand for yen rises, the currency strengthens, weakening the competitiveness of Japanese exports.
12. The "safe haven" status of the yen ends up hurting the Japanese economy's primary engine, exports.
13. The stronger yen ends up weakening the very attributes that make the yen and Japanese bonds "safe havens."
14. As the global economy slides into recession, exports decline sharply under the double-whammy of falling demand and a rising currency.
15. Ironic, to say the least.
Charles Hugh Smith – Of Two Minds