Archive for the 'Jobs' Category
Where have all the workers gone? The real truth behind the drop in the labor participation rate.
One of the common views regarding the labor participation rate declining is that many baby boomers are retiring and leaving the work force.  Unfortunately many are finding that retirement is a myth when you are broke and many will be working deep into their later years.  So when we examine the numbers we actually find a large part of our older labor force is still fully engaged in some type of work.  It is interesting to look at many dynamic areas to try to ascertain why the drop in the labor force is actually occurring.  Digging for that needle in the economic haystack can be a challenge.  The labor force participation rate is a better indicator of how many people in our society are actually working.  We already know that the drop in the unemployment rate is largely due to hundreds of thousands of Americans simply not being in the labor force anymore.  Just because you sweep dust under the rug doesn't mean it is now gone.  So where have all the workers gone?
Civilian labor force participation rate
The labor force participation rate has steadily declined throughout the last decade and more steadily since the Great Recession hit: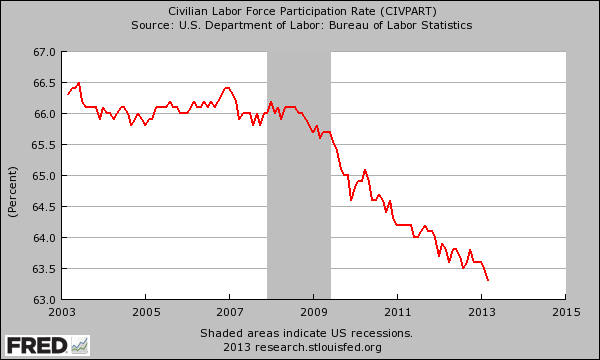 We are now at multi-decade lows when it comes to those participating in the labor force.  The common Cinderella storyline behind this drop has to do with our aging population and many older Americans entering blissfully into retirement.  But that presupposes that people can actually afford to retire which for most Americans is largely not the case.  What we find is really a few big reasons why the rate has steadily fallen and none are exactly positive when it comes to the overall economy.
Case #1 – Older workers
What is fascinating when we look at the data carefully, we find that many older Americans are still working: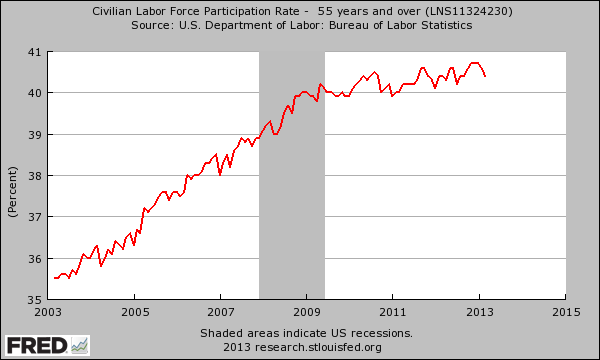 This is at a peak and has actually increased steadily throughout the decade and has held steady which somewhat flies in the face of the argument that older Americans are "retiring" in droves.  Sure, many baby boomers are hitting what we would call retirement age but the idea that all of these people are somehow quitting work to drink Margaritas on South Beach is one big myth.  The above chart is a clear example as to what is really going on.  Older Americans are going to be working deep into retirement and the new model of retirement is no retirement at all.
Read the rest at My Budget 360
The jobs recovery is a complete and total myth.  The percentage of the working age population in the United States that had a job in March 2013 was exactly the same as it was all the way back in March 2010.  In addition, as you will see below, there are now more than 101 million working age Americans that do not have a job.  But even though the employment level in the United States has consistently remained very low over the past three years, the Obama administration keeps telling us that unemployment is actually going down.  In fact, they tell us that the unemployment rate has declined from a peak of 10.0% all the way down to 7.6%.  And they tell us that in March the unemployment rate fell by 0.1% even though only 88,000 jobs were added to the U.S. economy.  But it takes at least 125,000 new jobs a month just to keep up with population growth.  So how in the world are they coming up with these numbers?  Well, the reality is that the entiredecline in the unemployment rate over the past three years can be accounted for by the reduction in size of the labor force.  In other words, the Obama administration is getting unemployment to go down by pretending that millions upon millions of unemployed Americans simply do not want jobs anymore.  We saw this once again in March.  According to the U.S. Bureau of Labor Statistics, more than 600,000 Americans dropped out of the labor market during that month alone.  That pushed the labor force participation rate down  to 63.3%, which is the lowest it has been in more than 30 years.  So please don't believe the hype.  The sad truth is that there has been no jobs recovery whatsoever.
If things were getting better, there would not be more than 101 million working age Americans without a job.
So exactly where does that statistic come from?  Well, the following explains where I got that number…
According to the U.S. Bureau of Labor Statistics, there are 11,742,000 working age Americans that are officially unemployed.
In addition, the U.S. Bureau of Labor Statistics says that there are89,967,000 working age Americans that are "not in the labor force".  That is a new all-time record, and that number increased by a whopping663,000 during the month of March alone.
When you add 11,742,000 working age Americans that are officially unemployed to the 89,967,000 working age Americans that are "not in the labor force", you come up with a grand total of 101,709,000 working age Americans that do not have a job.
When you stop and think about it, that is an absolutely staggering statistic.
And anyone that tells you that "a higher percentage of Americans are working today" is telling you a complete and total lie.  During the last recession the percentage of working age Americans with a job fell dramatically, and since then we have not seen that number bounce back at all.  In fact, this is the very first time in the post-World War II era that we have not seen the employment-population ratio bounce back after a recession.  At this point, the employment-population ratio has been under 60 percent for 49 months in a row…
Since the end of 2009, the employment-population ratio has been remarkably steady.  Just check out these numbers…
March 2008: 62.7 percent
March 2009: 59.9 percent
March 2010: 58.5 percent
March 2011: 58.4 percent
March 2012: 58.5 percent
March 2013: 58.5 percent
We should be thankful that the percentage of working age Americans with a job did not continue to decline, but we should also be quite alarmed that it has not bounced back at all.
If there was going to be a recovery, there would have been one by now.  The next major economic downturn is rapidly approaching, and that is going to push the employment-population ratio down even farther.
So why is the U.S. economy not producing as many jobs as it used to?  Well, certainly the overall decline of the economy has a lot to do with it.  We are a nation that is drowning in debt and that is getting poorer by the day.
But since the end of the last recession, corporate profits have bounced back in a big way and are now at an all-time high.  So you would figure that the big corporations should be able to hire a lot more workers by now.
Unfortunately, that is not the way things work anymore.  Big corporations are trying to minimize the number of expensive American workers that they have on their payrolls as much as possible these days.
One way that they are doing this is through the use of technology.  Thanks to robots, computers and other forms of technology, big corporations simply do not need as many human workers as they used to.  In future years, this trend is only going to accelerate.  I wrote about how this is changing the world of employment in one of my previous articles entitled "Rise Of The Droids: Will Robots Eventually Steal All Of Our Jobs?"
Another way that big corporations are replacing expensive American workers is by shipping their jobs off to the other side of the globe.  Big corporations know that they can make bigger profits by making stuff in foreign countries where they can pay workers less than a dollar an hour with no benefits.  How in the world are American workers supposed to compete with that?
For much more on how U.S. jobs are being killed by offshoring, please see this article: "55 Reasons Why You Should Buy Products That Are Made In America".
And of course immigration is having a dramatic impact on the labor market in some areas of the country as well.  Cheap labor has dramatically driven down wages in a lot of professions.  For example, once upon a time you could live a very nice middle class lifestyle as a roofer.  But now many roofers really struggle to make a living.
When you add everything up, it paints a very bleak picture for the future of the American worker.
The cost of living keeps rising much faster than wages do, and the competition for good jobs has become incredibly fierce.
Meanwhile, the government continues to make things even easier for those that are not working.  This has caused some Americans to give up completely and to be content with letting the government take care of them.  The following is from a recent article by Monty Pelerin…
As we make it easier to get unemployment benefits for longer time periods, more people take advantage of the system. So too with food stamps and disability. All programs are at or near record levels in what is supposed to be four years into an economic recovery. For many, the benefits of becoming a government dependent exceed what they can earn. One study reported that a family of four, collecting all the benefits for which they were entitled, would have to earn $65,000 per annum to have the same after-tax purchasing power.

If you are a product of the government schools and are legal to work (i.e., have skills enough that you are affordable at the minimum wage or higher), at what point do you realize that there is no need to go through the hassle of actual work. You can live pretty well by staying home and taking advantage of the entitlements available to you. That is exactly what a larger and larger percentage of the population are realizing. In many cases, it is economically irrational to work.

This behavior creates a social pathology that only worsens over time. Kids learn from their parents that work is not necessary and the many ways to game the system. In this regard, look for this problem to become worse over time unless these programs are cut back.
In some areas of the country, it actually pays not to work very hard.  According to Gary Alexander, the Secretary of Public Welfare for the state of Pennsylvania, a "single mom is better off earnings gross income of $29,000 with $57,327 in net income & benefits than to earn gross income of $69,000 with net income and benefits of $57,045."
But the truth is that most Americans still want to work hard and would gladly take a good job if they could just find one.  The following is one example that was featured in a recent Fox News article…
After a full year of fruitless job hunting, Natasha Baebler just gave up.

She'd already abandoned hope of getting work in her field, working with the disabled. But she couldn't land anything else, either — not even a job interview at a telephone call center.

Until she feels confident enough to send out resumes again, she'll get by on food stamps and disability checks from Social Security and live with her parents in St. Louis.

"I'm not proud of it," says Baebler, who is in her mid-30s and is blind. "The only way I'm able to sustain any semblance of self-preservation is to rely on government programs that I have no desire to be on."
And that is how most Americans feel.
Most Americans do not want to be dependent on the government.
Most Americans want to work hard and take care of themselves.
Unfortunately, our economy is not producing nearly enough jobs for everyone and it never will again.
So there will continue to be millions upon millions of Americans that find that they cannot take care of themselves and their families without government assistance no matter how hard they try.
And this is just the beginning – things are going to get much worseduring the next major wave of the economic collapse.
Yes, at the moment there are more than 101 million working age Americans that do not have a job, but that number is actually going to go much higher in the years ahead.  The anger and frustration caused by a lack of employment opportunities is going to shake this nation.
That is why it is important to try to become less dependent on your own job.  In this economic environment, a job can disappear at literally any moment.  Anything that you can do to become less dependent on the system would be a good thing.
Say what you will, the jury is back in and judgment rendered.
Bernanke's QE has done nothing material of value and he is now doing harm.
This is the only chart that matters when it comes to employment, and it sucks.  Despite all the monetary games there has been no factual improvement in employment since 2009.  Four years of this "experiment" and there has not been one iota of actual improvement.
The reason is that the problem we experienced in 2008 and 2009 was due to the gross and irresponsible expansion of economic leverage — that is, debt, in the system as a whole.  Transferring that into monetary policy to allow fiscal deficits without boundary is attempting to force a broken model to continue to work, just as one might press harder on the accelerator when their engine starts making knocking noises.
But if you do that instead of fixing the engine you're likely to next see a rod appear through the side of the block.
There is exactly one cause of this from a fiscal perspective, and it's health care.  I know I keep pounding on this, but these are facts, not opinions, and are clearly-visible right here:
Now we have the Obama administration talking about "making home loans more available to less-than-prime borrowers"?
The Obama administration is engaged in a broad push to make more home loans available to people with weaker credit, an effort that officials say will help power the economic recovery but that skeptics say could open the door to the risky lending that caused the housing crash in the first place.
Oh really?
So 20% down is "unreasonable"?  (The hell it is)
Lending to people "freely" with sub-700 FICOs is "too tight"?  (The hell it is; the median FICO score is about 720 — lending "freely" to those in the mid 600sis in fact lending to people with "D" — that is, POOR — credit!)
Facts are what they are — the current housing market has priced in 3.5% 30 year money, which is ridiculously cheap.  What happens to home prices if 30 year mortgage money returns to the lower end of historical averages around 6%?
That's easy to answer: The current $200,000 house turns into a $149,546 one — that is, it loses roughly 25% of its value overnight!
If you bought at $200,000 with effectively zero down, and the average actual down payment when fees and closing costs are deducted is an effective zero in today's market, then you cannot sell and will lose the house if you lose your job.
The fact of the matter is that those people in the mid-600s have a modeled 25% risk of default and foreclosure!  This isn't good policy, it's a disaster, exactly as it was in 2006.
That the Obama administration is pressing this shows that despite the claims of "an improving economy" they in fact know the economy sucks and are desperate to try to find something — anything — to provide a temporary boost into an impending disaster.
I have only one piece of advice given the macro environment plus the abject stupidity being displayed by our so-called "monetary and fiscal authorities":Run.
Nonfarm payroll employment edged up in March (+88,000), and the unemployment rate was little changed at 7.6 percent, the U.S. Bureau of Labor Statistics reported today. Employment grew in professional and business services and in health care but declined in retail trade.
This report sucks.
A month or two does not a trend make, but this, my friends, is a trend.  Pay attention to the annualized (red line) number; this is no longer a "little dip" or a "pause", it's a trend change and it's severely negative.
If there's one good piece of news it's here — the total number of employed people went up.  The problem is that adjusted for population over the last year we are 1 million jobs in the hole, or about 250,000 worse than last month (-1105 .vs. -849, both thousands)
That shows up right here:
This chart tells the tale and is why the collapse was of such extraordinary violence in 2008 — the alleged "gains" in asset prices and similar were not born from economic surplus powered by employment gains but rather were borrowed.
Despite what the screamers have said about "The Fed" and "Stock Market" the facts are that while the rate of decline has gone flat since the alleged "recovery" there has been no factual recovery.
The employment rate ticked up 0.1% but this is a time of the year when we should see upward movement — and as such one cannot take solace in that figure.  The fact of the matter is that real improvement in employment does not exist and has never existed since the bottom in 2009, despite what the useful idiots on the TeeVee have been telling you.
Average workweek ticked up 0.1 and hourly earnings ticked up one cent, but among non-supervisory employees hours were flat and earnings were down a penny.
The trend has clearly shifted and is just plain old-fashioned bad.
Yesterday we showed all those key economic criteria (that get so little airtime for obvious reasons), which were prevalent the last time the Dow Jones Industrial Average hit an all time high, back in 2007, all of which reflected a far more vibrant economy, and more importantly, an economy,and market, not propped up by a $14 trillion global central bank liquidity tsunami. Today, our chart of the day comes from BloombergBrief, which shows yet another aspect of the "low wage" recovery, namely that while the bulk of the jobs lost heading into the "recovery" were of middle and higher paying jobs, the offset have been part-time and other low-paying jobs, which explains also why the purchasing power of the average American, in real terms, declines with every passing day.
It is this that Ben Bernanke keeps slamming his head into the pavement over (metaphorically of course: everyone knows the Chairman's only purpose is to make his banker friends richer beyond their wildest dreams), because as long as his artificially imposed "wealth effect" refuses to trickle down in the form of better paying jobs and higher wages, nothing will change, and every periodic surge in "recovery" propaganda, usually taking place in the start of every year, will be met with the same failure as has been the case for the past 4 years.
From Bloomberg:
Recent analysis of current population survey data by the National Employment Law Project shows that 60 percent of job losses during the Great Recession were among middle-wage earners, with low-wage earners accounting for only 21 percent of job losses. During the recovery, those numbers have been flipped; only 22 percent of job growth occurred in the middle-wage occupations while 58 percent of job gains were for low-wage occupations.
The chart below needs no further explanation:
The financial and political Aristocracy will continue to do more of what's failed because they have no alternative model that leaves their power and wealth intact.
Frequent contributor B.C. has provided five charts that reflect the hollowing out of the private-sector employment. This has profound implications for education, taxes, housing and inequality.
Many people point to offshoring/global wage arbitrage as the key driver of stagnant wages and employment in the U.S., and this is certainly a factor. But we would be remiss not to note the other equally important drivers:
1. A system in which inefficient quasi-monopolies/cartels (defense, healthcare, education) are protected by a debt-based, expansionist Central State.
2. The exhaustion of the consumption/debt-based economic model.
What no one dares admit is that the U.S. economy is burdened by overcapacity(too many malls, restaurants, MRI machines, etc.) and too much debt, much of which was taken on to fund mal-investments (McMansions in the middle of nowhere, duplicate medical tests, costly weapons systems the Pentagon doesn't even want, etc.)
Consider this thought experiment. Suppose the offshoring of jobs was suddenly banned; only U.S. workers could be hired (setting aside that this is impossible in an economy where 50%-60% of U.S. corporate sales, profits and labor are non-U.S.; how are corporations supposed to compete in markets that generate 60% of their sales/profits if they can't hire local workers?)
Does a ban on offshoring suddenly make it profitable to hire more employees in the U.S.? No, it doesn't. Healthcare costs are still double those of our global competitorsAmerica's Hidden 8% VAT: Sickcare (May 10, 2012), and stagnant wages and high debt levels leave few opportunities for big profits.
Instead of developing new products and services, corporations either slash labor costs or belly up to the State trough of favored cartels: defense, healthcare and education. It is no mystery why these three State-protected sectors have seen costs skyrocket in a low-inflation, low-growth economy: college tuition has leaped by 1,100% above inflation and healthcare has risen 600% above the CPI (consumer price index).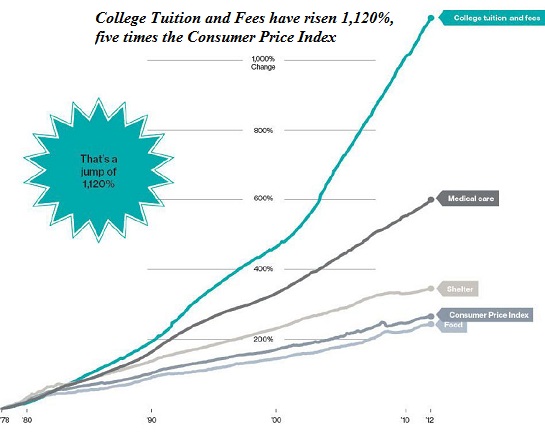 Once the State enforces quasi-monopolies and cartels, inefficiencies rise because the feedback from reality (i.e. price) has been severed. This is how you get an economy where a biopsy costs $70,000, new fighter aircraft cost $200+ million each (six times the previous top-of-the-line fighter) and a conventional (i.e. non-Ivy League) college education costs $120,000 – $200,000.
Banning offshoring would simply create even more incentive to replace human labor with machines and software. As many observers have noted, robots are even replacing human labor in low-cost China because robots are cheaper and more productive than human labor, no matter how poorly paid.
Student Debt Has Tripled in Eight Years
Thinking About the Future – Technology & Crisis
Nations Must Prepare For Robots Destroying The Low-Skill Job Market
In other words, the erosion of private-sector employment has structural causes that are the consequence of the debt-burdened, crony-capitalist domestic economy and technological innovations.
Here are the charts B.C. sent along that illustrate the hollowing out of private-sector employment.(Chart notes are mine.)
Private full-time employment as a share of total employment: new low, and four years of unprecedented fiscal/monetary stimulus has pushed it back up to merely recessionary levels: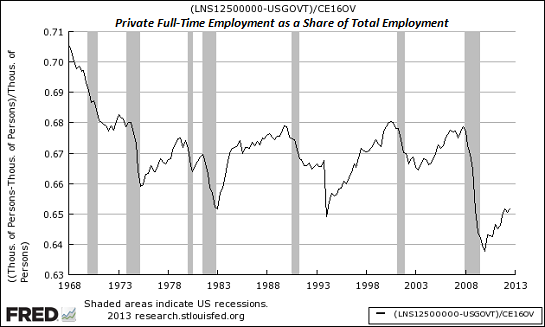 Private full-time employment minus health services jobs as a share of total employment: remove the State-protected sickcare cartel and the picture is even worse.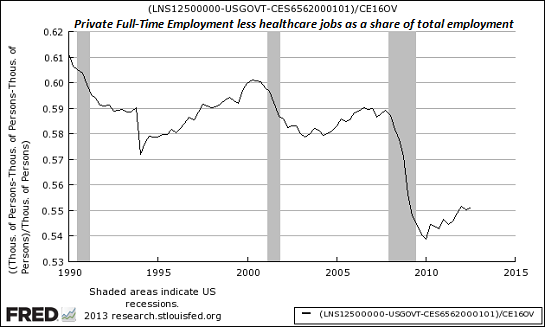 Private full-time employment minus health services jobs as a share of the total labor force: subtract government and healthcare jobs and roughly half the labor force has a private-sector job.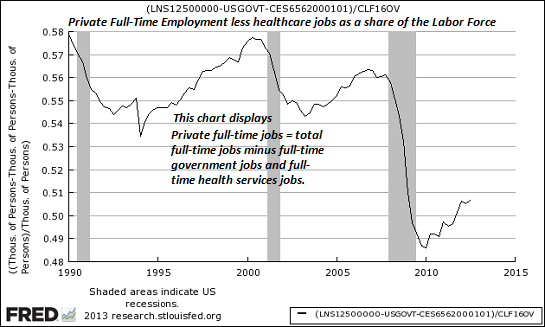 Part-time employment as a share of total employment: roughly 1 in 5 jobs is part-time, and does not pay enough to support a household, even a one-person household.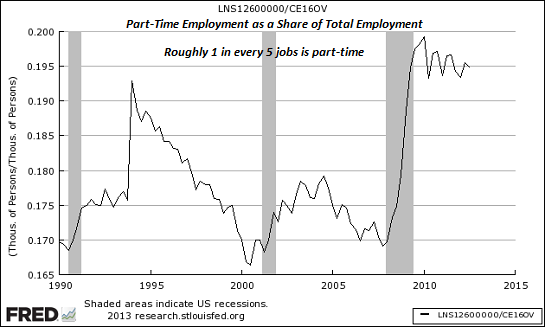 Part-time employment as a share of the total labor force: much of the vaunted increase in employment of the past four years is part-time jobs that cannot support mortgages, consumer debt, healthcare costs, auto loans, or even rent.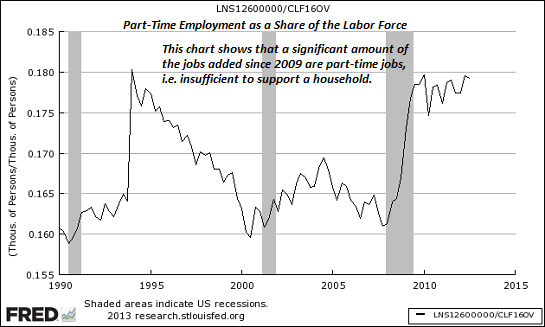 B.C. included this link and commentary:
53% of Recent College Grads Are Jobless or Underemployed (The Atlantic)
Less government and health services employment, only about half of the labor force is employed full-time.This is precisely why half of college grads are unemployed or underemployed, i.e., part-time work at low pay. Statistically, if they are not employed in government or health care, they have no more than a 50% probability of obtaining ANY full-time private employment.

At ~18% of the labor force employed part-time, those 50% grads who do not obtain full-time private employment outside health care must compete for the 1 of 5 jobs in the labor force that are part-time, implying that no more than 59-60% of college grads will obtain ANY employment under current labor market conditions, leaving ~40% of grads with no prospects for earning purchasing power.

Is it a surprise why student loan delinquencies have begun to soar? How will the housing market grow with as many as 40-50% of high school and college grads unemployed, underemployed, or unemployable?

From my experience, perhaps as few as 10% of the population know the information above. Most in the top 10% don't know because they are largely unaffected and thus don't care and will not be persuaded that they should care until they have to (i.e. when their children experience the aforementioned conditions).

The vast majority of the bottom 90% don't know because they spend their waking hours trying to survive and can't do anything about it were they to know. Those who do know tend to be well-positioned economists, politicians, and similar types who have no financial or professional incentives to share the information because no one in the top 1-10% cares to know or do anything about it.

How do you maintain a mass-consumer, debt-based economy with only half of the labor force with full-time private employment outside of health care, accelerating automation of labor and loss of incomes and purchasing power, 40% of the youth with little or no purchasing power, and 90% of the population relying in old age on transfer payments from the wages of younger wage earners and their struggling employers? You can't.

So the mass-consumer economy and welfare-state for the bottom 90%, elderly, underemployed, disabled, young, and poor is not sustainable. Now what?
Thank you, B.C.
I would like to add a few points:
1. Healthcare, defense and education are all bubbles that are about to burst as debt-based government spending must slow, and this means the "you have a guaranteed job in this sector" mindset that has been true for the past 50 years will change.
Rather than obtain a guaranteed full-time job, those entering these fields (other than M.D.s, in which a critical shortage looms large) will be competing with vast hordes of other job seekers who also believed these were "safe" careers. The same can be said of law, as the era of "Big Law" is over as large law firms shed attorneys and reduce compensation. BigLaw Growth is Dead: Here's What's Next.
2. Sickcare acts as a systemic tax, as does the cartel defense industry. Politicians love defense and healthcare spending because they believe it "creates jobs." But since these are largely unproductive mal-investments, for reasons I have highlighted here many times, State spending on these sectors is extraordinarily ineffective at creating not just jobs but productive investments of labor and capital.
To take but one example of thousands: western Pennsylvania has about as many MRI machines than the entire nation of Canada. Those who own the machines funnel thousands of people into their labs to take unnecessary or duplicative MRI tests as a profit-mill. Since the State (Medicaid and Medicare) and insurance will pay for any and all tests deemed "necessary" in a system that revolves around defensive medicine, i.e. doing whatever it takes to avoid future lawsuits, this waste makes perfect sense in terms of generating profits.
Sickcare Will Bankrupt the Nation–And Soon (March 21, 2011)
According to local media reports, Western Pennsylvania has about 140 MRI machines, while the 32 million residents of Canada share 151 MRI machines. And the machines are getting a lot of use: the number of CT and MRI scans (scans other than old-fashioned X rays) tripled from 85 to 234 per thousand insured people since 1999.While proponents are quick to note that scans are cheaper than the alternative diagnostic procedures, one firm's research found that a doctor who owns his own machine is four times as likely to order a scan as a doctor who doesn't.
Add in massive amounts of fraud (billing Medicare for tests that were not even given) and 40% of the system costs wasted on paper-shuffling, and you have a system that is literally crippling the entire U.S. economy with its high costs, fraud and waste.
3. Where does the leadership of our multiple layers of government think future tax increases will come from when private sector employment is eroding and half of all college graduates are unemployed or earning low pay in part-time jobs? The wage-base for higher taxes to pay for ballooning entitlements is eroding, too.
4. We suffer from a systemic failure of imagination. The financial and political Aristocracy that rules the neofeudal, financialized economy have no other model other than debt-based misallocation of capital and endless growth of debt-based consumption. That this model is broken and cannot possibly get us where we need to go does not matter; they will continue to do more of what's failed because they have no alternative model that leaves their power and wealth intact.
Charles Hugh Smith – Of Two Minds