Archive for the 'market manipulation' Category
While the market levitation courtesy of the Fed, BIS and BOJ continues unabated to give the impression that all is well, allowing empty momentum-chasing chatterboxes to say that Cyprus is not a big deal because… well, look at the market (and real traders the chance to quietly dump existing risk positions), the artificial, centrally-planned calm during the storm may be ending. The reason comes from none other than the Eurogroup, whose deputy finance ministers held a conference call last night, and whose transcript has been seen by Reuters.
Here are the highlights.
Euro zone finance officials acknowledged being "in a mess" over Cyprus during a conference call on Wednesday and discussed imposing capital controls to insulate the region 

from a possible collapse of the Cypriot economy

.
Not very confidence boosting. But then again, with confidence in Cyprus now gone, the time for damage control is long gone. Sure enough, it just goes from bad to worse:
"The (Cypriot) parliament is obviously too emotional and will not decide on anything, if Cyprus does not even feel that they can attend the call it is a big problem for us," the French representative said, according to the notes seen by Reuters.

"We have never seen this."
"Ring-fencing" is back, and so are Lehman references.
The official also referred to the need to resolve Cyprus's two biggest banks, both of which are close to collapse, and mentioned the possibility of Cyprus leaving the euro zone.

In the event of an exit, the official said steps needed to be taken to "ring-fence" the rest of the euro zone from the impact and to ensure there was no contagion to Greece.
Bad news for locals: your economy is done, so may as well drag the entire Eurozone down with you:
"The economy is going to tank in Cyprus no matter what," the notes quoted him as saying. "Restrictions on capital will probably be imposed," he said, adding that further conference calls would be organised in the coming days.
And the punchline:
"Markets believe that we will find a solution and that we will provide more money and this might not be the case," one of the participants on the call said
Hint to those confused: the market is not at all ignoring Cyprus. The central banks manipulating the market are doing their best to make it seem the market is not affected by a development which not even politicians have any idea how to negate as everything is now in unchartered territory. Of course, if and when control of the market is lost, that's when things get really interest.
When even Home Depot's Ken Langone is questioning the reality of this rally (CEO of one of the best performing stocks since the Dow last traded here), you have to be a little concerned. However, it is Duquesne's Stanley Druckenmiller's point that with QE4EVA it is impossible to know when this will end but warns that "all the lobsters are in the pot" now as he notes that "if you print enough money, everything is subsidized – bonds, stocks, real estate." He dismisses the notion of any sell-off in bonds for the same reason as the Fed is buying $85 bn per month (75-80% all off Treasury issuance). The Fed has cancelled all market signals (whether these are to Congress or market participants) and just as we did in the 1970s, we will find out about all the mal-investments sooner or later. "This is a big, big gamble," he notes, "manipulating the most important price in all of free markets," that ends one of only two ways, a mal-investment bust (as we saw in 2007-8) or full debt monetization and "off we go into inflation."
"The Fed is printing a lot of money. They are forcing people into markets. You shouldn't be buying securities because you're forced to buy them by zero rates. you should buy them because you think they're great value. They're great value only relative to zero interest rates. they're not great value on an absolute basis."
"I don't know when it's going to end, but my guess is, it's going to end very badly; and it's going to end very badly because, again, when you get the biggest price in the world, interest rates, being manipulated you get a misallocation of resources and this is going to end in one of two ways – with a malinvestment bust which we got in '07-'08 (we didn't get inflation). We got a malinvestment bust because of the bubble that was created in housing. Or it could end with just monetizing the debt and off we go in inflation. So that's a very binary outcome. they're both bad."
"the thought that you can exit from wherever the balance sheet will be at that time, 4 trillion, wherever it is, in an orderly manner the chairman testified that will give the market plenty of warning, do you know what guys like me are going to do when they sell the first bond out of 4 trillion? and don't think that letting the bonds run off isn't selling. that debt has to be refinanced. if you do not — if you just let all the bonds run off that is still 4 trillion in selling. and it's not till they actually sell the first one, it's till you get the whiff — what do you think –what do you think the markets are going to do when they figure out the exit. look what happened in qe-1 and qe-2 ended which is why i don't think this sever going to end."
"We know is that it's not a real market driven number? and we know the longer you keep it there, the greater the misallocation, and the greater the pain."
The "permanent Bull market" engineered by the constant intervention of banking and political authorities has a problem: the duration of each cycle is getting shorter.
As we all know, the central banks of the world have decided that in lieu of actual prosperity, they will provide the illusion of prosperity via a "permanent Bull market" in stocks.
I have discredited this "wealth effect" many times, as have others. Since the vast majority of equity and financial assets are held by the top 10% of households in the U.S., then the "wealth effect" only benefits this narrow band of households. Very little trickles down as the newly enriched account for about 40% of all consumer spending–but luxury shopping creates mostly low-paying jobs: clerks in jewelry stores, busboys in fancy restaurants, etc.
So far, so good, as far as the Federal Reserve and the politicos in Washington are concerned; since Wall Street is skimming billions again and big campaign contributors all come from that top 10% slice of the economy, then their pals and supporters are benefitting immensely from the facsimile "prosperity" of a propped-up "permanent Bull market."
But something is going wrong with the interventionists' delight: each new run of the "permenent Bull market" is shorter than the last one. Consider this chart of the S&P 500: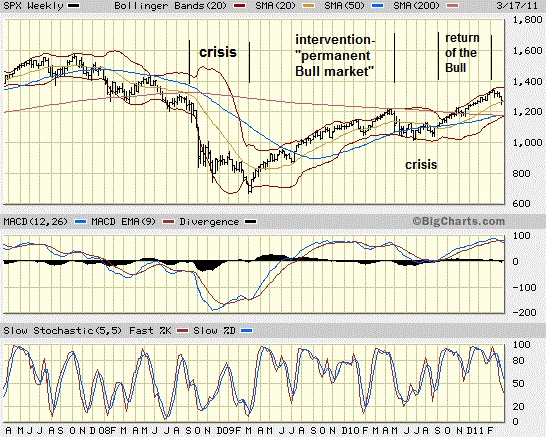 Although it is not shown, you will recall that the first leg of the "permanent Bull market" (PBM) lasted from about March 2003 (final sputtering end of the dot-com bubble) until about July 2008, when the market finally fell below the critical support offered by the 200-week moving average. That run lasted about five years.
The next "permanent Bull market" began in March 2009 after the central banks and politicos intervened on an unprecedented scale in the second half of 2008. That run ended in May 2010 when the Eurozone's debt problems broke through the EU's thick crust of denial and obfuscation. So that leg lasted a mere five quarters.
More intervention and a new layer of denial and obfuscation "solved" that crisis (which seems to reappear with alarming regularity) and the next leg of the "permanent Bull market" was launched by the Fed's QE2 $600 billion quantitative easing program–yet another unprecedented intervention in an economy which was supposedly one year into "recovery."
This most recent return of the "permanent Bull market" lasted less than seven months–from September 2010 to mid-March 2011.
The dynamic is clear, isn't it? Each new leg of the "permanent Bull market" requires a heavier dose of unprecedented intervention, denial, "stimulus" and obfuscation than the last one, yet the resulting Bull market is significantly shorter in duration than the previous run.
If this pattern holds–and exactly what evidence supports the claim that the next "permanent Bull market" will last longer than the previous one?–then we can anticipate that the next Bull market will last considerably less than seven months, and the one after than even less, until the forces of intervention and manipulation encounter a solid wall of granite.
At that point, massive intervention won't spark yet another "permanent Bull market": it will spark a collapse of equities as participants realize that the last iteration of the "permanent Bull market" lasted less than a month, and the next one might not last a week.
As part of the most recent observations on the boil up (melt up is so QE1) in the S&P, we find something quite interesting. A quick glance at the chart below shows the general market 45% climb since Bernanke's leak of QE2 in August, as well as the market's 10 day (purple line) and 50 day (green line) moving averages.
As a point of reference the S&P has been above the 10 day average for 30 days straight, and above the 50 day average for 92 days straight. What is remarkable are some statistical findings as pertain to the average's movement with respect to the SMAs. Sentiment Trader points out that while as part of the recent surge in the S&P, the market has gone for "92 days without closing below its 50-day average, which has been matched only 17 other times since 1928."
Where it gets scary, is that as pointed out, during this time the market has not closed below the 10 DMA once during the past 30 days. And as Sentiment Trader notes, "this has never happened before, in 82 years of history." Congratulations to the Centrally Planned Socialist States of America: its Chairman has just made the Guinness Book of Manipulation Records.
The stock market is being manipulated folks and here's proof.
So where are the cops?  Where is the SEC?  Oh yeah, the new 'financial reform' bill exempts them from any public disclosures.  That's nice and convenient, isn't it?  They can work in secret and claim they're protecting us….but who are they really protecting?
Put your money in this market at your own risk.  You can be sure that the people running this show WILL find a way to take it from you.
In pictures and words.
The original price action is here (top right corner of your screen); I have pulled the original Ticker and have decided the future Youtube's will be linked only through here, and that comments on Youtube itself will be disabled.
There are a number of reasons for this, not the least of which are the "it's all the Joos fault!" garbage I have to clean up on Youtube's comment area.  It's sad that people can't see the forest for the trees and have to look for a boogeyman behind every corner.
A few people also seemed to be unable to recognize the context.  Yes, the original clip appears to show blatantly improper (even unlawful) activity, and as I explain in the video above, Section 9 of the Securities Act of 1934 covers this sort of thing.
But the larger point was missed in the short five minutes (that's what I get for doing short takes, eh?) which is that it is confidence in the marketplace – that it is not just a bunch of computers fighting with one another, but rather is a valid price-discovery mechanism – that is critical to having a healthy securities market in the first place.
This confidence has been severely damaged to the point that even mainstream commentators like Cramer mention it, along with other well-respected tweeters such as this note sent to me this morning:
@tickerguy #marketticker Give it up Karl – those guys would get away with murder. Laws are not enforced, which is why it's a free-for-all.
That's a great sentiment to have about our capital markets, right?  That comment, incidentally, was in reference to this morning's article about all the "accidental" Repo-105-like transactions that are suddenly being admitted to (as the SEC looks at them), rather than having the SEC call people out.  Funny how it is that those "accidents" never are to the detriment of a firm's balance sheet posture, right?
The point is the same, however:
Confidence is all the markets have to sell to ordinary businesses – and people.
Without it the markets are departed by the "ordinary Joe":
"We just didn't want to put up with it any more," says Karen Potyk. She and her husband sold the last of their stock holdings on May 20, moving the money to bonds, certificates of deposit and bond-like annuities.

Small investors' faith in stocks, which surged in the 1990s, has collapsed since the technology-stock debacle and the Enron and WorldCom scandals of 2000-2002. The 2007-2009 financial crisis only made things worse. Now, the pullback among ordinary investors means they are a declining force in a market that is increasingly dominated by professionals.
Professionals?  Well, yeah, I suppose so.  We call a guy with a set of lock-picks a professional too, but when he's tooling around your house at 3:00 AM his title isn't usually "locksmith."
These professionals wield high-speed computers and have figured out how to, in many cases, circumvent the precise letter of the law and regulations – but not the spirit.  They operate in the shadow of what's permitted (and, I believe, well beyond it much of the time) even though the clear intent of regulations such as "Reg-FD" is to guarantee everyone an equal and fair bite at the apple.
Investors talk of a growing disillusionment with big institutions, including corporations, government, banks and political parties—as well as fears about the nation's heavy debt. Some people's confidence in stocks was seriously shaken by the volatility that returned in May. They worry that the May 6 flash crash, when the Dow Jones Industrial Average fell 700 points in eight minutes before rebounding, is a sign that ordinary people are increasingly at the mercy of anonymous companies that trade with powerful computers.
That's because they are.
If Wall Street wants to stop this, then it needs to actually stop it and quit yapping and making excuses.
Orders, for example, could be forced to be valid for two full seconds.  That is, if you expose an order in the market you have to take a genuine risk of being filled not only by those with other high-speed computers, but also by real people trading with their brain directing their keyboard and/or mouse in real time.  With a common round-trip time of ~100 milliseconds for messages nowdays on The Internet, a two-second exposure would allow human reaction time (~1.5 seconds) plus transport of the instruction to have a fighting chance against the machines.  The "fat-finger" mistake would still be able to be canceled – if it is, indeed, a fat-finger mistake.
We could, for instance, require that if you have an imbalanced pattern of orders then you need to be able to demonstrate that you were truly intending to be willing to take execution of either side.  This might be refuted rather easily if, for example, you have 100 contracts offered on the /ES at 1090, 2,000 bid at 1088, the tiny offer gets hit (and you pull the bid) and then a very short while later you show up with an opposite-side identical play.
And we could impose geometrically more-expensive fees as your percentage of cancel-to-execute rises.  First cancel, cheap.  Second, cheap.  Third with no execute, not so cheap.  Fourth, more expensive.  Tenth?  Damn expensive.  This too stops the game – now cancels aren't effectively "free" beyond one or two per order that actually matches and executes.
Of course doing these things (among others) would destroy the "near-sure thing" of picking ordinary investor's pockets via various HFT-linked schemes.  It would mean that you couldn't safely put 10,000 or 100,000 shares of orders into the system as "line standers" then cancel them as price approached.  You couldn't stick a 2,000 contract /ES order out there and cancel it a tiny fraction of a second later – if someone wanted to hit you they could do exactly that, dramatically raising the risk involved in playing this sort of game.  If the risk of losing at these games rises to a high enough level, people will stop doing it – simply because it's too dangerous.
There is nothing wrong with speculation – I do it daily. 
But there is something very wrong with a market that is rigged against the smaller investor by computers that can place 20 orders up and down the bid and offer ladder to "hold their place in line" and then cancel those they no longer want as price moves while you, sitting behind a screen, can't possibly replicate this sort of strategy - you get to stand at the end of the line of all the other shares at the same price. 
It is a documented fact that the cancel-to-execute ratio has shot the moon over the last few years.  These are not small investors issuing change orders, they are high-speed computer-driven algorithms that are "standing in line" and then quickly withdrawing their orders when they don't like the conditions, thereby reserving a trade in front of you, an (apparently legal) way to front-run order flow.  It is impossible for you, the small investor or trader, to compete in such a system as you do not have the colocated machine sitting 5′ from a gigabit-level (or better) switch at the exchange itself – your terminal is connected to a brokerage, which must obtain the quotes from the exchange, disseminate them to you, then transmit back to the exchange your price order.  You, as an individual investor, are easily 100 times slower than the "arms race" folks – you can't win in such a game which is no small part of why some of these firms are able to put up "no lose" trading records.  Their "gains", if you're wondering, come from you – a fraction of a penny at a time, millions of times a day.
It's time to stop it folks.