Archive for the 'Medicare' Category
The USSC upheld Obamacare by, basically, twisting the Constitution into a pretzel, crapping on it, whizzing on that and then eating it.
Finding first that the Commerce Clause bars the government from compelling one to enter into commerce, the analysis then turned to whether there was any way to save the constitutionality of the act.
The justices found one.
They re-interpreted the penalty clause as a tax.
And of course, Congress can levy taxes.
That's the path taken by this tortured process — a path that could only be dreamed up if someone had already determined the outcome they sought instead of being an independent jurist.
The real surprise, however, is that Chief Justice Roberts, believed to be a strict constructionist on the court, managed to not only agree with this piece of tortured logic he found and constructed it as the opinion is his!
So much for judicial restraint and strict construction!
You really ought to read the dissent that starts on page 127 of the opinion.  Justice Scalia, Thomas, Kennedy and Alito eviscertate the majority, saying in part:
Here, however, Congress has impressed into servicethird parties, healthy individuals who could be but are not customers of the relevant industry, to offset the undesirable consequences of the regulation. Congress' desire to force these individuals to purchase insurance is motivatedby the fact that they are further removed from the marketthan unhealthy individuals with pre-existing conditions, because they are less likely to need extensive care in the near future. If Congress can reach out and command even those furthest removed from an interstate market to participate in the market, then the Commerce Clause becomes a font of unlimited power, or in Hamilton's words, "the hideous monster whose devouring jaws . . . spare neither sex nor age, nor high nor low, nor sacred nor profane." The Federalist No. 33, p. 202 (C. Rossiter ed. 1961).
What little was left of The Constitution died today, June 28th, 2012.
And incidentally, the math on federal health spending coupled with this decision means that by the time a 55 year old man reaches 85 (his life expectancy, roughly) the Federal government will be attempting to spend roughly $15 trillion a year on health care.
(No it won't, no we won't get that far, and the detonation of our government on the fiscal side is now assured — or your health care will be sacrificed.  This is mathematics, not politics.)
Medicare is an example of an unsustainable system that will go away in the decade ahead.
Here are the sobering facts about the number of workers and those drawing Social Security, Medicare and Medicaid entitlements in the U.S.While the government claims to have a "trust fund" to pay for Social Security and Medicare, this is illusory propaganda. There are no funds set aside to pay these entitlements–they are "pay as you go" programs funded by current tax revenues.  If the tax revenues don't cover the programs' expenses, the Treasury sells bonds, i.e. issues debt to pay the entitlements.
Social Security (SSA) has 61 million beneficiariesas of March 2012.
Medicare has 49 million beneficiariesas of November 2011.
Medicaid has over 50 million beneficiaries; another source puts the current number at 58 million.
Kaiser Family Foundation says roughly 7 million "dual-eligibles" who receive both Medicaid and Medicare, so let's use the data point of 50 million Medicaid-only recipients.
We can assume that most people drawing Medicare benefits also draw Social Security, while the 8+ million drawing disability from Social Security are also covered by Medicaid.
However you slice it, there are roughly 60 million people drawing Social Security and Medicare/Medicaid and another 50 million Medicaid recipients for a total of 110 million people drawing significant entitlements.
As I have noted here many times, there are only 115 million full-time jobs in the U.S.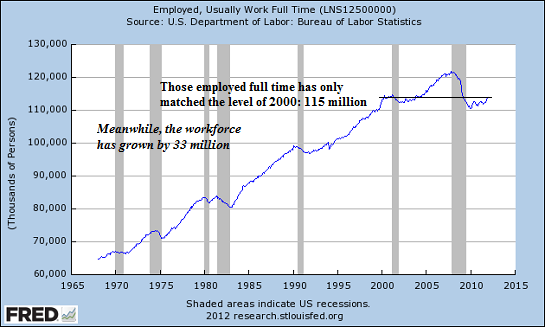 That means the ratio of workers to recipients of  significant "pay as you go" entitlements is roughly 1-to-1: 115 million full-time workers and 110 million people drawing Social Security and Medicare/Medicaid.
These programs consume the majority of the Federal budget.  The Federal government spends around $3.7 trillion and collects around $2.6 trillion in taxes, so the basic deficit is $1.1 trillion. Off-balance sheet "supplemental appropriations" mean the real deficit is actually considerably higher.
Social Security costs $817 billion, Medicare and Medicaid costs total about $800 billion  annually, and program outlays rise every year. The Pentagon/National Security budget is around $690 billion.
As I detailed in The Fraud at the Heart of Social Security   (January 17, 2011), the program paid out $707 billion in 2010 and collected $631 billion in taxes, a $76 billion shortfall for 2010. The current program (2012) cost is $817 billion, a leap of $100 billion in a few short years as Baby Boomers flood into the program.
Of the roughly 150 million workers in the U.S., 38 million earn less than $10,000 per year, 50 million earn less that $15,000 a year and 61 million earn less than $20,000 annually. All these numbers are drawn directly from Social Security Administration payroll data.
100 million wage earners, or 2/3 the entire workforce, earn less than $40,000 per year.
Median pay in the U.S. is about $26,360 annually, while the average pay is about $40,000. Since the average American household takes in $63,091 per year, it seems the typical wage is roughly $30,000 a year.
The Medicare tax is 2.9% of wages, 1.45% each for employer and employee.If the typical worker makes $30,000 a year for 35 years, then lifetime earnings are about $1 million. If we take the $40,000/year average, then that rises to around $1.4 million in lifetime earnings. The 2.9% Medicare tax thus totals about $30,000 to $40,000 in lifetime contributions for the average worker.
The average benefits extracted from the system run from $393,000 to $525,000  (due to the benefits extended to non-working spouses, benefits for never-married people may be somewhat lower). Average annual costs per beneficiary run as high as $18,000, though expenses typically rise significantly in the last year of life.
As I have reported here earlier, a friend's father was in the hospital a few years ago for less than a week for "observation" and a non-invasive gall-stone procedure. Medicare was billed $120,000, or roughly the lifetime contributions of three workers for this modest procedure and a few days in a hospital. My Mom had an office procedure performed on one of her toes and Medicare was billed $12,000.  An office procedure (not in surgery) that took a few minutes absorbed 1/3 of my entire lifetime contributions to Medicare.
What we have is a system where the full-time worker to beneficiary is already 1-to-1 and the system pays out 10 times more per person than it collects in taxes.  The Medicare system would need about 10 workers for every beneficiary to be sustainable. Right now the ratio is just above 2-to-1. That simply is not sustainable.
Tweaking the payouts doesn't change the basic math: "pay as you go" entitlements are not sustainable when the number of recipients equals the number of full-time workers. Programs that pay out $400,000 per person (many of whom did not work a lifetime) and collect $40,000 per lifetime of full-time work are not sustainable.
Wishing the math were different does not make it different.
For more on this topic, please see:
America's Hidden 8%  VAT: Sickcare(May 10, 2012)
How We Do Harm: A Doctor Breaks Ranks About Being Sick in America (print)     (Kindle)
Charles Hugh Smith – Of Two Minds
I wish there was something approaching an honest reporter left in this country among the mainsleaze media.  But there's not.
Updated 4:05pm ET The trustees of the Social Security system said Monday the fund that helps sustain retiree and survivors' benefits will become exhausted in 2033, three years sooner than they projected last year.

At that point, payroll taxes and taxation of Social Security benefits will provide only enough income to pay about 75 percent of the benefits that Congress has promised to retirees and survivors.

In practical terms, this means that a 40-year-old worker who is eligible to collect retirement benefits in 2039, would see his or her expected retirement benefit cut by about 25 percent, unless Congress took action to change the program's funding or its benefit structure.
So far so good.  But it's the assumptions that are the problem:
The trustees said that to keep the Social Security trust funds solvent over the next 75 years, Congress could take a number of steps:

increase the payroll tax rate from its current level of 12.4 percent to 15.01 percent;
Huh?
The Payroll Tax is not 12.4%; that's a lie.
Millions of workers will see their take-home pay rise during 2011 because the Tax Relief, Unemployment Insurance Reauthorization, and Job Creation Act of 2010 provides a two percentage point payroll tax cut for employees, reducing their Social Security tax withholding rate from 6.2 percent to 4.2 percent of wages paid. This reduced Social Security withholding will have no effect on the employee's future Social Security benefits.
So the tax is actually 10.4%.  And note carefully that the Trustees said that a roughly 2.5% increase would balance Social Security.  But we've done exactly the opposite by almost exactly the same amount.
So who's going to be honest and call for (1) an immediate full stop to that payroll tax cut and (2) an increase in the payroll tax to 15%?
Nobody.
In point of fact there's another option for Social Security that would make even more sense — index to longevity.  That would, along with a less than 1% increase (to 13%; the "cut" that's allegedly temporarymust go away right here and now in any event) put the system back into balance.
In short Social Security is pretty easy to fix.  It's unpopular to talk about what has to happen to fix it, but it's fixable and at a reasonably-small cost to the average employee in terms of tax impact.
Separately, the trustees, who are also the trustees of the Medicare program, reported that the Medicare fund that pays hospital costs for older and disabled Americans will be exhausted by 2024, the same forecast as they made last year.

After the assets of the Medicare fund are gone, if Congress were to take no action, projected Medicare revenue would be adequate to cover 87 percent of the estimated spending in 2024 and about two-thirds of projected costs in 2050.
Nonsense.  These figures are nowhere near accurate as they do not include the 9.2% rate of increase that is currently being suffered.
The BEA says that compensation of employees is $8.4 trillion (last quarter of 2011, which is the latest available at present.)  That's $244 billion a year in Medicare tax (2.9%, both employer and employee parts.)
But the Federal Government spent $820 billion last year on health costs, approximately $550 billion of it in Medicare and Medicaid.  While the program claims to have taken in $530 billion there's obvious game-playing going on here as the total employee compensation as of the last quarter of 2011 is annualized to $8.4 trillion and Medicare tax is 2.9% of this, or $244 billion.
On a basic cash-flow analysis and given the $244 billion of actual bonds in the system for Medicarethere is about one year of benefits available on a cash-flow basis, including tax receipts and "bonds in the drawer" for Medicare.
To be succinct Medicare is functionally bankrupt right here and now!
Medicare and Medicaid cannot be fixed at all as the problem is not found in those programs — it is found in the underlying medical system in our nation.
Simply put we have to shut down the cost-shifting, including that represented by:
EMTALA, which resulted in the destruction of charity care in general; the Catholic Church "cheered" this as it's roughly six hundred hospitals were largely relieved of being fully-charity-funded (that is, from your donations in the plate on Sunday) and managed to shift a huge part of that funding to you, the taxpayer, via explicit health "insurance" and private payer support!  This of course the Church does want to talk about; a "gun up the nose" isn't charitable at all, yet this is much of what so-called "charity hospitals" do today.  The Church needs to be called out on this loud and long; they're liars and frauds and have done their level damndest to pretend to provide charity care while offloading it on the general public.  This sort of intentional deception is a Satanic abuse of the alleged moral high ground the Church claims for itself.
Outrageous development cost shifting from the rest of the world to the United States; price controls in other nations effectively prohibit the cost of development of new drugs and devices from being borne by health systems in other countries.  Canada and the UK are two of the worst offenders but hardly the only ones; other nations frequently threaten to break patents wholesale unless they get favored pricing.  The medical industry then got passed laws prohibiting reimportation, codifying a "wall" in federal law with felony penalties for breaches that allows this rip-off of the American consumer to continue. As a consequence Americans often pay 10x or even more what a Canadian pays for the same drug or device; we effectively cover all development costs for the entire planet.  This must end — now.
Specific legal exemptions from anti-trust law and shielding from consumer-hostile practices such as permitting and even encouraging disparate billing for procedures, drugs and devices depending on how one pays; a discriminatory act that when taken for the purpose of reducing competition is flatly illegal in other fields, blatant limiting of competition for various technological practices (e.g. licensing restrictions prohibiting the free opening of new MRI centers to drive down costs) and other acts that in any other field would land the parties involved in the graybar motel for felony criminal violations of anti-trust and restraint-of-trade law.
All of this combines to cause the cost of medical care in the United States to be a literal double that which is charged and obtained in other nations.  We simply cannot afford to continue on this path as the growth rate (9.2% compounded for the last 30 years) will result in the bankruptcy of the federal government and destruction of our economy within the next two decades.
The game-playing within the system cannot be maintained; eventually cash flow always wins.  You can move things around and pretend for a while but doctors, hospitals and others in the supply chain don't take empty promises, they want checks.  Eventually you are forced to admit that the money doesn't exist and you're shuffling the deck and playing with the cash flow from one place or another so as to avoid telling the truth about what's really going on in the budget and these funds.
This problem has to be solved, and solved now.  Neither political party will talk honestly about this, but we must as Americans demand both the truth and real resolution, as the path we are on will resolve in a disorderly collapse of our medical system and shortly thereafter our economy and government.
We cannot afford to continue to play the game that both the Republican and Democrat parties are running in this regard, nor are the so-called "third party" claims (e.g. Gary Johnson) honest assessments either.
The medical system in this country is terminally broken and if it is not corrected now we will all discover that there is simply no money and thus what people claim they have been promised will be shown to be a sham and collapse — and this outcome will be apparent much sooner than people think.
Now we get a bit of honesty here….
Critics are missing the larger point. Why should the Department of Health and Human Services (HHS) decree that any of us must pay for "insurance" that covers contraceptives?

I put "insurance" in quotes for a reason. Insurance is supposed to mean a contract, by which a company pays for large, unanticipated expenses in return for a premium: expenses like your house burning down, your car getting stolen or a big medical bill.
Right. Insurance is a negative-sum game.  That is, on balance everyone who buys it must lose when everyone adds up their expenses, since nothing is free and the company that aggregates and doles this out must get paid somehow.
Therefore it is not insurance when you are buying "insurance" on something that everyone, or close to everyone, will actually use. 
Insurance is the purchase of a contract that pays off when you have an unlikely event that would otherwise be catastrophically expensive.  By spreading this risk of unlikely but catastrophic outcome while everyone must mathematically lose when all the costs and benefits are added up, the cost becomes palatable to people in general.  This is why homeowners insurance is reasonable in cost — it's unlikely that you'll have a fire, but if you do the loss would bankrupt you absent the insurance. You thus voluntarily buy the insurance to protect against the risk, unless of course you have a shack, in which case you don't care (and don't buy.)
But when it comes to "Social Insurance" (Medicare, Medicaid and Social Security) these are not insurance programs, in the main.  Nor is the "HMO/PPO" nonsense with coverage of routine expenses.  And it is those routine expenses that have gone through the roof in cost, along with prescription drugs and devices at the same time "catastrophic" events have skyrocketed.
Nobody denies that things like heart stents and "miracle" drugs are expensive to develop.  But the benefit — and cost — of those things can be borne by actual insurance, with individual people choosing to have or not have that coverage. 
Routine medical care, on the other hand, along with chronic conditions are another matter.  Those are things that are utterly predictable.  We all get old.  We all go to the doctor more often as we get old.  It is as routine as, well, getting old.
Likewise with birth control.  If you're of fertile age as a woman or a man involved with such a woman then you have this concern in one form or another.  You either both want an unlimited-size family or you do not.  If you do not, and most people do not, then this is an utterly predictable expense.
As for those who say that this sort of thing is "expensive", no it's not.  Not any more than your iPhone is.  If you can afford the cellphone you can afford the birth control.  Is sex more important to you than your toy piece of technology?
It's not about "access" and it's not about "insurance." It's because Americans, when paying even modest co-payments, choose to spend their money on other things. They prefer a new iPod to a "wellness visit" to the doctor. As the HHS unwittingly admits: "Often because of cost, Americans used preventive services at about half the recommended rate."
Yep.  And Americans prefer this because they do not have to bear the cost of this decision.
That is, Americans are free to spend the money on an iPod rather than a "wellness visit" to the doctor because if they make this choice and then get severely ill they can force everyone else to cover the otherwise-avoidable expense they would not have taken on if they eschewed the iPod and went to the doc!
This is where the problem lies and until we admit it and deal with it there is no resolution to our budget mess that is possible.  The simple fact of the matter is that we do not have the ability to pay for that which we've promised to people.  This has resulted in what look like "excellent profits" in various businesses (like Apple) that are factually false as these "sales" are in fact shifted to federal borrowing — a death spiral that will detonate in our face.
This game must end.  In reality this "debate" about birth control in Obamacare is not about birth control at all.  It is about the Church and the professional left and right creating entitlement programs that serve as nothing more than a cost-shift they cannot fund, then claiming that we "cannot stifle" an alleged but false economic recovery!  This an outright fraud by both the Church and everyone else involved in it, both government and private sector.  So long as the Church was able to make someone else — anyone else, including their congregation — eat the cost of their frauds they were perfectly happy with it.  In fact they reveled in it as the Church's historical role in helping the poor through voluntary donations was able to be sloughed off to the taxpayer!  The bleating now, just like that of the doctors, drug companies and hospitals, is all a function of the truth being shoved in their face — their cost-shifting game has backfired and they are now forced to deal with not only the financial but moral costs of the policies they actively promoted.
There is no recovery folks and there can't be until truth is faced.  The Federal Government is creating the illusion of economic demand that does not exist and has been for more than a decade.  The truth of this is becoming more and more evident as each day goes on and our standard of living is continually eroded as each pillar of debt dependency is exposed for what it is — a pyramid scheme and thus an outright scam.
You're free to buy into this if you want and to believe in the "faux outrage" of the Catholic Bishops, but that's what it is — faux outrage. These same people were more than happy to shove you into the hole so the government could take by taxation that which they believed you "should" give as nothing more than a throwback to former Church policy when the Church had the force of law behind it.  By making such arguments and endorsements from the pulpit, something that the Pope just did recently with his claim that "redistribution" is "appropriate", the Church has in fact endorsed Ponzi spending that is no more correct than was the Church's insistence that Earth was the center of the universe.
There are many "churches" that are involved in this scheme and scam and most of them do not have crosses over their altars.  That there is an intersection between the political left, right and various faith-based groups is no surprise — none of them are willing to abide our Constitution or the math.
The fact of the matter is that fully 61% of Federal Spending (FY 2012) is for blatantly unconstitutional things.  Universal retirement and indigent health care (Medicare and Medicaid), Title I (public education), universal retirement income (Social Security) and universal money and goods assistance to indigent people (welfare in all forms, AFDC, Section 8, etc) are all without foundation in the Constitution of the United States at a federal level.  The growth of these programs was utterly predictable — with federal medical spending growing from $53 billion in 1980 to over $800 billion last year, a compound growth rate of just over 9%, it is clear that mathematically Medicare and Medicaid alone will eclipse the entire Federal Budget within the next 20 years.  This will bankrupt our nation with certainty unless we stop being stupid. 
The bad news is that when we stop the economic contraction that will inevitably ripple through the economy is going to be massive and the magnitude of that contraction grows with every day we continue to pretend instead of "eating our peas."  This economic adjustment, which I estimate was 10% of GDP in 2000, grew to 20% by 2007 and today is approaching double that amount!  If we don't accept the truth soon collapse will become inevitable.
While you can ignore the Constitution, seemingly without consequence in this country, you cannot ignore math.  Compound functions just are, and the consequence of refusing to deal with them is utterly predictable and in fact certain.
We must stop this now and if there was any sort of honest outrage from these institutions, including the Church, their outrage would be directed at the fact that the majority of what our Federal Government does today is in fact blatantly unconstitutional and thus without justification under The Constitution of the United States.
The very same Constitution that, when it's convenience for them, they bitch about being violated.
The difference between rape and sex is consent. As such I'll be interested in the Church's complaints about contraception when — and only when – they stop telling me that being horse-raped on a daily basis by my government is in fact consensual sexual intercourse.
CBO Confirms Tickerguy's Projections…..

(Reuters) – Gvernment spending for Medicare, Medicaid and other healthcare programs will more than double over the next decade to $1.8 trillion, or 7.3 percent of the country's total economic output, congressional researchers said on Tuesday.

In its annual budget and economic outlook, the non-partisan Congressional Budget Office said that even under its most conservative projections, healthcare spending would rise by 8 percent a year from 2012 to 2022, mainly as a result of an aging U.S. population and rising treatment costs. It will continue to be a key driver of the U.S. budget deficit.
That's not going to happen, because it can't.  That number would represent approximately 1/2 of today's Federal Budget, incidentally.
The bad news is that it doubles again in another eight years.
This is the nature of all exponential functions folks.  Compound growth just is, and it is never, ever sustainable over the intermediate and longer term.  Yet we've played this game since 1980, with medical spending by the Federal Government expanding at roughly 9% for that entire 30 years.
What's worse is that the bolded text is false — in the private sector insurance costs are rising at least as fast as they are in the government.  When I ran MCSNet in the 1990s we were seeing double-digit premium increases every single year, and this is still going on.  The only way to keep it under some resemblance of control was to cut back on the offered services in the plan, but on a "like-for-like" basis there was never a year during my time running MCSNet that we saw increases under 10%. 
Not once.
There is no solution to this problem that can be found with "reform" of Medicare and Medicaid.  The problem lies in the underlying medical system in this country and addressing it must happen there, not through things like Obamacare or changes in the government side.
The ridiculous growth in medical costs have come from ridiculous cost-shifting and obfuscation, along with a completely-unrealistic set of expectations.
Consider the cost of putting a man on the moon.  We can do it, but it's ridiculously expensive.  Likewise, we can put men in space at the ISS, but on a per-person basis it's ridiculously expensive.  Ditto for flying in a private jet — yes, you can do it, but it's ridiculously expensive.
Now consider what would happen if everyone could demand and enforce via government a ride in a moon rocket, a month at the ISS, or the ability to walk into any executive airport and demand that the Lear sitting there immediately take off for Bermuda, irrespective of how much money you had in your bank account!
That's exactly what we've done in the medical system.
Provenge is just one example.  Dendreon developed the drug for late-stage metastatic prostate cancer, a terrible disease.  Statistically it adds 4 months to your life, but costs $100,000.  So for about a quarter of a million dollars per person-year, you can have it — the problem is that you don't need to have the quarter of a million bucks first, or choose to spend your own funds on the treatment.
Bypass operations and myriad other very expensive procedures, drugs and devices are also part of this problem.  Many chronic conditions have costs in the tens or even over a hundred thousand a year, yet your access to those treatments is not conditioned either by your lifestyle choices that led to the problem (or lack thereof) or your ability and willingness to personally spend the money.
The medical industry capitalizes on all of this and then adds both anti-trust exemptions and intentional forced cost-shifting onto the backs of those who can pay for those who can't.  This is why the aspirin in the hospital costs $25 — you're paying for Juanita the illegal immigrant who showed up last night in labor at 7-1/2 months, having drunk and drugged herself during pregnancy while receiving zero prenatal care, and pooped out a severely-underweight kid who's now in the NICU and is in the process of running up a million dollar tab.  This happens every single day and it is why you can buy the same operation in India, performed by a US trained doctor with US medicines, devices, and operating room equipment with a hospital room that is equipped like a luxury suite in the Ritz-Carlton to recover in for 1/5th the cost of the same procedure here in the United States.
Then there's defensive medicine.  You show up with a non-specific pain in the abdomen.  The doc checks what he can and rules out appendicitis (an immediate emergency) and a few other things.  Now there's a problem — he has a list of a dozen things running around in his head that could be wrong with you.  There's a 10% chance that one of the couple of really nasty ones (such as cancer) are involved but ruling them out will require $5,000 worth of tests.  The odds, however, are 90% that the problem is not serious and is something as simple as a mild case of food poisoning.  Who's money and risk is involved in the decision as to whether or not to run those tests?  Today, the answer is that they get run every single time because if he doesn't and you hit the bad dice roll you'll sue (and win.) 
In short you're not required to allocate the risk and cost on your own.
There's no fix for Medicare and Medicaid, nor for the Federal budget, without resolving all of this.  And make no mistake folks, this will blow up and destroy not only the federal budget but privately-provided medical care as well within the next five years if we don't stop it right now.
Republican Rep. Paul Ryan plans to unveil a new Medicare proposal Thursday that would give future seniors the choice of purchasing private insurance coverage or staying in the traditional federal plan.
This will do exactly nothing.
Here's the underlying problem that nobody is offering a legislative agenda to address: Medical spending in the Federal Budget has expanded at a compounded rate of 9% since 1980 and is projected to continue to do so.
The reason for this is that medical care generally in the private economy (e.g. health insurance premiums) is expanding in price at roughly that rate or better for the last 30 years as well, and as such so is the government side of it.
At present the government spends about $800 billion a year (up from ~$53 billion in 1980!) on medical care in all of its programs.  At 9% compounded rates of growth for the 50 year old by the time he reaches 85 (35 years from now) this spending is projected to increase to $16.3 trillion.
That obviously won't happen — the entire federal budget is currently $3.8 trillion and the entire economy is $15 trillion.  If the economy grows at 3% annually every year for the next 35 years the economy will be $42 trillion in size; with the government being ~20% of the economy ($8.4 trillion) this would still leave medical care totaling twice the entire federal budget.
Again, that obviously won't happen because you can't spend more than 100% of something as a subset of that thing.
This has to be stopped — right here and now.
The expansion is being caused by the massive cost-shifts through all areas of the medical system.  As I detail in Leverage these cost-shifts are pervasive and outrageous — we effectively in America pay for the development of every advanced technology and treatment and subsidize government-run health care worldwide!  This is a very profitable model for pharmaceutical and device makers, not to mention all the other providers who look at the provision of these products as "cost plus" — the higher the price, the greater in dollars the "plus" percentage is.
There are too many points of debate to cover in one ticker on this; you can go back through my various points in this regard using the Archive function if you wish, or buy a copy of Leverage and read it for a more-succinct yet reasonably-complete treatment of the problem.
What we cannot do is continue to sit back and watch partisans like Ryan continue to lie through his teeth, along with the others in Congress on both the Left and Right.  If we do not get our arms around this portion of the Federal Budget in the immediate future it will lead to the destruction of the US Government and our way of life.