Archive for the 'Money' Category
About the claim that central banks will never let asset bubbles pop ever again–their track record of permanently inflating asset bubbles leaves much to be desired.
The problem with trying to solve all our structural problems by injecting "free money" liquidity into financial Elites is that all the money sloshing around seeks a high-yield home, and in doing so it inflates bubbles that inevitably pop with devastating consequences.
As noted yesterday, the Grand Narrative of the U.S. economy is a global empire that has substituted financialization for sustainable economic expansion. In shorthand, those people with access to near-zero-cost central bank-issued credit can take advantage of the many asset bubbles financialization inflates.
Those people who do not have capital or access to credit become poorer. That is the harsh reality of neofeudal, neocolonial financialization. Neofeudalism and the Neocolonial-Financialization Model (May 24, 2012).
Injecting liquidity by creating credit and central bank cash out of thin air is not a helicopter drop of money into the economy–it is a flood of money delivered to the banks and financial elites. The elites at the top of the neofeudal financialization machine already have immense wealth, and so they have no purpose for all the credit gifted to them by the central banks except to speculate with it, chasing yields, carry trades and nascent bubbles (get in early and dump near the top).
Life is good for the kleptocratic financial Aristocracy: for debt-serfs, not so good.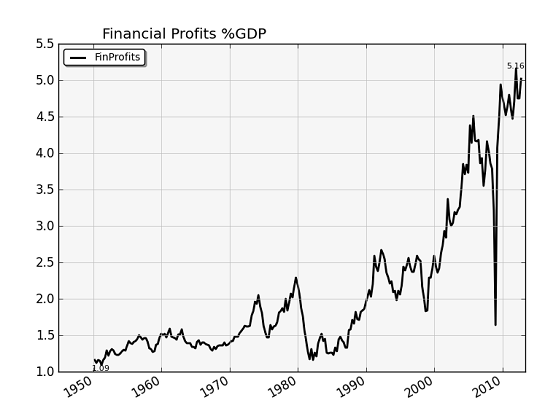 No wonder the art market and super-luxury auto sales have both exploded higher. Thanks to the central banks' liquidity largesse, the supremely wealthy literally have so much money and credit they don't know what to do with it all.
If you want to borrow money to attend college, the government-controlled interest rate is 9%. If you want to speculate in the yen carry trade or buy 10,000 houses, the rate is near-zero or at worst, the rate of inflation (around 2% to 3%). If you want to borrow money for anything other than a socialized mortgage to buy a single-family home, tough luck, you don't qualify. But if you want to speculate with $10 billion–here's the cash, please please please take it off our soft central-banker hands.
If your speculations end badly, then no problem, we transfer the toxic trash heap of debt and phantom assets onto the balance sheet of the central bank or onto the public (government) ledger.
Given this reality, it was inevitable that the stock, bond and housing markets would all be inflated into bubbles by this monumental flood of free money.Please consider these three charts: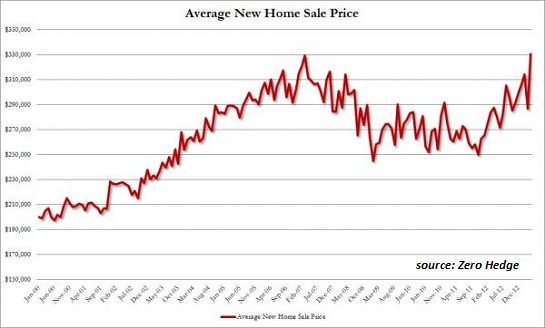 Spot The Bubble: Average New Home Price Soars By Most Ever In One Month To All Time High (Zero Hedge)
Verdict: bubble.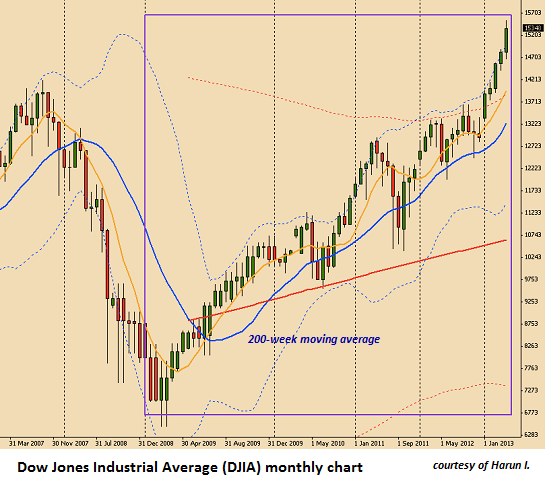 Verdict: bubble.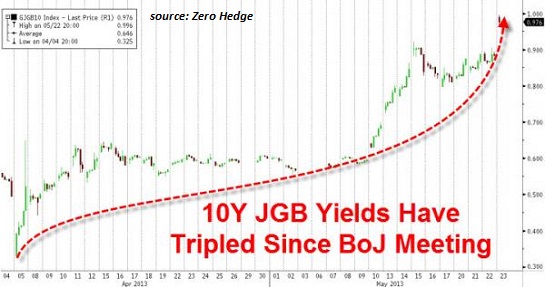 Japanese Bond Market Halted At Open As Bond Selling Purge Goes Global (Zero Hedge)
Verdict: bubble popping.
It is widely accepted as self-evident that all these bubbles will not pop because the central banks won't let them pop. That's nice, but if this were the case, then why did stocks crater in 2000-2001 and 2008-2009, and why did the housing bubble implode in 2008-2011? Did they change their minds for some reason?
No; they assured us right up to the moment of implosion that everything was fine, there was no bubble, etc. The only logical conclusion is that bubbles pop even though central banks resist the popping with all their might.
In the past, central banks were pleased to inflate one bubble at a time, enabling money both smart and dumb to flee one smoking ruin and get busy inflating the next bubble-ready asset class.
But now, thanks to essentially unlimited liquidity and credit, the central banks have inflated three bubbles at the same time: stocks, bonds and housing. That raises an interesting question: what if all these bubbles pop in unison? Will the central banks be able to place a bid under all three markets simultaneously? If so, where will all that freed-up cash go next?
One possibility is gold, another is commodities such as grain and oil. The latter is especially interesting, because central banks and governments hate energy speculators with special intensity because the "Brent vigilantes" have the power to boost inflation where it matters, i.e. energy.
Once energy takes off in a speculative bubble, the rising cost of energy sucker-punches the already-anemic global recovery, and the responsibility eventually lands on the laps of the central banks who created all the bubbles. Their quantitative easing policies discredited, the central banks will have to restrain their liquidity hand-outs, and that will undermine what's left of the various speculative bubbles they've blown.
Those who argue bubbles won't be allowed to pop ever again should look at history from 1999 to the present again.
Charles Hugh Smith – Of Two Minds
Is the coming financial collapse going to be inflationary or deflationary?  Are we headed for rampant inflation or crippling deflation?  This is a subject that is hotly debated by economists all over the country.  Some insist that the wild money printing that the Federal Reserve is doing combined with out of control government spending will eventually result in hyperinflation.  Others point to all of the deflationary factors in our economy and argue that we will experience tremendous deflation when the bubble economy that we are currently living in bursts.  So what is the truth?  Well, for the reasons listed below, I believe that we will see both.  The next major financial panic will cause a substantial deflationary wave first, and after that we will see unprecedented inflation as the central bankers and our politicians respond to the financial crisis.  This will happen so quickly that many will get "financial whiplash" as they try to figure out what to do with their money.  We are moving toward a time of extreme financial instability, and different strategies will be called for at different times.
So why will we see deflation first?  The following are some of the major deflationary forces that are affecting our economy right now…
The Velocity Of Money Is At A 50 Year Low
The rate at which money circulates in our economy is the lowest that it has been in more than 50 years.  It has been steadily falling since the late 1990s, and this is a clear sign that economic activity is slowing down.  The shaded areas in the chart represent recessions, and as you can see, the velocity of money always slows down during a recession.  But even though the government is telling us that we are not in a recession right now, the velocity of money continues to drop like a rock.  This is one of the factors that is putting a tremendous amount of deflationary pressure on our economy…
The Trade Deficit
Even single month, far more money leaves this country than comes into it.  In fact, the amount going out exceeds the amount coming in by about half a trillion dollars each year.  This is extremely deflationary.  Our system is constantly bleeding cash, and this is one of the reasons why the federal government has felt a need to run such huge budget deficits and why the Federal Reserve has felt a need to print so much money.  They are trying to pump money back into a system that is constantly bleeding massive amounts of cash.  Since 1975, the amount of money leaving the United States has exceeded the amount of money coming into the country by more than 8 trillion dollars.  The trade deficit is one of our biggest economic problems, and yet most Americans do not even understand what it is.  As you can see below, our trade deficit really started getting bad in the late 1990s…
Wages And Salaries As A Percentage Of GDP
One of the primary drivers of inflation is consumer spending.  But consumers cannot spend money if they do not have it.  And right now, wages and salaries as a percentage of GDP are near a record low.  This is a very deflationary state of affairs.  The percentage of low paying jobs in the U.S. economy continues to increase, and we have witnessed an explosion in the ranks of the "working poor" in recent years.  For consumer prices to rise significantly, more money is going to have to get into the hands of average American consumers first…
When The Debt Bubble Bursts
Right now, we are living in the greatest debt bubble in the history of the world.  When a debt bubble bursts, fear and panic typically cause the flow of money and the flow of credit to really tighten up.  We saw that happen at the beginning of the Great Depression of the 1930s, we saw that happen back in 2008, and we will see it happen again.  Deleveraging is deflationary by nature, and it can cause economic activity to grind to a standstill very rapidly.
During the next major wave of the economic collapse, there will be times when it will seem like hardly anyone has any money.  The "easy credit" of the past will be long gone, and large numbers of individuals and small businesses will find it very difficult to get loans.
When the debt bubble bursts, cash will be king – at least for a short period of time.  Those that do not have any savings at all will really be hurting.
And some of the financial elite seem to be positioning themselves for what is coming.  For example, even though he has been making public statements about how great stocks are right now, the truth is that Warren Buffett is currently sitting on $49 billion in cash.  That is the most that he has ever had sitting in cash.
Does he know something?
Of course there will be a tremendous amount of pressure on the U.S. government and the Federal Reserve to do something once a financial crash happens.  The response by the federal government and the Federal Reserve will likely be extremely inflationary as they try to resuscitate the system.  It will probably be far more dramatic than anything we have seen so far.
So cash will not be king for long.  In fact, eventually cash will be trash.  The actions of the U.S. government and the Federal Reserve in response to the coming financial crisis will greatly upset much of the rest of the world and cause the death of the U.S. dollar.
That is why gold, silver and other hard assets are going to be so good to have in the long-term.  In the short-term they will experience wild swings in price, but if you can handle the ride you will be smiling in the end.
In the coming years, we are going to experience both inflation and deflation, and neither one will be pleasant at all.
Get prepared while you still can, because time is running out.
"Raise toner cartridges!"
"ChairSatan, they've blasted the laser printers and the toner cartridge is destroyed!"
"Use the keyboard — the KEYBOARD!"
"ChairSatan, the margin is too great and the clerk is on line 1 with terms for your surrender…."
Last night Japan imploded, down over 1,100 points.
Helping accelerate the decline was the China PMI which was under 50 (negative, that is), throwing cold water on theChina will save the world crowd.  In point of fact, China has been losing their battle with credit games for over two years — but these sorts of shifts take time to come to fruition.
Let us remember that margin debt has risen to outrageously ridiculous levels.  This means that the clerk is going to be making some calls, if they haven't already started being received.
As I have said over the last couple of months this has the nasty feel of still air just before a big tornado comes ripping through — or like 2007, or like early 2000.
Not only is margin debt ridiculously high, much of which is likely out to hedge funds (speaking of which, how many piled into that Japanese trade, turning the crank on their leverage as "profits" expanded) and now are looking at losses that are likely in the 5-7% range over one night?  I'll bet the list contains a few names and well-known ones.
CNBC is pumping just like they were last time… and the time before that.  "The declines are not nearly as bad."
Who remembers that in 2007 the same pattern initiated, with the Asian markets leading.
Then the losses were "magically" recovered and the market roared higher, finally posting its apex in the fall.
Today the market moves much faster.  I would not be even slightly surprised if the instabilities that central banks haveintentionally put into the system go "prompt critical" this year.
I'm sure there will be many who will dismiss this as "Oh that Denninger, he's just a perma-bear."
My riposte is simple:  While the extraordinary madness of crowds can take manias much further than anyone could ever believe, the math is never wrong.
Bernanke: I Love Bubbles
I like to feed the python that is lovingly curled around my neck.  It's not a problem that it keeps getting bigger, right?
Chairman Ben S. Bernanke
The Economic Outlook
Before the Joint Economic Committee, U.S. Congress, Washington, D.C.
May 22, 2013
Chairman Brady, Vice Chair Klobuchar, and other members of the Committee, I appreciate this opportunity to discuss the economic outlook and economic policy.

Current Economic Conditions
Economic growth has continued at a moderate pace so far this year. Real gross domestic product (GDP) is estimated to have risen at an annual rate of 2-1/2 percent in the first quarter after increasing 1-3/4 percent during 2012. Economic growth in the first quarter was supported by continued expansion in demand by U.S. households and businesses, which more than offset the drag from declines in government spending, especially defense spending.
So what was the growth rate in the real economy, subtracting back out your monetary debasement?  Oh wait — it wasn't a "growth" rate at all, was it?
Conditions in the job market have shown some improvement recently. The unemployment rate, at 7.5 percent in April, has declined more than 1/2 percentage point since last summer. Moreover, gains in total nonfarm payroll employment have averaged more than 200,000 jobs per month over the past six months, compared with average monthly gains of less than 140,000 during the prior six months. In all, payroll employment has now expanded by about 6 million jobs since its low point, and the unemployment rate has fallen 2-1/2 percentage points since its peak.
Uh huh.
Despite this improvement, the job market remains weak overall: The unemployment rate is still well above its longer-run normal level, rates of long-term unemployment are historically high, and the labor force participation rate has continued to move down. Moreover, nearly 8 million people are working part time even though they would prefer full-time work. High rates of unemployment and underemployment are extraordinarily costly: Not only do they impose hardships on the affected individuals and their families, they also damage the productive potential of the economy as a whole by eroding workers' skills and–particularly relevant during this commencement season–by preventing many young people from gaining workplace skills and experience in the first place. The loss of output and earnings associated with high unemployment also reduces government revenues and increases spending on income-support programs, thereby leading to larger budget deficits and higher levels of public debt than would otherwise occur.
Once again….
Consumer price inflation has been low. The price index for personal consumption expenditures rose only 1 percent over the 12 months ending in March, down from about 2-1/4 percent during the previous 12 months. This slow rate of inflation partly reflects recent declines in consumer energy prices, but price inflation for other consumer goods and services has also been subdued. Nevertheless, measures of longer-term inflation expectations have remained stable and continue to run in the narrow ranges seen over the past several years. Over the next few years, inflation appears likely to run at or below the 2 percent rate that the Federal Open Market Committee (FOMC) judges to be most consistent with the Federal Reserve's statutory mandate to foster maximum employment and stable prices.
Consumer price inflation has been low?  Well, I suppose maybe it is if you exclude things that are non-discretinary such as food, medical insurance (now mandatory under Obamacare) and similar.  But if you do include those things the actual cost of living — that is, what you must spend just to live — has gone up a lot in the last five years.
That is definitely not "low."
Over the nearly four years since the recovery began, the economy has been held back by a number of headwinds. Some of these headwinds have begun to dissipate recently, in part because of the Federal Reserve's highly accommodative monetary policy. Notably, the housing market has strengthened over the past year, supported by low mortgage rates and improved sentiment on the part of potential buyers. Increased housing activity is fostering job creation in construction and related industries, such as real estate brokerage and home furnishings, while higher home prices are bolstering household finances, which helps support the growth of private consumption.
The "headwinds" are caused by The Fed through its QE games.  This has destroyed consumer purchasing power for the very necessities that form non-discretionary purchases.
Severe fiscal and financial strains in Europe, by weighing on U.S. exports and financial markets, have also restrained U.S. economic growth over the past couple of years. However, since last summer, financial conditions in the euro area have improved somewhat, which should help mitigate the economic slowdown there while also reducing the headwinds faced by the U.S. economy. Also, credit conditions in the United States have eased for some types of loans, as bank capital and asset quality have strengthened.

Fiscal Policy
Fiscal policy, at all levels of government, has been and continues to be an important determinant of the pace of economic growth. Federal fiscal policy, taking into account both discretionary actions and so-called automatic stabilizers, was, on net, quite expansionary during the recession and early in the recovery. However, a substantial part of this impetus was offset by spending cuts and tax increases by state and local governments, most of which are subject to balanced-budget requirements, and by subsequent fiscal tightening at the federal level. Notably, over the past four years, state and local governments have cut civilian government employment by roughly 700,000 jobs, and total government employment has fallen by more than 800,000 jobs over the same period. For comparison, over the four years following the trough of the 2001 recession, total government employment rose by more than 500,000 jobs.

Most recently, the strengthening economy has improved the budgetary outlooks of most state and local governments, leading them to reduce their pace of fiscal tightening. At the same time, though, fiscal policy at the federal level has become significantly more restrictive. In particular, the expiration of the payroll tax cut, the enactment of tax increases, the effects of the budget caps on discretionary spending, the onset of the sequestration, and the declines in defense spending for overseas military operations are expected, collectively, to exert a substantial drag on the economy this year. The Congressional Budget Office (CBO) estimates that the deficit reduction policies in current law will slow the pace of real GDP growth by about 1-1/2 percentage points during 2013, relative to what it would have been otherwise.1 In present circumstances, with short-term interest rates already close to zero, monetary policy does not have the capacity to fully offset an economic headwind of this magnitude.
Expansionary?  Excuse me?  Government at all levels cannot "expand" the economy as it has to get the funds from somewhere.  There are only two choices: Tax people (taking their discretionary income) or debase through issuance of debt, whether taken up by the Fed or not (which also takes the people's discretionary purchasing power.)
Government, especially entitlements and welfare, do not expand the economy.  That comes from innovation in the private sector.  All government does is steal from the private sector and redistribute those funds.
Now some amount of this is agreeable to virtually everyone.  Nearly all want a strong common defense, for example, although we might argue somewhat over exactly how we should deploy that defense.  Most want roads.  Most want a police force of some composition and most people also would like a jail system for those who initiate violence against others as the alternative is for society to degenerate into a "Hatfield and McCoy" sort of tit-for-tat shooting gallery.
But government entitlement programs, including food stamps, welfare, Medicare, Medicaid and similar do not expand the economy.  They shift the economy from investment and innovation into simple consumption spending and worse, they directly and indirectly promote dependency instead of innovation among the population.
Although near-term fiscal restraint has increased, much less has been done to address the federal government's longer-term fiscal imbalances. Indeed, the CBO projects that, under current policies, the federal deficit and debt as a percentage of GDP will begin rising again in the latter part of this decade and move sharply upward thereafter, in large part reflecting the aging of our society and projected increases in health-care costs, along with mounting debt service payments. To promote economic growth and stability in the longer term, it will be essential for fiscal policymakers to put the federal budget on a sustainable long-run path. Importantly, the objectives of effectively addressing longer-term fiscal imbalances and of minimizing the near-term fiscal headwinds facing the economic recovery are not incompatible. To achieve both goals simultaneously, the Congress and the Administration could consider replacing some of the near-term fiscal restraint now in law with policies that reduce the federal deficit more gradually in the near term but more substantially in the longer run.
That is simply not going to happen so long as The Fed continues to encourage huge deficits and outrageous entitlement spending.  That in turn shifts capital from those who would invest, innovate and produce to pure consumption spending by those sitting on their ass.  This pattern will not change until The Fed stops promoting non-productive consumption.
Period.
Monetary Policy
With unemployment well above normal levels and inflation subdued, fostering our congressionally mandated objectives of maximum employment and price stability requires a highly accommodative monetary policy. Normally, the Committee would provide policy accommodation by reducing its target for the federal funds rate, thus putting downward pressure on interest rates generally. However, the federal funds rate and other short-term money market rates have been close to zero since late 2008, so the Committee has had to use other policy tools.
But it hasn't worked Ben.  So now what?  More of what has failed?
The first of these alternative tools is "forward guidance" about the FOMC's likely future target for the federal funds rate. Since December, the Committee's postmeeting statement has indicated that its current target range for the federal funds rate, 0 to 1/4 percent, will be appropriate "at least as long as the unemployment rate remains above 6-1/2 percent, inflation between one and two years ahead is projected to be no more than a half percentage point above the Committee's 2 percent longer-run goal, and longer-term inflation expectations continue to be well anchored." This guidance underscores the Committee's intention to maintain highly accommodative monetary policy as long as needed to support continued progress toward maximum employment and price stability.

The second policy tool now in use is large-scale purchases of longer-term Treasury securities and agency mortgage-backed securities (MBS). These purchases put downward pressure on longer-term interest rates, including mortgage rates. For some months, the FOMC has been buying longer-term Treasury securities at a pace of $45 billion per month and agency MBS at a pace of $40 billion per month. The Committee has said that it will continue its securities purchases until the outlook for the labor market has improved substantially in a context of price stability. The Committee also has stated that in determining the size, pace, and composition of its asset purchases, it will take appropriate account of the likely efficacy and costs of such purchases as well as the extent of progress toward its economic objectives.
This doesn't work either.  Presuming that the "reasonable" rate for 30 year money is 6% (which is likely at the low end) yet today's 30 year mortgage is 3.5%, today's P&I on a 30 year mortgage for a $200,000 loan is $895.48.
That same payment, at the non-distorted price of money, only buys $150,104.94 worth of house!
This is an intentional inflation of asset prices well above the natural clearing price.  While this distortion can be maintained for quite some time, the fact that it exists is irrefutable.
This is how crashes happen — not natural forces but intentional distortions, whether through government policy or outright fraud by private actors through intentional misrepresentation.
At its most recent meeting, the Committee made clear that it is prepared to increase or reduce the pace of its asset purchases to ensure that the stance of monetary policy remains appropriate as the outlook for the labor market or inflation changes. Accordingly, in considering whether a recalibration of the pace of its purchases is warranted, the Committee will continue to assess the degree of progress made toward its objectives in light of incoming information. The Committee also reiterated, consistent with its forward guidance regarding the federal funds rate, that it expects a highly accommodative stance of monetary policy to remain appropriate for a considerable time after the asset purchase program ends and the economic recovery strengthens.

In the current economic environment, monetary policy is providing significant benefits. Low real interest rates have helped support spending on durable goods, such as automobiles, and also contributed significantly to the recovery in housing sales, construction, and prices. Higher prices of houses and other assets, in turn, have increased household wealth and consumer confidence, spurring consumer spending and contributing to gains in production and employment. Importantly, accommodative monetary policy has also helped to offset incipient deflationary pressures and kept inflation from falling even further below the Committee's 2 percent longer-run objective.
See above.  Price is not necessarily value.  Price is just price.  When you promote distortions in price on purpose with the intent of sending false market signals due to the impact of compounding that is always present wherever there is a growth "rate", that is, an exponential function, by definition you are making the ultimate correction back to value worse.
The Fed is intentionally creating a bubble that will crash.  It is only a matter of when, not if, such a consequence will occur.
That said, the Committee is aware that a long period of low interest rates has costs and risks. For example, even as low interest rates have helped create jobs and supported the prices of homes and other assets, savers who rely on interest income from savings accounts or government bonds are receiving very low returns. Another cost, one that we take very seriously, is the possibility that very low interest rates, if maintained too long, could undermine financial stability. For example, investors or portfolio managers dissatisfied with low returns may "reach for yield" by taking on more credit risk, duration risk, or leverage. The Federal Reserve is working to address financial stability concerns through increased monitoring, a more systemic approach to supervising financial firms, and the ongoing implementation of reforms to make the financial system more resilient.
See above.  Your "$200,000″ house is not worth that as maintenance of that price requires indefinite maintenance of below-market interest rates.  Since the latter is impossible without complete destruction of the currency what Bernanke has provided is an intentional false price in the markets, both in housing and other assets.
Intentional manipulation of markets is usually thought of as a crime, not a benefit, and should lead to indictments, not praise.
Recognizing the drawbacks of persistently low rates, the FOMC actively seeks economic conditions consistent with sustainably higher interest rates. Unfortunately, withdrawing policy accommodation at this juncture would be highly unlikely to produce such conditions. A premature tightening of monetary policy could lead interest rates to rise temporarily but would also carry a substantial risk of slowing or ending the economic recovery and causing inflation to fall further. Such outcomes tend to be associated with extended periods of lower, not higher, interest rates, as well as poor returns on other assets. Moreover, renewed economic weakness would pose its own risks to financial stability.
Said current price is false.
Because only a healthy economy can deliver sustainably high real rates of return to savers and investors, the best way to achieve higher returns in the medium term and beyond is for the Federal Reserve–consistent with its congressional mandate–to provide policy accommodation as needed to foster maximum employment and price stability. Of course, we will do so with due regard for the efficacy and costs of our policy actions and in a way that is responsive to the evolution of the economic outlook.
A healthy economy can only come about when the cost of borrowing accurately reflects the risk and reward of lending actual capital (not ethereal hot air) into the market for whatever purpose and at whatever credit profit the borrower and lender negotiate.
Such an environment has not existed since the first circumvention of Glass-Steagall.  Willful and intentional distortion of asset prices and markets by The Fed and Congress, both acting in concert, have now led to three serial bubbles that have decimated economic conditions for the common American.
Or maybe this is a trick question, and the answer for the "New Normal", when all central banks are coordinating on reflating the biggest asset bubble of all time, is "all of them"…
And some thoughts on the chart above from Obermeyer Asset Management:
The above chart shows that once every ten years or so, some investment theme becomes dominant and takes on bubbly proportions. What these dominant themes seem to have in common are roots in economic factors that morph into "truths" that take on a life of their own. These "truths" have self-reinforcing properties where market prices validate the "truth" and vice versa. This creates a virtuous cycle until market prices become unsustainably high, reverse themselves, and essentially purge the beliefs that created the risky condition. This is often a lengthy process.

The purpose of this commentary is not to explore the well-covered ground of how manias form and unwind. Rather, it is to highlight the role of psychology within investment markets and advise caution when conventional beliefs or "truths" begin to take shape. The reality is that there is no single truth that can be relied upon to make money in financial markets. If there were, everybody would be rich. Markets are driven by people, so psychology plays a big role in driving returns on any given day. But a recognition of some of the "truths" evolving within markets can help identify the causes of price trends, which can reveal risks and long-term opportunities.

One of the "truths" that seems to be evolving – as evidenced by how investors are allocating their capital – is that interest rates will stay low for a very long period of time. If this is true, what we've seen in markets is rational; if it's not, many will be disappointed. One of the recurring themes that I heard at the Value Investor Conference earlier this month is that today's environment is challenging for bargain-oriented investors. Many in attendance saw the Fed as a too-powerful force driving most stock prices out of bargain territory. While this may indeed be the case, there are almost always good investments to be made, especially in areas that are overlooked. The universe of stocks that are popular, that have obvious appeal and are easily understood is rarely fertile ground for bargains.
Read More here.
The hearing I wrote on yesterday with Apple's Cook was met with quite an interesting reaction.  It also drew a Bloomberg article this morning, pointing out that tax avoidance is by no means an Apple-specific phenomena:
"Over the decades, Congress and governments around the world have allowed a system to develop which allows multinational companies to earn income tax-free by using contracts to shift the income, on paper, to companies in low-and zero-tax countries," said Michael Durst, a retired international tax attorney based in Washington. The result "is eroding public confidence in the fairness of tax systems in the United States and around the world."
Eroding?  Please.
The problem with what Apple (and Google, and Cisco, and pharma, and many other firms including GE) is doing is not that they're moving things around "on paper" to legally avoid taxation.
It's that they have effectively bribed Congress and the governments in other nations to make this possible while you and I cannot do anything similar.
Never mind that corporations pay taxes not on income but on net profits; that is, economic surplus.  You, on the other hand, pay taxes on income, and in the case of Social Security and Medicare you do so from the first dollar.
You do not pay on economic surplus, you pay on gross.
Yes, I'm aware of the so-called "deductions" and "exemptions" that allegedly provide at least some relief from this.  But there is no evidence that this effectively reduces taxation to that of being taxed only on surplus rather than gross earnings — and in fact for most people this is blatantly not true.
Now we could resolve that, were we to shift away from a tax code full of bribery payoffs, er, campaign contributions and lobbying.
That is, were we to shift to a pure consumption tax model such as The Fair Tax.
This would recognize that (1) taxing something already taxed is wrong, (2) all taxes are paid by people, and (3) economic innovation is best incentivized by removing special privileges that large, multinational corporations have garnered for themselves and which serve to stomp on the innovators — most of which are small entrepreneurial companies.  
Mr. Cook, strutting his stuff yesterday in The Senate with wild-eyed indignation, speaking deliberately slowly with emphasis on each syllable as if talking to down to someone of lesser intelligence, was wildly insulting.  Steve Jobs might have been able to pull that off but Cook's attempt was a gross failure.
The problems do not begin and end with the tax code; that is just part of the problem.  Apple, along with most of the rest of the tech space, manufacture in China primarily to take advantage of wage and environmental arbitrage.  That is, they avoid laws that require the payment of minimum wages along with those regulating the disposal of industrial wasteby locating their manufacturing where such laws are either non-existent or not enforced.
This isn't illegal but once again it points out that certain firms exploit their size and political power to obtain special privileges that nobody else gets.
Any claim that this is some sort of "success" story is awfully similar to claiming that your nation is "better" than another because it won an armed conflict not by superior guile and grit but rather through bribing the soldiers on the other side to not fight along with a 10:1 superiority in firepower.
We cannot "win" the innovation contest by granting some firms privileges that nobody else is able to attain.  Innovation comes from discovery, not regulatory arbitrage. The latter may produce alleged "profits" but those are illusory too; the "extra" profit is simply taking that which would, in a free market environment, wind up in the pocket of the employee or supplier and arrogating it to yourself by using the power of government to shove a gun up the employee's or supplier's nose.
Sorry folks, but that comes up no $ale here at The Ticker.
Also, Senator Rand Paul had some things to say yesterday at the Apple hearing.  It's worth a watch.