Archive for the 'mortgage defaults' Category
Attorney General Chris Koster today announced that the state of Missouri and Lorraine Brown, former President of DocX, LLC, have reached a plea agreement.  Under the agreement, Ms. Brown will plead guilty to one felony count of forgery, one felony count of perjury, and one misdemeanor count of making a false declaration.

Brown will be sentenced to a term of imprisonment of not less than two years and not to exceed three years in the Missouri Department of Corrections.

Ms. Brown is the former President of the company DocX, LLC.  During the period of March to October 2009, DocX, at the direction of Brown, instituted a surrogate signing policy whereby employees signed, not their name, but the names of other employees on thousands of mortgage documents that were notarized and filed across the country.  Prior to 2009, similar signing practices were also employed at DocX.  Brown concealed these practices from her clients, the national mortgage servicers, and the parent company of DocX.  The practices of DocX were brought to national attention by a "60 Minutes" report and resulted in several major lenders temporarily suspending foreclosures in 2010.
And that's not all!  It be Federal too….
The guilty plea of Lorraine Brown, 56, of Alpharetta, Ga., was announced by Assistant Attorney General Lanny A. Breuer of the Justice Department's Criminal Division; U.S. Attorney for the Middle District of Florida Robert E. O'Neill; and Michael Steinbach, Special Agent in Charge of the FBI's Jacksonville Field Office.

The plea, to conspiracy to commit mail and wire fraud, was entered before U.S. Magistrate Judge Monte C. Richardson in Jacksonville federal court.  Brown faces a maximum potential penalty of five years in prison and a $250,000 fine, or twice the gross gain or loss from the crime.  The date for sentencing has not yet been set.

"Lorraine Brown participated in a scheme to fabricate mortgage-related documents at the height of the financial crisis," said Assistant Attorney General Breuer.  "She was responsible for more than a million fraudulent documents entering the system, directing company employees to forge and falsify documents relied on by property recorders, title insurers and others.  Appropriately, she now faces the prospect of prison time."
Ah, look what showed up…
So now about all those destroyed chains of title and alleged "mortgage trusts" that actually have no mortgages in them….
Government promises to public employees have created "zero-risk" Wonderlands protected from the market forces of risk and consequence. These islands of privilege are snapping back to join the real economy.
Every government entity that reckoned it was moated from the market economy will be snapped back to "discover" risk and consequence. Let's lay out the dynamic:
1. Every government can only spend what its economy generates in surplus.
2. Every government transfers risk and consequence from itself, its employees and its favored vested interests to the citizenry and taxpayers.
3. Every government collects and distributes the surplus of its private sector to its employees, favored constituencies and vested interests.
4. Since the government (State) promises guaranteed salaries, benefits and entitlements to its employees and favored constituencies, these individuals believe they are living in a risk-free Wonderland that is completely protected from the market economy.
5. Risk cannot be repealed or eliminated, it can only be masked or transferred to others.
6. The Federal government and the Federal Reserve have pursued a policy of inflating serial speculative credit-based bubbles.
7. These bubbles inflated assets, profits and taxes, creating the illusion that blow-off speculative tops were "the new normal."
8. Speculative credit-based bubbles misallocate capital and incentivize malinvestment on a spectacular scale.
9. Once the bubble deflates, the capital is lost or trapped in illiquid malinvestments.
10. As a direct result of the dot-com bubble, Stockton's tax revenues (general fund) leaped to $139 million in 2001. As a direct consequence of the housing bubble, it jumped to $186 million in 2007.
11. This "new normal" encouraged the belief that the stock market would double or triple every decade into the future, generating 8%+ annual returns for public union employee pension funds.
12. The city government granted employees open-ended guarantees of lifetime healthcare coverage.
13. This meant that there was no limit on the cost of each employee's benefits.
14. As noted here many times, healthcare costs rise by 7%-10% every year, even as the economy which supports healthcare grows by 2% on average.
15. Healthcare alone will bankrupt the nation, and the bankruptcy of entities that promised open-ended healthcare is merely one manifestation of the coming bankruptcy of the entire sickcare/entitlement Status Quo.
16. Once the stock market reverts to the mean and is revalued to the "new normal" of global recession and low earnings growth, it will decline by 40% or more and yields will remain around 2%.
17. Pension funds earning 2% at best based on expectations of permanent 8% returns cannot sustainably pay the benefits promised.
18. If the city attempts to make up the shortfall annually, the services provided to the citizenry will be gutted. The risk and consequence of malinvestment and favoritism has been offloaded onto the citizens while those protected by the government moat live "risk-free" lives of guaranteed pensions and benefits.
19. The public-employee pension and healthcare benefits were separated from the market economy with this government guarantee: regardless of what happens in the real economy, you will be paid pensions and benefits that have zero exposure to the market economy and private-sector pensions/benefits.
20. In effect, the government has placed its employees and vested interests in a moated "risk-free" zone outside the market economy. The risk that is distributed to all participants in an open market (i.e. a democracy) is transferred to the citizens and taxpayers.
21. Any government that siphons off an increasing share of its taxpayers' disposable income (to distribute to the privileged few) in return for declining services will eventually be overthrown by the citizenry and taxpayers who must bear the full consequences of the city's mismanagement of their capital and income.
22. Every city, county and state in the U.S. which has secured a risk-free wonderland for its favored few will "snap back" into the real economy and face the discipline of the credit market and the "discovery" of price and value.
23. Risk cannot be eliminated by government mandate, it can only be transferred to others. No government entity can maintain a "risk-free" fortress outside the market forever. The moat around Wonderland will be drained or filled, regardless of what promises were made.
24. Government has no mechanism to transparently price risk, value and return on investment. The market will "discover" all these and re-set government services and salaries accordingly.
Charles Hugh Smith – Of Two Minds
Now we got something interesting going on….
Sometimes law is complex, nuanced, difficult.  Other times it's black and white…you just read the words, look at the facts and the answer is unavoidable.  Such is the case with the simmering dispute over the fact that the notes that are part of nearly every residential foreclosure case are not negotiable instruments.  Oh sure, too many courts won't take the time to consider the argument and…just yesterday I heard an appellate court argument where the judges just kept repeating the mantra, "this is a negotiable instrument" without ever doing any analysis at all and without any finding of that "fact" from the trial court.  The attorney needed to stop the appellate judge right there and say, "No Your Honor, it's Not A Negotiable Instrument".
Matt then goes into a rather complicated and technical discussion of what all this means.  I'll try to simplify it.
A negotiable instrument is (under the UCC Section 3) something that involves only (1) the payment of money, and (2) possibly the payment of interest.  It can be payable on demand or a specific time.
Because it is an instrument that has no real interpretation available as to whether the terms were complied with or not (it's just about money) these can be passed around as if they were cash by simply "negotiating" (signing) the back.  You can pass a check around like this; it is a negotiable instrument because it is payable on demand and it is only an instrument for a given amount of money.
A mortgage inherently contains other conditions, such as "you will maintain insurance", "you can prepay without penalty (or with one)", "the following things can be charged to you other than principal and interest", and "the note might be accelerated (due in full) if I do (or don't do!) x, y or z."
None of these are simply the payment of money on a given schedule or upon demand, coupled with a possible payment of interest.  All involve other conditions, which make the note non-negotiable.
The reason it's not negotiable is that the formal process of assignment transfers not only the note but also the obligations of the parties, including the beneficiary — who might have obligations.  It is thereforemuch more formal than something that is "negotiable".  Assignments require formalities like notaries and such, because everyone has to agree – - not just the borrower.  And if the formalities are not followed then the assignment simply never happened and title to the note in question remains with the original party.
The import of this decision, assuming it stands, is significant.  It means that the "defenses" to all the fraudclosure crap may just evaporate, as once you force recognition of all of those formalities if they didn't happen then the guy standing in front of the judge asking to steal your house fails, as he's not the right person to be making the request — that is, he's a thief instead of a forecloser!
And once you force these institutions to come to court with true and complete documents you find that they can't — they have played "fast and loose" with the documents, they don't have them at all, they try to cheat and forge them, and in some cases it appears they are trying to collect twice on the same instrument!
You can bet this ruling will be challenged, but there is hope so long as we have some real jurists that remain on the bench.  And as Matt explains, attempting to use these arguments "pro-se" is dangerous,but the fact remains that there is progress in this decision.
Discussion (registration required to post)
In an admittedly strange twist of timing JP Morgan
, the same JP Morgan that just announced a surprise $2 billion loss caused by the "London Whale," became the first and only of 26 banks disclosing subprime investor data to flip me the digital bird, refusing access to the public loan-level performance data for their Washington Mutual loans. WaMu, one of the most reckless subprime lenders, was swallowed whole by JPM and they're having serious indigestion.
Nelson D. Schwartz and Jessica Silver-Greenberg of the New York Times
verify that the purpose of the Chief Investment Office — the London Whale — is to offset risk caused by the Washington Mutual loans:
Under Mr. Dimon's leadership, the chief investment office — which was responsible for the outsize credit bet — was retooled to make larger bets with the bank's money, a former employee said. Bank executives said the chief investment office expanded after JPMorgan Chase's 2008 acquisition of Washington Mutual, which added riskier securities to the company's portfolio. The idea behind the strategy was to offset that risk.
It isn't hard to figure out why JP Morgan doesn't want anybody looking into and through their garbage.  I have not been able to ascertain whether these reports are required under disclosure requirement Regulation AB (the law itself seems to say yes, but the experts I spoke to gave divergent readings). Whether they are or aren't, JPM's refusal — when everybody else cooperated speaks for itself.
As those loans sour, and they continue to rot like a dead skunk on a hot July day, the bets needed to offset the losses are increasing.  It looks like the bank, peering into that  portfolio they refuse to share, is becoming more than a little bit desperate.  Like a compulsive gambler after a multi-day bender resulting in crippling losses they decided to double down rather than walk away, leading to their current whale of a surprise and likely a mirror-image follow-up for the WaMu losses this was supposed to offset.
For anybody who believes that JPM's position is normal .. it isn't.  Twenty-six other banks quickly popped open the doors to their repositories, as they're required to do.  Perennial bad-boy Aurora Loan Services  is the only other one that's ignored my requests, though since it looks like they've sold their servicing operations the jury's out whether their silence is purposeful or whether there's nobody home on the other side of those requests.
Like I said, I'm not sure whether these disclosures are exempt.  There are certainly many marked private, but they seem to be overwhelmingly CDOs and similar more exotic or clearly closely held instruments.  I've never seen an entire series of MBS from an issuer that is exempt: even a few stray WaMu deals that ended up in other repositories are open to the public.
JP Morgan's insistence that "[t]he site is maintained for JPMorgan Chase RMBS clients," only, demanding that I include my JP Morgan Chase contact, may be legal but it is unprecedented.  In context of their recent trading losses, the knowledge that those losses were to hedge against the WaMu losses, Dimon's prior comments downplaying both losses, and strong analysis that the WaMu loans are some of the most impaired MBS it's fair to conclude that JPM is hiding something in the basin of their loan outhouse.
I've spent the past couple months holed away downloading MBS data in bulk to enable investors, analysts, academics, government agencies, or whoever else wants to inspect performance information and project losses for every subprime loan trust.  When finished, this week hopefully, I'll have a veritable ABS MRI machine that can peer into the true health of the housing and housing finance market.  It's harder than it sounds: one of those projects where software engineers emerge from their digital caves after months, bleary eyed and long past due for a haircut but holding game-changing technology.
My database, which includes everything except WaMu loans thanks to Jamie, is finally almost finished.  But even in preliminary form it is clear that the AAA-rated senior tranches — the ones that really were never supposed to take losses — are toast that's burning worse by the day.  Servicers, trustees, government officials have been doing anything to delay the inevitable losses but when people don't pay their mortgages, and housing has declined by over 50% in many of their markets, there's only so much accounting chicanery they can do: the money just isn't there.
My suspicious are more grounded than tin-hat delusions we've been hearing from the housing is hot again crowd.  R&R Consulting, a well-regarded structured valuation expert I work closely with conducted a portfolio-wide analysis of undisclosed ("limbo") losses on RMBS.  In a special in-depth report dated February 2012, long before JPM told me piss-off when asking for access to the more granular WaMu loan-level data, they reported that WAMU had the highest limbo loss level–about $810 million—in just one transaction. Repeat: experienced analysts dug this out even without loan level data. It sounds likely that it won't be long until Dimon reports another ten-figure surprise that I'm sure he'll apologetically pawn off on the US taxpayer.
For anybody asking "um — isn't this over — didn't all this fall apart back in 2008?" the answer is not really.  That mega-meltdown was really a mini tremor caused by the lower and smaller tiers of these securities; last time junior visited to stir things up but this time papa's walking down the street carrying a mean look and a big stick.  That's because the mezzanine level tranches of most bubble-era MBA are either gone or guaranteed to be gone — finally eaten up by current or pending losses — leaving the lower AAA tranches to take their place as the bearer of losses.  This was never supposed to happen.  Everybody knew that CDOs created from the lower tranches were risky, even if the ratings agencies said otherwise, but nobody thought the meltdown would last this long that the actual top tranches would be nicked.  But the data couldn't be clearer: those bottom level A-class tranches of yesterday are the new bottom level M-class tranches of yesterday.
All this is surprising because these same MBS tranches have been on fire lately.  Hedge funds bought them for very little when nobody wanted them — setting their own price — and now they're selling them back at steep gains because housing is peachy again, never mind the enormous amount of shadow inventory.  Hopefully the buyers of these same securities aren't being set up, again, because nobody would be stupid enough to fall for that same trick, again.  Hopefully.
It is these lower tranches and other derivative products, which are by definition exponentially smaller than the more senior securities like the ones JPM is hiding (well, before the banks multiplied them several times over using credit default swaps) that blew up the world economy in 2008.
I'm guessing that it is the inevitable meltdown of what remains of the AAAs (the amount outstanding has been reduced considerably by refis) that has been at the impetus for the housing cheerleaders.  By refusing to move their foreclosures forward, then refusing to take title, then refusing to REO those homes, the trusts don't have to recognize the losses because, ya' know, the abandoned and dilapidated properties will magically double in value as long as we hold our breath and wish.
My mountain of data that shows loss severity in excess of 100-percent is not uncommon.  When we look at the loans, compare similar loans from those who report them more honestly, multiply the average severity by pending reported and, um, overlooked foreclosures, then it becomes clear that the lowest rated AAA's are toast. This reaffirms the report by R&R Consulting report that $175 billion of loan level losses had not been allocated to the trusts. Whoops!
Jamie Dimon admitted his $2 billion loss "plays right into the hands of a bunch of pundits out there" on his conference call explaining his stinky.  Dimon went on to call the losses "egregious" and "self-inflicted."  In light of the London Whale it is clear that when it comes to sky-high risk, like JPM's WaMu exposure, the bank has adopted an advanced risk management strategy: telling researchers to piss off then hiding.
By Michael Olenick for Naked Capitalism, creator of FindtheFraud, a crowd sourced foreclosure document review system (still in alpha). You can follow him on Twitter at @michael_olenick or read his blog, Seeing Through Data
Don't trust the government folks.  They are heavily invested in bubble-blowing, and are desperately attempting to keep the game going – and don't care if you get destroyed in the process.
(Reuters) – More than 1 million Americans who have taken out mortgages in the past two years now owe more on their loans than their homes are worth, and Federal Housing Administration loans that require only a tiny down payment are partly to blame.

That figure, provided to Reuters by tracking firm CoreLogic, represents about one out of 10 home loans made during that period.

It is a sobering indication the U.S. housing market remains deeply troubled, with home values still falling in many parts of the country, and raises the question of whether low-down payment loans backed by the FHA are putting another generation of buyers at risk.
Please understand how this actually works.
When you take out a loan that goes into negative amortization, no matter what it is, the negative amortization portion unless backed by someone's actual hard capital (that is, it's a "hard money" loan) is pure inflation in the monetary system.
This acts to drive up prices for commodities and destroy your purchasing power.
That is, you not only are underwater but at the same time your ability to service the debt is intentionally and inextricably impaired at the same time.
This is an intentional act undertaken by (in this case) the government and (in the previous case) by the subslime and "ALT-A" debt merchants.
It is not an accident, it is not an incidental and unforeseen consequence, it is the intent of the entities who are making the loans they know are unbacked by anything. 
Since all money in modern economies is debt-backed (in the case of the US all except for coins) and a balance sheet must always balance any time you increase credit outstanding by more than the collateral value that backs the loan you are increasing the monetary supply in relationship to GDP.  That is inflation and inexorably causes your cost of living in real terms to rise.  When wages are not constrained economic slippage causes you to lose ground.  When wages are constrained then you literally fall off the cliff as your cost of living goes up while your wage base goes down – that is your personal leverage goes up while your ability to meet your obligations is damaged or even destroyed.
These are intentional acts and it's bad enough when private parties do it and sucker you into foolish decisions.  When governments do it this is an outrage and one that should be responded to by a complete refusal to cooperate, acquiesce and further endorse the blatant theft of your economic well-being for the purpose of looting conducted by the "favored few."
The monster lurking in the shadow inventory – 12 million Americans underwater with nearly 6 million delinquent or in foreclosure with their mortgages.  The hidden benefit of not paying your mortgage.
Shadow inventory coming online in 2012 is going to have the biggest impact on the housing market.  With a weak jobs report that shows a labor force that declined by 164,000 you realize that demographic trends are now in full play here.  With banks now moving on delinquent properties the supply will be moving higher while traditional inventory remains low.  This is happening.  We noted that in Southern California, over 50 percent of all MLS inventory is now composed of short sales showing that banks are now willing to sell homes for less than the original mortgage balance.  One of the more interesting trends is the aggressive pricing we are seeing on some of these listings.  Of those in actual foreclosures, nearly half have made no mortgage payment in two years.  Now that banks are moving on these properties that hidden stimulus will be pulled away.  Think about not paying rent or a mortgage for two full years.  Let us take a look at the current state of the shadow inventory.
Distressed inventory pipeline
Over 5,800,000+ homes are either delinquent or in the foreclosure process: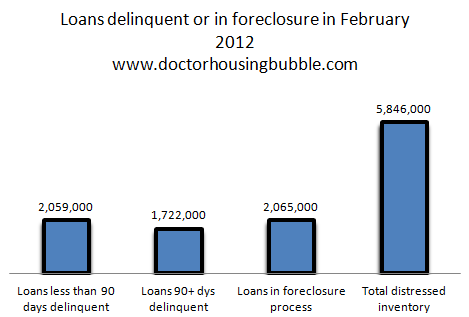 You need to remember that the first two columns rarely show up on the MLS.  These homes have yet to even hit the foreclosure process so do not show up as inventory.  These are simply home owner's not making payments on their home for a variety of reasons.  Cure rates have been pathetic so most of these will end up as foreclosures.  Then you move to the loans in foreclosure category and many are not on the MLS as well.  You have the three stages of foreclosure:
-Notice of default is filed (at least three missed mortgage payments)

-NTS (scheduled for auction)

-REO (bank owned)
Even when a property becomes bank owned, it may take months (a year) to get it on the MLS.  In total over 5,800,000 properties are delinquent or in some stage of foreclosure.  When the existing inventory is looked at only a small part of the picture is shown: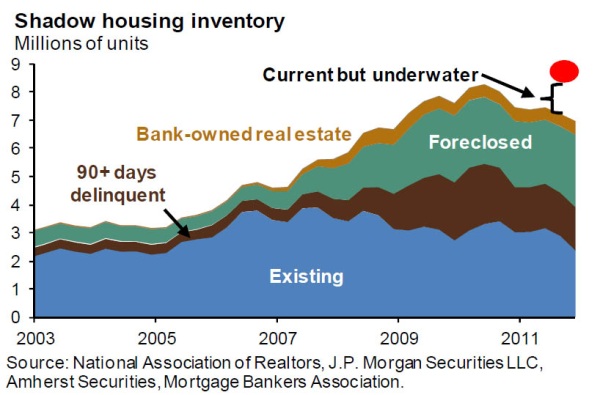 Existing inventory has trended lower since 2007 and many analysts simply look at this as if this was the only measure of housing inventory.  This only reflects roughly 2 million properties while another 7 million properties are either:
-90+ days delinquent

-In the foreclosure process

-Bank-owned real estate

-Current but underwater
So what you have is a giant pool that isn't viewable to the public but is slowly leaking into the blue category.  That is, the existing category has room to grow simply because the other pipelines are so enormous and one option is to get out ahead of the curve by allowing short sales.  With home prices making post bubble lows and household incomes stagnant for well over a decade, there is little reason to see pressure for higher prices.  As we noted with a shrinking labor force because of lower paying jobs or people dropping out of the labor force where will pressure for higher prices come from?  Mortgage rates are artificially low thanks to the Federal Reserve and with low down payment loans like FHA insured loan products the leverage capacity is at a maximum for buyers to stretch into a property.  Rates are unlikely to go lower and we know FHA loans will get more expensive in the upcoming months because default rates are soaring.  What a shocker that allowing people with almost no down payment to buy expensive homes is causing further issues.
A mini stimulus will also be lost as more of those living in their homes payment free will lose that advantage:
"Vigeland: So first of all, can you give us a sense of how prevalent this is? What are the numbers of people who are squatting in their own homes?

Feroli: Well, right now you're looking at about 8 percent mortgages outstanding are past due and there are about 44 million mortgages out there. So you're talking about a pretty significant number of people who right now are not paying their mortgage.

Vigeland: Wow. So how did you come up with the estimate of a $50 billion impact here?

Feroli: Right. So there's about $10 trillion in mortgage debt owed by the household sector. So you're looking at about $800 billion in mortgages, which are past due — average interest rate of about 6 percent or a little above. Most of those mortgages, of course, are in the early stage when it's mostly interest that you're paying. So 6 percent on a little over $800 billion comes out to about $50 billion per year that are free for other purposes."
$50 billion is nothing to sneeze at.  As more short sales pop up on MLS searches every day it looks like this trend will be coming to an end.
Underwater nation
Take a look at how many Americans are underwater on their mortgages: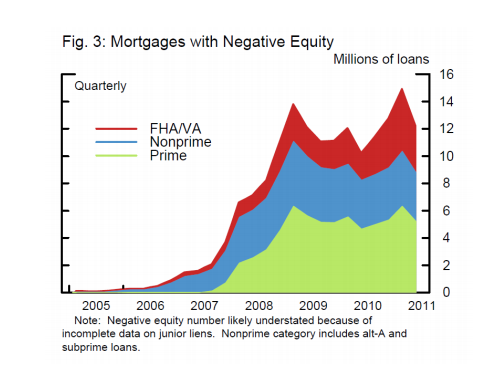 Approximately 12 million Americans who "own" their home owe more on the property than what the property is worth today.  So as more properties enter the pipeline there is little reason to believe the demand curve will shift up.  For the short-term, we will likely see a move for the supply side: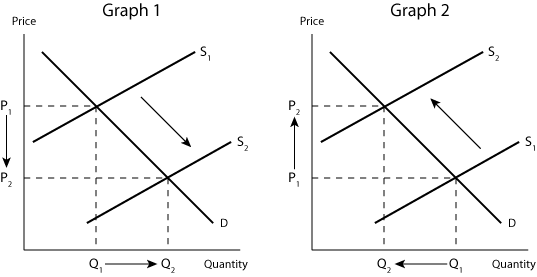 This is exactly what is happening and why home prices continue to fall.  For example, the mid-tier market in Southern California has seen home prices fall by 8 percent in the last 24 months.  Why?  This is partly due to more short sales hitting the market and a large demand for lower priced properties based on stagnant household incomes.  So as more of these homes leak into the inventory why should we expect some sort of reversal of the trend?
It seems like many in the press are acknowledging this second test for the housing market.  Now what can mitigate this from happening?  If we see strong job gains in good paying fields and household incomes rising then there is reason to argue for higher home prices.  Simply to argue that home prices will go up because "inflation" will pick up is missing the point.  We are seeing global goods like fuel and food going up because these can be shipped anywhere and thanks to the Fed, the dollar is getting hit.  With housing however, it is a local good so therefore local household incomes do matter and this is what we are seeing.  A place like Las Vegas with a large number of low paying service sector work is now seeing homes sell way below $100,000.  This makes sense given their local demographics.  Here in California every segment of the market has seen major price declines.
As more shadow inventory hits the market the supply curve is likely to increase even though some analysts might only narrowly focus on the existing MLS inventory that only highlights a small part of the total picture.  This is missing the next trend like arguing Alt-A and subprime loans were a good thing just because defaults initially were extremely low.  The demand side can shift but only if incomes go up and employment really picks up.  Also, many younger Americans are saddled with high levels of student debt and are making less money.  So who will many of these older home owners sell homes to?  Certainly not at price levels they would hope to get.  Yet banks control a large part of the inventory and short sales and foreclosure sales will dominate in many markets because prices are more set to what the market will support.  After half a decade and with housing making nominal lows it looks like some are finally getting it that those nostalgic high prices are unlikely to ever come back again.