Archive for the 'Pension Underfunding' Category
Pension plans are based on 8% annual growth forever. What happens to these plans in a zero-interest rate world as the global economy and stock markets contract?
I'm afraid it's time for an intervention.  I don't enjoy being the bearer of difficult news, but now that Europe has stumbled drunkenly into the pool and been "rescued," it's once again tearfully blubbering that this time it's all going to change, and a new prime minister in each dysfunctional, insolvent EU nation is  going to make the pain and the addiction all go away.
It's time we face the reality that Europe and the U.S. are full-blown financial alcoholics, addicted to illusion and debt. And what do they turn to as "solutions"?  The very sources of their pain:  illusory "fixes" and more debt.Have you ever seen a  global market as dependent on rumors of "magical fixes" for its "resilience" as this one?
What's truly remarkable is the psychotic distance between the facts–Europe's debts are impossible to service, its economy is free-falling into recession, the U.S. is already in recession, China's real estate bubble has popped and cannot be reinflated– and the heady leap of global markets on every trivial rumor of a magic fix.
Since it runs in our family, I do not use the word "alcoholic" lightly. Those of you who have to deal with alcoholics know the drill: the liquor stashed behind the fridge, as if everyone doesn't know it's there; the stumbling into the pool, the humiliating rescue, the tearful promise of change which goes  nowhere, and all the rest.
I seriously suspect the entire global economy is alcoholic–not about liquor, but about debt and the impossibility of paying entitlements which expand by 8% a year in an economy which grows by 2% a year at best.In all the millions of words printed about the subprime meltdown,  the gutting of the U.S. financial and housing markets and  now about Europe's impossible burden of debt, how often have we seen anyone in the MSM or mainstream financial press confess that "borrowing our way of out  of trouble" is not just financially bankrupt but morally bankrupt as well?
Like a full-blown alcoholic, the people and governments of the U.S. and Europe stagger from  debt source to debt source, weaving drunkenly between "stashes" of new debt in the Fed, Treasury and private sector markets.Despite the abject failure of the magical-thinking "fix" of becoming solvent by exponentially expanding debt, we see the same pathetic pattern repeating in Europe, where the apologists for the alcoholic debt-binge continue to claim the risk of systemic failure and collapse of asset values is low.
While everyone is focused on the drunk being pulled from the pool–Europe's sovereign debt–another drunk is teetering on the edge: public and private pension plans.Here's the reality in a nutshell: pension plans only work if they earn average returns of around 8% per year, basically forever.
Gripped by the mono-maniacal desperation of an addict who sees no other path but another hit, central banks have lowered interest rates to near-zero to "spark growth." Unfortunately the only thing being goosed is the future cost of servicing the additional  debt.
How do you earn 8% on money which yields at best 3%? You can't. How do you reap a gain on bonds when interest rates have already hit bottom and can't fall any lower? You can't.
Which leaves the stock market as the only hope for pension plans.  Since the bottom in March 2009, central banks engineered a "magic solution" that generated fantastic stock market returns: by constantly lowering interest rates and increasing liquidity, central banks force-fed stock markets with demand (there was no other place to get a fat return) and the see-saw of interest rates and "risk-on" equity markets: as rates decline, equities floated ever higher.
Now that rates are near-zero, then the central banks are pushing on a string: there is no "magic" left to juice equity markets.
The equity markets are in effect living on vitamin C and cocaine:rumors of new "magic fixes" and the hit of central bank infusions.
Once rumor is no longer enough to float markets higher, then the consequences of depending on stock market returns will hit pensions with a terminal case of the DTs.
The "magic" of ramping up debt to create the illusion of a healthy economy only works  once.The "fix" "worked" from 2009 to 2011, but now the high is wearing off. The next round of rumor and debt expansion won't even create the illusion of growth, as the global economy is already careening back into the contraction that trillions in new debt staved off for three years.
I have covered the disconnect between the promises of 8% yields forever built into public pension plans and a slow-growth/no-growth economy many times:
Yes, There Will Be Armageddon: Government Goes Bankrupt  (July 24, 2008)
How the Fed Pushed the Nation's Pension Plans–and Local Government–into Insolvency   (May 24, 2010)
Public Pension and Healthcare Costs and Financial Common Sense   (February 28, 2011)
Every once in a while an MSM outlet addresses the issue directly, for example:
Pension issue balloons with soaring costs(S.F. Chronicle):
Pension costs  are soaring to $800 million, tripling during the last decade, as Los Angeles faces  years of projected budget deficits even with deep cuts in services and staff.The main driver of higher pension costs is the stock market crash. CalPERS (California's primary public pension plan) gets  about 75 percent of its revenue from investment earnings. Its portfolio peaked  at $260 billion in 2007, fell to $160 billion last year and now is about $204 billion.
Why economic growth isn't enough to fix budgets:
But under the laws now dominating government budgets, many expenditures essentially are or will be growing faster than both revenues and the rest of the economy. In fact, in many areas of the budget, automatic expenditure growth matches or outstrips revenue growth under almost any conceivable rate of economic growth.Now, so much spending growth is built into permanent or mandatory programs that they essentially absorb much or all revenue growth. Meanwhile, we've also cut taxes, widening the gap between available revenues and growing spending levels.

Consider government retirement programs. Most are effectively "wage-indexed" insofar as a 10 percent higher growth rate of wages doesn't just raise taxes on those wages, it also raises the annual benefits of all future retirees by 10 percent. Meanwhile, in most retirement systems, employees stop working at fixed ages, even though for decades Americans have been living longer.

Today, so much of government spending is devoted to health and retirement programs that their growing costs tend to swamp gains we might achieve in holding down the ever-smaller portion of the budget devoted to discretionary spending. Still other programs add to the problem, such as tax subsidies for employee benefits, the cost of which grows automatically without any new legislation.
In other words, the entire system of state and local government is now based on the same 8% "permanent high growth" of the 1990s speculative market.Funding increases are wired in, regardless of how much tax revenues fall.  That is a recipe for insolvency.
Now we get to the heart of the matter. Which institution engineered  the heady stock market bubble of the 1990s that created the illusion of "permanent high returns" and growth of tax receipts?  The Federal Reserve.Which institution has made the stock market the proxy for the economy?  The Federal Reserve.  Which institution has engineered a three-year stock market rally to put off the inevitable implosion of pension plans, entitlements and tax revenues that must grow by 8% annually while the real economy is flat-lined? The Federal Reserve.
We can ask the same questions of Europe and get the same answer there, too: the European Central Bank (ECB).
Addiction is a terrible disease, founded on the illusion that the pain of facing reality can be put off forever by dulling the pain of addiction itself with ever-higher doses of self-destruction. We are witnessing the self-destruction of economies and machines of governance that have chosen denial, illusion, rumor and magical thinking over facing reality. The drunk has been pulled from the pool once again, slobbering self-piteously and promising to really, really  change tomorrow, and we believe the lie, at least until morning, because  hope is so much easier than reality.
Charles Hugh Smith – Of Two Minds
The bad news just keeps rolling in. Keeping up with it is almost a full-time job. Here's a recent sample featuring wage slaves, vanishing pensions and soaring health care costs.
1. It's Not Too Late To Revive Slavery
A recent report notes that it's not enough to create jobs. You've also got to create jobs which pay a living wage. Imagine that! What are these guys? Socialists? From Not getting by on minimum wage (September 27, 2011)—
NEW YORK (CNNMoney) — Most experts agree that to get out of the economic slump, we need more jobs.

But another problem is that millions of Americans already have jobs that don't pay very much.

Getting the economy going will require more than just creating a large number of low-wage positions, said Paul Osterman, economics professor at MIT. Raising the minimum wage to get more cash to the working poor is just as crucial, he said.

About 20% of American adults who have jobs are earning only $10.65 an hour or less, according to Osterman's analysis. Even at 40 hours a week, that amounts to less than $22,314, the poverty level for a family of four.

The federal minimum wage currently stands at $7.25 an hour (18 states set their own rates above the federal level, maxing out at $8.67 an hour in Washington State).
Here's the kicker.
But increases have not kept up with inflation. When adjusted for inflation, the highest federal minimum wage was in 1968, when it was the equivalent of $10.38 in today's dollars…

With a greater percentage of the nation's income going to corporate profits than ever before, Osterman argues that businesses can afford a higher minimum wage.

"There needs to be standards in the job market," he said. "If the object is simply to minimize costs, we can use slaves again."
2. Your Vanishing Pension

The Daily Ticker recently reported on the Retirement Heist! — U.S. Pensions Plundered By Corporate Greed, Author Says (video below).
As if the average worker didn't have enough to worry about, Ellen Schultz, an award-winning Wall Street Journal reporter and author of Retirement Heist: How Companies Plunder and Profit from the Nest Eggs of American Workers, says that in some instances the fat paychecks of the top paid executives are coming directly out of the pocket of average workers.

"As recently as a decade ago there was a trillion dollars, a quarter of a trillion in surplus assets," in corporate funds, Schultz tells The Daily Ticker's Aaron Task in the accompanying clip. "There was plenty of money in pension plans; there was plenty to pay the benefits but corporations went about taking the money away."

… Schultz believes this was no accident, claiming corporations have been "exaggerating their retiree burdens" and plundering retirement plans in a variety of ways, including:

Siphon billions of dollars from their pension plans to finance downsizings and sell the assets in merger deals.
Overstate the burden of rank-and-file retiree obligations to justify benefits cuts, while simultaneously using the savings to inflate executive pay and pensions.
And so on… Corporate big shots are stealing worker pension funds and then reducing their retirement benefits. It's really very simple, the opposite of complicated. It's not a head-scratcher. No need to pore over the details. What did George Carlin say about corporate big shots?
They want obedient workers. Obedient workers. People who are just smart enough to run the machines and do the paperwork, and just dumb enough to passively accept all these increasingly shittier jobs with the lower pay, the longer hours, the reduced benefits, the end of overtime, and the vanishing pension which disappears the minute you go to collect it…
The American Dream, folks. Of course, you've got to asleep to believe it.
3. If You Shoot Yourself In The Head…

McClatchy Newspapers reports that job-based health insurance premiums have risen sharply this year.
WASHINGTON — After modest increases last year, the cost of job-based health insurance for families and individuals has jumped sharply this year, even though insurers are paying less in benefits as cash-strapped American workers opt for less medical care.

For the estimated 150 million workers with employer-sponsored coverage, the average cost of family health insurance jumped 9 percent this year to $15,073, while the price of individual coverage rose 8 percent to $5,429.

Both increases are the largest since 2005.
And when McClatchy says this—
Each far outpaced a national 2 percent hike in wages and a 3.2 percent rise in inflation, according to an annual survey of nearly 2,100 businesses that the Kaiser Family Foundation and the Health Research & Educational Trust released Tuesday.
you should bear in mind that it is nearly a certainty that the wages of working Americans have not increased this year, while those of the top wage-earners did.
All is not lost. You can avoid these soaring health care costs. My solution? If you shoot yourself in the head, you won't have to pay those rising premiums. If you don't own a gun, be creative!
Bonus Video
If we set aside ideological biases and seek financial common sense, we can see that the public sector costs are simply unsustainable.
I'm going to ask you to do something very difficult before reading further: please leave your ideological biases, certainties and emotions at the door, for the goal here is Financial Common Sense, something which is in desperately short supply in the "debate" over public employees and their unions, taxes and State budgets.
Let's scrape away all the ideological baggage and just look at the numbers, shall we? If you must assign a point of view, then let's take the POV of someone who is, broadly speaking, sympathetic to unions and wants to "do the right thing" but who is also a private sector worker who has seen his/her income and assets fall in the past three years even as inflation, official and otherwise, has further eroded the purchasing power of his/her stagnant income. As a result, paying higher taxes is a direct reduction in disposable income and thus a serious sacrifice.
There are about 106 million private sector wage earners and about 24 million public sector employees in the U.S. for a total of about 130 million jobs.
Here is a graph of the GDP growth of the U.S. since 2000. Broadly speaking, GDP grwoth is the foundation of higher taxes and higher incomes. If GDP is flat, then household incomes are also flat. The State (broadly speaking, all government) cannot increase taxes above the growth rate of the GDP without crimping private-sector households.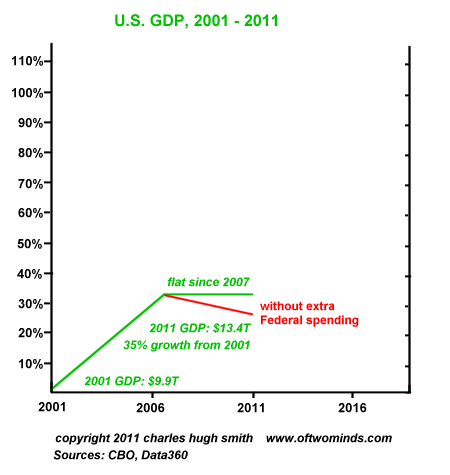 For context on Central State borrowing (Federal deficits): Here are the deficits of the past three years, and the estimated shortfalls for fiscal years 2011 and 2012:
2008: $458 billion
2009: $1.4 trillion
2010: $1.3 trillion
2011: $1.5 trillion (est.)
2012: $1.6 trillion (est.)
total: $6.258 trillion in five years.
And this isn't even the real total being added to the national debt, as "supplemental appropriations" for war costs and other large expenditures are "off budget" and not included in the "official" Federal deficit. The same is also true of funds appropriated to bail out mortgage giants Freddie Mac and Fannie Mae and other financial institutions. (source)
This is why gross debt increased by $1 trillion fiscal year 2008, $1.9 trillion in 2009 and $1.7 trillion in 2010—considerably higher than the "official" deficit numbers. This is roughly 11.5% of the nation's GDP, and $4.6 trillion in a mere three years.
Note that the 2009 $787 billion Stimulus Spending runs its course in 2011 (a few billion remain to be spent in 2012 and beyond) and the hated TARP bailout of banks and Wall Street officially ended in 2010. So higher spending and deficits in 2012 cannot be attributed to "recessionary" spending measures. (Recall that the recession officially ended in August 2009.)
Federal spending has leaped up $1.5 trillion—a staggering 60%–in just six years, from 2004 to 2010, and $1 trillion—36%–just since 2007. Though the Great Recession officially ended in mid-2009, Federal deficits just keep going up.
Meanwhile, the U.S. economy has been treading water. In adjusted-for-inflation dollars, the U.S. Gross Domestic Product (GDP) in 2010 was almost precisely the same as it was in 2007: $13.363 trillion in 2007 and $13.382 trillion in 2010.
Remove this extraordinary rise in Federal spending, and the GDP would have declined by about 11%.
Does anyone seriously think this is sustainable in the long term? Of course not. But the players–the State and its fiefdoms, including public employees, and the State's partner, the Financial Cartels/Elites–are all pleased to continue the charade as long as "the music keeps playing," i.e. the public and the global bond market keep acting as if it is all sustainable.
Anyone who thinks the U.S. economy is suddenly going to start growing rapidly organically–that is, via private-sector growth, not ever-rising Federal borrowing and spending–is delusional.
Now let's overlay the pension costs for public employees in one small city as an example of what's happening to pension costs nationally. Let's take the city of Berkeley, Calif., which provides substantial services to its 102,000 residents (about 30,000 of whom attend or work for the University of California) but in general goverance is typical of many other town-gown cities in the U.S.
While these numbers may be higher than your local city, county and state, they track national trends in public pension and healthcare costs.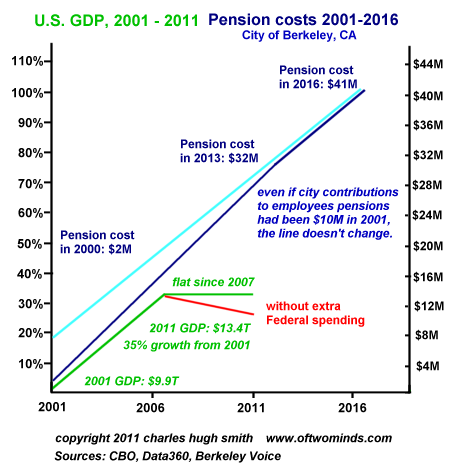 As we can see, pension costs are rising significantly faster than GDP. Even if we assume the $2 million pension costs in 2000 were far below what should have been paid, and kick that starting point up to $10 million (the light-blue line), the line doesn't really change: it's still a steep ascent while GDP is either flat (i.e. dependent on unprecedented Federal borrowing and spending) or declining (if we factor out the massive Federal spending spree).
Next, let's add public employee healthcare costs, which according to the Berkeley Voice newspaper, have been rising an average of 11% per year in the decade since 2000.
Here is what happens to $1 in healthcare costs which increase 11% per year:
1 (2001)
1.11
1.23
1.37
1.52
1.69
1.87
2.08 (2008)
2.3
2.56
2.84
3.15 (2012)
3.5
3.88
4.31
4.78 (2016)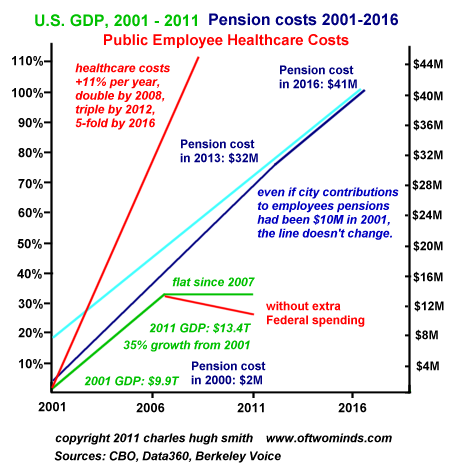 By 2012, these costs have more than tripled and by 2016 will have jumped five-fold. Once again: does anyone seriously believe these trends are sustainable?
Here is another chart to ponder: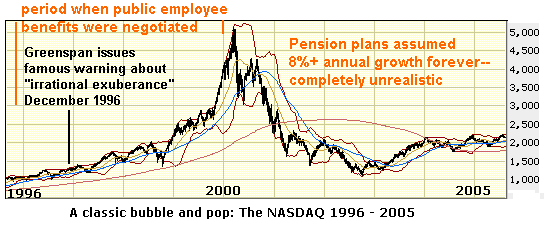 Many public employee pension and benefit packages were "sweetened" during the 1990s stock bubble, based on the hopelessly unrealistic expectation that pension funds could count on huge annual capital gains increases from stock and bond funds to pay for higher pensions and benefits.
Adjusted for inflation, stock gains since 2000 have been negative, even counting dividends. The S&P 500 has declined from over 1,500 in 2000 to around 1,300 in 2011: a 13% decline that must be added to a reduction in purchasing power (inflation) of another 28%. Not counting dividends of around 2% a year, that's a decline of 42%. Just to stay even with inflation, the SPX would have to be above 1,900 now.
A 2% annual dividend yield compounded since 2000 turns $100 into $124.34. So buy and hold pension funds have experienced a 24% gain since 2000 and a 42% decline: net-net, an 18% decline.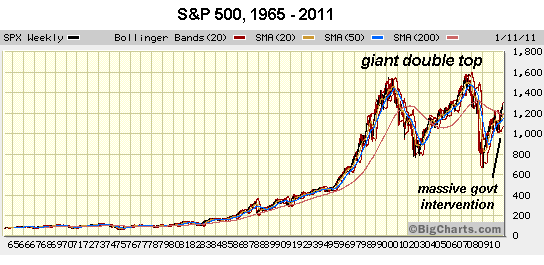 So much for 8% returns forever.
These charts make it clear where we're going in terms of public pension and healthcare costs. The real economy isn't growing at all, or is actively shrinking if we remove massive Federal stimulus, and long-term returns in stocks are negative.
But let's make the happy-story assumption the U.S. economy is about to resume its long-term GDP growth rate of abour 2% per annum.
A 2% (inflation-adjusted) growth rate in the real economy compounds to a 24% increase over 11 years, while an 11% annual increase in pension and public employee healthcare costs compounds into a 315% increase.
Is that disparity sustainable? Clearly, it is not.
Again, I must say……

The same principal has left the nation's public and private pension funds badly underfunded.

"We are actually more underfunded than we were at the end of 2008 because of the drop in interest rates since then," said John Ehrhardt, who tracks fund performance for benefits consultant Milliman.
That "same principal" is The Fed's ZIRP policy.
By picking winners – in this case the banks who made imprudent loans and should have been forced out of business, along with "protecting" the imprudent buyers of bonds in institutions that made those imprudent loans, the prudent are getting hammered.
There is no solution to this other than to stop doing that.  And this means withdrawing liquidity and forcing the borrowing of money to have a reasonable cost, so that those who lend money through the purchase of bonds can earn a reasonable inflation-adjusted return.
The initial "impact" of low interest rates appears seductively good.  It's not – it's always bad.  It forces people to take imprudent risks (how do you think we got a housing bubble in the first place?) and destroys the prudent investor, lender of capital and saver.
As these people are eviscerated their ability to contribute positively to the economy is likewise destroyed, and in particular, capital formation is critically damaged.
This is the real story on how Japan lost two decades. 
We will follow them unless we stop this insanity, and soon.
(PS: Are the unions still sheep on this issue, more than two years after I started sounding this alarm?)
Since I've said "I told you so" a few times of late, this time I'll just do this…..

Unfunded pension liabilities are approximately $2.5
trillion, compared to the reported amount of $493 billion.

Unfunded liabilities for health and other benefits are
$558 billion, compared to the reported $537 billion.

Thus, total unfunded liabilities for all benefit plans are an
estimated $3.1 trillion — nearly three times higher than
the plans report.
If you need this translated, it's very simple:
You're not going to get the money you think you were promised.
If you're a government employee and are counting on some sort of pension plan, get over it.
The money does not exist.
It cannot be acquired.
If you scream about "But the state constitution says we're protected!" I will simply remind you that it is easier to change a State Constitution than it is make money that doesn't exist magically appear.
To put this into context, the shortfall is double the annual Federal Budget deficit – at today's bloated amounts.  It is five times the average federal budget deficit during Bush's administration.
Again: You're not going to get the money, and most of it isn't, as is commonly believed, in the form of medical benefits – it's in direct cash pension compensation.
You were lied to by the plan administrators.
They (intentionally) used ridiculously-rosy projections of "gains" in their portfolios.
Their "projections" are outrageously unsound, as is their accounting.
Your public-sector unions lied to you too.  They led you to believe that you could have the equivalent of a free lunch and that these plans could be funded and would pay.  You can't and they can't.
Now you can get angry at "the people" all you want.  The fact of the matter is that the people who BS'd you aren't the public – they're your so-called "union representatives" and the so-called "pension managers", all of whom you hired and who report to you, not to the taxpayer.
More than two years ago I wrote a couple of Tickers on this subject and warned you that you were going to get hosed – severely.  That the funds you think are there are not and would not be.
If you are a state or local government employee and thought I was some sort of nut a couple of years ago when I was warning you that you had better start both raising hell and socking back your own funds, you better read this report – and then get VERY angry, as you've now lost two more years of time with which you could have been trying to do something about securing your own retirement.
The programs you believed would protect it will not be there when you expect them to be.
Period.
As the first of the 80 million Baby Boomers have begun to retire, it has become increasingly apparent that the United States is facing a pension crisis of unprecedented magnitude.  State and local government pension plans are woefully underfunded, dozens of large corporate pension plans either have collapsed or are on the verge of collapsing, Social Security is a complete and total financial disaster and about half of all Americans essentially have nothing saved up for retirement.  So yes, to say that we are facing a retirement crisis would be a tremendous understatement.  There is simply no way that we can keep all of the financial promises that we have made to the Baby Boomer generation.  Unfortunately, the crumbling U.S. economy simply cannot support the comfortable retirement of tens of millions of elderly Americans any longer.  The truth is that we are all going to have to start fundamentally changing the way that we think about our golden years.
Once upon a time, you could count on getting a big, fat pension if you put 30 years into a job.  But now pension plans everywhere are failing.  State and local governments are cutting back and are raising retirement ages.  A majority of Americans have even lost faith in the Social Security system, which was supposed to be the most secure of them all.
The reality is that we are moving into a time when there is not going to be such a thing as "financial security" as we have known it in the past.  Things have fundamentally changed, and we are all going to have to struggle to stay above water in the economic nightmare that is coming.
Part of the reason we have such a gigantic economic mess on the way is because we have promised vastly more than we can deliver to future retirees.  When you closely examine the numbers, it quickly becomes clear that a financial tsunami is about to hit us that is going to be so devastating that it will change everything that we know about retirement. 
The following are 22 statistics about America's coming pension crisis that will make you lose sleep at night…. 
Private Pension Plans And Retirement Funds
1 - One recent study found that America's 100 largest corporate pension plans were underfunded by $217 billion at the end of 2008.
2 – Approximately half of all workers in the United States have less than $2000 saved up for retirement.
3 – According to one recent survey, 36 percent of Americans say that they don't contribute anything at all to retirement savings.
4 – The Pension Benefit Guaranty Corporation says that the number of pensions at risk inside failing companies more than tripled during the recession.
5 – According to another recent survey, 24% of U.S. workers admit that they have postponed their planned retirement age at least once during the past year.
State And Local Government Pensions
6- Pension consultant Girard Miller recently told California's Little Hoover Commission that state and local government bodies in the state of California have $325 billion in combined unfunded pension liabilities.  When you break that down, it comes to $22,000 for every single working adult in California.
7 – According to a recent report from Stanford University, California's three biggest pension funds are as much as $500 billion short of meeting future retiree benefit obligations.
8 – In New Jersey, the governor has proposed not making the state's entire $3 billion contribution to its pension funds because of the state's $11 billion budget deficit.
9 – It has been reported that the $33.7 billion Illinois Teachers Retirement System is 61% underfunded and is on the verge of total collapse.
10 – The state of Illinois recently raised its retirement age to 67 and capped the salary on which public pensions are figured.
11 – The state of Virginia is requiring employees to pay into the state pension fund for the first time ever.
12 – In New York City, annual pension contributions have increased sixfold in the past decade alone and are now so large that they would be able to finance entire new police and fire departments.
13- Robert Novy-Marx of the University of Chicago and Joshua D. Rauh of Northwestern's Kellogg School of Management recently calculated the combined pension liability for all 50 U.S. states.  What they found was that the 50 states are collectively facing $5.17 trillion in pension obligations, but they only have $1.94 trillion set aside in state pension funds.  That is a difference of 3.2 trillion dollars.
Social Security
14 – According to one recently conducted poll, 6 out of every 10 non-retirees in the United States believe that the Social Security system will not be able to pay them benefits when they stop working.
15 – A very large percentage of the federal budget is made up of entitlement programs such as Social Security and Medicare that cannot be reduced without a change in the law.  Approximately 57 percent of Barack Obama's 3.8 trillion dollar budget for 2011 consists of direct payments to individual Americans or is money that is spent on their behalf.
16 – 35% of Americans over the age of 65 rely almost entirely on Social Security payments alone.
17 – According to the Congressional Budget Office, the Social Security system will pay out more in benefits than it receives in payroll taxes in 2010.  That was not supposed to happen until at least 2016.  The Social Security deficits are projected to get increasingly worse in the years ahead. 
18 – 56 percent of current retirees believe that the U.S. government will eventually cut their Social Security benefits.
19 - In 1950, each retiree's Social Security benefit was paid for by 16 U.S. workers.  In 2010, each retiree's Social Security benefit is paid for by approximately 3.3 U.S. workers.  By 2025, it is projected that there will be approximately two U.S. workers for each retiree.
20 – The shortfall in entitlement programs in the years ahead is mind blowing.  The present value of projected scheduled benefits surpasses earmarked revenues for entitlement programs such as Social Security and Medicare by about 46 trillion dollars over the next 75 years. 
21 – According to a recent U.S. government report, soaring interest costs on the U.S. national debt plus rapidly escalating spending on entitlement programs such as Social Security and Medicare will absorb approximately 92 cents of every single dollar of federal revenue by the year 2019.  That is before a single dollar is spent on anything else.
22 – Right now, interest on the U.S. national debt and spending on entitlement programs like Social Security and Medicare is somewhere in the neighborhood of 15 percent of GDP.  By 2080, those combined expenditures are projected to eat up approximately 50 percent of GDP.