Archive for the 'policy' Category
Everybody is talking about the cuts in government spending with the $85 billion in forced spending cuts in military and social programs.  $85 billion amounts to little more than a 2% cut in $3.8 trillion (or $3,800 billion) in federal spending per year.  Didn't most working Americans just suffer a 2% pay cut with the expiration of the Social Security tax holiday? How many times have we heard that thousands of government jobs will be lost to sequestration?  The so-called Great Recession destroyed at least 8 million private sector jobs, and if you count the underemployed and discouraged workers, it's easily 23 million.
Why are government employees being considered as some sort of sacred cow?  What many are feeling was summed up with a recent comment on the USAWatchdog.com site from "Chuck O."  He wrote, "I've retired after 44 years working. Throughout the entire period, I lived through no fewer than 10 lay-offs and cut-backs. I have yet to see any appreciable lay-off or cut-back in the federal work force (EVER). I feel it is about time "they" should take a "hit." How about a 20% cut back on ALL salaries? "They" need to share in the austerity. We all should have the same insurance benefits, too. "Their" retirement program and health insurance is way out of line; cut it back. A 20% cut would be way better than NO PAY at all. 20 % could really help lower the debt. I'm really getting KILLED by this money printing. In the 12 years I've been retired, my dollars have lost more than 30 % of their purchasing power. Obama's crew hasn't a clue. My wife and I have BOTH had to go back to work at 70 years old." 
With foreigners increasingly shunning Treasuries and the dollar, the only way to keep all those government jobs is to raise taxes on the private sector or print money.  The Republicans caved on tax increases at the beginning of the year, so that option is closed.  Now, we are left with the Federal Reserve's "open-ended" money printing operation that creates $85 billion a month out of thin air.  A little more than half of that amount ($45 billion) goes to buy Treasury bonds to finance the federal government.  The rest ($40 billion) goes to the continued banker bailout that buys their sour (and I think fraudulent) mortgage debt.  The money printing is what's causing Chuck O's "30%" loss in purchasing power for his retirement dollars. As the money printing continues, the buck will buy less and less.
Why doesn't the President divert just 2 months of the $40 billion the Fed creates every month to continue the banker bailouts to stop most of the $85 billion of spending cuts?  In case you haven't noticed, the bankers are a sacred cow.  The big banks have gobbled up trillions in bailouts already, and there is no end in sight.  After all, the Fed action is "open-ended."  The banks are the reason why the U.S is in financial trouble, and the continuing banker bailout is why the economy will never get better.  The only reason why the economy has not collapsed is the Fed can print money to buy sour debt that no one else would touch.
Because of all this money printing, the rest of the world is in the process of shunning the dollar and the U.S. Treasury.  It looks like gold, or some other gold-backed currency, will facilitate global trade in the not-so-distant future.  Jim Willie of GoldenJackass.com says when the world stops using the dollar, it's game over.  In a recent post, Mr. Willie wrote, "The gold trade finance concept ushers in a new alternative system long sought in order to create a more viable equitable sustainable financial structure. The banking system should serve trade, not the reverse. Hence the UST Bond will slowly vanish from the global banking system, and the US Dollar will lose its global reserve status. The end result is an unavoidable slide by the United States into the Third World."  (Click here for the complete GoldenJackass.com post.)   
You want to see what an "unavoidable slide by the United States into the Third World" looks like?  Behold the bankrupt city of Detroit that recently became a ward of the State of Michigan.  Detroit's bond debt alone is a whopping $14 billion.  I doubt it's worth pennies on the dollar, if that much.  You are not hearing much about this in the mainstream media (MSM).  Maybe it's because this is what socialism looks like when you finally run out of other people's money.   In a recent post on the FinancialSurvivalNetwork.com, Kerry Lutz wrote, "The city's day-to-day operations are in total meltdown. Many police calls go unanswered. Large sections of the city are dark at night because thieves have stolen the streetlights' copper wiring for scrap. Public education is a euphemism for warehousing and babysitting the criminal youth of tomorrow. Packs of wild dogs are found throughout the city. In many areas, garbage collection is a luxury that can no longer be afforded, and street cleaning is non-existent."  (Click here for the complete FSN post.)
Do you really think Detroit can turn things around without big cuts and sacrifice?  They keep telling us about how the cuts will hurt and they need to be done in a "smart way."  I'll bet Detroit would have liked to have tackled their financial problems in a "smart way" and made all of those "smart cuts."  Every time I hear the "smart cut" argument, I think, okay, give me $85 billion in "smart cuts" this year and every year for the next 10 years.  I also keep hearing that we need to fix our financial problems long term and not now during this "fragile recovery."   Haven't the powers been telling us this for years?  You can see how well it has worked.
Remember, what is going on with the $600 billion in new taxes and $1.2 trillion in spending cuts (total of $1.8 trillion) is less than half of what the bi-partisan Simpson-Bowles debt commission came up with in 2010.  The Simpson-Bowles plan was around a $4 trillion combination over the next 10 years, and even that only slowed the growth of our debt.  Everyone keeps asking about the pain caused by the spending cuts.  They are asking the wrong question.  Everyone should be asking: What happens if the U.S. doesn't cut spending?  I think the answer is Detroit.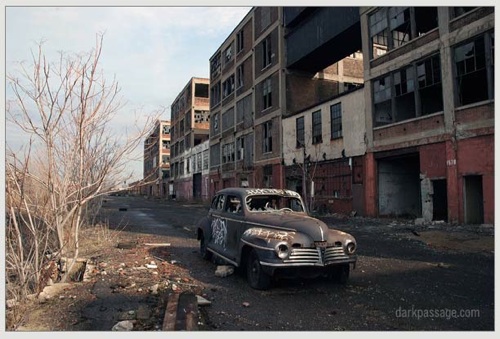 Greg Hunter – USA Watchdog
Imagine being a rancher and having a pack of predators attacking your livestock. These predators pose a grave danger to your livelihood and the safety of your family. You have a few options as to how to deal with this ravenous pack. You can remain vigilant and stand watch; shooing the hungry pack away whenever they come around. A possibility could be to try to provide alternate food options for them to keep them away from your animals. You may even choose to sacrifice the weakest of your livestock periodically to satiate the appetite of the predators. This will only cause the pack to increase in size and appetite… it will devour more of your livelihood. Or… you can get rid of the predators.
Speaking of hungry predators with insatiable appetites, have you seen what your governments have been up to lately?
The predators that come back night after night after night, ObamaCare and tax increases, are still going strong. The periodic predators that only come around when the opportunity presents itself, control of the internet and gun control, are coming out of the desk drawers that they have been stored in… waiting for just the right crisis/opportunity.
After having ObamaCare pushed upon the unwilling with complete disregard for the rights of individuals, the costs are already going up with double digit increases. I thought the ACA was supposed to reduce costs? While many state governments are refusing to fully comply with ObamaCare or to implement state run exchanges, the GoverNerd of my home state of Michigan has been going like gangbusters to getbought off by the feds.
By now everybody has been lambasted with smaller paychecks by the government ending the payroll tax holiday. Ben Swann reports how some politically connected groups got special deals as a part of the "fiscal cliff" negotiations while the citizenry got the shaft! What ever happened to the promise that nobody making less that $250,000 per year will see their taxes go up in any way, shape, or form? Oh yeah… that was a lie.
Not only do Americans face a smaller paycheck, they also face the fact that the money won't go as far as it used to. This is not only due to the Federal Reserve devaluing the currency through planned inflation, but from a potential new sales tax on health insurance. For the new ObamaCare related taxes, click here. For more on rules on income taxes, click here. If you are productive, you are nothing but a life support for the State.
"We will keep the Chinese and Russian governments from cyber-attacking US computer systems… by spying on and collecting the personal information of US citizens." He didn't really say that… he's not that honest.
First there was SOPA and PIPA and those went away due to public outcry. Then CISPA was introduced and went away due to public outcry. Now, it's back.
Rep. Mike Rogers (R) MI has reintroduced CISPA. If we are to suspend common sense for just a moment… why would we want an organization that constantly comes under cyber attack and is continuously being hacked providing cyber security? It's like UPS or FedEx going to the post office for advice on efficiency. Wouldn't it be better to hire a group like Anonymous? Those guys at least appear to be capable.
The president even signed a questionable executive order related to emergency internet control. Sounds harmless enough, Winston and Julia?
What these new internet laws really provide is an opportunity for politically connected, rent seeking corporations to enforce IP at tax cattle expense and for the federal government to censor unpopular information and spy on the citizenry just like the Soviets would have done. Ever heard of firewalls, anti-virus software, or a business taking the personal responsibility for their own cyber security?
It also appears that many local and state governments as well as the federal government feel that mere mortal citizens do not have the right to own and use property without their blessing. The president has signed 23 executive orders related to gun control. The state of New York has rammed through legislation to restrict the property rights of citizens of that state. Meanwhile in Missouri, the democrats are pushing for full confiscation of private property with new legislation that will essentially make ownership of semi-automatic firearms and proper capacity magazines a class C felony. Other states and localities are getting into the act too. All of this is happening while the federal government stocks up on enough weapons and ammo to fight a 30 year war and local police departments are provided with urban assault equipment similar to that used in war zones.
The Political Response
"As soon as you say, 'Those Democrats [or Republicans] are what's wrong with this country,' you've gladdened the Establishment's heart. You've fallen for the Punch and Judy show. You are no threat to the system. Meanwhile, the looting goes on." ~Tom Woods.

If anything has been learned by the people protesting ObamaCare at the town hall meetings and through writing letters and making phone calls, it's that your rulers really do not give a damn what you think and you can put your concerns where the sun doesn't shine. They are going to do what they want and unless you have enough money to outbid their true owners, you can go suck an egg.
Warning: This part will offend some of you but it needs to be said. You could always hold up your pocket constitution and shout, "Stop it! Stop it! You're not allowed to do that!" You will then be ignored like the constituents before you since the very first congress and president took office. No government has ever been restrained by a constitution. The only thing that has ever restrained any government is its own inability to consume and destroy everything all at one time. And that inability is being overcome more and more with each passing day. There has never been a time in this country's history ( or any country for that matter) where the constitution was obeyed even closely, let alone strictly. Not even under Grover Cleveland was it followed closely. Sure, Cleveland vetoed a lot of stuff but the fact that it made it to his desk in the first place is proof that the constitution wasn't followed. What part of, "criminals don't obey laws" do you not understand? I am certain that somebody will read that statement and despite all of the historical evidence will pull a Sheriff Mack, hit the refresh button and say, "If we could only get back to the constitution."
I will concede that Nullification at the state level can be used to fight federal tyranny to a point. If the fed goons decide that they want something to happen, they will employ every dirty trick in their arsenal from bribery to outright brute force. But what if it is your state that is violating your rights to own property? For all branches of government, individual nullification will be the only real answer.
I would caution people not to put too much hope in their elected rulers to advocate on their behalf. That has been done before and here they are over $16 trillion dollars in debt later. It's not that one party caves under pressure from the other party or popular opinion. No, it is that any period of resistance is nothing more than the requisite waiting period to make it look like they fought the good fight and do what they were planning to do all along. Then it is hailed as meeting in the middle in a grand example of bipartisanship and statesmanship. After all, the Indefinite Detention of US Citizens provision of NDAA 2012 was a result of bipartisan cooperation just as blocking any attempt to repeal that provision has been examples of bipartisan cooperation.
As Walter Williams has written,  Under Article 1, Section 7 : "All Bills for raising Revenue shall originate in the House of Representatives; but the Senate may propose or concur with Amendments as on other Bills." Constitutionally and by precedent, the House of Representatives has the exclusive prerogative to originate bills to appropriate money, as well as to raise revenues." The GOP could have defunded ObamaCare as soon as they took control of the House. By the same token, the Democrats could have defunded the wars as soon as they took control of the House. Ever notice how the actual policies never really change even though the rhetoric and party does? The system must be preserved at any and all costs.
This video clip is from the pro gun rights rally in Albany, New York. The likelihood of the politicians that voted for the NY gun ban getting voted out of office is pretty slim. The incumbency/recidivism rate for politicians is usually over 90%. The main point here is that the people are growing their numbers and getting others fired up. They are rising up against their rulers. They are setting the stage for nullification on the individual level!
The Effective Response
"No." ~Rosa Parks
Bad laws are not repealed because people want them repealed or because the rulers have a moment of benevolence. Prohibition was not repealed because FDR was such a swell guy. Prohibition was repealed because it was unenforceable, Too many people were ignoring the law. The violation of the law made the government look impotent in addition to looking like the miserable failure that it was. The Civil Right movement did the same thing with the Bus Boycott and their activism.
The answer is non-compliance and civil disobedience. It is my sincere hope that it does not come down to armed resistance but that is a strong possibility. New Yorkers are the first to face off against their state government. This may be the "shot heard round the world." As Alex Newman writes for the New American in his article Gun Owners Refuse to Register Under New York Law
"They're saying, 'F— the governor! F— Cuomo! We're not going to register our guns,' and I think they're serious. People are not
going to do it. People are going to resist," explained State Rifle and Pistol Association President Tom King, who also serves
on the National Rifle Association board of directors. "They're taking one of our guaranteed civil rights, and they're taking it away."
Figure out ways to separate yourself from the government. Look into alternative currencies and markets; starve the beast. Twelve million fewer people voted in the 2012 elections,  and that was the most important election of our lifetimes since the last most important election of our lifetimes… and until the next most important election of our lifetimes. Can you imagine the politicians trying to claim legitimacy and a mandate when only 10% of eligible voters even bother to show up to the polls? That is the easiest part of individual nullification as you don't even have to show up.
If you are unhappy with the government you have… withdraw your consent. If America chooses to make a stand, they had better make certain that they make themselves clear. It will not be enough to just win the battle only to have the rulers pull back to regroup. If that is the case, they will come back again with a fervor never before seen. They will come back with an unimaginable violence… that is the nature of the State.
Imagine being a private citizen trying to earn a living and take care of your family but are constantly stalked by your government. These predators pose a grave danger to your livelihood and the safety of your family. What do you do?
"It is in vain, sir, to extenuate the matter. Gentlemen may cry, Peace,  Peace²but there is no peace. The war is actually begun! The next gale that  sweeps from the north will bring to our ears the clash of resounding arms!  Our brethren are already in the field! Why stand we here idle? What is it  that gentlemen wish? What would they have? Is life so dear, or peace so  sweet, as to be purchased at the price of chains and slavery? Forbid it,  Almighty God! I know not what course others may take; but as for me, give  me liberty or give me death!" ~Patrick Henry
 Lou – Freedom Feens
Senator Paul introduced a bill to cut off foreign aid to Egypt, Libya, Pakistan and Yemen unless they met certain conditions (which they would not.)  He then used procedural moves to put the Senate into "slow motion" until he got his vote.
The bill failed, incidentally, 10-81.
Who voted for Senator Paul's resolution?
Republican Sens. Mike Crapo (Idaho), Jim DeMint (S.C.), Chuck Grassley (Iowa), Mike Lee (Utah), Jerry Moran (Kan.) Paul, James Risch (Idaho), Pat Roberts (Kan.), Richard Shelby (Ala.) and Pat Toomey (Pa.) voted for Paul's measure.
I'll lay odds that of the "NO" votes who are standing for election this cycle nearly all are returned to their offices come November.
There are a few in the Senate who "get it."  They understand that giving money to those people who really don't like us and would, if they could figure out a way, blow us all to smithereens (particularly if they thought they could do it without us blowing them to bits in exchange.)
The real drama here is not just found in this resolution though — it is also found in the Continuing Resolution that was a "must pass."  And why did that happen?  Because The Senate refuses to pass a budget, one of its primary Constitutional duties.
The ugly reality here is that The House and Republicans cannot claim the moral high ground either; the proper response to the Senate's refusal to act is for The House to adjourn and go home, allowing the government to shut down.  Yes, this winds up being politically dangerous and the people might not like it but to cooperate in a scheme to take a whiz on The Constitution is utterly unacceptable.
The Republicans love to try to claim the moral high ground here but they simply cannot.  The truth is that neither party will act as the Constitution demands, as we have seen repeatedly.  The budget is just one of the more-glaring examples; NDAA is another.  These extra-constitutional actions brand both of the houses of our Legislature as lawless enterprises, operating in an entirely-rogue manner with authority gained only through the threat to use physical force.
This is not the nation our founders designed and left for us, but it is the ugly caricature that we have become.  We then try to claim the moral high ground in foreign affairs but anyone with a hint of honesty in their view of the world can only guffaw with laughter at any such claim.
I weep for my nation and what, if we do not change course, is inevitably to come.
Are you better off today than you were four years ago?  This is a question that comes up nearly every election.  This year the Romney campaign has even created a Twitter hashtag for it: #AreYouBetterOff.  The Democrats are making lots of speeches claiming that we are better off, and the Republicans are making lots of speeches claiming that we are not.  So are most Americans actually better off than they were four years ago?  Of course not.  One recent poll found that only 20 percent of Americans believe that they are better off financially than they were four years ago.  But the same thing was true four years ago as well.  Our economy has been in decline and the middle class has been shrinking for a very long time.  The Democrats want to put all of the blame on the Republicans for this, and the Republicans want to put all of the blame on the Democrats for this.  A recent CNN headline defiantly declared the following: "Decline of middle class not Obama's fault", and this is the kind of thing we are going to hear day after day until the election in November.  But obviously something has gone fundamentally wrong with our economy.  So who should we blame?
Sadly, you hear very little on the mainstream news networks or the talk radio shows about the institution that has the most power over our economy.  The Federal Reserve has far more power over our financial system than anyone else does, but the media and both political parties tell us that the Federal Reserve is "above politics" and that their "independence" must never be questioned.
Unfortunately, most Americans have gone along with that.
But the truth is that the debt-based financial system that the Federal Reserve is at the core of is absolutely central to our economic problems.  If you do not understand this, please see this article: "10 Things That Every American Should Know About The Federal Reserve".
The Federal Reserve has done more to mess up our economy than anyone else has.
So shouldn't they be held accountable?
That is a very good question.
Have you ever wondered why financial markets move so dramatically whenever Federal Reserve Chairman Ben Bernanke gives a speech?
The same thing does not happen when Barack Obama gives a speech.
That is because the financial markets know who holds the real power in our financial system.
But during this election season the American people are told to put all of their attention on the "red team" and the "blue team".  We are told that the two major political parties are philosophical opposites and that they want to take the United States is two completely different directions.
The "true believers" on the blue team are completely and totally convinced that Barack Obama will be able to rescue the economy and save America.
The "true believers" on the red team are completely and totally convinced that Mitt Romney will be able to rescue the economy and save America.
Once upon a time I was one of those political activists.  I was fully convinced that America could be turned around if we could just get enough Republicans into office.
But then I noticed that nothing really seemed to change no matter who was in power.  I became disillusioned as I realized that Republicans were doing things pretty much the exact same way that Democrats were doing them when they got into power.
Yes, there are some minor differences between the two parties on taxes and regulations.
If we elect one guy over the other our economy might decline at a slightly different pace.
But in the end both political parties are taking us to the exact same place.
Down the toilet.
I wish that wasn't true.
But we need to be honest with ourselves….
-Both parties fully support the Federal Reserve.
-Both parties supported the nomination of Ben Bernanke to a second term as the head of the Federal Reserve.
-Both parties endlessly push the job-killing "free trade" agenda of the global elite.
-Both parties see nothing wrong with running absolutely enormous trade deficits with the rest of the world.
-Both parties supported TARP.
-Both parties supported the "economic stimulus" packages.
-Both parties supported the auto industry bailouts.
-Both parties have run up massive amounts of federal debt when in power.
-Both parties have greatly expanded the size of the federal government when in power.
-Both parties are full of control freaks and both parties have added more layers of ridiculous regulations to our already overburdened society when in power.
-Neither party supports getting rid of the income tax or the IRS.
-Neither party has any intention of doing anything to prevent the coming derivatives crisisthat could bring down the entire global financial system.
-Both parties are absolutely showered with cash from the big Wall Street banks.
-Both parties think that the TSA is doing a great job.
-Both parties supported the NDAA and the renewal of the Patriot Act.
-Both parties have greatly expanded the unconstitutional surveillance of American citizens by government agencies.
-Both parties are extremely soft on illegal immigration.
-Both parties have treated military veterans horribly.
-Both parties are absolutely packed with corrupt politicians that are living the high life at your expense.
-Neither party plans to balance the federal budget in 2013 if their candidate wins the election.
-Neither party has a plan that will fix our deeply broken health care system.
-Neither party has any plans to shut down the Federal Reserve.  In fact, both parties see absolutely nothing wrong with our current system.
Of course this list could go on indefinitely, but hopefully you get the point.
But I can understand those that are deeply frustrated with Barack Obama and that desperately want to avoid another four years of his policies.
I also believe that Barack Obama has been the worst president in U.S. history and that he and his entire cabinet should immediately resign in disgrace.
However, the Republican party foolishly chose to nominate the Republican candidate that was most like Barack Obama to run against him.
That was an enormous mistake.
No matter what the talk radio shows are telling you, the truth is that this country will continue on pretty much the same path no matter who wins the election.
I know that statement is going to make a lot of people angry.  But it is the sad reality of what we are facing.
Even if you focus on just the economy, the truth is that Mitt Romney's "five point plan" isalmost exactly the same thing that Barack Obama has been saying.
Many Americans believe that since Mitt Romney made lots of money on Wall Street conducting leveraged buyouts of vulnerable corporations that he understands how to fix our economy.
Sadly, that is not the truth.
I have listened to many Romney speeches about the economy and I keep waiting for some pearls of wisdom, but I have found that he is just as clueless about the economy as our other recent presidents have been.
Look, I know that there are a lot of people out there that have good hearts that want to have someone that they can believe in.
They want to believe that things can get better.
They want to have hope.
And I don't blame them for that.
I just think that it is time to pull our heads out of the sand and realize that things are not going to be getting any better.
A political savior on a white horse is not going to come riding in to save the day.
So by this point in the article a whole lot of Democrats and a whole lot of Republicans are very upset with me.
But I am not against you.  There is way too much hate in our society today.  Even if we disagree with someone else we can still love them.
I just think that it is very important that we understand that there is not going to be a solution to our problems on the national level and that our economy is headed for collapse no matter who gets elected.
The total amount of debt in the United States has risen from less than 2 trillion dollars to nearly 55 trillion dollars over the past 40 years, and there is nothing that Barack Obama or Mitt Romney can do to prevent the "correction" that is coming.
So are Americans better off than they were four years ago?
Of course not.
But things will soon get a whole lot worse no matter how the election turns out.
The following are 40 statistics that will absolutely shock you….
#1 During the time Barack Obama has been in the White House, median household income has fallen by 7.3 percent.
#2 Back in 2007, 19.2 percent of all American families had a net worth of zero or less than zero.  By 2010, that figure had soared to 32.5 percent.
#3 According to the Federal Reserve, the median net worth of American families dropped "from $126,400 in 2007 to $77,300 in 2010".
#4 According to the Pew Research Center, 61 percent of all Americans were "middle income" back in 1971.  Today, only 51 percent of all Americans are "middle income".
#5 Back in 1970, middle income Americans brought home 62 percent of all income in the United States.  In 2010, middle income Americans only brought home 45 percent of all income.
#6 The unemployment rate in the United States has been above 8 percent for 42 straight months.
#7 The percentage of working age Americans with a job has been below 59 percent for 35 months in a row.
#8 In June, the number of Americans added to the food stamp rolls was nearly three times larger than the number of jobs added to the U.S. economy.
#9 Approximately 53 percent of all U.S. college graduates under the age of 25 were eitherunemployed or underemployed last year.
#10 Since Barack Obama entered the White House, the number of long-term unemployed Americans has risen from 2.7 million to 5.2 million.
#11 Today, the average duration of unemployment in the United States is about three times as long as it was back in the year 2000.
#12 According to a report that has just been released by the National Employment Law Project, 58 percent of the jobs that have been created since the end of the recession have been low paying jobs.
#13 According to the Center for Economic and Policy Research, only 24.6 percent of all of the jobs in the United States are "good jobs".
#14 In 2010, the number of jobs created at new businesses in the United States was less than half of what it was back in the year 2000.
#15 The average pay for self-employed Americans fell by $3,721 between 2006 and 2010.
#16 According to U.S. Representative Betty Sutton, America has lost an average of 15 manufacturing facilities a day over the last 10 years.  During 2010 it got even worse.  That year, an average of 23 manufacturing facilities a day shut down in the United States.
#17 At this point, one out of every four American workers has a job that pays $10 an hour or less.
#18 While Barack Obama has been president the velocity of money has plunged to a post-World War II low.
#19 According to one recent survey, 85 percent of middle class Americans say that it is harder to maintain a middle class standard of living today compared with 10 years ago.
#20 Electricity bills in the United States have risen faster than the overall rate of inflation for five years in a row.
#21 There are now 20.2 million Americans that spend more than half of their incomes on housing.  That represents a 46 percent increase from 2001.
#22 Over the past decade, health insurance premiums have risen three times faster than wages have in the United States.
#23 Health insurance costs have risen by 23 percent since Barack Obama became president.
#24 As I wrote about yesterday, back in 1980 less than 10 percent of U.S. GDP was spent on health care but now about 18 percent of U.S. GDP goes toward health care.
#25 In a previous article, I noted that 62 percent of all middle class Americans say that they have had to reduce household spending over the past year.
#26 Family budgets in America are being stretched to the breaking point.  Today, 77 percent of all Americans live paycheck to paycheck at least part of the time.
#27 While Barack Obama has been president, U.S. home values have fallen by another 11 percent.
#28 More than three times as many new homes were sold in the United States in 2005 as will be sold in 2012.
#29 The United States was once ranked #1 in the world in GDP per capita.  Today we have slipped to #11.
#30 Since Barack Obama became president, the number of Americans living in poverty has risen by 6.4 million.
#31 The number of Americans on food stamps has grown from about 17 million in the year 2000 to 31.9 million when Barack Obama entered the White House to 46.7 million today.
#32 Approximately one-fourth of all U.S. children are enrolled in the food stamp program at this point.
#33 It is being projected that half of all American children will be on food stamps at least once before they turn 18 years of age.
#34 It is estimated that child homelessness in the United States has risen by 33 percentsince 2007.
#35 Back in 1965, only one out of every 50 Americans was on Medicaid.  Today,approximately one out of every 6 Americans is on Medicaid.
#36 As I wrote about the other day, it is being projected that Obamacare will add 16 million more Americans to the Medicaid rolls.
#37 It is being projected that the number of Americans on Medicare will grow from 50.7 million in 2012 to 73.2 million in 2025.
#38 The number of Americans receiving federal housing assistance increased by a whopping42 percent between 2006 and 2010.
#39 At this point, well over 100 million Americans are enrolled in at least one welfare program run by the federal government.
#40 Amazingly, more than half of all Americans are now at least partially financially dependent on the government.
So are you better off than you used to be or worse off?
Please feel free to post a comment with your thoughts below….
Say Hello To "Four More Years" (Mittens-Ryan)
There are a few hard, fast rules in politics when you're playing on the top of the ticket.
The first is that picking someone that's dumber than a box-o-rocks may cost you the election, as the electorate may think about your untimely demise and whether they can live with the other party in the left seat.
The second is that picking someone who's smarter than you are isn't that good of an idea either, because then the electorate may wonder if they made the wrong choice for the top of the ticket.
And the third is that picking someone who's hated more than you are sometimes works politically, especially if you've got a bunch of rabid people who hate you (and who doesn't at this level of political activity?); their fire may be drawn to the VP pick.
Of course that can backfire and cause your opponent to concentrate his fire on you both.
That appears to be headed Mittens way with Paul Ryan as his running mate.
The Republican presidential candidate called his new running mate a man of  "steadiness" and "integrity." Speaking Saturday morning, Romney praised Ryan as  an "intellectual leader" of the party, one who understands the toll the debt is  taking on the country but is optimistic about the future.
Uh huh.  That would be nice if it was true.
Unfortunately it's a lie.
And Ryan is one of the liars-in-chief in the House.  If you need your memory refreshed may I recommend you read the following links:
here (discretionary budget, welfare reform, retirement security and more)
here (voted for and supported TARP)
here (Medicare, cost-shifting at gunpoint and more)
here (more Medicare lies)
here (Ryan's fraudulent — for the second time — budget proposal) and of course
here (Ryan's lies about the sequester ex-post-facto creating exemptions to it)
and that's just the last year or so of my coverage of this venomous, traitorous snake.
The problem with Ryan is that he's not a "conservative" at all.  Beyond the fiscal mess documented up above — a mess he not only helped create but is promulgating and continuing, along with the explicit and implicit support of frauds up and down the line in our financial system via TARP and other schemeshe also supports blatantly unconstitutional laws on top of it, including The Patriot Act, warrantless wiretaps, retroactive immunity for telecommunications firms that broke the law on warrant requirements and more.
This is a man who literally wakes up and looks for a tiny as-yet-unused corner of the Constitution with which to wipe his ass after the obligatory morning stop on the commode.  Paired with Romney, who supported and signed a ban on guns that looked scary while governor of Massachusetts, to give Ryan the tie-breaking vote in the Senate is unthinkable.
This nation and her people need both a stick for our teeth and a good belt of whiskey, for indeed, given this "choice", here it comes.