Archive for the 'Politics' Category
Shameless blackmail is now the standard response of the political class because it has been brilliantly effective at coercing the masses.
Internet mythology is replete with stories of canny blackmailers exploiting our natural empathy for puppies and kittens by running web campaigns that claimed the blackmailer would kill the adorable kitten/puppy displayed if 5,000 people didn't send him $1 each.
It was all a hoax, of course, a shameless ruse that played melodramatically on our fears and sympathies. In the mythology, people responded by sending cash and rewarding the blackmailer.
We see the same effectiveness of melodramatic blackmail everywhere in Status Quo responses to the debt/phantom collateral endgame. If your city faces a shortfall of tax revenues, rest assured the first response of overpaid bureaucrats in City Hall frantic to keep their jobs, pensions and perks will be to slash the hours the library is open.
A 2% reduction in the Federal budget, we're told, will push orphans onto the frigid streets, send our troops into battle without ammo ("gee, Sarge, I coulda taken out that terrorist but we were only issued one clip this month"), and generally shut down every service the public cares about.
The alternative you will never hear about is a reduction in the multiple layers of overpaid bureaucrats in City Hall, the White House staff, the Pentagon, the local school district, etc., etc., etc., or any reduction in funding the parastic cartels that have captured the machinery of governance. Sickcare remains fully funded, of course, so the cartels can continue to feast on needless duplicative tests, medications that don't work as advertised, $70,000 biopsies, $100,000 hospital visits, and so on.
The Pentagon/National Security State budget has essentially doubled in a decade, but a 2% cut never touches the sclerotic administrative layers of useless meetings, under-assistants to the assistant director, cost over-runs to bloated defense contractors, etc.Instead we're treated to the equivalent of the same old shrill melodrama: give us money or the puppy/national defense/widow/orphan dies!
The same blackmail ruse is being played out again and again in Europe. The European Union is essentially telling Greece, Cyprus, et al. "either pay off our banksters and bondholders or we'll kick you out of the Eurozone."
Confounding all reason, the citizens of these indebted countries shrivel in terror at this dread prospect, when they should be cheering that they can exit a neocolonial, neofeudal system of exploitation and extraction.
Political games of blackmail abound. When did this puerile, pathetic melodrama of threatening puppies and kittens (library closures, government shutdowns, closure of useful services to leave the unproductive, overpaid, bloated bureaucracy intact) become standard operating procedure?
It became standard operating procedure when politicos discovered it worked.The public has effectively "trained" the political class to shamelessly frighten and blackmail us at every turn, because we cave into their demands to protect their own power, perquisites and fiefdoms.
Look how easy it is. Consider City Hall, filled with overpaid people plotting their escape to fat pensions and lifetime healthcare coverage, and all they have to do to keep their share of declining tax revenue is close the libraries half the week and order the street repair crews to stand down and let the potholes multiple for a few weeks.
Voila, the taxpayers cave in and re-elect the scoundrels and wastrels, and vote in higher taxes to "save our libraries." Next time, why not ask how many cuts is City Hall taking? How many cuts to bloated pensions and healthcare benefits are being absorbed to save the libraries?
The blackmailers have no skin in the game. The cuts and sacrifices are all imposed on others, and if the house of cards collapses due to their mismanagement, the losses won't fall on the portfolios and pensions of the political class and their Upper Caste of technocrats: others will absorb the losses.
The only way to limit shameless political blackmail is to re-train the politicos by ejecting them all from office. It appears at least a third of Italian voters now understand that, having voted for a true outsider (Grillo); now the rest of the nominal democracies need to follow the same path.
Vote down all tax increases until the political class absorbs 40% cuts in staffing, salaries, pensions and healthcare coverage.
Blackmail has even seeped into spheres like Public television, where we're threatened with another week of retread 1950s music, ways of dodging dementia and other Baby Boomer material designed to force us to donate lest we get another week of the Three Tenors and endless pitches from earnest PBS boosters.
Give us money or your favorite program dies. Fair enough, but how tight a ship are you folks running at the top? How many expense accounts and travel junkets do you at the top enjoy? What sort of cuts are you absorbing first before blackmailing us with re-runs of gray-haired ponytailed guys jiggling their spare tires?
One last thing: buy my book Why Things Are Falling Apart and What We Can Do About It or the puppy and kitten get it. I really really mean it.
Charles Hugh Smith – Of Two Minds
Everybody is talking about the cuts in government spending with the $85 billion in forced spending cuts in military and social programs.  $85 billion amounts to little more than a 2% cut in $3.8 trillion (or $3,800 billion) in federal spending per year.  Didn't most working Americans just suffer a 2% pay cut with the expiration of the Social Security tax holiday? How many times have we heard that thousands of government jobs will be lost to sequestration?  The so-called Great Recession destroyed at least 8 million private sector jobs, and if you count the underemployed and discouraged workers, it's easily 23 million.
Why are government employees being considered as some sort of sacred cow?  What many are feeling was summed up with a recent comment on the USAWatchdog.com site from "Chuck O."  He wrote, "I've retired after 44 years working. Throughout the entire period, I lived through no fewer than 10 lay-offs and cut-backs. I have yet to see any appreciable lay-off or cut-back in the federal work force (EVER). I feel it is about time "they" should take a "hit." How about a 20% cut back on ALL salaries? "They" need to share in the austerity. We all should have the same insurance benefits, too. "Their" retirement program and health insurance is way out of line; cut it back. A 20% cut would be way better than NO PAY at all. 20 % could really help lower the debt. I'm really getting KILLED by this money printing. In the 12 years I've been retired, my dollars have lost more than 30 % of their purchasing power. Obama's crew hasn't a clue. My wife and I have BOTH had to go back to work at 70 years old." 
With foreigners increasingly shunning Treasuries and the dollar, the only way to keep all those government jobs is to raise taxes on the private sector or print money.  The Republicans caved on tax increases at the beginning of the year, so that option is closed.  Now, we are left with the Federal Reserve's "open-ended" money printing operation that creates $85 billion a month out of thin air.  A little more than half of that amount ($45 billion) goes to buy Treasury bonds to finance the federal government.  The rest ($40 billion) goes to the continued banker bailout that buys their sour (and I think fraudulent) mortgage debt.  The money printing is what's causing Chuck O's "30%" loss in purchasing power for his retirement dollars. As the money printing continues, the buck will buy less and less.
Why doesn't the President divert just 2 months of the $40 billion the Fed creates every month to continue the banker bailouts to stop most of the $85 billion of spending cuts?  In case you haven't noticed, the bankers are a sacred cow.  The big banks have gobbled up trillions in bailouts already, and there is no end in sight.  After all, the Fed action is "open-ended."  The banks are the reason why the U.S is in financial trouble, and the continuing banker bailout is why the economy will never get better.  The only reason why the economy has not collapsed is the Fed can print money to buy sour debt that no one else would touch.
Because of all this money printing, the rest of the world is in the process of shunning the dollar and the U.S. Treasury.  It looks like gold, or some other gold-backed currency, will facilitate global trade in the not-so-distant future.  Jim Willie of GoldenJackass.com says when the world stops using the dollar, it's game over.  In a recent post, Mr. Willie wrote, "The gold trade finance concept ushers in a new alternative system long sought in order to create a more viable equitable sustainable financial structure. The banking system should serve trade, not the reverse. Hence the UST Bond will slowly vanish from the global banking system, and the US Dollar will lose its global reserve status. The end result is an unavoidable slide by the United States into the Third World."  (Click here for the complete GoldenJackass.com post.)   
You want to see what an "unavoidable slide by the United States into the Third World" looks like?  Behold the bankrupt city of Detroit that recently became a ward of the State of Michigan.  Detroit's bond debt alone is a whopping $14 billion.  I doubt it's worth pennies on the dollar, if that much.  You are not hearing much about this in the mainstream media (MSM).  Maybe it's because this is what socialism looks like when you finally run out of other people's money.   In a recent post on the FinancialSurvivalNetwork.com, Kerry Lutz wrote, "The city's day-to-day operations are in total meltdown. Many police calls go unanswered. Large sections of the city are dark at night because thieves have stolen the streetlights' copper wiring for scrap. Public education is a euphemism for warehousing and babysitting the criminal youth of tomorrow. Packs of wild dogs are found throughout the city. In many areas, garbage collection is a luxury that can no longer be afforded, and street cleaning is non-existent."  (Click here for the complete FSN post.)
Do you really think Detroit can turn things around without big cuts and sacrifice?  They keep telling us about how the cuts will hurt and they need to be done in a "smart way."  I'll bet Detroit would have liked to have tackled their financial problems in a "smart way" and made all of those "smart cuts."  Every time I hear the "smart cut" argument, I think, okay, give me $85 billion in "smart cuts" this year and every year for the next 10 years.  I also keep hearing that we need to fix our financial problems long term and not now during this "fragile recovery."   Haven't the powers been telling us this for years?  You can see how well it has worked.
Remember, what is going on with the $600 billion in new taxes and $1.2 trillion in spending cuts (total of $1.8 trillion) is less than half of what the bi-partisan Simpson-Bowles debt commission came up with in 2010.  The Simpson-Bowles plan was around a $4 trillion combination over the next 10 years, and even that only slowed the growth of our debt.  Everyone keeps asking about the pain caused by the spending cuts.  They are asking the wrong question.  Everyone should be asking: What happens if the U.S. doesn't cut spending?  I think the answer is Detroit.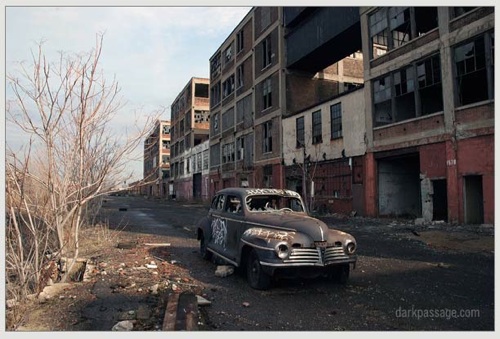 Greg Hunter – USA Watchdog
A titanic political battle is brewing between the parasitic aristocracy, the dependent class and the two classes creating value with their labor.
In the conventional view, America's socioeconomic classes are divided by income and wealth into various layers of Wealthy, Middle Class and Poor.
If we extend the analysis presented in Why Employment in the U.S. Isn't Coming Back(January 29, 2013) and Why Employment Is Dead in the Water (January 28, 2013), we getan entirely different framework that breaks naturally into four classes:
1. Parasitic financial Aristocracy (creates no value, skims national surplus)
2. High value creation (employed, heavily taxed)
3. Low value creation (employed/informal economy, lightly taxed)
4. No value creation (unemployed, dependent)
There are of course various distinctions that must be made within each broad class, but the point is the financial health of the nation ultimately depends on creating surplus value–value in excess of the costs of production and overhead.
Wealth that is incapable of generating new wealth is consumed, i.e. eating our seed corn: once the investable capital is gone, it is no longer available to leverage new wealth creation, and the nation spirals into poverty and conflict.
The key metrics are value creation and cost: assessing the value created by each class and the costs of maintaining each class.
In the conventional view, the wealthy subsidize the poor via taxes and donations to charity (i.e. noblesse oblige). But the conventional framework ignores the key question of where the wealthy obtained their fortunes, and the consequences of that wealth acquisition on the larger economy.
If the wealthy parasitically skimmed their wealth, they are in effect depriving the economy of capital that could have been productively invested elsewhere. If they created value far in excess of the costs of their enterprise, then they were conduits of high-value creation.
Here is a snapshot of parasitic wealth skimming: the financial aristocracy skims roughly 5% of the nation's entire output (GDP) from the 60% of the populace that are debt-serfs (the top 5% have wealth that is not debt-dependent, and the bottom 35% are too poor to have any credit).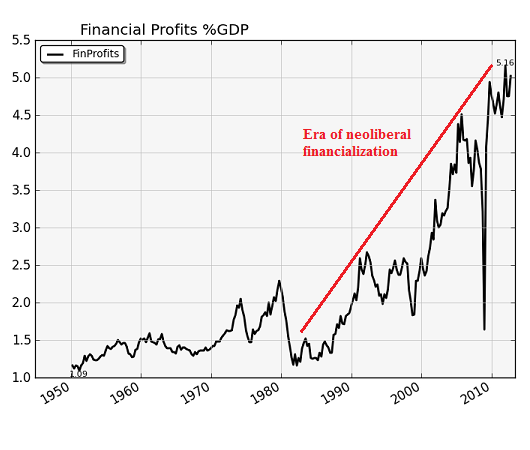 Financial profits per capita (per person): this eliminates the abstraction of numbers in the hundreds of billions of dollars by measuring the parasitic skim extracted from each American: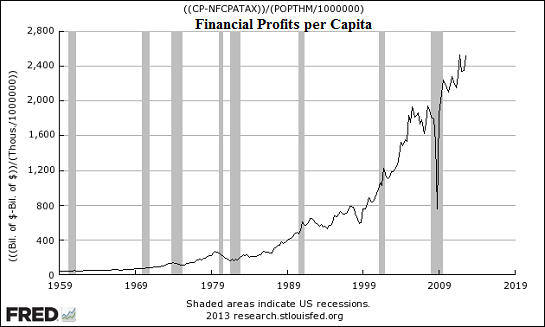 The financial sector is only the most visible part of the parasitic skim; most of the skim is hidden within cartels enabled and enforced by the Central State (Federal government).
Correspondent Mark G. has identified the two dead-giveaway characteristics of parasitic cartels:
1. Real outputs (i.e. surplus value) are visibly falling despite ever higher resource inputs (costs).
2. The cartel enforces a socio-political agenda that has nothing to do with the ostensible purpose of the cartel's operations.
This describes the national security cartel, the sickcare cartel, the higher-education cartel and the drug-war/gulag cartel, to name just the most obvious.
The national security cartel absorbs hundreds of billions of dollars annually, yet the value of trillion-dollar weapons systems like the F-35 are rapidly diminishing in an era of networked drones.
The sickcare cartel now absorbs almost 20% of the nation's entire economy (GDP) yet the health of the populace measurably declines by most international metrics.
The higher-education cartel manages to expand its share of the national income even as the cartel's output–the relevancy and value of its product, a college degree– is increasingly marginalized. (Students: You Are Exploited Debt-Serfs April 12, 2011)
Overcrowded classes now routinely view coursework on large screens that is drawn from the Internet rather than live lectures–lessons the students could get for free on their own. Textbooks that cost $150 each (how's that for cartel pricing?) cover material that is also available online for free or a very low cost. Meanwhile, administration costs are replacing instruction as the primary costs of the cartel: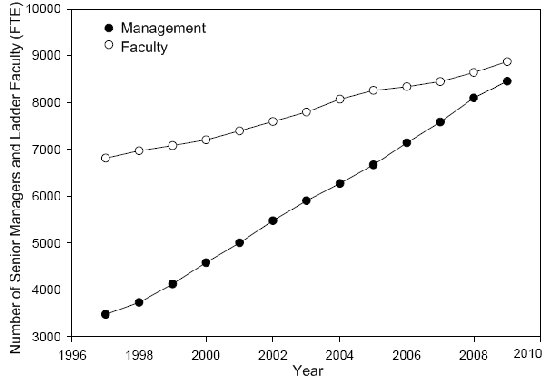 No wonder higher education and healthcare are "rights." That agenda guarantees the cartels' control of the national income will only expand.
The drug-war/gulag cartel consumes billions of dollars annually on suppressing marijuana and jailing drug users and nickel-bag dealers, while fully legal and readily available alcohol kills tens of thousands annually via vehicle accidents, murders committed while intoxicated, liver disease, etc., none of which can be traced to marijuana useage.
Forgotten thanks to the relentless drug-war/gulag cartel propaganda is the fact that U.S. physicians routinely prescribed cannabis in the late 19th as a cure for a variety of common ailments. (For the record, I am not a user attempting to justify my usage; this is simply unassailable historical fact.)
Since the value created by these cartels is far less than their costs, they are all part of the parasitic aristocracy skimming wealth rather than creating it.
As noted in the previous essays on employment, once an economy's cost basis rises above the value created by most labor, it is no longer financially possible to pay people to perform low-value creation work.
Robots and software become the only sustainable way to get the work done for a cost that is lower than the value created. Robot Economy Could Cause Up To 75 Percent Unemployment. As I explained in Why Employment in the U.S. Isn't Coming Back, ever-higher labor and overhead costs make this the only path open to enterprises that aren't subsidized or protected by the government.
What we need to consider is what happens as the parasitic and dependent classes take an ever-larger share of the national surplus while the classes creating most of the value decline in size and political influence.
This has nothing to do with what people "deserve" or what they've been promised; it has everything to do with what is economically sustainable. The conventional political discussion is focused on what everyone is receiving; the discussion that matters is how much value is being created, and can that wealth support a parasitic aristocracy, politically untouchable cartels and a vast and growing class of State dependents.
Based on income and taxes paid, it appears the high value creation class has shrunk to around 20% of the workforce, as the top 20% pay roughly 80% of the income and payroll taxes.
In general terms, there are 150 million people reporting earned income, i.e. working at some sort of job or self-employment. Roughly 38 million are part-time, and so full-time workers number around 112 million. As noted in Why Employment Is Dead in the Water, 38 million American workers earn less than $10,000 per year, a number that aligns with the number of part-time employees; 50 million earn less that $15,000 a year and 61 million earn less than $20,000 annually.
In broad-brush, the bottom 40% of wage earners work in low-value creation jobs. Their wages are capped by the value their labor creates. The top 20% are in high-value creation jobs and the middle 40% fill the spectrum between $100,000 and $21,000 a year in earned income.
Looking ahead, we can discern a time when the class creating most of the value and paying most of the taxes declines to the point that the value created is no longer large enough to support both a parasitic aristocracy and a vast class of dependents (children, retirees, disabled, unemployed, etc.) while the majority of wage earners are barely getting by on their declining household incomes. Recall that there are about 307 million Americans and roughly a third have living-wage jobs, i.e. full-time jobs.
Courtesy of Doug Short: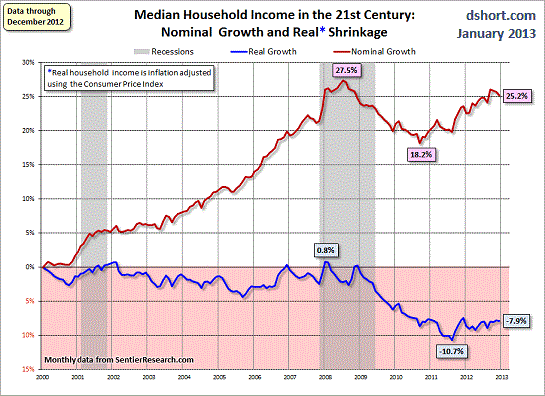 That sets the stage for a titanic political battle–one that could trigger a constitutional crisis–between the parasitic aristocracy, the dependent class and the two classes creating value with their labor.
In this context, America is filling the gap between the value we create and what we spend by borrowing $1 trillion+ a year on the Federal level and hundreds of billions more on the local-government and private-sector levels. All this debt isn't being "invested" in new value-creation; it is funding consumption and cartel skimming on a monumental scale.
Charles Hugh Smith – Of Two Minds

FedUpUSA co-founder and owner of Market-Ticker.org, Karl Denninger, sits down with Greg Hunter of USAWatchdog to discuss the budget crisis.   Denninger says don't expect politicians to do the right thing just yet when it comes to solving America's financial problems.  Further, he says, "There is no stomach to put their jobs on the line . . . We need statesmen who will say I will get fired over this. . . . That's the price the country has to pay."
Join Greg Hunter as he goes One-on-One with financial analyst Karl Denninger.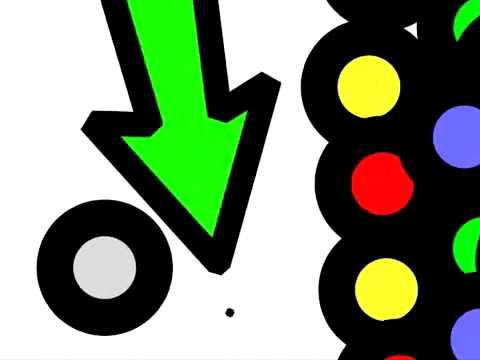 The source of our enslavement is our apparent belief in the need for authority.  We all seem to believe it is necessary to have an authority to keep the world running smoothly.  But do we really?  Why is it that we voluntarily give up our own autonomy, our own individuality and authority to a minuscule group of people?  The following video illustrates precisely how illogical this way of thinking is.  It truly is a situation too weird for 99.999% of people to adequately explain.
Given the current state of broken political and economic systems worldwide, should we continue to put our faith in this "authority?" Has the "authority" demonstrated its expertise in management of the welfare of the whole?
Would self-reliance, strong community values, and management on a local level be a stronger approach?  Could it be worse than what we have?  The video is probably over-simplified, but sometimes simple carries the strongest message and sometimes cutting through all the complexities gives us the clearest picture.
The Gannett Company
Gannett Company, Inc. claims to be "A media and marketing solutions company with a diverse portfolio of broadcast, digital, mobile and publishing companies." Gannett owns many media outlets including:
Print media:
USA Today of Tysons Corner, Virginia (1,830,594, 2nd overall)
The Arizona Republic of Phoenix, Arizona (308,973, 14th)
Detroit Free Press of Detroit, Michigan (245,326, 20th)
The Indianapolis Star of Indianapolis, Indiana (182,933, 32nd)
The Courier-Journal of Louisville, Kentucky (159,275, 42nd)
The Cincinnati Enquirer of Cincinnati, Ohio (157,574, 43rd)
The Tennessean of Nashville, Tennessee (127,538, 61st)
Democrat and Chronicle of Rochester, New York (119,399, 65th)
Asbury Park Press of Neptune City, New Jersey (112,683, 68th)
The Des Moines Register of Des Moines, Iowa (109,095, 73rd)
The News Journal of Wilmington, Delaware (87,138, 89th)
The Journal News of White Plains, New York (79,525, 96th)
Pacific Daily News of Guam
Broadcast media:
WBIR-TV (NBC) in Knoxville, Tennessee
WXIA-TV (NBC) and WATL (MyNetworkTV) in Atlanta (Pacific and Southern Company, Inc.)
WUSA (CBS) in Washington, D.C.
KPNX (NBC) in Phoenix
WTSP (CBS) in Tampa-St. Petersburg (Pacific and Southern Company, Inc.)
KARE (NBC) in Minneapolis-Saint Paul
KUSA-TV (NBC) and KTVD (MyNetworkTV) in Denver
WKYC-TV (NBC) in Cleveland
KXTV (ABC) in Sacramento, California
KSDK (NBC) in St. Louis
WZZM-TV (ABC) in Grand Rapids, Michigan
WFMY-TV (CBS) in Greensboro, North Carolina
WJXX (ABC) and WTLV (NBC) in Jacksonville, Florida
WGRZ-TV (NBC) in Buffalo, New York
KTHV-TV (CBS) in Little Rock, Arkansas
WLTX (CBS) in Columbia, South Carolina (Pacific and Southern Company, Inc.)
WMAZ-TV (CBS) in Macon, Georgia (Pacific and Southern Company, Inc.)
WCSH-TV (NBC) in Portland, Maine (Pacific and Southern Company, Inc.)
WLBZ-TV (NBC) in Bangor, Maine
Gannett Digital:
Captivate Network
CareerBuilder (50.8%)
Classified Ventures (20%)
DealChicken
eHarmony
GannettLocal
HighSchoolSports.net
Metromix
PointRoll
ShopLocal
Cars.com
Reviewed.com
With such a vast audience, Gannett wields considerable influence in America. Unfortunately, Gannett frequently pushes statist propaganda, behaving like an ideal MSM Lapdog for those currently in power.
The Des Moines Register
A recent article published in The Des Moines Register (a Gannett company) illustrates this fact to a painful degree. After the tragedy at Sandy Hook Elementary School in Newtown Connecticut, Donald Kaul came out of retirement (again) to rail against gun ownership, the Second Amendment, and to call the NRA a "terrorist organization." In his "…program for ending gun violence in America," Kaul calls for the Second Amendment to be repealed, for the NRA to be declared a terrorist organization, and to "…tie Mitch McConnell and John Boehner, our esteemed Republican leaders, to the back of a Chevy pickup truck and drag them around a parking lot."
Had he named Democratic congress members as his targets, he would already have been visited by the FBI, but since his suggestion fits the Progressive Playbook, nary an eyebrow was raised. One is forced to wonder if Mr. Kaul has any home security plans beyond dialing 911. Here is his home address, why not pay him a visit and ask?
The Journal News
Another Gannett media company (The Journal News of White Plains, New York) again, in the wake of the Sandy Hook tragedy, published a map of all pistol permit holders in Rockland and Westchester, NY. Soon afterward, a veritable avalanche of "negative correspondence" inundated The Journal News. This highly negative reaction so alarmed Journal News Rockland Editor Caryn A. McBride that The Journal News hired armed security guards from New City-based RGA Investigations, which are now manning the newspaper's headquarters. Here is her home address (280 Bronxville Rd Apt 4B Bronxville, NY 10708-2819 Phone: 914-954-3412) I'm sure she would welcome a call or a visit to discuss her fears.
The hypocrisy in this is nearly tangible…and if questioned, would surely be dismissed as a "necessary precaution" for the safety of their staff. It is unclear if this map stunt of theirs has affected their readership (they'll never tell) but their local competitor (The Rockland County Times) has reported an influx of new subscribers that stated they cancelled their subscriptions to The Journal News due to the gun story. Some folks out there are apparently awake, and unwilling to continue to support such a hypocritical organization. Handily, one such person published a map of Journal News staff, for your convenience.
The Detroit Free Press
The Detroit Free Press (another Gannett company) just published an article entitled Headlines we'd like to see in 2013. As annual year-end lists go, there isn't much surprising there, but where this list bothers to get political, it takes a hard left. One of their dream headlines for 2013 reads, "Tea party is over: Voters recall dozens of lawmakers over 'fiscal cliff' shenanigans". The interesting part of this is that The Detroit Free Press doesn't seem to see the "shenanigans" perpetrated by any other group…they lay the blame for the fiscal cliff situation solely at the feet of those that were sent there to stop such nonsense. Sit. Stay. Good MSM Lapdog.
The Indianapolis Star
The Indianapolis Star recently published an article called The power of an economic NATO, which glorifies the concept of another NAFTA-like agreement, this time with Europe. In keeping with The Program, columnist David Ignatius opines, "What's appealing about the trans-Atlantic initiative, in particular, is that it could be a big job creator for economies on both continents…" obviously having missed the effects of NAFTA on our economy. He goes on to state, "I like the idea of an "economic NATO" because it addresses fiscal problems through growth and expansion," but the problem is that Europe isn't growing or expanding. A more accurate assessment of Europe would use words like "teetering" and "faltering". Would such a trade partner help us expand and grow our way out of our current miasma?
Ross Perot warned us of a "giant sucking sound" as our jobs flew out of the country post-NAFTA, and as we all know now, it came to pass. Considering the depressed economies in Greece, Italy, Spain, Portugal and Ireland, and the low wages their unemployed would be willing to work for, one must employ pure magical thinking to believe yet another such agreement would have different results. What was it that Albert Einstein said about insanity?
The Courier-Journal
On December 29th, The Courier-Journal of Louisville, Kentucky came out with this lovely piece: NRA call for guns at schools obscene, in which Tom Diaz, a former gun owner and former NRA member who now works for the Violence Policy Center, is quoted as telling NPR, "The gun industry realized that it really loses every argument where you can have facts,'' apparently "proving" that the NRA needs to lie to support the Second Amendment of our Constitution, by mere assertion. Blind assertion doesn't cut it, Mr. Diaz, and the Courier-Journal should be ashamed for not calling you out on this.
The article goes on to list the President of the NRA, Wayne LaPierre's suggestions at a recent news conference, snidely and childishly dismissing each, calling them "paranoid and delusional." For proof of the folly of LaPierre's suggestions, the article only cited one source – The New York Times, and that only in regards to an assertion that the NRA is being funded by video game makers via the gun manufacturers…again, with no real proof. The rest of Mr. LaPierre's suggestions were merely ridiculed, as by a know-it-all teenager…but hey, it all fit The Program, and that's all that matters to a Gannett Company, right?
The Cincinnati Enquirer
On December 23rd, The Cincinnati Enquirer published this piece: The culture of violence which, in accordance with The Plan, ridicules the NRA and Second Amendment supporters. The article states that Nancy Lanza, the Sandy Hook killer's Mother, was killed by her stockpiled weapons in a bald-faced attempt to demonize the weapons themselves, as if her son Adam had nothing to do with her death. The more the mantra of Guns Are Bad is repeated, the more people may be amenable to giving up their right to own one, or so The Plan goes. The Cincinnati Enquirer ought to be ashamed to publish such intellectually dishonest assertions, but apparently they ceased being real journalists, and eagerly embraced their new lives as MSM Lapdogs…all in the name of the statist agenda.
Statism Abounds
One cannot long peruse a Gannett publication without running afoul of statist propaganda. Whether discussing our Second Amendment rights, the TEA Party, or our economy, the constant drum-beat of statism permeates every outlet in Gannet's arsenal, and Gannett is not alone. The rhythm of statism being continually and perpetually pounded out into the Main Stream Media in America is evident to all but the most brain-washed observer. Are they actually colluding to keep every media outlet on the same page, or does it just appear that way? Who do these people (that control what is said in the MSM) work for…themselves, or some other, possibly more sinister puppet-master? What is the goal of desensitizing the American public to statism, and who will benefit once the American people give all control over to their government?
With multiple examples of failed statist regimes in our history (some of them recent) one may have been lead to believe that statism was on its last legs politically. With standard-bearers such as Gannett, this is sadly not the case, and we all need to be vigilant in our defense of our rights until such organizations are exposed as the statist puppets they are, and they assume their rightful place in the ash heap of history.
Randy – FedUpUSA