Archive for the 'Poverty' Category
The jobs recovery is a complete and total myth.  The percentage of the working age population in the United States that had a job in March 2013 was exactly the same as it was all the way back in March 2010.  In addition, as you will see below, there are now more than 101 million working age Americans that do not have a job.  But even though the employment level in the United States has consistently remained very low over the past three years, the Obama administration keeps telling us that unemployment is actually going down.  In fact, they tell us that the unemployment rate has declined from a peak of 10.0% all the way down to 7.6%.  And they tell us that in March the unemployment rate fell by 0.1% even though only 88,000 jobs were added to the U.S. economy.  But it takes at least 125,000 new jobs a month just to keep up with population growth.  So how in the world are they coming up with these numbers?  Well, the reality is that the entiredecline in the unemployment rate over the past three years can be accounted for by the reduction in size of the labor force.  In other words, the Obama administration is getting unemployment to go down by pretending that millions upon millions of unemployed Americans simply do not want jobs anymore.  We saw this once again in March.  According to the U.S. Bureau of Labor Statistics, more than 600,000 Americans dropped out of the labor market during that month alone.  That pushed the labor force participation rate down  to 63.3%, which is the lowest it has been in more than 30 years.  So please don't believe the hype.  The sad truth is that there has been no jobs recovery whatsoever.
If things were getting better, there would not be more than 101 million working age Americans without a job.
So exactly where does that statistic come from?  Well, the following explains where I got that number…
According to the U.S. Bureau of Labor Statistics, there are 11,742,000 working age Americans that are officially unemployed.
In addition, the U.S. Bureau of Labor Statistics says that there are89,967,000 working age Americans that are "not in the labor force".  That is a new all-time record, and that number increased by a whopping663,000 during the month of March alone.
When you add 11,742,000 working age Americans that are officially unemployed to the 89,967,000 working age Americans that are "not in the labor force", you come up with a grand total of 101,709,000 working age Americans that do not have a job.
When you stop and think about it, that is an absolutely staggering statistic.
And anyone that tells you that "a higher percentage of Americans are working today" is telling you a complete and total lie.  During the last recession the percentage of working age Americans with a job fell dramatically, and since then we have not seen that number bounce back at all.  In fact, this is the very first time in the post-World War II era that we have not seen the employment-population ratio bounce back after a recession.  At this point, the employment-population ratio has been under 60 percent for 49 months in a row…
Since the end of 2009, the employment-population ratio has been remarkably steady.  Just check out these numbers…
March 2008: 62.7 percent
March 2009: 59.9 percent
March 2010: 58.5 percent
March 2011: 58.4 percent
March 2012: 58.5 percent
March 2013: 58.5 percent
We should be thankful that the percentage of working age Americans with a job did not continue to decline, but we should also be quite alarmed that it has not bounced back at all.
If there was going to be a recovery, there would have been one by now.  The next major economic downturn is rapidly approaching, and that is going to push the employment-population ratio down even farther.
So why is the U.S. economy not producing as many jobs as it used to?  Well, certainly the overall decline of the economy has a lot to do with it.  We are a nation that is drowning in debt and that is getting poorer by the day.
But since the end of the last recession, corporate profits have bounced back in a big way and are now at an all-time high.  So you would figure that the big corporations should be able to hire a lot more workers by now.
Unfortunately, that is not the way things work anymore.  Big corporations are trying to minimize the number of expensive American workers that they have on their payrolls as much as possible these days.
One way that they are doing this is through the use of technology.  Thanks to robots, computers and other forms of technology, big corporations simply do not need as many human workers as they used to.  In future years, this trend is only going to accelerate.  I wrote about how this is changing the world of employment in one of my previous articles entitled "Rise Of The Droids: Will Robots Eventually Steal All Of Our Jobs?"
Another way that big corporations are replacing expensive American workers is by shipping their jobs off to the other side of the globe.  Big corporations know that they can make bigger profits by making stuff in foreign countries where they can pay workers less than a dollar an hour with no benefits.  How in the world are American workers supposed to compete with that?
For much more on how U.S. jobs are being killed by offshoring, please see this article: "55 Reasons Why You Should Buy Products That Are Made In America".
And of course immigration is having a dramatic impact on the labor market in some areas of the country as well.  Cheap labor has dramatically driven down wages in a lot of professions.  For example, once upon a time you could live a very nice middle class lifestyle as a roofer.  But now many roofers really struggle to make a living.
When you add everything up, it paints a very bleak picture for the future of the American worker.
The cost of living keeps rising much faster than wages do, and the competition for good jobs has become incredibly fierce.
Meanwhile, the government continues to make things even easier for those that are not working.  This has caused some Americans to give up completely and to be content with letting the government take care of them.  The following is from a recent article by Monty Pelerin…
As we make it easier to get unemployment benefits for longer time periods, more people take advantage of the system. So too with food stamps and disability. All programs are at or near record levels in what is supposed to be four years into an economic recovery. For many, the benefits of becoming a government dependent exceed what they can earn. One study reported that a family of four, collecting all the benefits for which they were entitled, would have to earn $65,000 per annum to have the same after-tax purchasing power.

If you are a product of the government schools and are legal to work (i.e., have skills enough that you are affordable at the minimum wage or higher), at what point do you realize that there is no need to go through the hassle of actual work. You can live pretty well by staying home and taking advantage of the entitlements available to you. That is exactly what a larger and larger percentage of the population are realizing. In many cases, it is economically irrational to work.

This behavior creates a social pathology that only worsens over time. Kids learn from their parents that work is not necessary and the many ways to game the system. In this regard, look for this problem to become worse over time unless these programs are cut back.
In some areas of the country, it actually pays not to work very hard.  According to Gary Alexander, the Secretary of Public Welfare for the state of Pennsylvania, a "single mom is better off earnings gross income of $29,000 with $57,327 in net income & benefits than to earn gross income of $69,000 with net income and benefits of $57,045."
But the truth is that most Americans still want to work hard and would gladly take a good job if they could just find one.  The following is one example that was featured in a recent Fox News article…
After a full year of fruitless job hunting, Natasha Baebler just gave up.

She'd already abandoned hope of getting work in her field, working with the disabled. But she couldn't land anything else, either — not even a job interview at a telephone call center.

Until she feels confident enough to send out resumes again, she'll get by on food stamps and disability checks from Social Security and live with her parents in St. Louis.

"I'm not proud of it," says Baebler, who is in her mid-30s and is blind. "The only way I'm able to sustain any semblance of self-preservation is to rely on government programs that I have no desire to be on."
And that is how most Americans feel.
Most Americans do not want to be dependent on the government.
Most Americans want to work hard and take care of themselves.
Unfortunately, our economy is not producing nearly enough jobs for everyone and it never will again.
So there will continue to be millions upon millions of Americans that find that they cannot take care of themselves and their families without government assistance no matter how hard they try.
And this is just the beginning – things are going to get much worseduring the next major wave of the economic collapse.
Yes, at the moment there are more than 101 million working age Americans that do not have a job, but that number is actually going to go much higher in the years ahead.  The anger and frustration caused by a lack of employment opportunities is going to shake this nation.
That is why it is important to try to become less dependent on your own job.  In this economic environment, a job can disappear at literally any moment.  Anything that you can do to become less dependent on the system would be a good thing.
If you want to frighten Baby Boomers, just show them the list of statistics in this article.  The United States is headed for a retirement crisis of unprecedented magnitude, and we are woefully unprepared for it.  At this point, more than 10,000 Baby Boomers are reaching the age of 65 every single day, and this will continue to happen for almost the next 20 years.  The number of senior citizens in America is projected to more than double during the first half of this century, and some absolutely enormous financial promises have been made to them.  So will we be able to keep those promises to the hordes of American workers that are rapidly approaching retirement?  Of course not.  State and local governments are facing trillions in unfunded pension liabilities.  Medicare is facing a 38 trillion dollar shortfall over the next 75 years.  The Social Security system is facing a 134 trillion dollar shortfall over the next 75 years.  Meanwhile, nearly half of all American workers have less than $10,000 saved for retirement.  The truth is that I was being incredibly kind when I said earlier that we are "woefully unprepared" for what is coming.  The biggest retirement crisis in history is rapidly approaching, and a lot of the promises that were made to the Baby Boomers are going to get broken.
The following are 35 incredibly shocking statistics that will scare just about any Baby Boomer…
1. Right now, there are somewhere around 40 million senior citizens in the United States.  By 2050 that number is projected to skyrocket to 89 million.
2. According to one recent poll, 25 percent of all Americans in the 46 to 64-year-old age bracket have no retirement savings at all.
3. 26 percent of all Americans in the 46 to 64-year-old age bracket have no personal savings whatsoever.
4. One survey that covered all American workers found that 46 percentof them have less than $10,000 saved for retirement.
5. According to a survey conducted by the Employee Benefit Research Institute, "60 percent of American workers said the total value of their savings and investments is less than $25,000″.
6. A Pew Research survey found that half of all Baby Boomers say that their household financial situations have deteriorated over the past year.
7. 67 percent of all American workers believe that they "are a little or a lot behind schedule on saving for retirement".
8. Today, one out of every six elderly Americans lives below the federal poverty line.
9. More elderly Americans than ever are finding that they must continue working once they reach their retirement years.  Between 1985 and 2010, the percentage of Americans in the 65 to 69-year-old age bracket that were still working increased from 18 percent to 32 percent.
10. Back in 1991, half of all American workers planned to retire before they reached the age of 65.  Today, that number has declined to 23 percent.
11. According to one recent survey, 70 percent of all American workers expect to continue working once they are "retired".
12. According to a poll conducted by AARP, 40 percent of all Baby Boomers plan to work "until they drop".
13. A poll conducted by CESI Debt Solutions found that 56 percent of American retirees still had outstanding debts when they retired.
14. Elderly Americans tend to carry much higher balances on their credit cards than younger Americans do.  The following is from a recent CNBC article…
New research from the AARP also shows that those ages 50 and over are carrying higher balances on their credit cards — $8,278 in 2012 compared to $6,258 for the under-50 population.
15. A study by a law professor at the University of Michigan found that Americans that are 55 years of age or older now account for 20 percentof all bankruptcies in the United States.  Back in 2001, they only accounted for 12 percent of all bankruptcies.
16. Between 1991 and 2007 the number of Americans between the ages of 65 and 74 that filed for bankruptcy rose by a staggering 178 percent.
17. What is causing most of these bankruptcies among the elderly?  The number one cause is medical bills.  According to a report published in The American Journal of Medicine, medical bills are a major factor in more than 60 percent of the personal bankruptcies in the United States.  Of those bankruptcies that were caused by medical bills, approximately 75 percent of them involved individuals that actually did have health insurance.
18. In 1945, there were 42 workers for every retiree receiving Social Security benefits.  Today, that number has fallen to 2.5 workers, and if you eliminate all government workers, that leaves only 1.6 private sector workers for every retiree receiving Social Security benefits.
19. Millions of elderly Americans these days are finding it very difficult to survive on just a Social Security check.  The truth is that most Social Security checks simply are not that large.  The following comes directly from the Social Security Administration website…
The average monthly Social Security benefit for a retired worker was about $1,230 at the beginning of 2012. This amount changes monthly based upon the total amount of all benefits paid and the total number of people receiving benefits.
Could you live on about 300 dollars a week?
20. Social Security benefits are not going to stretch as far in future years.  The following is from an article on the AARP website…
Social Security benefits won't go as far, either. In 2002, benefits replaced 39 percent of the average retirees salary, and that will decline to 28 percent in 2030, when the youngest boomers reach full retirement age, according to the Center for Retirement Research at Boston College.
21. In the United States today, more than 61 million Americansreceive some form of Social Security benefits.  By 2035, that number is projected to soar to a whopping 91 million.
22. Overall, the Social Security system is facing a 134 trillion dollar shortfall over the next 75 years.
23. As I wrote about in a previous article, the number of Americans on Medicare is expected to grow from 50.7 million in 2012 to 73.2 million in 2025.
24. Medicare is facing unfunded liabilities of more than 38 trillion dollars over the next 75 years.  That comes to approximately $328,404for each and every household in the United States.
25. Today, only 10 percent of private companies in the U.S. provide guaranteed lifelong pensions for their employees.
26. Verizon's pension plan is underfunded by 3.4 billion dollars.
27. In California, the Orange County Employees Retirement System is estimated to have a 10 billion dollar unfunded pension liability.
28. The state of Illinois has accumulated unfunded pension liabilities of more than 77 billion dollars.
29. Pension consultant Girard Miller told California's Little Hoover Commission that state and local government bodies in the state of California have 325 billion dollars in combined unfunded pension liabilities.
30. According to Northwestern University Professor John Rauh, the latest estimate of the total amount of unfunded pension and healthcare obligations for retirees that state and local governments across the United States have accumulated is 4.4 trillion dollars.
31. In 2010, 28 percent of all American workers with a 401(k) had taken money out of it at some point.
32. Back in 2004, American workers were taking about 30 billion dollars in early withdrawals out of their 401(k) accounts every single year. Right now, American workers are pulling about 70 billion dollars in early withdrawals out of their 401(k) accounts every single year.
33. Today, 49 percent of all American workers are not covered by an employment-based pension plan at all.
34. According to a recent survey conducted by Americans for Secure Retirement, 88 percent of all Americans are worried about "maintaining a comfortable standard of living in retirement".
35. A study conducted by Boston College's Center for Retirement Research found that American workers are $6.6 trillion short of what they need to retire comfortably.
So what is the solution?  Well, one influential organization of business executives says that the solution is to make Americans wait longer for retirement.  The following is from a recent CBS News article…
An influential group of business CEOs is pushing a plan to gradually increase the full retirement age to 70 for both Social Security and Medicare and to partially privatize the health insurance program for older Americans.

The Business Roundtable's plan would protect those 55 and older from cuts but younger workers would face significant changes. The plan unveiled Wednesday would result in smaller annual benefit increases for all Social Security recipients. Initial benefits for wealthy retirees would also be smaller.
But considering the fact that there aren't nearly enough jobs for all Americans already, perhaps that is not such a great idea.  If we expect Americans to work longer, then we are going to need our economy to start producing a lot more good jobs than it is producing right now.
Of course the status quo is not going to work either.  There is no way that we are going to be able to meet the financial obligations that are coming due.
The federal government, our state governments and our local governments are already drowning in debt and we are already spending far more money than we bring in each year.  How in the world are we going to make ends meet as our obligations to retirees absolutely skyrocket in the years ahead?
That is something to think about.
So what do you think?  Do you believe that there is a solution to our retirement crisis?  Do you think that we can actually keep all of the promises that we have made to the Baby Boomers?  Please feel free to post a comment with your thoughts below…
Are we on the verge of societal collapse?  Many of the greatest empires throughout world history were not conquered by outside forces.  Rather, they crumbled inwardly as extreme social decay set in.  There have been many that have compared the last days of the Roman Empire to what America is going through right now.  In the decades following World War II, the United States was the most powerful and the most prosperous nation on the entire planet, but now things are rapidly changing.  There are literally thousands of signs that our society is collapsing all around us.  All you have to do to see this is turn on a television or pick up a newspaper.  I spend a lot of time discussing our nightmarish economic and political headaches in this column, but the truth is that our problems go much deeper than that.  Even if a major miracle happened and we got the "right person" into the White House, the Federal Reserve was shut down, our 16 trillion dollar national debt was paid off, our trade deficit went to zero, a solution was found for the quadrillion dollar derivatives bubble and the "too big to fail" banks were broken up, we would still be facing a national crisis of unprecedented magnitude.  The cold, hard reality of the matter is that America has become an absolute cesspool of filth and corruption, and the thin veneer of civilization that we all take for granted is rapidly disappearing.  Until we get our hearts right, there is not much hope for the future of this once great nation.
So are these the last days of America?  The following are 25 signs of extreme social decay….
#1 We have come to accept that it is "normal" that security goons should be allowed to touch the private parts of our women and our children in the name of "national security".  Just check out the ordeal that conservative radio host and Breitbart editor Dana Loesch suffered through recently at the hands of the TSA…
They performed the regular pat-down and then the agent informed me that she would be using the front of her hands to "sweep" my groin. She pressed and swept across my crotch three times horizontally and three times vertically. In any other circumstance this would be sexual assault.

The agents themselves were friendly and smiled, yet I was still denied a public screening and no witness of my own present for the screening itself (a second agent was in the room at the time). I had no reason to be angry with the agents themselves, yet I was angry, and still am, at the regulations which require them to routinely violate men, women, and children in the name of a false sense of security.
#2 Police up in New Jersey say that a man kept his girlfriend padlocked in a bedroom for most of the last 10 years.
#3 It is hard to imagine some of the sick things that people do behind closed doors.  Down in Florida, one former medical examiner was apparently collecting human body parts…
In what could be described as an episode of "Auction Hunters" turned reality horror show, authorities in Pensacola are investigating after finding human brains, hearts and lungs in a storage unit they say belonged to a former medical examiner.

Someone bought the storage unit at an auction last week and noticed a foul smell as they were sifting through furniture and boxes.

Officials at the medical examiner's office in Pensacola say the remains of more than 100 people were found crudely stored in Tupperware containers, garbage bags and drink cups.
#4 A former fifth grade teacher down in Atlanta has admitted that she helped her students cheat because they were "dumb as hell".
#5 Many debt collectors are willing to say absolutely despicable things in order to collect debts.  One debt collector recently told a disabled military veteran that if he would have "served our country better" he would not be disabled and that he "should have died"…
"If you would have served our country better you would not be a disabled veteran living off Social Security while the rest of us honest Americans work our asses off," one of the agency's debt collectors allegedly told the vet. "Too bad, you should have died."

Michael Collier was declared 100 per cent disabled after suffering permanent spine and head injuries while in the Army. As a result, both Collier and his wife receive disability payments from the federal Social Security Administration, which are exempt from seizure by debt collectors.
#6 In many areas of the country, street drugs have become so powerful that they are pushing users completely over the edge.  Of course there is never any excuse for murdering children, but would any rational person do this kind of thing without being high on drugs?…
A Camden, N.J. man was charged with murder for allegedly slashing the throat of a 6-year-old Camden boy. Police say he told investigators he was smoking a combination of marijuana and PCP, known as "Wet" just before the killing.

Osvaldo "Popeye" Rivera, 31, was arrested Sunday afternoon and charged with murder and attempted murder.

Police say Rivera was trying to sexually assault the boy's 12-year-sister and the little boy tried to come to her defense. Investigators say Rivera slashed the throats of both children.
#7 A school bus driver in Wisconsin recently told a 12-year-old boy that "maybe your mother should have chosen abortion for you" because he didn't like the Romney campaign sign standing in his front yard.
#8 We are continuing to see a rash of "zombie attacks" all over the nation.  The following is one recent example from Pennsylvania….
A Doylestown man, who was naked and bleeding profusely, gnawed on woman's head all while "screaming like an animal" during a wild neighborhood rampage, state police said.
#9 A beekeeper over in North Carolina says that someone recently stole 20,000 beesfrom his property.
#10 Evidence of social decay extends to the highest levels of the federal government.  Just check out what some highly paid federal workers have been doing when they were supposed to be working…
In 2006, the deputy press secretary for the Department of Homeland Security was arrested for trying to seduce online someone he thought was a teenage girl. Four years later, the Securities and Exchange Commission found that 17 of 31 employees caught accessing porn at work since 2008 — one for up to eight hours a day — were senior staff.

In 2010, the Boston Globe reported that senior Pentagon staff were downloading child porn. Instead of generating a media storm, the story died. Senior staff were watching the sexual torture of small children on Pentagon computers, and Americans were not outraged?
#11 In a shocking murder trial in southern California, prosecutors have played a tape of a former chef admitting to police that he slow cooked the body of his wife for four days.
#12 The United States has the highest incarceration rate in the entire world, and many of our prisons are absolute hellholes.  The following is what a former inmate named Daniel Miller recently told Business Insider about what really goes on inside our prisons…
"When they found out the black homosexual had approached me talking that homosexual stuff, I was told 'Look you have to stab him or pipe him down,'" Miller recently told Business Insider about his first experiences during two decades spent in and out of prison, most recently for robbery.

"The guys were there just to make sure I actually split this guy's head open."

Those "guys" were the Aryan Brotherhood, one of the most famous and feared jailhouse gangs.

Miller, now 38, joined up when he first entered the correctional system in Kansas as a teen. He bounced around a number of different facilities before being released on Sept. 19 this year.

"At 16 years old, I wanted to be accepted in prison," he said. "I would fight everybody."

He grew so cold and so good at fighting he became the one ordering attacks on fellow inmates — something that still haunts him.
#13 A 7-year-old boy was part of a gang of youths that recently invaded the home of a 51-year-old woman and beat the living daylights out of her.
#14 What in the world has gotten into our kids?  Many of them have literally turned into little monsters.  Just check out what two little boys recently did to a church in Virginia…
Two little boys caused thousands of dollars worth of damage to a Loudon County church, according to officials.

The vandals used the children's toys and art supplies to damage the sanctuary, fellowship hall, and Sunday school rooms. They also smeared food for needy families and their own feces and urine on walls and floors.

According to Loudon County Sheriff Tim Guider, all that damage was done by two boys, aged 6 and 7.
#15 A former high school English teacher has been accused of having sex with five different male students.  The most disturbing part is that she is a mother of three children and her husband is serving this country in the U.S. Army.
#16 You might want to think twice before becoming a pizza delivery worker.  Just check out what happened over in Dallas recently…
Two Dallas teens called in a pizza order to lure a delivery worker to a Grand Prairie house, then beat the woman in the head with a pistol and sexually assaulted her on the porch, according to Grand Prairie police reports released Wednesday.

Bleeding and wearing just a bra, the 30-year-old woman drove herself back to a Grand Prairie Pizza Hut, the reports stated.

The 17-year-olds accused in the July 24 robbery and sexual assault were in custody Wednesday at the Lew Sterrett Justice Center in Dallas in what Grand Prairie police are calling one of the city's "most heinous offenses" in recent memory.
#17 According to shocking new research by the Centers for Disease Control and Prevention, approximately two-thirds of all Americans in the 15 to 24 year old age bracket have engaged in oral sex.
#18 Last year it was reported that 86 teen girls at one high school in Memphis, Tennessee were either pregnant or had recently given birth.
#19 Sex trafficking has become a raging epidemic in America.  It is estimated that there are now approximately a million prostitutes in the United States.  Most of them are being trafficked by male "pimps".
#20 As our social decay gets even deeper, it is going to become more important than ever to secure our homes.  Just check out what happened over in Kansas City, Missouri recently…
An elderly couple is recovering Tuesday after they were brutally beaten inside their south Kansas City home.

The woman was also raped, according to a police report.

Tony L. Putman, 18, of Kansas City was charged with six felonies Tuesday afternoon. The charges include one count of rape and two counts of robbery.

The couple's ordeal began about 1:30 p.m. Monday when a man broke into their home near 73rd Street and Campbell Avenue. Entry was gained through a basement window, which was broken.
#21 It is becoming easy to understand why so many Americans are arming themselves these days.  Even Brad Pitt says that he "doesn't feel safe" without a gun.
#22 Racial hatred is rising to distressing new heights in this country.  Here is one recent example…
A Michigan State University student is recovering after he was beaten up and had his mouth stapled shut during what investigators are categorizing as a brutal hate crime.

Zachary Tennen, a 19-year-old sophomore in MSU's journalism program, said he was at a house party on the 500 block of Spartan Avenue early Sunday morning when two men approached him and asked if he was Jewish. When he responded "Yes," the two men raised their arms into a Nazi salute and said "Heil Hitler" before knocking him unconscious, according to Tennen's mother, Tina.

About 20 people reportedly watched as the men proceeded to staple Zachary Tennen's mouth shut at the lips and gums. His jaw was broken in two places during the attack.
#23 Overall, more than 50 million abortions have been performed in the United States since Roe vs. Wade was decided back in 1973.  At this point, the number of babies killed by abortion in America every year is almost as high as the total number of military deaths in all of U.S. history.
#24 Respect for parents has declined to shockingly low levels in America.  Just check out what one son down in Florida recently did to his own mother…
A Florida man yesterday rubbed dog feces in his mother's face during an argument in the home they share, police report.

Cops arrested William Jenkins, 22, on a felony domestic battery charge for pushing his mother, 53, to the floor during the dispute, according to a Palmetto Police Department report.

When questioned by cops, Jenkins denied pushing his mother, but admitted that he "did rub dog defecation on her face because she yelled at him," investigators noted.
#25 A 21-year-old Utah man is being accused of stabbing his grandmother 111 times and then removing some of her organs.  But news like this hardly makes headlines anymore because crimes such as this one have become so common.
Sadly, a list like this one could go on indefinitely.  More examples of extreme social decay pop up in the news almost hourly.
But we don't like to admit that we have problems.  Our politicians continue to proclaim how we are "the greatest nation on earth" and that the rest of the world should follow our example.
Rarely do you ever hear politicians talk about how we are the most obese nation on the planet, about how we have the highest divorce rate on the planet or about how we have the highest teen pregnancy rate on the planet.
Until we are willing to admit just how bad things have gotten, we will never be willing to accept the solutions that are necessary to start fixing things.
Many Americans are pinning their hopes on the upcoming election, but instead of making things better I am concerned that this election may trigger a lot of the anger that is boiling just under the surface in this country.
If we continue down the path that we are currently on, the social decay that we are now experiencing is going to accelerate.
The fundamental level of trust that any society needs in order to operate efficiently is breaking down, and more Americans than ever are living in fear.  You can see it in their eyes.
Our politicians can pile on millions more laws, rules and regulations and they can put a police officer on every corner, but that isn't going to make Americans trust one another.  Once confidence in our societal institutions and our faith in one another is gone, it is going to be incredibly difficult to ever rebuild it.
Yes, we really are on the verge of societal collapse. What we are experiencing right now is just the leading edge of the coming crisis.
Things are going to get a whole lot worse from here.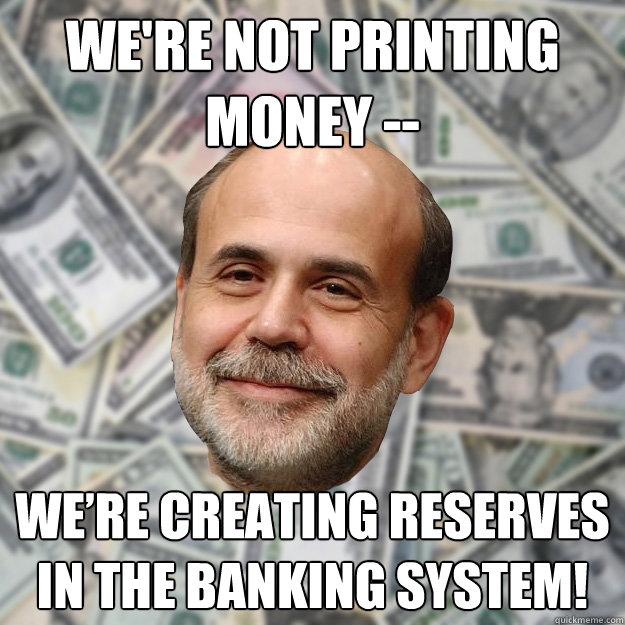 The hubris of this man knows no boundaries…
"It is not at all clear that accommodative policies in advanced economies impose net costs on emerging market economies," Bernanke said today in prepared remarks for a seminar in Tokyo on the last day of International Monetary Fund annual meetings.
Riiiight.
Christine Lagarde, on the other hand, said:
…. such easing is likely to cause large and volatile flows that risk leading to "overheating, asset-price bubbles and the build-up of financial imbalances" in emerging economies, even as she applauded Fed efforts to boost growth.
But she thinks he should do it anyway.
Of course the empirical evidence is that such "easy money" policies do indeed cause serious structural imbalances and do destabilize these nations.  You need only look at the price of food in these developing economies to find a perfect example.
Note carefully that food is a relatively-minor part of your budget, unless you're quite poor in America.  This is a core characteristic of developed economies; they tend to have quite-high per-capita GDP and as a percentage of personal income food and energy expenses are relatively small.  Food, for example, carries a 14.2% weighting in our CPI — that is, it is assumed that you spend about 14% of your income in food.  Energy has a roughly 10% weighting in the CPI, and housing has a 31.5% weighting.
Add this all up and you find that approximately 56% of your spending is non-discretionary; that is, you must spend it in some form or fashion to remain alive.
Note that this is for the median household; these percentages do not hold for people at the low or high end of the economic ladder.  For the poor, they spend much more comparatively, and for the wealthy, much less.
We're pretty much right up the middle in this regard when it comes to developed nations — the average is about 16%.  However, middle income nations spend 35% of their PCE on food and developing countries spend 55%!
Now consider this – what happens if the cost of food doubles in a developing nation?
That's simple: The people starve, since you cannot spend more than 100% of anything.
And what is most-sensitive to loose monetary policy?  The cost of things that have hard limits on their production because they're tangible.  Food.  Energy.  Housing.
Indeed, Bernanke's claim is that he wants to "support housing prices."
And you might think that this is a "good thing" for America, but you'd be wrong.  A significant part of America pays 50% or more of their income toward housing costs — where economists draw the line for being "severely-burdened."   I think they're being rather glib in this assessment, for someone who is in that situation is probably also paying 20% or more for both food and energy expenses, leaving them dangerously close to being unable to cover the combined bill.
But while food, energy and housing may go up in our country due to loose monetary policy, in the developing world where they must import a good part of their energy and food they go up even more.  Not only do you get the inflationary impact that's local, you also get all of the inflationary impact that comes with a trade imbalance.
Wait – trade imbalance? How is that connected?
Let's take two nations, both with floating, non-manipulated fiat currencies.  One runs a trade imbalance with the other.  Capital from the deficit nation therefore flows to the surplus one in payment for the goods and services flowing the other way.  This causes the deficit nation's currency to become weaker because its capital is drained, while the surplus nation's currency becomes stronger, as it gains capital.  That, in turn, causes the relative price of the exported goods from the surplus nation to rise and the trade imbalance is automatically cut off.
Nobody has to do anything manipulative for this to take place.  Indeed, unless someone manipulates currencies or trade policies this happens immediately and automatically.  It is as simple as arithmetic.
So why hasn't it happened with the United States and China, for example?
It is precisely because both China and the United States fraudulently manipulate their currencies via both central bank and fiscal policy that this imbalance has been maintained.  By emitting credit via deficit spending into the economy the United States intentionally replaces the drained capital with credit money, which spends exactly the same.
Keep this clearly in mind folks: Bernanke's QE would be literally impossible without Federal deficit spending as there would be no net bond issuance to buy!  When you hear Bernanke talking about wanting to see deficits shrink he is lying as it is mathematically impossible for him to engage in his policies without them.
And the Chinese, for their part, recycle the imported capital, lock it up (via "purchasing" Treasury bonds) and engage in crazy GDP-manipulating acts (like building cities where nobody lives.)
The trade imbalance we have with China could not exist over any material period of time but for these intentional manipulations.
But the rest of the world has no meaningful way to play this game.  They are forced to sit and spin, so to speak, and deal with the impact of grossly inflated credit and money metrics in our economy should they need to buy anything that we produce.  And they do — they need to buy food, which we have a net surplus of and they have a net deficit!
This, my friends, is how Bernanke literally starves the world.  We are 330 million people, more or less.  We play financialization games and abuse our position as a global reserve currency to force others to subsidize us with their lives.
Does this destabilize developing nations?  You bet it does.  Hungry bellies breed riots.
They always have and always will; well-sated people have little reason to revolt. Hungry people have 1,001 reasons, starting with the growl in their stomach.
Behind a huge percentage of those hungry bellies is both Ben Bernanke and our Congress.
The Federal Reserve is ultimately a Cargo Cult, founded on fantasy and a boundless faith that management perception will bring back the cargo ships of debt-based "growth."
I have often identified Keynesian economists and the Federal Reserve as cargo cults. After the U.S. won World War II in the Pacific Theater, its forces left huge stockpiles of goods behind on remote South Pacific islands because it wasn't worth taking it all back to America. After the Americans left, some islanders, nostalgic for the seemingly endless fleet of ships loaded with technological goodies, started Cargo Cults that believed magical rituals and incantations would bring the ships of "free" wealth back. Some mimicked technology by painting radio dials on rocks and using the phantom radio to "call back" the "free wealth" ships.
The Keynesians are like deluded members of a Cargo Cult. They ignore the reality of debt, rising interest payments and the resulting debt-serfdom in their belief that money spent indiscriminately on friction, fraud, speculation and malinvestment will magically call back the fleet of rapid growth.
To the Keynesian, a Bridge to Nowhere is equally worthy of borrowed money as a high-tech factory. They are unable to distinguish between sterile sand and fertilizer, and unable to grasp the fact that ever-rising debt leaves America a nation of wealthy banks and increasingly impoverished debt-serfs.
The Keynsian Cargo Cult relies on an essentially magical belief that government give-aways will raise "aggregate demand," the "animal spirits" demand for more of everything, which will magically increase productivity, wealth, etc.
The Cargo Cult faithful do not understand diminishing returns: at some point, the interest on skyrocketing debt drains income and capital from potentially productive investments to pay for previous unproductive spending on fraud, friction and malinvestments. "Free money" creates moral hazard, which means that those who can borrow money for almost nothing and never have to pay it back act entirely differently from those paying market rates for money and backing their loan with real collateral that is at risk.
The Keynesian Cargo Cult is based on ever-expanding debt and fiscal moral hazard. The Federal Reserve Cargo Cult is based on ever-expanding debt and monetary moral hazard. The Fed loaned over $16 trillion to "too big to fail banks" at rates that are negative once inflation is accounted for, and it has essentially stolen hundreds of billions of dollars from savers and pension funds in order to subsidize the housing industry with artificially low-interest mortgages.
The Fed's plan to boost more consumer borrowing/spending via the "wealth effect" by elevating the stock market has failed. The "wealth effect" is classic Cargo Cult magic: if you make people feel richer by managing their perceptions, they will start acting richer, i.e. borrowing and spending more based on phantom assets.
Why is this perception-management a form of magic? Household incomes have declined. How can a debtor borrow and spend more if his income has declined? The "magic" only works if he can borrow money based on phantom collateral, and the rate of interest is so low that his impaired income enables him to leverage more debt–though any prudent banker would reject the debtor as a bad risk.
Borrowing money at near-zero rates with no collateral creates massive moral hazard. No skin in the game? Default is not just easy, it's rational: All praise to the new subprime – 1 out of 6 FHA insured loans is now delinquent (Dr. Housing Bubble).
The Fed has gone to considerable trouble and expense to goose the stock market to multi-year highs. Yet the economy is still stagnant. If you have any doubts about this, please study this article and these charts: The Lost Decade of the Middle Class (Pew Trust)
Real household income has declined: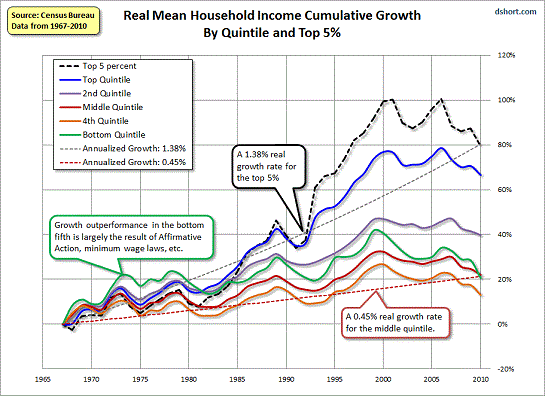 Real household income by age bracket: only the 65+ group's income has increased.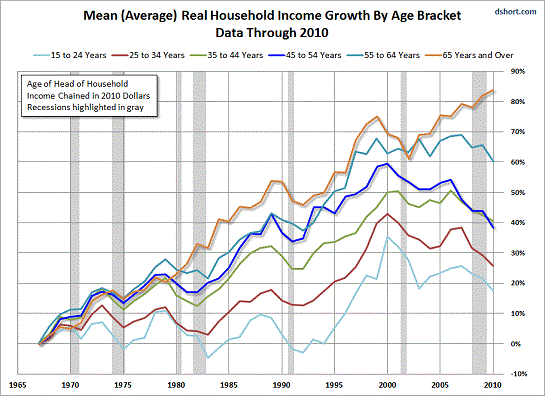 Labor's share of the non-farm private-sector economy has fallen off a cliff: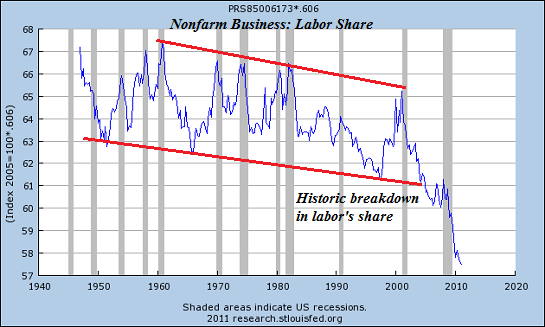 Household debt has far outpaced wages: households are over-indebted and over-leveraged. Only the top 5% have reduced leverage. Remove their income and debt from the calculation and the "households are deleveraging" argument collapses.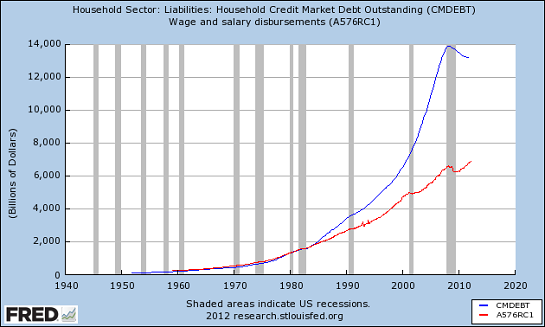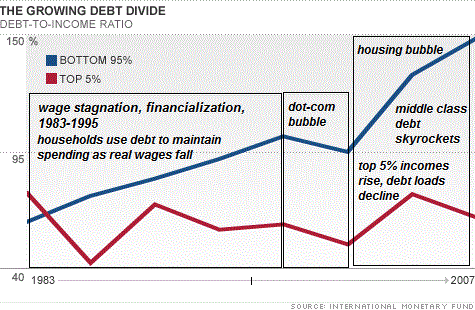 The economy is 14 million jobs short of what's needed to support housing and spending: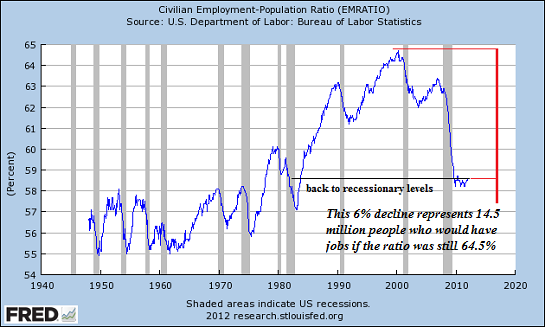 The Fed's monetary policies of saving the "too big to fail banks" and stealing from savers to subsidize cheap mortgages and other debt has failed on multiple levels: The "wealth effect" it sought to create by manipulating the stock market ever higher has been limited to the top 5%, an easily predictable result (all you have to do is look at who owns most the nation's stocks and bonds–surprise, it's the top 5%).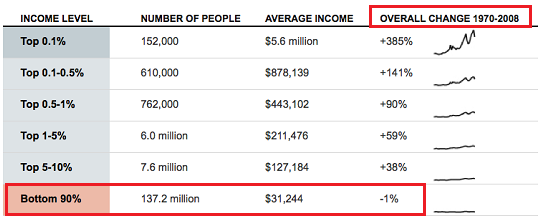 The Fed's Cargo Cult faith held that this largesse to the banks and the wealthy would magically trickle down to the bottom 95%. It didn't, as anyone who actually lives in the real world could have predicted.
My neighbor buying a Porsche and a bunch of stuff made in China does not generate income for me unless I assemble Porsches or stuff in China or I own shares in Porsche and WalMart. Since Americans don't assemble things in Germany and China, and 95% don't own enough shares in any company to generate meaningful income, the Fed's policies failed miserably. The Fed's Cargo Cult "trickle down" magic was the equivalent of waving dead chickens and dancing the humba-humba around the campfire at midnight.
Having failed to create a useful "wealth effect" by goosing stocks, the Fed is trying once again to goose housing. Hey, it worked from 2002 to 2007: make money cheap and easy to borrow, accept phantom assets as collateral, lower down payments to near-zero, and housing prices soar, creating a bubblicious amount of equity that can be borrowed and blown.
In other words, the only mechanism the Fed has to spark a widespread "wealth effect" is to re-inflate housing. It has been trying to do so mightily for years, by stealing hundreds of billions from savers to subsidize low-interest mortgages and by buying $1 trillion of impaired mortgages off the banks, clearing their balance sheets and theoretically enabling them to originate more mortgages.
Lower rates were supposed to spark a re-financing boom that would free up billions of dollars as monthly mortgage payments dropped, but oops, very few homeowners are creditworthy now that having a pulse and the ability to lie are no longer sufficient to get a mortgage.
The Fed can funnel trillions to banks, but it can't force them to lend money to uncreditworthy borrowers putting up phantom collateral.
So the Fed is back to the game of goosing phantom assets higher with perception management. The Fed is hoping to generate a "virtuous cycle" in which higher home prices lead to millions of homeowners rising above water and having equity, which will make them feel wealthier (the wealth effect) and more energized ("animal spirits") to borrow and spend.
In a centrally managed economy and market, housing prices are manipulated higher by lowering rates, lowering credit standards, guaranteeing marginal borrowers can buy homes with 3% down payments and so on. The Federal government basically took over the mortgage market in 2009, and government-backed mortgages still account for over 95% of all mortgages. The mortgage market has been completely socialized as a means of subsidizing housing.
Note the Cargo Cult magic of the "wealth effect" has it backwards: income doesn't rise as a result of productive investments and higher productivity that's passed on to workers, it rises because phantom assets are inflated to justify workers taking on more debt to boost their spending.
How has the Fed's Master Plan been working so far? Hmm, not much bang for all those bucks.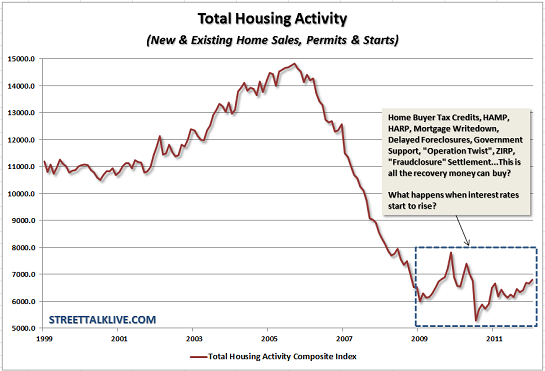 The Fed Cargo Cult wants to paint dials on rocks and re-set the S-curve that guides all speculative bubbles and busts. This time we'll force people to buy houses for inflated prices and force lenders to make risky loans to credit-impaired buyers with our magic mind control!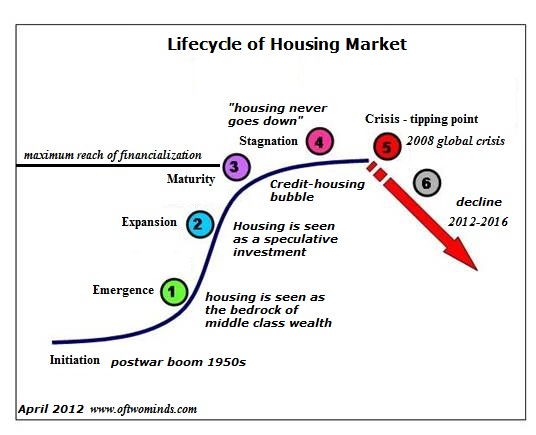 The housing industry and its Fed backers were ecstatic with recent increases in the Case-Shiller index of housing prices. I've marked up the chart to reveal the underlying dynamics of this underwhelming reflation.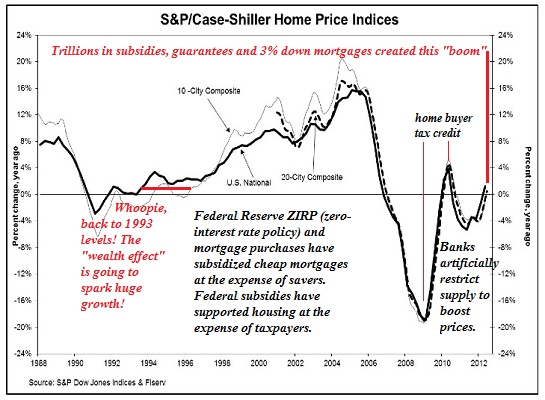 The entire Fed Cargo Cult depends on the "magic" of manipulating internal psychological states:
1. Boosting expectations of inflation so people will be encouraged to spend what money they have now.
2. Creating the perception that housing is recovering, as opposed to the truth that housing is only rising due to stupendous incentives created by subsidies paid by others and the banks' stealth campaign to lower supply by holding millions of defaulted homes off the market.
3. By stimulating demand and artifically reducing supply, the Fed and the banks hope to create phantom collateral (home equity) that can support another enormous wave of new borrowing and spending.
What nobody dares mention is the Cargo Cult is funneling trillions of dollars into unproductive malinvestments. Housing is a form of consumption; it is not a productive investment. It is subject to diminishing returns: all the trillions dumped into subsidizing housing have yielded a pathetically meager increase in phantom assets.
The Cargo Cult of the Federal Reserve has failed, and it should be abolished as the ultimate destroyer of wealth via its policies of manipulation, malinvestment and moral hazard.
New video: Gordon Long and I discuss "Inequality Precedes Social Unrest":
Charles Hugh Smith – Of Two Minds
Did you know that median household income in the United States is lower today than it was when the last recession supposedly ended?  If we are in the middle of an "economic recovery", how can this possibly be happening?  Stunning new statistics compiled by Sentier Research show that the U.S. economy is not nearly as healthy as we have been led to believe.  According to the study that Sentier Research has just released, median household income in the United States was sitting at $55,470 back in January 2000.  In December 2007, when the recession began, it was sitting at $54,916.  In June 2009, when the recession supposedly ended, it was sitting at $53,508.  Today, it is sitting at $50,964.  This is a long-term trend that is definitely going in the wrong direction.  The fact that median household income in the U.S. is now 4.8 percent lower than it was when the last recession ended is incredibly disturbing, especially since all of the things that we buy on a regular basis just keep going up in price.  Food, gas, electricity, car insurance and health insurance all cost a whole lot more today than they did back in the year 2000, and yet median household income has dropped 8.1 percent since that time.  So what does all of this mean?  It means that American families ARE getting poorer.
Yes, the stock market has been soaring, corporate profits have set all-time records in recent years and the big Wall Street banks that were showered with bailout money are absolutely thriving.
But there has been no economic recovery on "Main Street".
According to the Sentier Research report mentioned above, incomes have been declining in all geographic regions of the country and in all sectors of the economy….
-Median household income for the self-employed has fallen 9.4 percent since June 2009.
-Median household income for private sector employees has fallen 4.5 percent since June 2009.
-Median household income for government workers has fallen 3.5 percent since June 2009.
-Median household income for Americans living in the West has fallen 8.5 percent since June 2009.
-Median household income for Americans living in the Northeast has fallen 4.9 percent since June 2009.
-Median household income for Americans living in the South has also fallen 4.9 percent since June 2009.
-Median household income for Americans living in the Midwest has fallen 1.1 percent since June 2009.
Remember, the recession supposedly ended in June 2009.
Since that time we have supposedly been in a "recovery".
So if it has seemed to you that American families have been getting poorer it has not just been your imagination.
In a previous article, I detailed 84 statistics that prove that the middle class in America is being systematically destroyed.  If you have not read it yet, I encourage you to go check it out.  At this point it is absolutely undeniable that the middle class in America is declining.  The following are just a couple of the numbers from my recent article….
1. According to the Pew Research Center, 61 percent of all Americans were "middle income" back in 1971.  Today, only 51 percent of all Americans are.
2. The Pew Research Center has also found that 85 percent of middle class Americans say that it is harder to maintain a middle class standard of living today compared with 10 years ago.
3. 62 percent of middle class Americans say that they have had to reduce household spending over the past year.
4. The average net worth of a middle class family in America was $129,582 in 2001.  By 2010 that figure had dropped to $93,150.
5. According to the Federal Reserve, the median net worth of all families in the United States declined "from $126,400 in 2007 to $77,300 in 2010".
You can find 79 more statistics just like this right here.
At the same time that our incomes are going down, the cost of living just continues to rise steadily.
Thanks Ben Bernanke.
American families are being increasingly stretched financially, and if major changes are not made this is going to get even worse in the years ahead.
Another thing that we aren't being told on the nightly news is that the percentage of working age Americans that have jobs is lower today than when the last recession ended.
So let's summarize….
-A smaller percentage of Americans have jobs today compared to June 2009.
-Median household income has declined by 4.8 percent since June 2009.
-American families are far less wealthy than they were just a few years ago.
Are we sure that we are in an economic recovery?
Just look at what is happening to our cities.
The rest of the world once looked at Detroit in awe.
Now it is a global joke.
You can see some incredible photographs of the devastation in Detroit right here.
This kind of thing is happening on the east coast as well.  I have written many times about how horrible life has become in places such as Camden, New Jersey.
Well, now the entire Camden police force is being disbanded, and the policing of the city is going to be turned over to the county.
We are a mess, and it is time to admit that.
Sadly, most Americans simply have no idea how close our economic system really is to total system failure.
Only 24.6 percent of the jobs in this country are "good jobs" at this point, the velocity of money in our economy has plunged to a post-World War II low, unemployment is rampant, more than half of all Americans are at least partially financially dependent on the government and our national debt is crossing the 16 trillion dollar mark.
We don't need someone to come in and "tweak" the economy.
We need radical reconstructive surgery.
But most Americans do not understand this.
Most Americans do not seem to grasp these things until economic hardship touches them personally.
After all, if you still have a good job and the mainstream media is telling you that everything is going to be okay it is really easy to pretend that we aren't heading for an economic disaster of unimaginable proportions.
A massive problem that we are facing right now is something known as "normalcy bias". This is how Wikipedia defines "normalcy bias"….
The normalcy bias, or normality bias, refers to a mental state people enter when facing a disaster. It causes people to underestimate both the possibility of a disaster occurring and its possible effects. This often results in situations where people fail to adequately prepare for a disaster, and on a larger scale, the failure of governments to include the populace in its disaster preparations. The assumption that is made in the case of the normalcy bias is that since a disaster never has occurred then it never will occur. It also results in the inability of people to cope with a disaster once it occurs. People with a normalcy bias have difficulties reacting to something they have not experienced before. People also tend to interpret warnings in the most optimistic way possible, seizing on any ambiguities to infer a less serious situation.
Doesn't that sound exactly like the vast majority of Americans right now?
Most Americans just assume that since we have always recovered from every other economic downturn in the past that we will always be able to easily handle whatever the future throws at us.
If only that was true.
We are heading into a time that will be unlike anything any of us have ever experienced before, and many people that have blind faith in the system are going to be absolutely devastated when this coming crisis blindsides them.
Our economy has been collapsing, it is continuing to collapse, and the collapse is going to accelerate dramatically in the coming years.
You can have blind faith in the system, or you can get prepared for what is coming.
The choice is up to you.